Live Online Cookery Class - West African Mushroom Suya & Dirty Yam Fries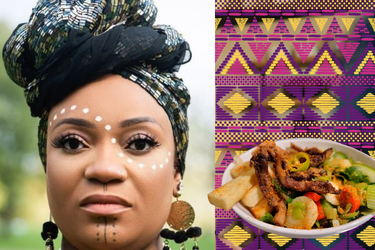 Date and Time
Thursday 9th June 2022
6:00pm - 8:00pm
Cost
Fee*: £20 (£10 Concessions**/ £5 Unwaged) All proceeds help fund our community meal service which continues to provide free nutritious, tasty meals to households struggling to access food and is still needed more than ever.
Location
The class will be held on Zoom. Zoom details will be provided in your booking confirmation email and in a reminder before the class, together with your recipes handout. If you have not received the reminder email by 4pm the day before the class please contact us at classes@madeinhackney.org. Do check your junk mail first!
The Event
Join vegan chef, TV & radio personality and author, Nena Ubani - aka Duchess Nena to make a mouth-watering and authentic West African meal that's a taste sensation!...
This live interactive class will include:
How to make an authentic plant based version of a popular West African dish: mushroom suya with spiced sauteed vegetables and dirty yam fries
How to make yaaji (the suya spice from scratch), widely used as a versatile rub and sprinkle to season
How to make suya with mushrooms to create a veganised traditional spicy dish with a modern twist and meaty texture. This dish is very popular with the hausa-fulani people of Northern West Africa
How to cut and shape the yams into chips, and then cook in an air fryer (or otherwise pan fry them)
How to make a wonderfully refreshing and health-boosting Nigerian mocktail: Chapman drink featuring cucumber, lemon, grenadine and Angostura bitters
Health benefits of each dish and using an air fryer
Learn traditional cookery techniques using just your hands
How to plate, style and eat with your hands
Opportunity to ask Nena your questions
Easy-to-follow recipe sheets provided to recreate the dishes again and again at home
Ingredients and equipment needed are listed below
About the chef: Nena Ubani
Nena Ubani (also known as Duchess Nena) is a self-taught vegan chef, television & radio personality, author, and master herbalist. She developed an interest in cooking over 20 years ago while working as a sous chef in a restaurant. Her interest in cooking and creating recipes were revived when she became vegan four years ago. Nena believes that food is medicine and incorporates healing herbs in her cooking.
Refunds/transfers: we require a minimum of 7 days' notice for any cancellations or transfers once you have booked onto a class to enable us to try to resell your ticket.
Vouchers: To redeem a voucher purchased on our site, please contact us to book a place. If contacting us by email please attach your voucher. If telephoning, have your voucher to hand so you can quote the voucher number.
For information: classes@madeinhackney.org / 020 8442 4266 / WhatsApp message +44 07833685894
*
Have your ingredients ready, weighed out and chopped where necessary before the class starts to help you keep pace with the session and feel more relaxed. We also recommend printing out your handout or having it available to view on a separate device if possible.
EQUIPMENT LIST
Blender/Food processor
Knife
Chopping board
Cooker/hob
Pan /pot
Mortar and pestle (optional)
Plate for serving
INGREDIENTS LIST
For the Yam Chips
¼ of a Small Yam
Oil for frying
Sea salt
For the Mushrom suya
2 cups of Oyster mushrooms
½ teaspoon chilli flakes
½ teaspoon. ground ginger
2 ground roasted peanuts ( optional)
½ teaspoon ground ginger
½ teaspoon Paprika
½ onion powder
1 bouillon cube
¼ cucumber
1 tomato
For the sauteed topping
½ red onion
½ white/brown onion
½ red pepper
½ yellow pepper
½ green pepper
½ teaspoon oil
Made In Hackney uses cereals containing gluten namely: wheat (spelt and khorasan wheat), rye, barley, oats; peanuts; all other nuts; sesame; all other seeds; soybeans; celery and celeriac; mustard; sulphur dioxide/sulphites; lupin; tomatoes and other allergens in it's classes. Our food is freshly prepared in our busy cookery school kitchen that handles allergens, so we cannot guarantee that our food and drinks are allergen-free. Even in classes where these ingredients are not being used, they will be on site in our store rooms and our equipment will have previously come into contact with them. Participants attend at their own risk.