Masterclass - Vegan West African Twists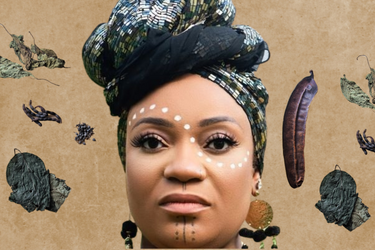 Date and Time
Saturday 22nd October 2022
11:00am - 3:30pm
Cost
Single workstation: £99 / Double workstation: £178 inclusive of VAT. All proceeds help fund our Community Meal Service, which provides not just food but connection and care to people hit by crises.
Location
Made In Hackney, Liberty Hall (black & white building by the common), 128 Clapton Common, Spring Hill, Clapton, London, E5 9AA, UK
The Event
From the Congo to Morocco, Ethiopia to the Ivory Coast, African cuisine is all about rich, complex and deeply developed flavours attained using a myriad of fresh ingredients and spices. Join vegan chef, TV & radio personality, author and master herbalist Nena Ubani, aka Duchess Nena, on a journey through West African food. Take home invaluable knowledge, important stories and ideas on how to experiment with authentic African spices and recipes.
Nena teaches West African cuisine year round at Made in Hackney. Her classes are always sought after with many of our participants quoting her as one of the most lively and cherished teachers to cook and learn with.
In Celebration of Black History Month, Dutchess Nena opens the narrative, colours, textures and ingredients to explore and encompass a diverse range of foods that are split between its 16 countries, providing colour, flavour and excitement like none other.
This Masterclass includes:
Explore the spices, textures, and aromas of West African stews learning how to cook Jollof rice and twisting it into a mouthwatering baked Jollof arancini
Learn how to make an authentic plant-based version of a popular West African dish: Egusi soup and learn everything about this amazing ingredient (melon seeds)
Make attieke, a fermented cassava staple that can be a tasty substitute for rice or pasta
Learn how to make a wonderfully refreshing and health-boosting Nigerian mocktail, Zobo drink featuring hibiscus (zobo) and fresh pineapple
Learn from Nena, a master herbalist, how to use and where to source African spices as she explains the health benefits of traditional spices and of fermented foods
Enjoy the fruits of your West African creations in a tasty plant-based lunch (and there will be plenty to take home too) with spiced plantain energy balls to dazzle you for a unique treat
Recipe pack and class notes will be provided to recreate the dishes again and again at home
Kick start a fun-filled culinary journey through African cuisine without getting on a flight!
Enjoy your time learning, cooking and meeting others interested in a plant-based lifestyle at Liberty Hall, with views of leafy Clapton Common to accompany your experience
About the chef: Nena Ubani
Nena Ubani (also known as Duchess Nena) is a self-taught vegan chef, television & radio personality, author, and master herbalist. She developed an interest in cooking over 20 years ago while working as a sous chef in a restaurant. When she moved to a vegan diet Nena found a newfound passion for creating recipes and sharing the joys of West African cuisine with skill and flare. She is the editor of her own magazine, Vegan Melanated. Nena believes that food is medicine and incorporates healing herbs in her cooking. Nena runs an online African vegan store which is a fantastic resource for those looking to explore the flavours and ingredients from the region.
Refunds/transfers: we require a minimum of 7 days' notice for any cancellations or transfers once you have booked onto a class to enable us to try to resell your ticket.
Note: Please understand our charity needs time to enable us to try to resell your tickets as we rely heavily on the income generated. You are also welcome to give your ticket to a friend or family member in case of last minute illness (just email classes@madeinhackney.org to let us know). If the workstation you require (single or double) is not available, please let us know as we may be able to accommodate.
Vouchers: To redeem a voucher purchased on our site, please contact us to book a place. If contacting us by email please attach your voucher. If telephoning, have your voucher to hand so you can quote the voucher number.
For information: classes@madeinhackney.org / 020 8442 4266 / WhatsApp message +44 07833685894