Online Cook-Along - Zero Waste Cooking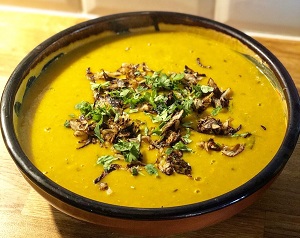 The Event
Ever wondered how to use every part of a piece of fruit or veg in your cooking? Registered Dietician Hannah Walker will show you how to turn usually discarded bits of produce into delicious and nutritious meals to feed your friends and family.

You'll learn:
How to make a warming Carrot Top Dahl with homemade veggie scraps stock
The many exciting uses of banana peels - how to cook up a South Indian Banana Peel Thoran and use the bananas to make a simple and yummy Banana Bread Pudding
A range of other recipe ideas for using up everything from lemon peels and apple cores to broccoli stalks and wilting salad
The nutritional benefits of 'root to stalk' cooking
Hannah's top tips for preventing food waste, including meal planning and bulk cooking, that can also save you time and money
Beautiful image by Sareta Puri
About Hannah
Hannah is a registered dietitian and cookery teacher with a passion for helping people to optimise both their health and happiness though good food. Her favourite message is 'eat the rainbow' and she is a big advocate for zero waste cooking. In her spare time she leads foraging and wild food cookery courses, where she tries to get people as excited as she is about nettles and dandelions!
Fee: Suggested donation £20 but any donation amounts accepted. This money will be used to help fund our FREE COVID19 emergency meal service and keep our charity going at this difficult time.
INGREDIENTS LIST
For the carrot top dahl:
Olive oil
1 teaspoon cumin seeds
1 teaspoon black mustard seeds (ideal ingredient but not essential)
1 onion, finely chopped
1 red chili, finely chopped (or 1 teaspoon dried chili flakes)
2-inch piece of fresh ginger, peeled and grated
3 cloves garlic, peeled and crushed
1 small bunch coriander, stalks and leaves (optional)
1 teaspoon turmeric
½ teaspoon ground coriander
½ teaspoon garam masala
1 teaspoon sea salt
200g / 1 cup red lentils, rinsed well
2 carrots, grated
1 cup of carrot tops/leaves (washed and finely chopped)
1 tin (400g) of chopped tomatoes
500ml / 2 cups vegetable stock
Juice of 1/2 lemon
Rice or pitta bread to serve (optional)
For the Banana Peel Thoran:
3 large banana peels (organic if possible)
1 onion, finely chopped
1 sweet red pepper
1 red chilli (or dried/flakes)
1 green chilli
2 cloves garlic, crushed
1 teaspoon grated ginger (or ½ teaspoon ground ginger)
A pinch of asafoetida (optional)
5-6 curry leaves (ideal ingredient but not essential)
2 teaspoons olive or coconut oil
1/2 teaspoon each of black mustard seeds (ideal ingredient but not essential) and cumin seeds
½ teaspoon turmeric
1-2 tablespoons dessicated coconut (or grated coconut cream bar)
For the Banana Bread Pudding:
½ loaf (or approx 250g) leftover bread (sourdough is great but not essential)
250ml / 1 cup non-dairy milk of choice (e.g. oat, almond, soya)
2 tablespoons maple syrup or other sweetener of choice (e.g. date syrup)
1 tablespoon chia seeds or ground flaxseeds + 3 tablespoons water
3 bananas, sliced
2 tablespoons peanut butter (or other nut butter of choice)
1 teaspoon cinnamon (optional)
½ teaspoons vanilla essence (optional)
More maple syrup, for serving (optional)

EQUIPMENT LIST:
Sieve to wash the lentils
One medium-sized pot with lid for the dahl
One medium frying pan with lid for the thoran
A baking tin for the banana bread pudding – can be loaf tin or other shape depending on what people have available
Kettle or extra pan to boil water
Teaspoon, tablespoon and measuring jug or cup measures
Cooking utensils – wooden spoons and ladle
Chopping board
Large knife
Grater
Refunds: we require a minimum of 3 days' notice for any cancellations or transfers once you have booked onto a class.
For information: classes@madeinhackney.org / 020 8442 4266
Location: Zoom, details provided after booking
---
Made In Hackney uses cereals containing gluten namely: wheat (spelt and khorasan wheat), rye, barley, oats; peanuts; all other nuts; sesame; all other seeds; soybeans; celery and celeriac; mustard; sulphur dioxide/sulphites; lupin; tomatoes and other allergens in it's classes. Our food is freshly prepared in our busy cookery school kitchen that handles allergens, so we cannot guarantee that our food and drinks are allergen-free. Even in classes where these ingredients are not being used, they will be on site in our store rooms and our equipment will have previously come into contact with them. Participants attend at their own risk.