Masterclass - Raw Food on a budget with Kate Magic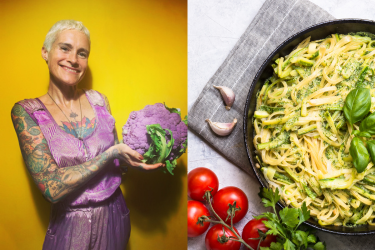 Date and Time
Sunday 10th September 2023
2:30pm - 6:30pm
Cost
Ticket £100 inclusive of VAT. When you buy a Made In Hackney cookery class you enjoy an enriching culinary experience and help us fight hunger in our community.
Location
Made In Hackney, Liberty Hall (black & white building by the common), 128 Clapton Common, Spring Hill, Clapton, London, E5 9AA, UK
The Event
Kate Magic is a world-renowned raw foods educator, chef and author of the UK's first raw food recipe book, Eat Smart Eat Raw (2002). She has travelled to 25 countries spreading the Raw Magic message, and this June will be here with us in her hometown of Hackney, to talk about doing a healthy vegan diet on a budget.
Kate will be dispelling the myth that raw cuisine is expensive and sharing some delicious recipes along the way. The day includes lunch, drinks, snacks and a goody bag from some of our favourite healthy vegan brands.
At The Raw Food on a Budget Masterclass with Kate Magic you will
Be welcomed by a refreshing glass of Magic Lemonade, a summer cooler drink
Raw food mini-lecture with opportunity to ask plenty of questions
Learn how to make a nutritious and refreshing sublime sushi, a perfect fresh starter with endless customization options
Learn how to make zucchini marinara. When paired with marinara sauce, zucchini becomes the perfect canvas for a delicious and nutritious meal. The tomato-based sauce is loaded with antioxidants and is known for its immune-boosting properties.
Enjoy chatting with like minded people during an alfresco vegan raw meal with everything you prepared and more in our kitchen garden
Top off the experience with the views across leafy Clapton Common as you cook and learn
Finish it all with mouth-watering raw chocolate truffles
Take home a goody bag from some of our favourite healthy vegan brands
This class is a communal and interactive experience. We'll provide all the ingredients and equipment you'll need, and you'll have plenty of time to ask questions and learn new skills. This brilliant masterclass will be an unforgettable day that you'll be able to recreate at home again and again. Get ready to be amazed by the power of Kate Magic!
About Kate Magic | Raw Living
Kate Magic is a world-renowned raw foods educator, author, and chef. She wrote the UK's first raw food recipe book, Eat Smart Eat Raw, in 2002, and founded the Raw Living webshop at the same time. She raised her three sons on a primarily raw vegan diet, and now as young adults they have all independently remained healthy vegans.
PROGRAMME
2.30pm Raw foods lecture while demo making a nurturing cucumber pickles, with Q&A
3.30pm Sublime sushi making
4.00pm Marinara making
4.30pm Raw truffle making
5.00pm Doing raw on a budget – more Q&A
6.00pm Meal is served and shared
6.30pm Finish class, and take your goody bag home
Vouchers: To redeem a voucher purchased on our website, please contact us via email: classes@madeinhackney.org.
Refunds/transfers: Please understand our charity needs time to resell your tickets as we rely heavily on the income generated by our fundraising classes. We require a minimum of 14 days' notice for any cancellations or transfers once you have booked onto a class.You are also welcome to give your ticket to a friend or family member in case of last minute illness (just email classes@madeinhackney.org to let us know).
Note: This is a fundraising class and the proceeds help us fight hunger in our community. At Made In Hackney we believe access to good food is a human right - not a privilege. If you would like to learn more about our work, please click here.
For information: classes@madeinhackney.org / 020 8442 4266 / WhatsApp message +44 07833685894