Community Class - West African Festive Feast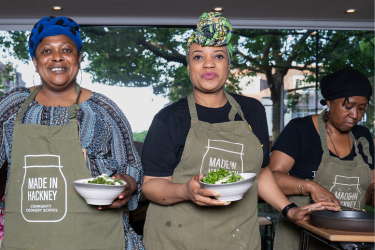 Date and Time
Saturday 2nd December 2023
11:00am - 1:30pm
Cost
FREE. To book on please click on "buy ticket" and complete the online form.
Location
Made In Hackney, Liberty Hall (black & white building by the common), 128 Clapton Common, Spring Hill, Clapton, London, E5 9AA, UK
The Event
Join plant based chef and cookery book author Nena Ubani at a relaxed session to learn how to make a delicious festive feast meal, West African style party jollof rice, vizdodo( a vegan version of gizdodo) , Nigerian salad and zobo drink.
To book on: please complete this short online form bit.ly/MIHCOURSES or, if you don't have access to internet, call 020 8442 4266
In the interest of fairness, please understand that we need to prioritise new participants for our free sessions. For this reason we can usually only consider applications for a maximum of 2 classes or a course in a 6 month period.
Please do not come to the class unless you have received a booking confirmation from us - and replied to accept it - to avoid being turned away, as places are limited. Please bear in mind that our classes usually have waiting lists, but places often eventually do become available. We will also prioritise those on waiting lists for future classes and courses.