Live Online Cookery Class - Vegan Haggis - Burns Night Special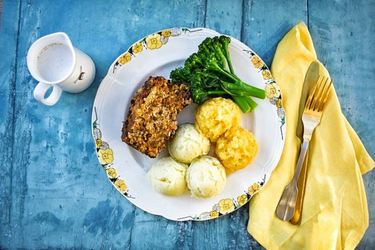 Date and Time
Tuesday 24th January 2023
6:00pm - 8:00pm
Cost
Ticket £25 inclusive of VAT. When you buy a Made In Hackney cookery class you enjoy an enriching culinary experience and help us fight hunger in our community.
Location
The class will be held on Zoom. Zoom details will be provided before the class, together with your recipe card. If you have not received the reminder email by 4pm the day before the class please contact us at classes@madeinhackney.org or send a message on WhatsApp message +44 07833685894.
The Event
Join Scottish-Indian chef Sareta Puri to celebrate Burns Night, an occasion marking the birth of Scottish poet Rabbie Burns. During this upbeat class you'll learn about the traditions of Burns Night and the food that famously goes with it: haggis, neeps & tatties - all 100% plant-based! This nutty, peppery, warming dish is perfect for a long winter's night and one you'll want to eat all year round.
So what exactly are neeps & tatties you ask? Neeps, better known as swede, is a root veg with a yellowy-orange flesh and a sweet, earthy flavour. Tatties are what the Scots call potatoes, so this combo creates the traditional Scottish accompaniment to a plant-based haggis, ideal for a Burns Night supper. Sareta will recite part of her favourite Burns poem and will welcome others to recite any of Burns's work - or other poetry of their choice - and do tributes to Scotland's own great Bard.
This live interactive class will include:
Learn how to make tasty and warming plant-based haggis, served with the essential neeps 'n' tatties
Discover the stories of Burns Night traditions
Learn about the classic Burns night menu and how to transform it into a plant-inspired feast
Opportunity to ask Sareta questions and learn a little bit about Robert Burns
Recipe sheets provided to recreate the dishes again and again at home
About the chef: Sareta Puri
Sareta is a Scottish-Indian vegan chef who grew up in her dad's kitchens where she learnt the basis of Indian home cooking. In 2015 Sareta officially moved into food, through hosting supper clubs then street food, catering, teaching and recipe development, as well as food writing. In 2021 she published her first cookbook: Plant BasedPlanet which curates recipes from around the world.
Refunds/transfers: we require a minimum of 7 days' notice for any cancellations or transfers once you have booked onto a class to enable us to try to resell your ticket.
Vouchers: To redeem a voucher purchased on our site, please contact us to book a place. If contacting us by email please attach your voucher. If telephoning, have your voucher to hand so you can quote the voucher number.
Note: This is a fundraising class and the proceeds help us fight hunger in our community. We run free community classes for people on low incomes, with health challenges or have other support needs. If you'd like to join this group email us classes@madeinhackney.org
For information: classes@madeinhackney.org / WhatsApp message +44 07833685894
Haggis photo: tinnedtomatoes.com
*
Have your ingredients ready, weighed out and chopped where necessary before the class starts to help you keep pace with the session and feel more relaxed. We also recommend printing out your handout or having it available to view on a separate device if possible.
INGREDIENTS LIST
Haggis (Serves 6-8 (leftovers can be kept and made into various new dishes e.g. stirred through pasta, topping for pizza, made into samosas or sausage rolls!)
500ml vegetable stock
1/2 400g tin of kidney beans, drained, rinsed and mashed
150g red lentils
150g oats
75g peanuts (or sub for sunflower and pumpkin seeds)
50g hazelnuts (or sub for sunflower and pumpkin seeds)
6-8 medium mushrooms
200g carrots
1 tablespoon lemon juice
1 tablespoon soy sauce
2 teaspoon dried rosemary
1 teaspoon nutmeg
1 teaspoon cinnamon or allspice
1/2 teaspoon paprika
1 tablespoon ground black pepper (or more if you like it spicy!)
¼ teaspoon sea salt
Neeps (Serves 2)
300g turnip/swede
2 tablespoons plant-based butter
Salt and pepper, to taste
Tatties (Serves 2)
300g potatoes (Maris Piper recommended)
50ml plant-based milk
2 tablespoons plant-based butter or olive oil
1 tablespoon wholegrain mustard
Salt and pepper, to taste
50g cavolo nero or kale, washed (optional)
Creamy sauce
150ml plant-based cream
¼ teaspoon wholegrain mustard
¼ teaspoon black pepper
⅛ teaspoon sea salt
EQUIPMENT LIST
Chopping board
1 large saucepan
2 medium saucepans
Masher
Grater (or food processor)
Medium-large baking tray
Recyclable aluminium foil (optional)
2 mixing spoons
Colander