Masterclass - Vegan Supper Club: Burns Night Cook & Dine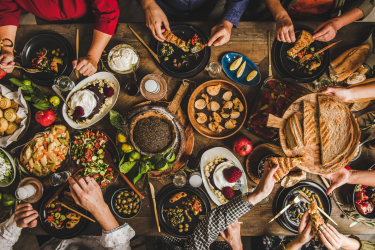 Date and Time
Thursday 25th January 2024
6:30pm - 9:30pm
Cost
Ticket £100 inclusive of VAT
Location
Made In Hackney, Liberty Hall (black & white building by the common), 128 Clapton Common, Spring Hill, Clapton, London, E5 9AA, UK
The Event
Get ready to immerse yourself in the vibrant spirit of Burns Night, celebrating the birth of the legendary Scottish poet, Rabbie Burns! Join us for an electrifying class that explores rich traditions and delights.
Discover the heartwarming world of haggis, neeps, and tatties – all expertly crafted from plant-based ingredients. This nutty, peppery, and soul-warming meal is not just perfect for a long winter's night; it's a culinary masterpiece that you'll crave all year round. But what exactly are neeps and tatties, you ask? Neeps, better known as swede, reveal their golden-orange flesh with a sweet, earthy flavour. Tatties, or potatoes as they're known in Scots dialect, complete this quintessential Scottish ensemble, making it the perfect accompaniment to our plant-based haggis.
As an extra treat, Sareta will recite a portion of her favourite Burns poem, setting the poetic tone for the evening. We also invite you to join in the celebration by sharing your own renditions of Burns's work or any poetry close to your heart, paying tribute to Scotland's revered Bard.
The Vegan Supper Club: Burns Night Cook & Dine experience
Warm welcome: Start the journey with a zingy ginger mocktail and homemade oatcake canapes on arrival
Savoury Delights: Unleash your inner chef by learning to create delectable plant-based haggis, and don't forget the quintessential neeps 'n' tatties
Sweet Indulgences: Dive into the world of Cranachan, a traditional dessert featuring creamy oats and Scottish raspberries, adding a sweet note to your culinary repertoire
Plant-Powered Feast: Explore how to transform the classic Burns Night menu into a dazzling plant-inspired feast, elevating your culinary skills and enjoyment
Tradition and Tales: Discover the rich history and stories behind Burns Night traditions, adding depth and meaning to your celebration
Meet and Feast with Like-Minded Foodies: Connect with fellow enthusiasts as you come together to share your culinary creations and indulge in a delightful plant-based feast
This class will be a mixture of practical cooking, demos and time to ask questions with a shared meal at the end. We are now returning to 'family style' cooking with everyone cooking and sharing workstations. This creates more of a communal and interactive experience, working together as a team. All ingredients and equipment needed for the class are provided. Easy-to-follow recipe sheets provided to recreate the dishes again and again at home and impress your people.
*This Masterclass is hosted by Made in Hackney and we're proud to reserve spots for members of our community, ensuring that everyone has the opportunity to participate and learn.
About the chef: Sareta Puri
Sareta Puri is a Scottish-Indian vegan chef who grew up in her dad's restaurant kitchens. Her focus is on celebrating vegetables and making plant-based meals that attract everyone. Sareta has been working in food professionally since 2015, starting through hosting supper clubs then street food, catering, teaching and recipe development, as well as food writing. She is the co-editor of the Plant Based Planet cookbook. @saretapuri
When you buy a Made In Hackney cookery class you enjoy an enriching culinary experience and help us fight hunger in our community.
Vouchers: To redeem a voucher purchased on our website, please contact us via email: classes@madeinhackney.org.
Refunds/transfers: Please understand our charity needs time to resell your tickets as we rely heavily on the income generated by our fundraising classes. We require a minimum of 14 days' notice for any cancellations or transfers once you have booked onto a class.You are also welcome to give your ticket to a friend or family member in case of last minute illness (just email classes@madeinhackney.org to let us know).
Note: This is a fundraising class and the proceeds help us fight hunger in our community. At Made In Hackney we believe access to good food is a human right - not a privilege. If you would like to learn more about our work, please click here.
For information: classes@madeinhackney.org / 020 8442 4266 / WhatsApp message +44 07833685894