Apple Cake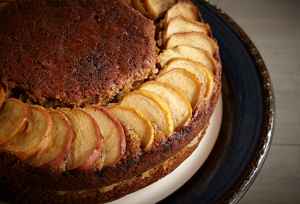 A delicious, fluffy cake using seasonal apples and coconut sugar to sweeten. A real treat!
Ingredients
1 kilo of organic apples
2 lemons
400 grammes spelt flour
200 grammes coconut sugar plus 1 tablespoon
200 ml vegetable oil
300 ml non dairy milk
1 tsp bicarbonate of soda
1 teaspoon ginger powder
1 teaspoon cinnamon
1 teaspoon of vinegar
Method
Preheat the oven to 180c/gas mark 4.
Peel, core and chop all but two of the apples.
Place the apples in a large pan and squeeze in the juice of the lemons and the tablespoon of coconut sugar.
Cook the apples until they are soft and stir the mix until it forms a soft pulp.
Place the mix to one side.
Sift the flour into a mixing bowl, add the coconut sugar and spices and mix together.
Stir in the oil.
Mix the milk with the vinegar and leave for a few minutes to curdle before adding to the flour mix.
Pour the mix into two cake tins lined with baking paper.
Top tin mix with sliced apples and a sprinkle of coconut sugar.
Bake for 30 minutes until risen and golden. A cooked cake is a silent cake e.g. when you place your ear next to sponge you cannot hear it bubbling!
When the cakes have cooled, turn them out and top the plain side with the apple mix.
Place the side with the sliced apples on top and serve.
Photography: Patricia Niven for Made In Hackney
---
---