---
Carrot cake flapjack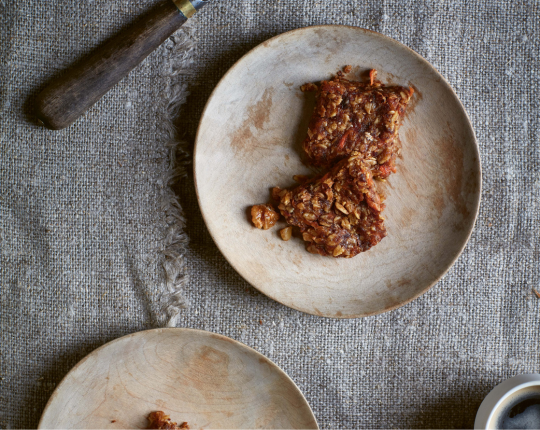 These have the most heavenly carrot cake-like flavour and texture, making them wildly indulgent as well as deliciously nourishing. The best part is that you don't need to cook them. Their sweetness comes from dates, which are full of fibre, and maple syrup, which you can omit to further reduce sugars, if needed.
---
Chocolate hummus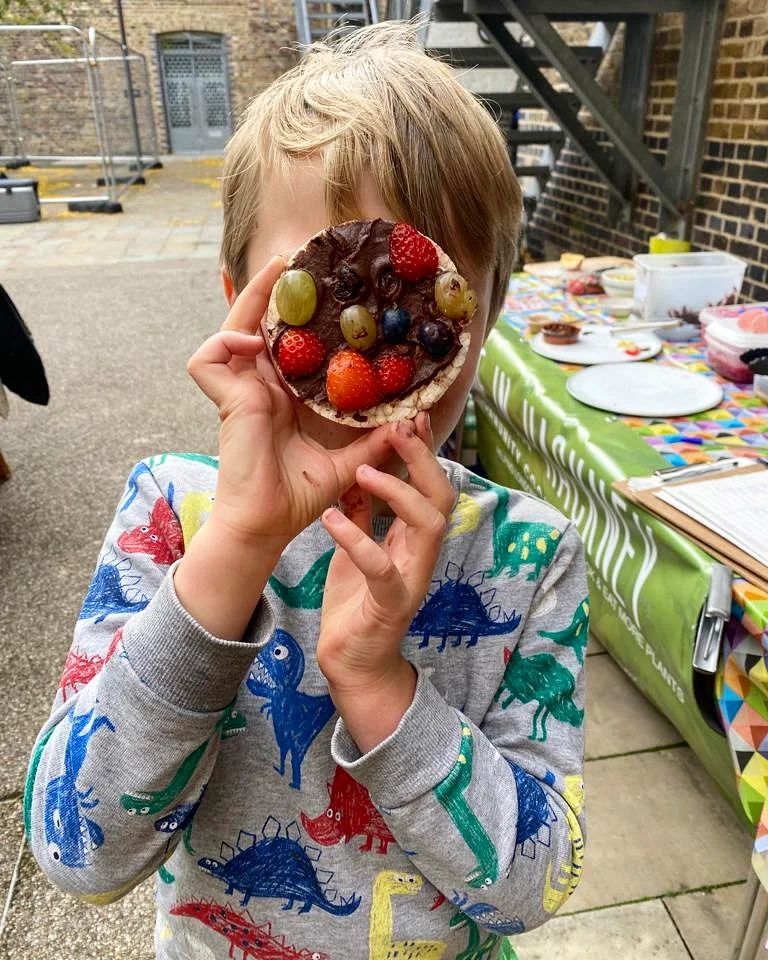 Try this chocolatey, protein rich treat and decorate with your favourite berries for a healthy bit of indulgence.
---
Coconut pistachio tart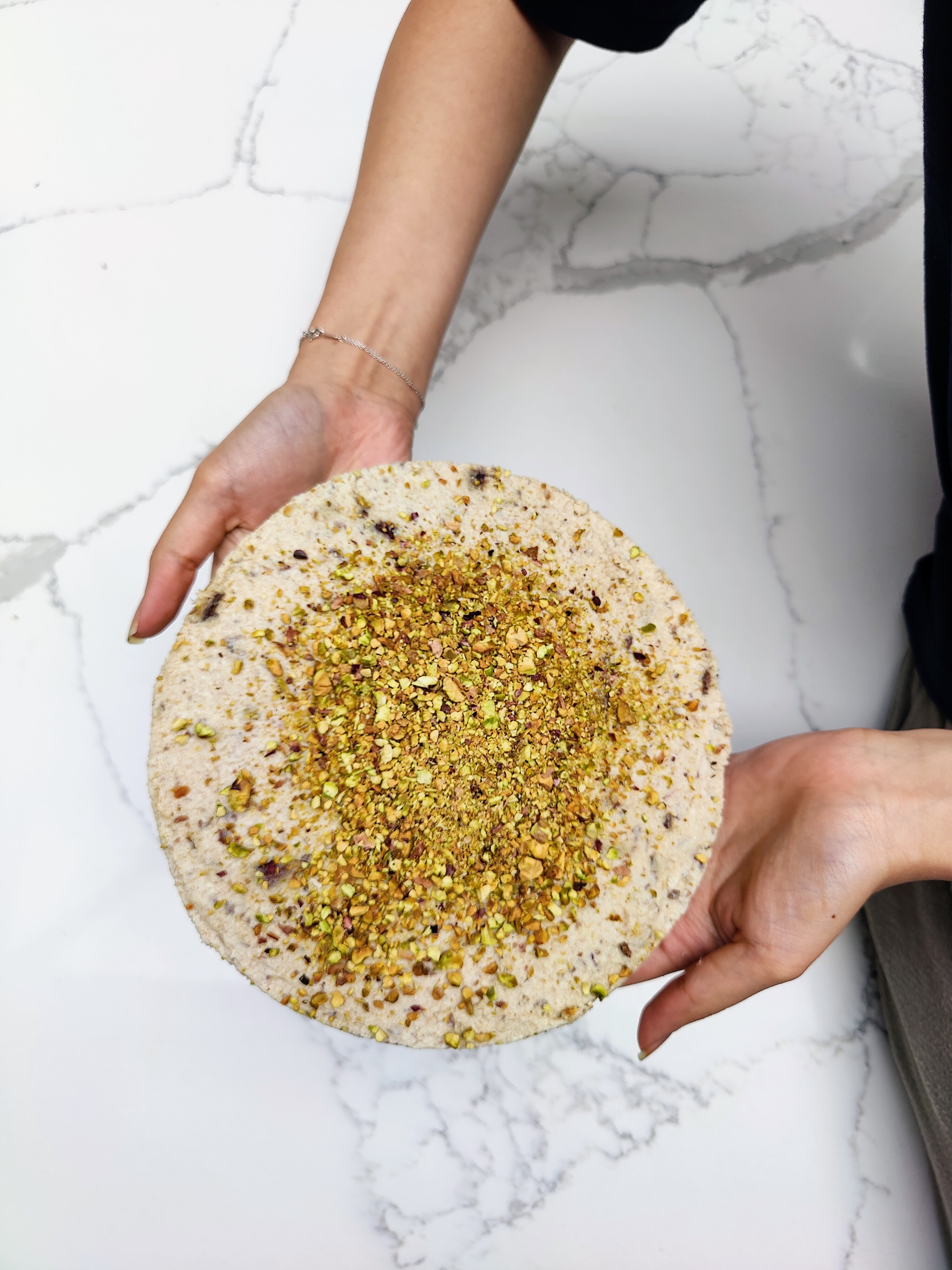 Sprinkling a tart with pistachio to make it look fancy is a simple but effective tip for presentation.
---
Peanut butter brownies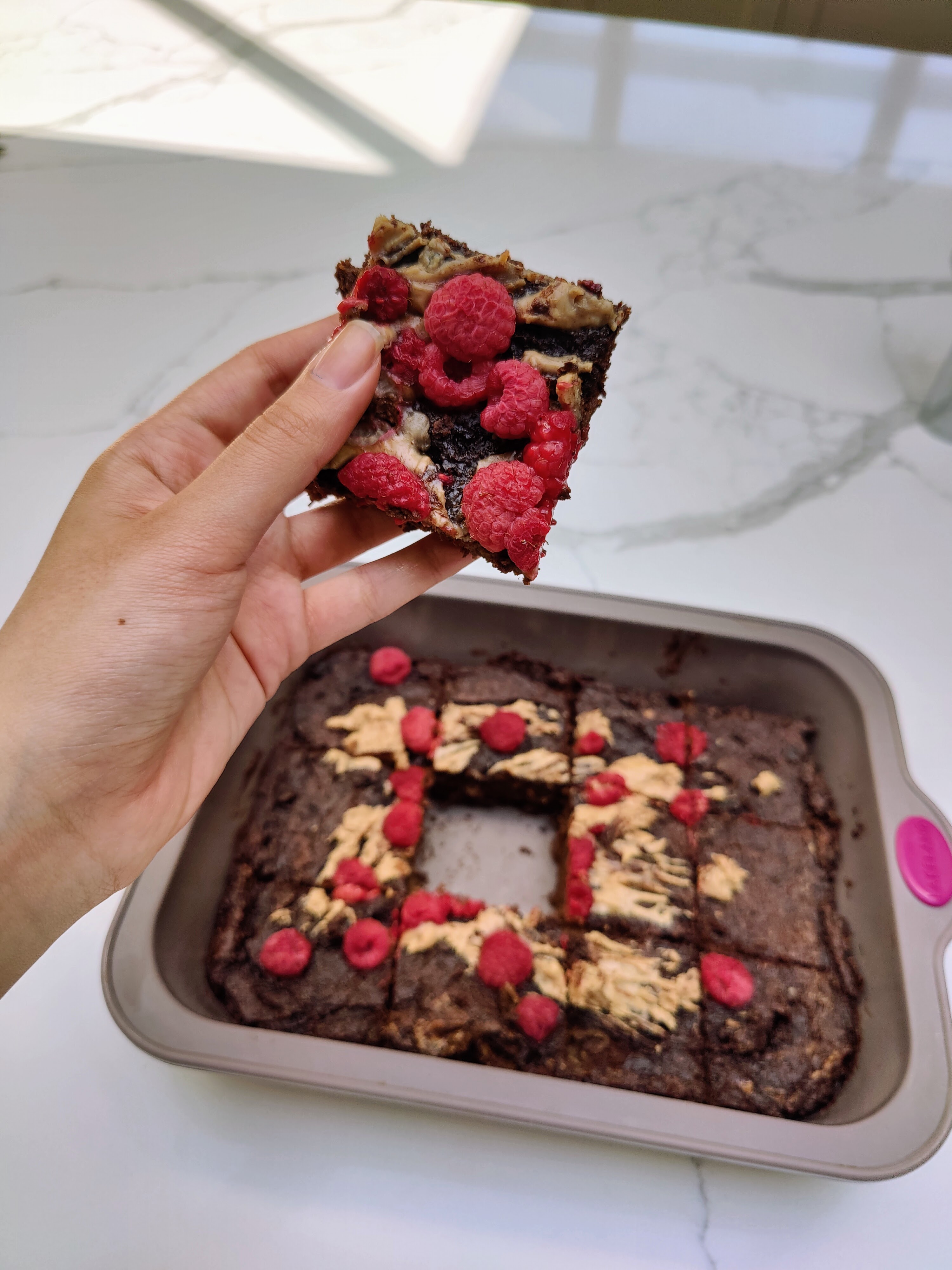 If you're looking for a delicious chocolate treat, try out these peanut butter raspberry brownies! Recipe by our social media assistant Nav.
---
Pinnis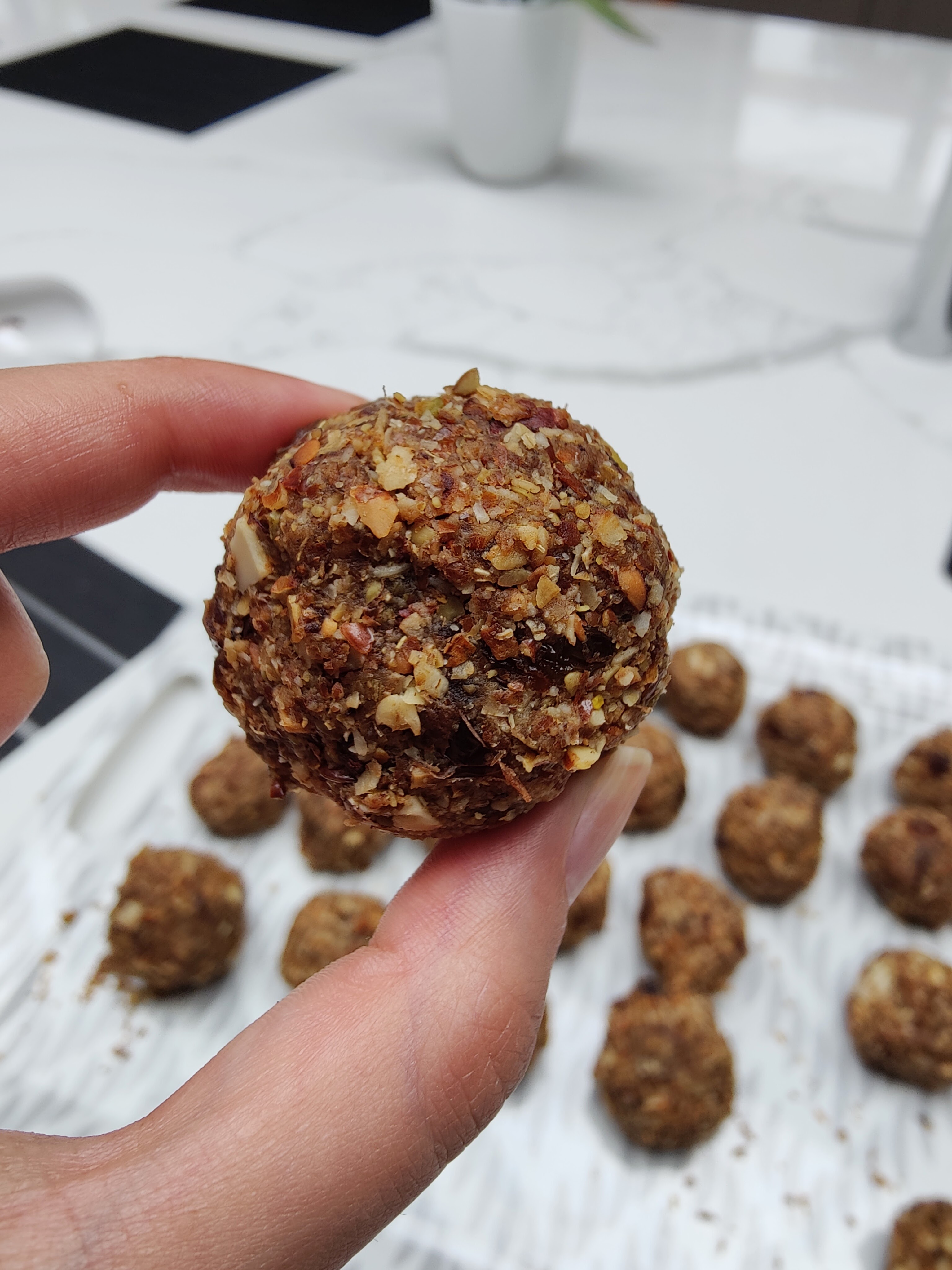 A pinni is an Indian snack traditionally eaten in the winter months, they're packed full of flavour and nutrition and are great for an energy boost. Recipe by our social media assistant Nav.
---
Easter Carrot Cake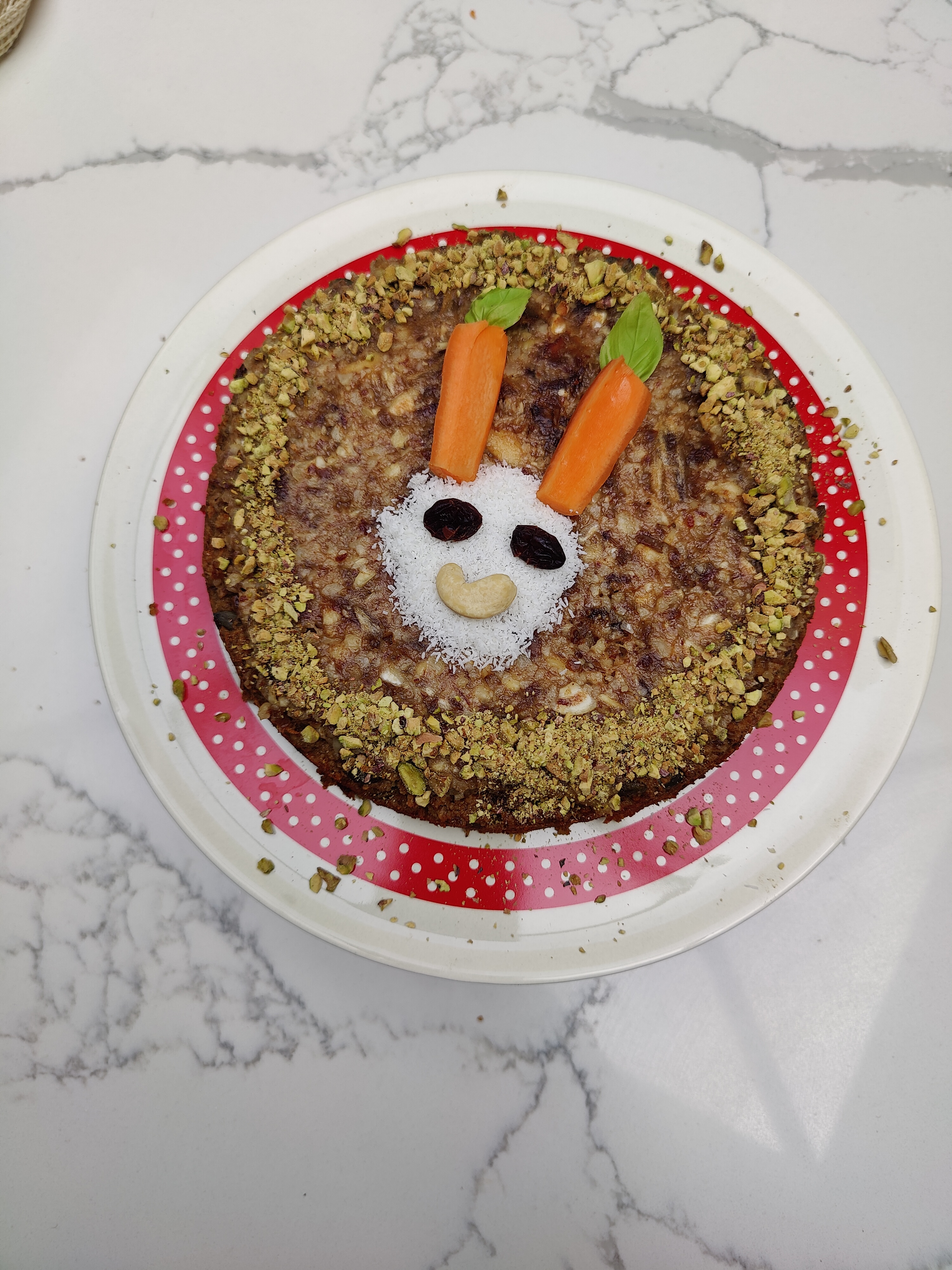 This carrot cake is a tasty tea time treat to share with your friends and family. Recipe by our social media assistant Nav.
---
Chocolate chip peanut butter cookies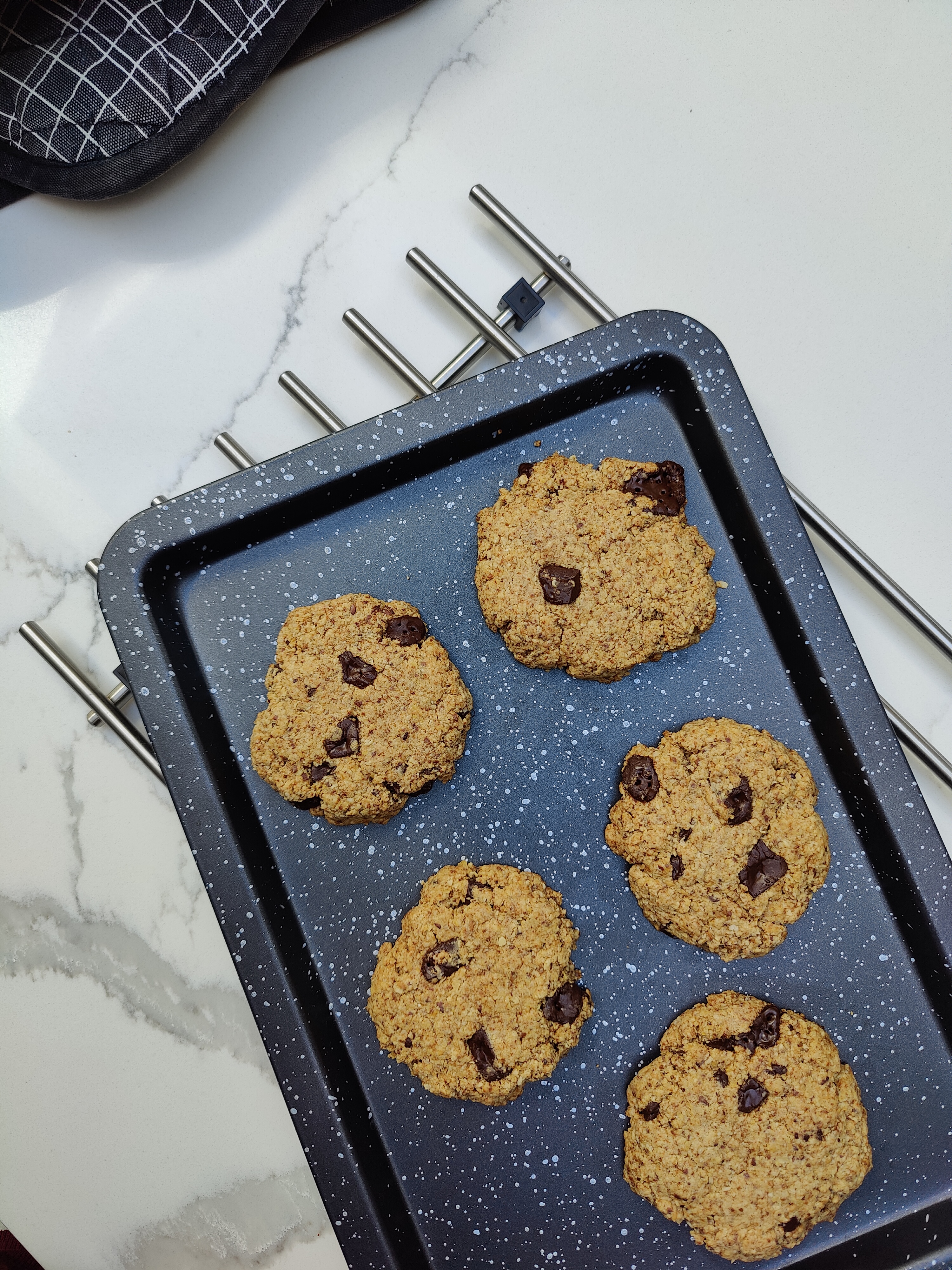 Delicious chip peanut butter cookies that will have you going back to the cookie jar for another! Recipe by our social media assistant Nav.
---
Chocolate coconut torte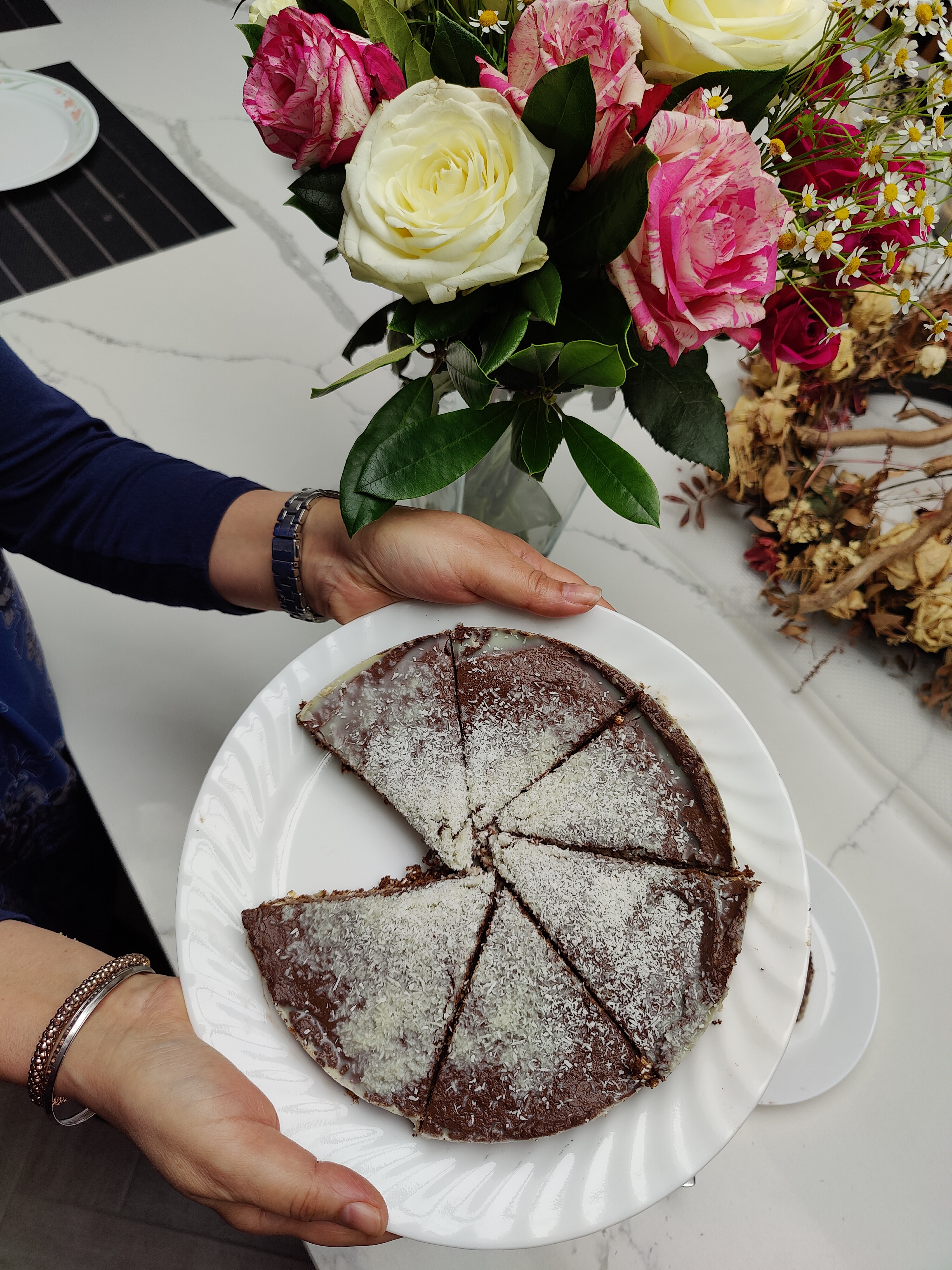 To celebrate mother's day, our social media assistant Nav made her mum a chocolate coconut torte inspired by her mum's favourite chocolate bar!
---
Coffee and walnut cake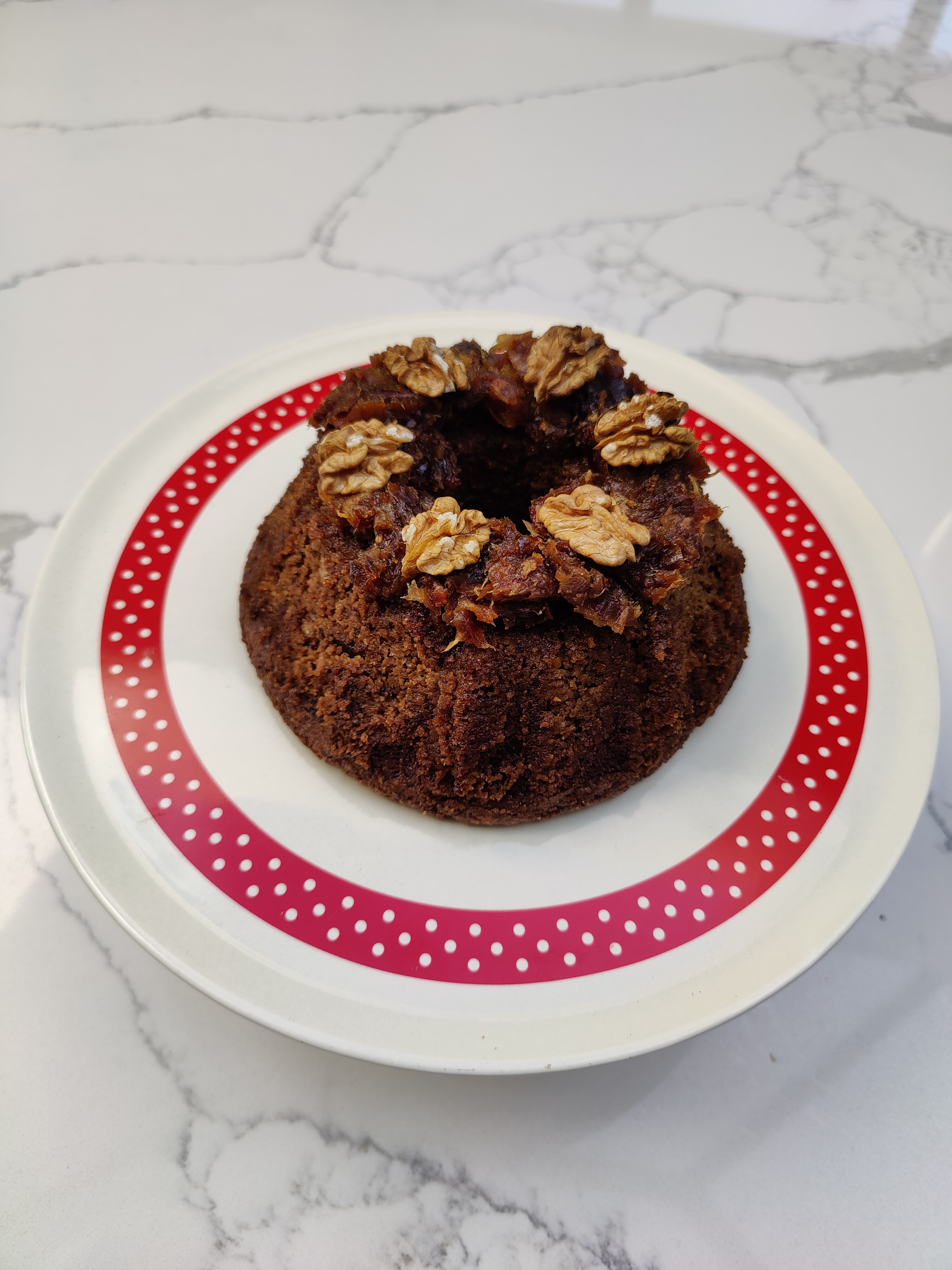 A special tea time treat brought to you by our Social media assistant Nav!
---
Chocolate peanut butter mousse tart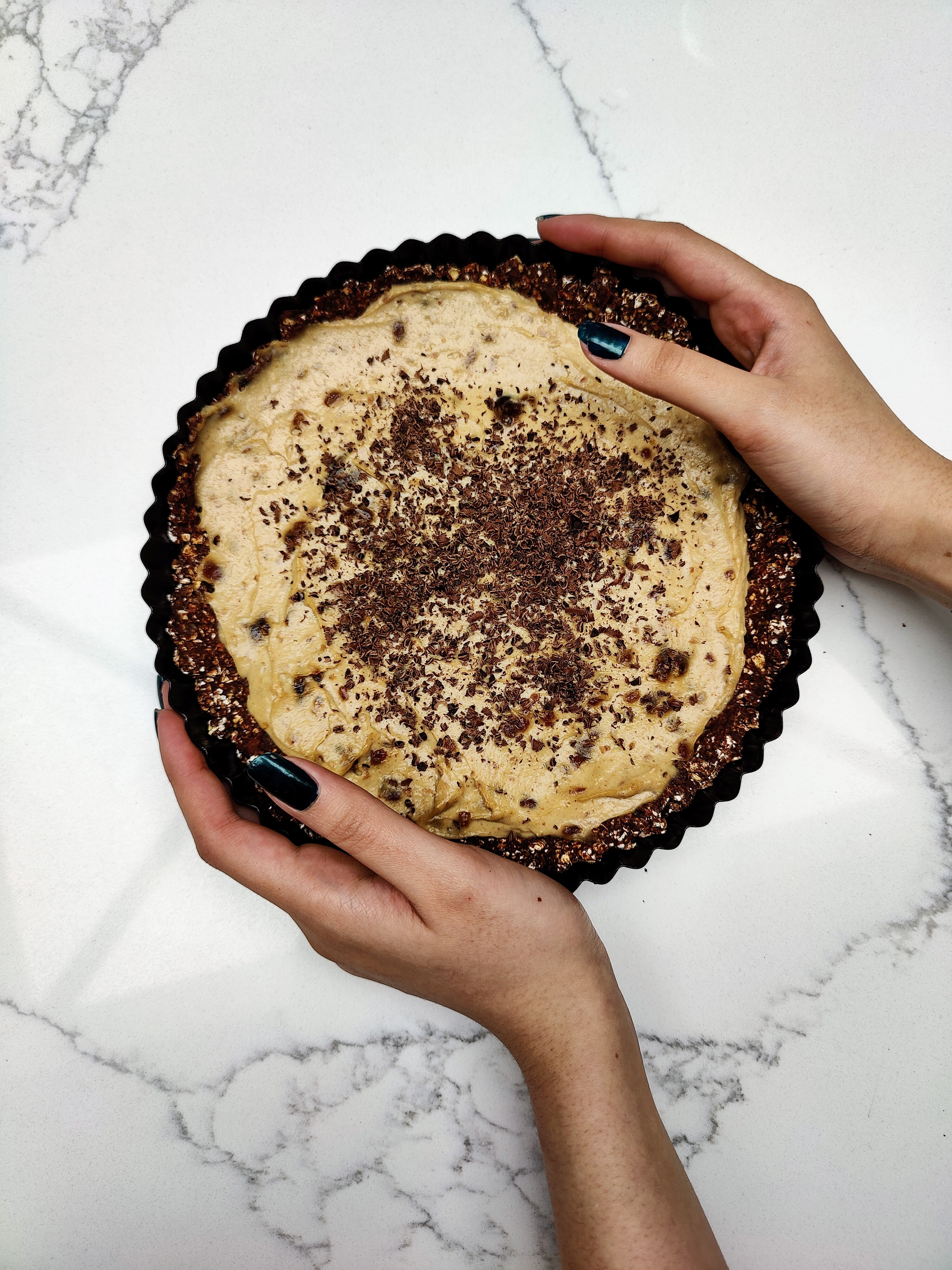 Using only 5 ingredients, you can make a delicious plant based chocolate peanut butter mousse tart! Recipe by our social media assistant Nav.
---
Fab flapjack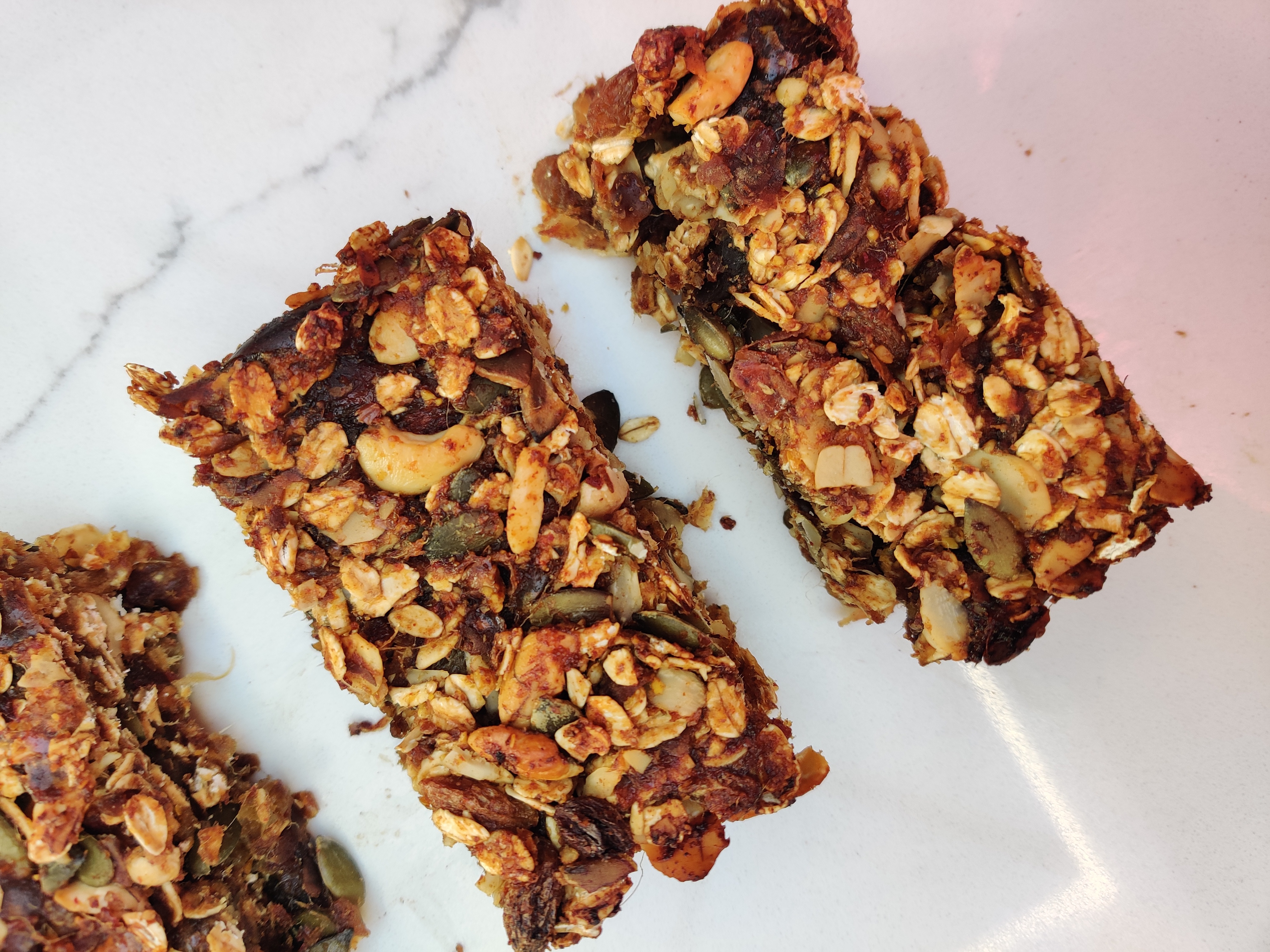 This recipe is naturally sweetened by dates which also sticks the mixture together, magic! They also provide a great source of energy, making them a perfect snack. Recipe by our social media assistant Nav.
---
Raw chocolate peanut butter slices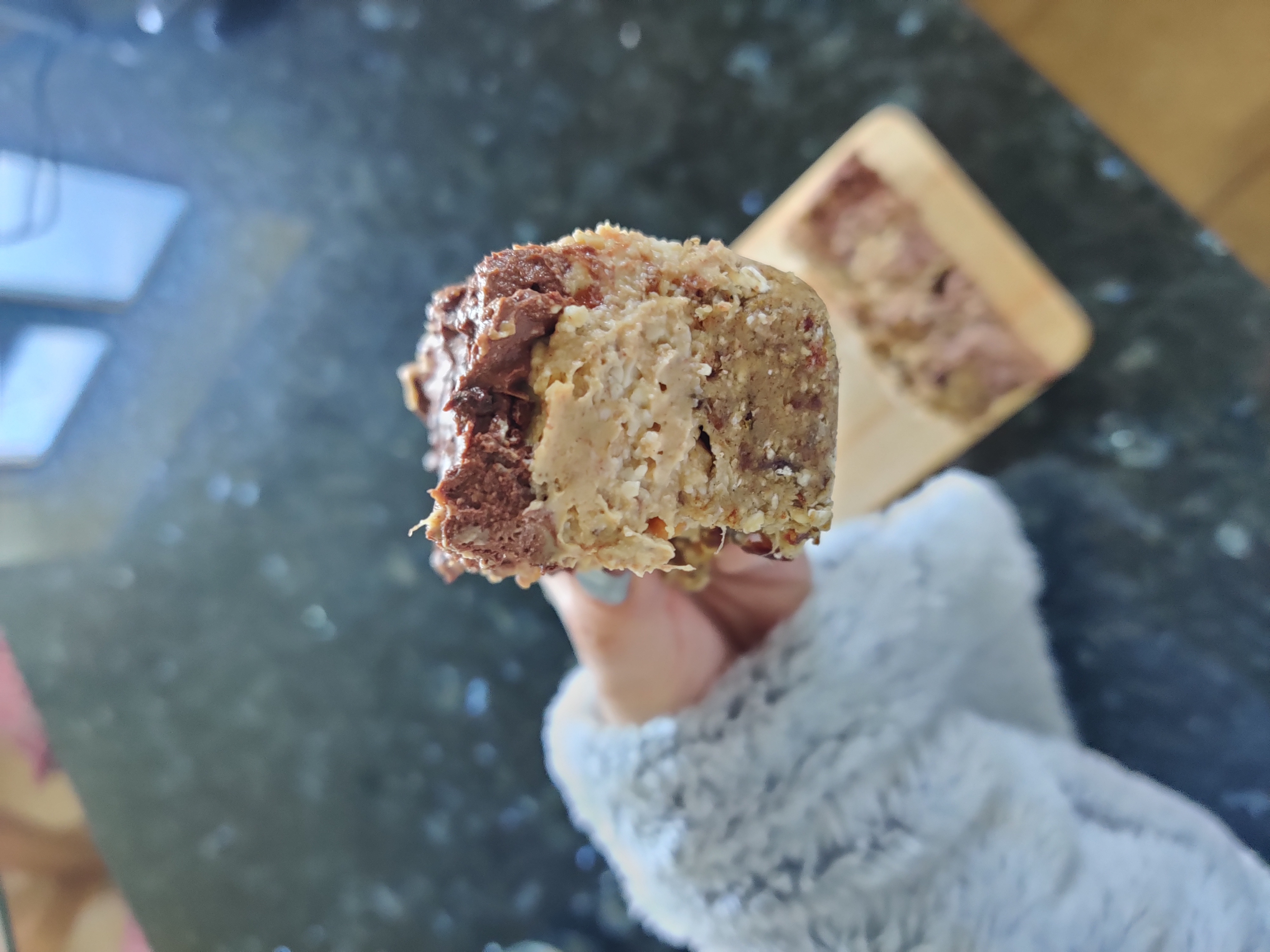 A delicious and nutritious snack using only 5 ingredients created by our Social Media assistant Nav!
---
Apple & Pear Streusel Tart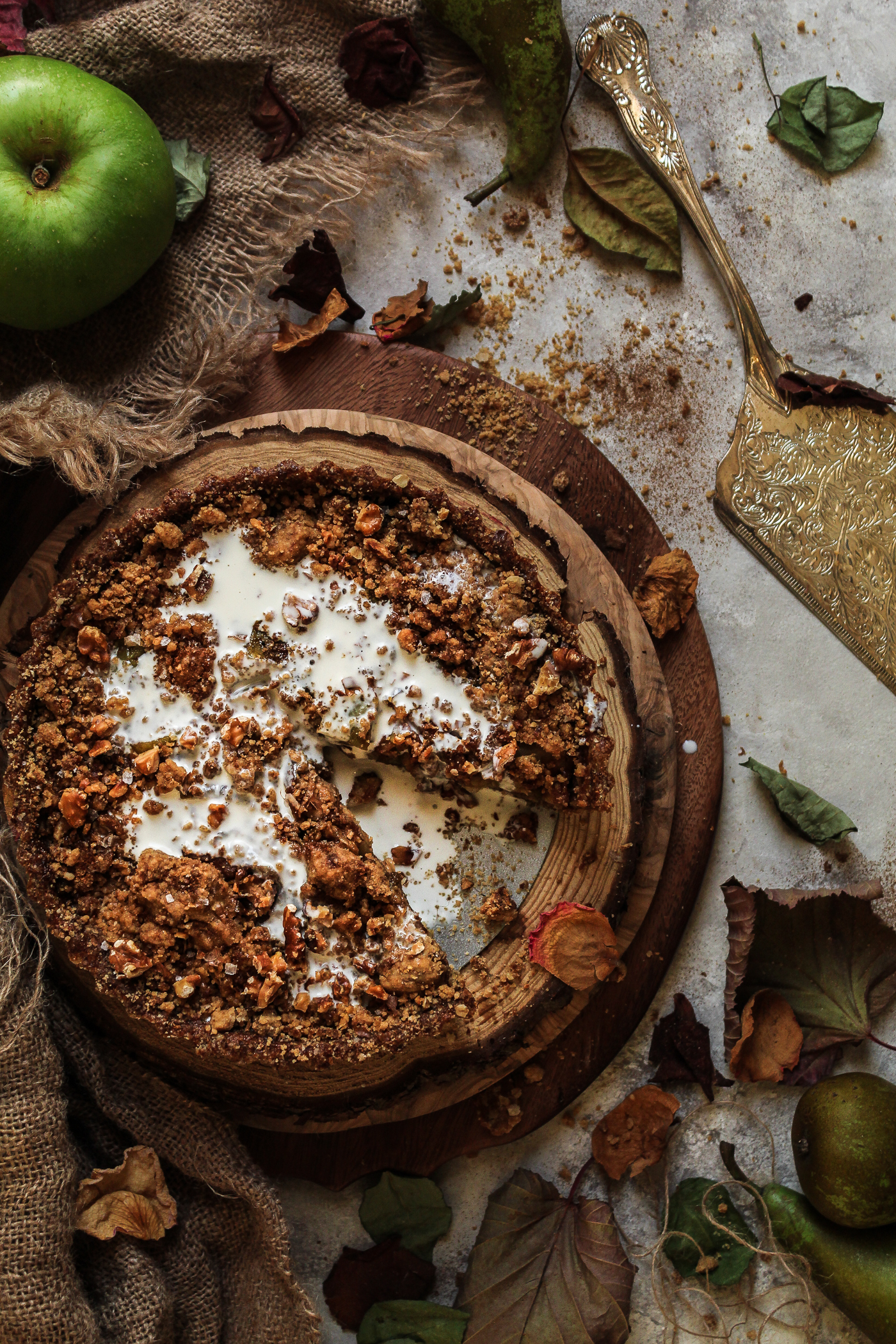 This fabulous recipe is from MIH teacher, trustee & co-founder of the Diverse Nutrition Association Melissa Saint Hill. Want more? Of course you do! Check out more of her stunning recipes over at @the_bare_scientist on Instagram.
---
Chocolate pistachio torte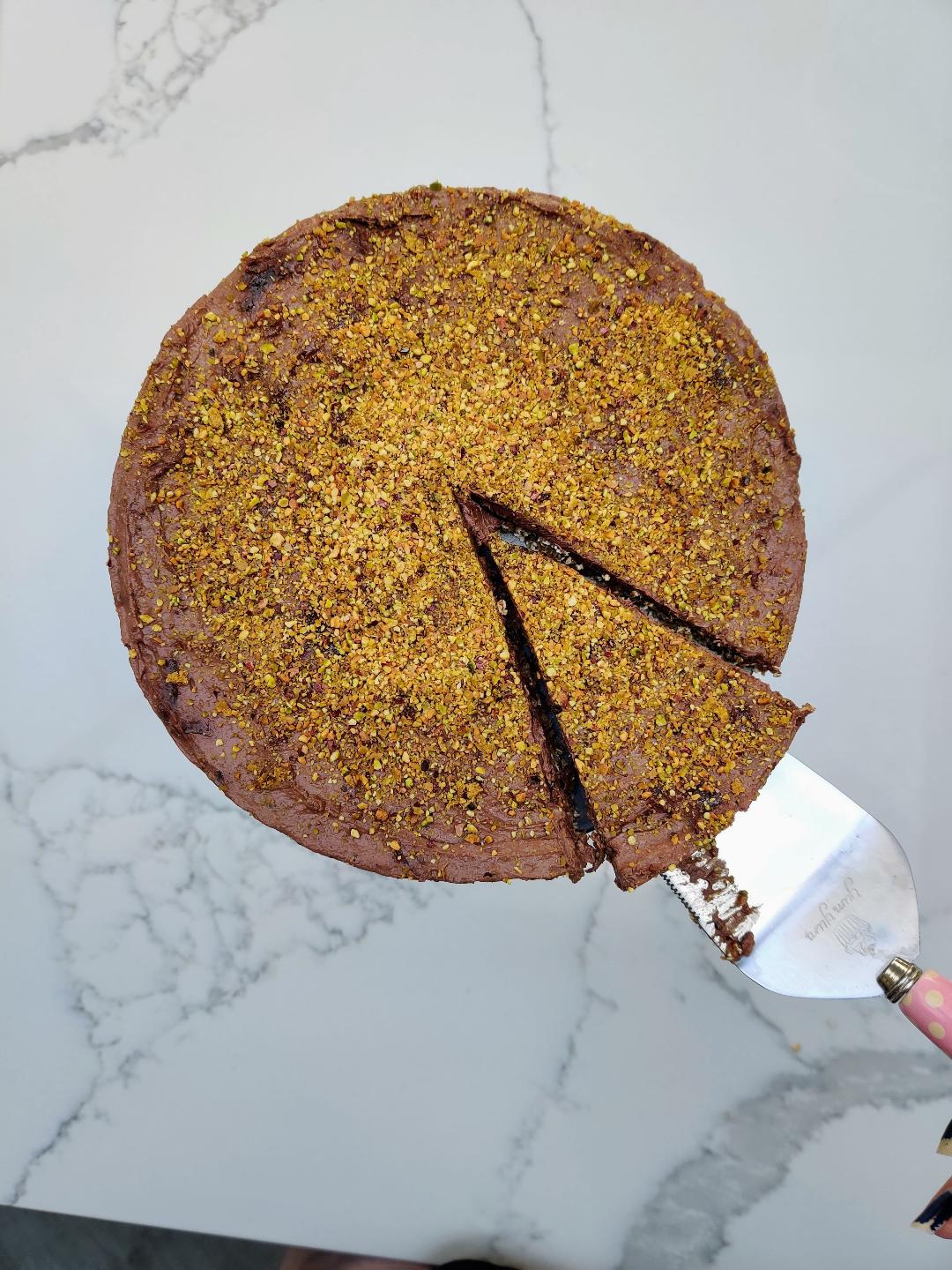 This recipe for a deccadent chocolate pistachio torte was created by our programmes assistant, Nav. A delicious and nutritious treat to enjoy this Veganuary, it's an indulgent dessert which is naturally sweetened with dates and helps you reach your daily recommended amount of iron.
---
Dark chocolate black bean brownies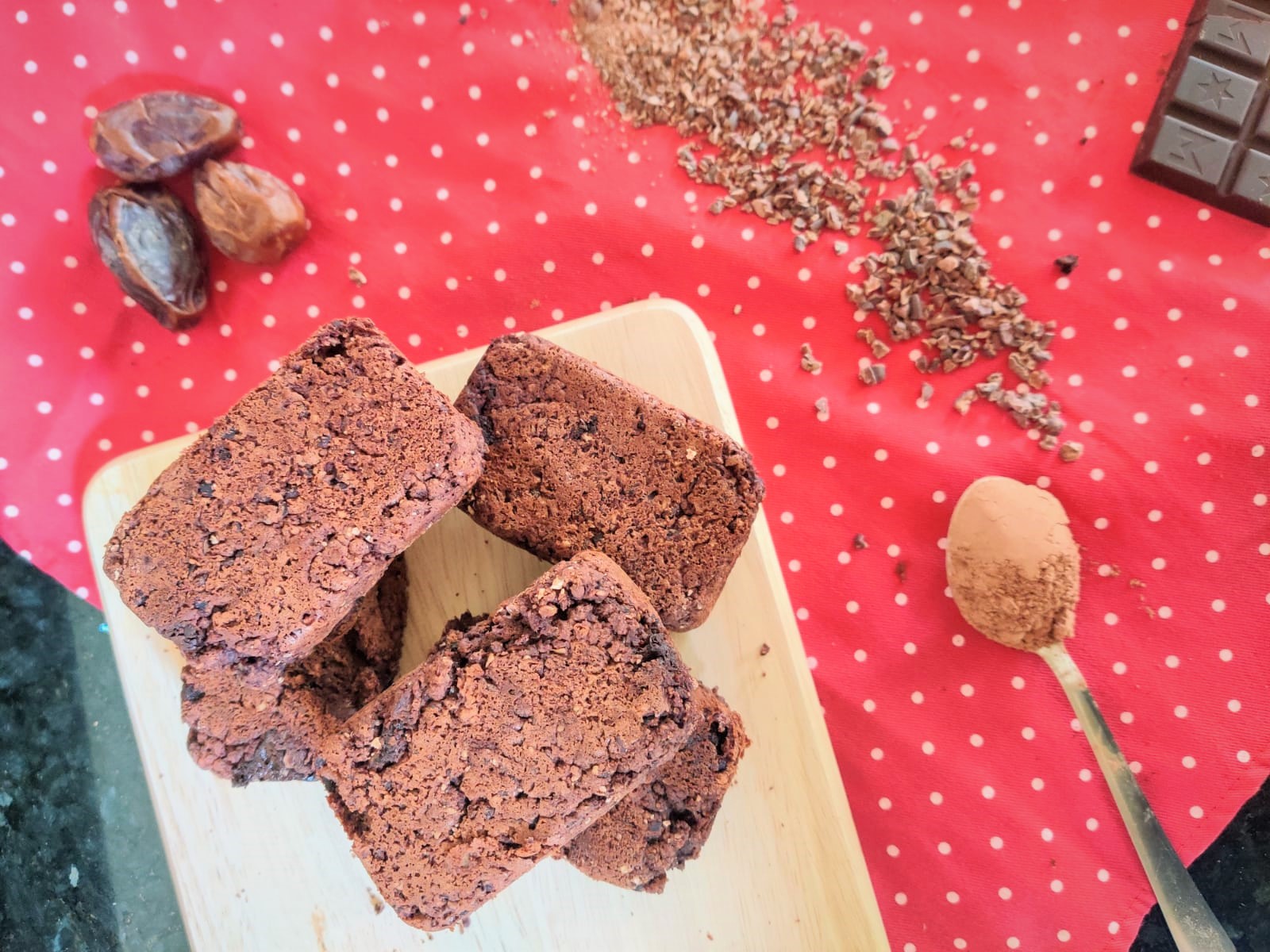 The recipe for these amazing brownies was developed by our fab programmes assistant, Nav. Containing iron, fibre and potassium, they are a great source of nutritional goodness and are naturally sweetened using dates which nicely balances the black beans. Nav says 'if you have never used beans in your baking before, give it a go I dare you!'
---
Gingerbread Cookie Dough Truffles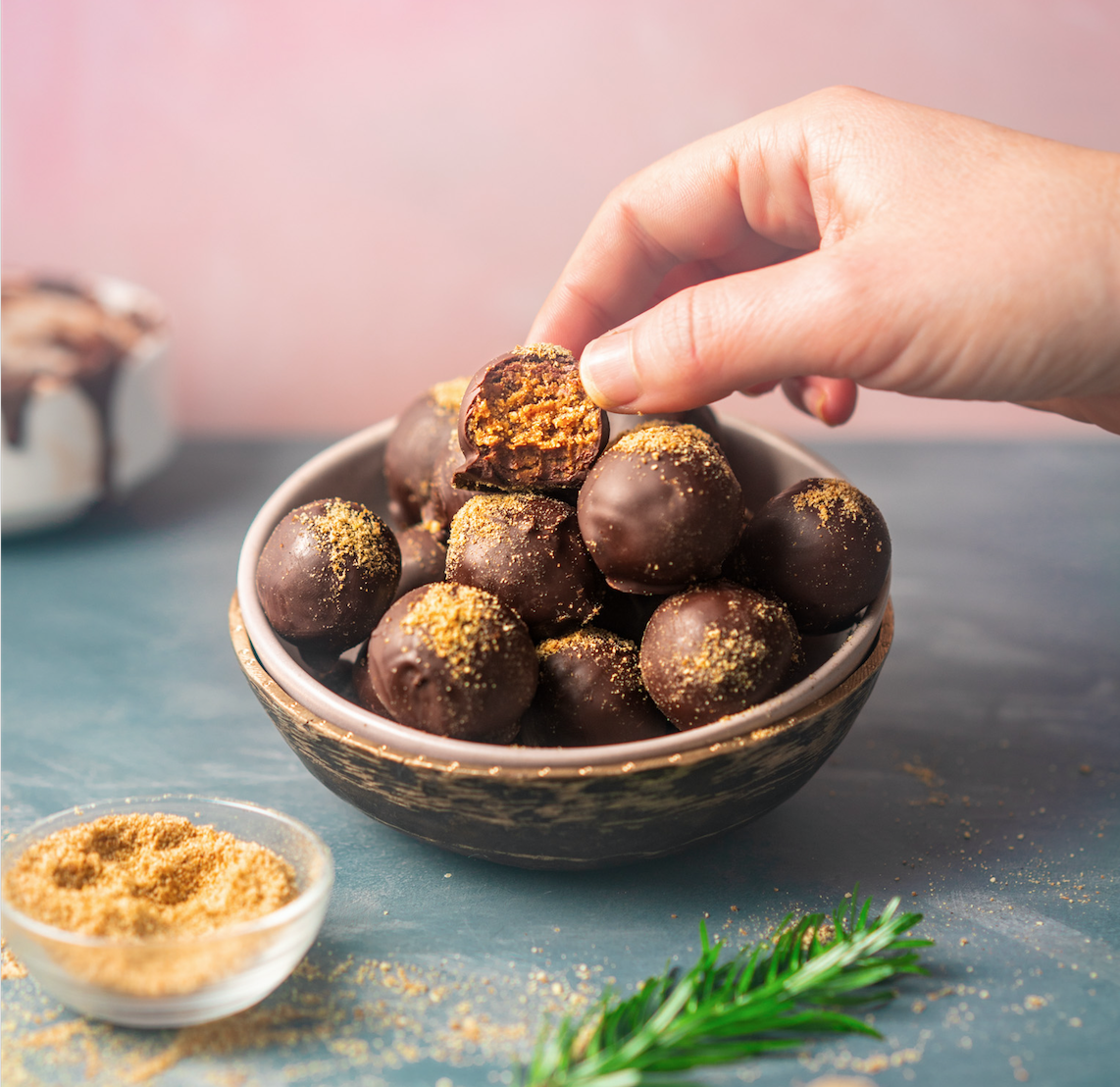 These truffles are nut-free, gluten-free, sweetened naturally AND they're good for you! Yes, that's right, despite tasting decadent and festive, these gingerbread cookie dough truffles are made with wholesome ingredients that will make you feel great and give you a lovely boost of nutrients. If you'd prefer not to coat in chocolate, you can double the "gingerbread sprinkle" and roll the gingerbread cookie dough balls in that instead. Although you can buy tiger nut flour and oat flour, you can make your own by whizzing tiger nuts or oats in a food processor or blender.
---
Chocolate Orange No-Mince Pies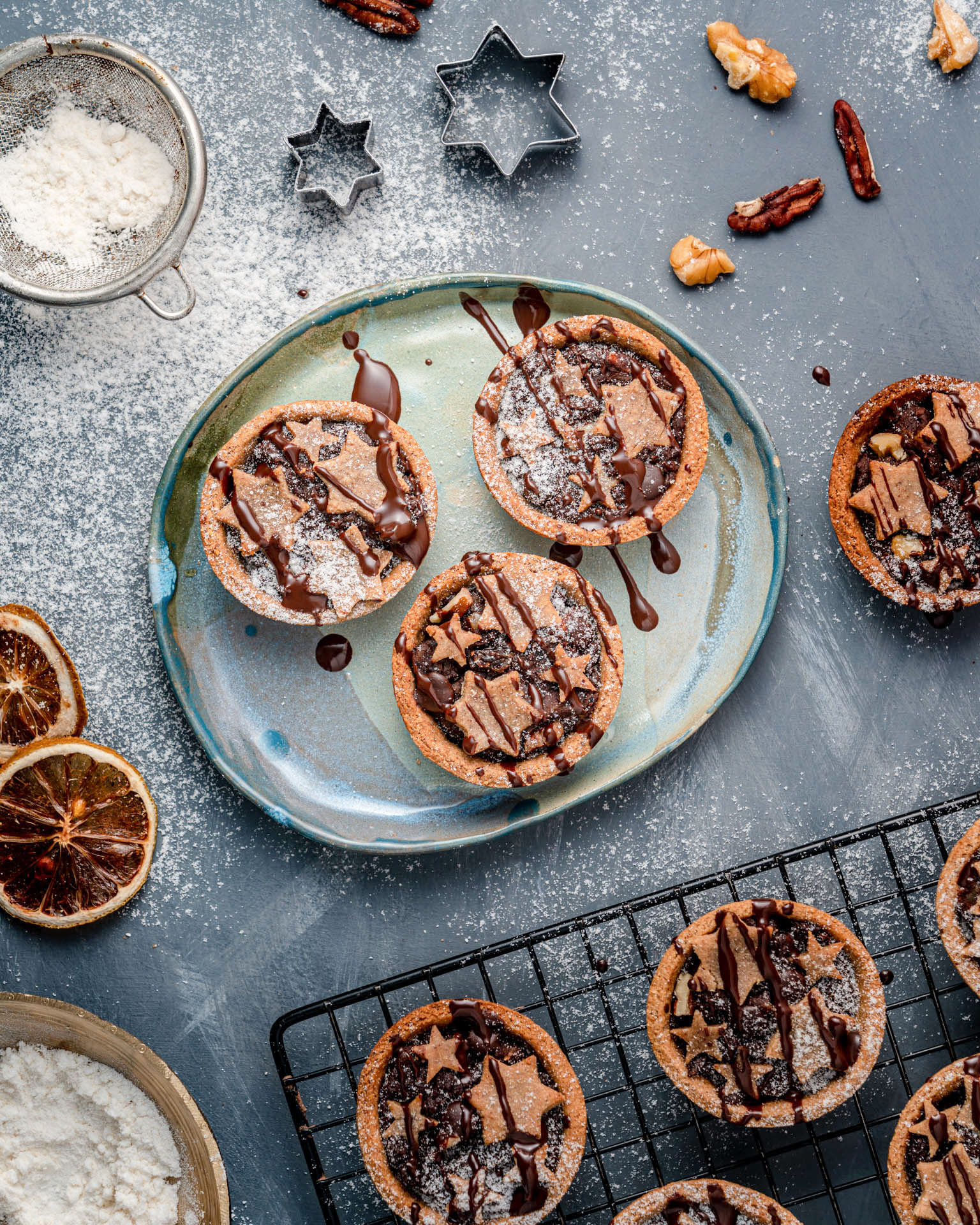 This fabulous recipe comes from MIH family member, teacher and food alchemist Amy Hiller! These festive treats are absolutely delicious and I think they tick a lot of boxes! Instead of stewed fruit, the filling is a rich, thick chocolatey mixture bursting full of texture and flavour.
---
Gluten-Free Chocolate Muffins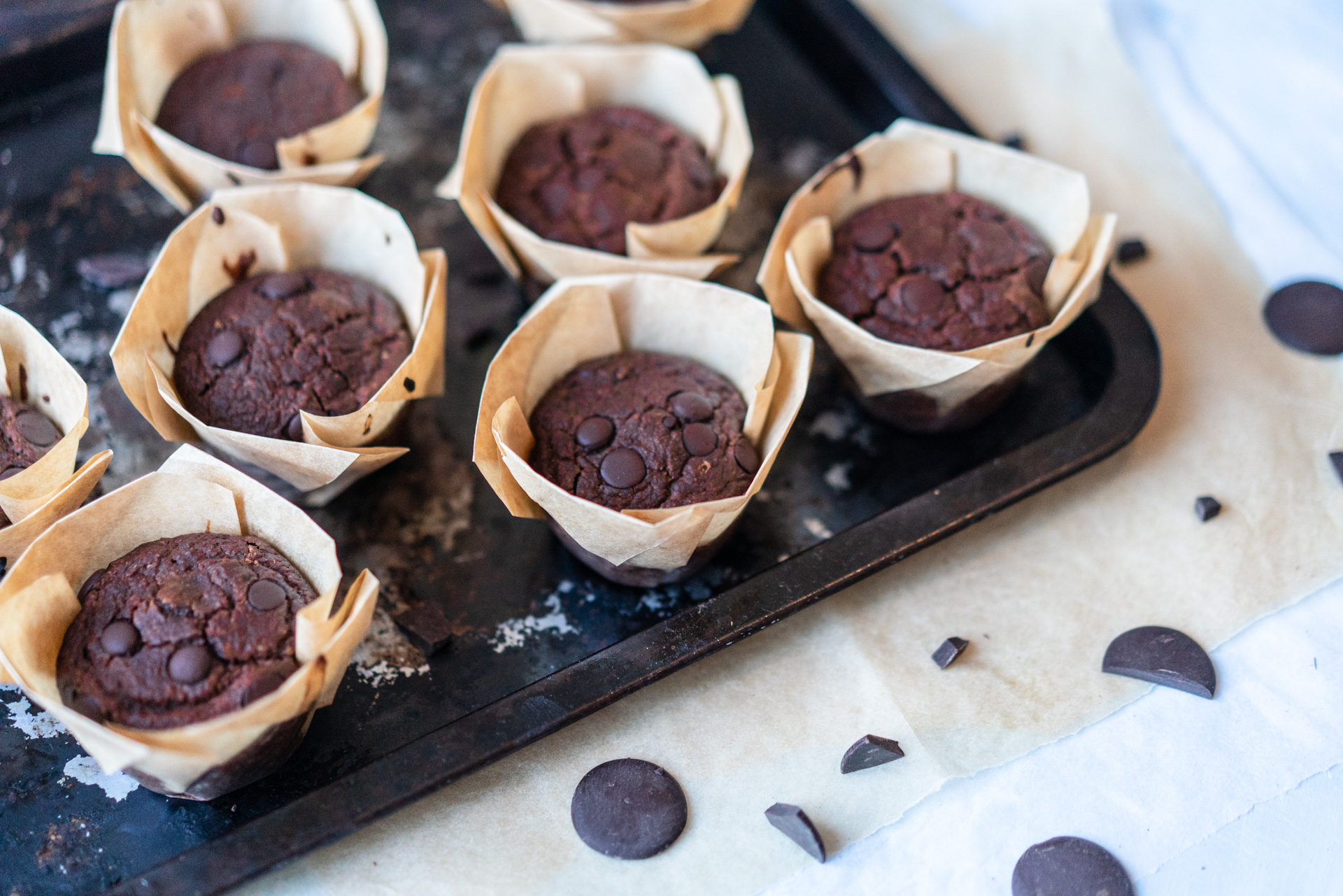 Sshhhh don't tell anyone! These decadent fudgey chocolate muffins are secretly packed full of wonderful ingredients that are good for you! Based on the flavour and texture, you'd never know that there were fruits, seeds and all-sorts lurking in them.
---
Chocolate Banana Cookies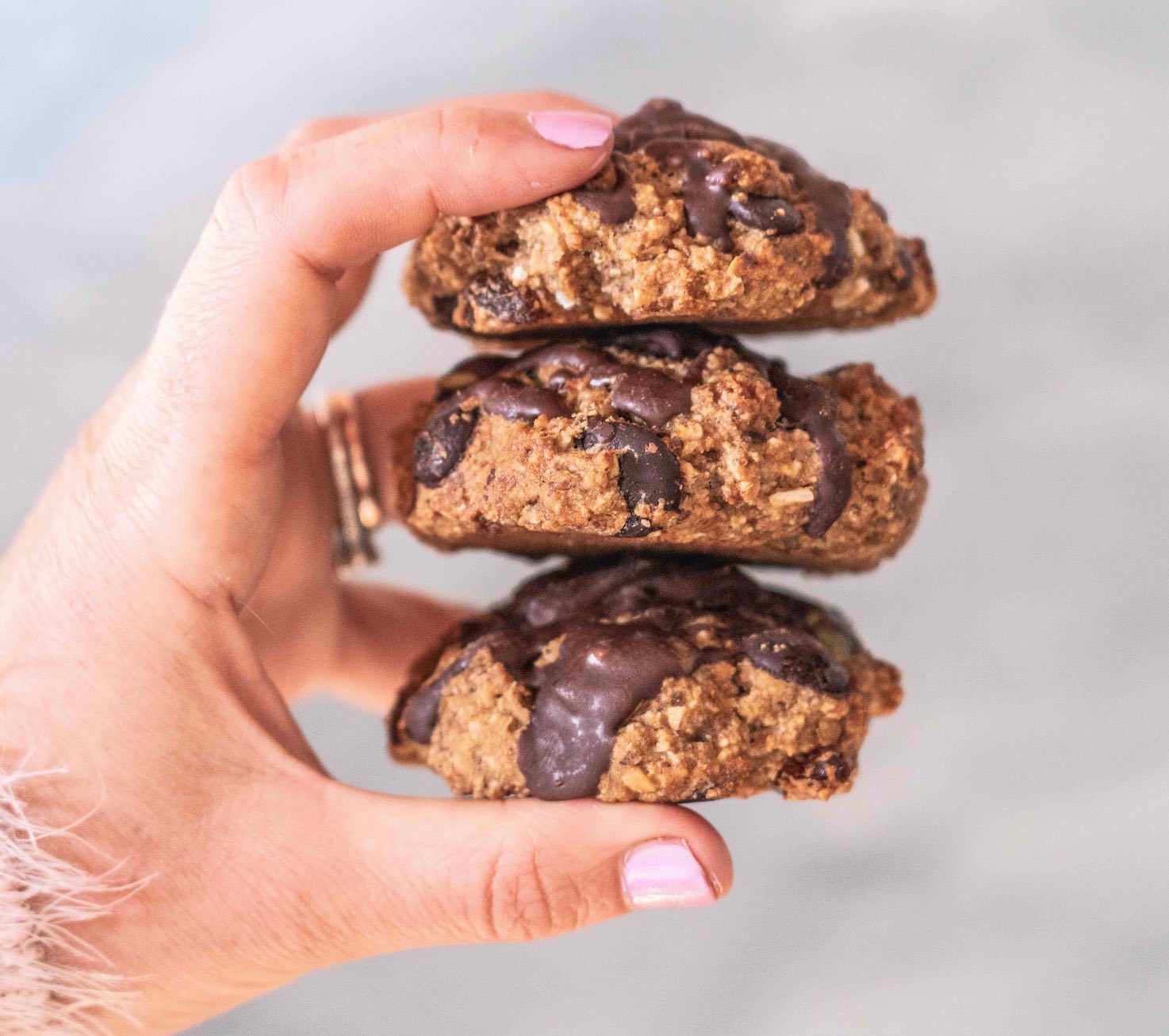 These cookies are beautifully light and cakey, almost like muffin tops. They're not too sweet and you can easily play around with the recipe and add your favourite dried fruits, nuts or seeds.
---
Fluffy Pancakes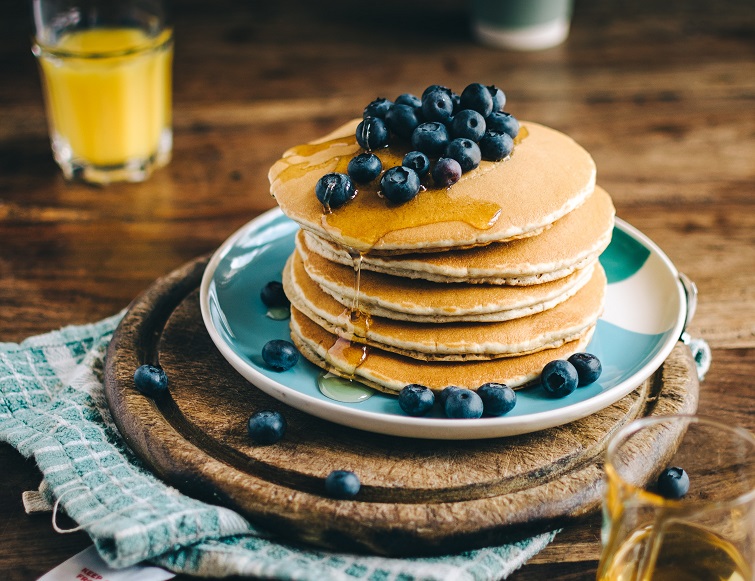 Extremely quick and easy to make American style fluffy pancakes. Serve with fresh berries or berry compote and lots of maple syrup!
---
Flourless Mince Pie Brownies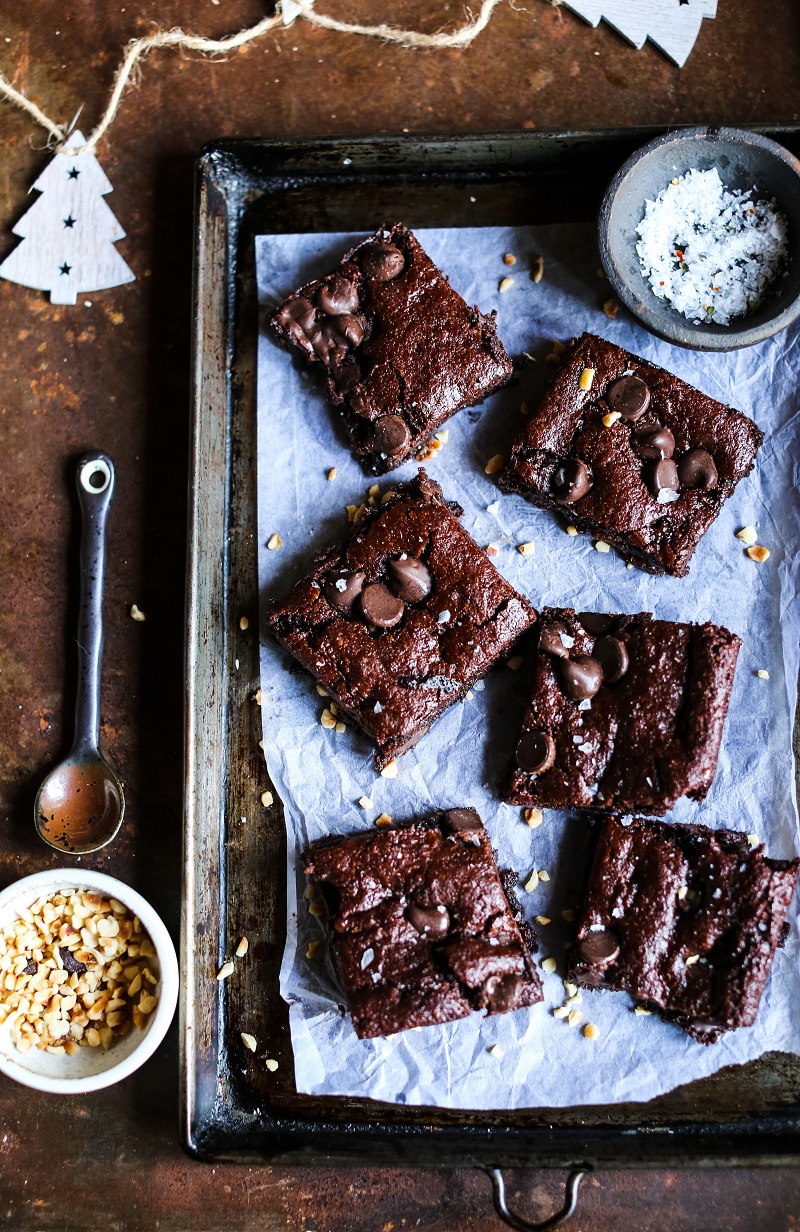 Festive spiced gluten-free intense chocolate brownies anyone? Eh, YES PLEASE. This squares of magic were created by food magician Niki Webster from Rebel Recipes food blog.
---
Spiced Apple, Ginger Cake with a Pecan crumb topping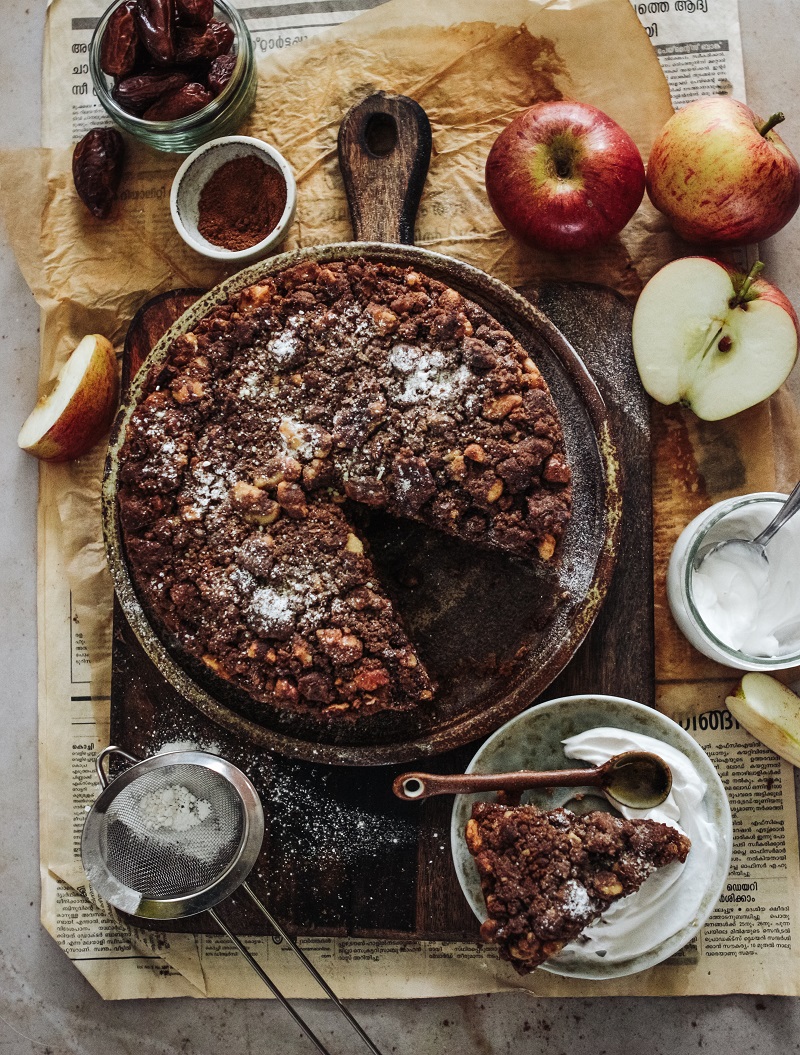 The Queen of apple cakes from our pal Niki Webster over at Rebel Recipes food blog. Our founder Sarah Bentley could not think of a better way to use up all those seasonal apples! This is a SERIOUSLY good recipe and comes out looking like the photo even when made by us mere mortals!
---
Go Nuts Donuts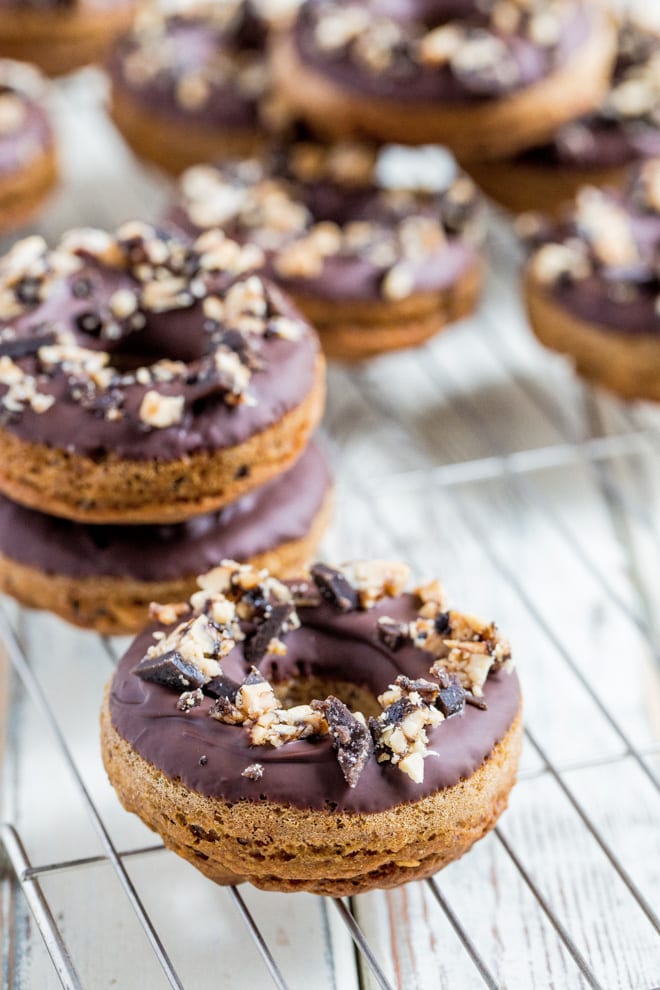 Who doesn't love a donut? This sophisticated donut has a lot more nourishment than your average one and tastes banging too. Amazing recipe from our friends over at The Cook & Him.
---
Vegan Strawberry Cheesecake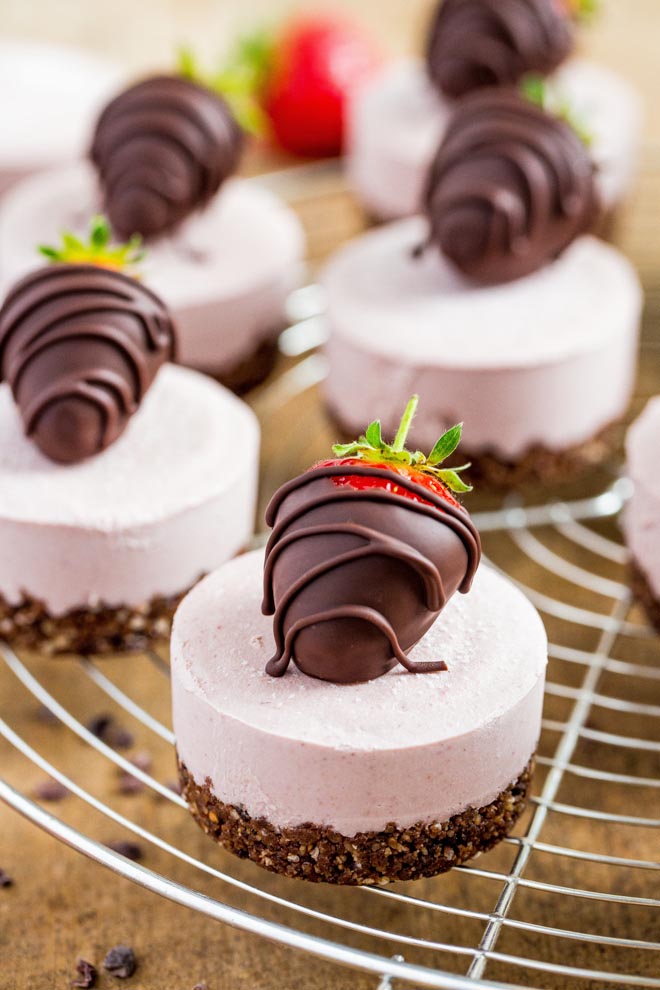 This is a WOW dessert if we have ever seen one. A total treat and healthy too and created by our friends over at amazing veggie and vegan food blog The Cook & Him.
---
Chocolate Falafel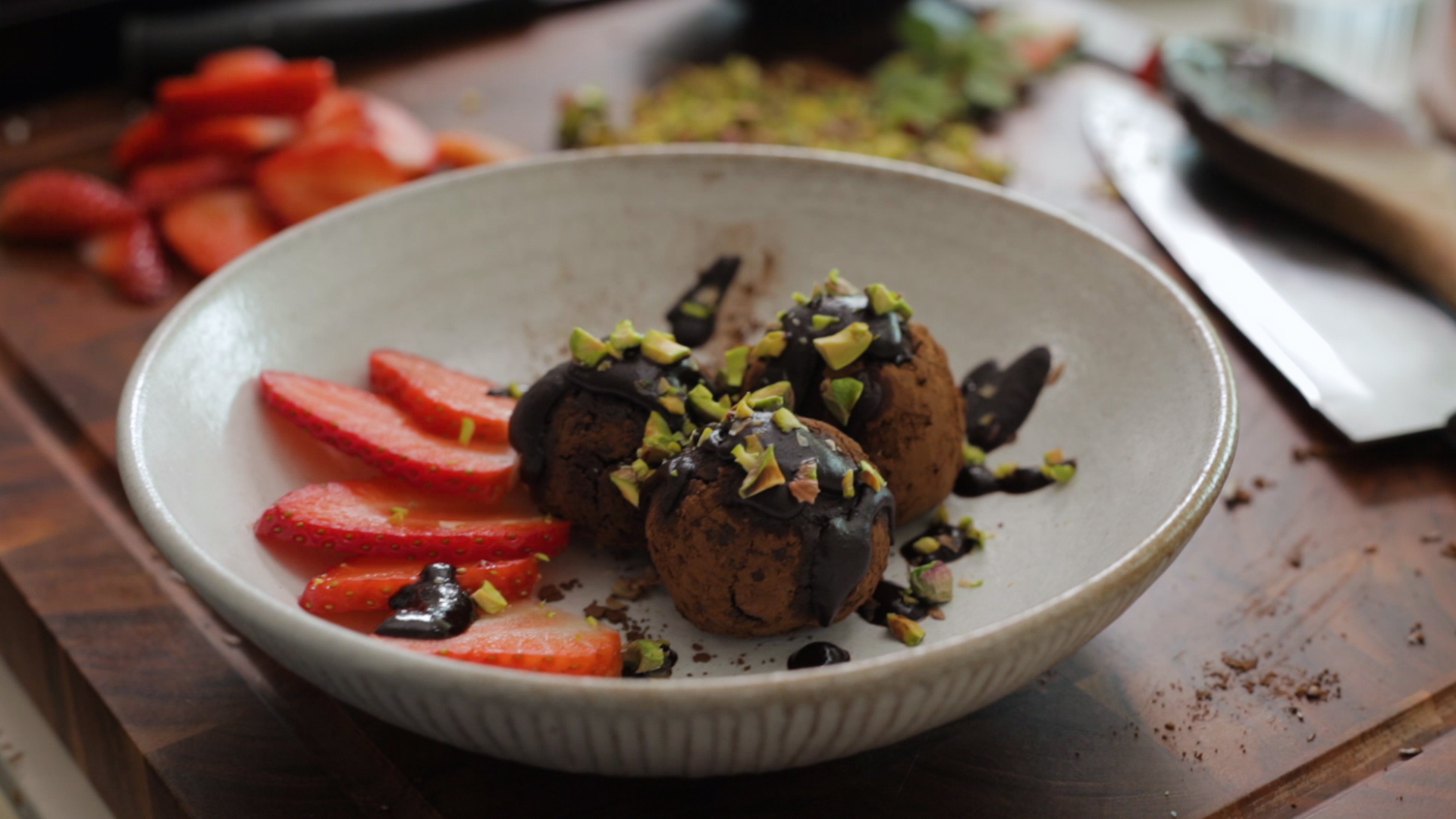 Chocolate falafel? No way. Yes way. Try this tasty recipe from our Sarah for a new sweet spin on falafel.
---
Nut Free Chocolate Bliss Balls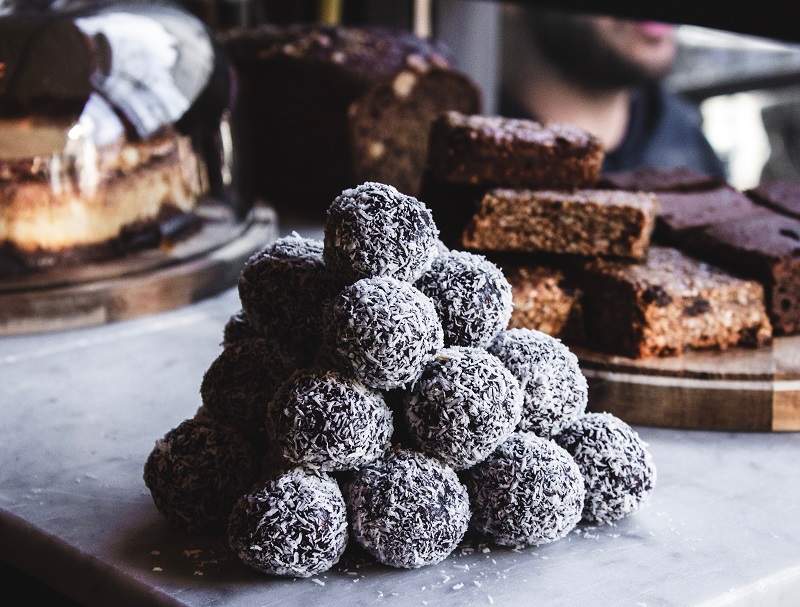 Nut free and vegan? No problem. These tasty chocolate raw balls always go down a storm when we make them in nurseries and other nut-free settings. Replacing nuts with oats also makes them cheaper to make.
---
Banana and Peanut Butter Flapjacks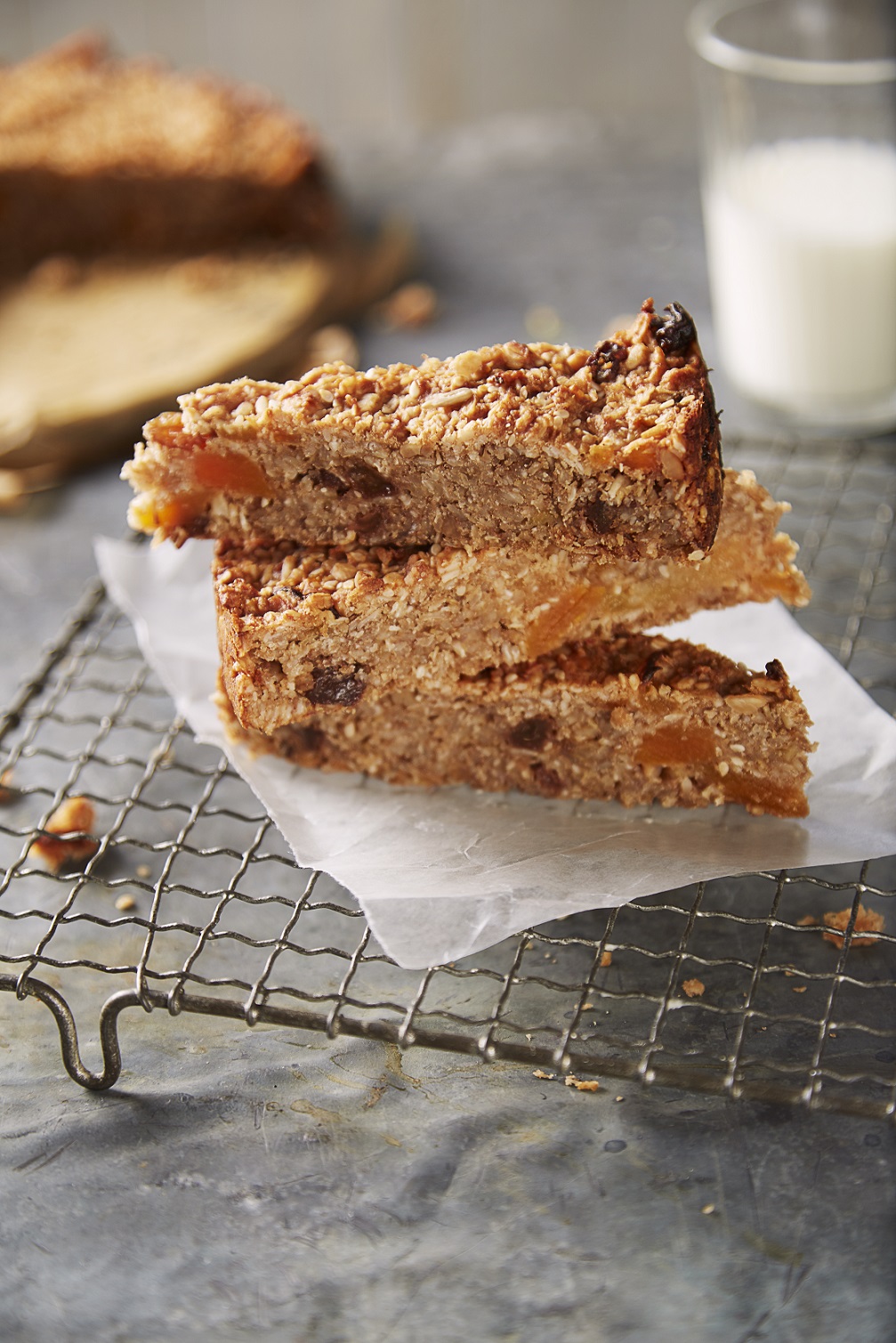 This homemade flapjack recipe is packed full of protein, fruit and plenty of fibre. Fit for breakfast, afternoon snacks or perfect with our Banana Nice-Cream for dessert.
---
Miso Brownies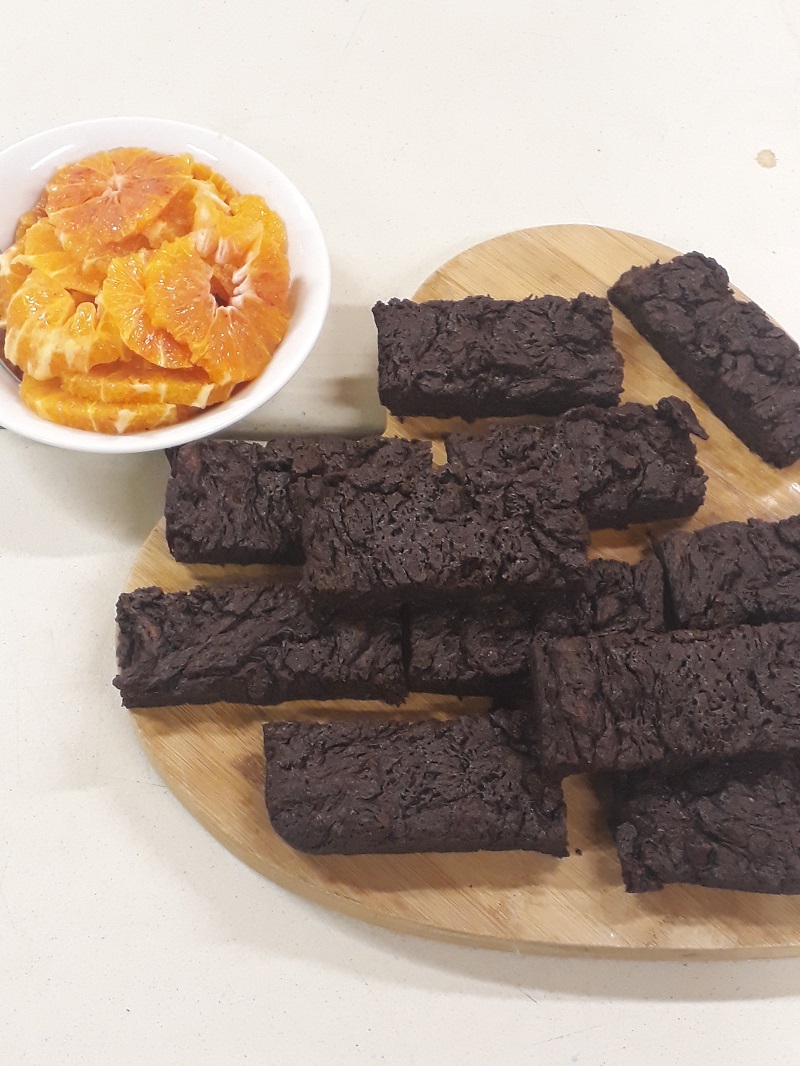 Gooey, decadent, really quite naughty - but oh so banging tasting brownies from our chef Steve Wilson. Enjoy.
---
Tropical No Bake Bars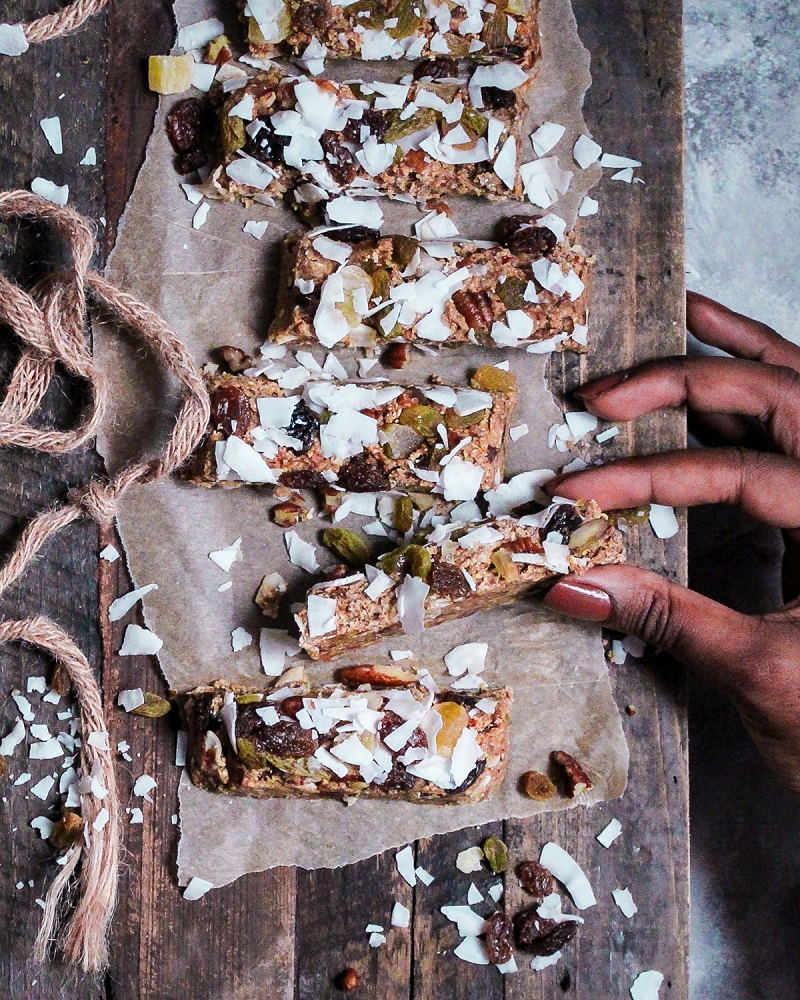 Nutritious sweet treat with lots of fibre and deliciousness from our vegan baking teacher Melissa St Hill.
---
Chocolate Tahini Hearts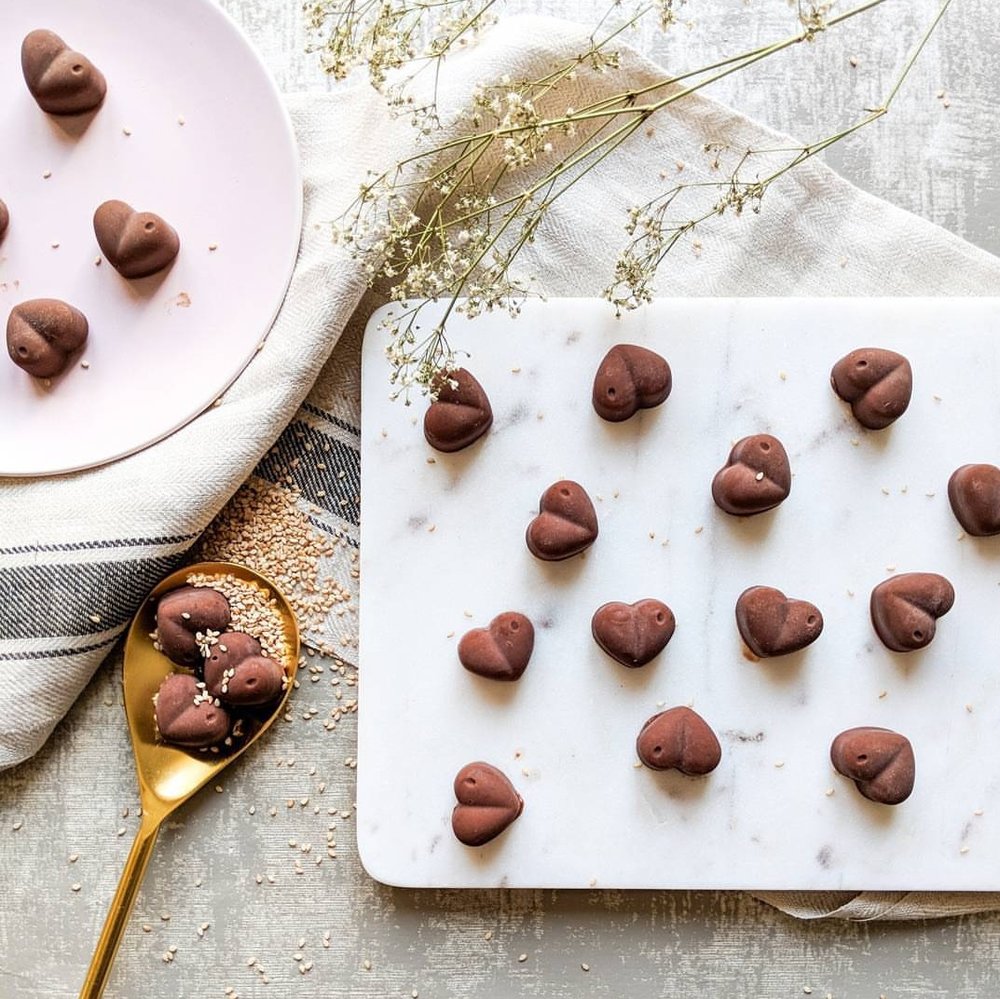 These little beauties are absolutely delicious. Thankyou Deepa Devlukia of Girl Boy Food Baby blog for creating them!
---
Quinoa Almond Butter Crispy Treats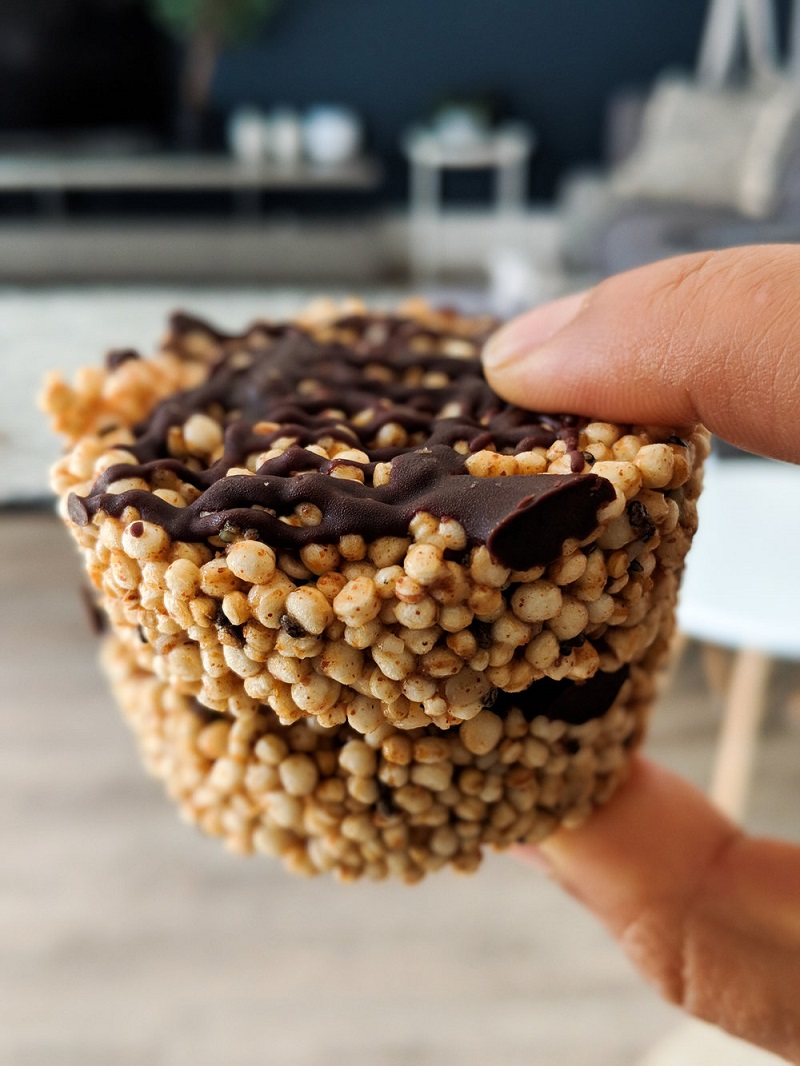 These bite size bits of tastiness were created by our pal and supporter Deepa Devlukia over at stunning vegan food and conscious parenting blog Girl Boy Food Baby. Thankyou Deepa!
---
Apricot & Lime Raw Balls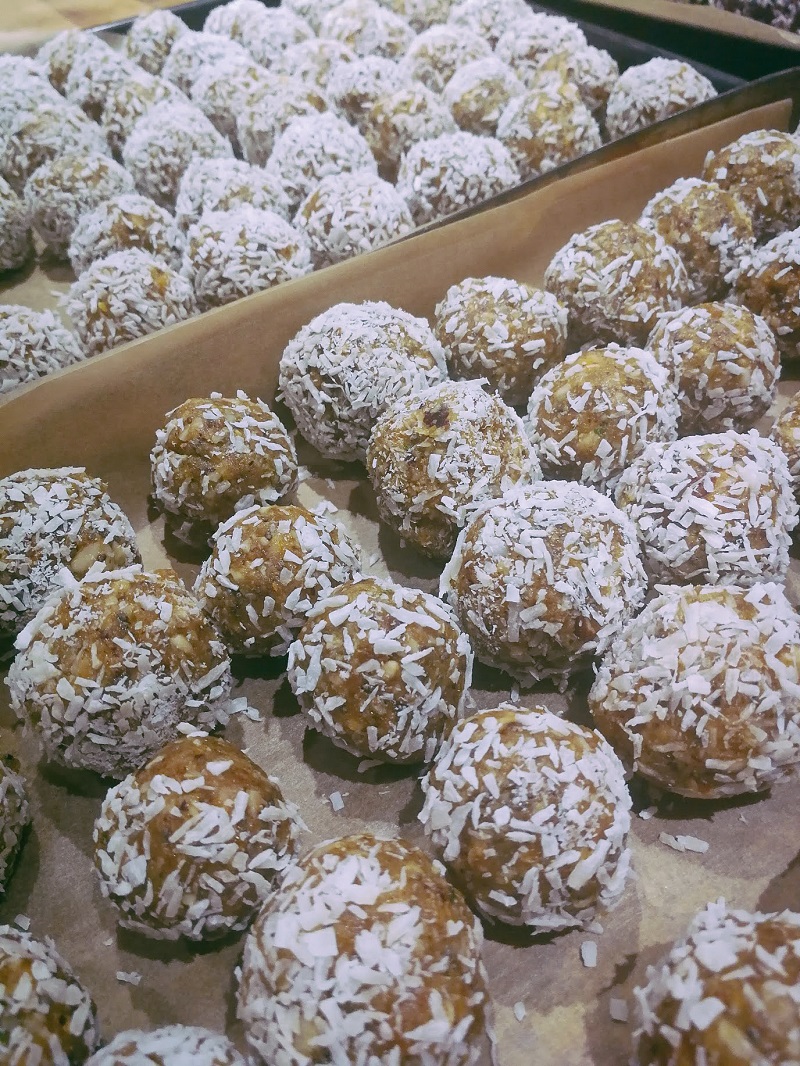 Tangy, sweet and oh so delicious. Make these now! Or attend one of our masterclasses and you might get one of these babies at the end. Yum.
---
Chocolate Brownie Raw Bites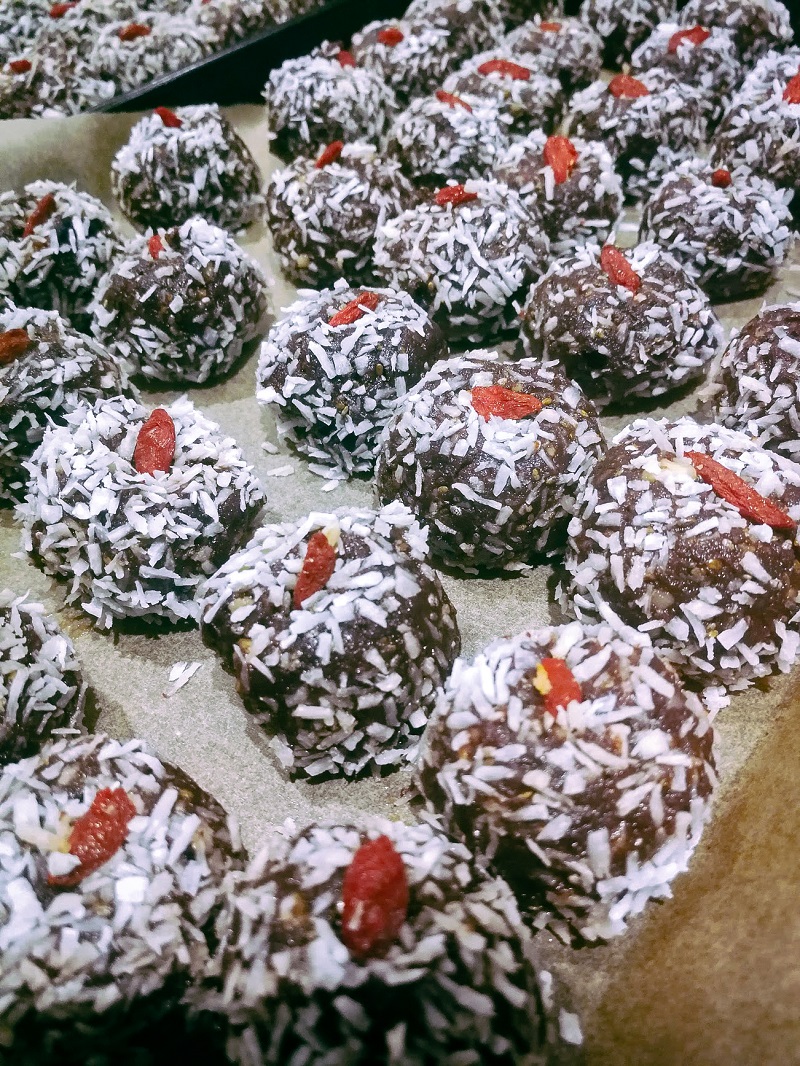 This delicious balls of yum will get your smacking your lips and reaching for more!
---
World's Best Gluten-Free Vegan Mince Pies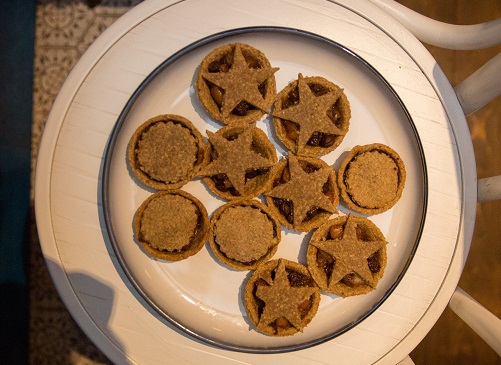 These gluten-free mince pies are world class. The recipe was devised by our Amy Hiller - chef and social media extraordinaire - and they always win rave reviews at our festive parties. Sarah hates mince pies and will happily scoff 4 of these. They're that good.
---
Chocolate Hummus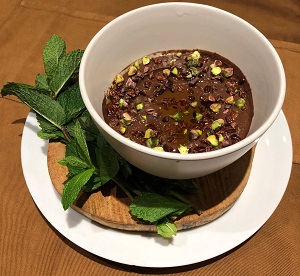 A winner at our kids events this rich, delicious chocolate hummus - or chocolate spread as we say when we bill it to kids - is super quick and easy to make. It's vegan and a fantastic source of protein, fibre and whole food goodness.
---
Wild Orange Chocolate Marble Cake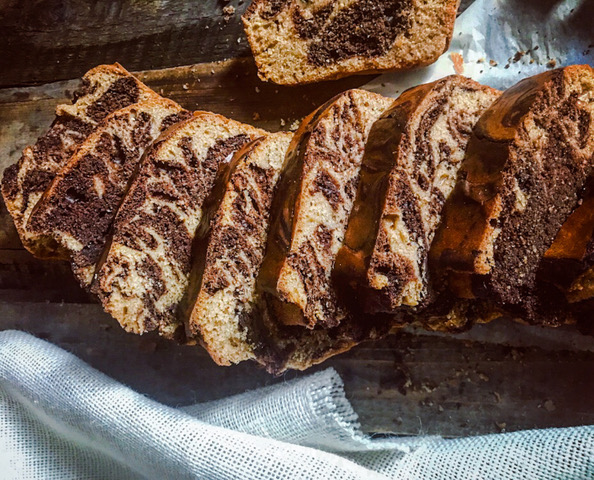 Baking without dairy and eggs doesn't have to be complicated or expensive as nutritionist, scientist and chef Melissa Saint Hill (aka @the_bare_scientist) proves with this yummy cake. This delicious recipe makes use of ground flaxseed instead of eggs while almond milk and rapeseed oil replace dairy milk and butter. The outcome is a light and flavourful cake. Perfect with a cuppa!
---
Grilled Pear & Blackberry Chocolate Tart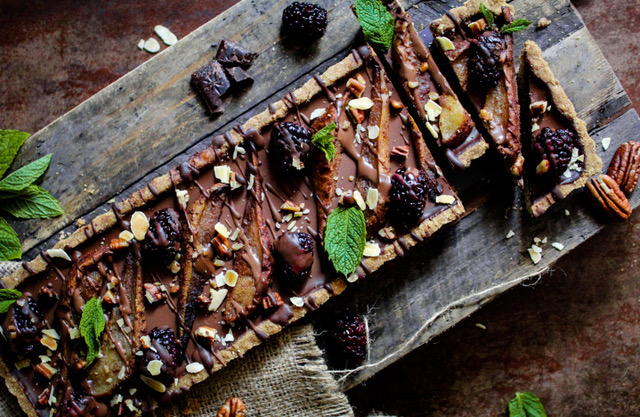 This decadent dessert is a real treat. It's packed full of goodness and sure to impress friends and family. It was created by the fantastic Melissa Saint Hill - nutritionist, scientist and chef.
---
Healthy chocolate granola tart base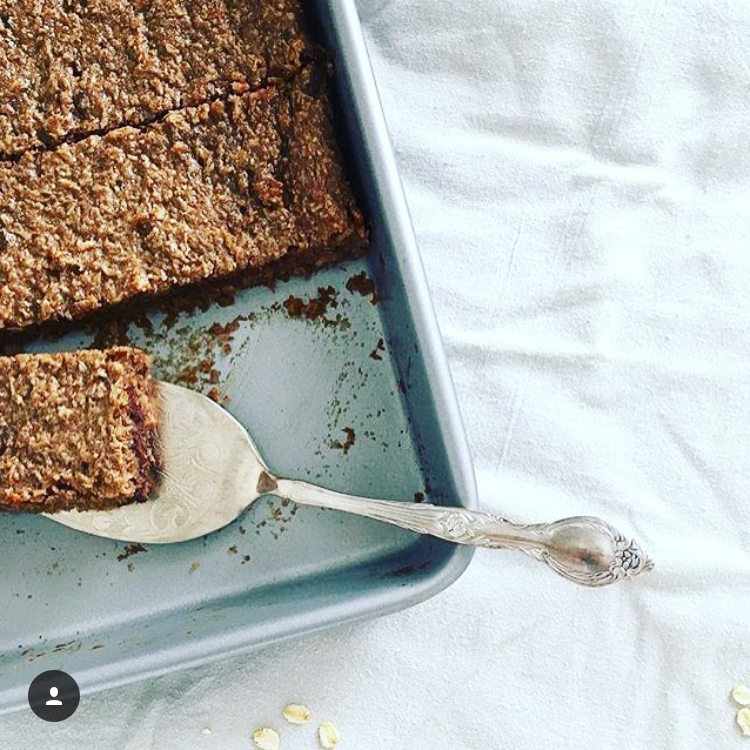 This simple and delicious tart base from Hannah McCollum, founder of ChicP, is really versatile. It's crunchy and rich and a healthy alternative to traditional pie bases (aim for a granola without refined sugars). Top with bananas, nut butter and coconut yogurt for a delicious healthy twise on bannoffee pie!
---
BBQ British Summer Fruit Salad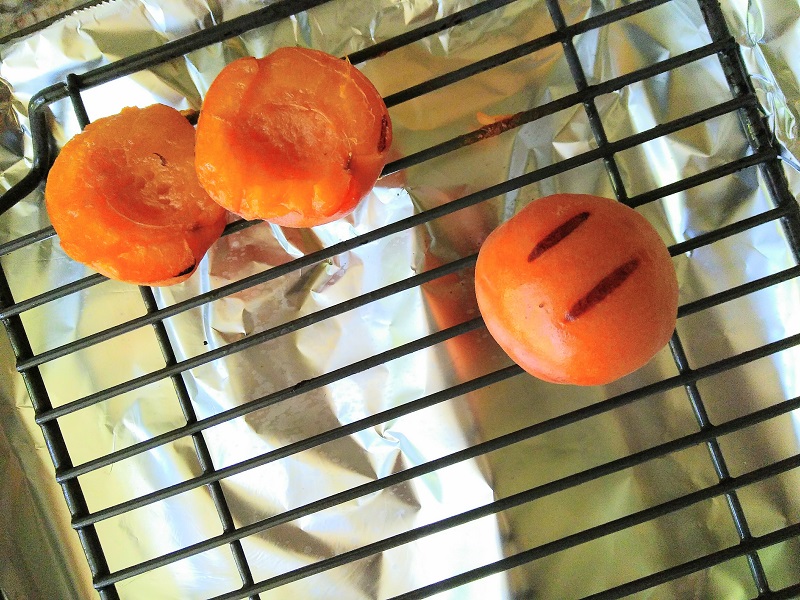 We are so lucky at this time of year - we have such exciting fruit available to us. It's worth checking out what's in season in the UK because they will be miles more tasty and fresh (because they won't have been picked too long ago) and often they're cheaper too.
---
Caribbean Ginger Bites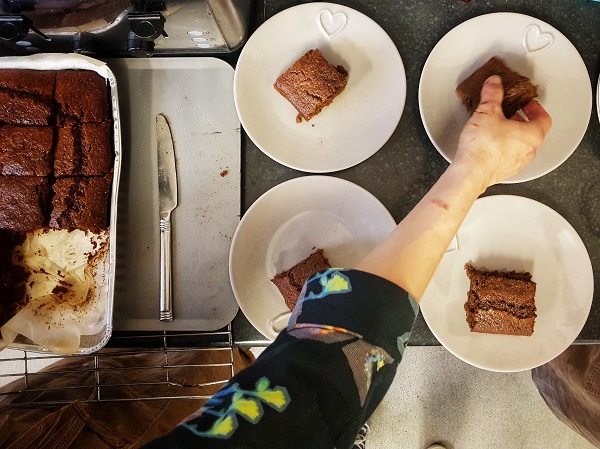 Our teacher Sharon says, "This ginger cake is made with wholegrain spelt flour, lots of spices, minerals and heart healthy fats, so lots of benefits to be had from this simple treat." The awesome ladies she made it with at Grace Houserecovery centre all gave it a thumbs up - so do we.
---
Hello Chocolate Truffles!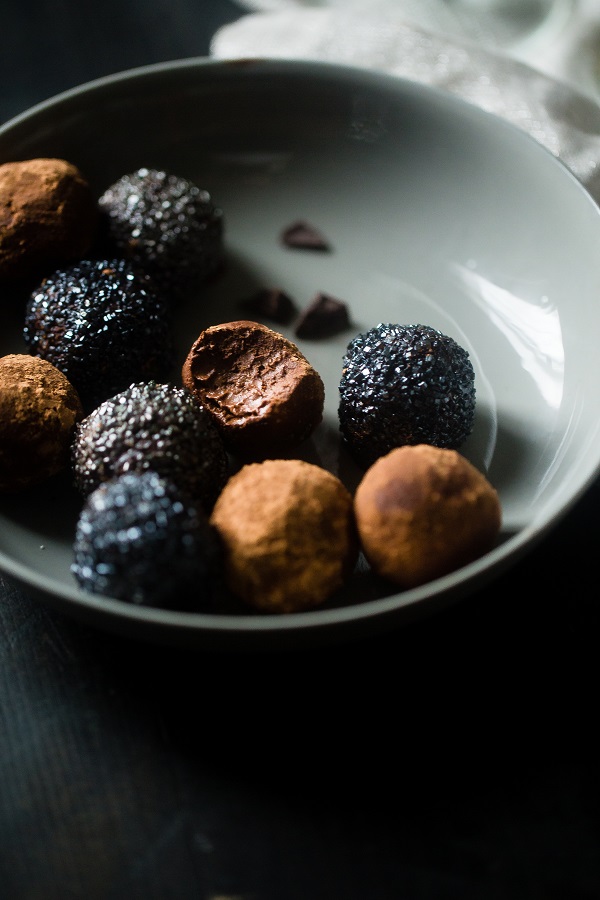 This is what our PD Sarah said when Steve our teacher presented her and Veryan with a little plate of these babies! Freshly made by some young people from a special needs support school - they did an awesome job and the truffles tasted just hmmmmmmmmm. Yum. Decadent, a little bit naughty but hey - think of all that iron and antioxidants.
---
Banana & Raspberry Nice Cream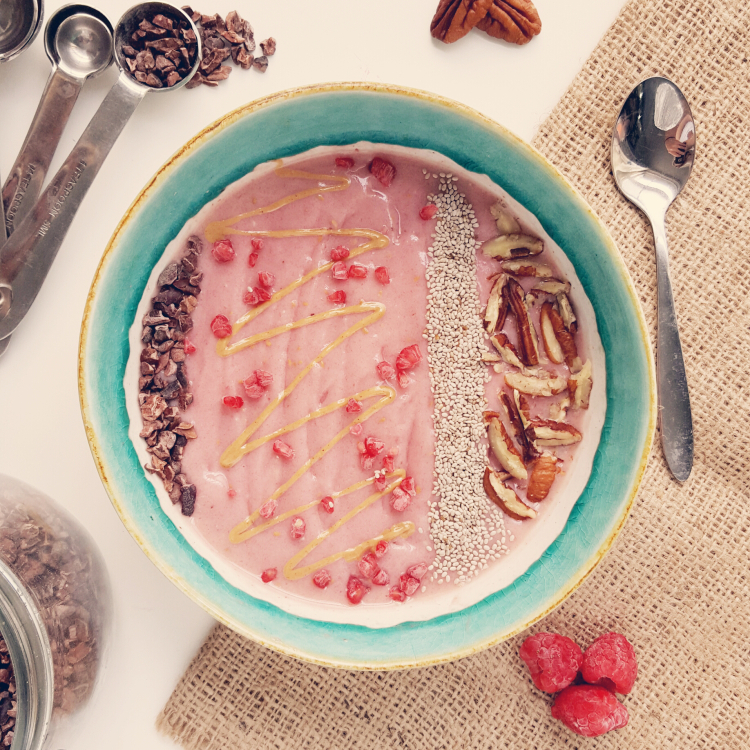 A mouth explosion of a dessert/breakfast bowl from our teacher and amazing food blogger Ellie of Kind State Of Mind.
---
Chocolate Clouds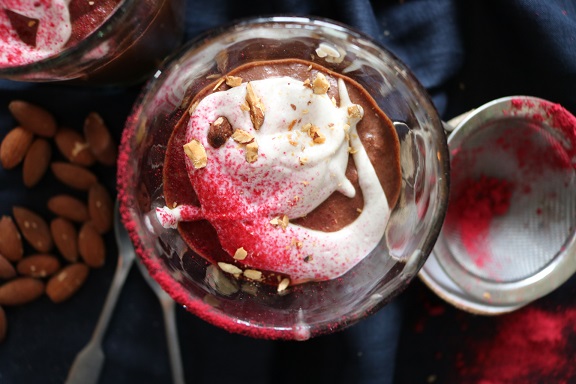 This amazing vegan chocolate mousse recipe made with aquafaba and all it's magical properties comes from vegan chef Kali Hamm .
---
Kiwi Coconut Sorbet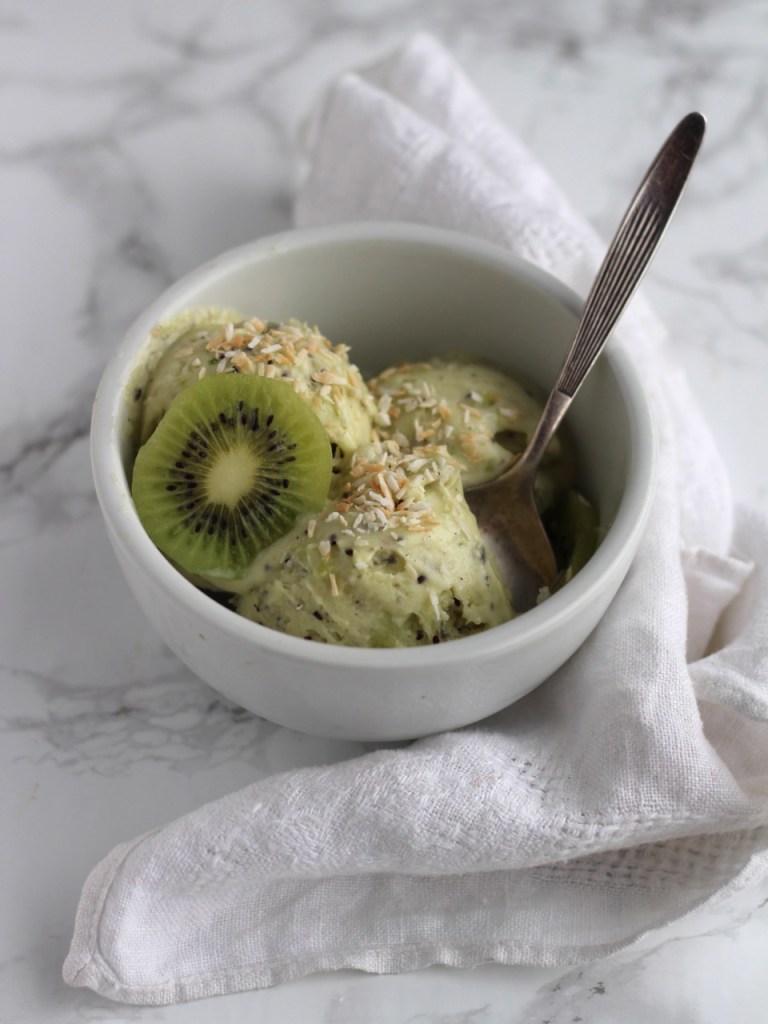 Ceri Jone's instant kiwi coconut sorbet made by blending frozen kiwi and bananas with a lemongrass and kaffir lime infused coconut milk. Classy.
---
Sweet Chai-spiced Apple  with Pistachio Crunch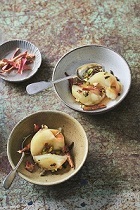 This delicious recipe comes from our ambassador Dr. Rupy Aujla's fantastic new book The Doctor's Kitchen.
---
Poached Pears and Walnut Ricotta served with German Biscuits and chocolate sauce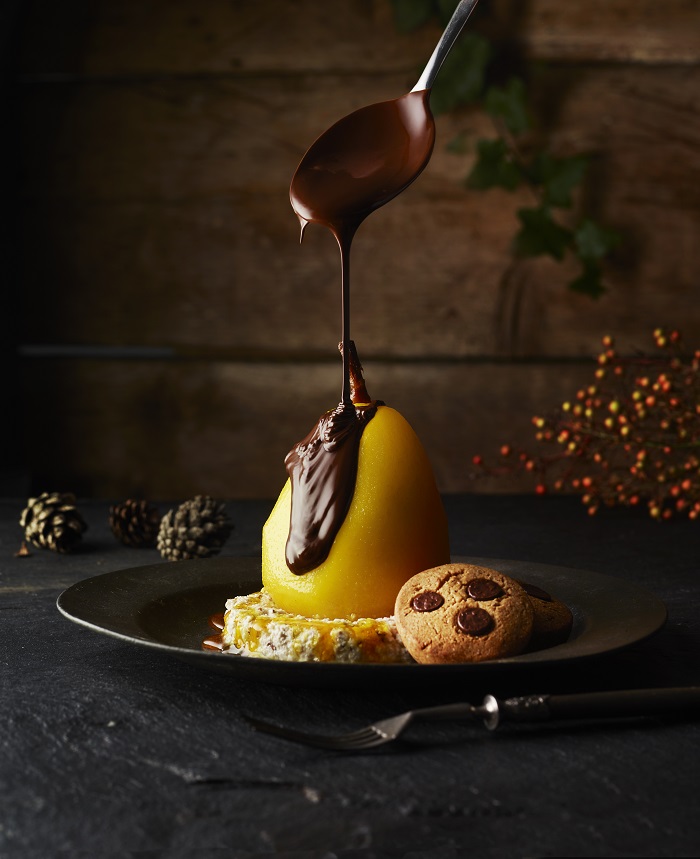 This epic festive dessert was created for us by top chef Anton Petrov. It's fancier and has more stages than a usual MIH recipe but it's festive and the finished result is well worth the effort.
---
Protein Raspberry & Chocolate truffles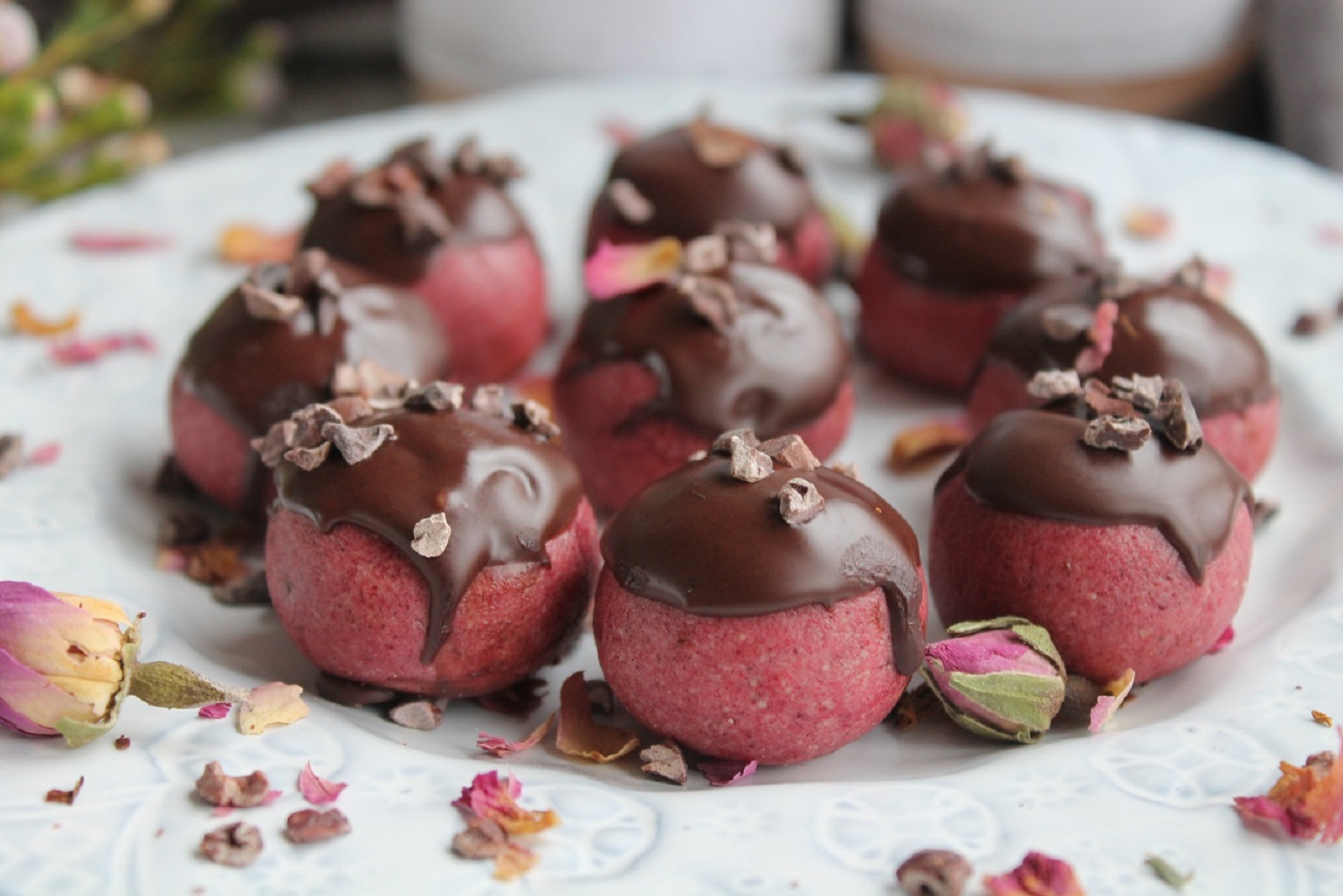 For when you're feeling like something a little bit special....
---
Raw Apricot Energy Balls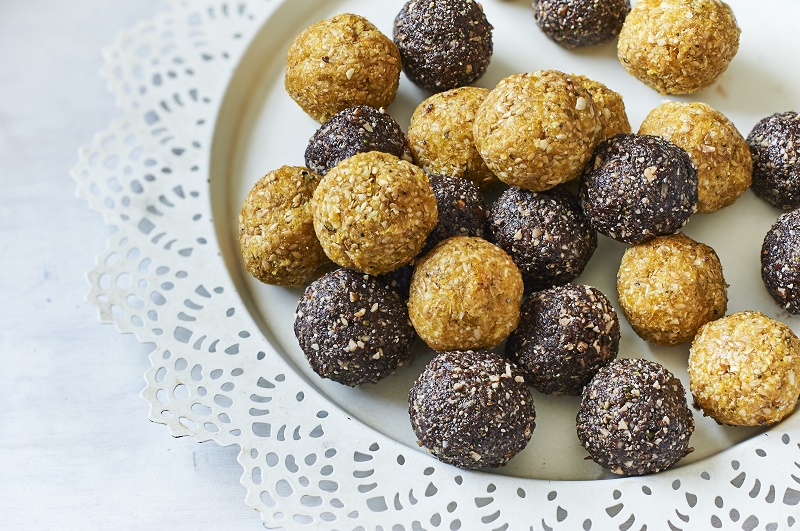 Packed with raw, natural energy, this is the perfect snack for when you want the sweetness kick without the crash!
---
King Zachary's Cake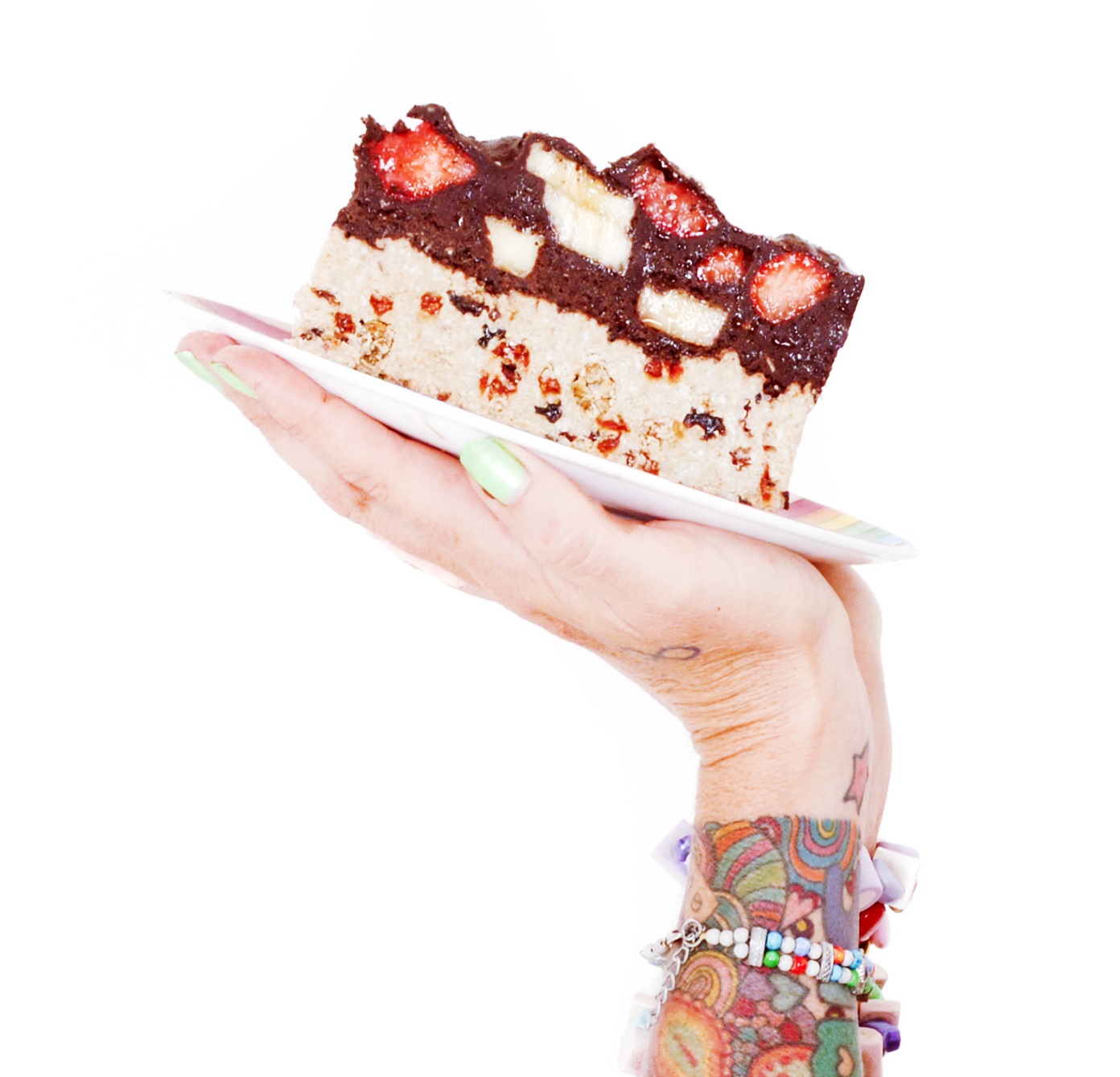 Kate Magic's tantalising raw cake recipe - beautiful on the eye, gorgeous on the tongue, light in the tummy, and will leave you feeling like the King (or Queen) that you are.
---
Ximena's Banana Nice Cream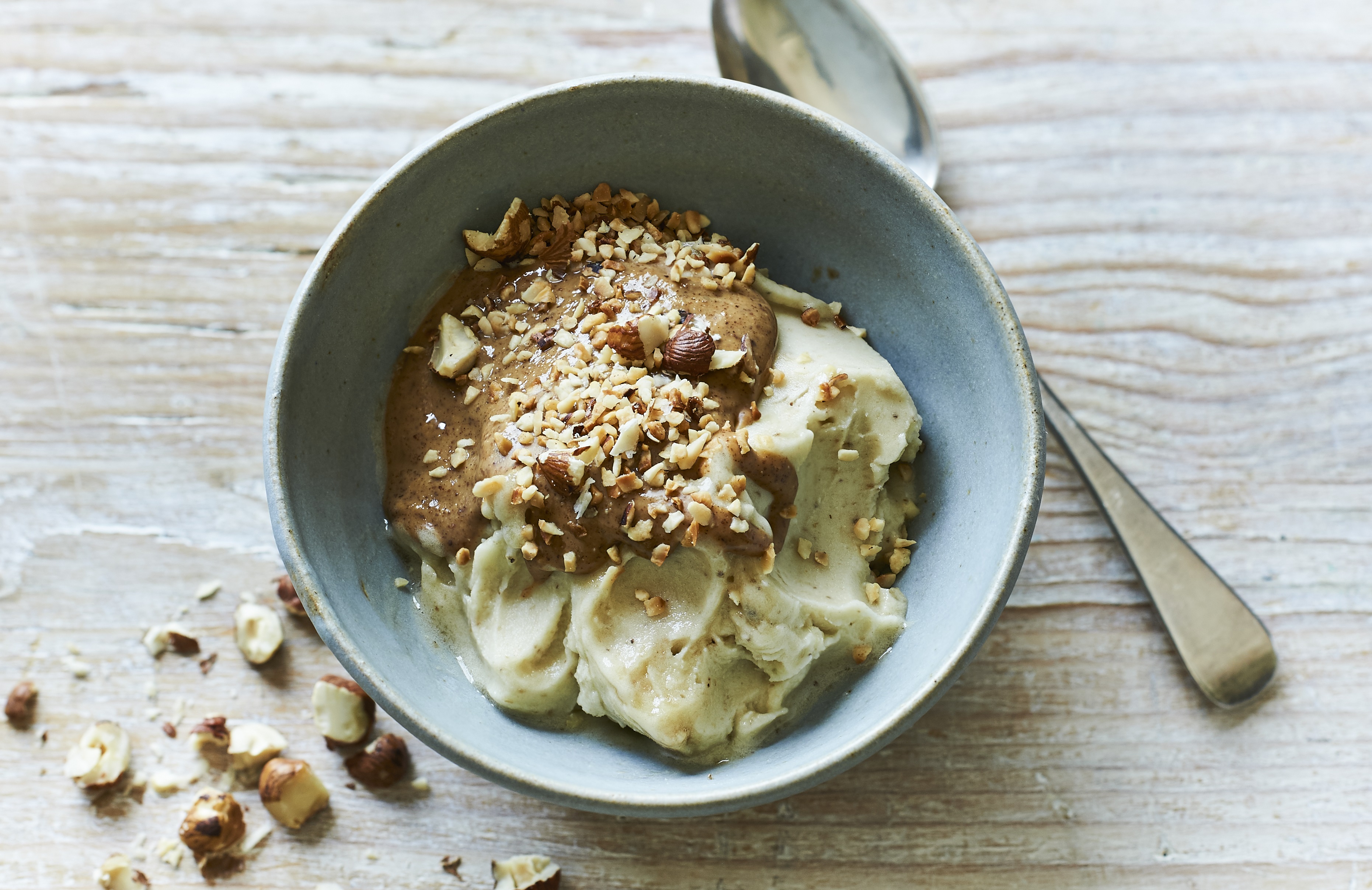 This is BANGING! So so so delicious. That is all we need to say.
---
Carrot slices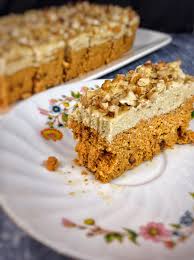 As sampled at the Hackney Vegan Market!
---
Goji-Lemon Coconut truffles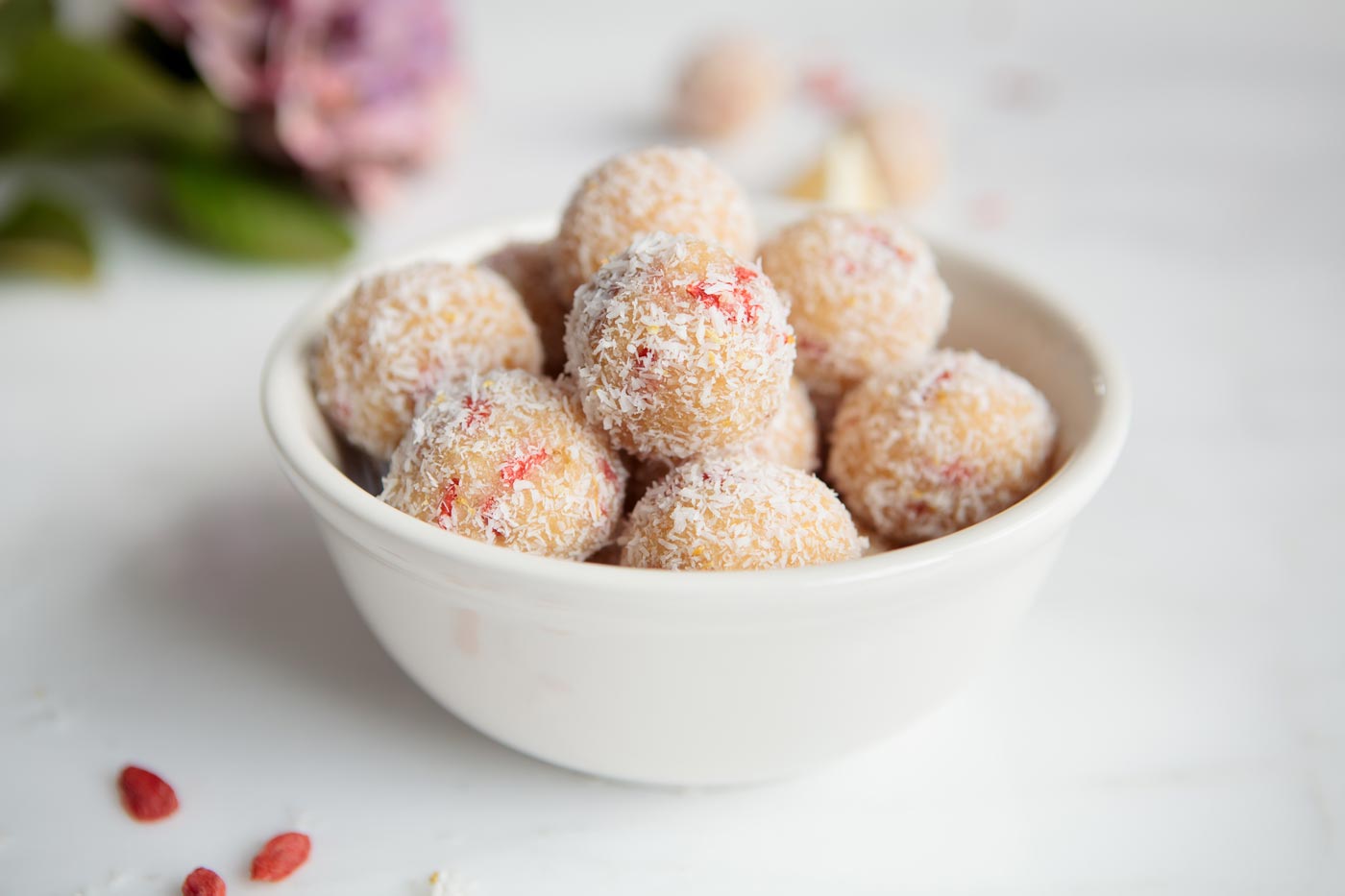 Deliciousness in a bite size bundle of goodness!
---
Raw Chocolate Pots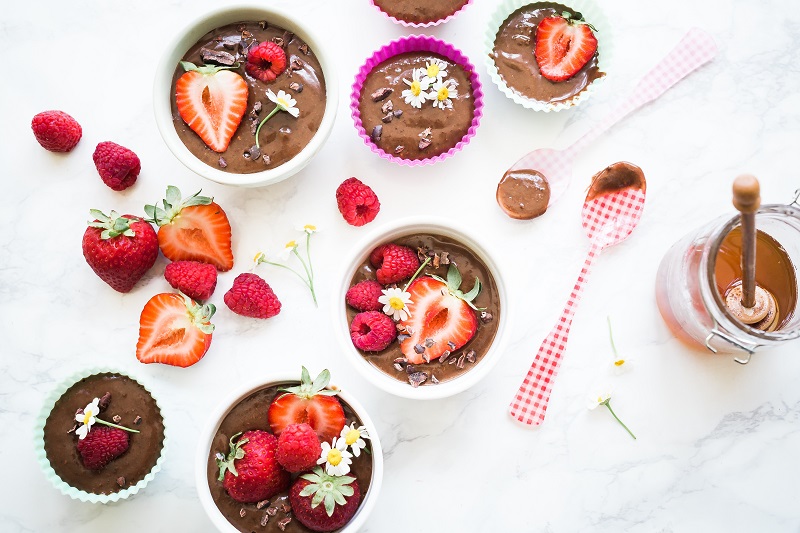 The avocados give this mousse its texture without overpowering the dish, and are packed with nutrients, including potassium, omega 3 and vitamin E.
---
Apricot, coconut and lime bliss balls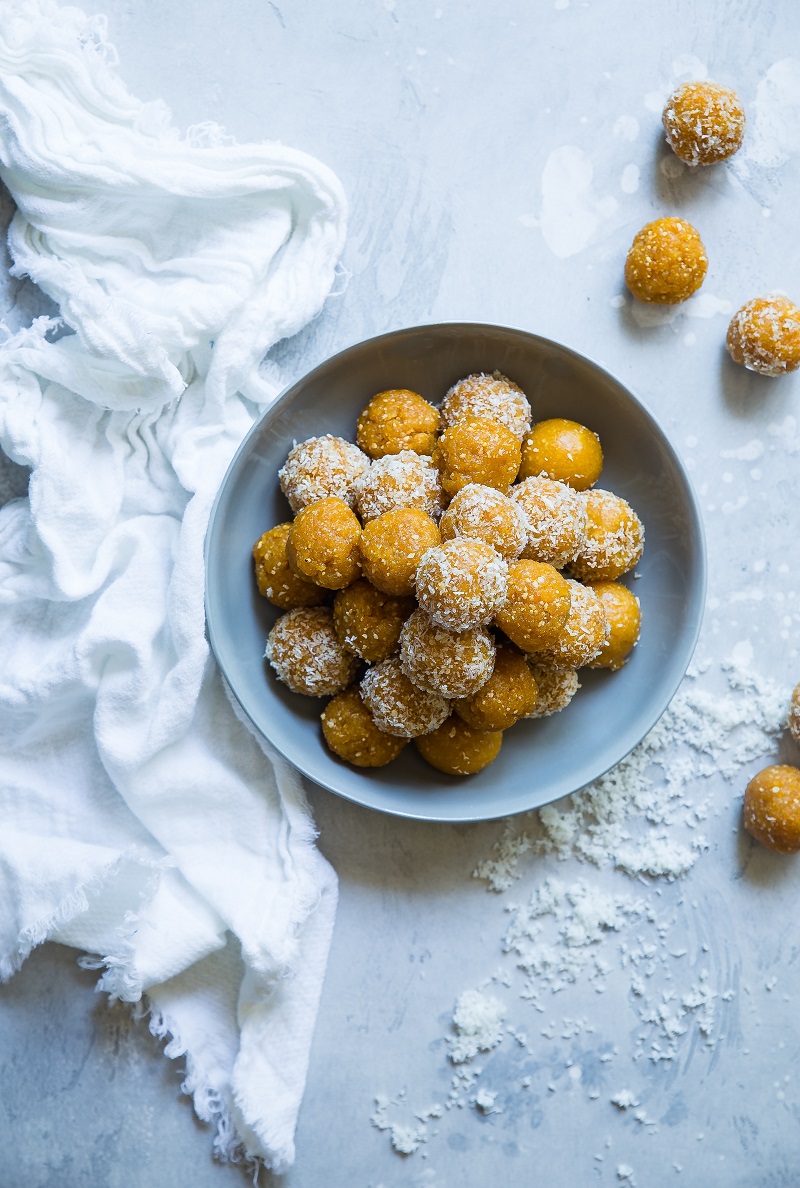 A deliciously fruity mouthful of bliss!
---
Chocolate Blood Orange and Ginger Mousse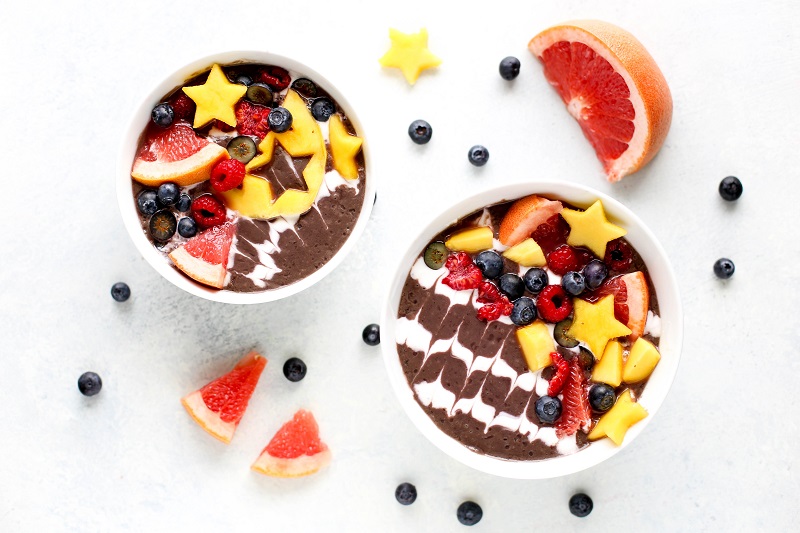 This magnesium rich mousse, low in added sugar is perfect for blasting those chocolate cravings.
---
Raw Chocolate and Coconut Cake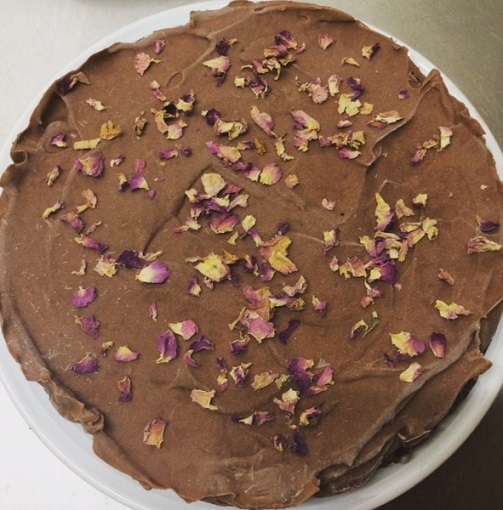 This cake is very simple and quick to make. Did you know that its main ingredient cacao means 'food of the gods' !
---
Cashew Nut Yoghurt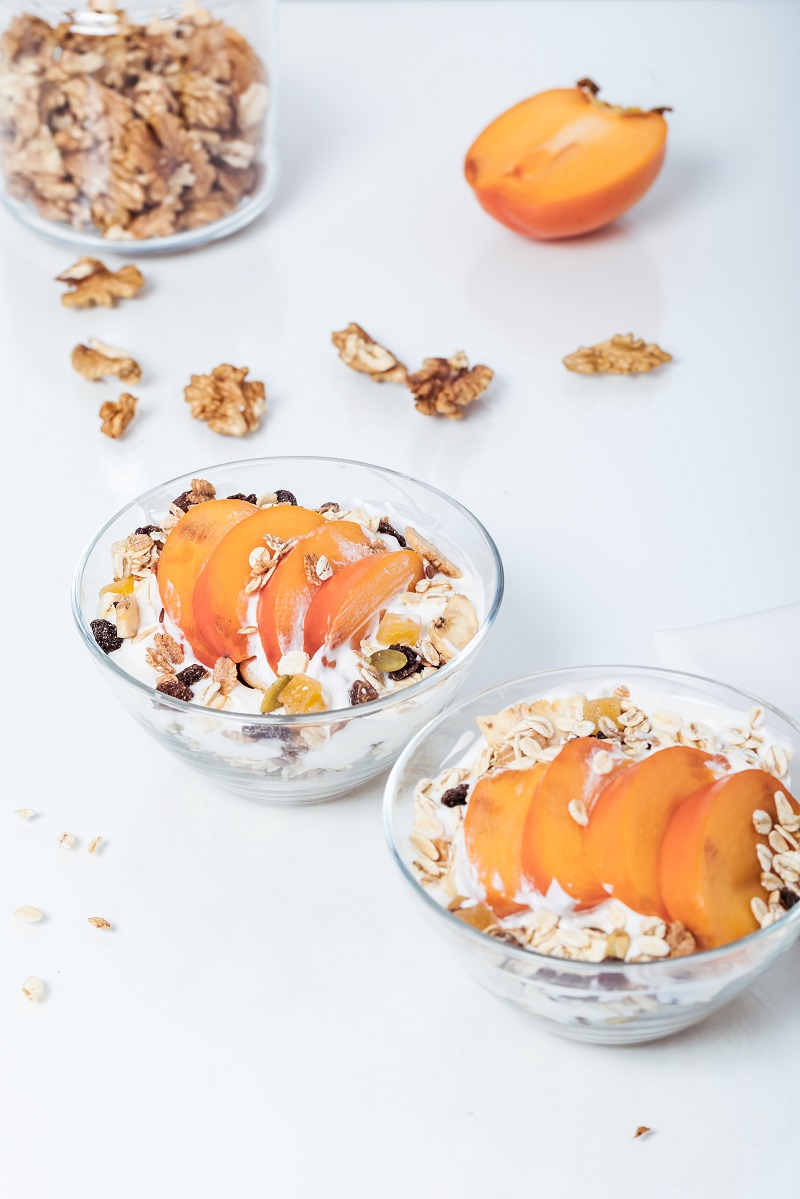 Once you try making this quick and easy yoghurt recipe, you'll never eat shop bought yoghurt again!
---
Apple Cake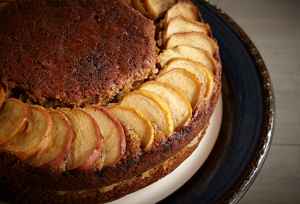 A delicious, fluffy cake using seasonal apples and coconut sugar to sweeten. A real treat!
---
Summer Berry Tarts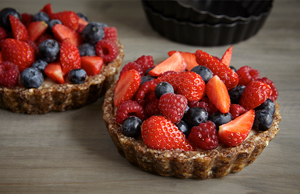 Super easy to make delicious - and healthy- berry tart! What is there not to love.
---
Salted Caramel Truffles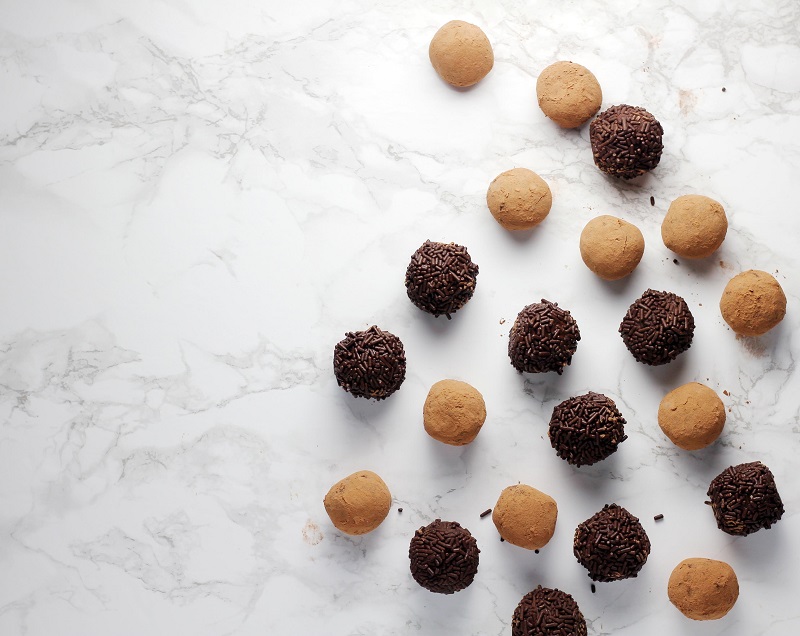 These sweet treats are crunchy on the outside and creamy and salty-sweet on the inside. By MIH teacher Renee Taylor (adapted from a recipe from Minimalist Baker).
---
Tuscan Chestnut Cake - Castagnaccio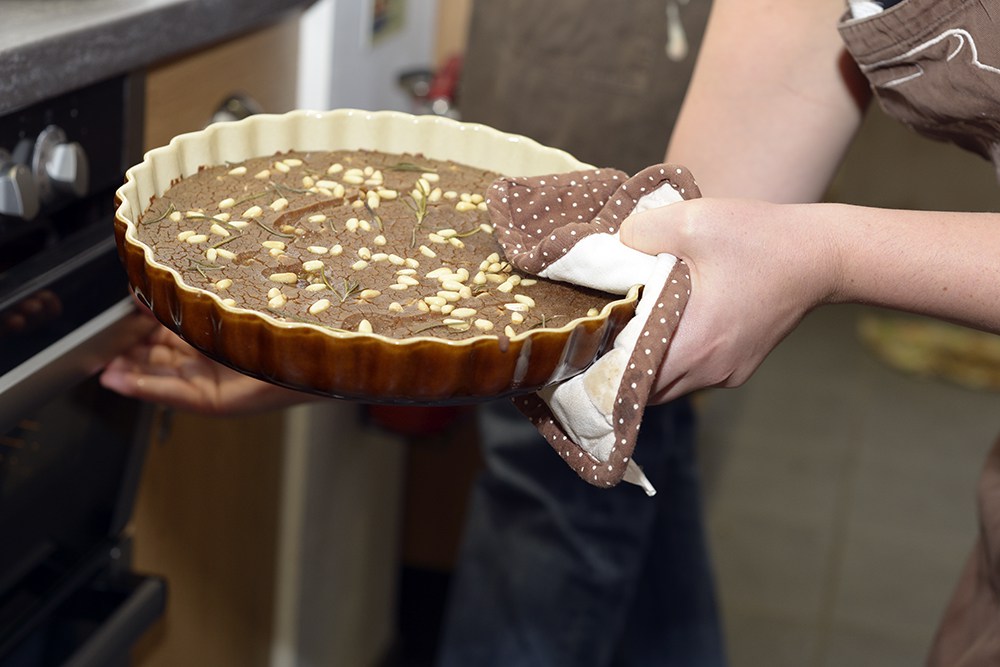 A traditional recipe from rural Tuscany, as well as being vegan, this cake is also gluten-free and sugar free – the way it was originally intended with no adaptations. Chestnut flour is naturally sweet, and this is enhanced by the use of sultanas.
---