---
Goan Tofu Curry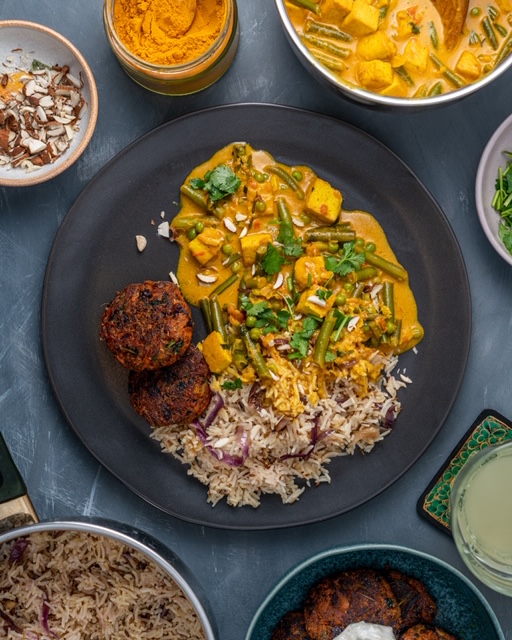 A delicious and authentic Goan tofu curry by our fabulous teachers daughter and mother duo Aman & Sandeep from The Nourish Kitchen.
---
Parsnip and Cranberry Nut-free Nut Roast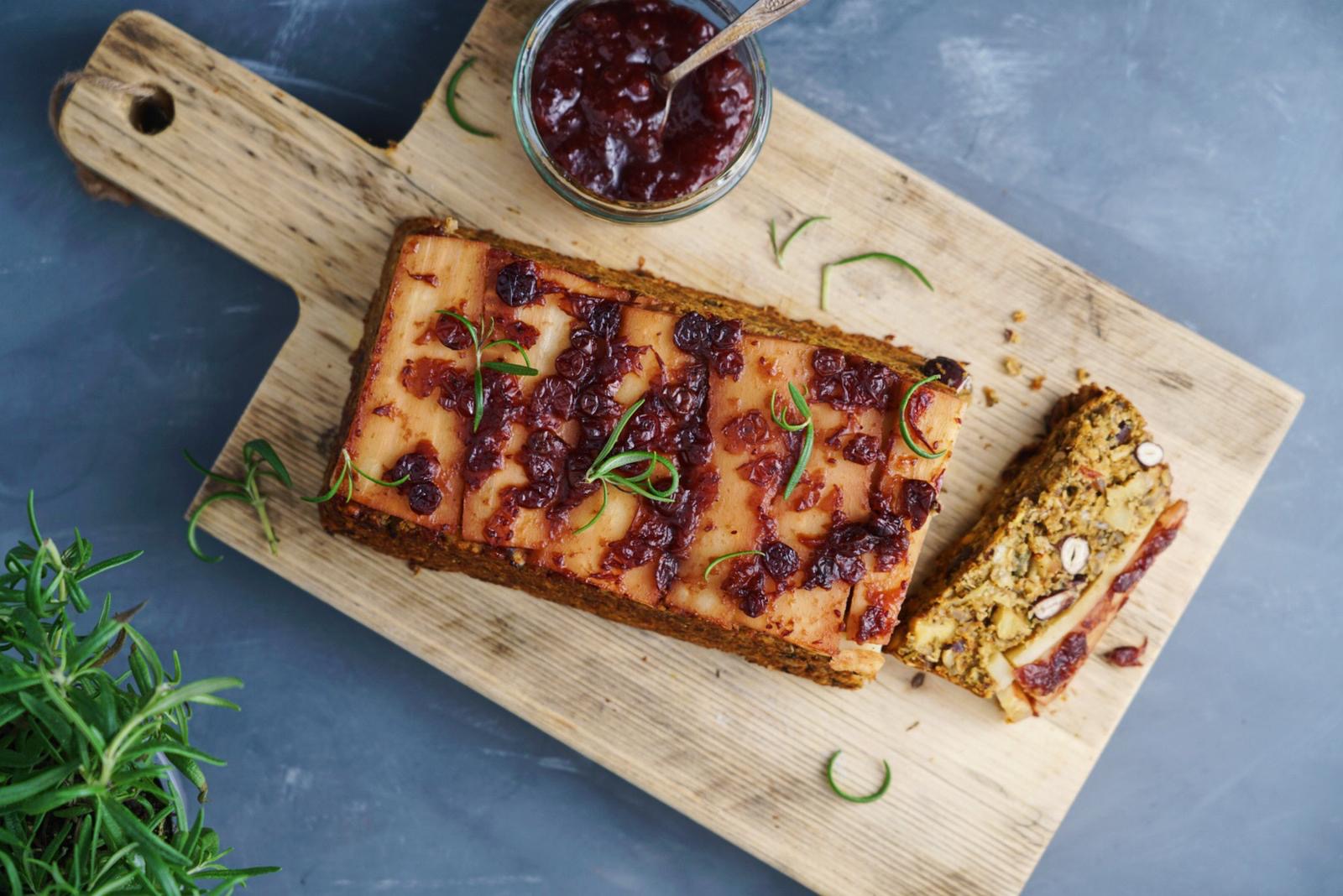 This nut-free nut roast, bursting with umami flavours, is actually made with seeds which are more affordable. This next-level roast is topped with a mixture of sliced parsnips and cranberry sauce. If you want to make a nut roast, feel free to substitute the seeds for nuts of any variety. Recipe by Steve Wilson.
---
Savoury Pancakes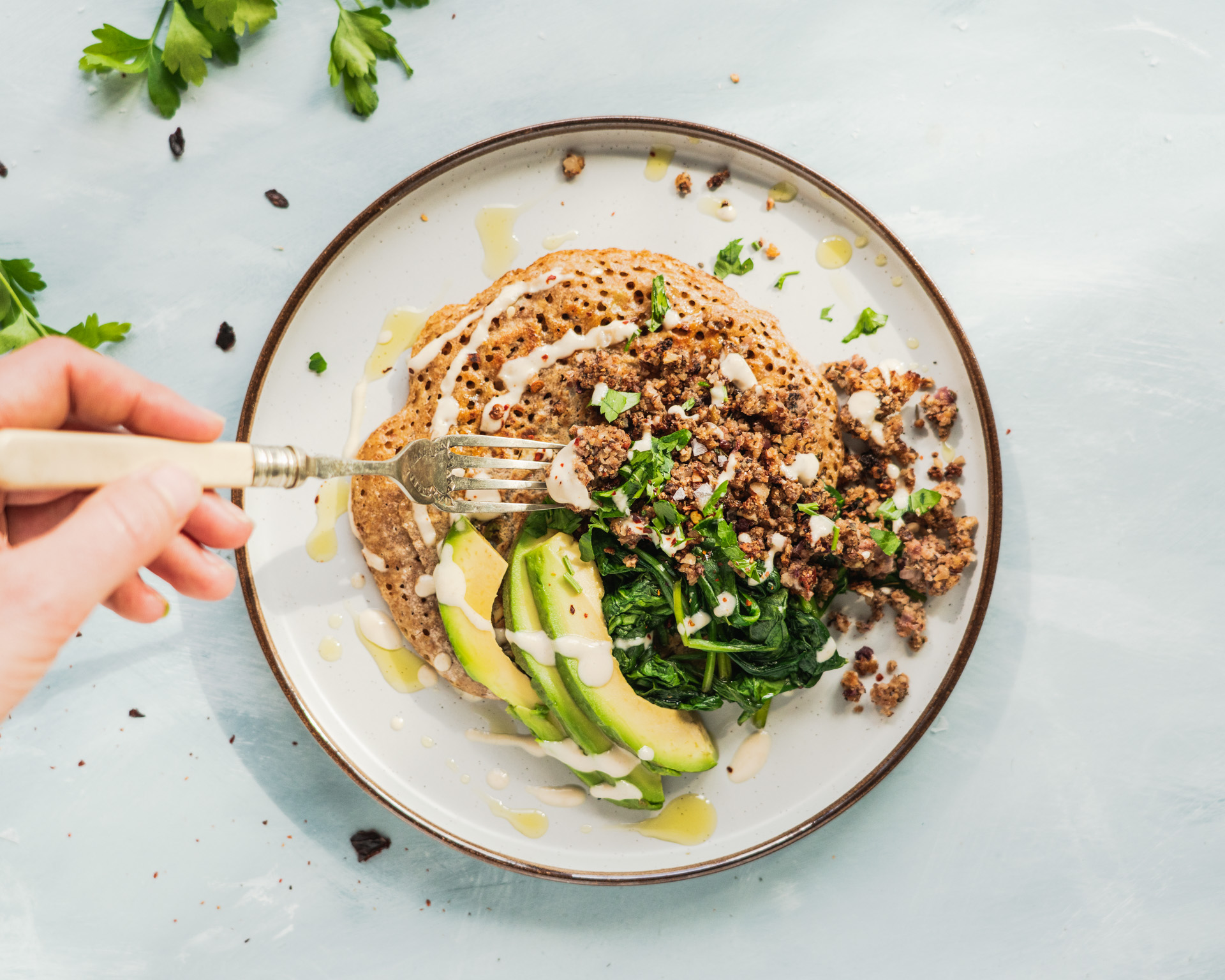 These savoury pancakes are simple to throw together and require only a handful of ingredients. They're great if you have leftover sauces that need using up. They're made with both wholemeal and split chickpea flour so they're filling, contain more protein than pancakes made with "regular" flour as well as plenty of other vitamins and minerals.
---
Banana Peel Thoran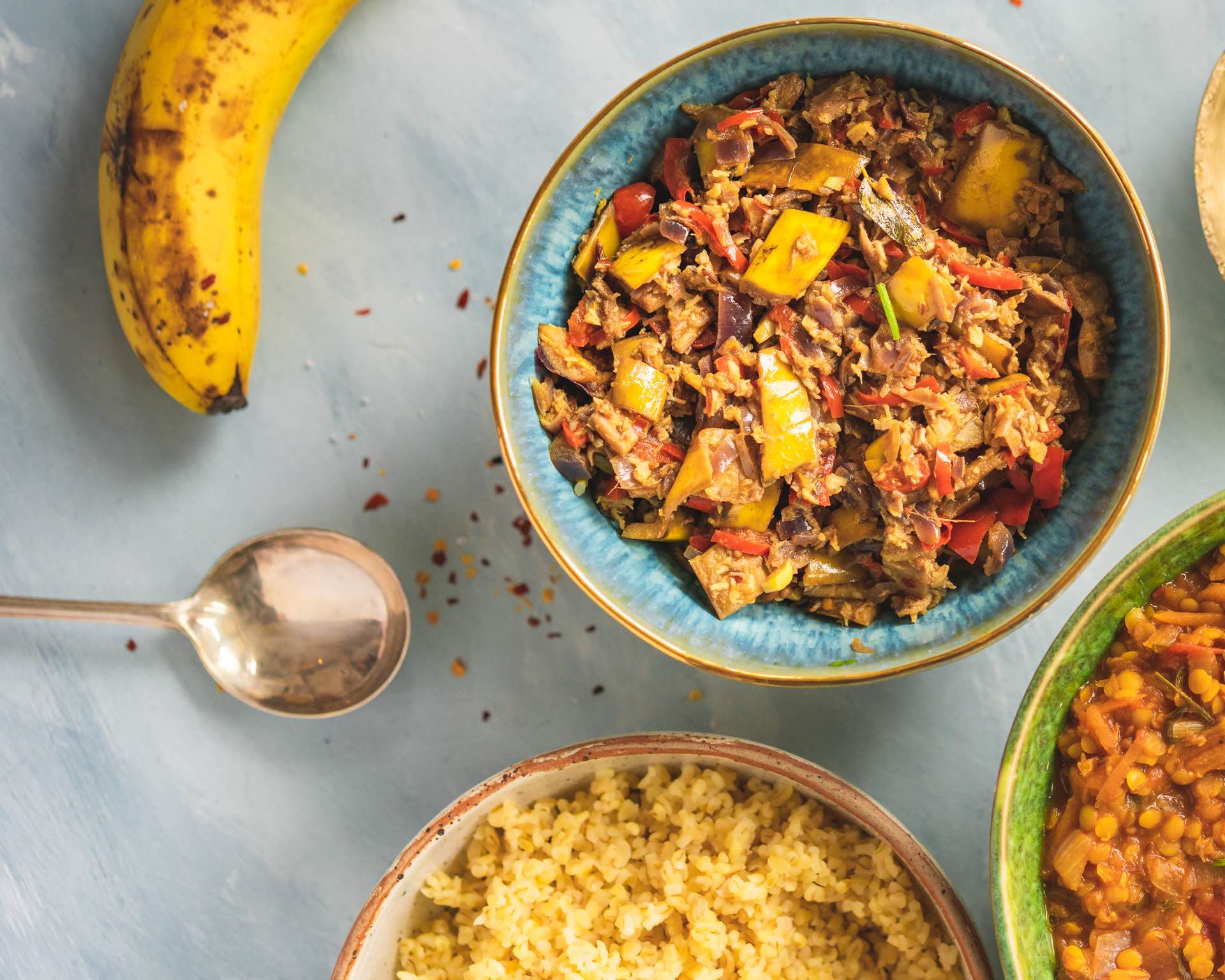 This is a traditional South Indian stir fry and a delicious way of using up banana (or plantain) peels. It is best done with organic banana peels, but for non-organic bananas, you can soak the peels in 4 parts water and 1 part apple cider or white wine vinegar for 20 minutes before rinsing to remove any pesticide residues. Our teacher Hannah Walker cooked this dish for food waste warrior Max La Mana's BBC Earth series and totally blew his mind!
---
Roasted Veg With Peanut & Zingy Herb Dressing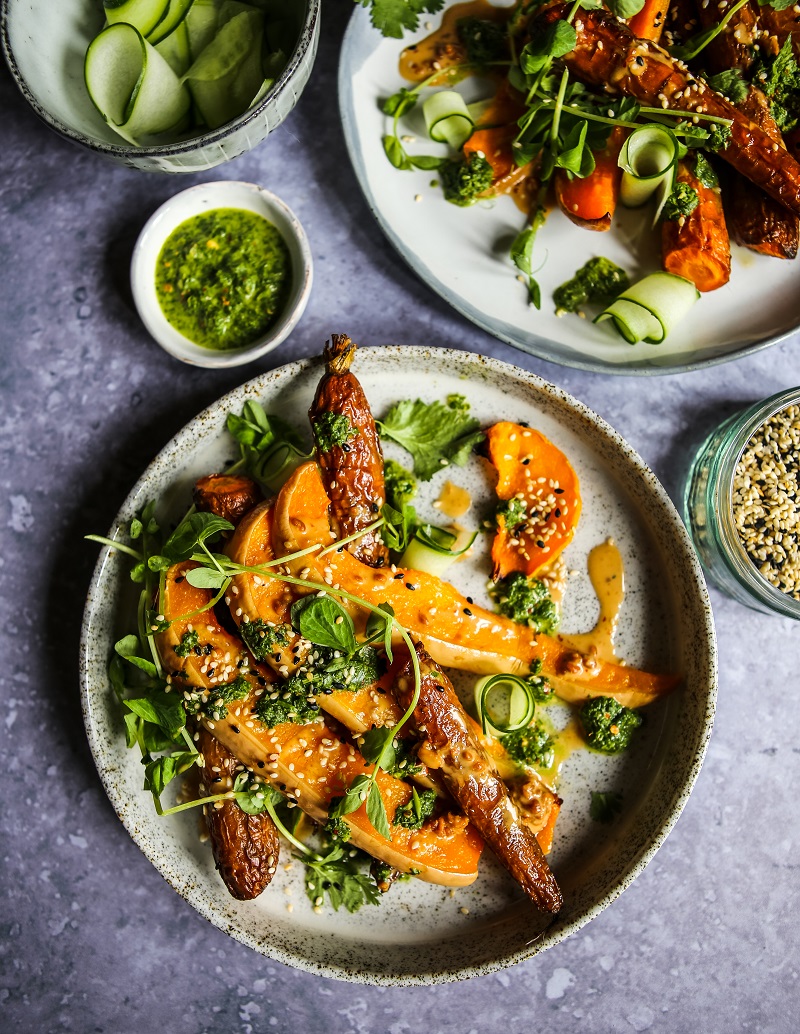 Sweet, zingy and pretty simple to make. What is there not to love about this dish created by Niki Webster from Rebel Recipes.
---
Tandoori Carrots On Butterbean Tomato Dip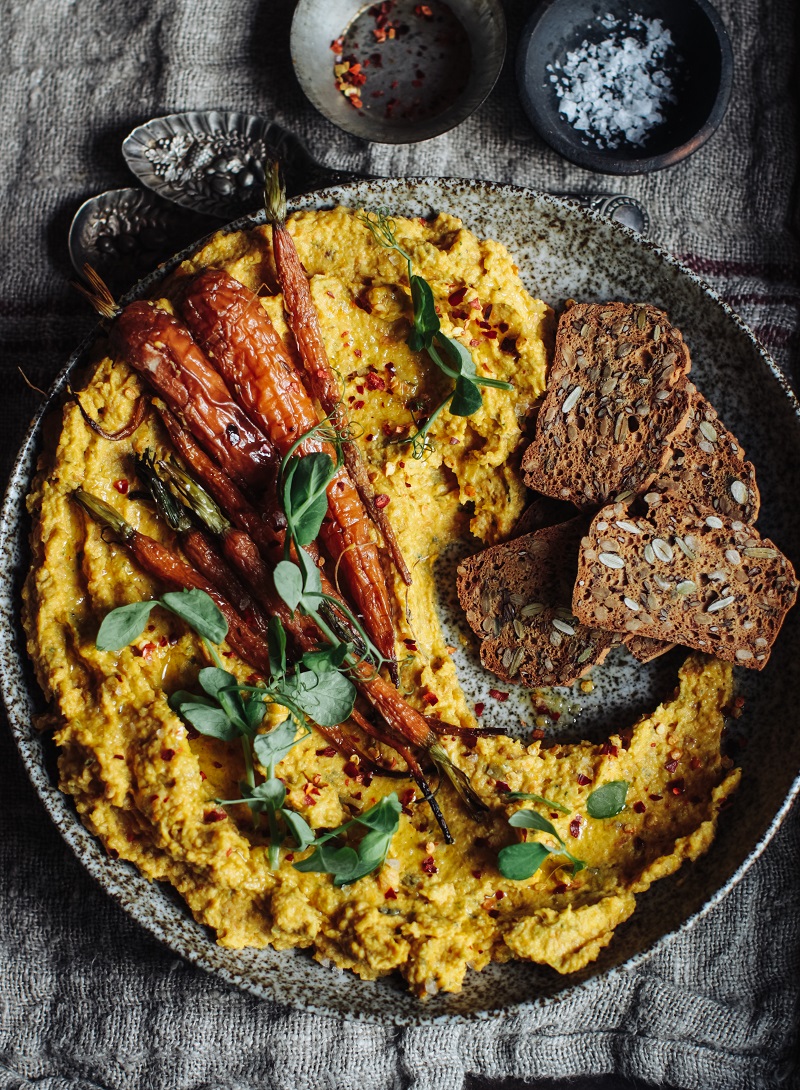 Wow - the humble carrot is given a tandoori make over to sensational effect by master chef Niki Webster over at Rebel Recipes.
---
Spiced Roast Squash Tacos with Slaw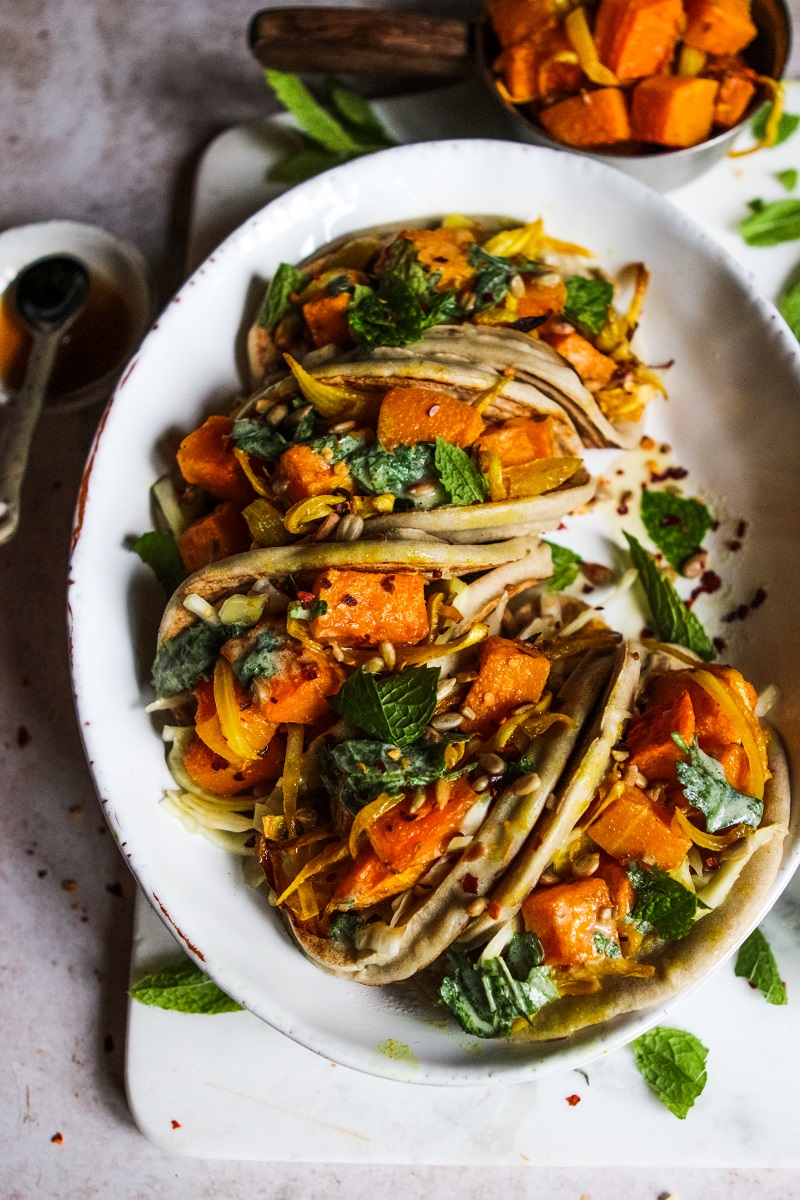 Butternut squash reimagined! This dish is a perfect combo of sweet roasted root veg and crunchy slaw all wrapped up in a pancake folded taco style. What more could you want from a meal? Thankyou Niki Webster from Rebel Recipes for this gorgeous creation.
---
Charred Hispi Cabbage With Tomato, Pea And Coconut Curry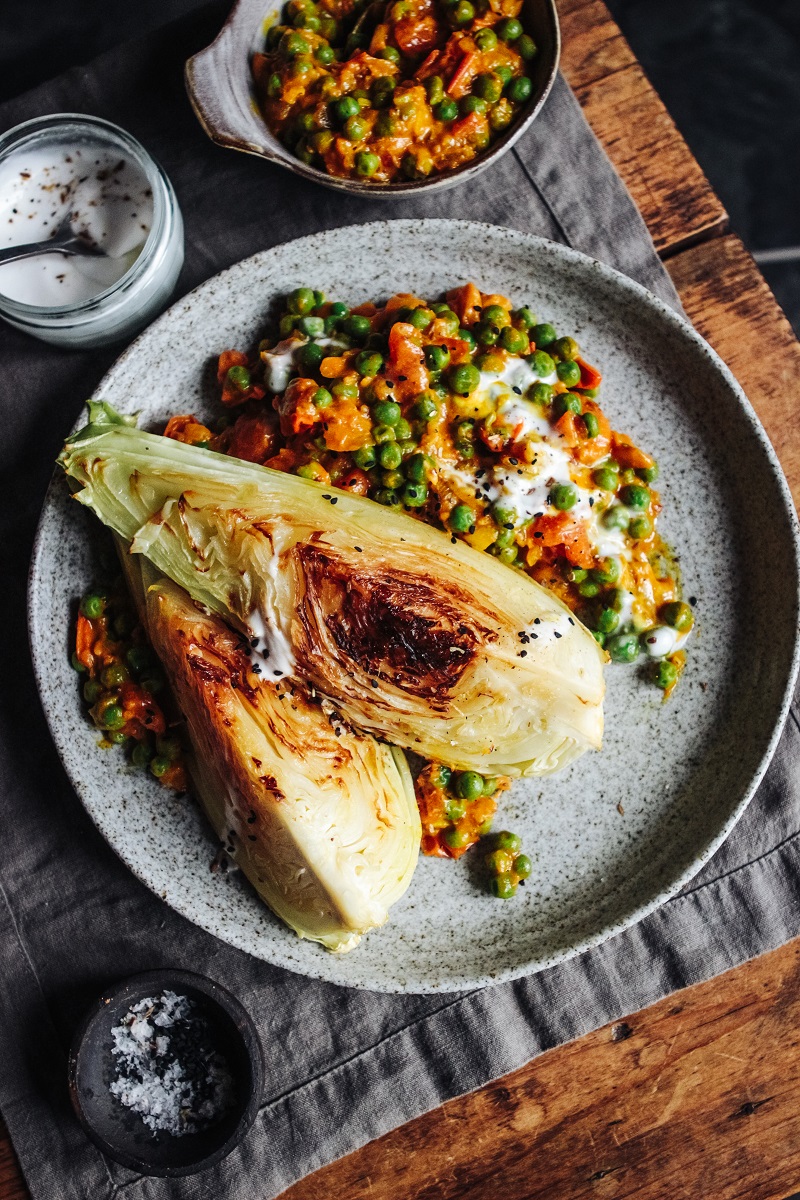 Charred cabbage - it's a thing, a really rather tasty thing actually. This divine version was created by Niki Webster, our pal and creator of the stunning Rebel Recipes food blog.
---
Vegan Paella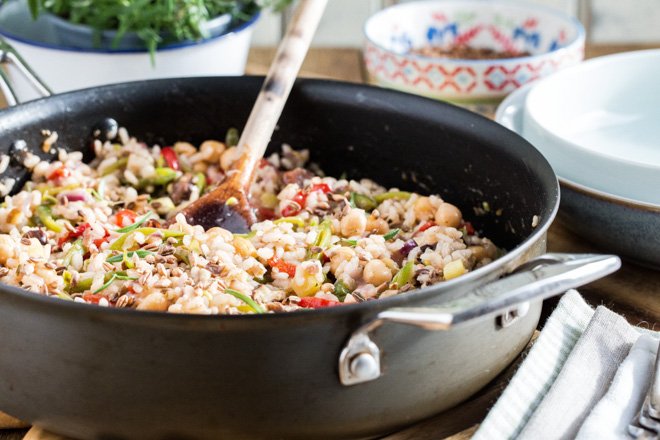 Delicious, hearty dish from our amazing friends at The Cook and Him using British grown grains from the fab Hodmedods!
---
Yello Split Pea and Cauliflower Dhal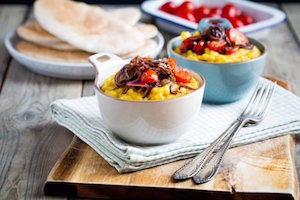 Sunshine in a bowl right? So easy to make, and comforting to eat - this incredible recipe is from our friends over at The Cook And Him.
---
Green Pea and Pesto Stuffed Conchiglie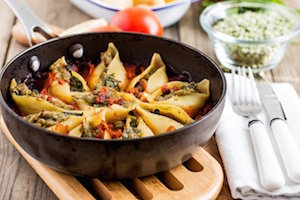 Cooked pasta shells filled with split peas and homemade pesto baked in a tangy tomato sauce. Recipe genius from our friends over at epic vegan and veggie food blog The Cook & Him.
---
Garlic Mushroom Stuffed Sweet Potato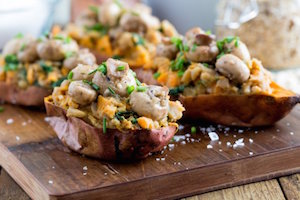 These garlic mushroom stuffed sweet potatoes also have creamy fava beans, herbs, spices, and veggies all crammed into crisp baked jackets!
---
Vegan Omelette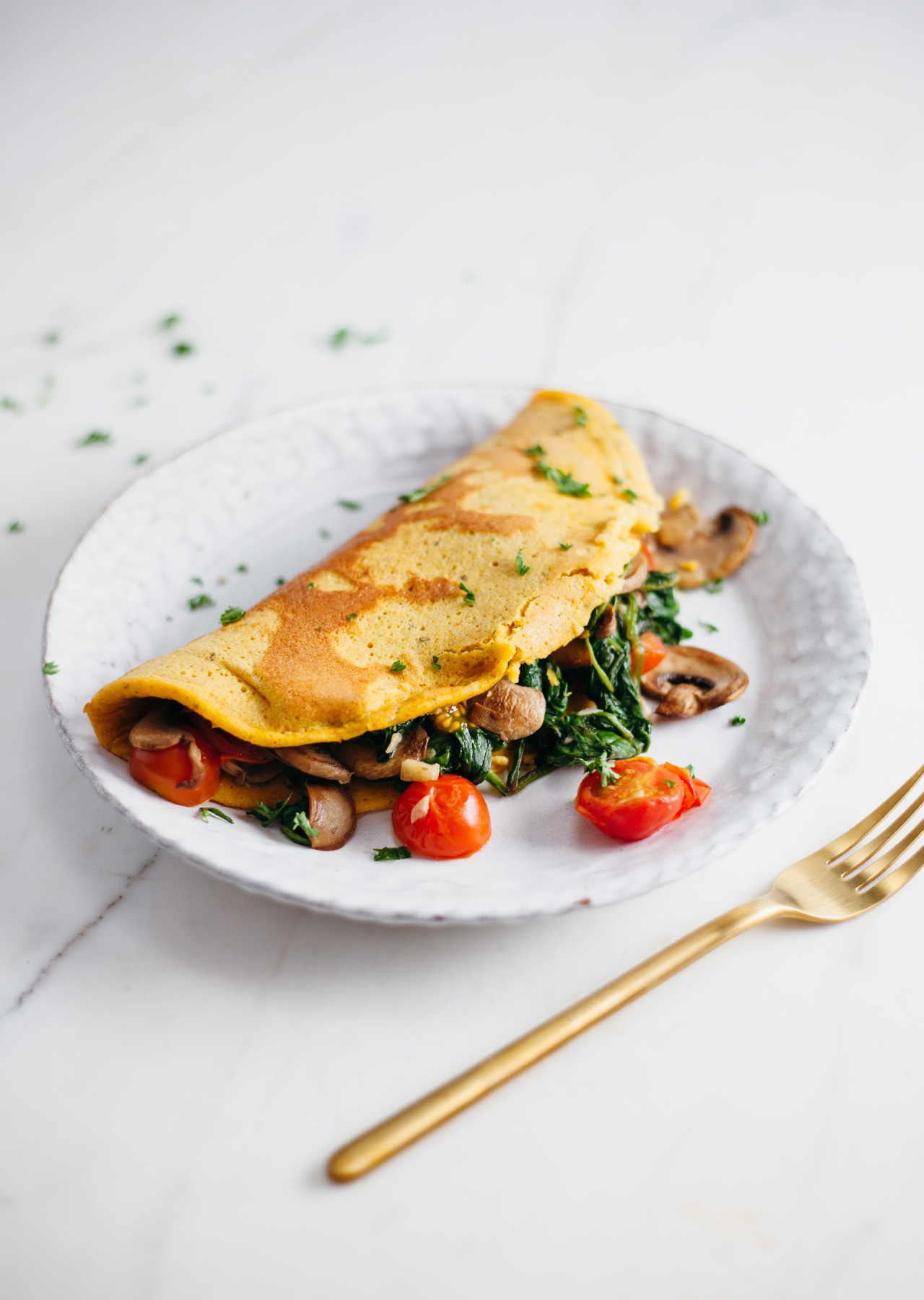 An egg free omelette? Wow. This tasty chickpea flour omelette is a recipe collab between our Sarah and the gorgeous Roxy and Ben from So Vegan. Make it for lunch now!
---
Root Vegetable Crumble with Sunflower Crust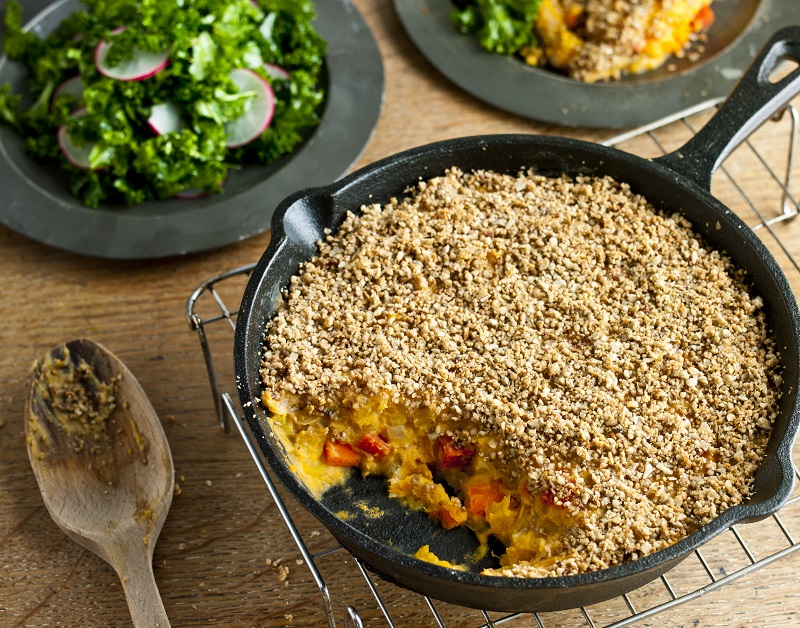 This banging vegetable crumble recipe was conceived by our chef Steve and our founder Sarah for Jamie Oliver's new Veg focused TV show Meat Free Meals. It's not only delicious but uses nutritional yeast or 'nooch' as it is nicknamed to create the cheesy taste and was the first time Jamie had used this plant-based staple in his cooking. The filling in the TV show was purple as we used beetroot as one of the root veg. This gorgeous version cooked, styled and photographed by our friends at Sustainable Kitchen and Clive Sherlock Photography uses pumpkin, carrots and squash, hence looks orange! When you make it for tonight's dinner - what colour will yours be?
---
Chickpea 'Tuna' Sandwich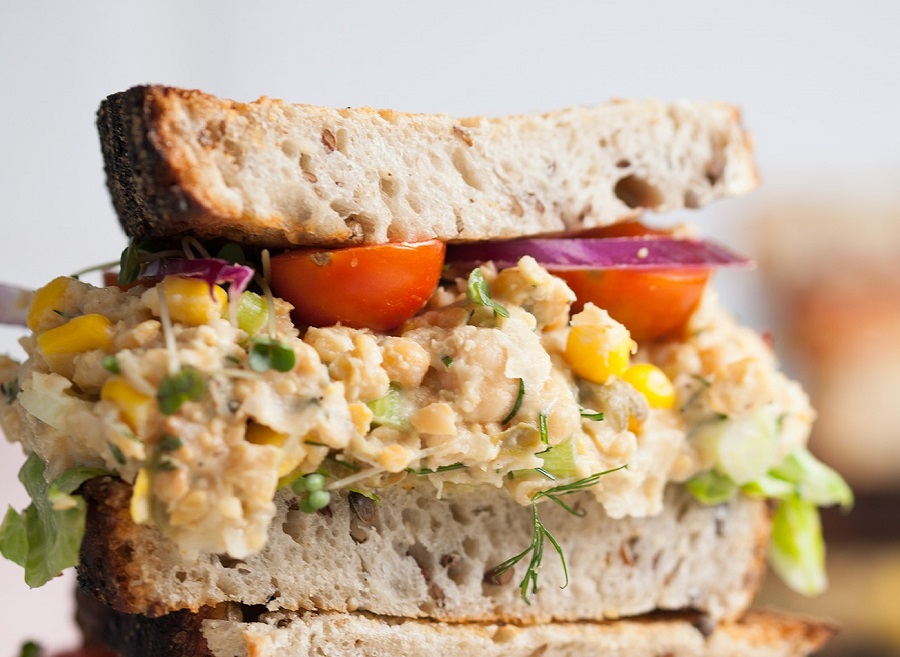 A plant-based take on the classic tuna sweetcorn sandwich filling from our ambassadors We Are So Vegan. When pressed with a fork the chickpeas create a tuna like texture - genius. Super tasty, easy to make and keeps our fish in the sea. Try it today.
---
Carrot Lox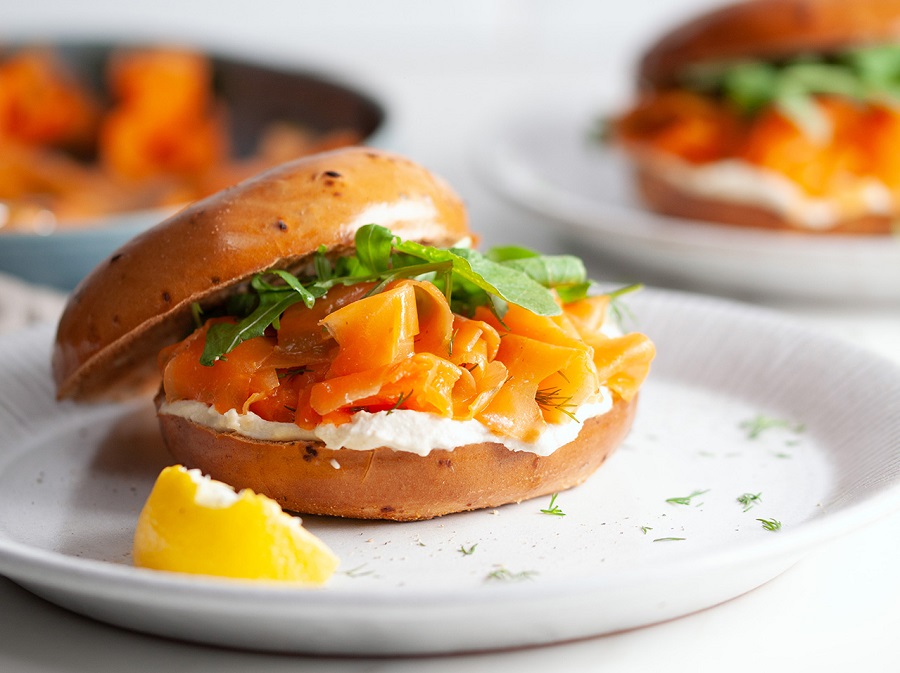 This is a simple but delicious recipe for carrot lox - the groovy vegan take on a smoked salmon bagel using carrots instead of our fish friends. There's loads of different recipes for carrot lox online - some crazy complicated. Our founder Sarah stripped back the nonsense to give you this delicious recipe. Enjoy.
---
Easy Chilli No Carne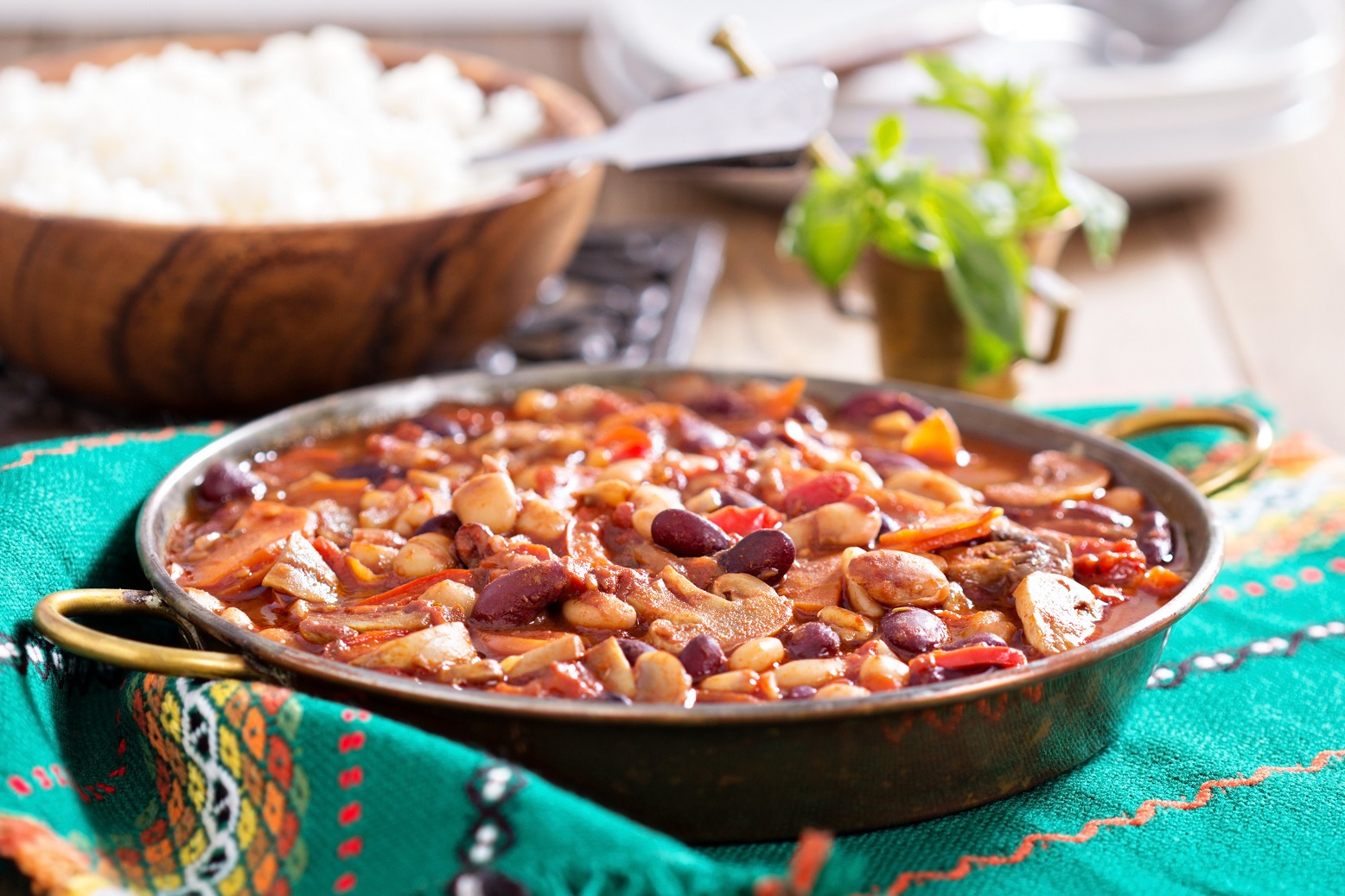 This easy one dish is a guaranteed crowd pleaser. This recipe by MIH chef Mark Breen from our Thrifty Feasts 2 recipe book.
---
Cauliflower Korma with Lemon Pilau Rice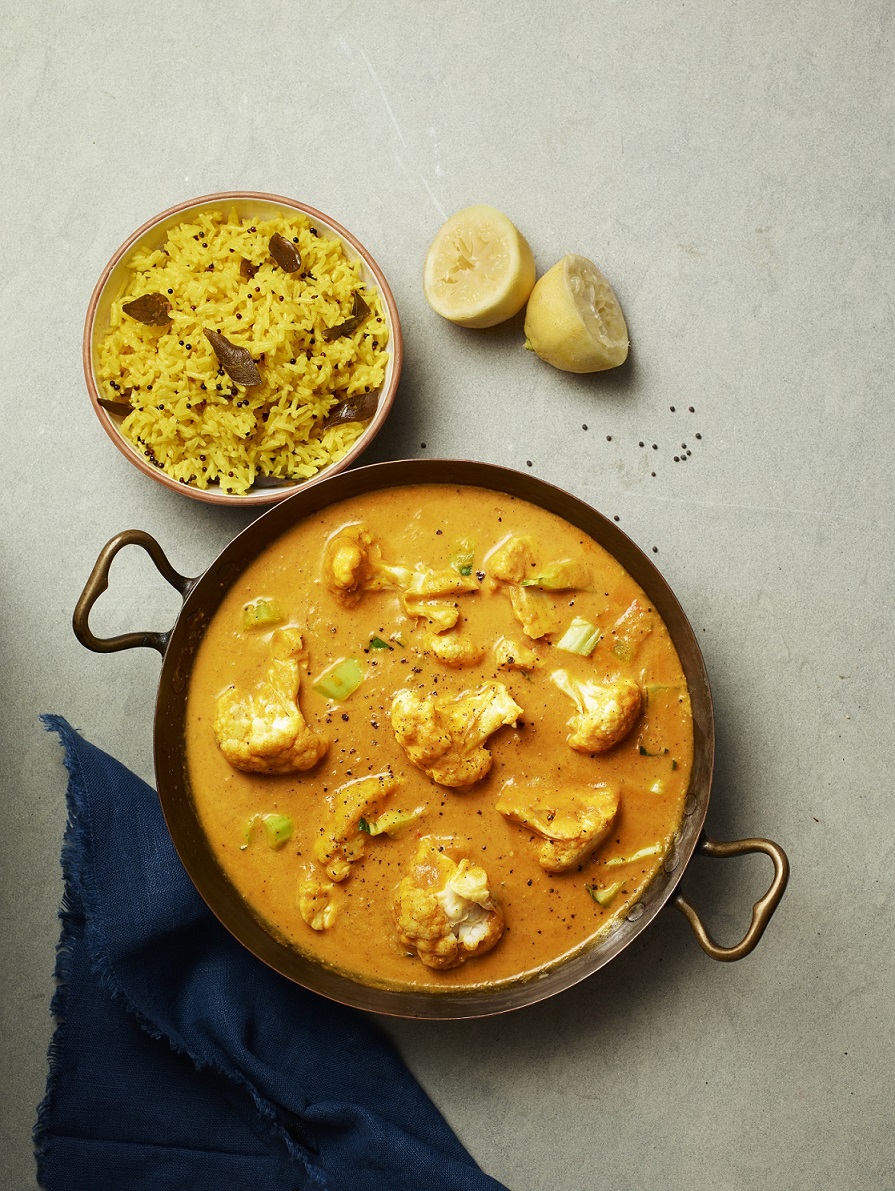 Making your own version of this takeaway favourite is much easier than you think! Just as quick as your local takeaway and a whole lot cheaper! This recipe by MIH chef Mark Breen from our Thrifty Feasts 2 recipe book.
---
Posh Beans On Toast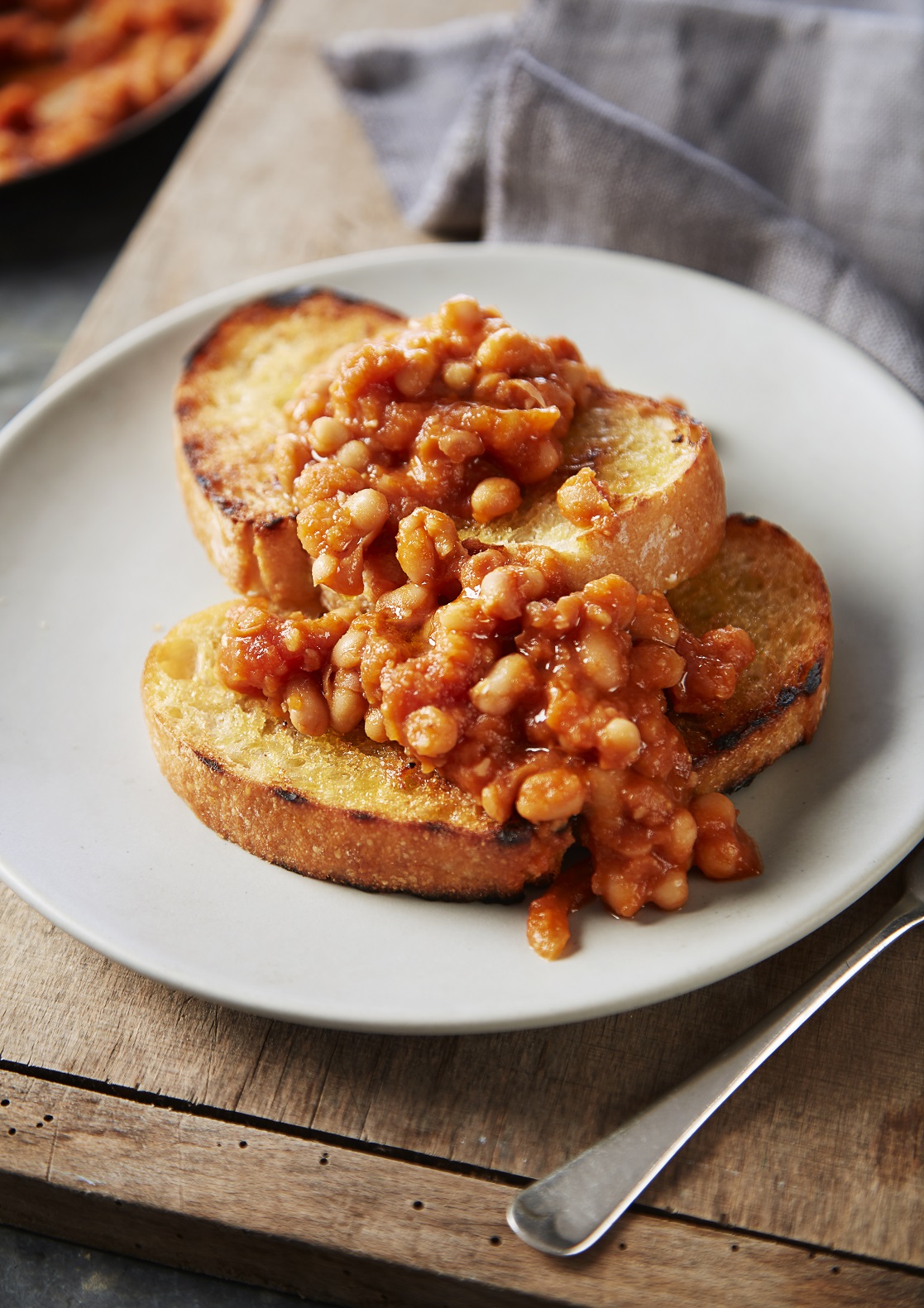 Everybody loves baked beans right? Get involved with this DIY version of the classic tinned "dish" with recipe by MIH chef Mark Breen from our Thrifty Feasts 2 recipe book.
---
BBQ Pulled Jackfruit Burrito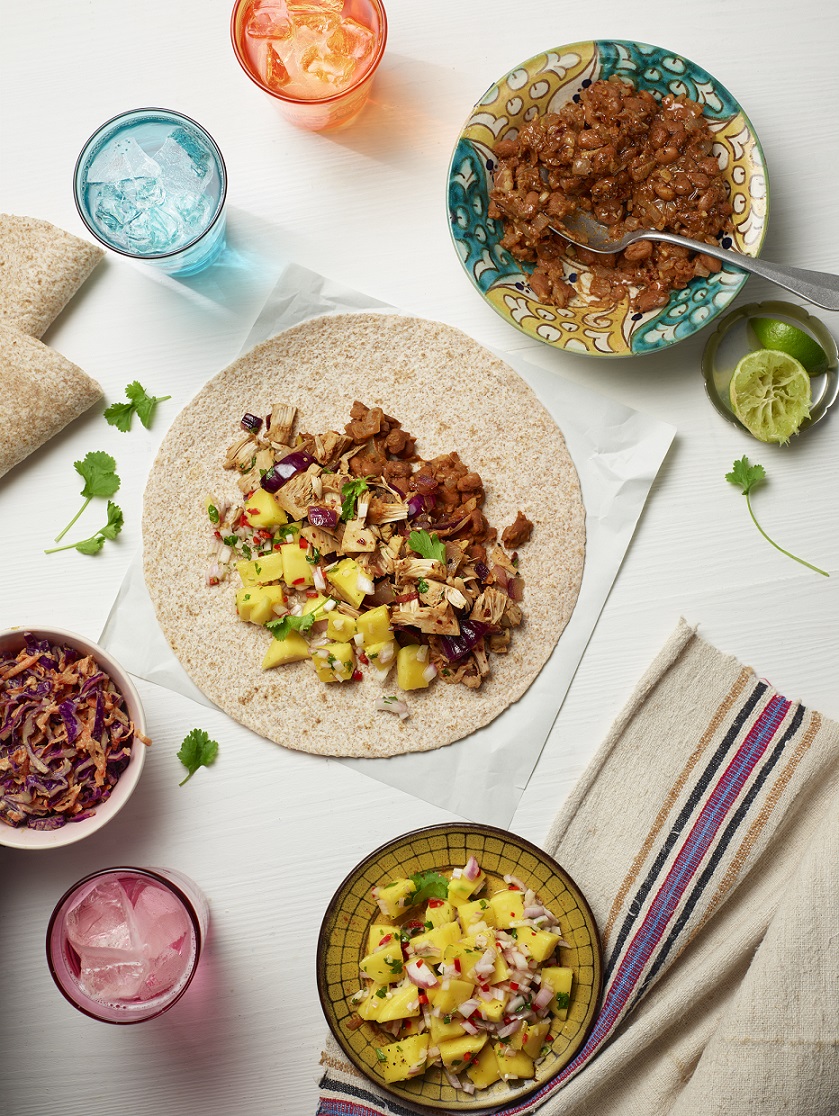 Jackfruit is the largest tree-born fruit in the world, weighing over 100 pounds! It's easy to get hold of canned now from most supermarkets or health food shops. This recipe is loaded with BBQ flavor and chewy textures. Use as a meatless option in any of your favourite BBQ recipes, or try here with our mango salsa and refried bean recipes. The recipe is by MIH chef Mark Breen from our Thrifty Feasts 2 recipe book.
---
Roasted Vegetable Pizza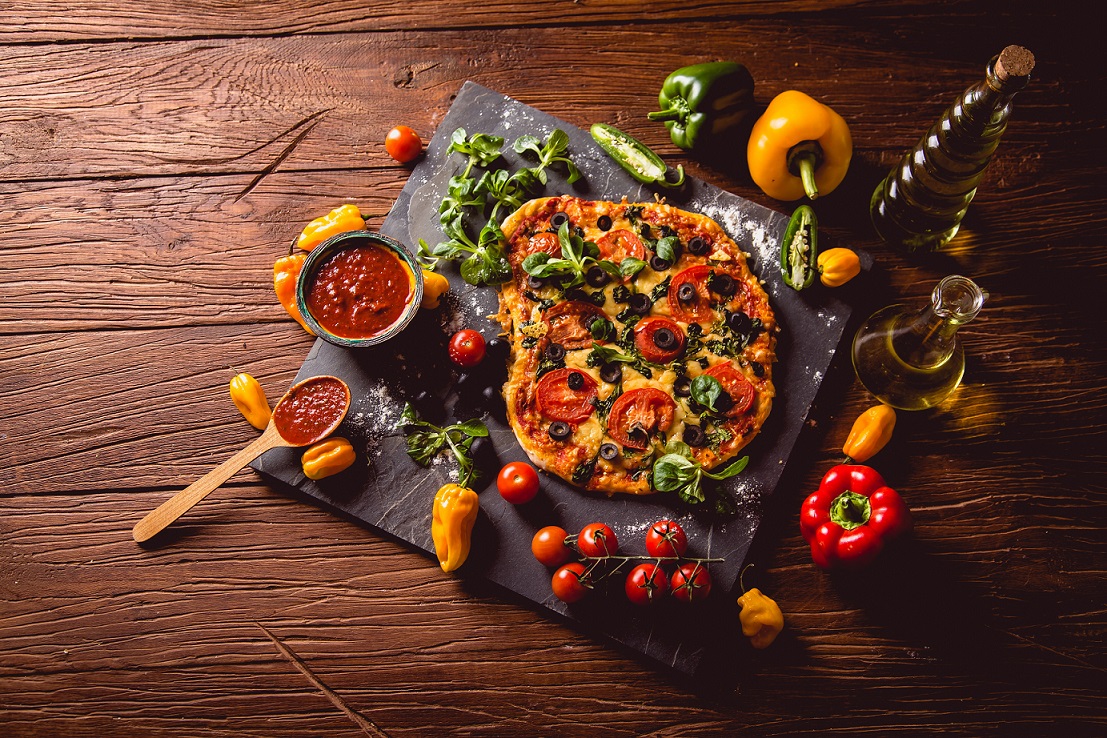 A firm favourite at our cookery classes and sure to be with the whole family. You'll be surprised how easy, cheap and delicious homemade pizza can be. The recipe is by MIH chef Mark Breen from our Thrifty Feasts 2 recipe book.
---
Rainbow Tagine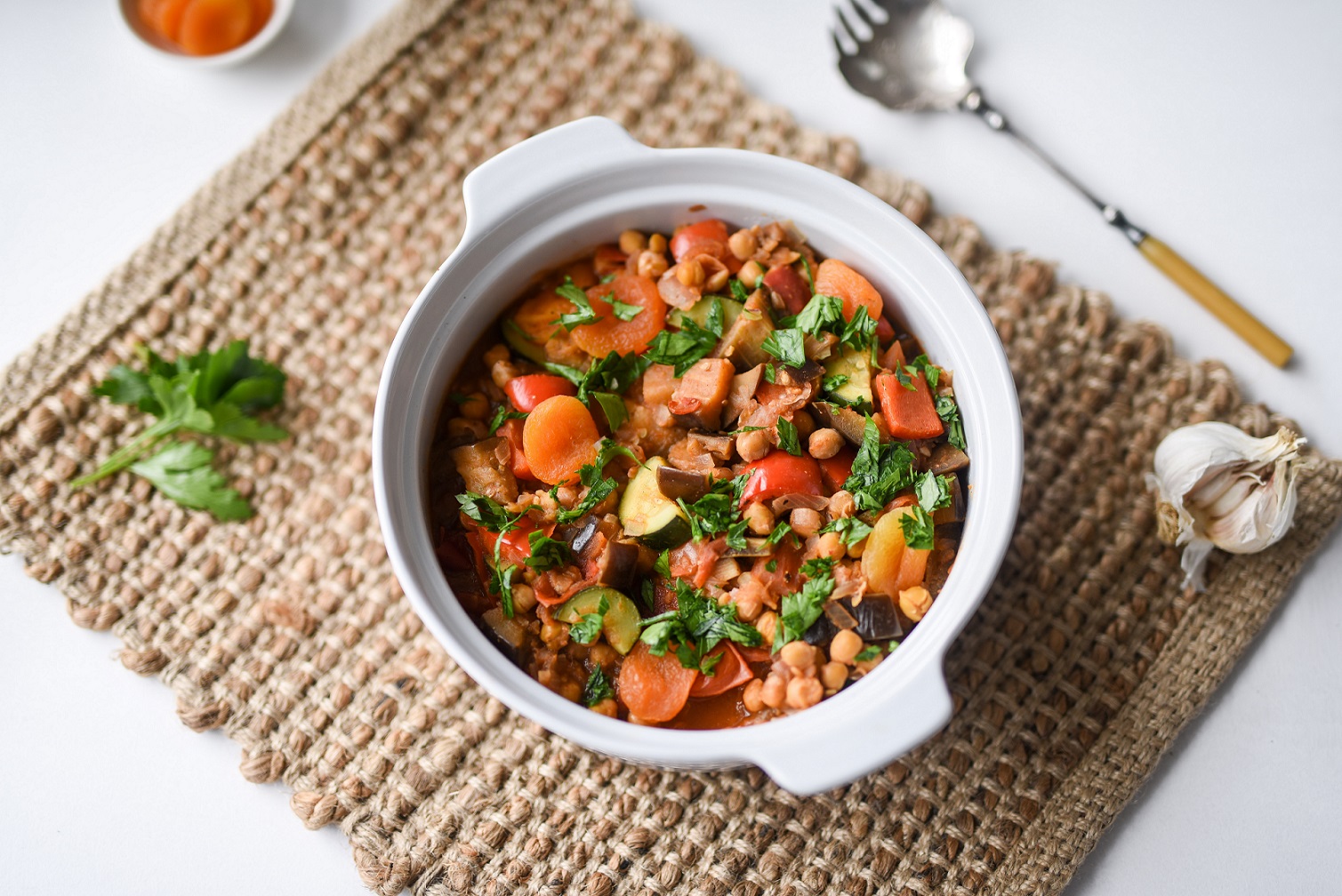 This slow cooked dish is the perfect mix of veg, spices and fruits. The recipe is by MIH chef Mark Breen from our Thrifty Feasts 2 recipe book.
---
Chinese Sweet and Sour Stir Fry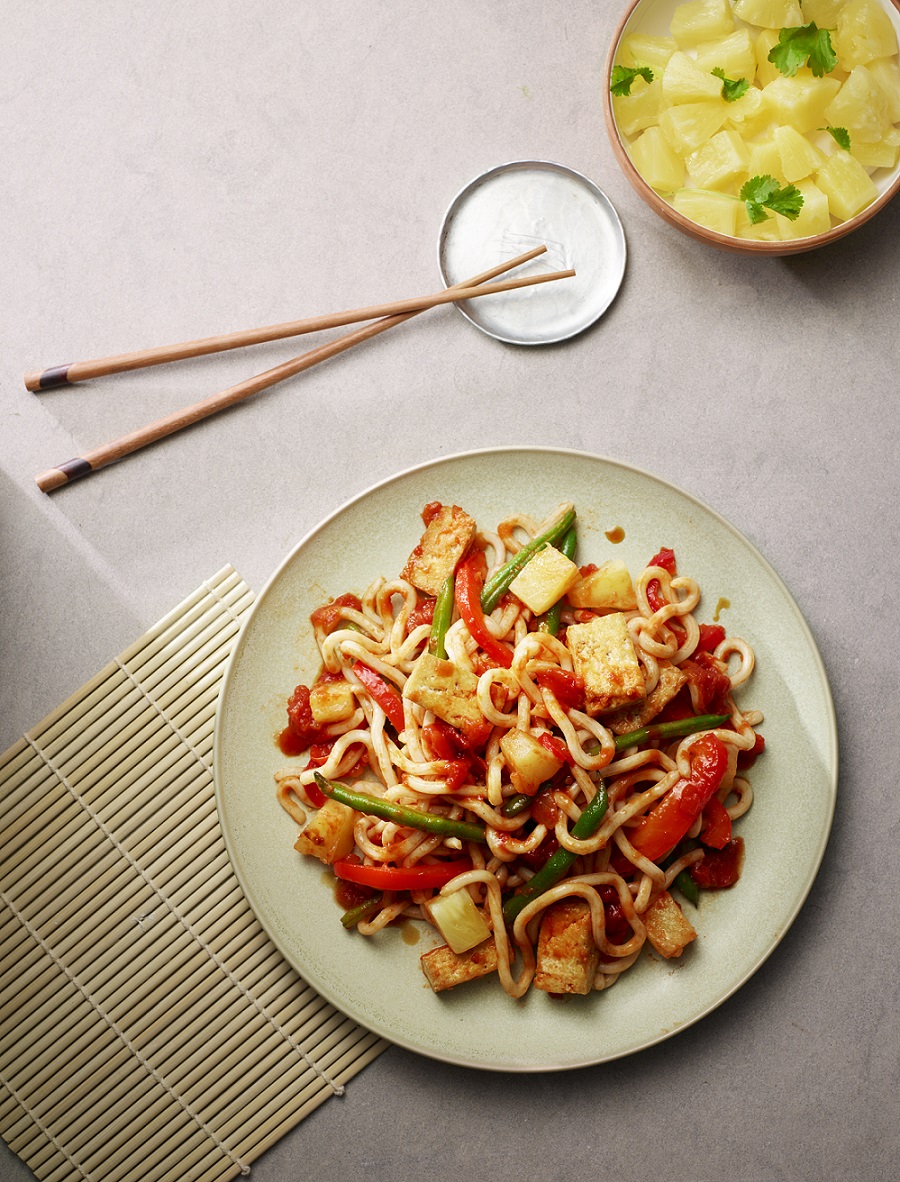 This recipe is a healthier,faster and cheaper alternative to a takeaway favourite. The recipe is by MIH chef Mark Breen from our Thrifty Feasts 2 recipe book.
---
Sweet Potato, Black Bean and Plantain Carribean Curry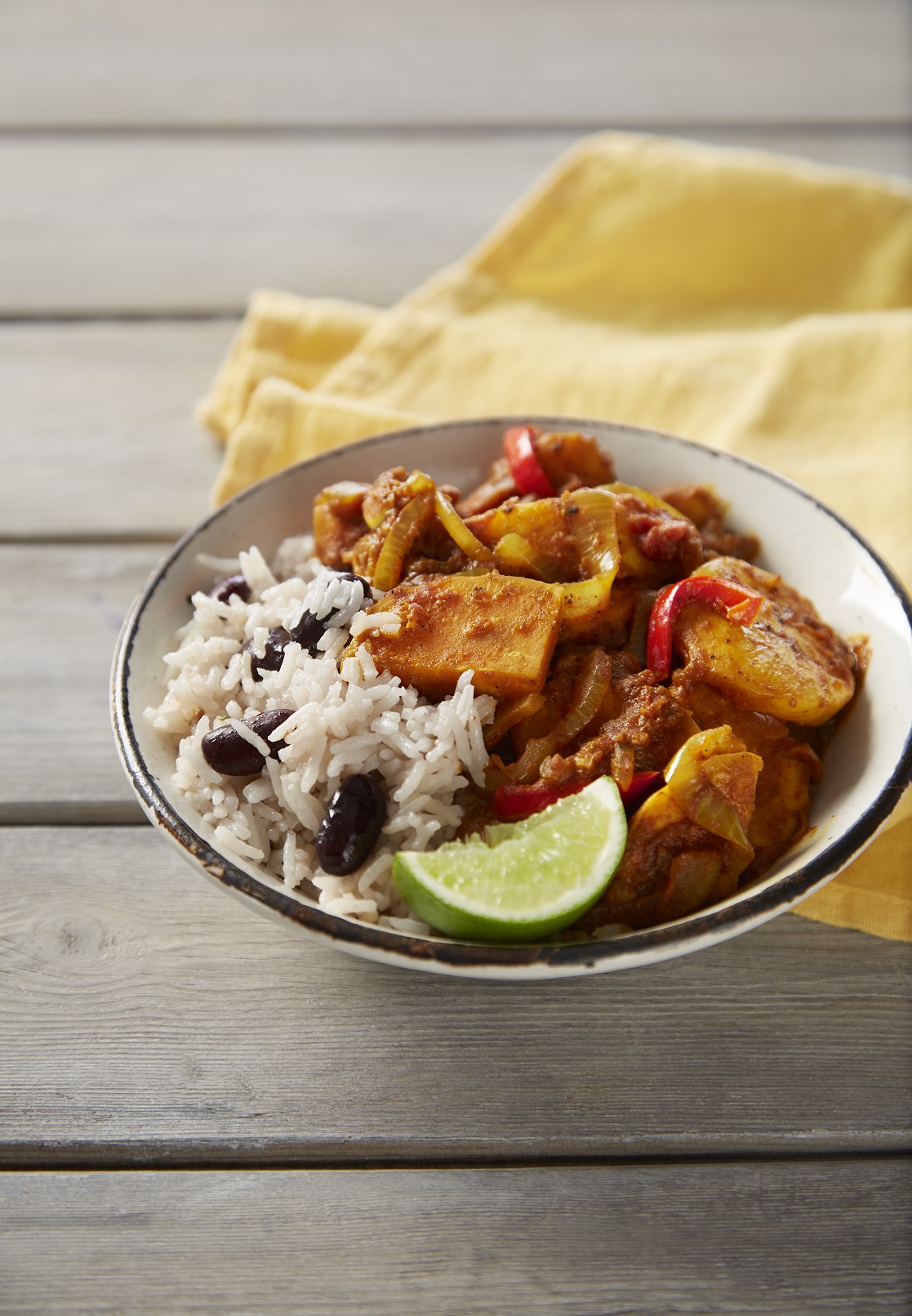 A timeless Caribbean recipe best served with Rice 'n' Peas. The recipe is by MIH chef Mark Breen from our Thrifty Feasts 2 recipe book.
---
Spiced Squash and Red Onion Salad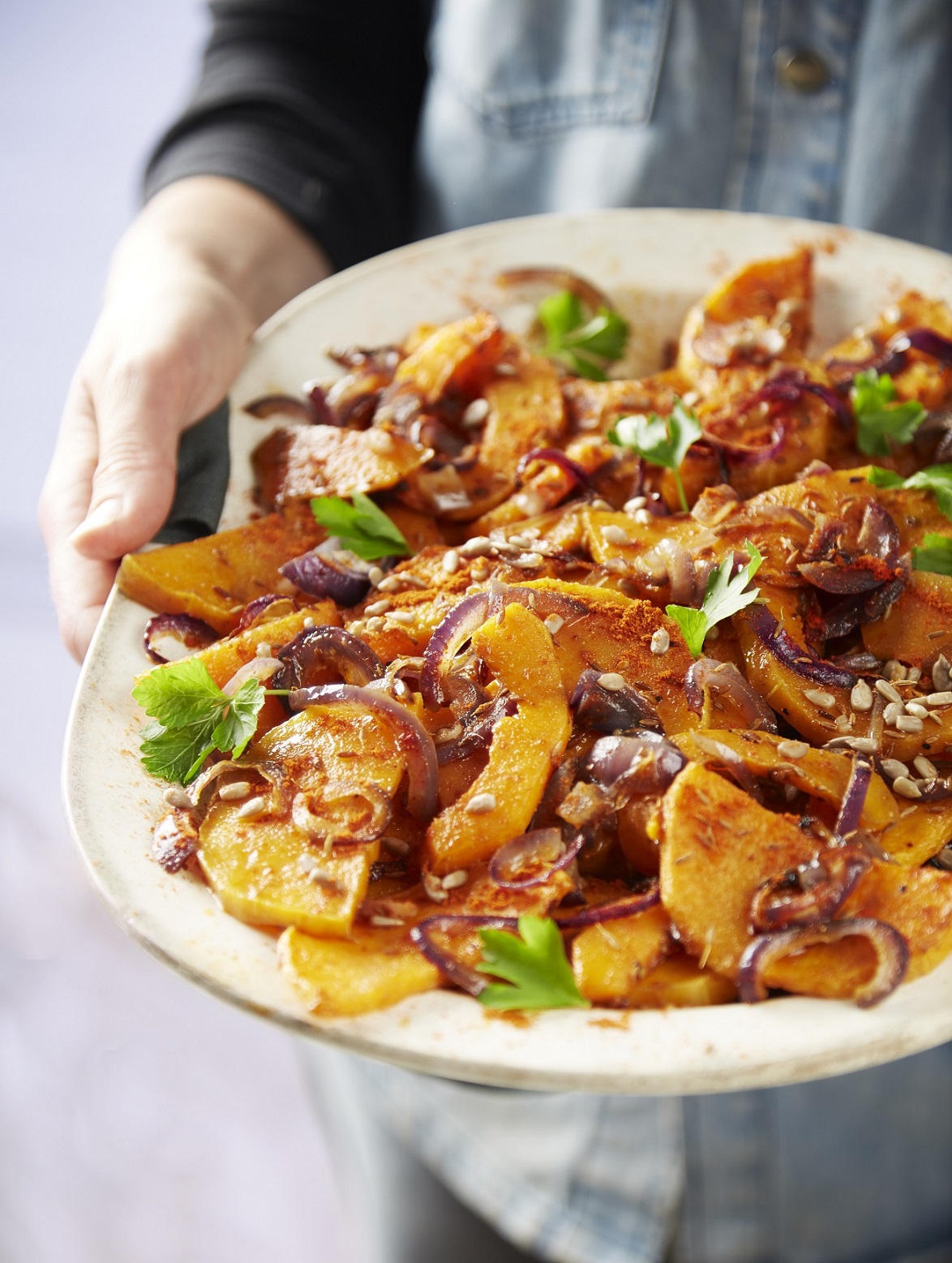 This slow cooked salad brings out the squash and red onion's natural sweetness. The recipe is by MIH chef Mark Breen from our Thrifty Feasts 2 recipe book.
---
Turmeric Tofu Scramble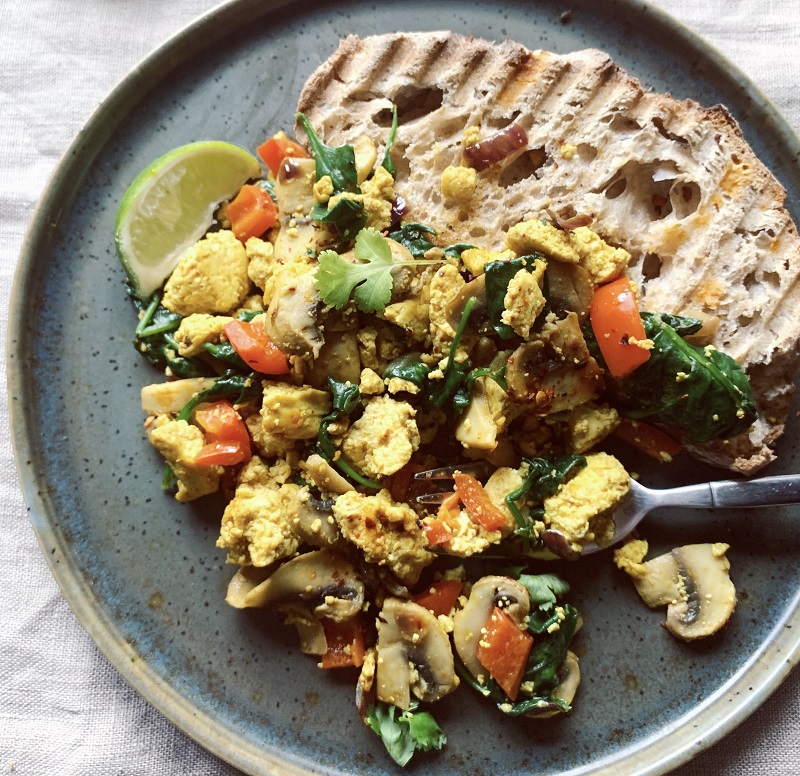 A nutritious, protein packed and tasty brunch dish.
---
Quick Carrot Dahl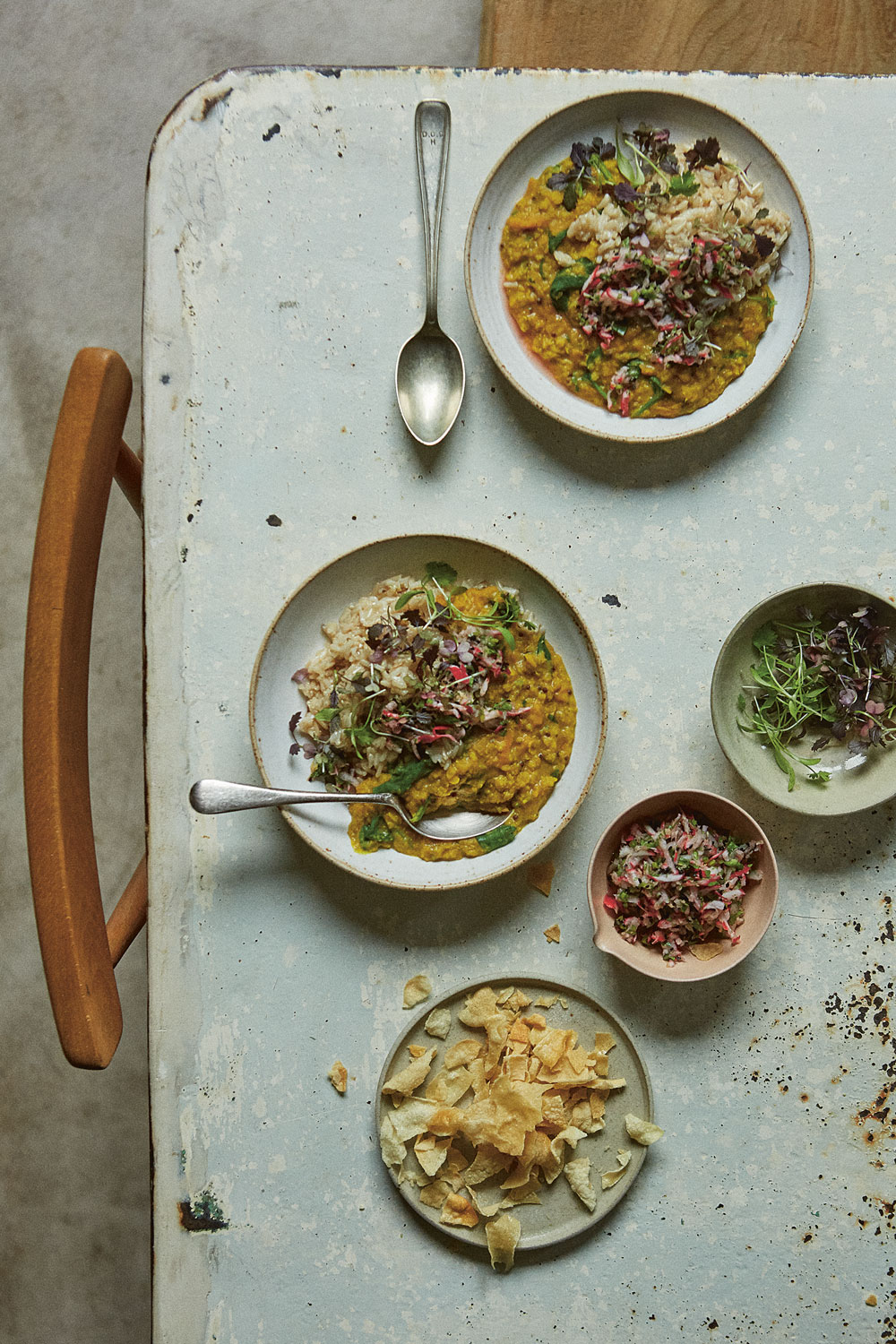 Anna Jones is a Hackney-based cook, writer and stylist, the voice of modern vegetarian cooking (often with vegan options) and the author of the bestselling 'A Modern Way to Eat', 'A Modern Way to Cook' and 'The Modern Cook's Year'. The carrots, turmeric and pink radish pickle in this dhal make it a vibrant colourful bowl, served with poppadoms scrunched into shards over the top for a welcome bit of crunch.
---
Caribbean Curry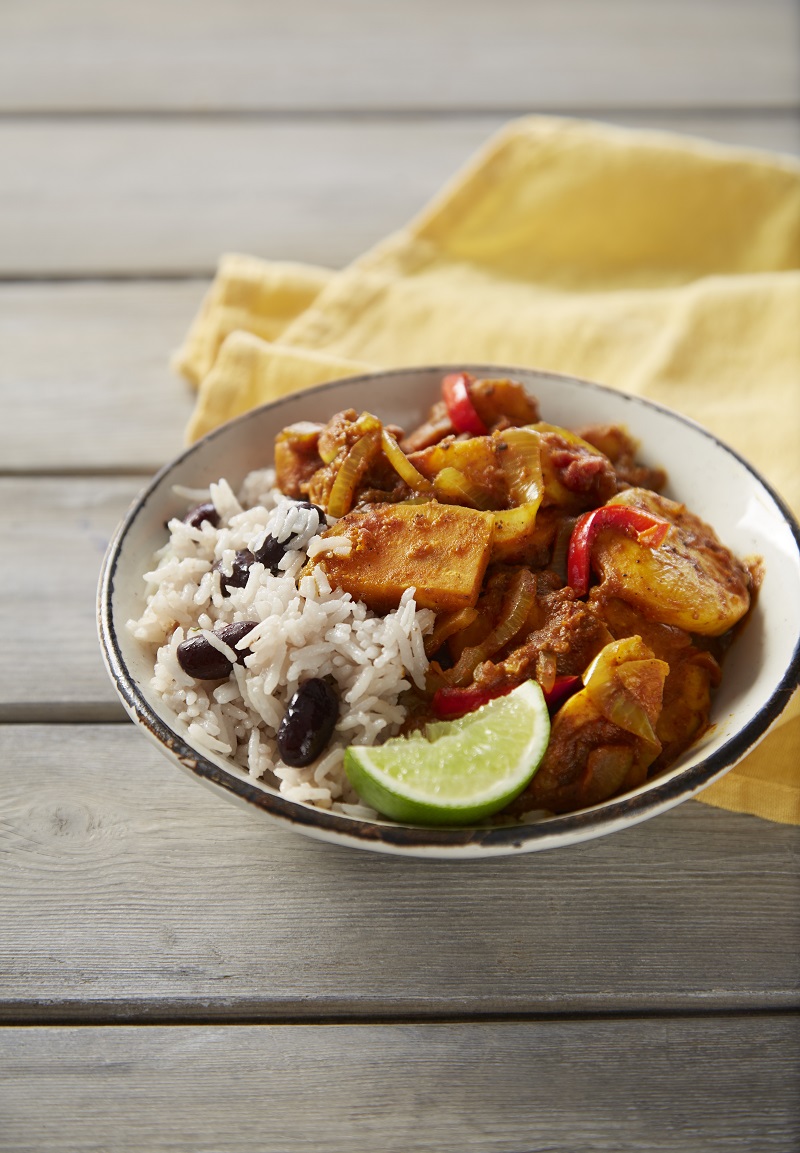 A hearty Caribbean style Ital curry that goes perfectly with rice and peas.
---
Creamy Mushroom Pasta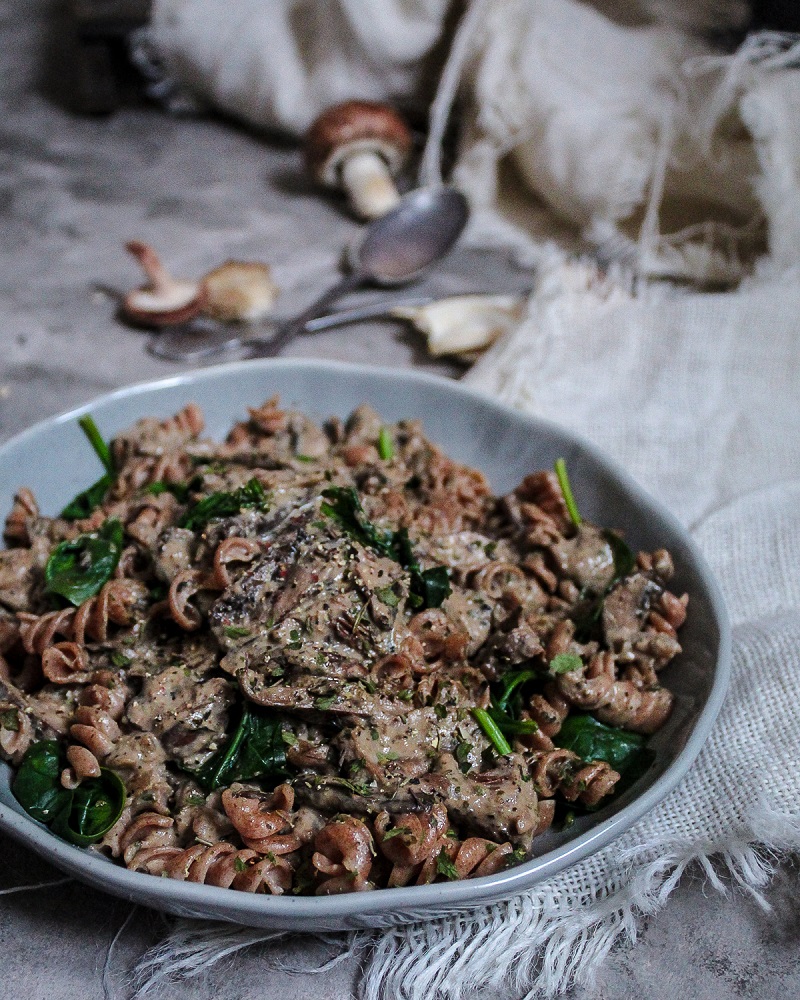 Simple but delicious creamy mushroomy goodness from MIH teacher Melissa St Hill of The Bare Scientist.
---
Smokey Black Beans On Toast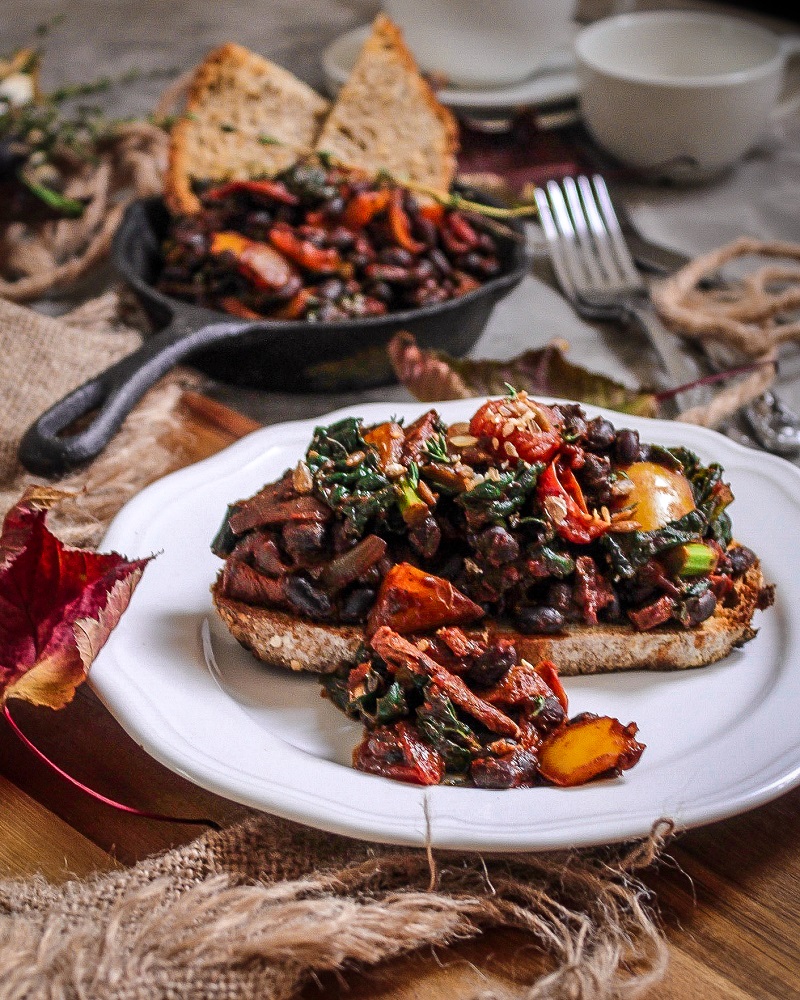 Well posh and nutritious take on beans on toast from the divine food blogger Melissa St Hill of The Bare Scientist.
---
Kale Taco Salad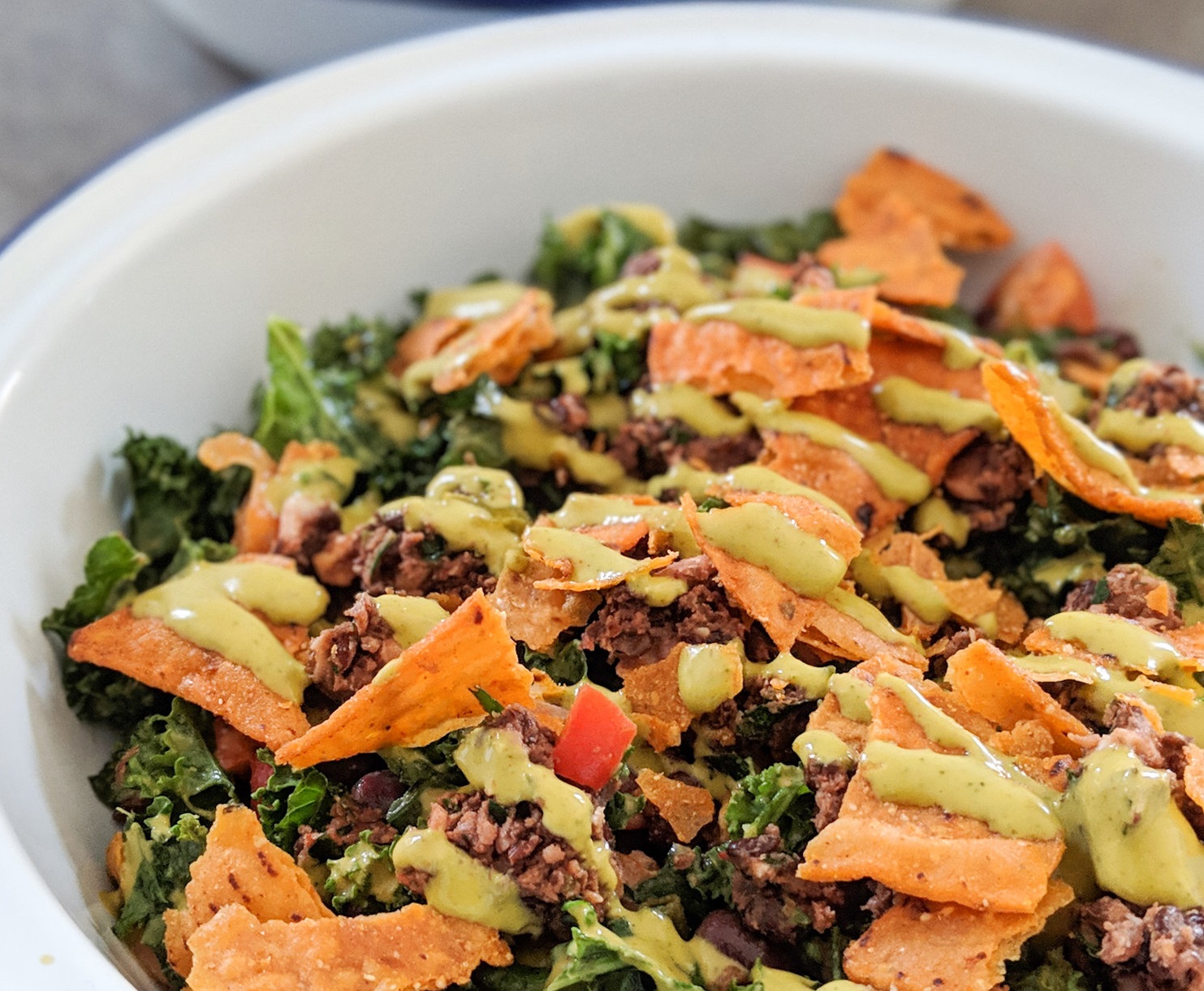 Thanks to our supporter and friend Deepa Devlukia of blog Girl Boy Food Baby for this delicious 4 layer salad recipe that gets the tastes buds firing whilst also being extremely healthy.
---
Chilli Tofu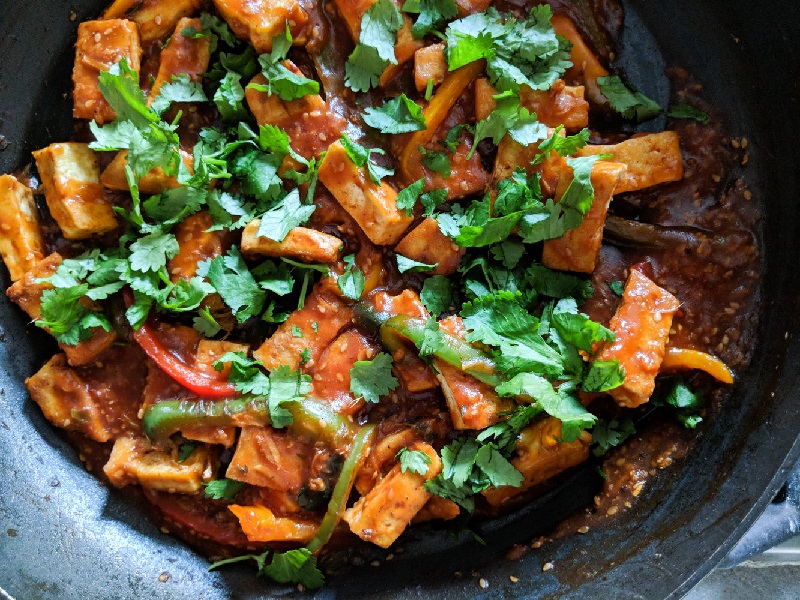 This is tofu done good, really good, by the fabulous conscious parenting coach and vegan food blogger Deepa Devlukia of Girl Boy Food Baby. Enjoy!
---
Roasted Mushroom Broth with Kimchi and Tempeh.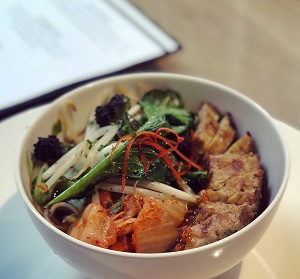 The rich broth is made by roasting the late summer's mushrooms and combniing them with two ferments to make a delicious and hearty ramen bowl. Mushrooms are one of nature's most delicious foods, and they are used here to make a deep-flavoured broth. The kimchi adds a spicy nutritious kick, and the tempeh a source of vegan protein.
---
Butternut Squash, Basil & Tomato Galette (Rustic Pie)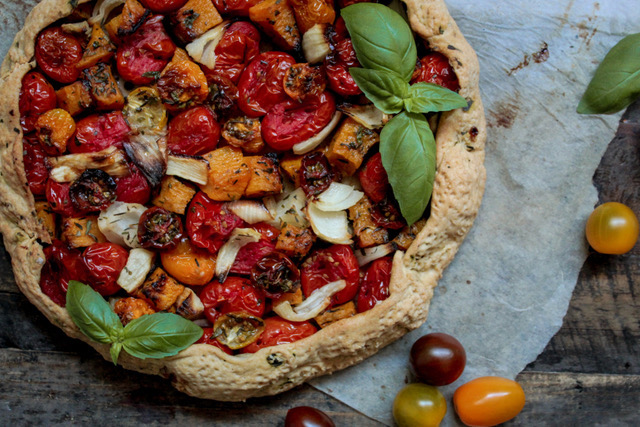 This delicious pie is simpler to make than you might think. A crunchy and flavoursome crust with a sweet golden veg filling. Recipe created by the fantastic Melissa Saint Hill - nutritionist, scientist and chef.
---
Sweet Potato Curry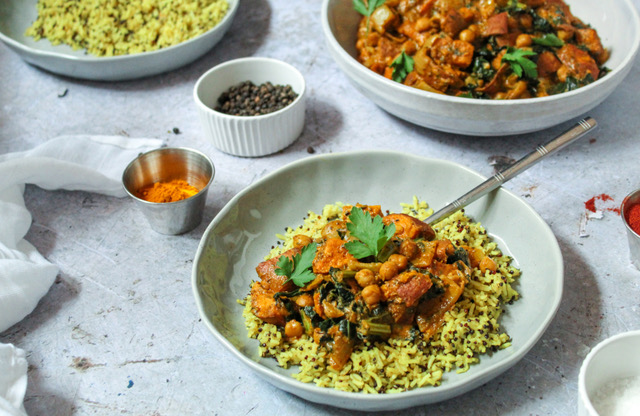 This rich aromatic curry recipe was created by nutritionist, scientist and chef Melissa Saint Hill (find her on instagram @the_bare_scientist). It's bursting with flavour, goodness and plenty of colour!
---
BBQ Oyster Mushrooms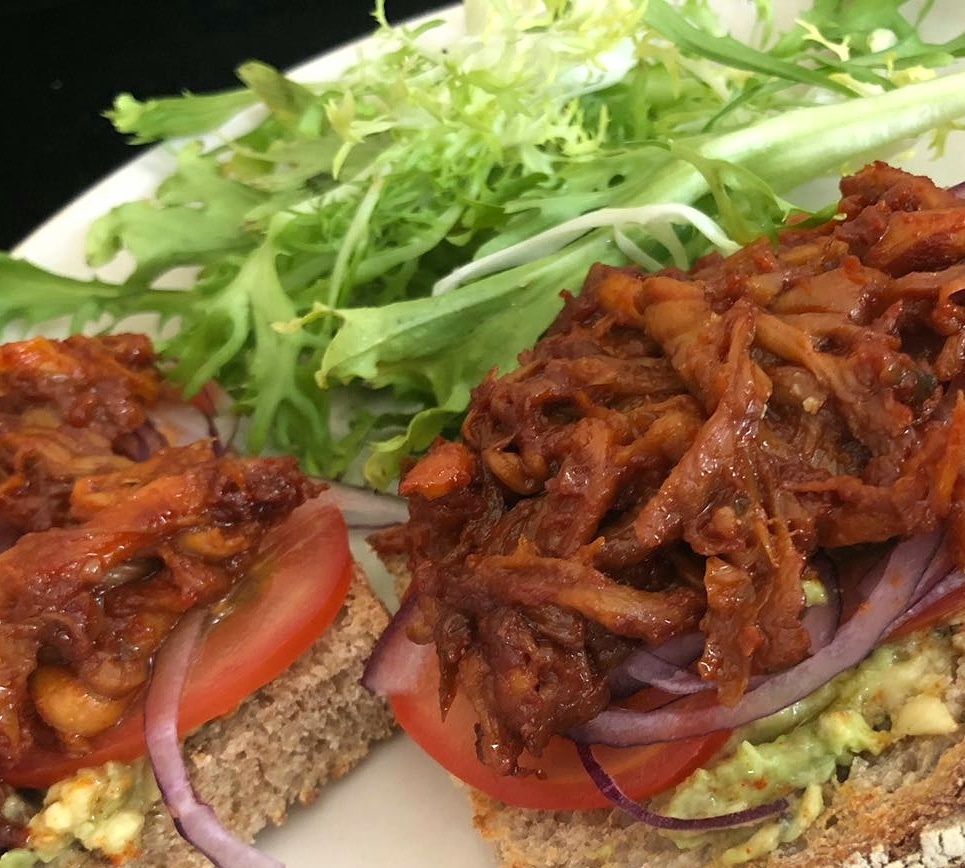 This recipe of our teacher Sharon was described by our ambassador Rachel de Thample as "one of the tastiest things ever - it blew my mind." If Rachel says that, you know it's real good.
---
PBLT - Plant-Based BLT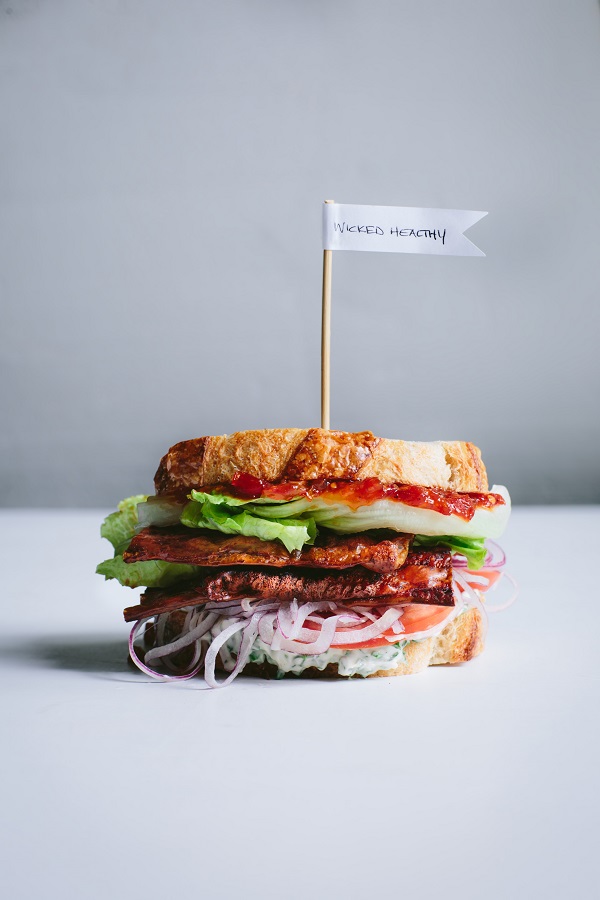 This is a lip smacking sandwich from the Wicked Healthy chefs brothers Chad and Derek Sarno. We heart it.
---
Mac & Cheese Doughnuts with Cashew Garlic Sauce and Crispy Coconut Bacon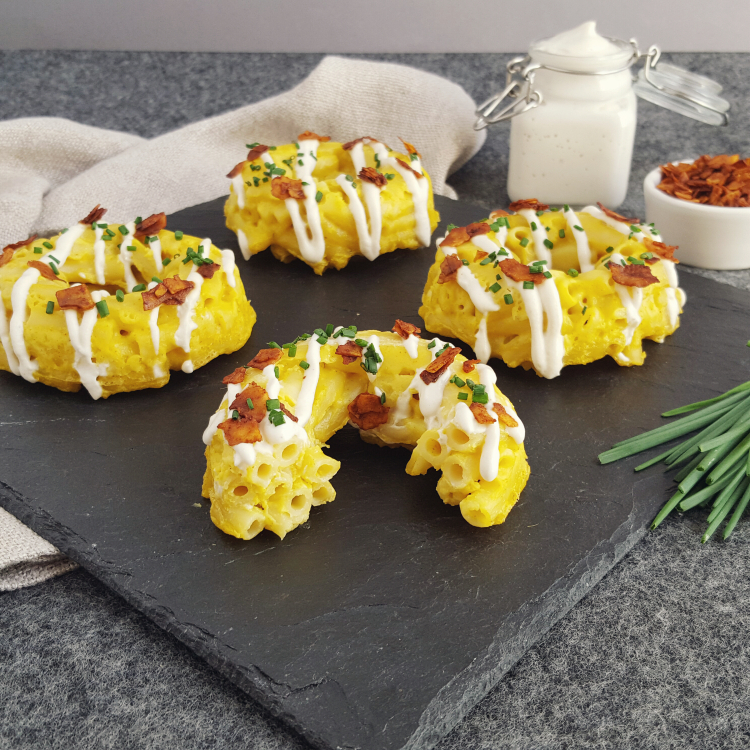 Naughty but oh so nice! These amazing creations come from our teacher and all round cheese mistress Ellie over at Kinda Co. Thankyou Ellie!
---
Jackfruit Tacos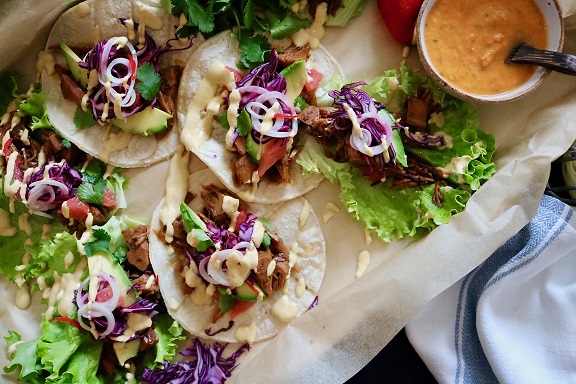 Young braised jackfruit has been hailed as the ultimate vegan 'pulled pork' and has a similar texture, except it's lighter and fresher. This recipe is brought to you by the amazing vegan chef and recipe writer Kali Hamm.
---
Chinese Sweet & Sour Veggies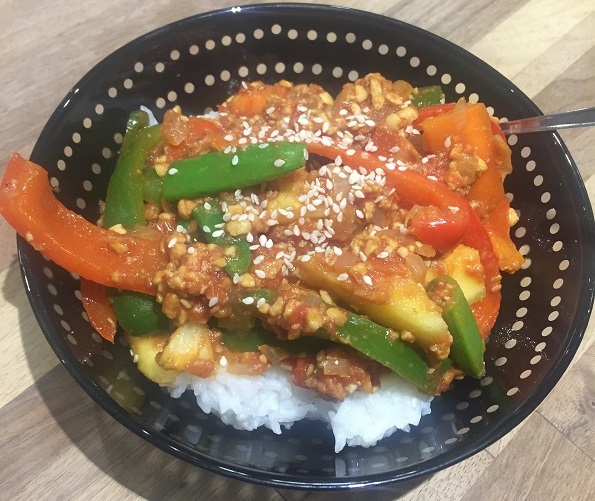 This dish was made in the kitchen by our young carers from Action For Children with our brilliant teacher and chef Mark Breen. They smashed it and even ate all the veggies. This is a real crowdpleaser.
---
Banana blossom with coconut and chile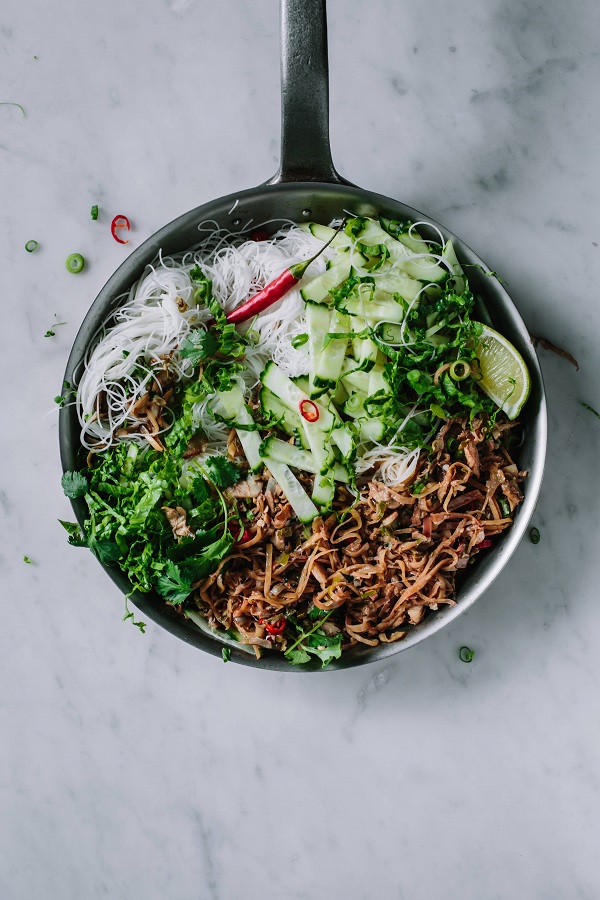 This stunning recipe from The Wicked Healthy Cook Book by chef Chad Sarno uses banana blossom - the new all natural vegan meat substitute on the block. Chad says he learnt to make it in the Philippines while revamping a menu for the Farm at San Benito. Nice work if you can get it Chad. We appreciate that the star ingredient is not very local - but sometimes you've got to try these things - and banana blossom sounds too intriguing to resist.
---
Jah Spirit's Ital Stew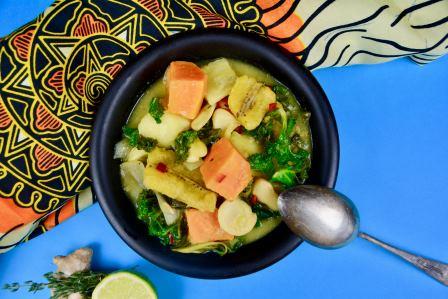 In 2017 the founder of plant-based recipe kit Make Kit, Steve Wilson, joined forces with Made In Hackney community class teacher Jah Spirit on a ital food class – ital being the term used by Rastafarians to refer to their unique brand of wholefood, vegan Caribbean cuisine. Steve loved the ital stew Spirit made (which also happens to be gluten free and consist of 4 of your 5 a day – or 10 a day as we like to say) and with this recipe pays homage to our wonderful class leader who sadly passed away in February 2018.
---
Roasted Cauliflower Schwarma Steaks with Couscous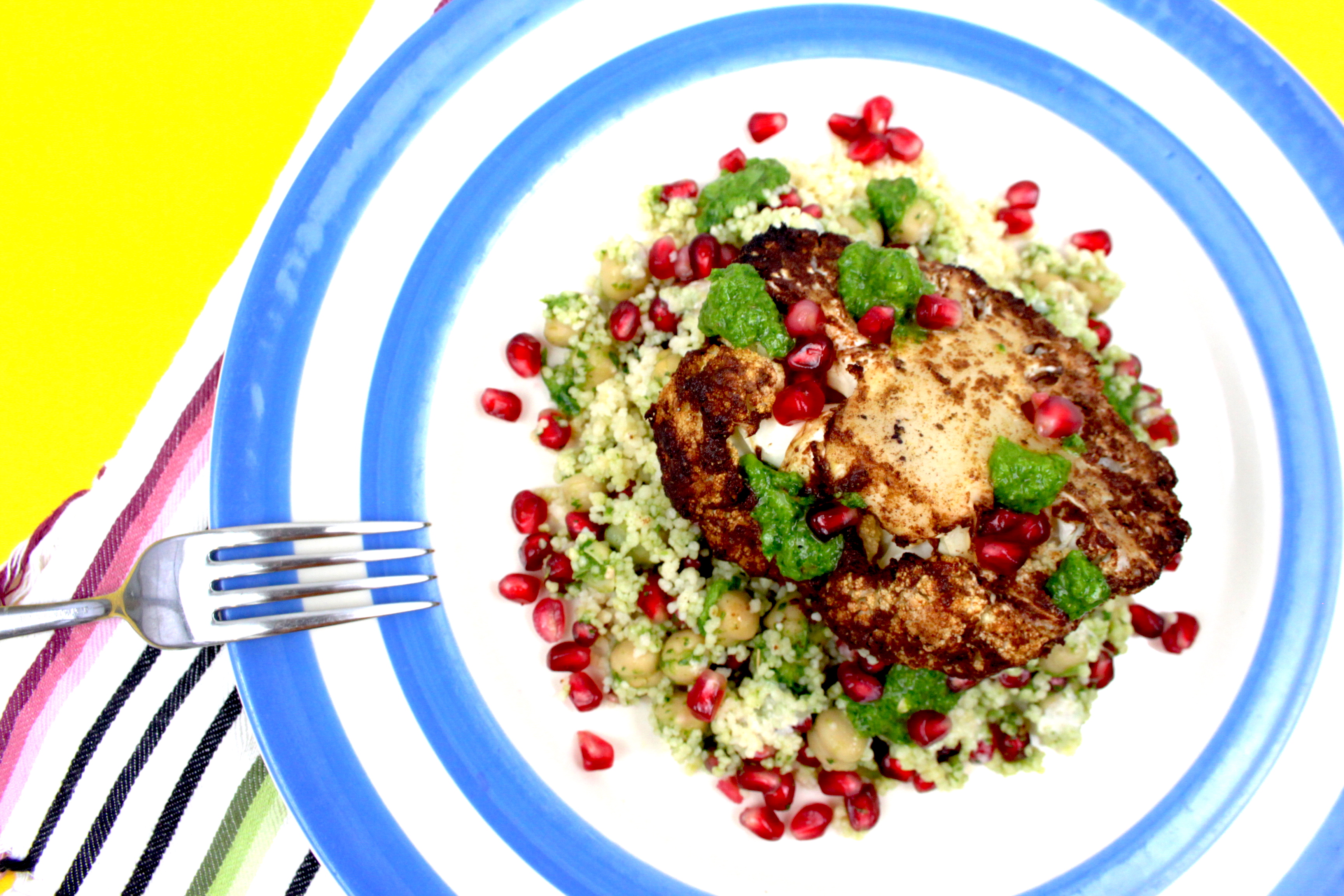 Ohh get you with all those fancy words in the recipe title. This Middle Eastern inspired recipe comes from our pals over at Make Kit – the UK's first veggie and vegan recipe bag social enterprise! Their co-founder and MIH cookery teacher Steve Wilson says about the recipe, "2017 was a game changing year for cauliflower. The humble cauli's image went from a soggy side to becoming the alchemist's dream ingredient. When roasted, it's sweet, nutty, yeasty richness really gets a chance to shine. There's also an element of theatricality to the cauliflower being served as a roasted centerpiece, with its burnt smoky edges and incredible Fibonacci marbling." Yeah he said Fibonacci. We googled it to. But anyways – this tastes amazing and only takes 30 minutes to make. Enjoy.
---
Joe's Beetroot Bourguignon with Pomegranate Reduction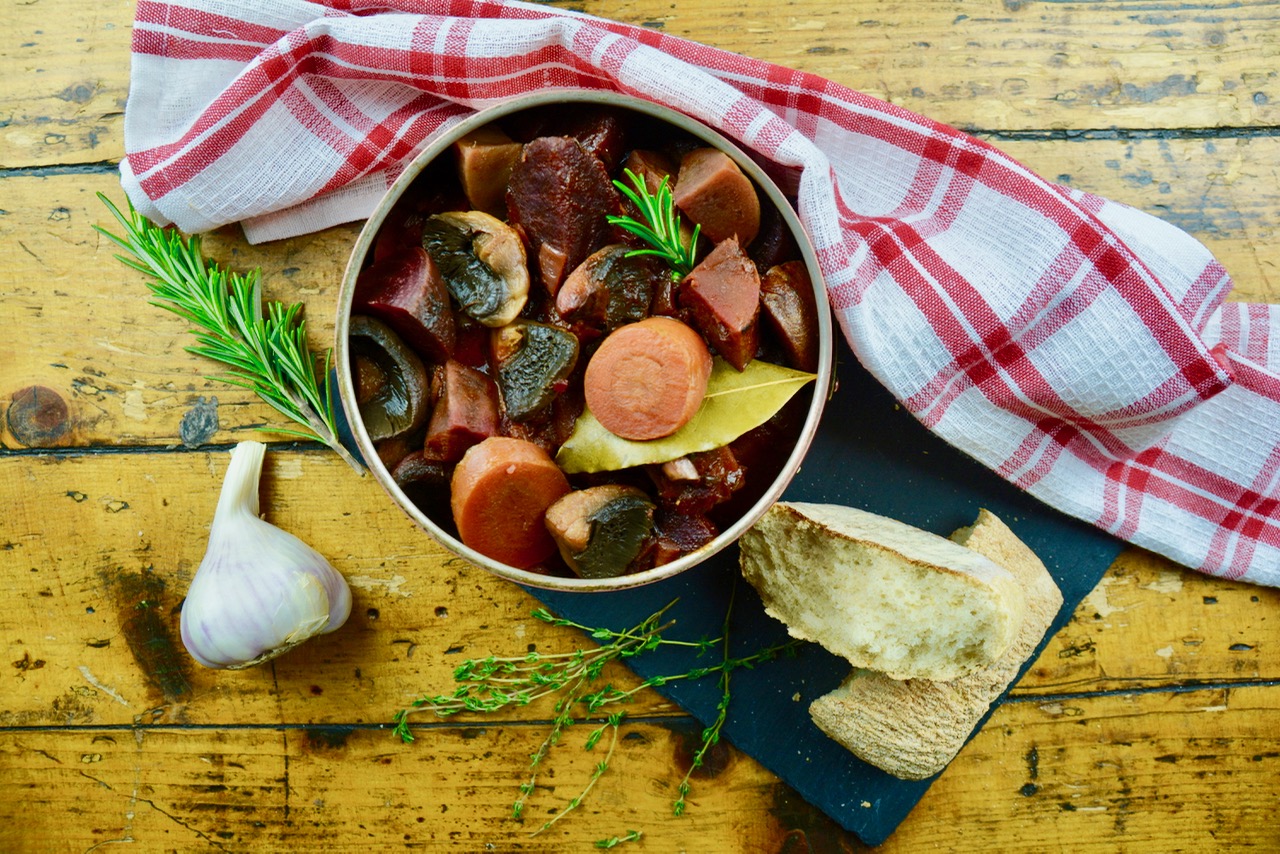 This tasty recipe is a collaboration between recipe kit social enterprise Make Kit (https://makekitfood.com/) and vegan street food chef Joe Bradley. Make Kit challenged Joe to make a version of the French classic Boeuf Bourguignon that can be cooked by a non-professional in 30 minutes.This is the result! And mighty tasty it is too! It also includes 3 of your 5 a day - or 10 a day as we like to say at Made In Hackney.
---
Cashew Aubergine Parmigiana with Lemon Parsley Rice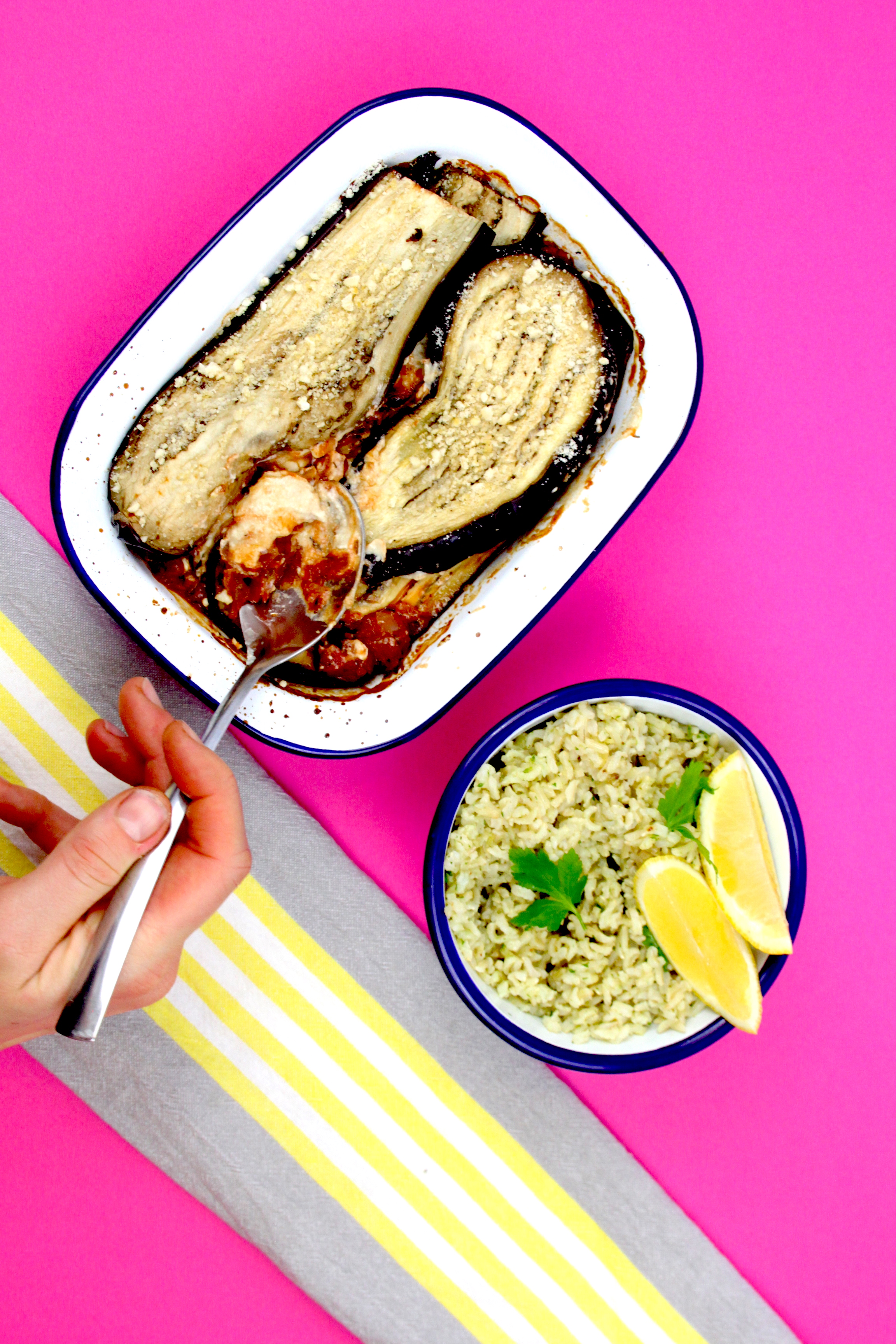 This recipe is well tasty! Created by Make Kit – the UK's only plant-based recipe kit social enterprise co-founded by MIH cookery teacher Steve Wilson – it contains 3 of your 5 a day – or 10 a day as we like to say at MIH.Melanzane alla parmigiana is a classic Italian dish which translates to Parmesan Aubergine in English. The dish tends to contain more mozzarella than parmesan but can be made in a multitude of different ways. This parmigiana is made with a creamy homemade plant based mozzarella, made from cashew nuts that are soaked overnight, washed, and blended until smooth. Yum.
---
Buckwheat Salad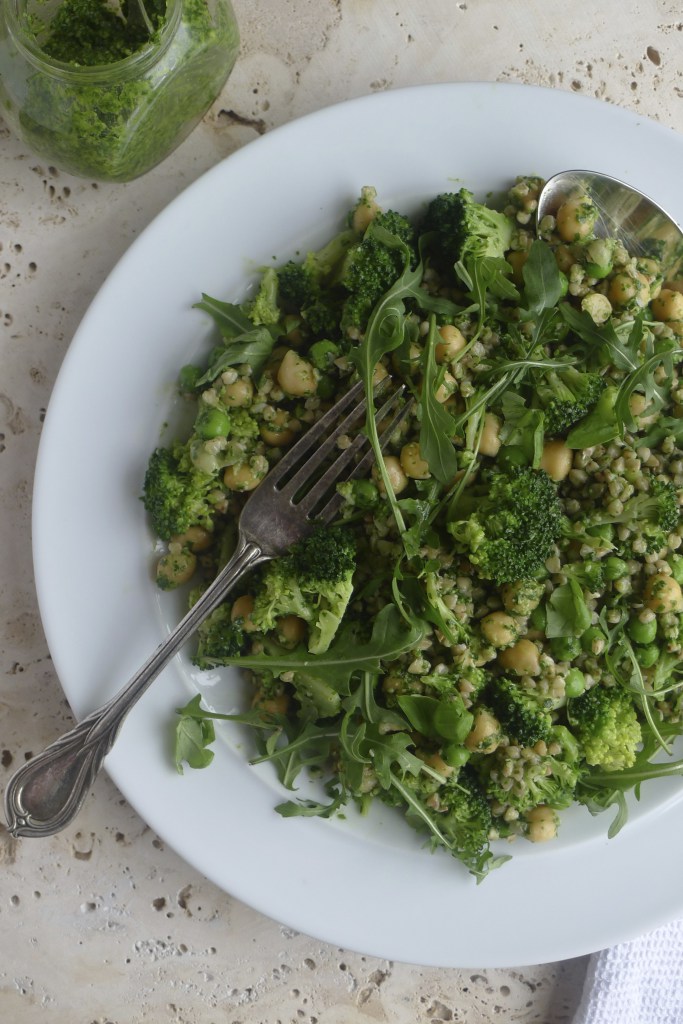 Creator of this super healthy salad Ceri Jones says, "This buckwheat salad recipe is a versatile base from which to build hundreds of variations. Try different vegetables, grains or legumes in the same proportions til you hit on your favourites."
---
Baked Gateaux Piment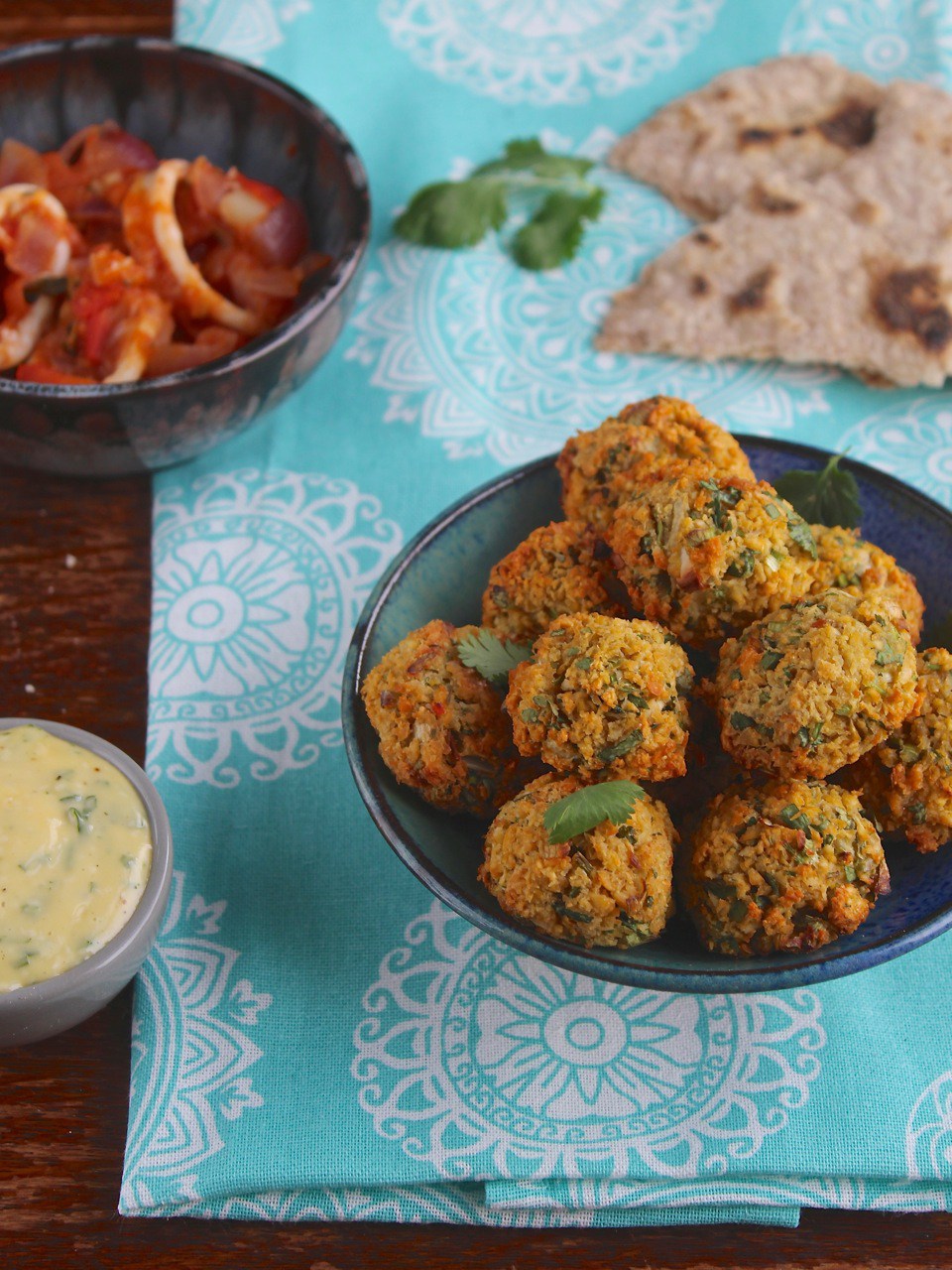 Our teacher Ceri Jone's take on Mauritian chilli cake snacks (gajacks), but baked instead of deep fried. They are naturally gluten free and vegan. Yes please.
---
Leek Waffles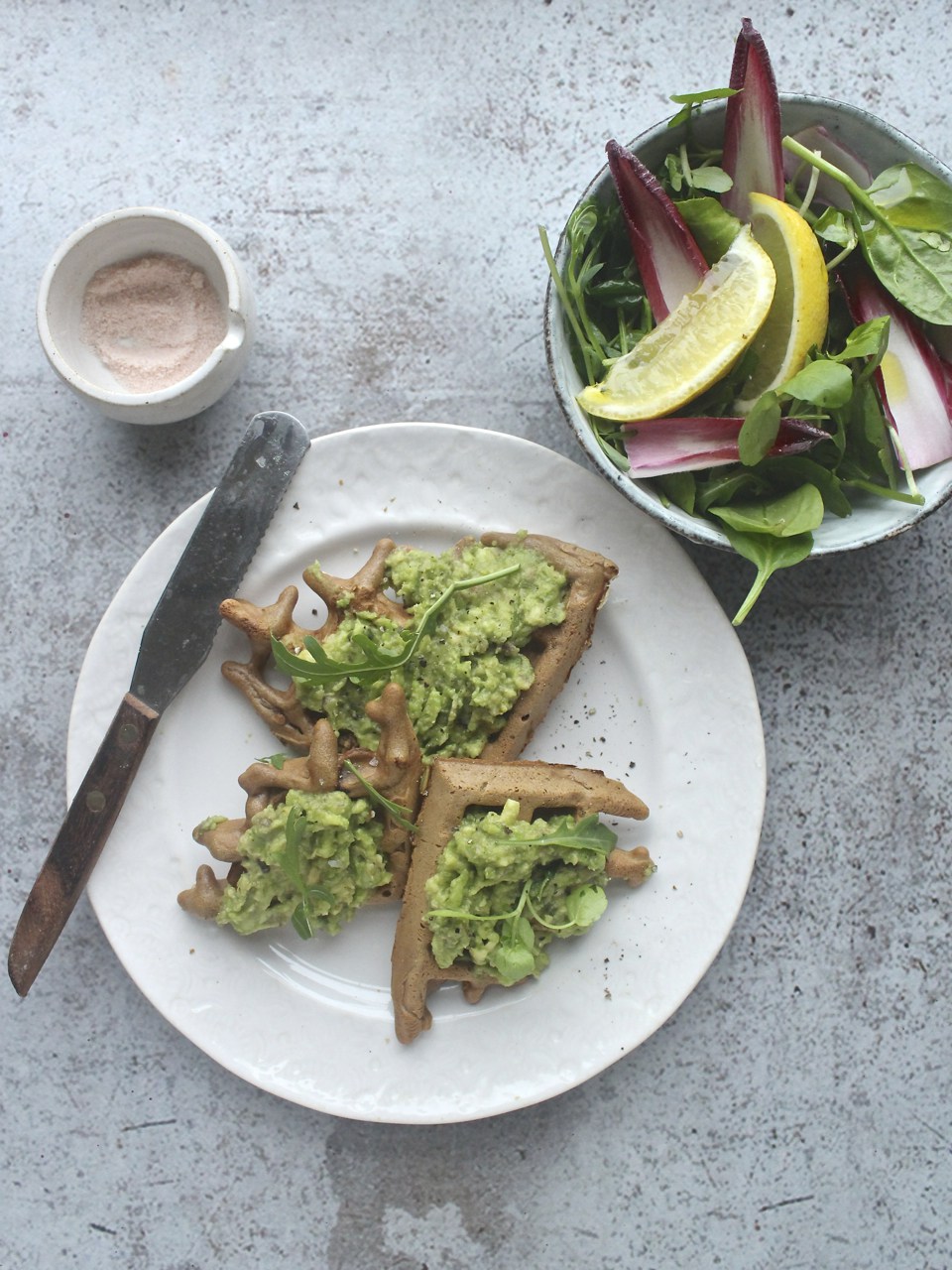 Made In Hackney's Sarah can never get excited about leeks. Wait! Maybe this recipe from our cookery teacher Ceri Jones can change that. It looks and tastes delicious. Bring on the leeks.
---
Rhubarb Khoresh with Chickpeas & Chard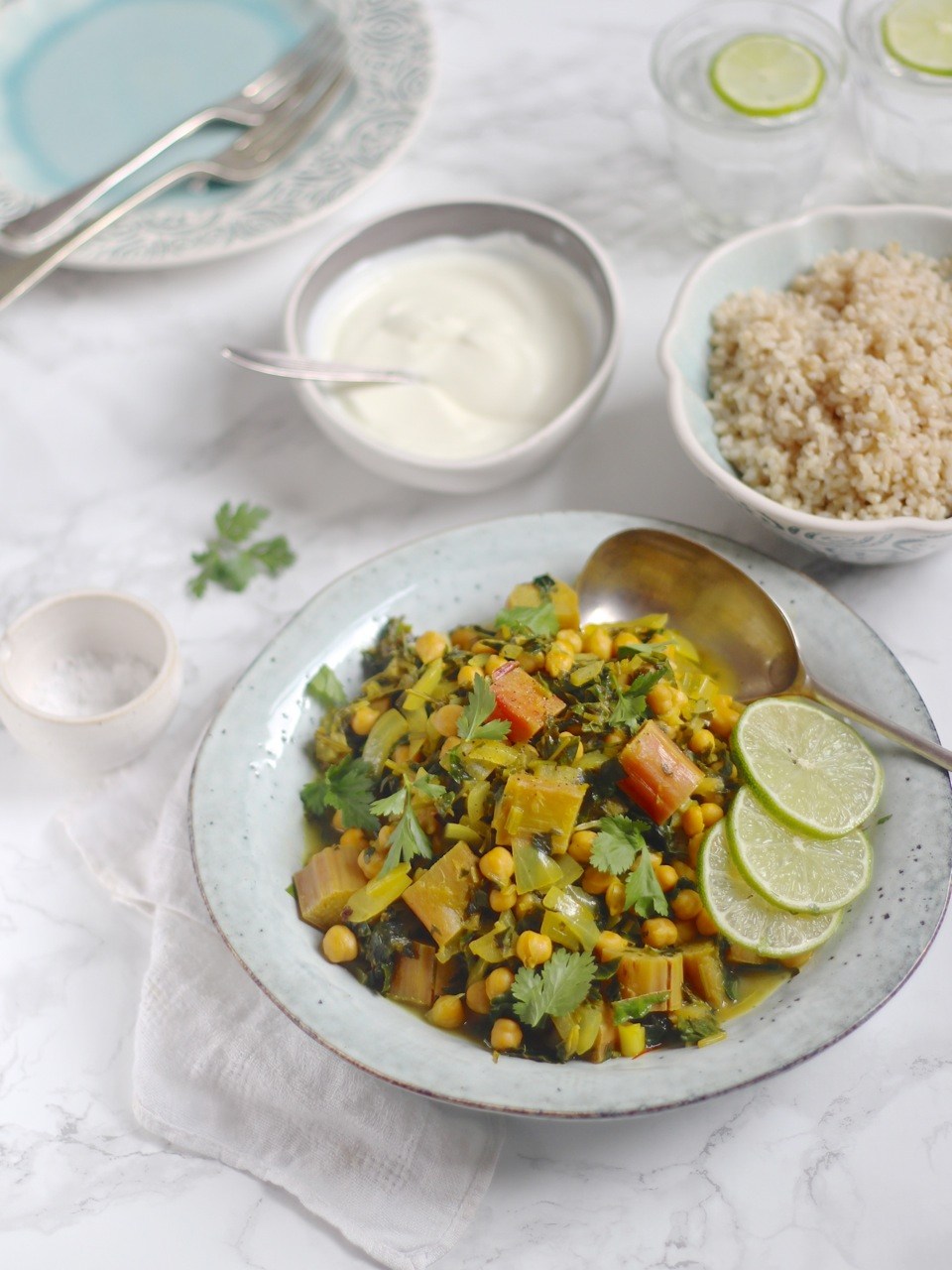 Made In Hackney teacher Ceri says about this dish, "Rhubarb Khoresh with Chickpeas & Chard is a Persian style vegan stew using the best of spring's seasonal British produce. Serve with coconut yoghurt, lime and brown rice or a wholegrain flatbread." Yum.
---
Soy Roast Veg with Noodles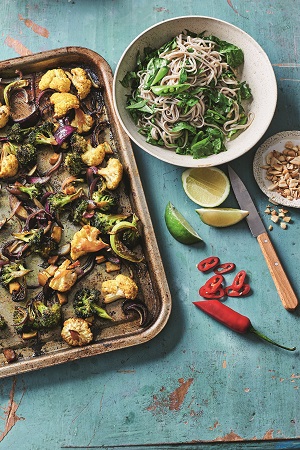 This delicious recipe comes from our ambassador Dr Rupy Aujla's fantastic new book The Doctor's Kitchen.
---
Black Bean Tacos with Grilled Nectarine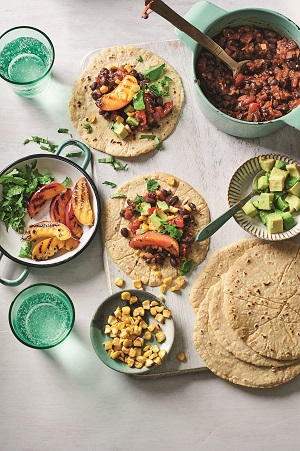 This satisying and quick recipe comes from our ambassador Dr Rupy Aujla's fantastic new book The Doctor's Kitchen.
---
Root Vegetable Gratin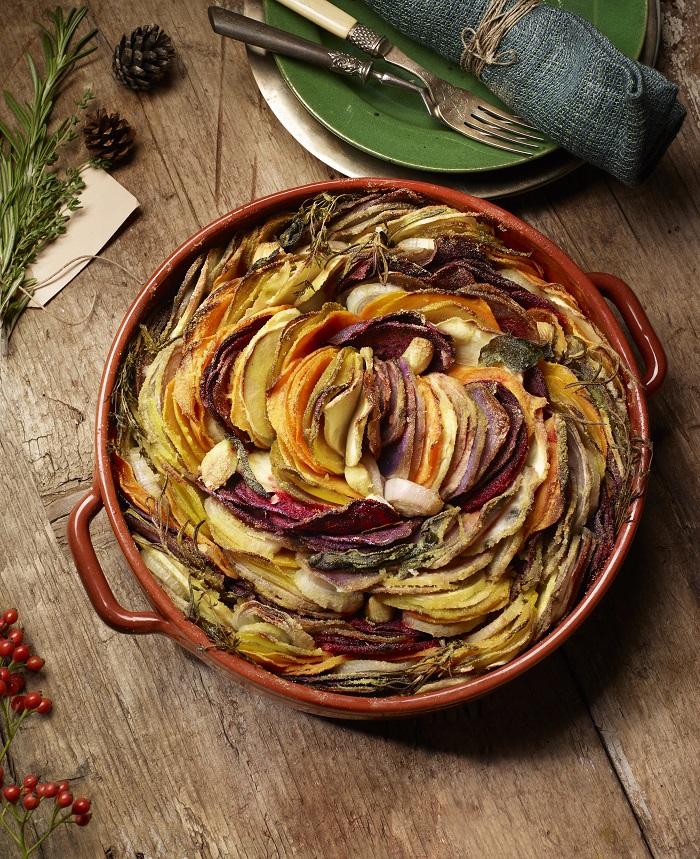 This beautiful looking table centrepiece uses all the winter root veg imaginable and is surprisingly easy to do - you just need a mandolin and you're off. Failing that a sharp knife will do but will be a much slower process.
---
Ultimate Bangers & Mash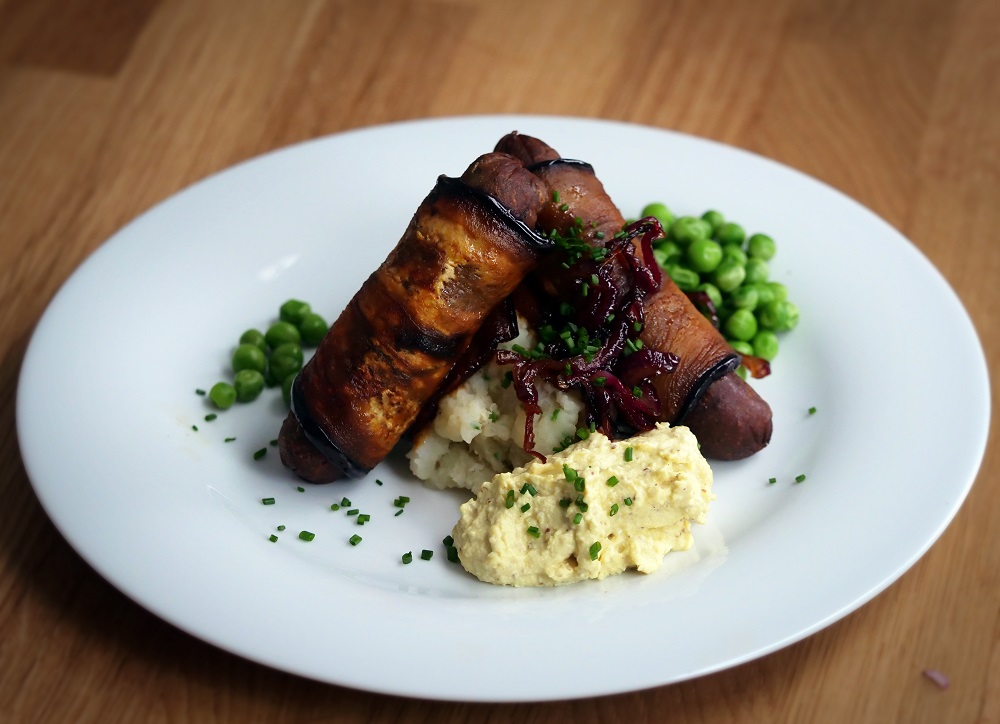 We teamed up with the lovely Bosh! fellas to create this epic bangers and mash recipe with a 'no-pigs in blankets' aubergine facon! Banging. Literally!
---
Sarah's Plantain 'n' Ackee Nyam Down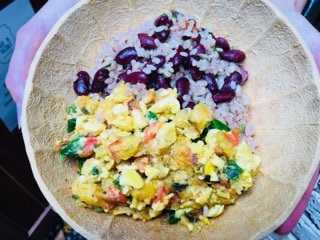 This is a Caribbean style Ital feast from MIH founder Sarah. She learnt to cook in Jamaica as a reggae journalist and loves to cook hearty, Caribbean dishes - like this.
---
Mexican Tortillas With Tomato Salsa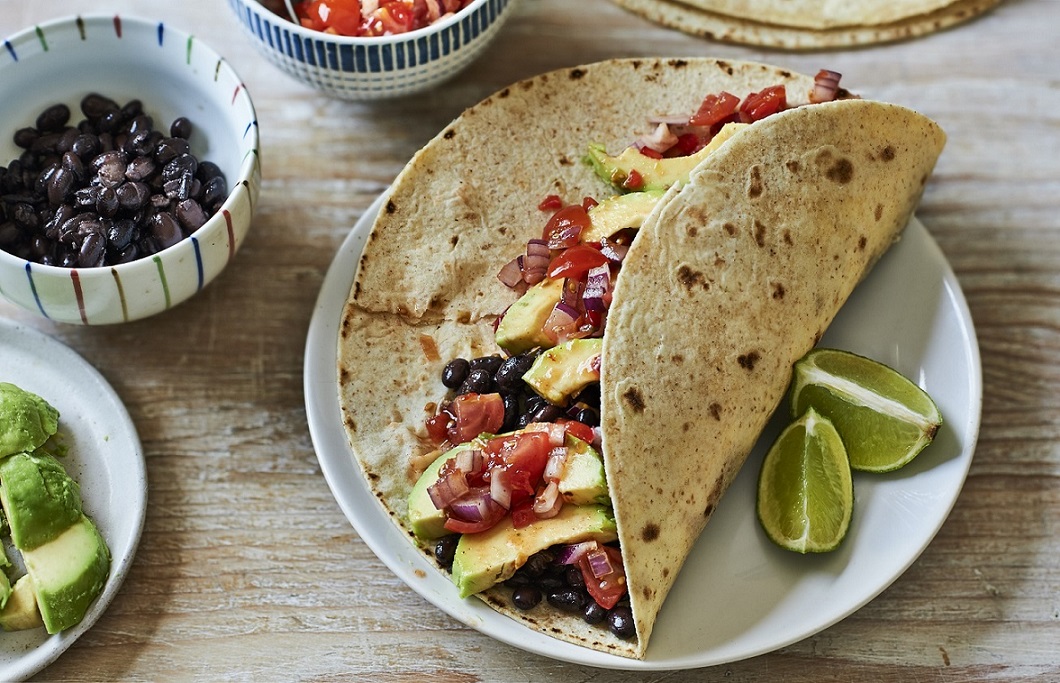 Get the party started with these Mexican fiesta favourites!
---
Sweet Potato And Bean Burgers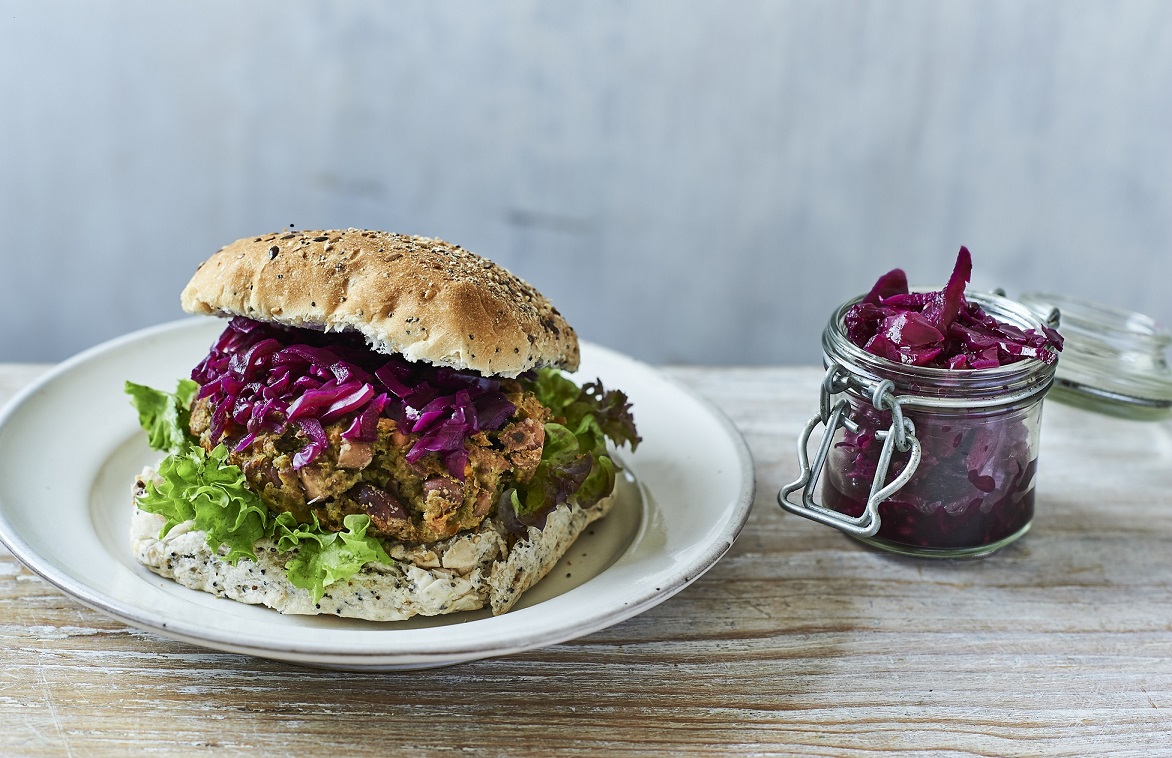 Who doesn't love a good hearty burger? These plant-based patties are simple, thrifty and delicious.
---
Ximena's Vegetable Curry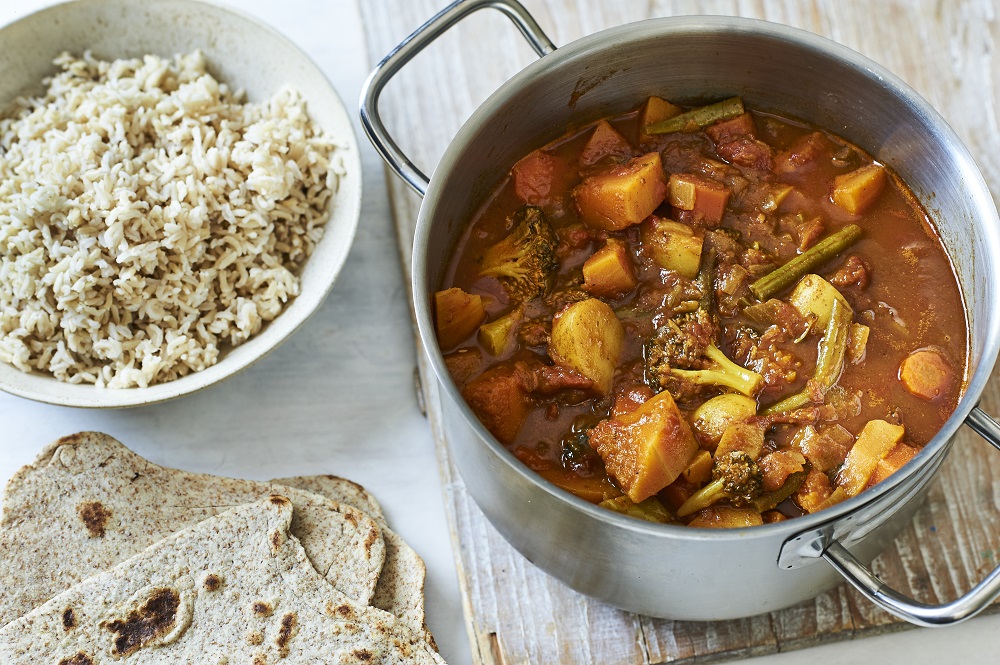 Hearty, tasty and filling - a great comfort dinner.
---
Bay-smoked Beetroot Soup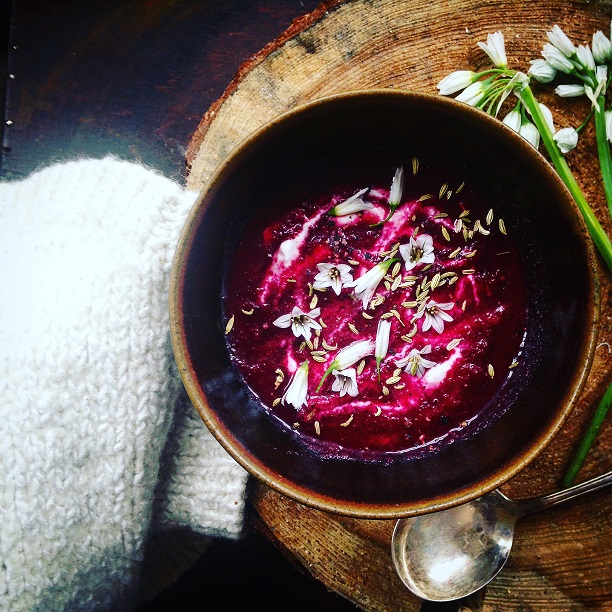 Brighten up your bowl with this radiant beetroot soup smoked with bay branches, which grow wild all over the UK. The smoking process is a great way to cook root vegetables quickly whilst adding tonnes of flavour!
---
Nettle and Hazelnut Gnocchi with Dandelion Butter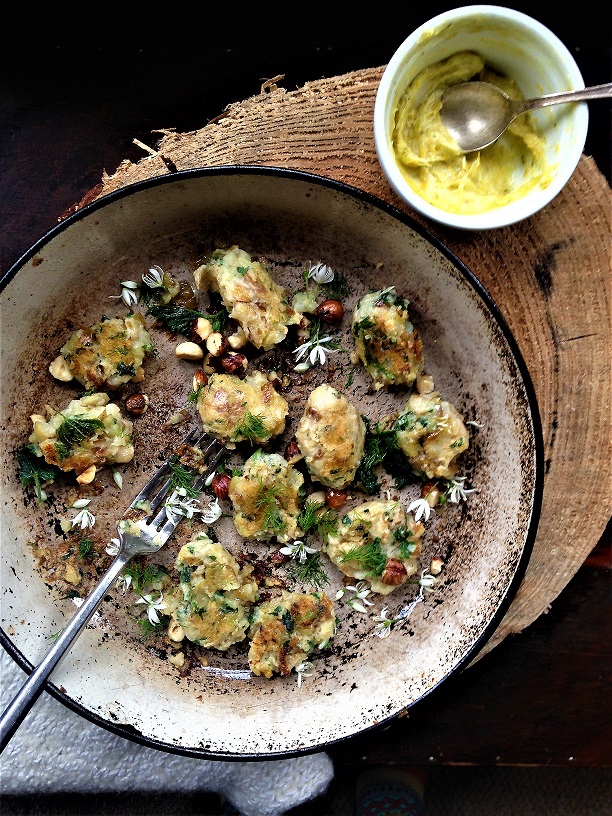 The nettle and hazelnut pesto in the gnocchi mixture not only adds flavour, colour, texture and nutrients but it also stands in place of the egg and cheese used some gnocchi recipes. The nettle can be swapped for alternative seasonal wild greens at other times of the year.
---
Mini Cottage Pies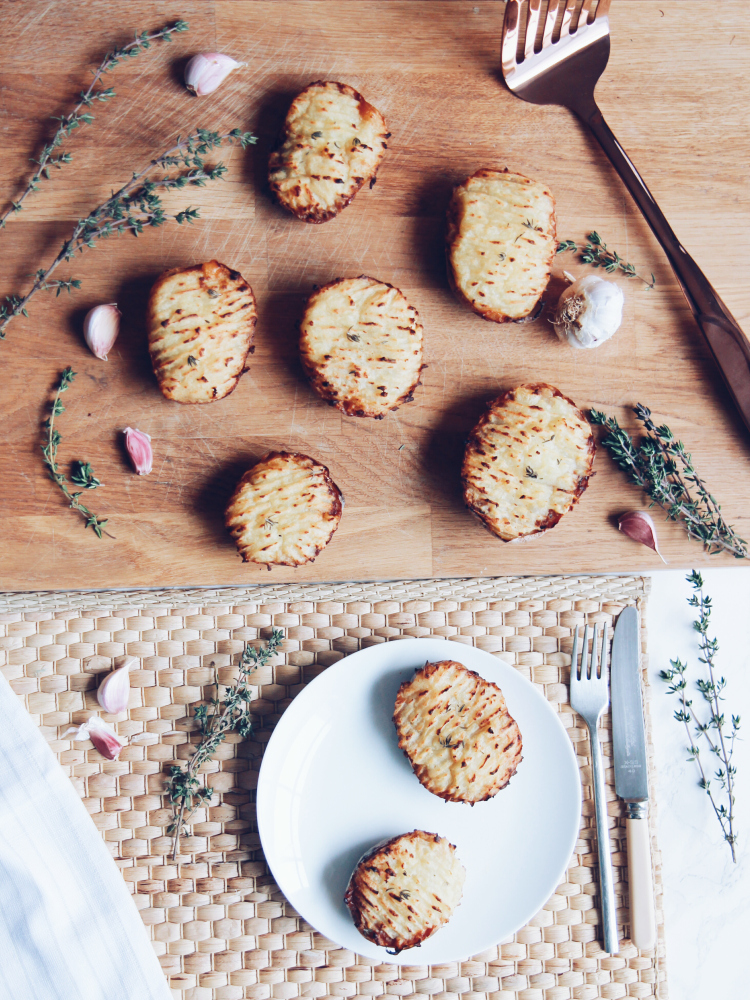 This super cute and tasty recipe and photograph comes from Made In Hackney supporter and amazing vegan blogger and supper club chef Eleanor Brown from Kind State Of Mind. Be sure to check out her amazing blog - and enjoy these pies. We sure did.
---
Cashew Camembert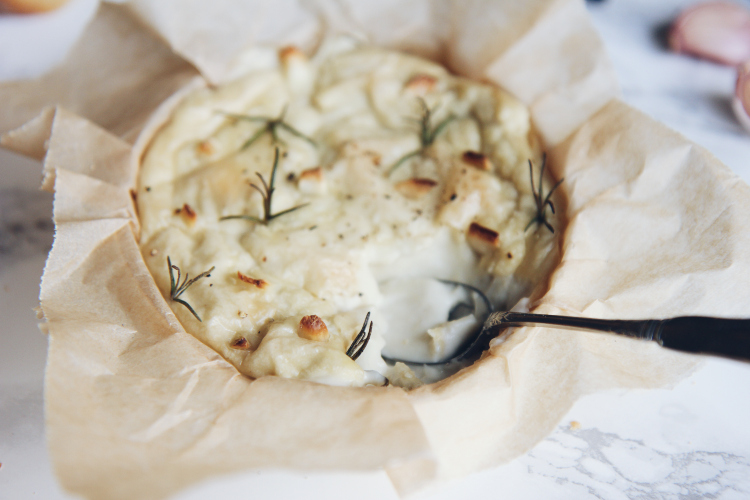 Vegan camembert??? YES! This insanely delicious recipe and photograph comes from Made In Hackney supporter and amazing vegan blogger and chef Eleanor Brown from Kind State Of Mind. We know you'll enjoy it as much as we did!
---
Raw Sushi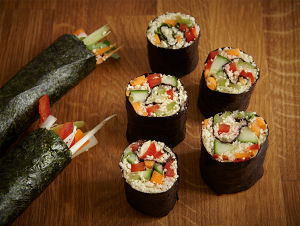 This is a healthy and versatile recipe - Use it while entertaining, as a quick starter before dinner or to take into work for lunch.
---
Saag Tofu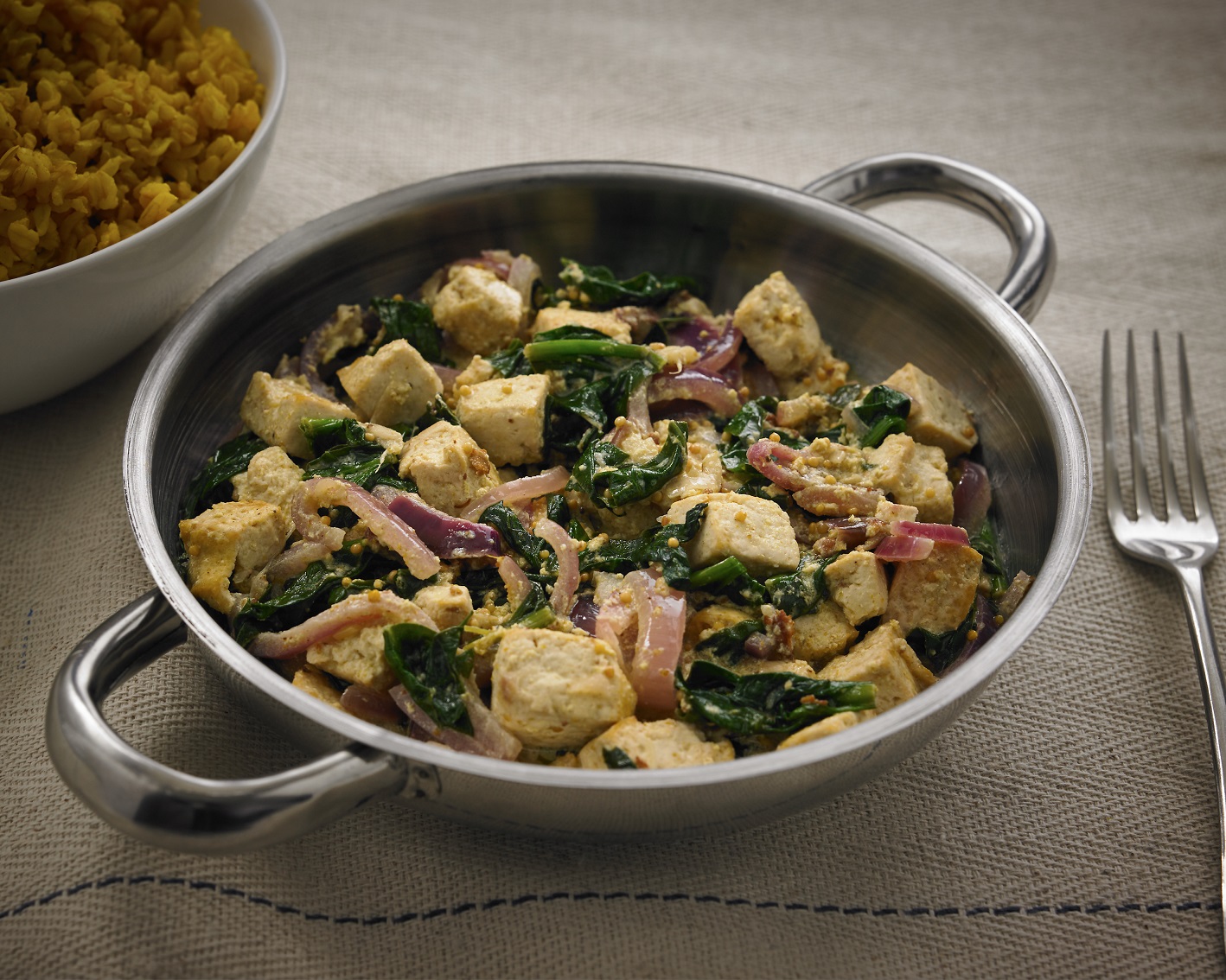 A fragrant, warming dish. The tofu is a creamy and nutritious alternative to paneer in this dish. Try it with rice, naan bread or roti.
---
Easy Lentil Hot Pot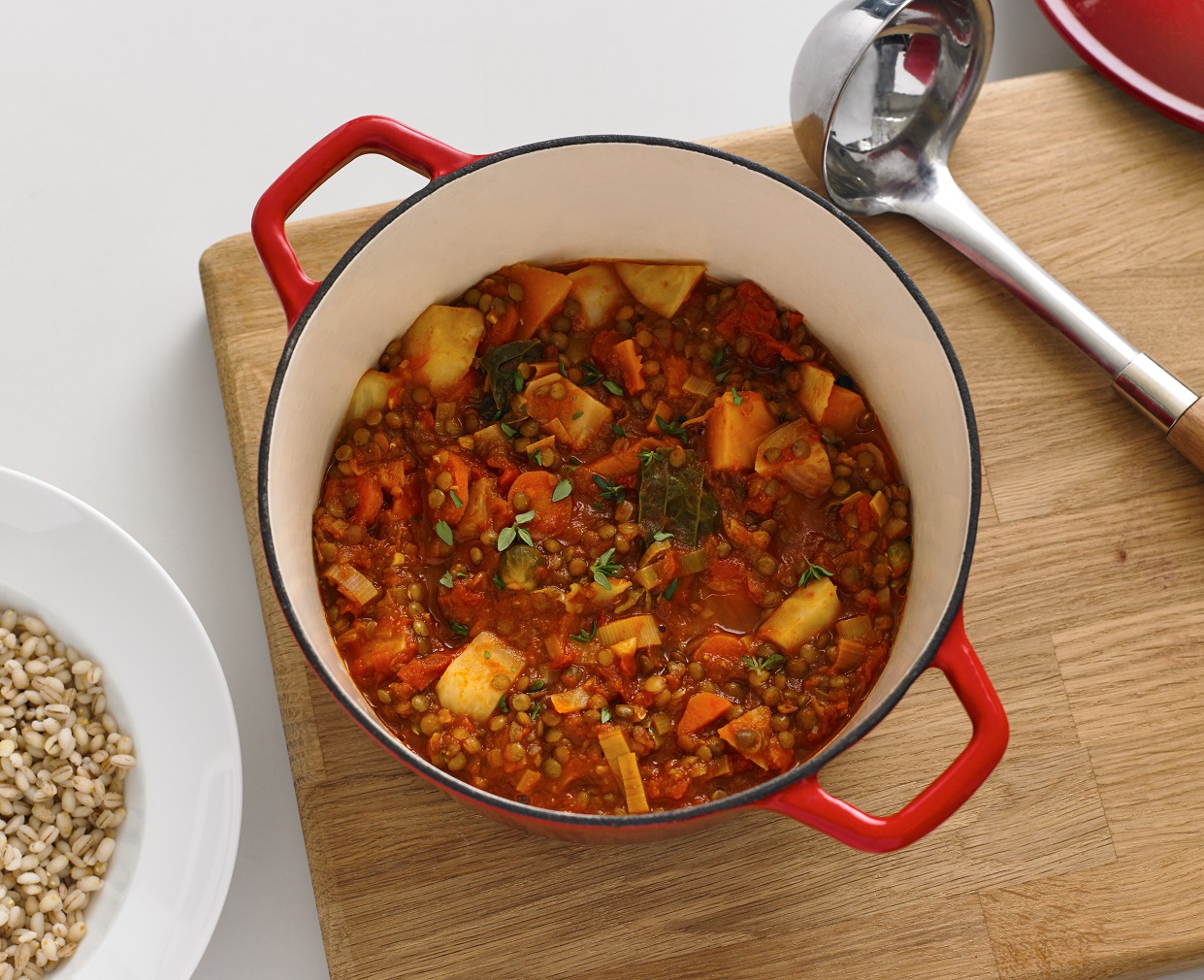 A hearty and wholesome stew, full of earthy wholegrains and root vegetables.
---
Tomato Sauce with Pasta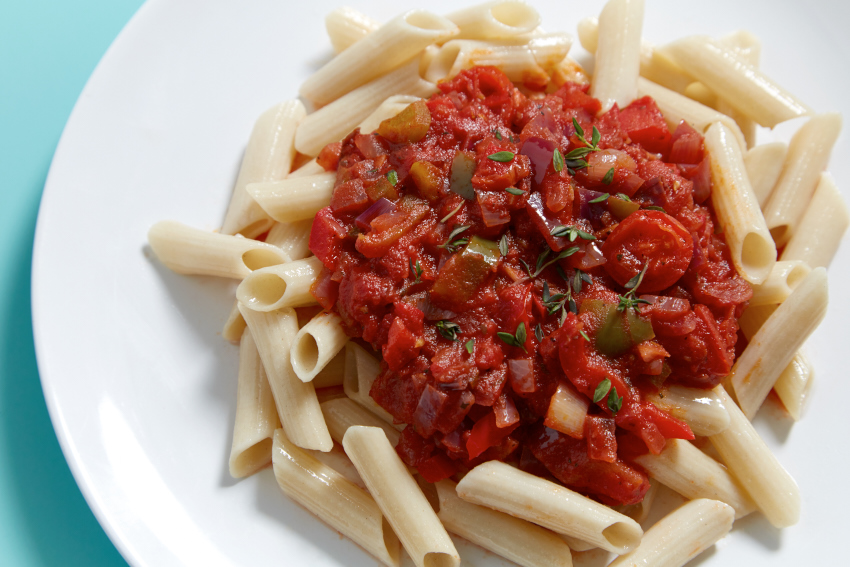 A simple and satisfying classic. Great for kids. Why not get them to help you make it?
---
Lentil Spag Bol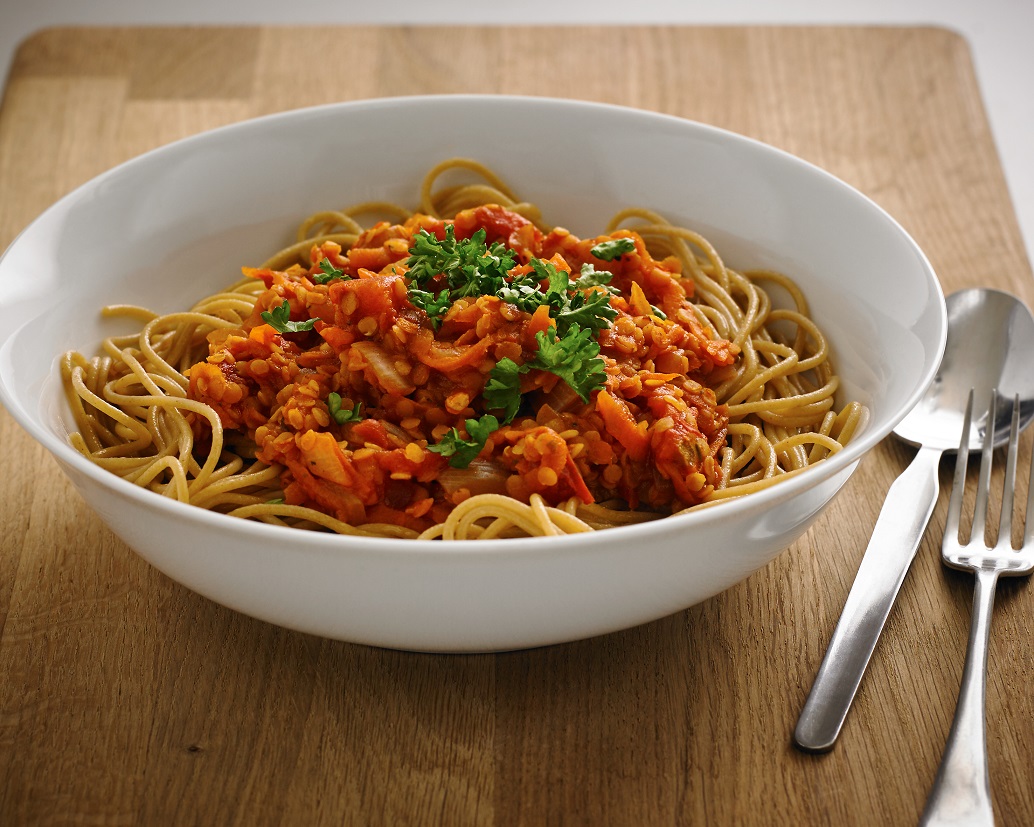 Swapping out minced meat for lentils in this dish gives you a satisfying spag bol which is full of protein and lighter on the wallet.
---
Winter Veggie Pie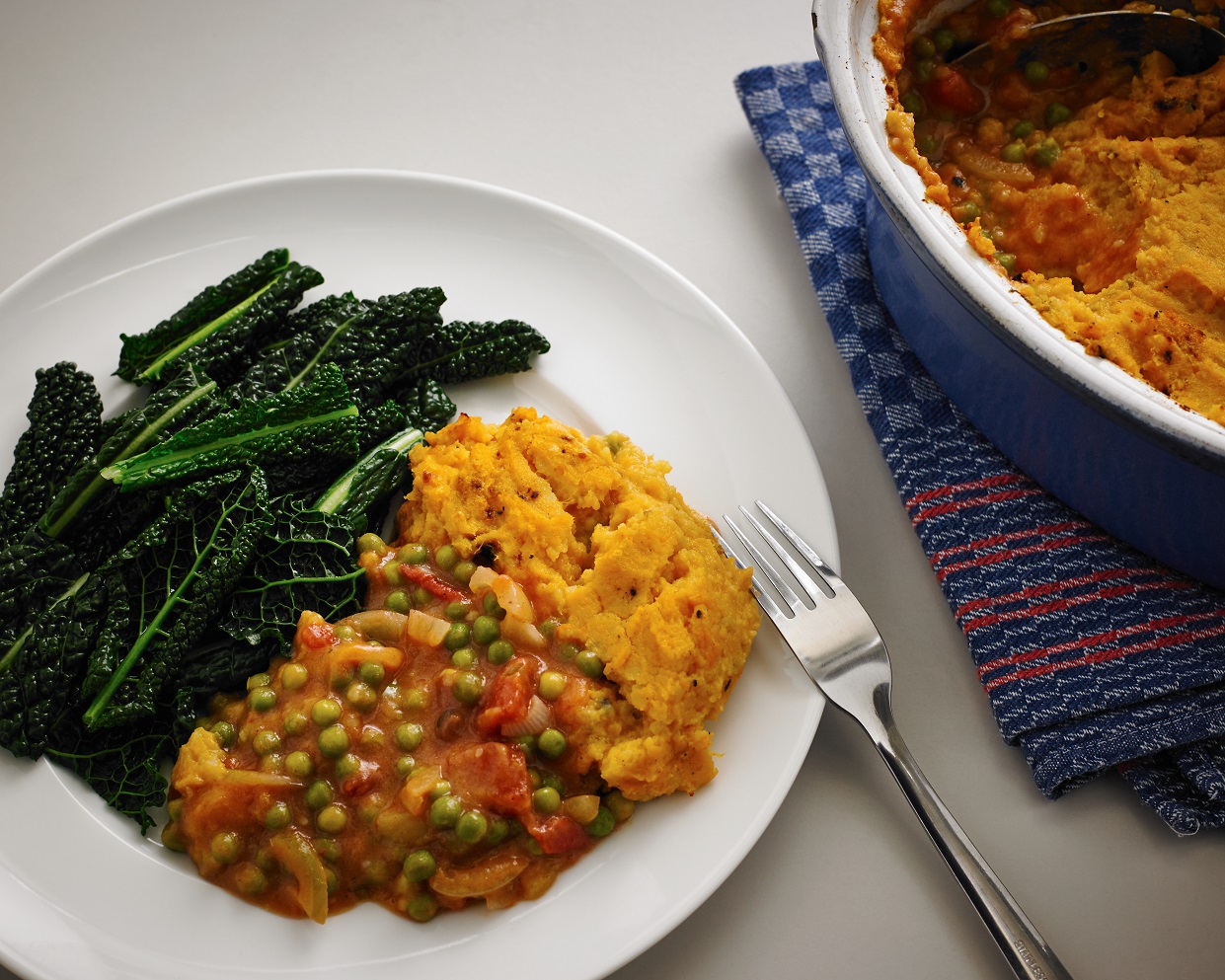 Comfort food at its best. Serve with steamed greens, as pictured, or by itself.
---
Yellow Lentil and Cauliflower Curry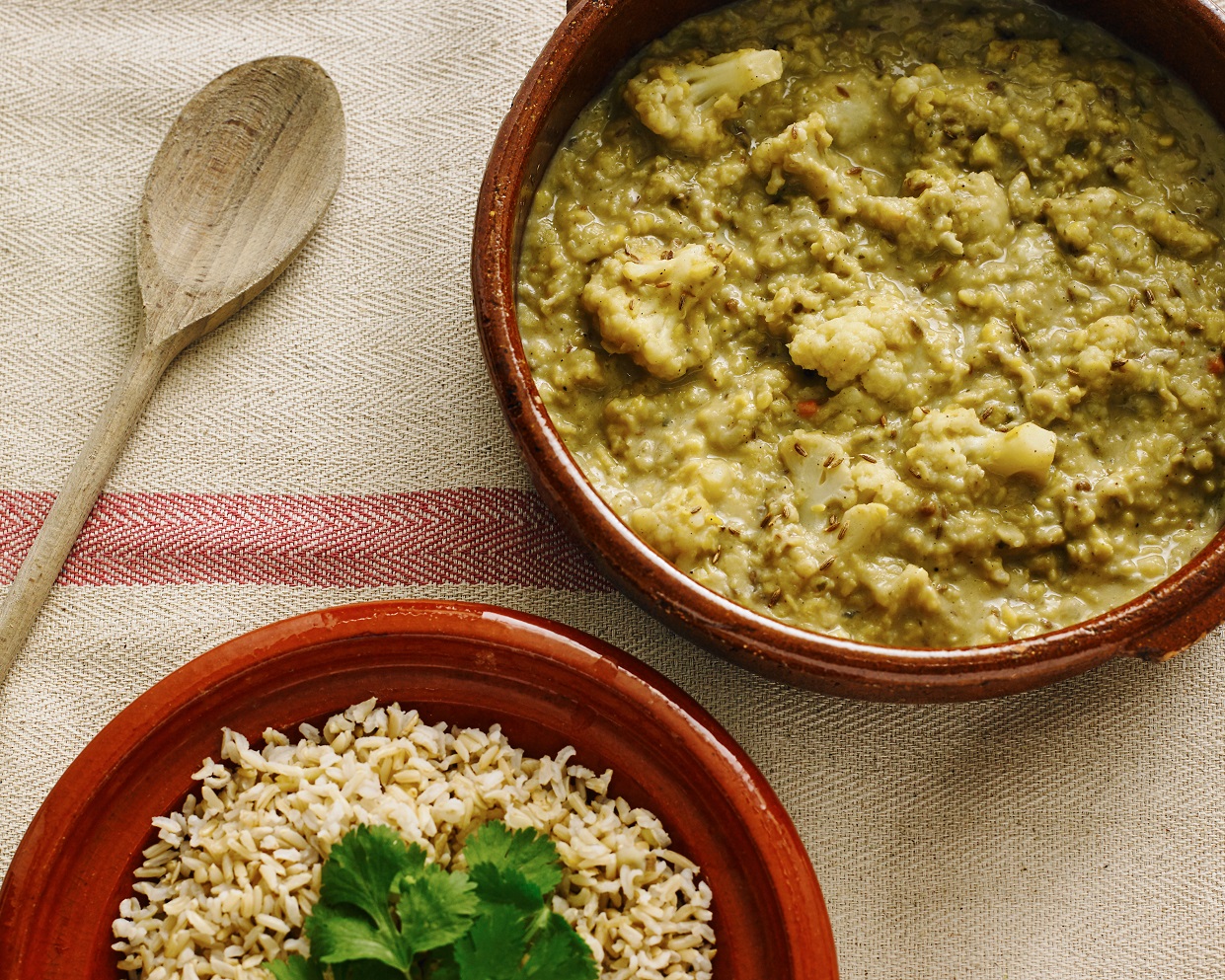 A creamy and rich curry, perfect for cold winter nights. The ginger, turmeric and garlic can help boost your immune system!
---
Posh Beans On Toast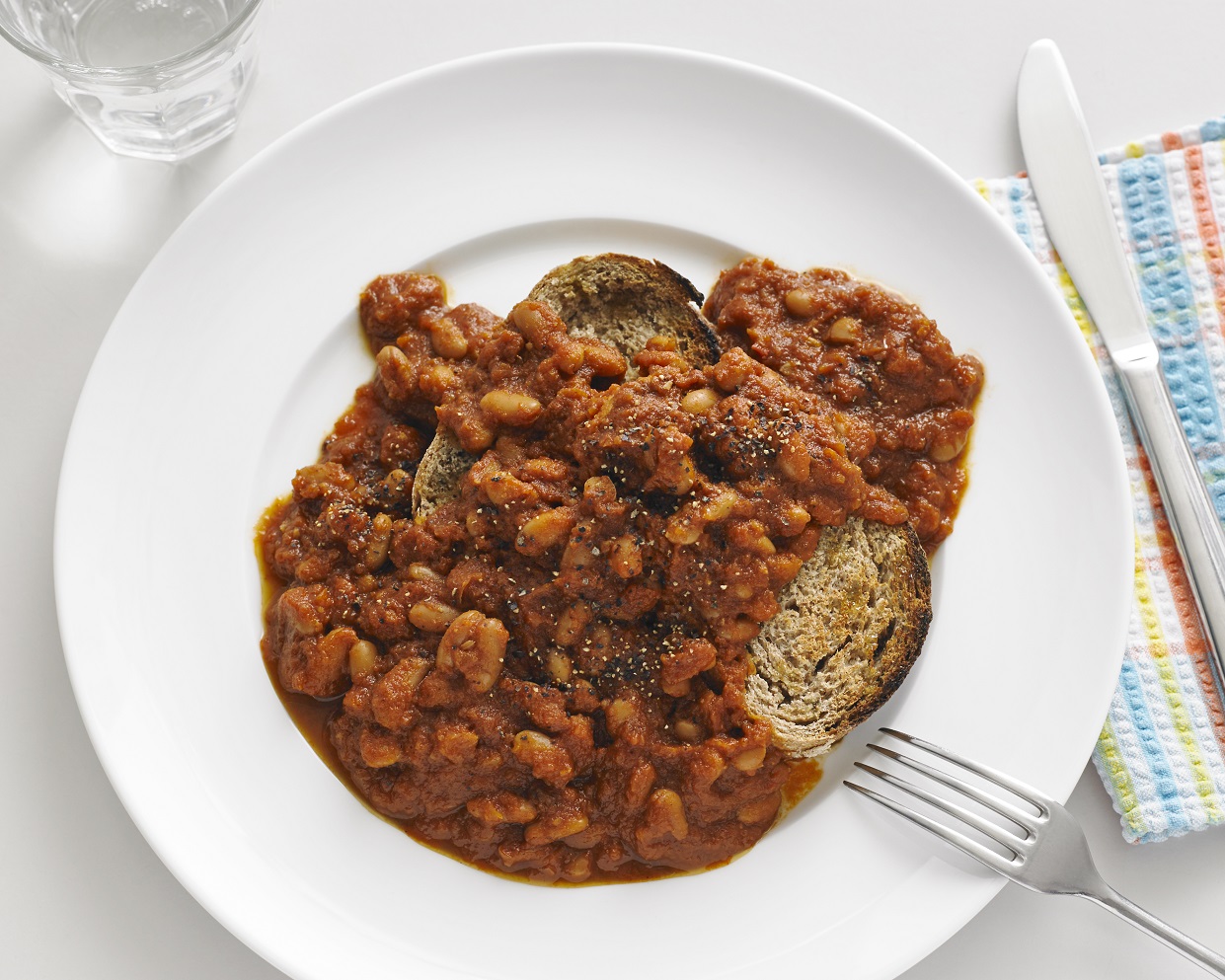 Making your own baked beans from scratch is a great way to impress friends and family. This version has no sugar, glucose syrup or other nasties in. Great for a quick tea or a Sunday breakfast
---
Roasted Vegetables with Couscous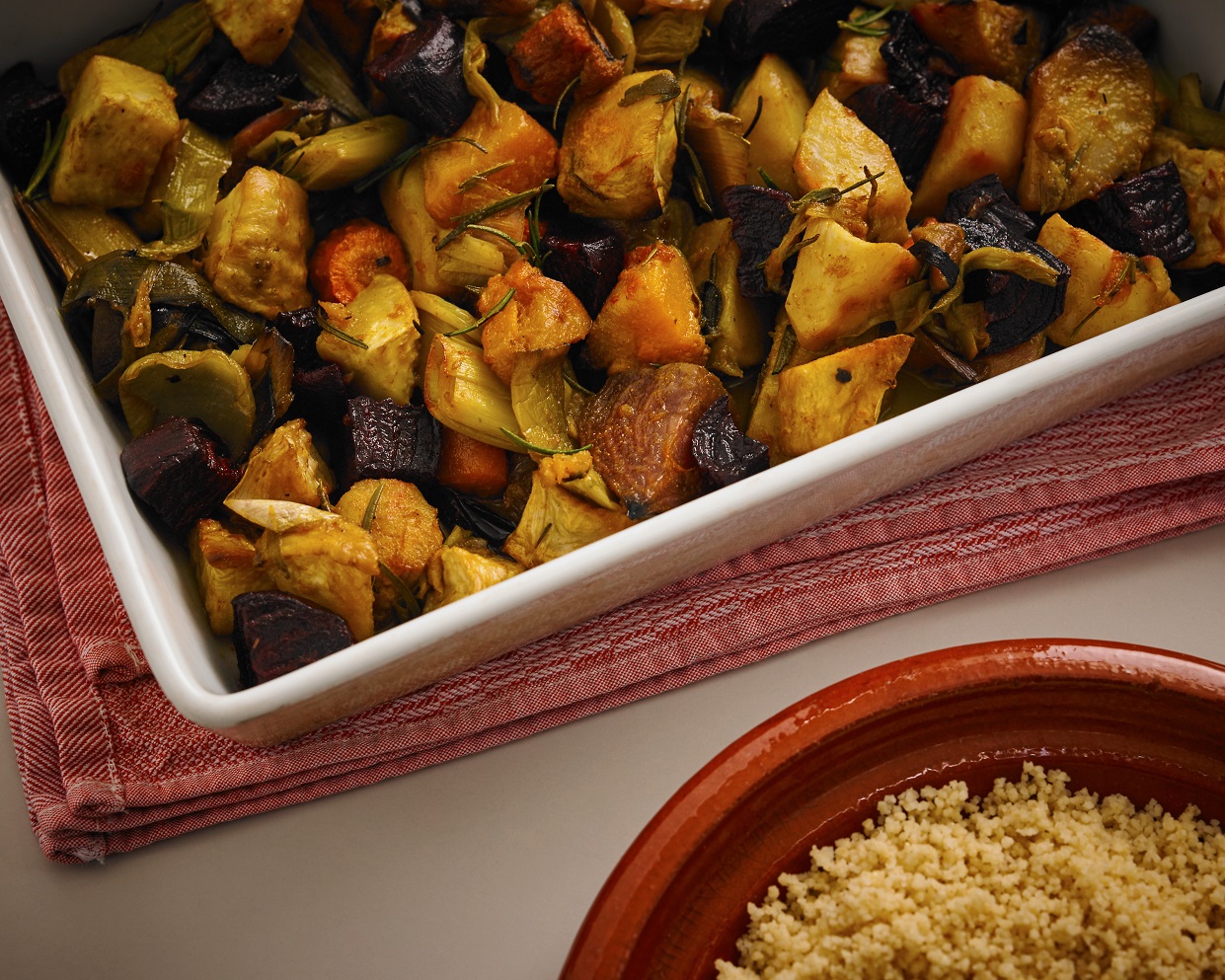 You can use almost any seasonal vegetables for this dish. The couscous is light, fluffy and takes only 10 minutes from start to finish!
---
Broccoli and Tofu Stir Fry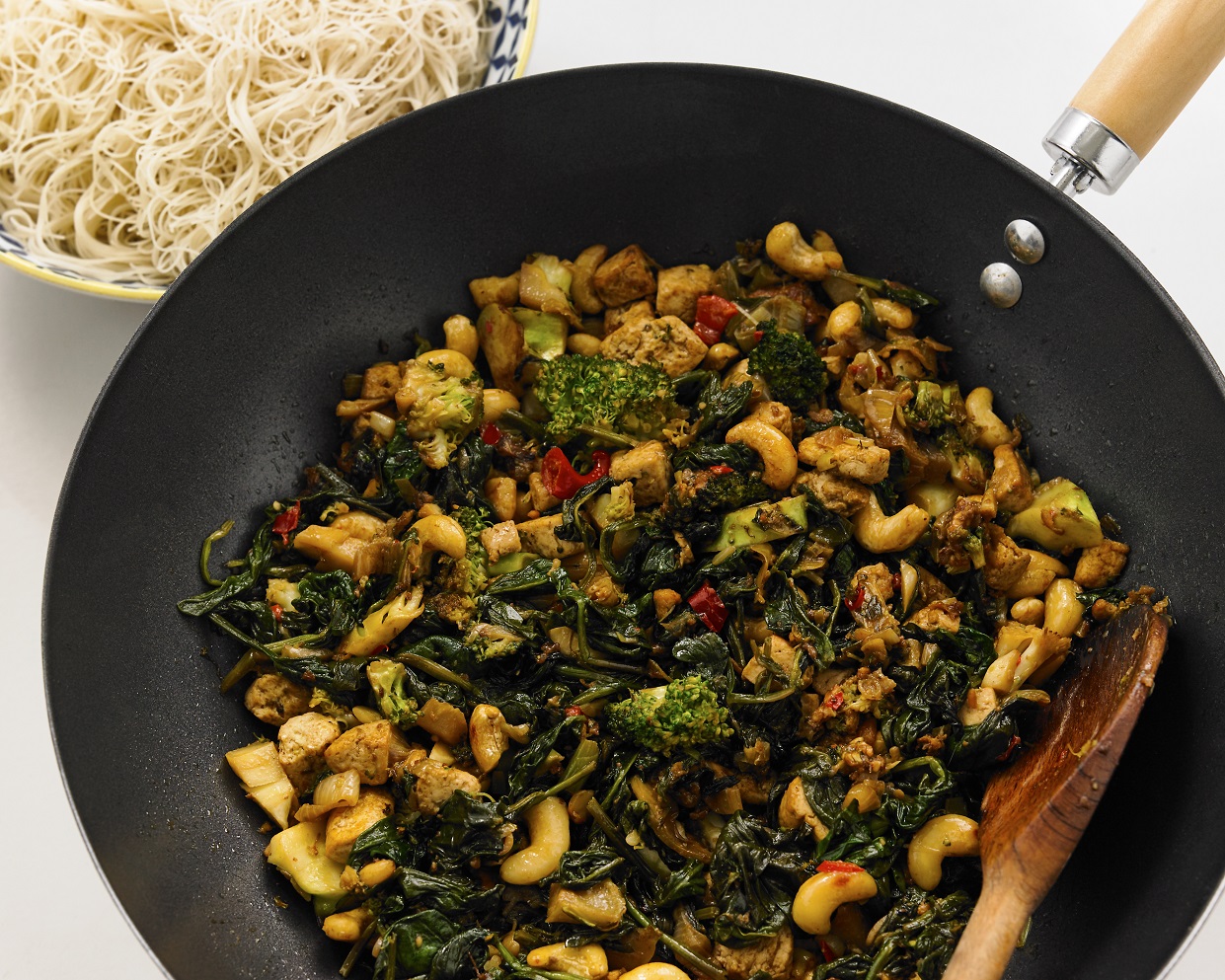 This Chinese-inspired sizzling stir fry, complete with homemade hoisin sauce, is sure to impress. The sweet and tangy sauce is the star of the show!
---
Black Bean, Potato and Tomato Salad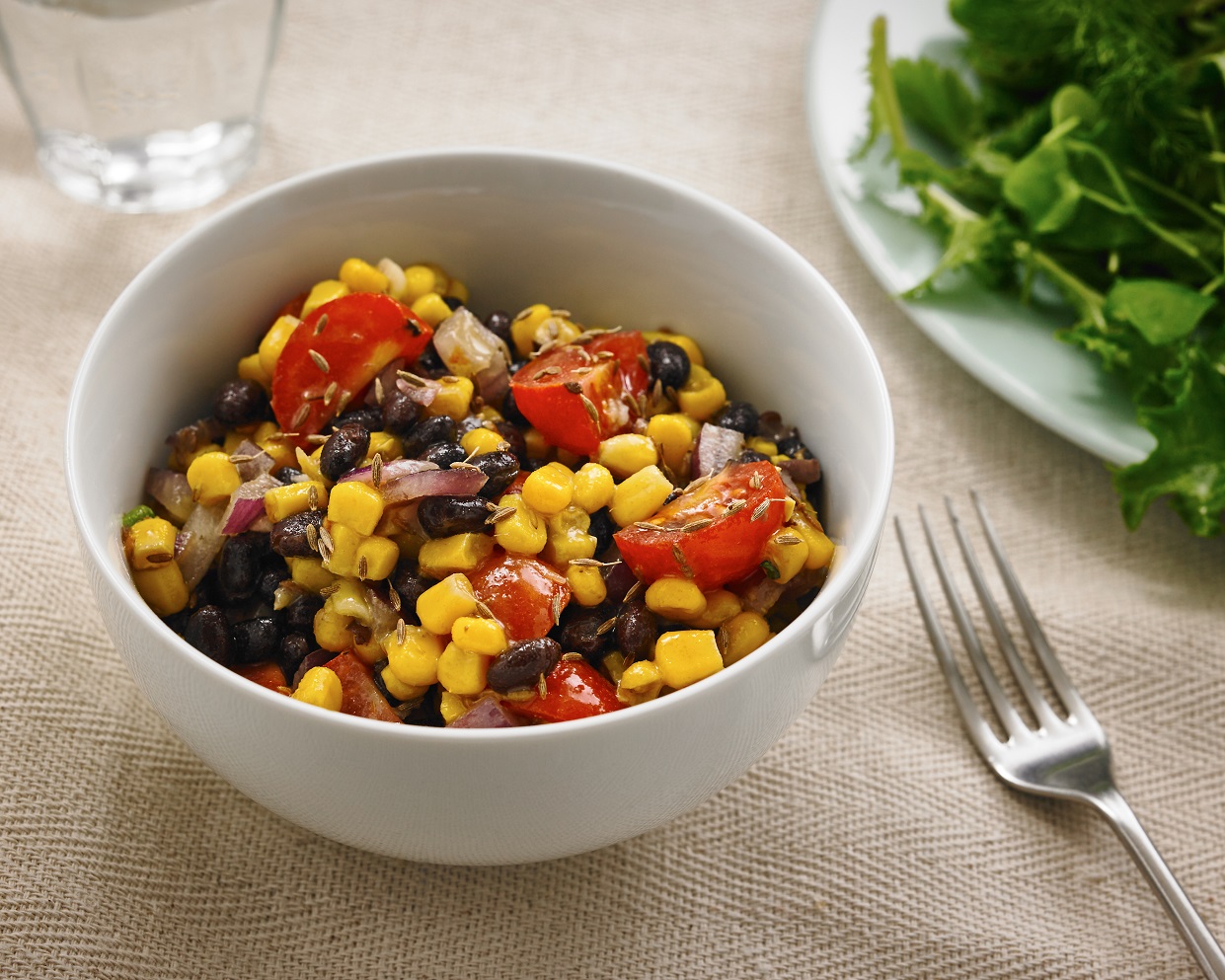 This lunchbox-friendly salad is quick and easy to make - a great standby. The touch of cumin adds warmth and why not try it with fresh chilli?
---