---
Party Jollof Rice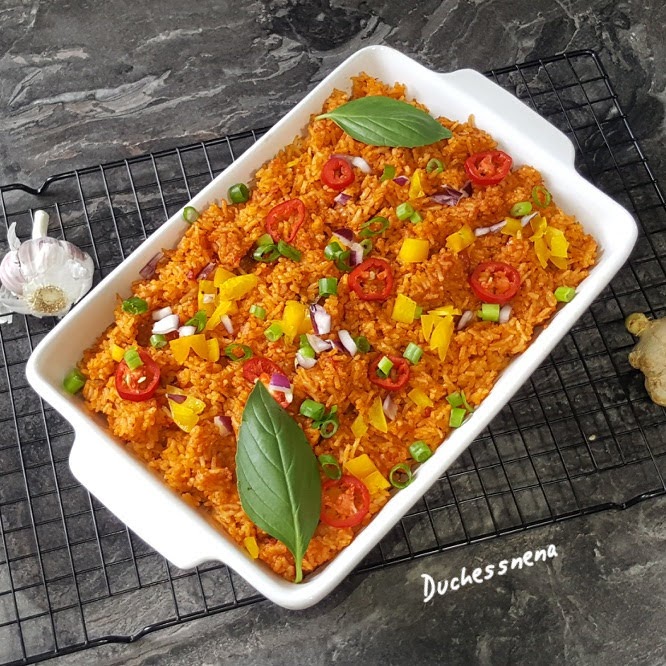 Duchess Nena's party jollof rice is the absolute business! It is a festive/celebratory dish enjoyed by many West African people. It is a spicy one pot rice dish with a rich tomato base with origins from the Wolof tribe found in Senegal, Gambia and Mauritania.
---
Okra Stew with fufu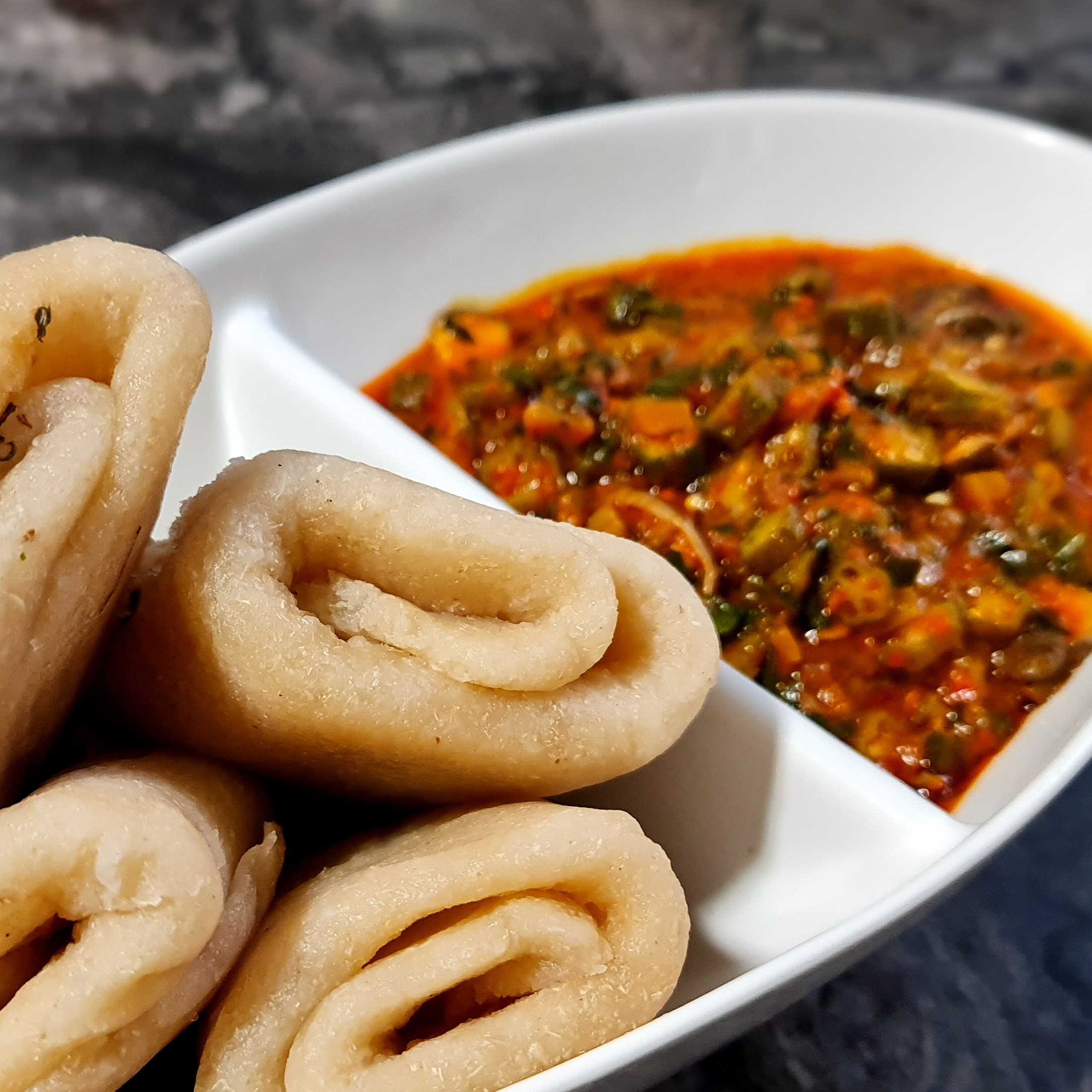 This dish by Duchess Nena was a huge hit in her debut West African cookery course for Made In Hackney and continues to be so today! It is a Ghanaian tomato-based okra stew enjoyed with fufu made from unripe green plantain.
---
Attieke & Vegetable Stew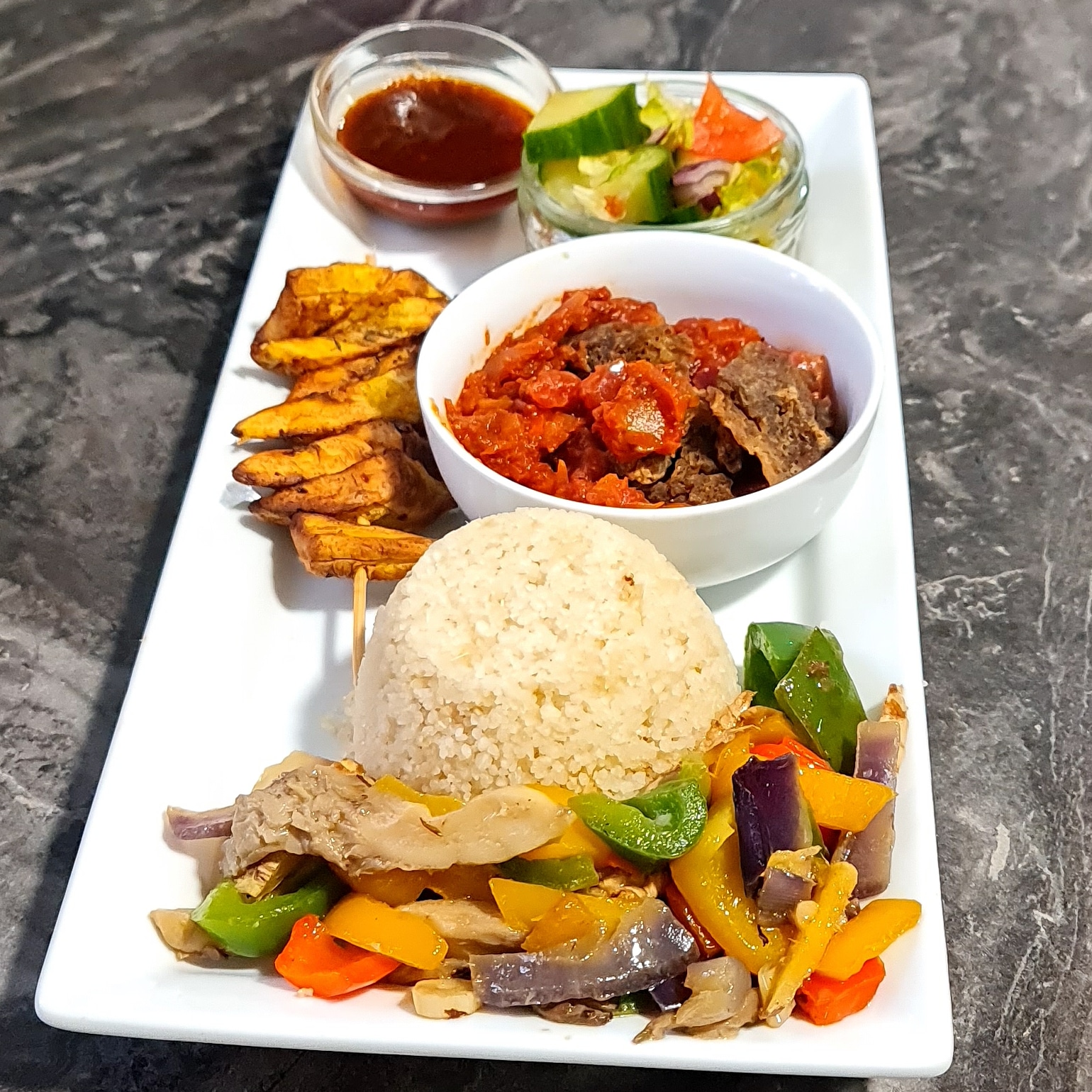 Duchess Nena introduced many cooks to attieke for the first time on her debut West African cooking course with us and it was a huge hit. It is a type of couscous made from fermented and grated cassava. It originates from Cote D'Ivoire but is enjoyed by people in most West African countries. It is complimented beautifully by a simple veg stew.
---
Ugu and Pineapple Juice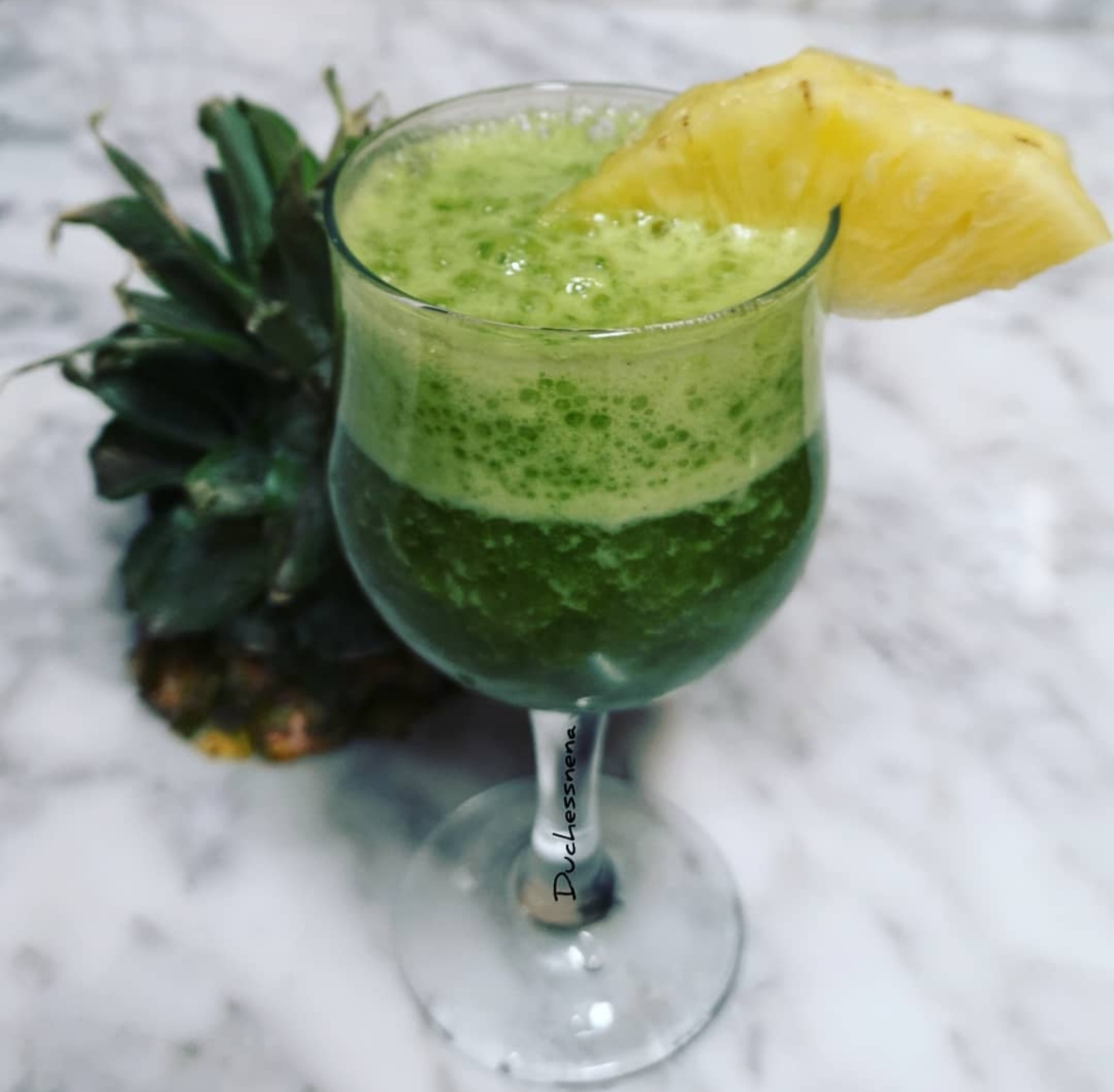 This fabulous recipe is created by Nigerian food blogger, MIH teacher and cookery book author Duchess Nena and is featured in her new book cookery book Igbo Vegan. Jump to end of the recipe for the link to the book - you won't regret it.
---
Spaghetti Jollof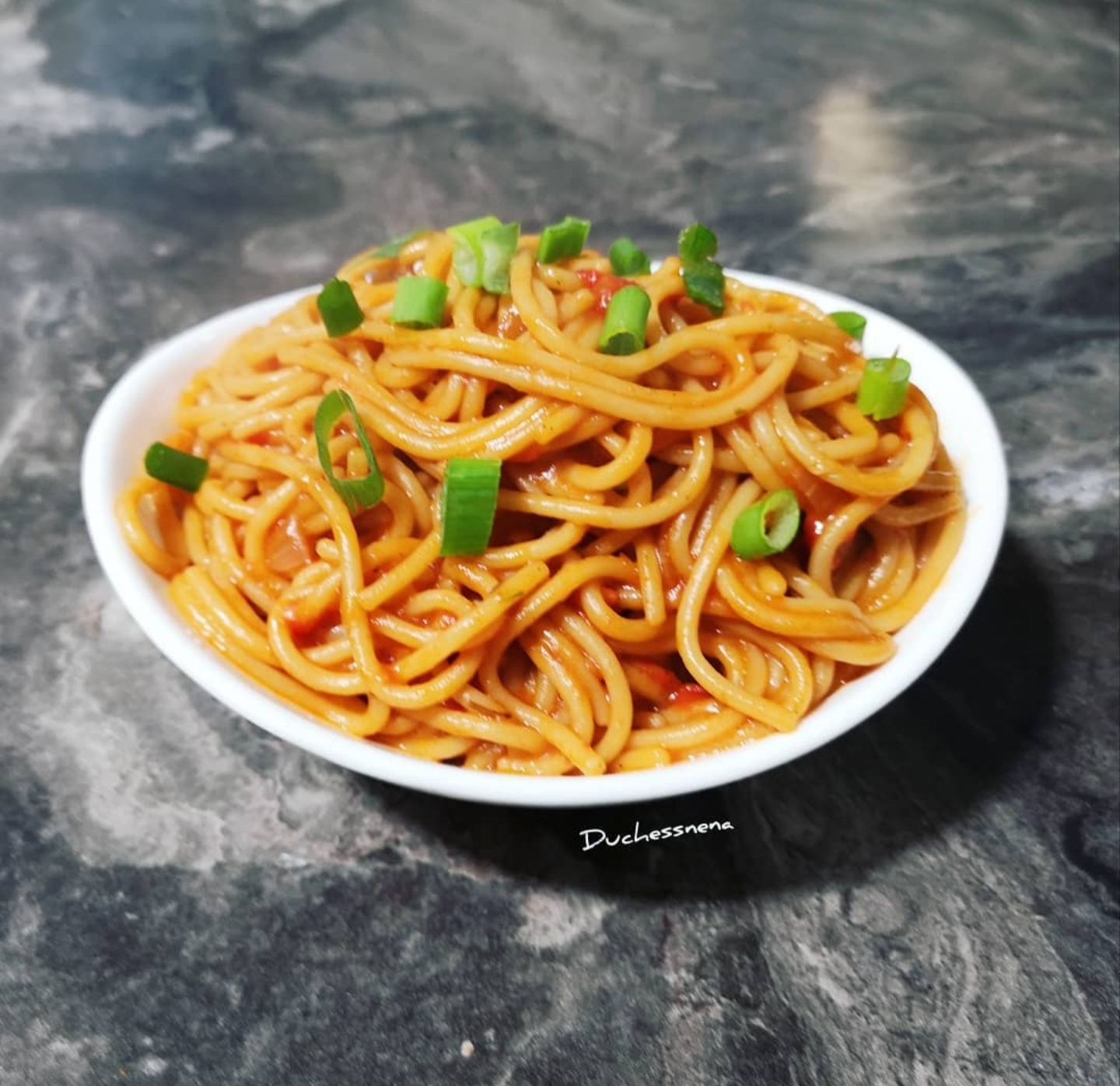 This fabulous recipe is created by Nigerian food blogger, MIH teacher and cookery book author Duchess Nena and is featured in her new book cookery book Igbo Vegan. Jump to end of the recipe for the link to the book - you won't regret it.
---
Nigerian Fried Rice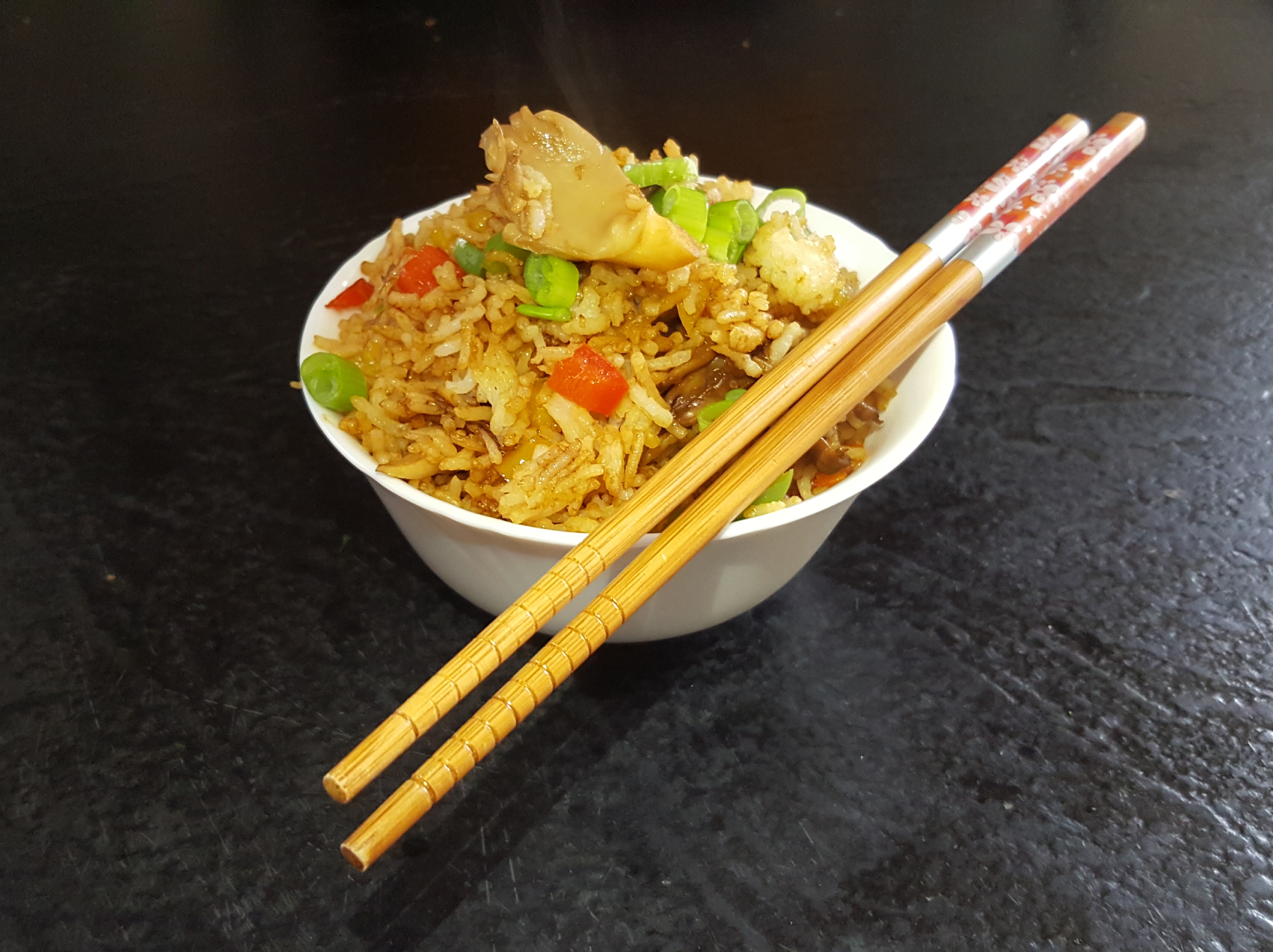 This fabulous recipe is created by Nigerian food blogger, MIH teacher and cookery book author Duchess Nena and is featured in her new book cookery book Igbo Vegan. Jump to end of the recipe for the link to the book - you won't regret it.
---
JI AGWOROAGWO (YAM POTTAGE)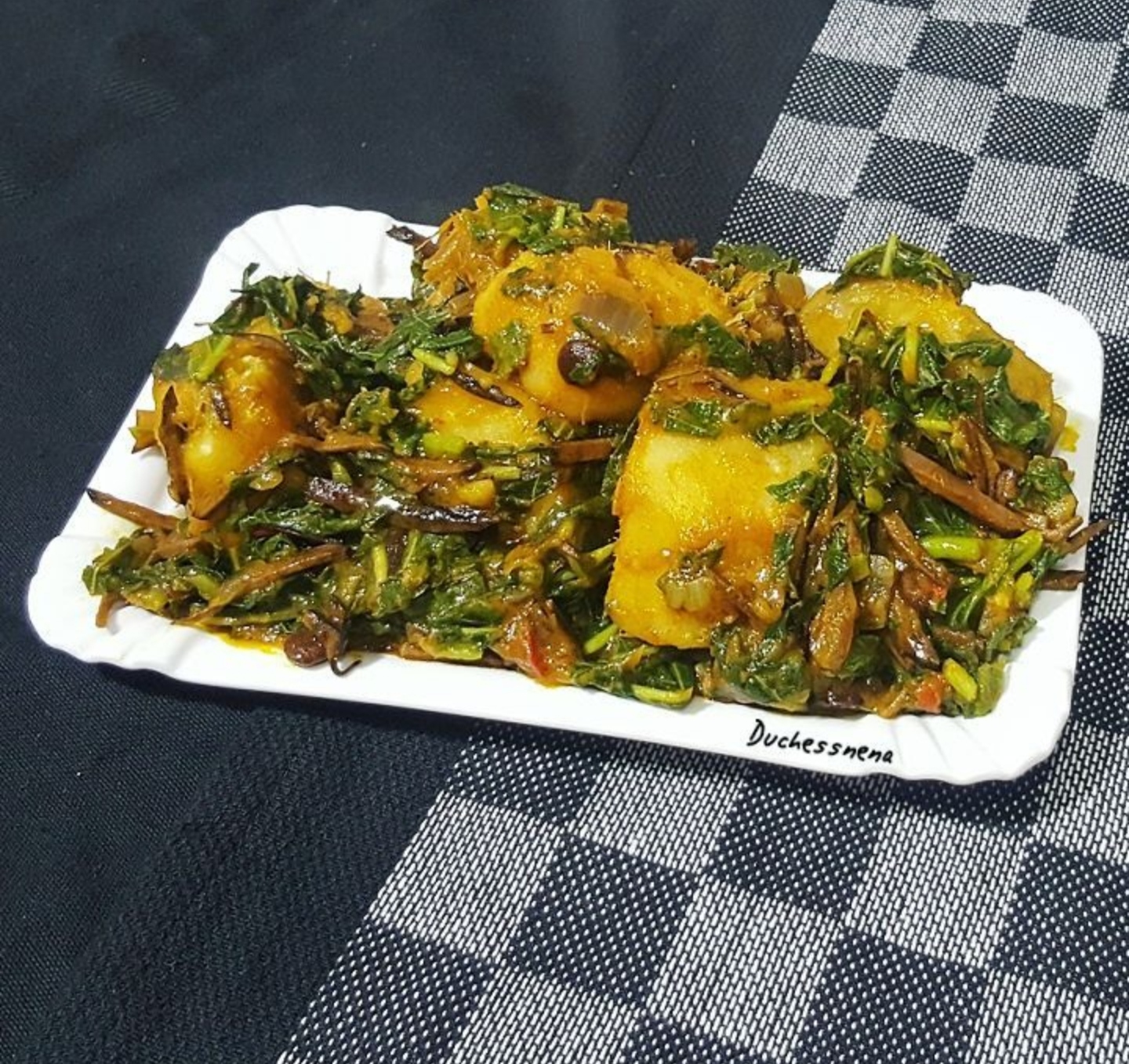 This fabulous recipe is created by Nigerian food blogger, MIH teacher and cookery book author Duchess Nena and is featured in her new book cookery book Igbo Vegan. Jump to end of the recipe for the link to the book - you won't regret it.
---
Egusi Soup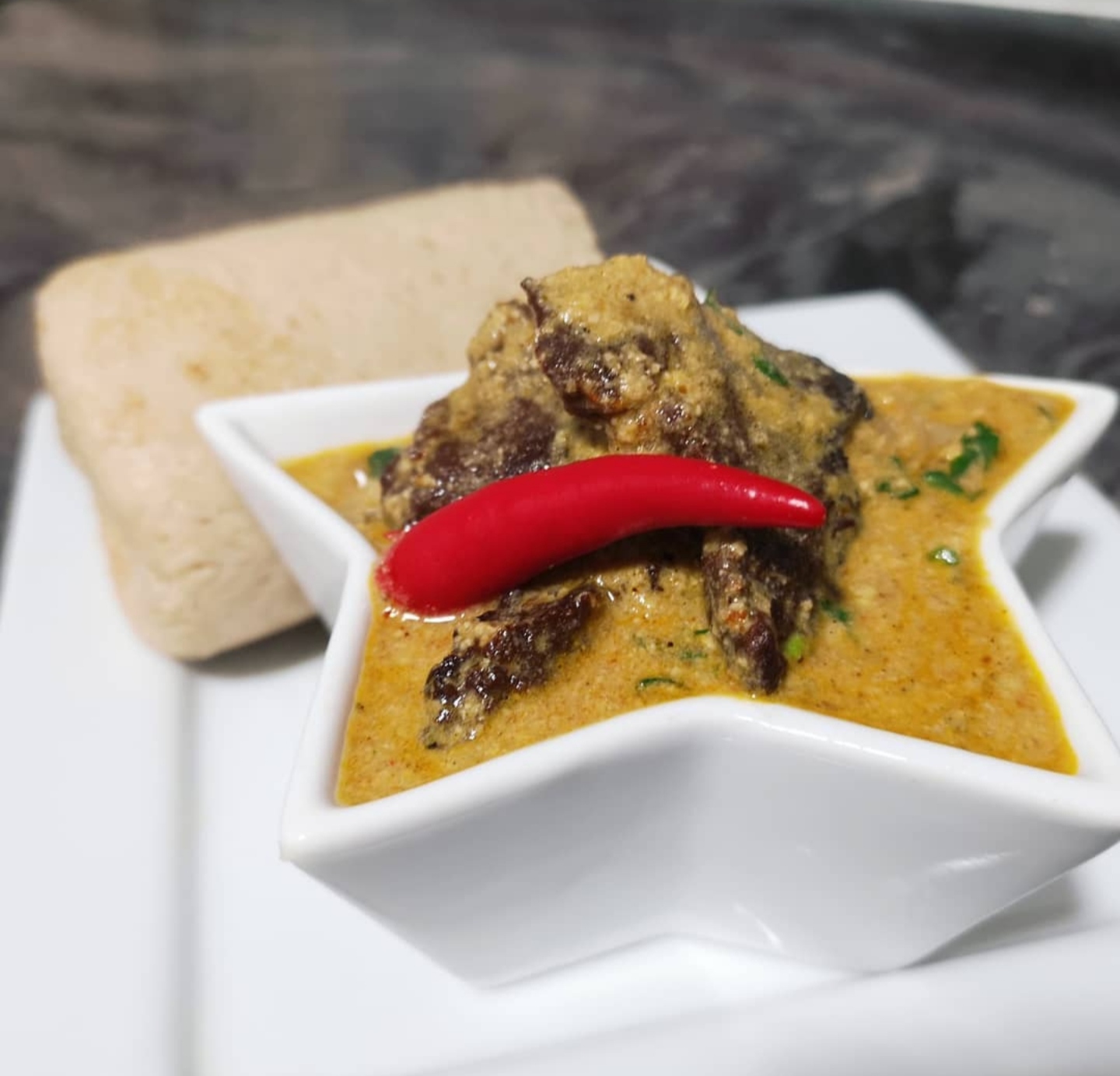 This fabulous recipe is created by Nigerian food blogger, MIH teacher and cookery book author Duchess Nena and is featured in her new book cookery book Igbo Vegan. Jump to end of the recipe for the link to the book - you won't regret it. Egusi is commonly consumed across Nigeria. The main ingredient in Ofe Egusi is the melon seed known as egusi. This is roasted and ground before use. Egusi is healthy and rich in multiple nutrients such as Vitamin-B1, B2, B6,B9,Protain ,manganese, magnesium, zinc, iron, copper, etc. However, it is rich in omega -6 fatty acids, which must be consumed in moderation to gain benefits; apparently too much consumption of omega -6 fatty acids may become counterproductive on one's health. As egusi is high in fat it is best cooked with little oil of choice.
---
Dark chocolate black bean brownies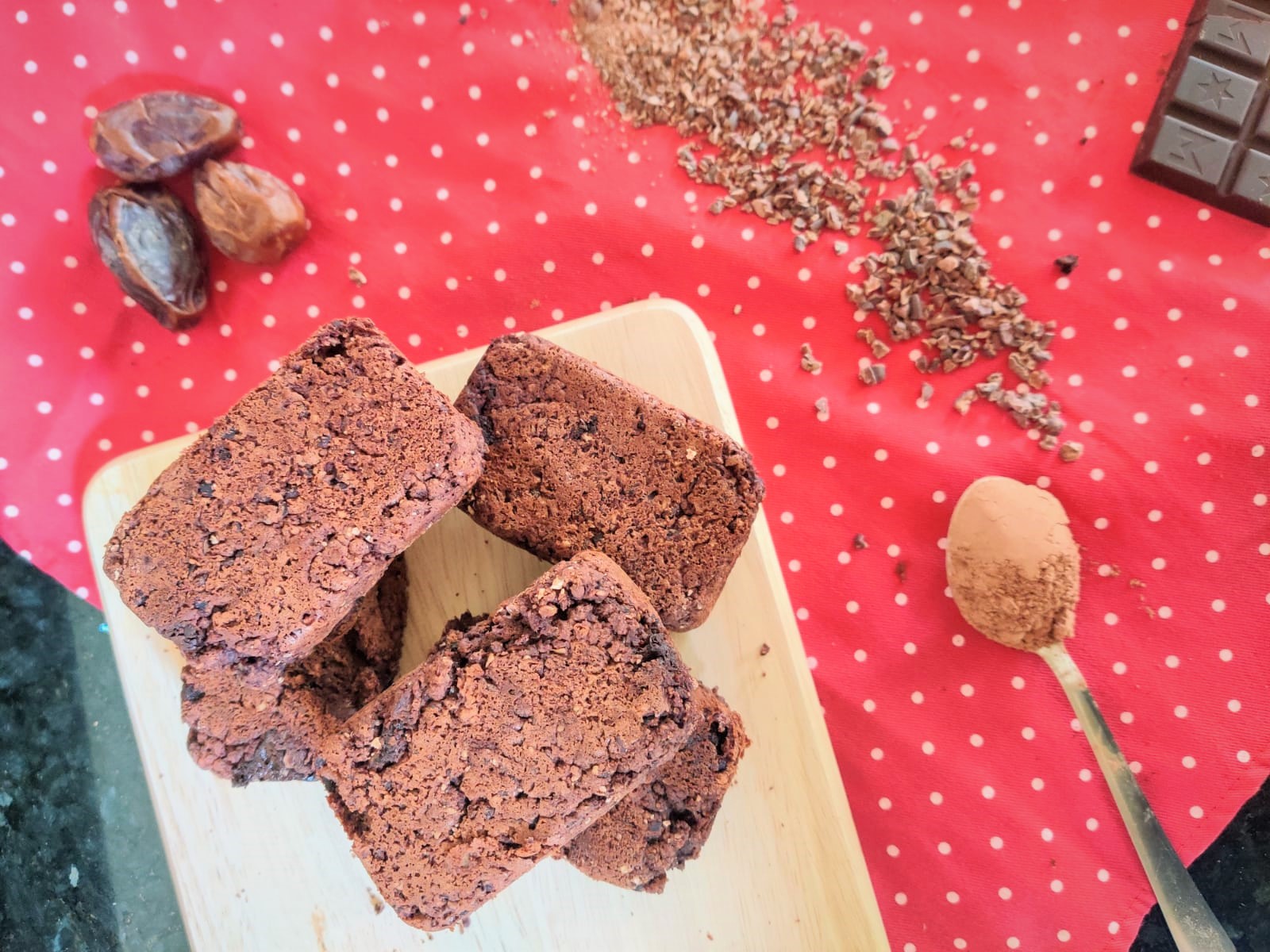 The recipe for these amazing brownies was developed by our fab programmes assistant, Nav. Containing iron, fibre and potassium, they are a great source of nutritional goodness and are naturally sweetened using dates which nicely balances the black beans. Nav says 'if you have never used beans in your baking before, give it a go I dare you!'
---
Spiced Hot Chocolate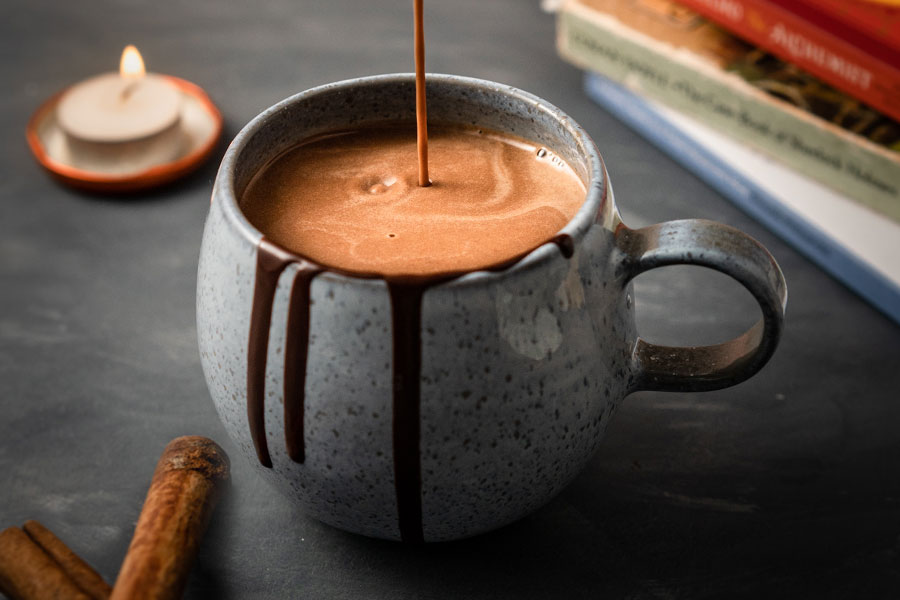 This cosy drink is a lovely twist on regular hot chocolate. It's simple to make and bursting with warming festive spices!
---
Gingerbread Cookie Dough Truffles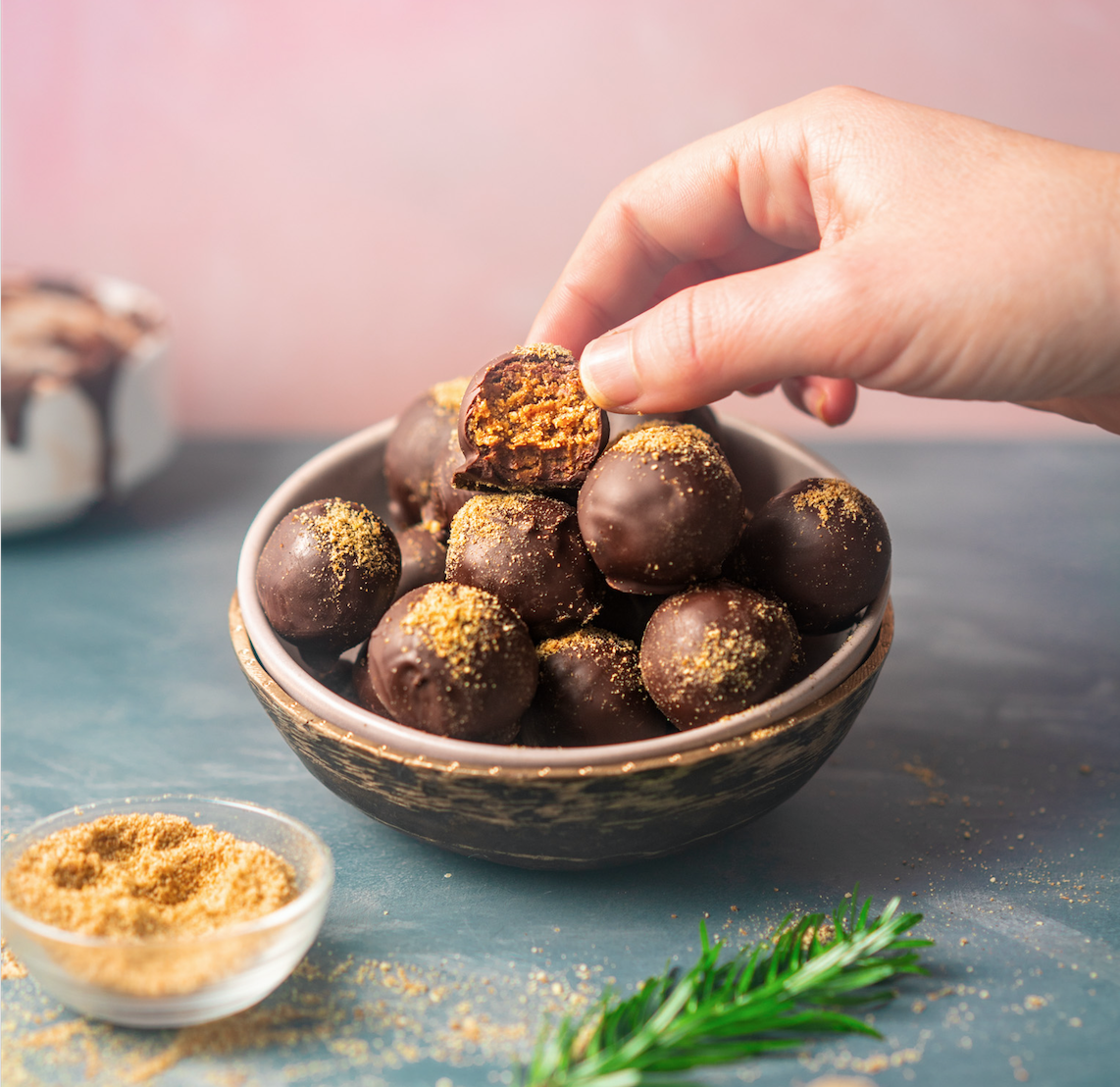 These truffles are nut-free, gluten-free, sweetened naturally AND they're good for you! Yes, that's right, despite tasting decadent and festive, these gingerbread cookie dough truffles are made with wholesome ingredients that will make you feel great and give you a lovely boost of nutrients. If you'd prefer not to coat in chocolate, you can double the "gingerbread sprinkle" and roll the gingerbread cookie dough balls in that instead. Although you can buy tiger nut flour and oat flour, you can make your own by whizzing tiger nuts or oats in a food processor or blender.
---
Goan Tofu Curry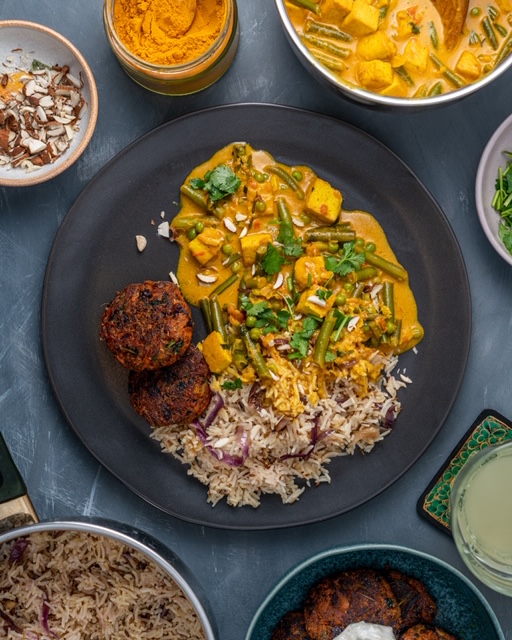 A delicious and authentic Goan tofu curry by our fabulous teachers daughter and mother duo Aman & Sandeep from The Nourish Kitchen.
---
Chocolate Orange No-Mince Pies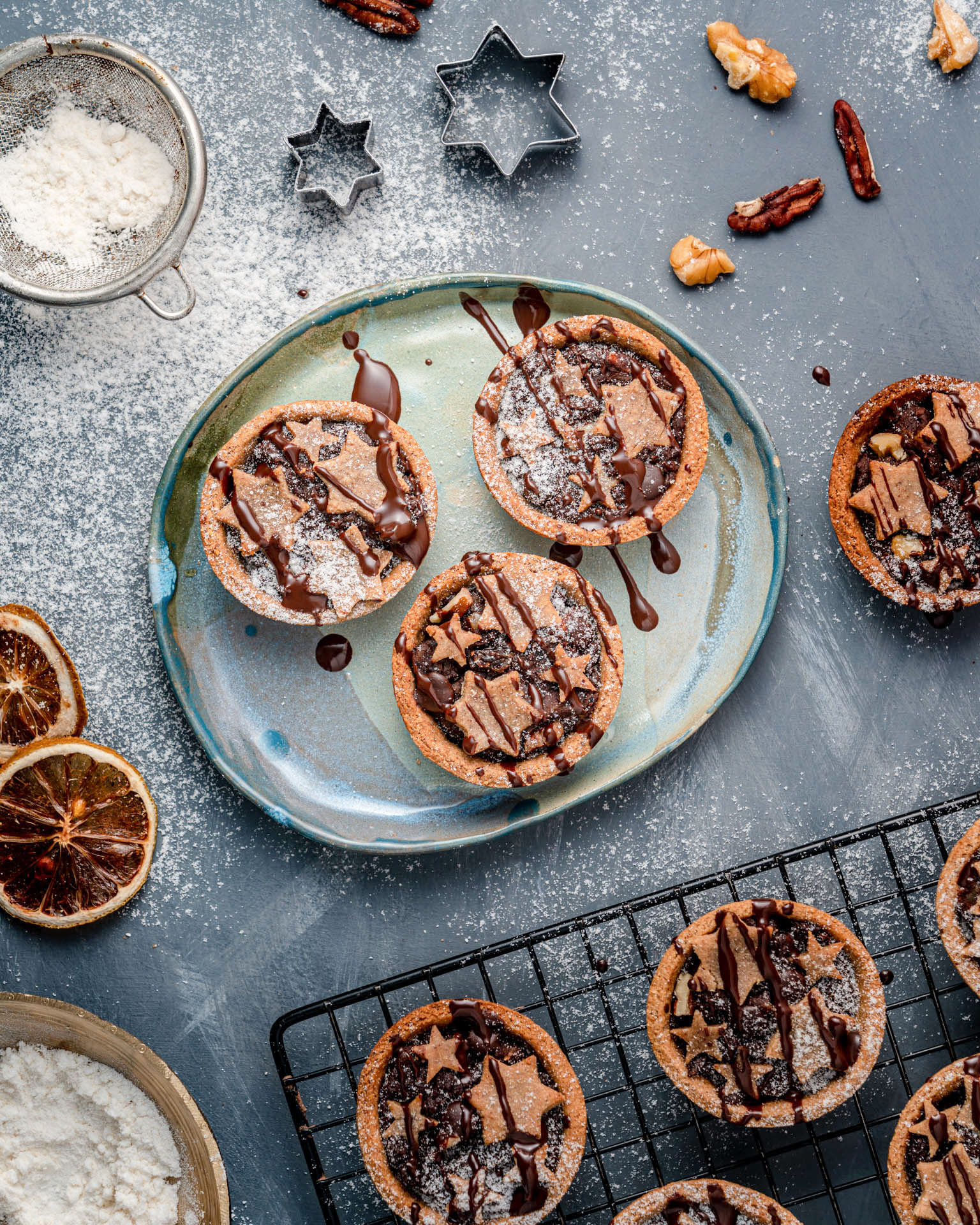 This fabulous recipe comes from MIH family member, teacher and food alchemist Amy Hiller! These festive treats are absolutely delicious and I think they tick a lot of boxes! Instead of stewed fruit, the filling is a rich, thick chocolatey mixture bursting full of texture and flavour.
---
Parsnip and Cranberry Nut-Free Roast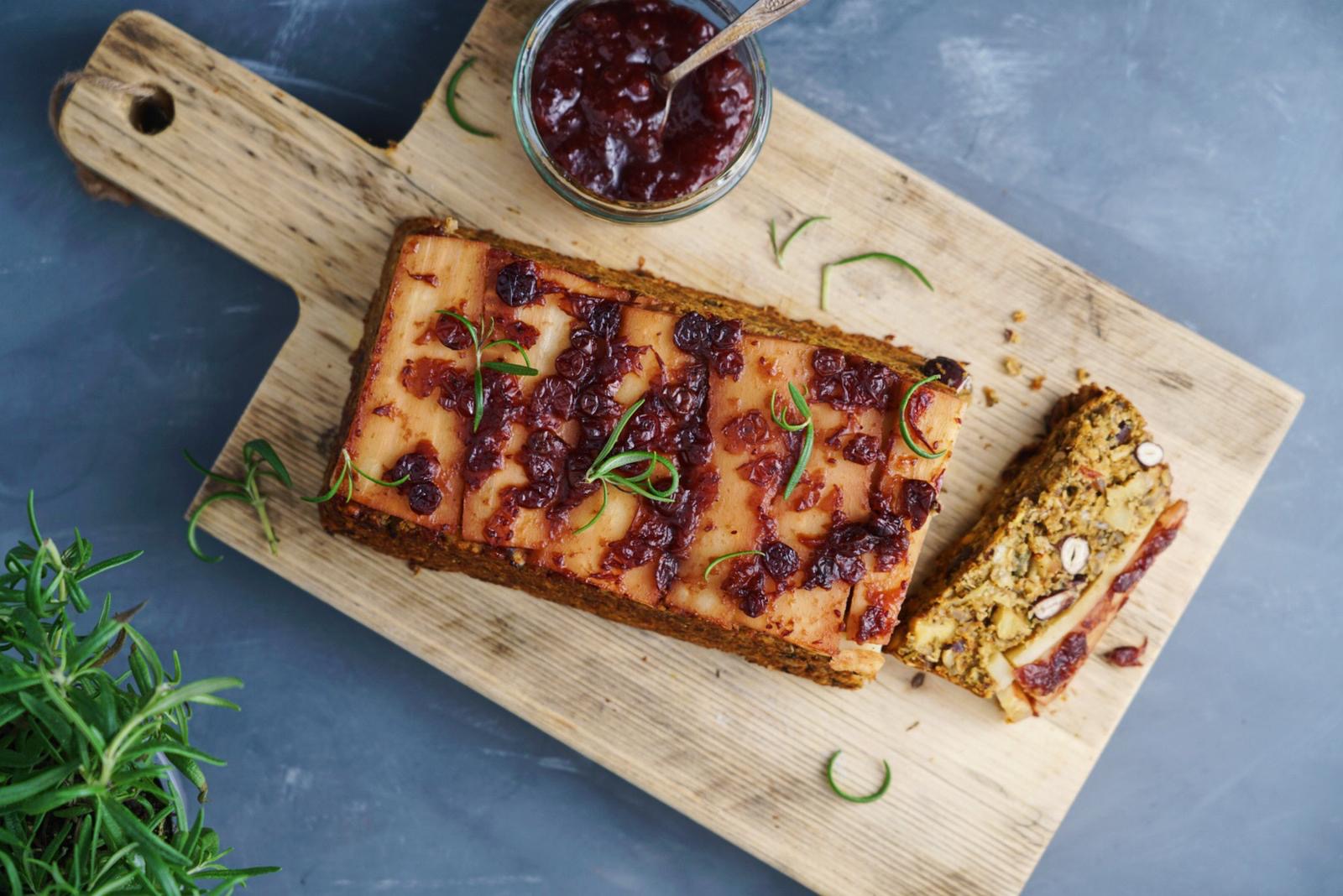 This nut-free nut roast, bursting with umami flavours, is actually made with seeds which are more affordable. This next-level roast is topped with a mixture of sliced parsnips and cranberry sauce. If you want to make a nut roast, feel free to substitute the seeds for nuts of any variety. Recipe by Steve Wilson.
---
Carribean Style BBQ Sauce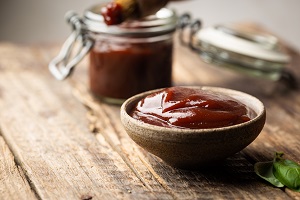 Full of flavour! Recipe by Sharon Gardner @coreoflifeuk
---
Savoury Pancakes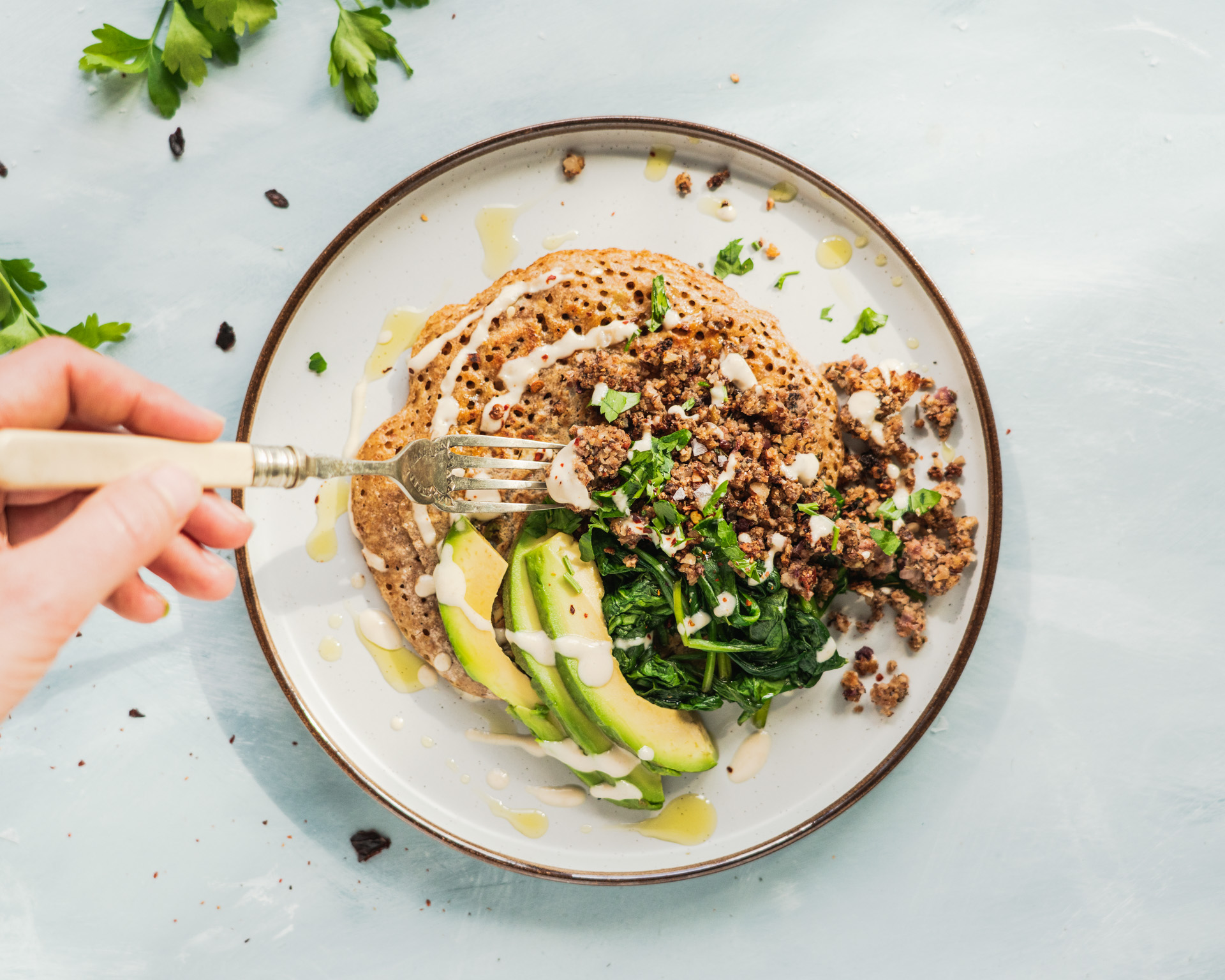 These savoury pancakes are simple to throw together and require only a handful of ingredients. They're great if you have leftover sauces that need using up. They're made with both wholemeal and split chickpea flour so they're filling, contain more protein than pancakes made with "regular" flour as well as plenty of other vitamins and minerals.
---
Gluten-Free Chocolate Muffins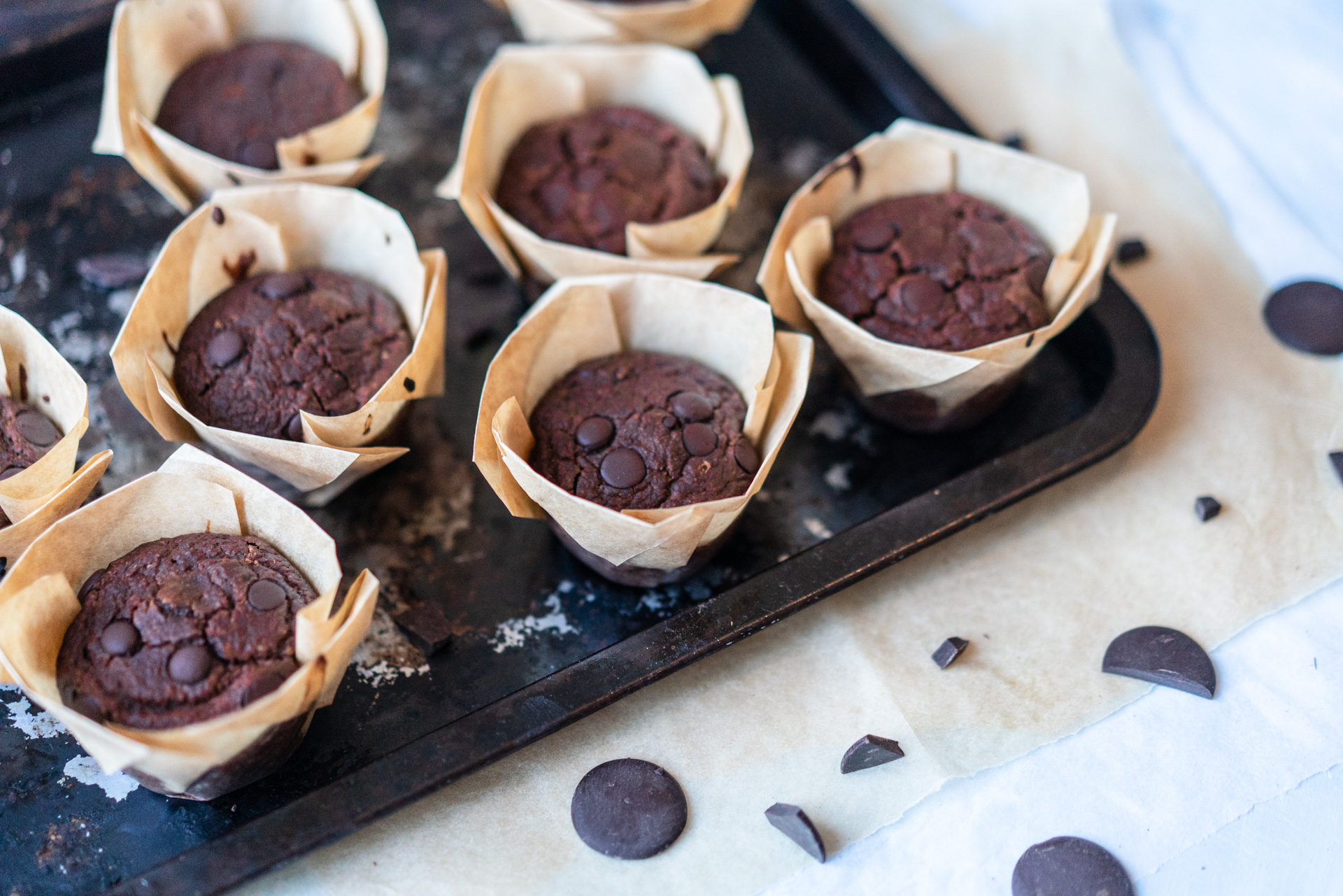 Sshhhh don't tell anyone! These decadent fudgey chocolate muffins are secretly packed full of wonderful ingredients that are good for you! Based on the flavour and texture, you'd never know that there were fruits, seeds and all-sorts lurking in them.
---
Chocolate Banana Cookies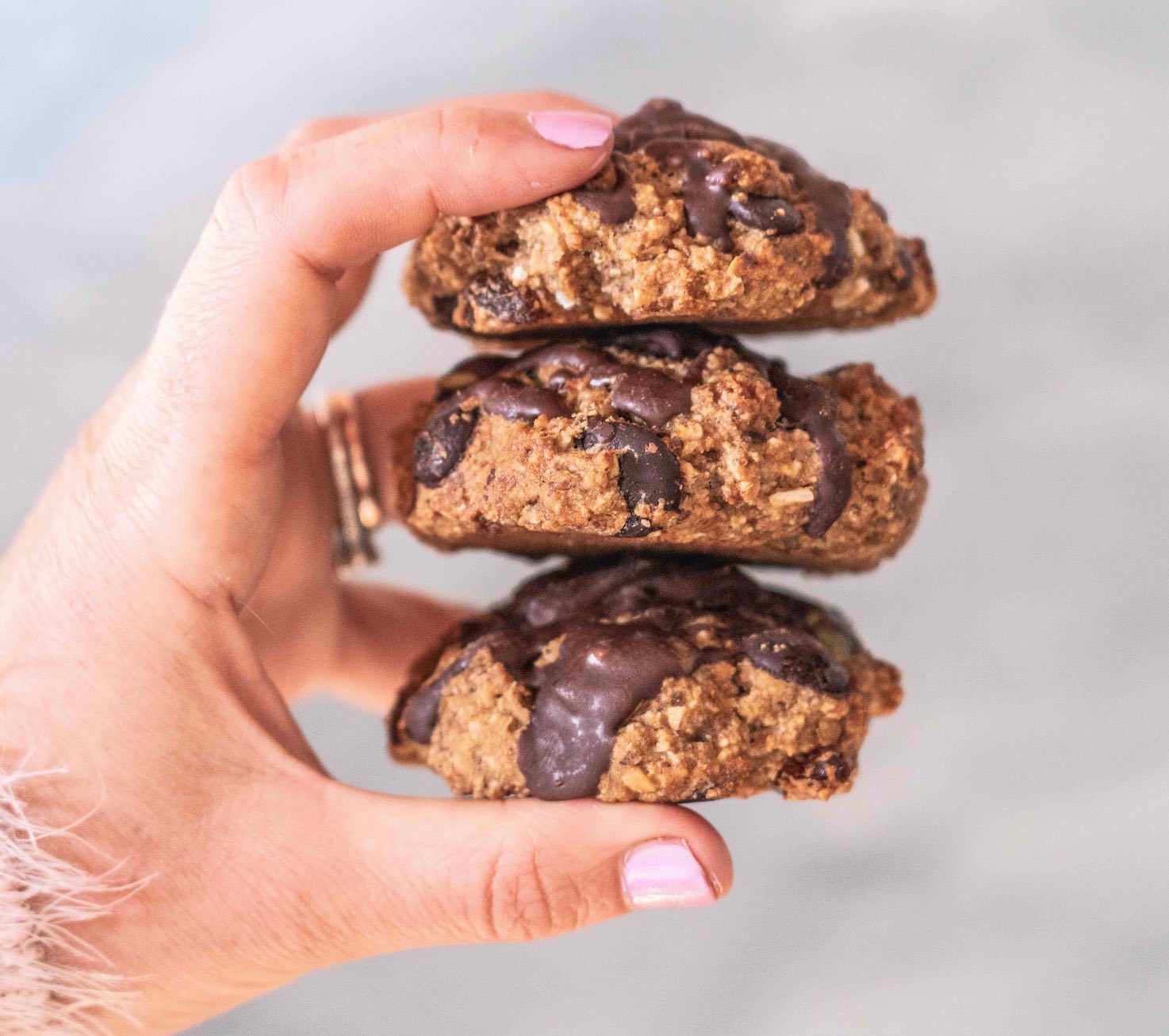 These cookies are beautifully light and cakey, almost like muffin tops. They're not too sweet and you can easily play around with the recipe and add your favourite dried fruits, nuts or seeds.
---
Colourful Caribbean-Style Vegan Patties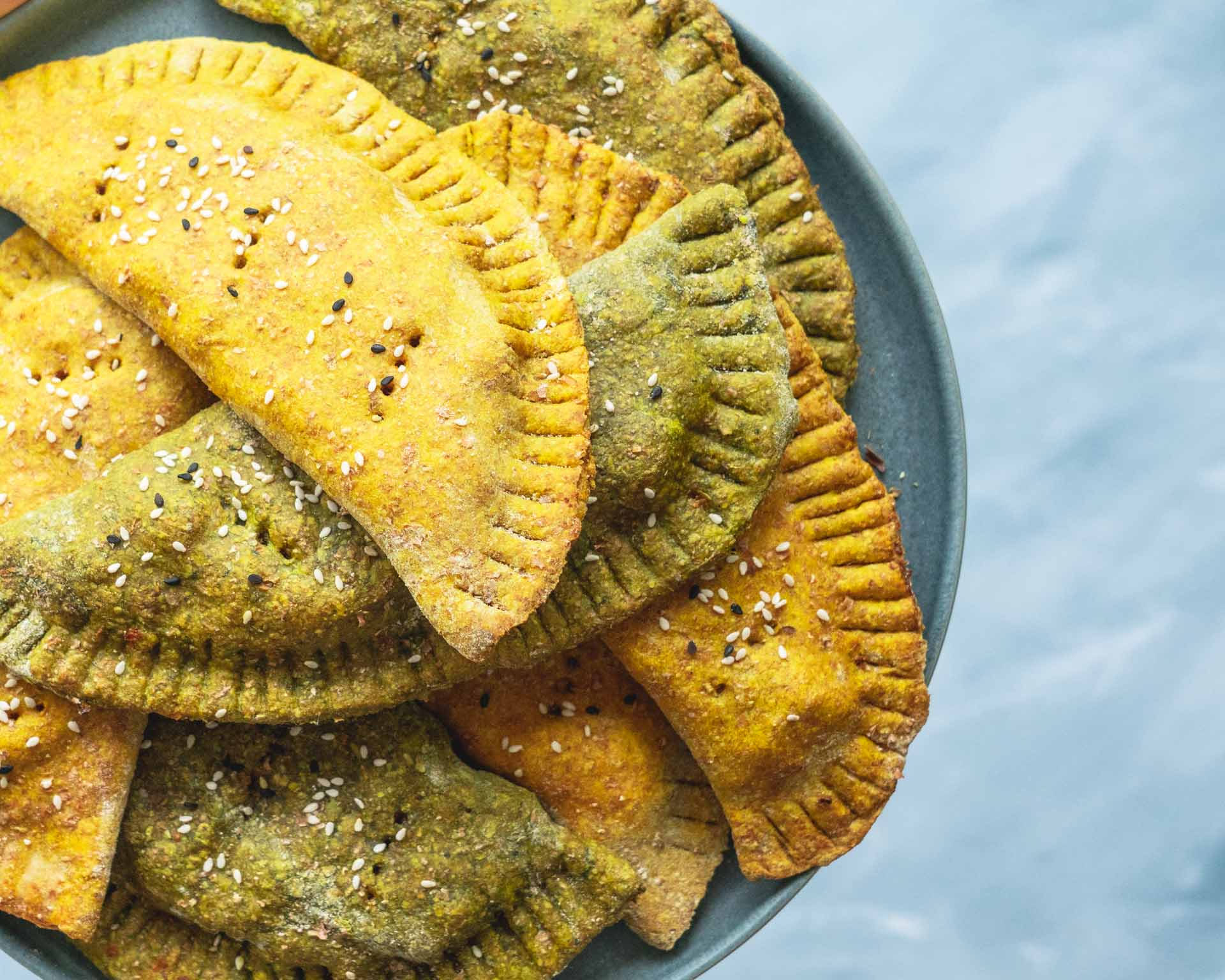 Vegan activist, broadcaster, talented cook and Made In Hackney ambassador Jay Brave, taught us how to make these delicious rainbow vegan patties on one of our online cook-alongs! Pattie shops have been powering Londoners for decades but now you can learn to make these tasty classic snacks yourself at home. (Don't forget to still support the pattie shops though!)
---
Cheesy Butternut Squash Sauce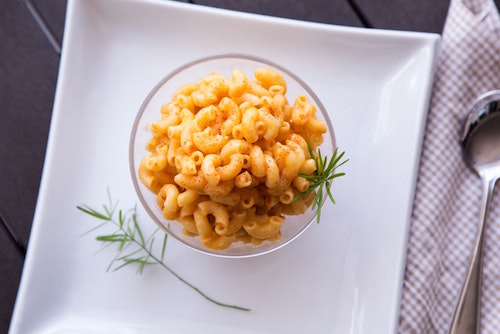 A creamy yet healthy sauce, great with pasta if you're after a cheesy hit!
---
No Oil Stir Fry Greens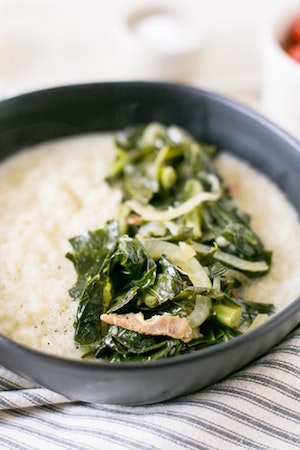 Healthy stir fried greens
---
Nutrient Sprinkle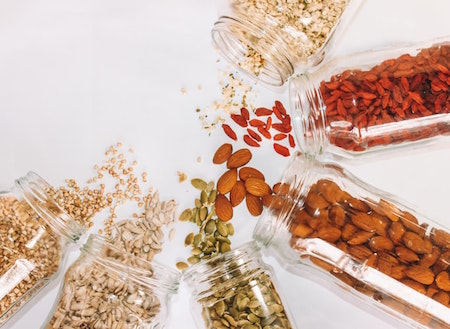 A savoury nutrient-dense sprinkle to use like parmesan!
---
Nutrition Boosted Tomato Sauce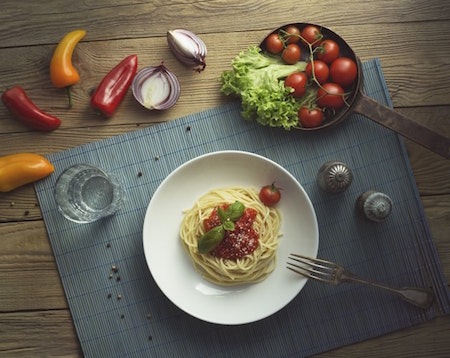 Easy peasy tomato sauce packed with veg, protein and gut-friendly goodies
---
Kolo Roast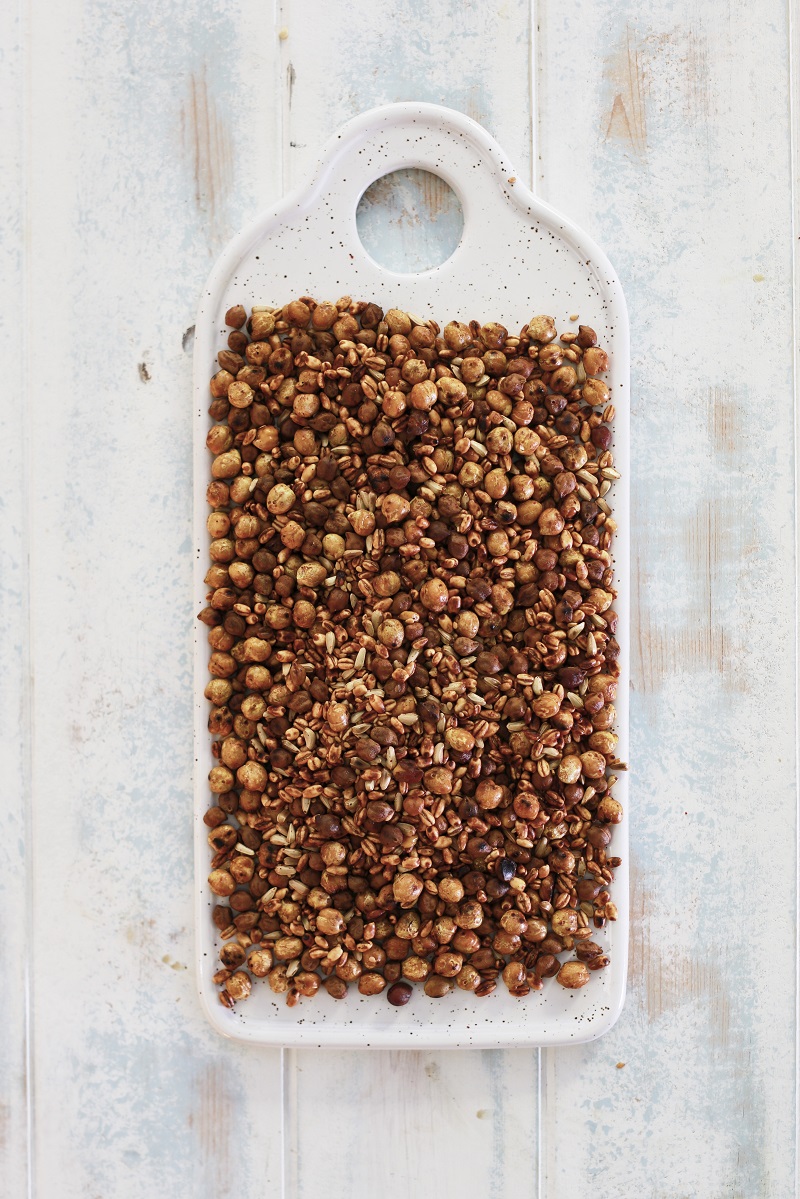 This is Kolo, a common Ethiopian snack made with a combination of roasted grains such as barley, chickpeas, sunflower and sesame seeds. The recipe comes from our Woin who is our incredible Ethiopian Cuisine teacher. Make some today! They're epic.
---
Fluffy Pancakes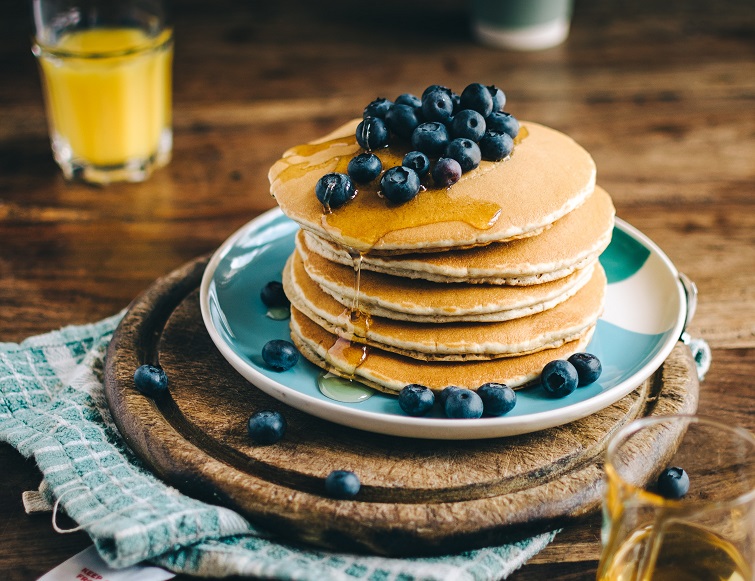 Extremely quick and easy to make American style fluffy pancakes. Serve with fresh berries or berry compote and lots of maple syrup!
---
Banana Peel Thoran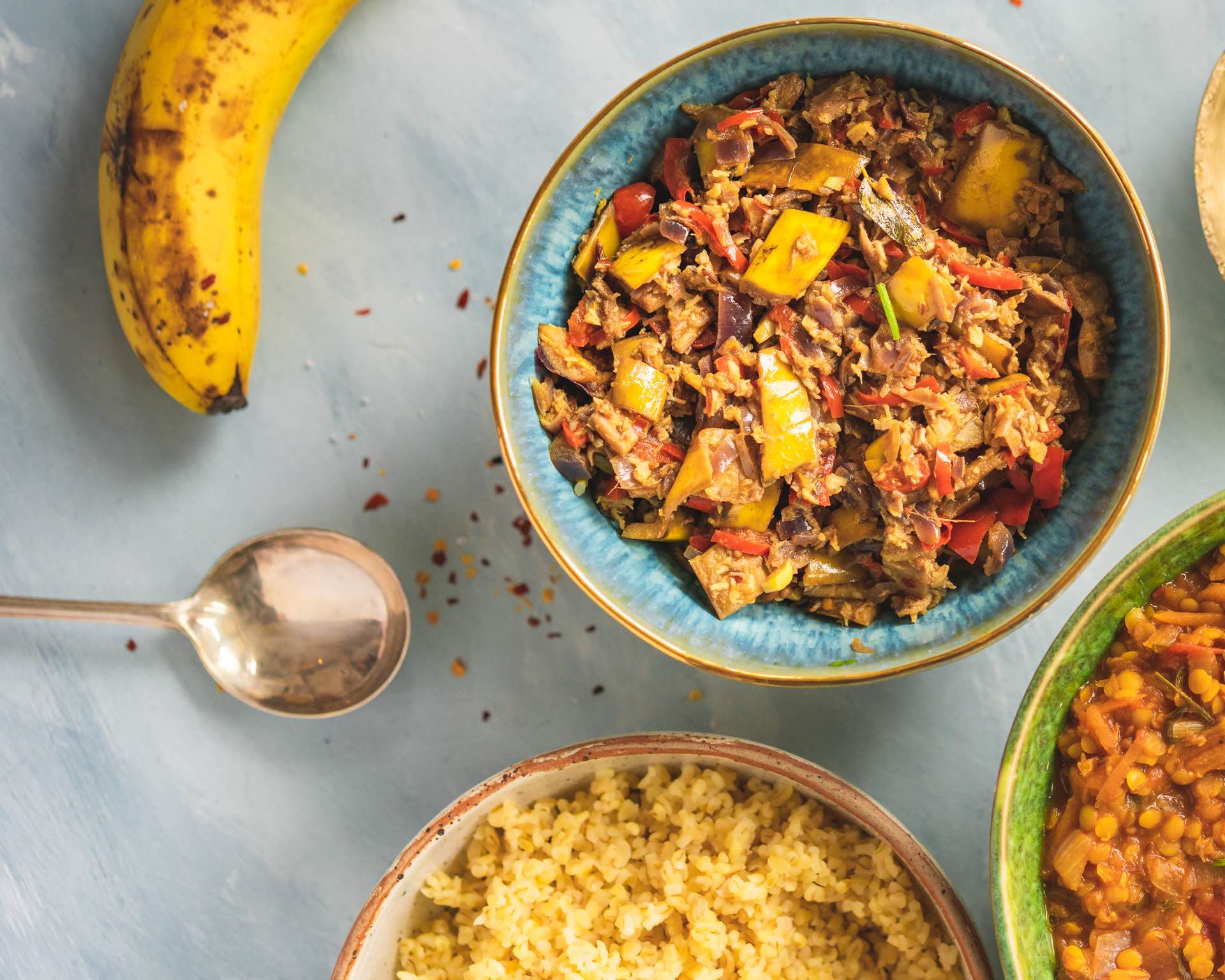 This is a traditional South Indian stir fry and a delicious way of using up banana (or plantain) peels. It is best done with organic banana peels, but for non-organic bananas, you can soak the peels in 4 parts water and 1 part apple cider or white wine vinegar for 20 minutes before rinsing to remove any pesticide residues. Our teacher Hannah Walker cooked this dish for food waste warrior Max La Mana's BBC Earth series and totally blew his mind!
---
Immunitea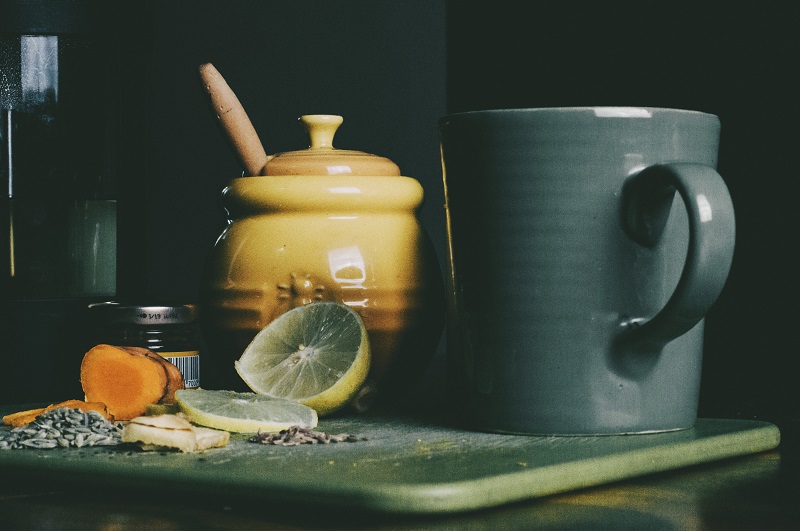 This tea was included by Chef Steve Wilson's January Health Kick class. It's a warming tea packed with vitamin C and is perfect as a pick me up when you're feeling a bit under the weather or have a cold or sore throat coming on.
---
Roasted Veg With Peanut & Zingy Herb Dressing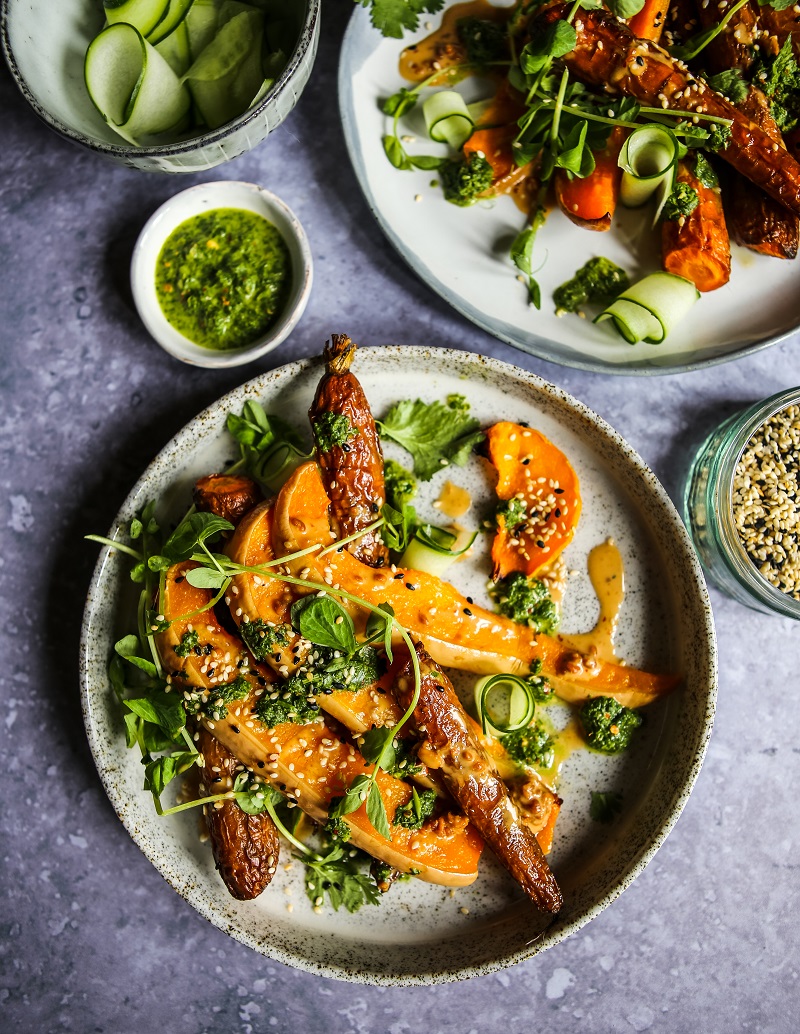 Sweet, zingy and pretty simple to make. What is there not to love about this dish created by Niki Webster from Rebel Recipes.
---
Tandoori Carrots On Butterbean Tomato Dip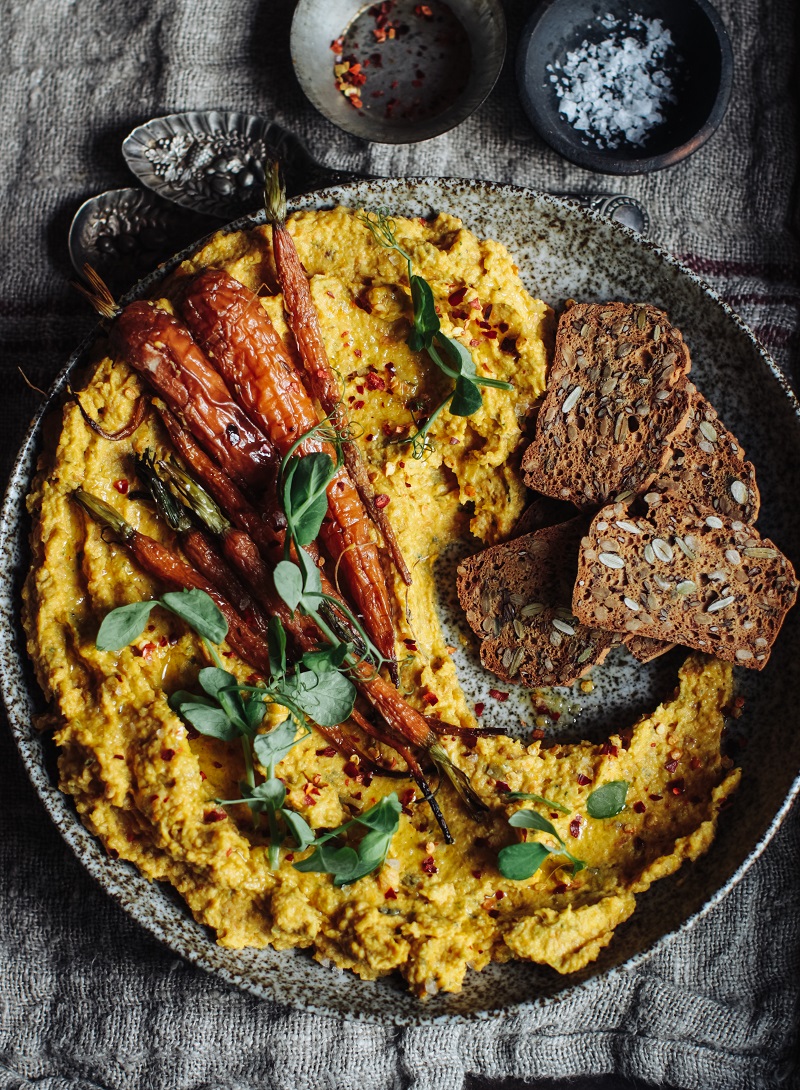 Wow - the humble carrot is given a tandoori make over to sensational effect by master chef Niki Webster over at Rebel Recipes.
---
Spiced Roast Squash Tacos with Slaw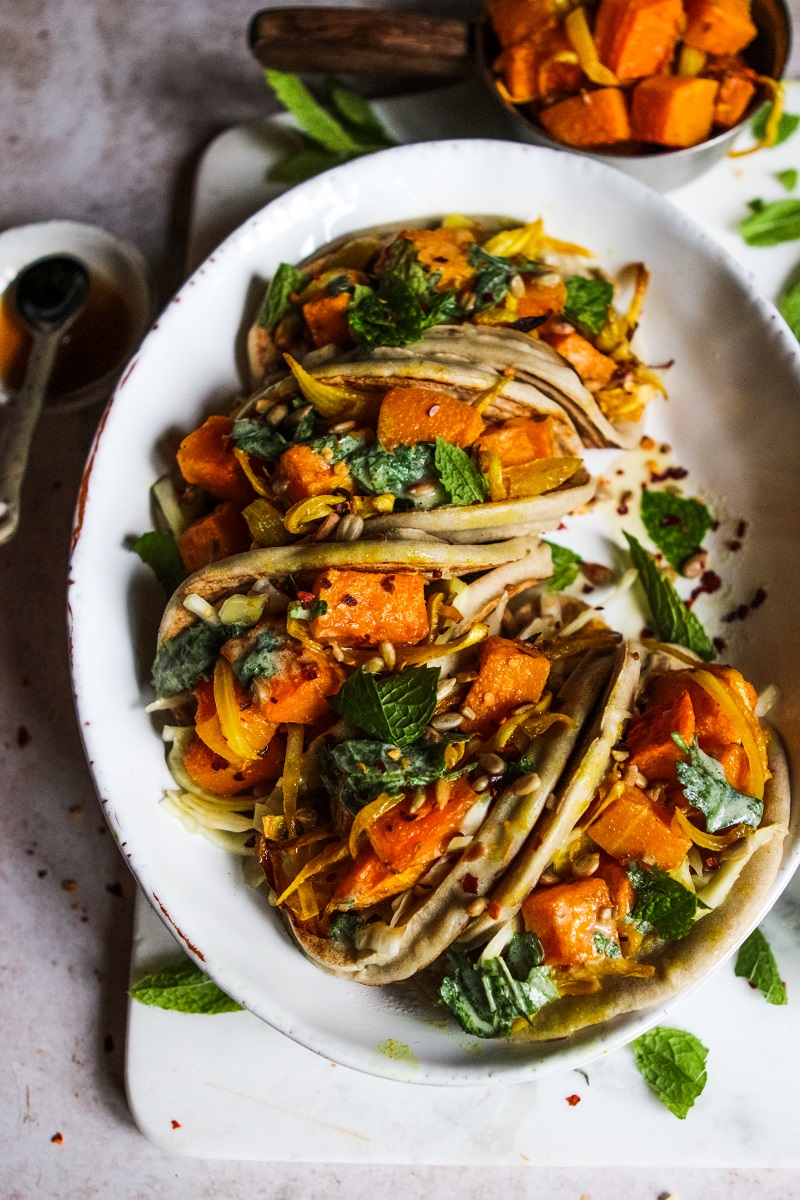 Butternut squash reimagined! This dish is a perfect combo of sweet roasted root veg and crunchy slaw all wrapped up in a pancake folded taco style. What more could you want from a meal? Thankyou Niki Webster from Rebel Recipes for this gorgeous creation.
---
Roast Purple Sweet Potato & Cauliflower Soup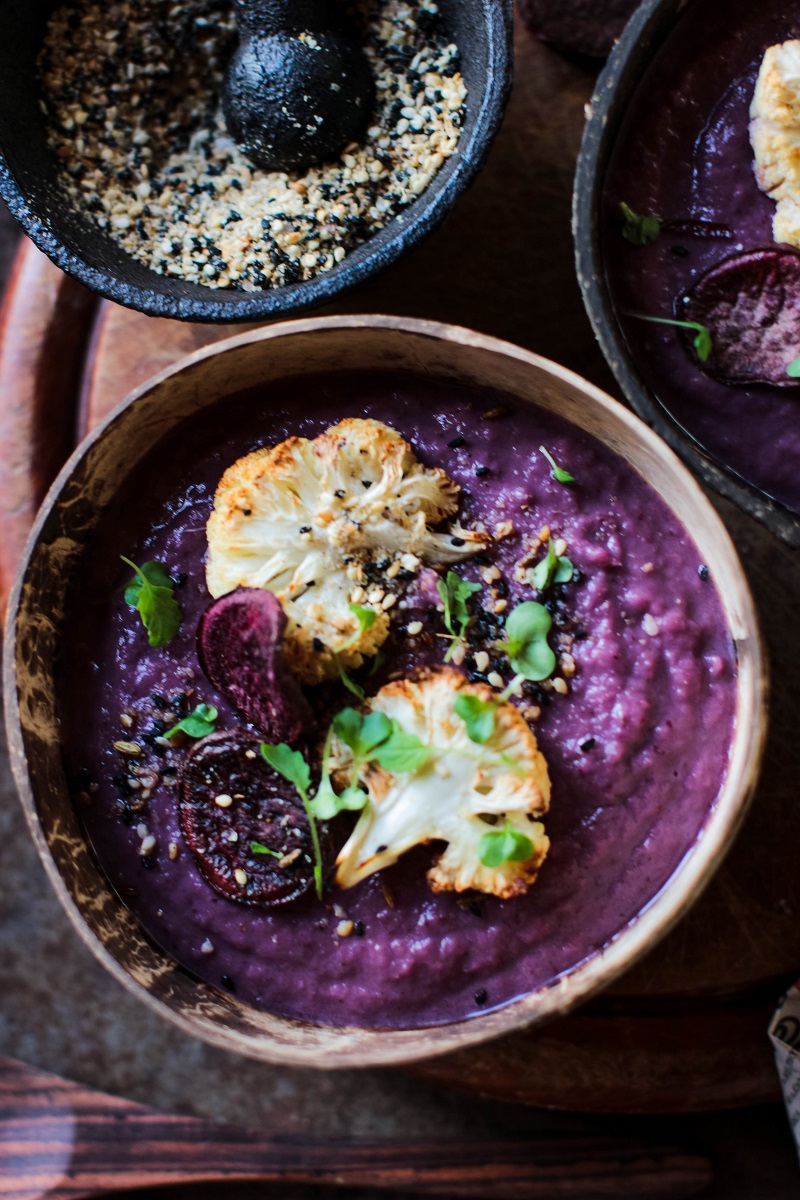 Just look at that colour! This show stopping soup tastes as good as it looks - and thats a tall order. The chef behind this wonder is our supporter Niki Webster, creator of the awesome food blog Rebel Recipes.
---
Charred Hispi Cabbage With Tomato, Pea And Coconut Curry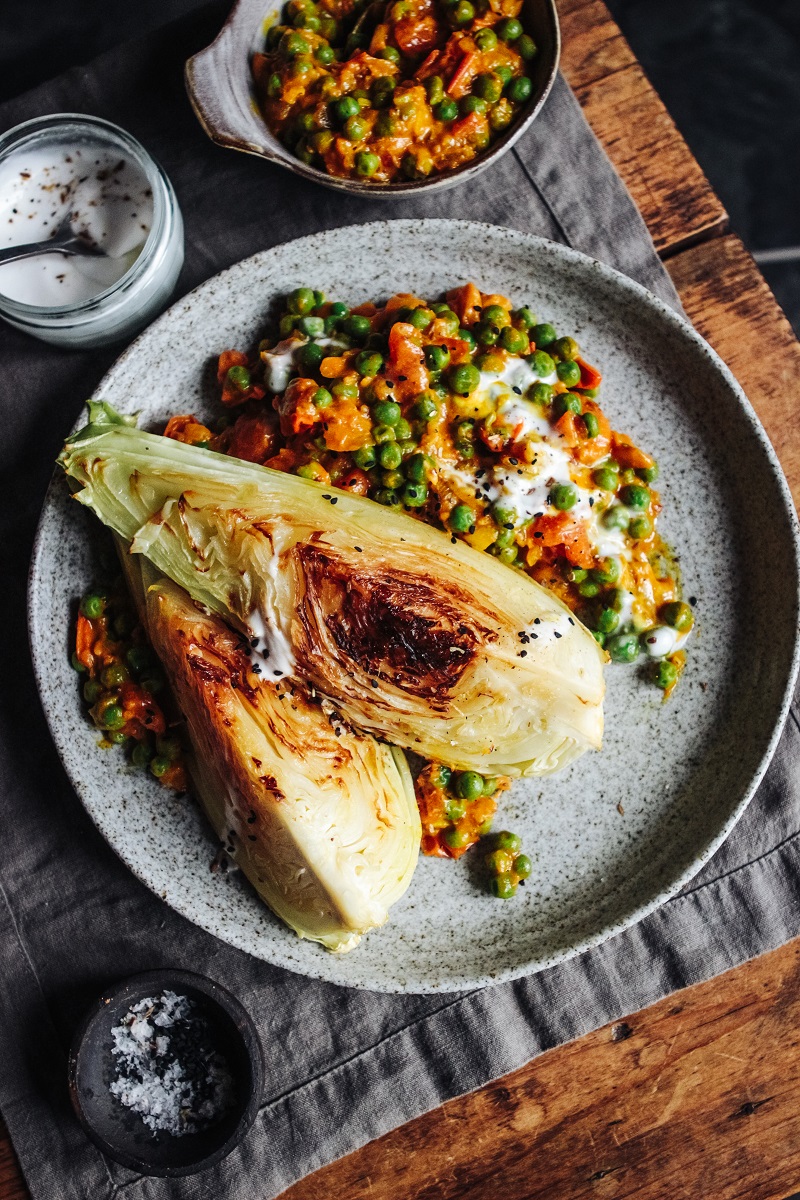 Charred cabbage - it's a thing, a really rather tasty thing actually. This divine version was created by Niki Webster, our pal and creator of the stunning Rebel Recipes food blog.
---
Flourless Mince Pie Brownies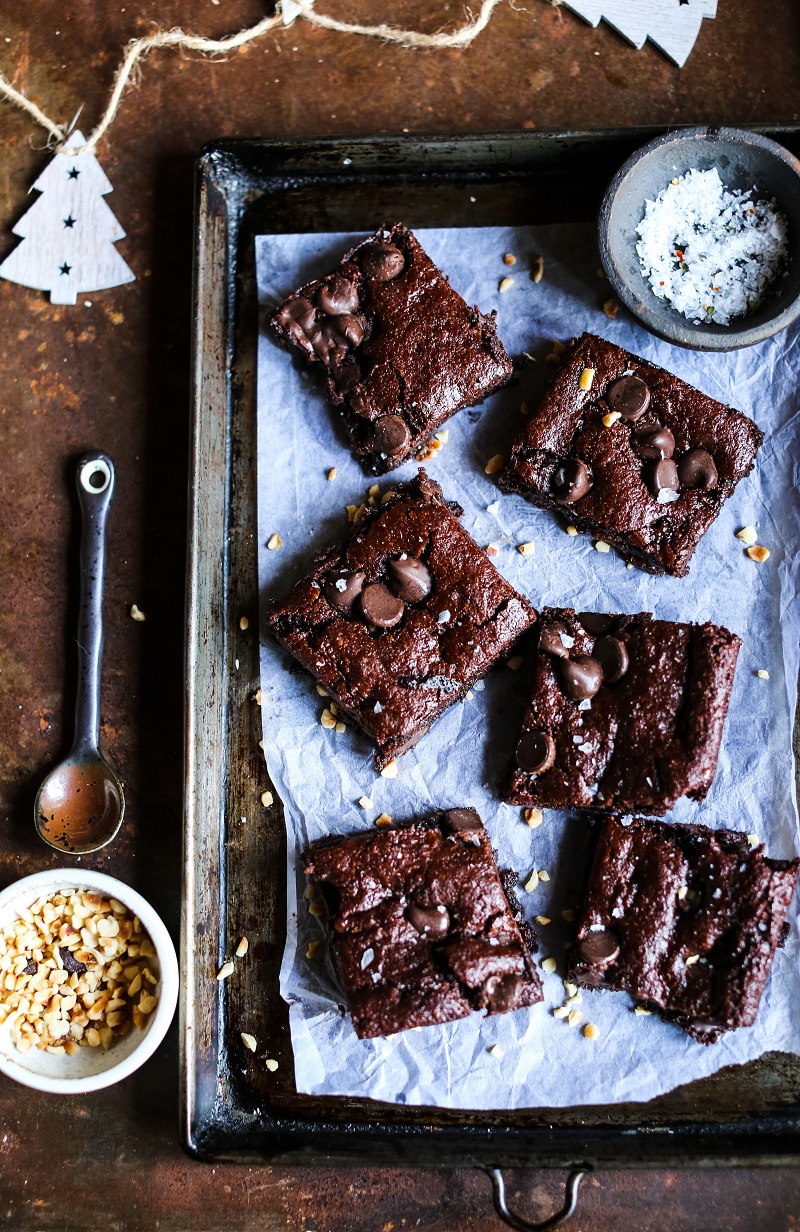 Festive spiced gluten-free intense chocolate brownies anyone? Eh, YES PLEASE. This squares of magic were created by food magician Niki Webster from Rebel Recipes food blog.
---
Spiced Apple, Ginger Cake with a Pecan crumb topping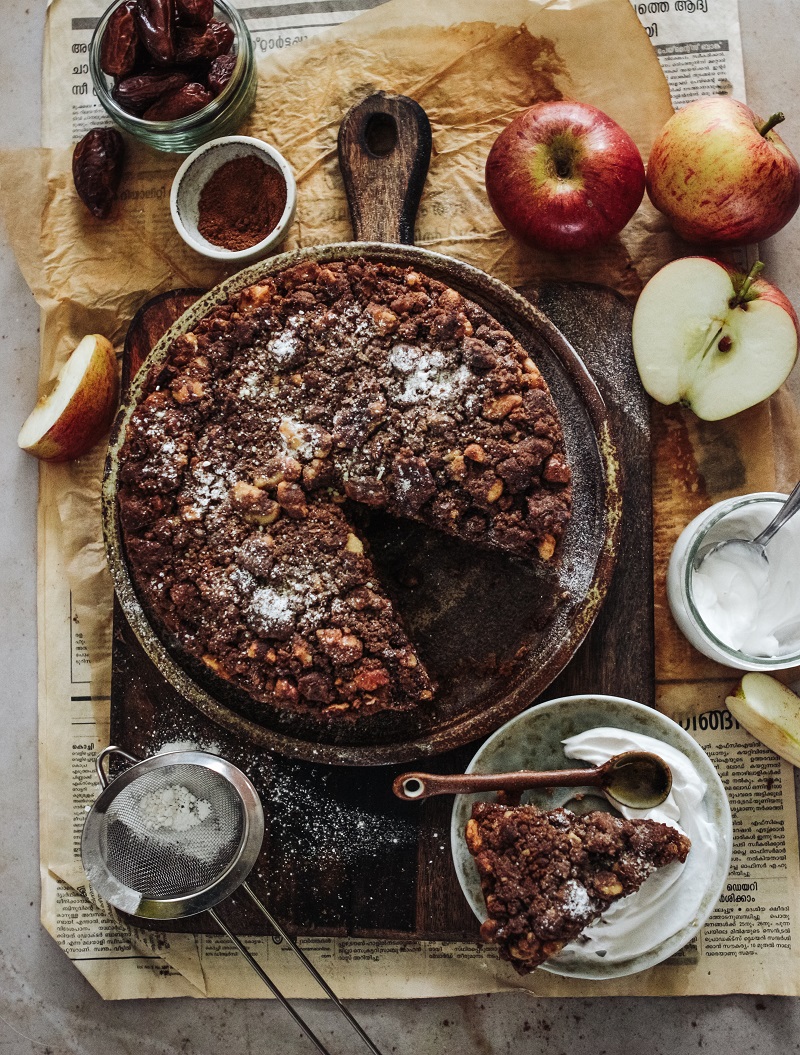 The Queen of apple cakes from our pal Niki Webster over at Rebel Recipes food blog. Our founder Sarah Bentley could not think of a better way to use up all those seasonal apples! This is a SERIOUSLY good recipe and comes out looking like the photo even when made by us mere mortals!
---
Vegan Paella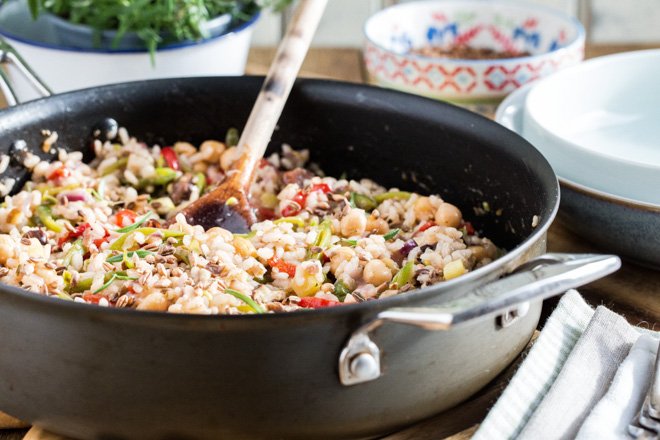 Delicious, hearty dish from our amazing friends at The Cook and Him using British grown grains from the fab Hodmedods!
---
Go Nuts Donuts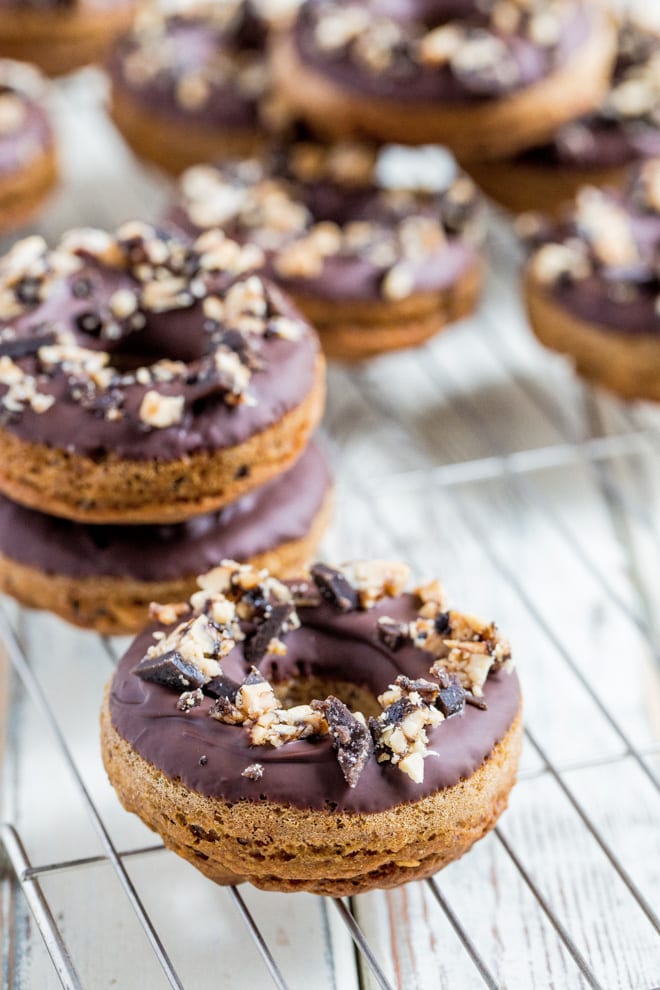 Who doesn't love a donut? This sophisticated donut has a lot more nourishment than your average one and tastes banging too. Amazing recipe from our friends over at The Cook & Him.
---
Vegan Strawberry Cheesecake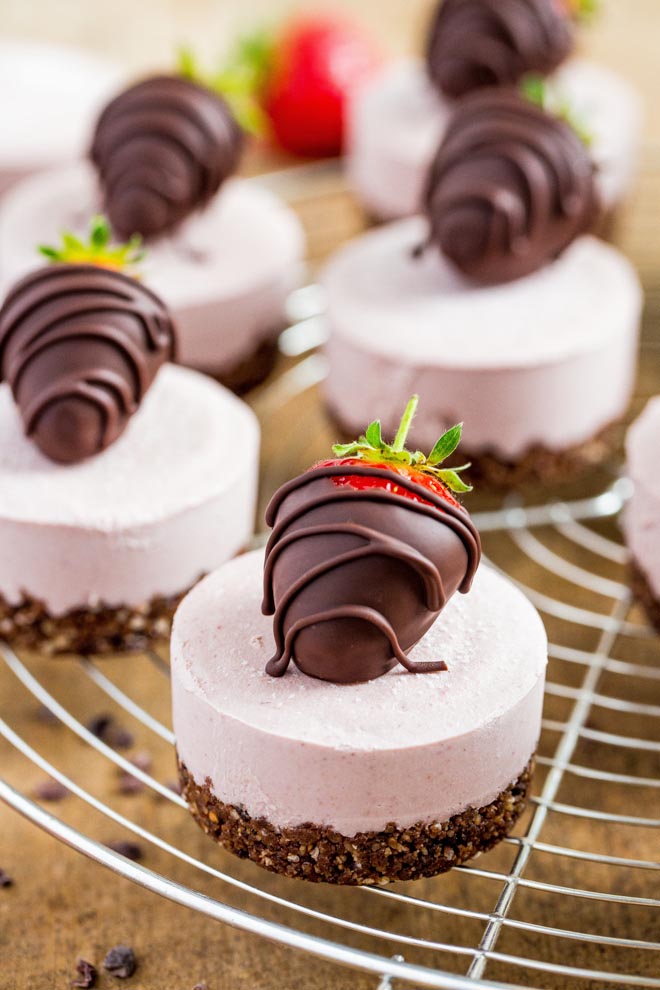 This is a WOW dessert if we have ever seen one. A total treat and healthy too and created by our friends over at amazing veggie and vegan food blog The Cook & Him.
---
Yello Split Pea and Cauliflower Dhal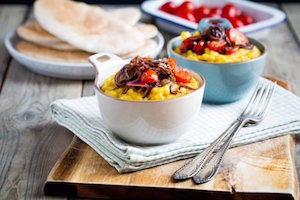 Sunshine in a bowl right? So easy to make, and comforting to eat - this incredible recipe is from our friends over at The Cook And Him.
---
Green Pea and Pesto Stuffed Conchiglie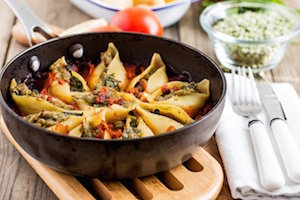 Cooked pasta shells filled with split peas and homemade pesto baked in a tangy tomato sauce. Recipe genius from our friends over at epic vegan and veggie food blog The Cook & Him.
---
Garlic Mushroom Stuffed Sweet Potato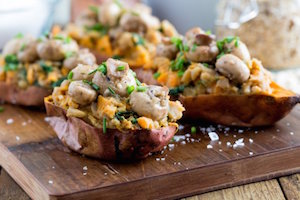 These garlic mushroom stuffed sweet potatoes also have creamy fava beans, herbs, spices, and veggies all crammed into crisp baked jackets!
---
Vegan Omelette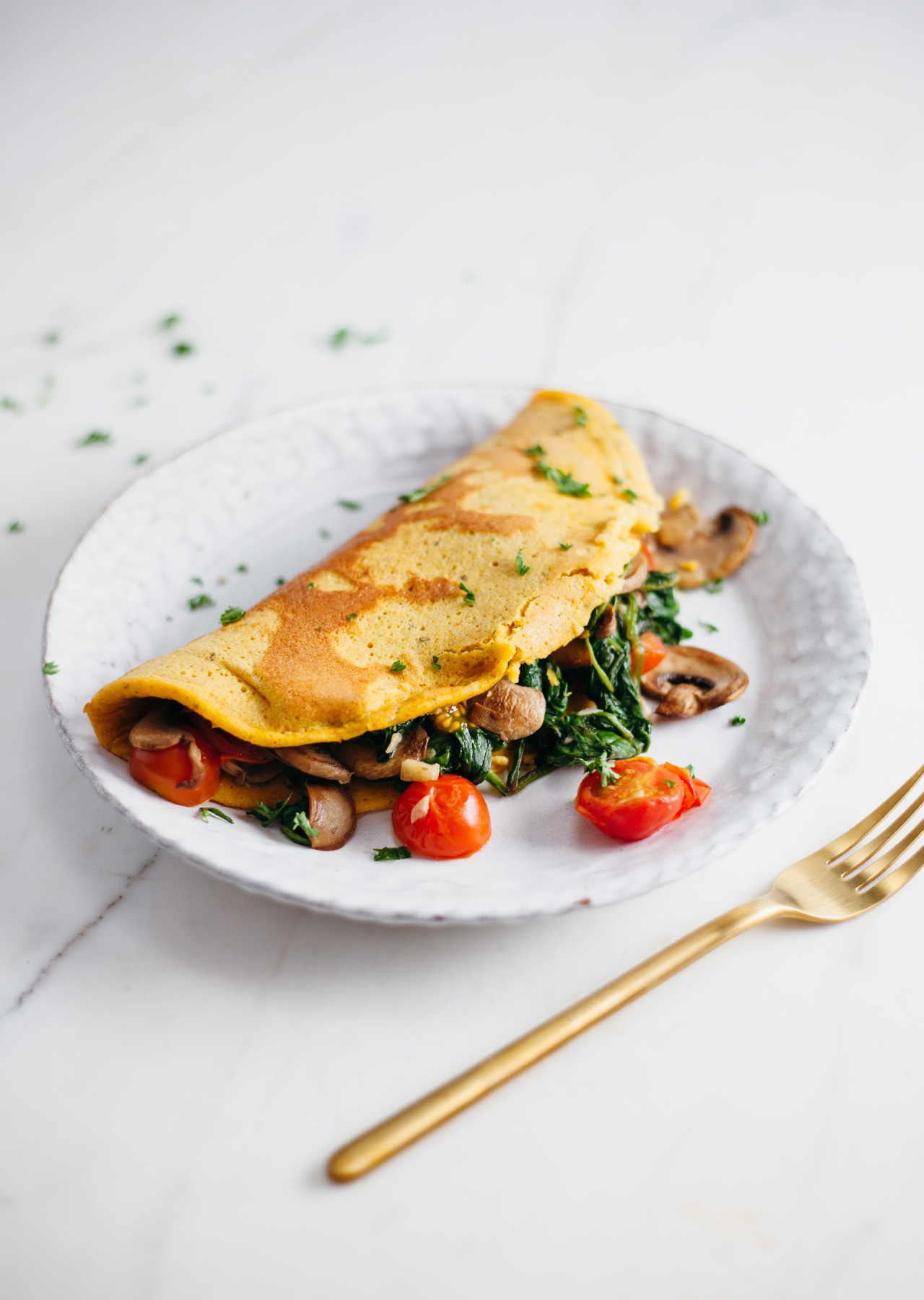 An egg free omelette? Wow. This tasty chickpea flour omelette is a recipe collab between our Sarah and the gorgeous Roxy and Ben from So Vegan. Make it for lunch now!
---
Chocolate Falafel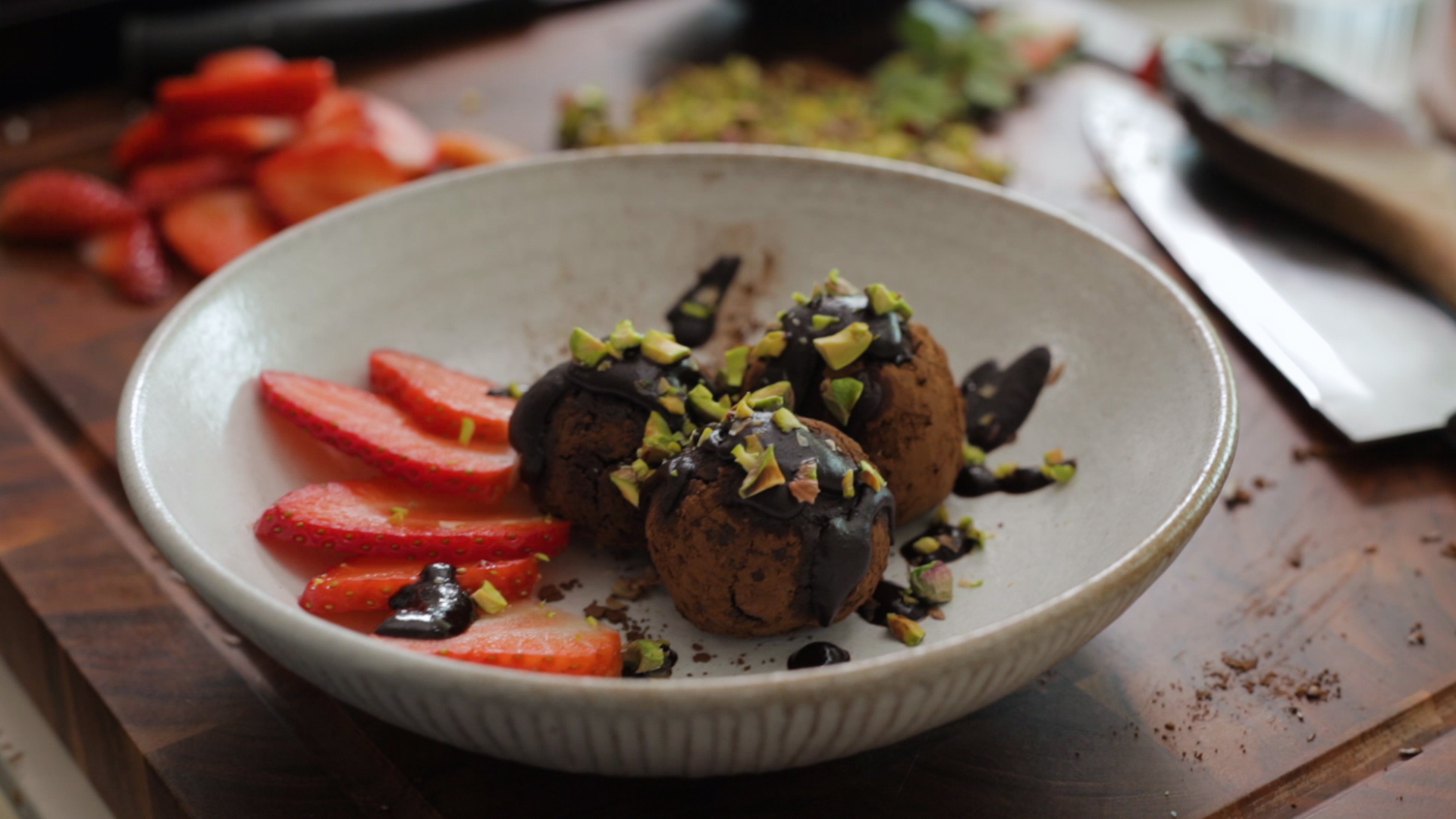 Chocolate falafel? No way. Yes way. Try this tasty recipe from our Sarah for a new sweet spin on falafel.
---
Root Vegetable Crumble with Sunflower Crust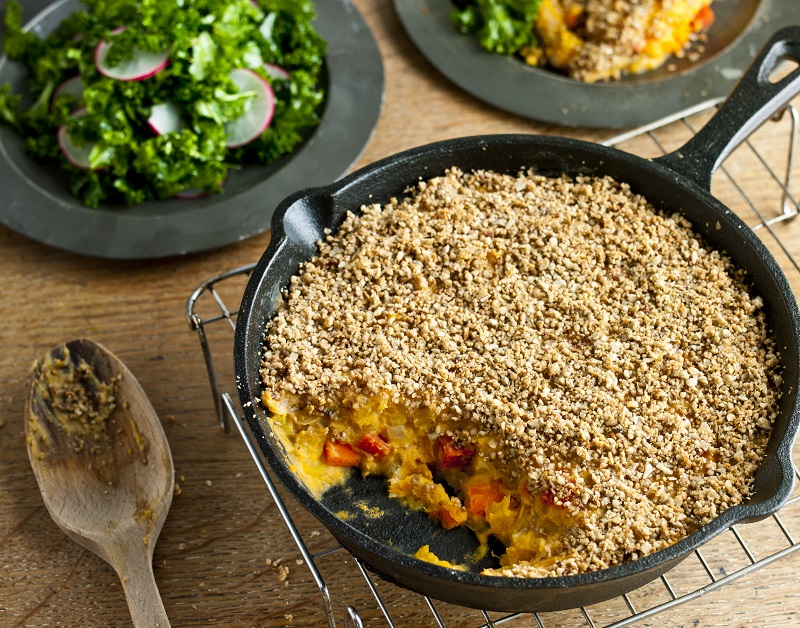 This banging vegetable crumble recipe was conceived by our chef Steve and our founder Sarah for Jamie Oliver's new Veg focused TV show Meat Free Meals. It's not only delicious but uses nutritional yeast or 'nooch' as it is nicknamed to create the cheesy taste and was the first time Jamie had used this plant-based staple in his cooking. The filling in the TV show was purple as we used beetroot as one of the root veg. This gorgeous version cooked, styled and photographed by our friends at Sustainable Kitchen and Clive Sherlock Photography uses pumpkin, carrots and squash, hence looks orange! When you make it for tonight's dinner - what colour will yours be?
---
Chickpea 'Tuna' Sandwich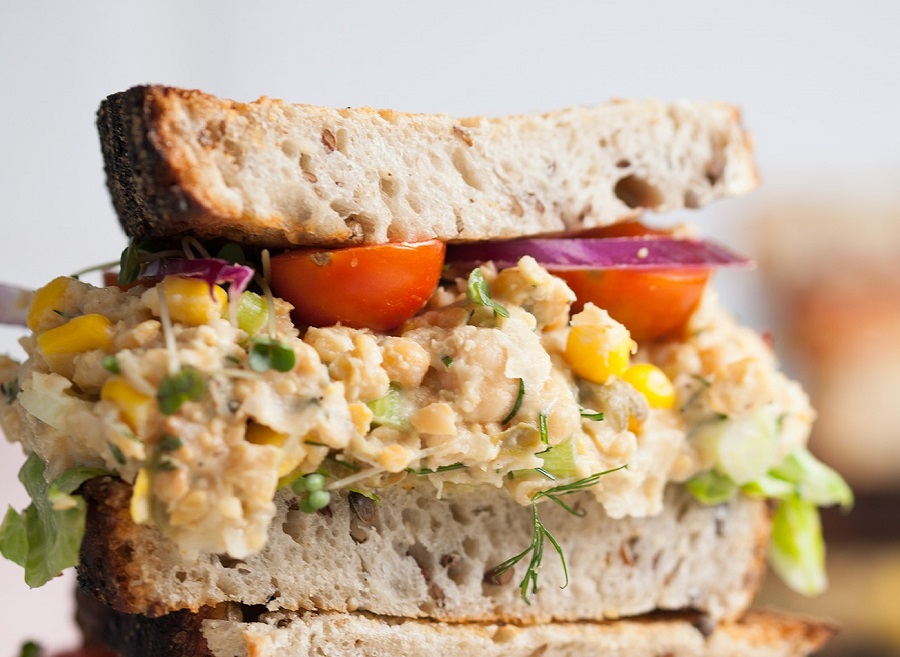 A plant-based take on the classic tuna sweetcorn sandwich filling from our ambassadors We Are So Vegan. When pressed with a fork the chickpeas create a tuna like texture - genius. Super tasty, easy to make and keeps our fish in the sea. Try it today.
---
Carrot Lox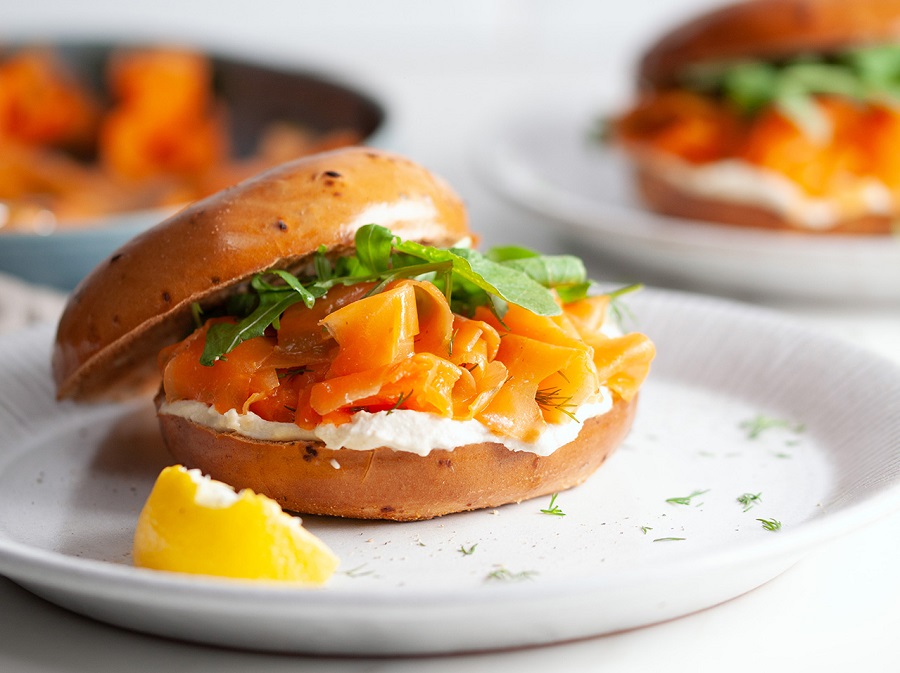 This is a simple but delicious recipe for carrot lox - the groovy vegan take on a smoked salmon bagel using carrots instead of our fish friends. There's loads of different recipes for carrot lox online - some crazy complicated. Our founder Sarah stripped back the nonsense to give you this delicious recipe. Enjoy.
---
Nut Free Chocolate Bliss Balls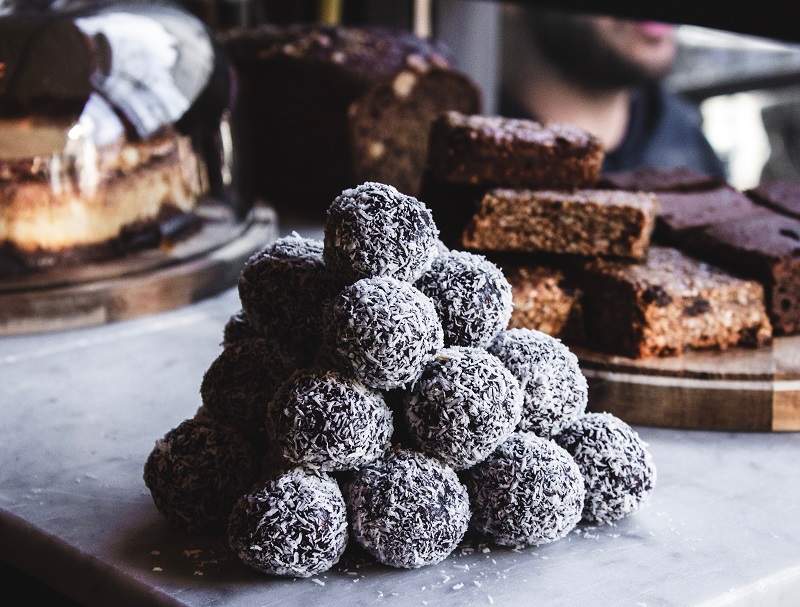 Nut free and vegan? No problem. These tasty chocolate raw balls always go down a storm when we make them in nurseries and other nut-free settings. Replacing nuts with oats also makes them cheaper to make.
---
Banana and Peanut Butter Flapjacks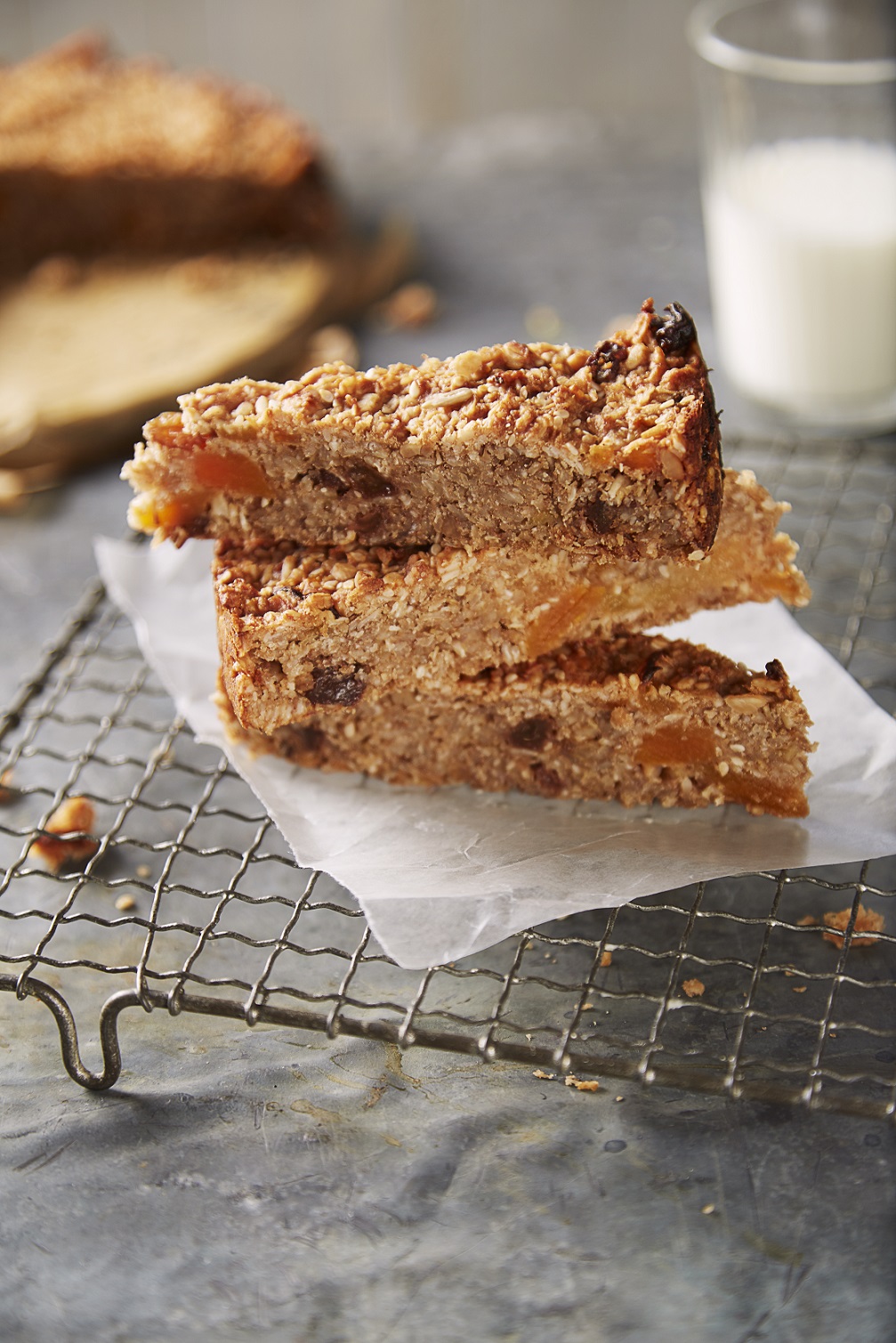 This homemade flapjack recipe is packed full of protein, fruit and plenty of fibre. Fit for breakfast, afternoon snacks or perfect with our Banana Nice-Cream for dessert.
---
Easy Chilli No Carne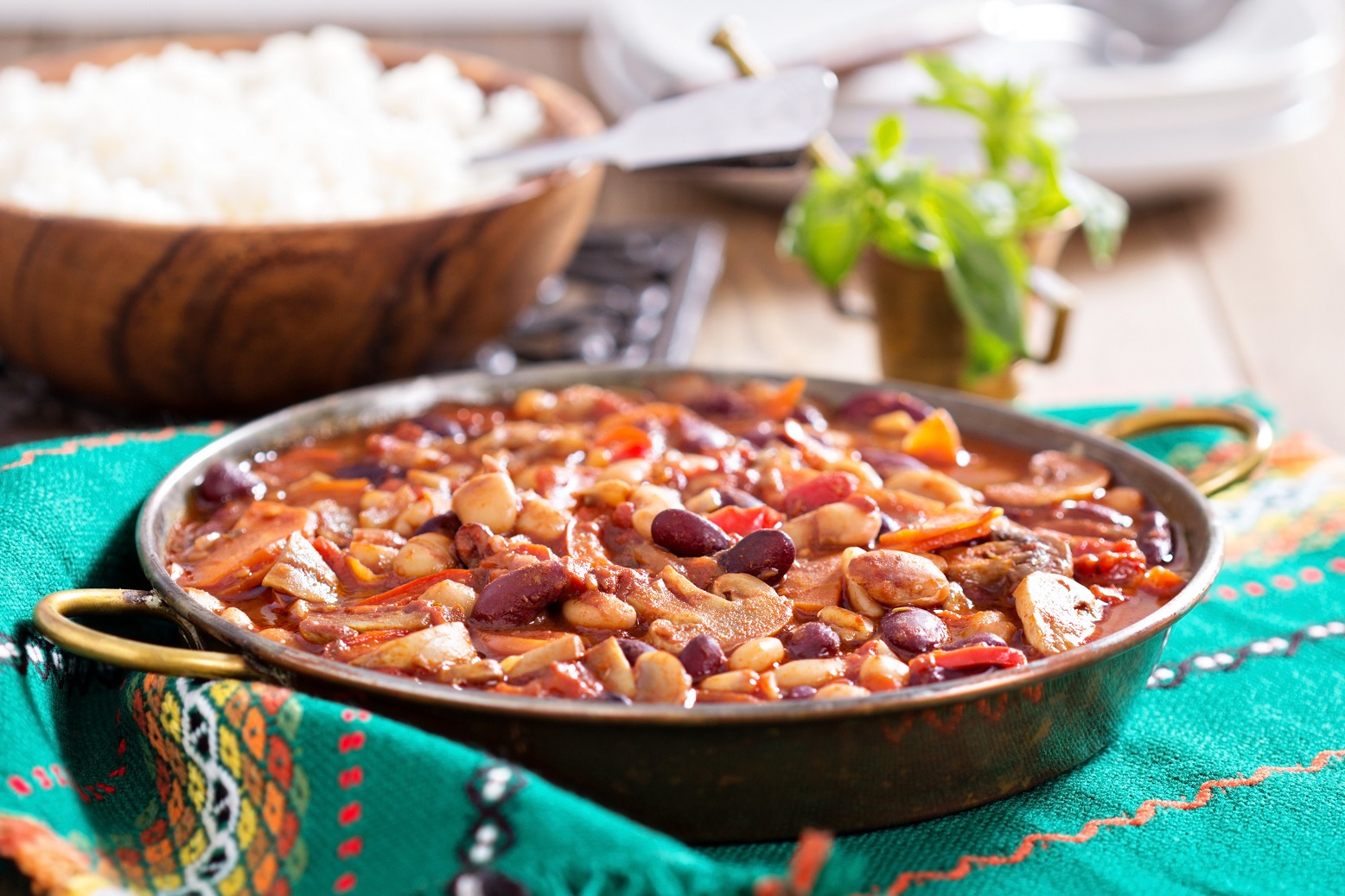 This easy one dish is a guaranteed crowd pleaser. This recipe by MIH chef Mark Breen from our Thrifty Feasts 2 recipe book.
---
Cauliflower Korma with Lemon Pilau Rice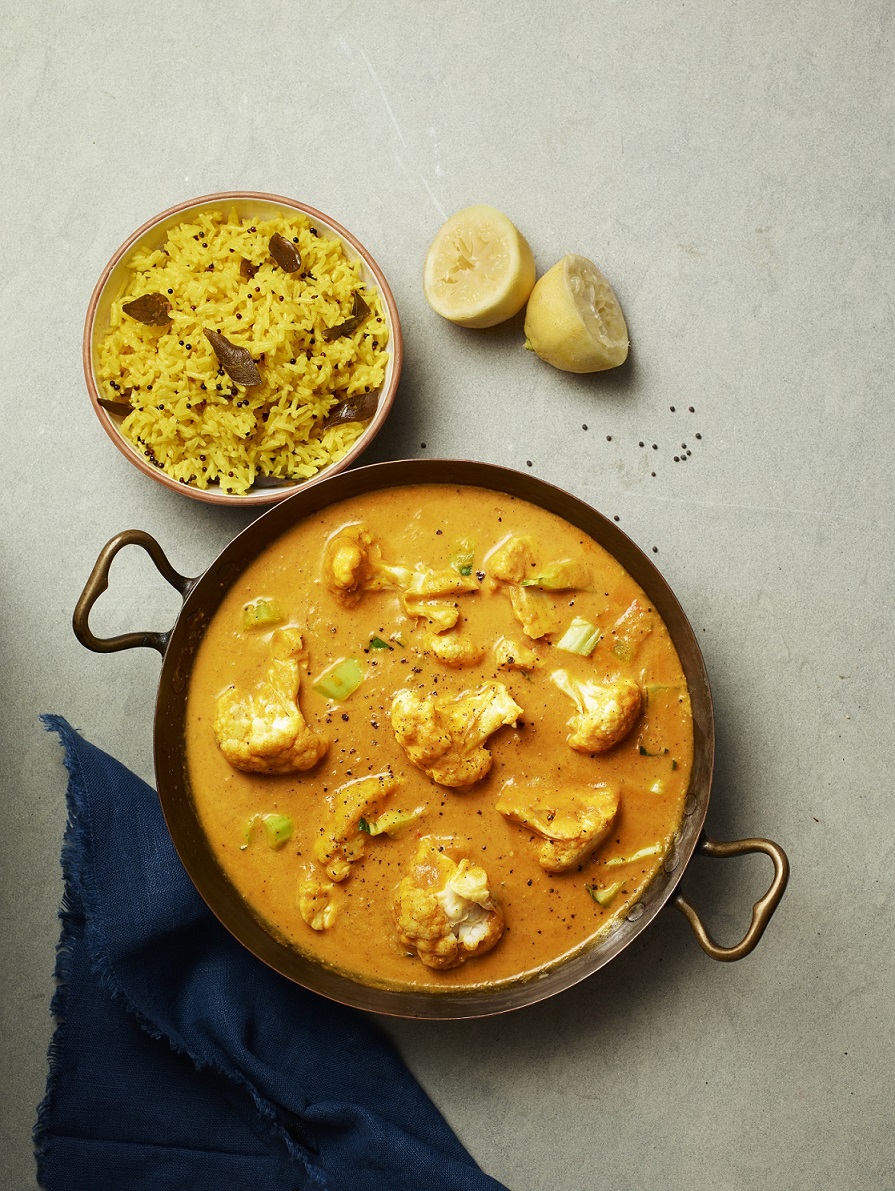 Making your own version of this takeaway favourite is much easier than you think! Just as quick as your local takeaway and a whole lot cheaper! This recipe by MIH chef Mark Breen from our Thrifty Feasts 2 recipe book.
---
Posh Beans On Toast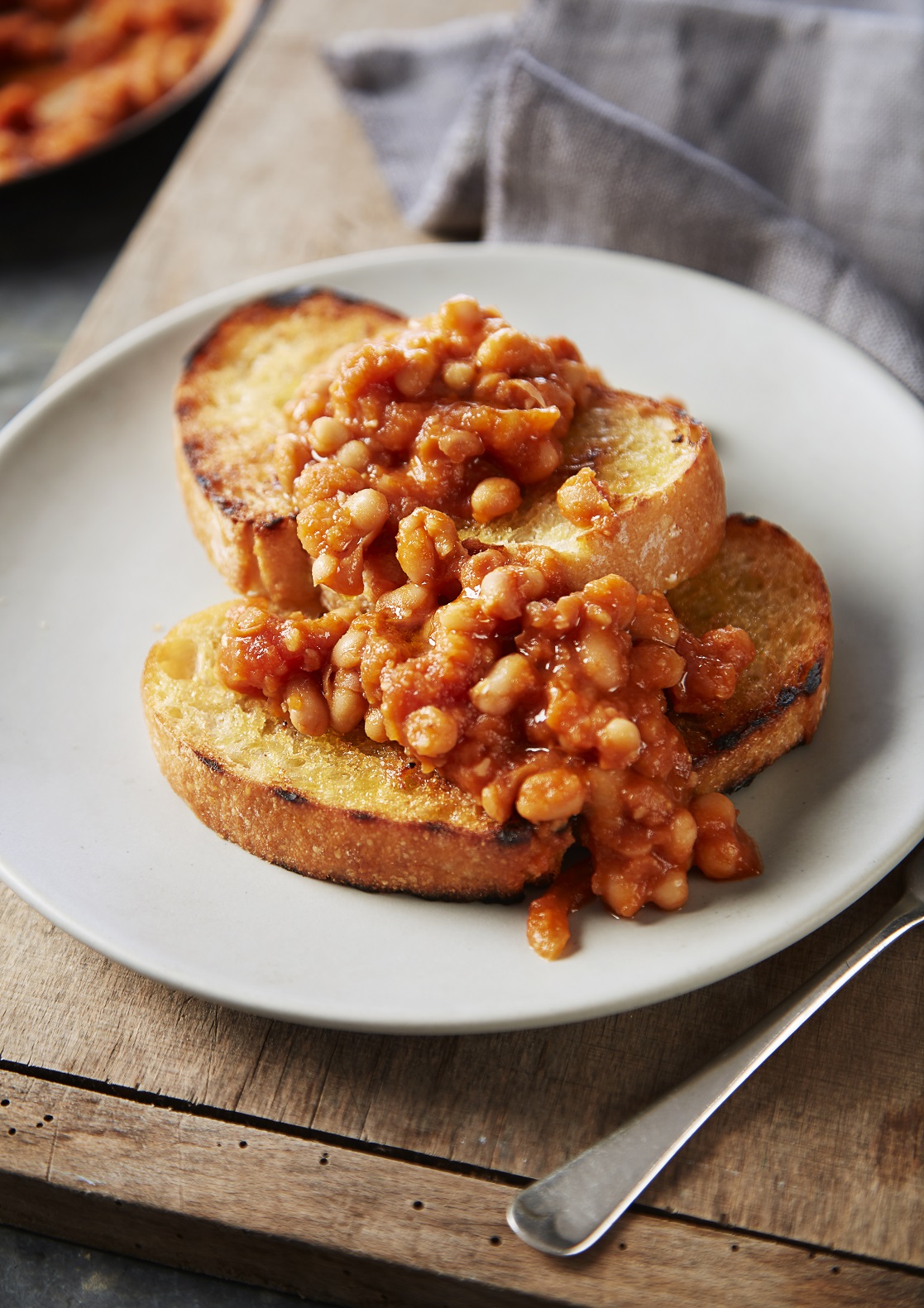 Everybody loves baked beans right? Get involved with this DIY version of the classic tinned "dish" with recipe by MIH chef Mark Breen from our Thrifty Feasts 2 recipe book.
---
Mango and Chilli Salsa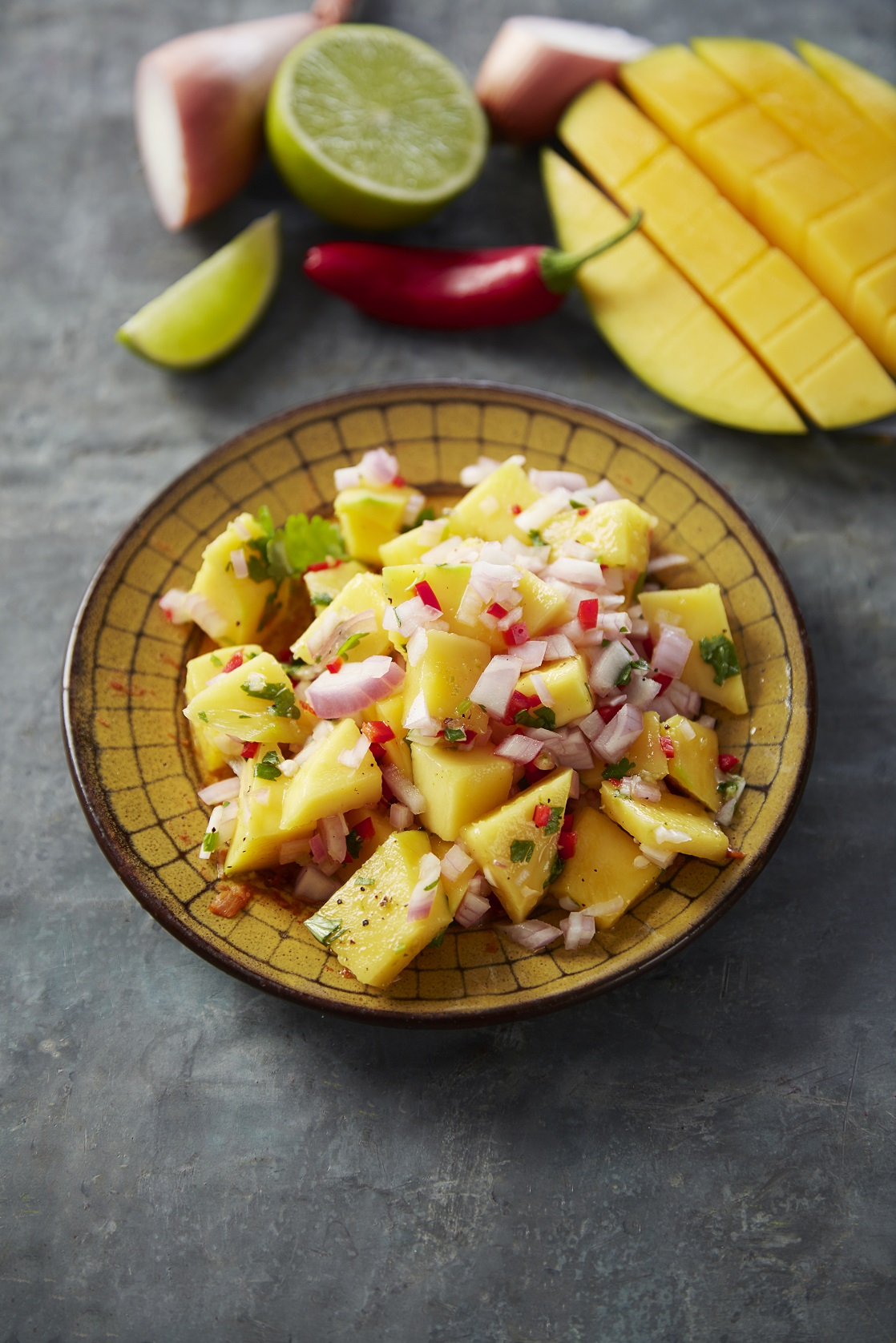 This sweet and spicy salsa is a great side for any mexican meal. Works perfectly with our BBQ-Pulled Jackfruit Burrito recipe. The recipe is by MIH chef Mark Breen from our Thrifty Feasts 2 recipe book.
---
Refried Beans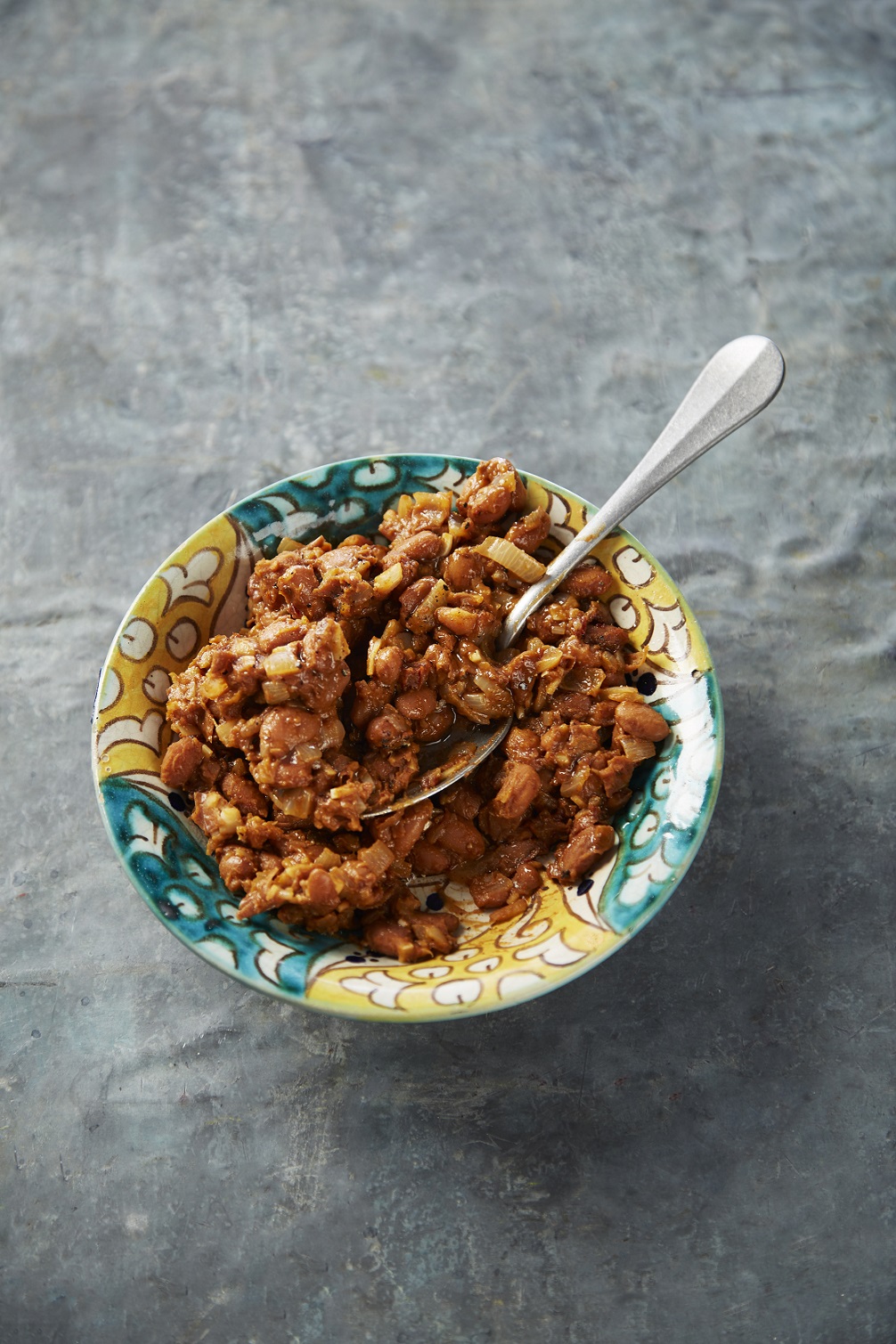 A classic tex-mex side dish, thats as quick and easy to make as it is delicious. A great side to our BBQ-pulled Jackfruit Burrito Recipe. The recipe is by MIH chef Mark Breen from our Thrifty Feasts 2 recipe book.
---
BBQ Pulled Jackfruit Burrito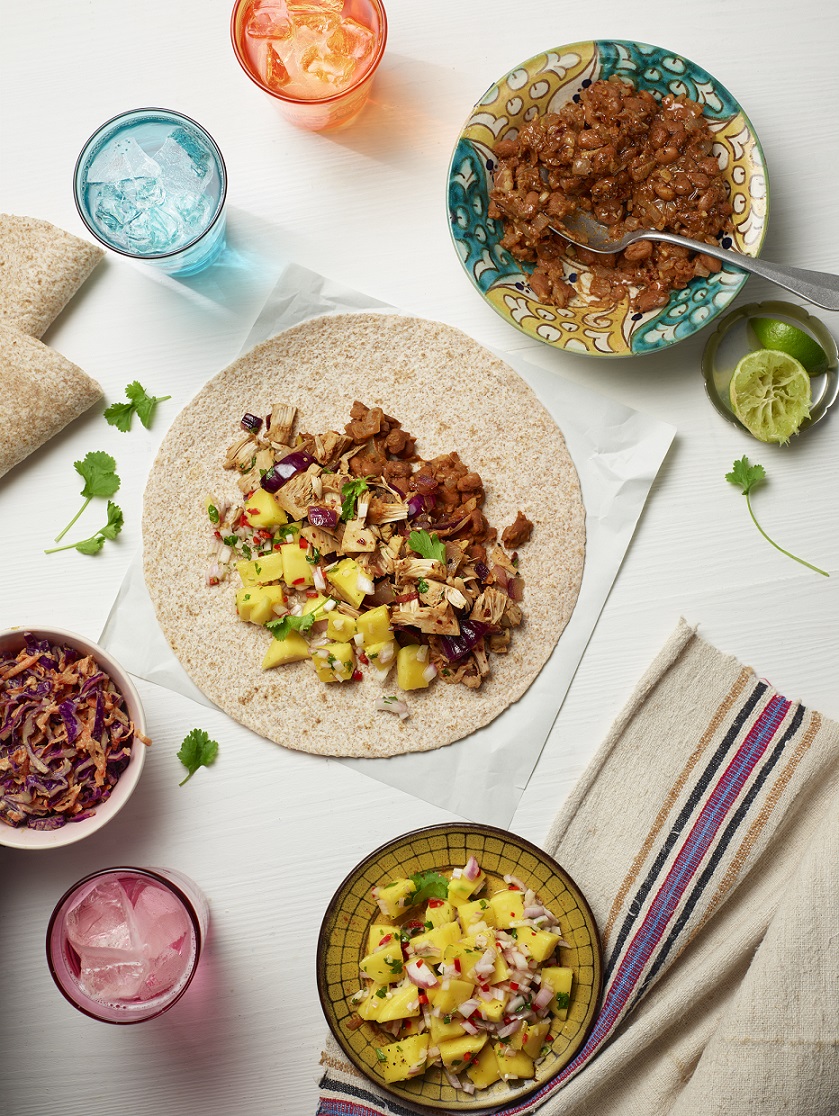 Jackfruit is the largest tree-born fruit in the world, weighing over 100 pounds! It's easy to get hold of canned now from most supermarkets or health food shops. This recipe is loaded with BBQ flavor and chewy textures. Use as a meatless option in any of your favourite BBQ recipes, or try here with our mango salsa and refried bean recipes. The recipe is by MIH chef Mark Breen from our Thrifty Feasts 2 recipe book.
---
Roasted Vegetable Pizza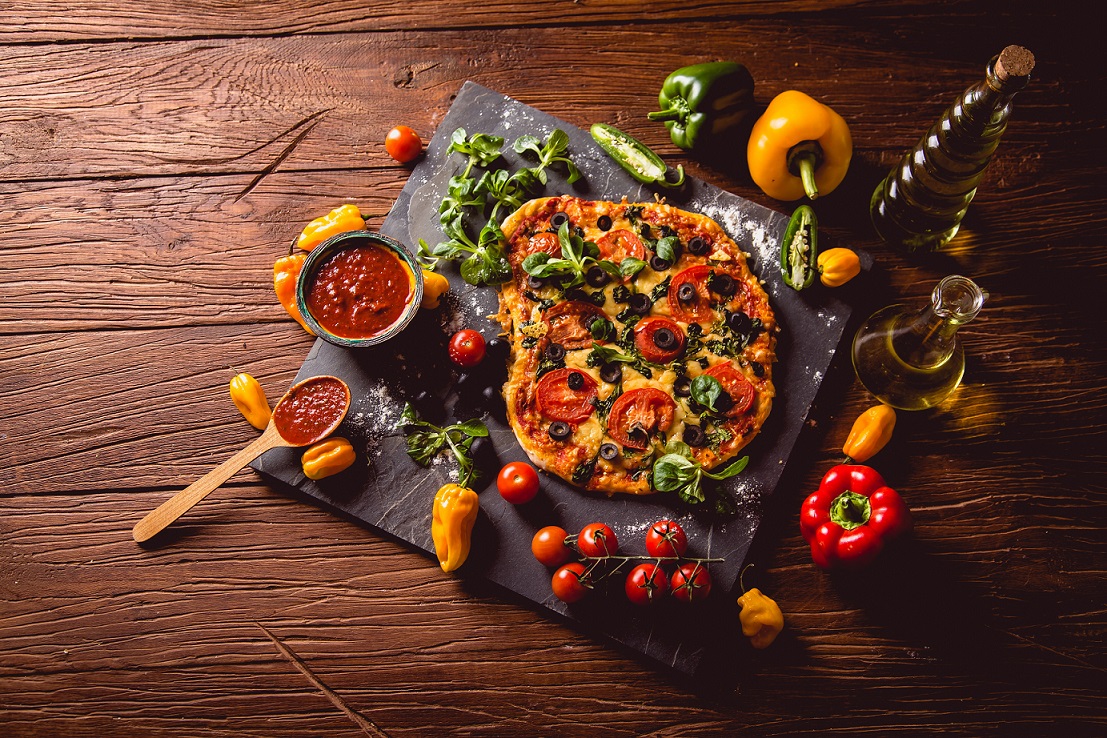 A firm favourite at our cookery classes and sure to be with the whole family. You'll be surprised how easy, cheap and delicious homemade pizza can be. The recipe is by MIH chef Mark Breen from our Thrifty Feasts 2 recipe book.
---
Rainbow Tagine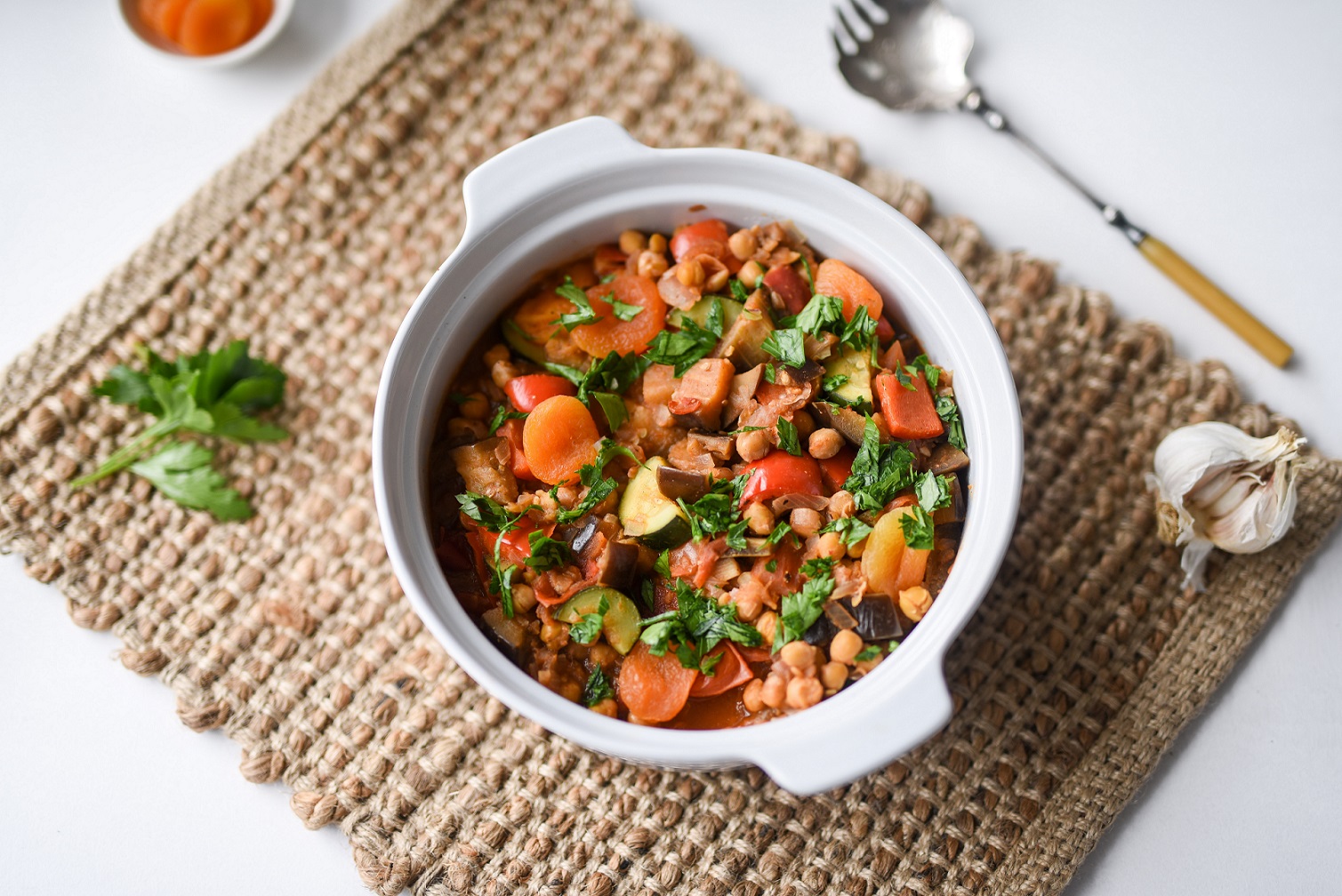 This slow cooked dish is the perfect mix of veg, spices and fruits. The recipe is by MIH chef Mark Breen from our Thrifty Feasts 2 recipe book.
---
Chinese Sweet and Sour Stir Fry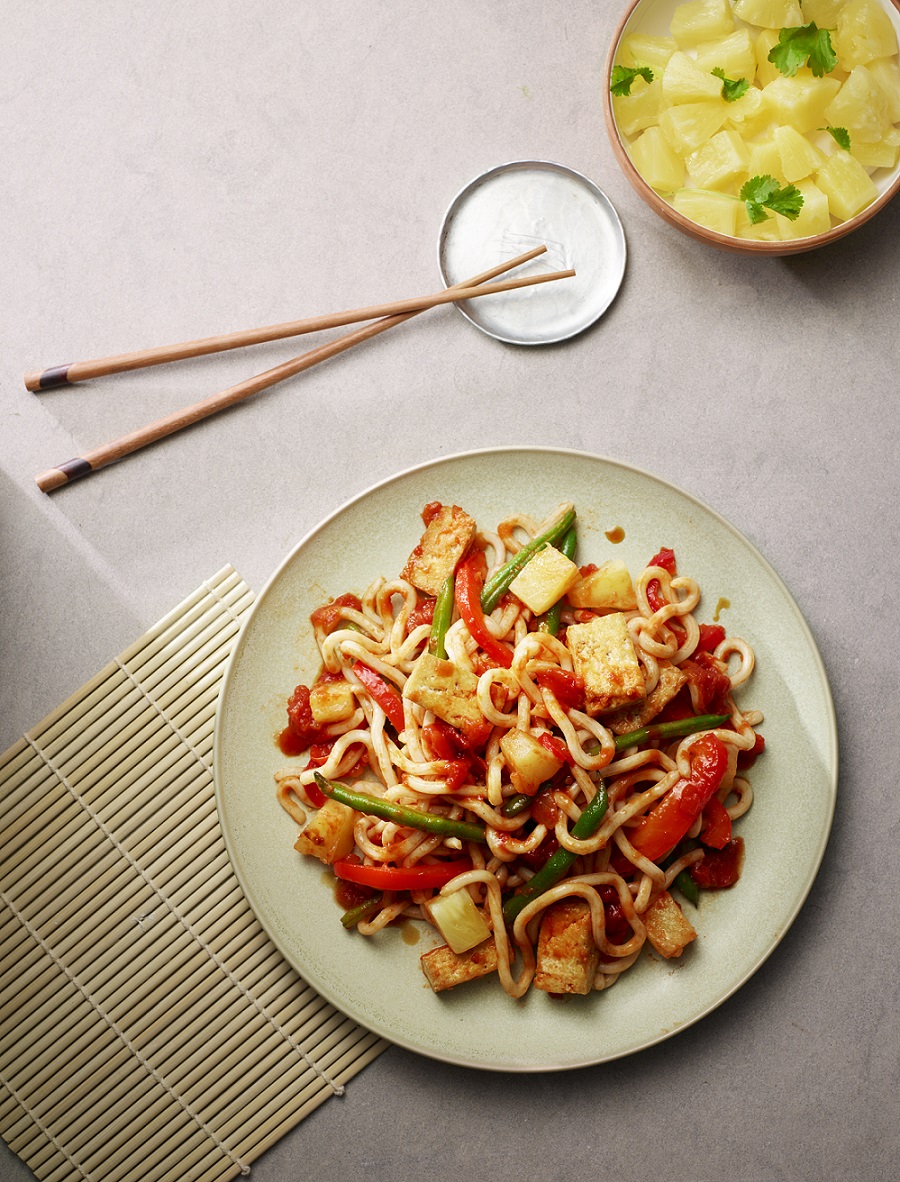 This recipe is a healthier,faster and cheaper alternative to a takeaway favourite. The recipe is by MIH chef Mark Breen from our Thrifty Feasts 2 recipe book.
---
Rice 'N' Peas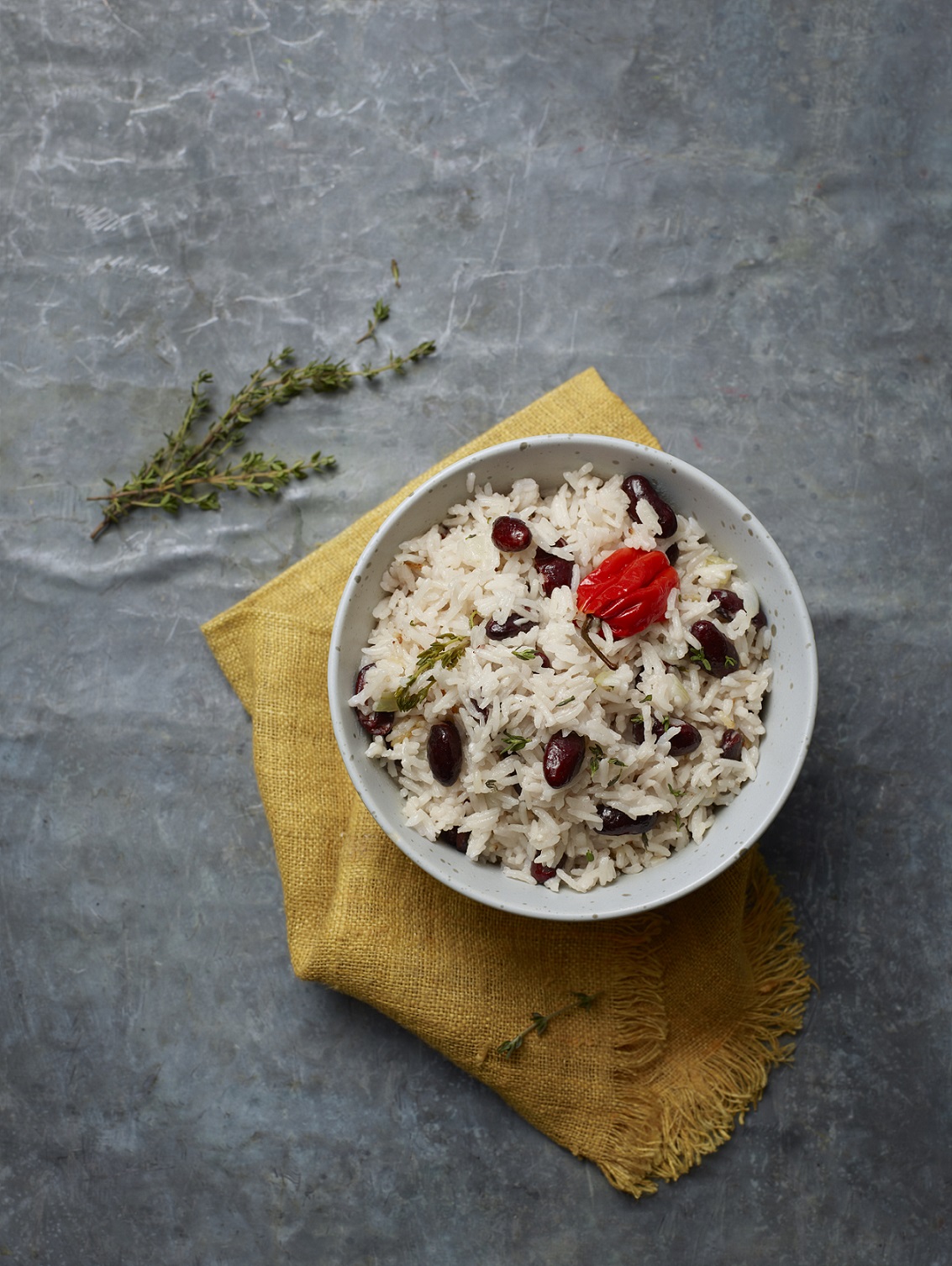 A classic caribbean side dish. Try with our Sweet Potato, Black Bean and Plaintain Caribbean Curry. The recipe is by MIH chef Mark Breen from our Thrifty Feasts 2 recipe book.
---
Sweet Potato, Black Bean and Plantain Carribean Curry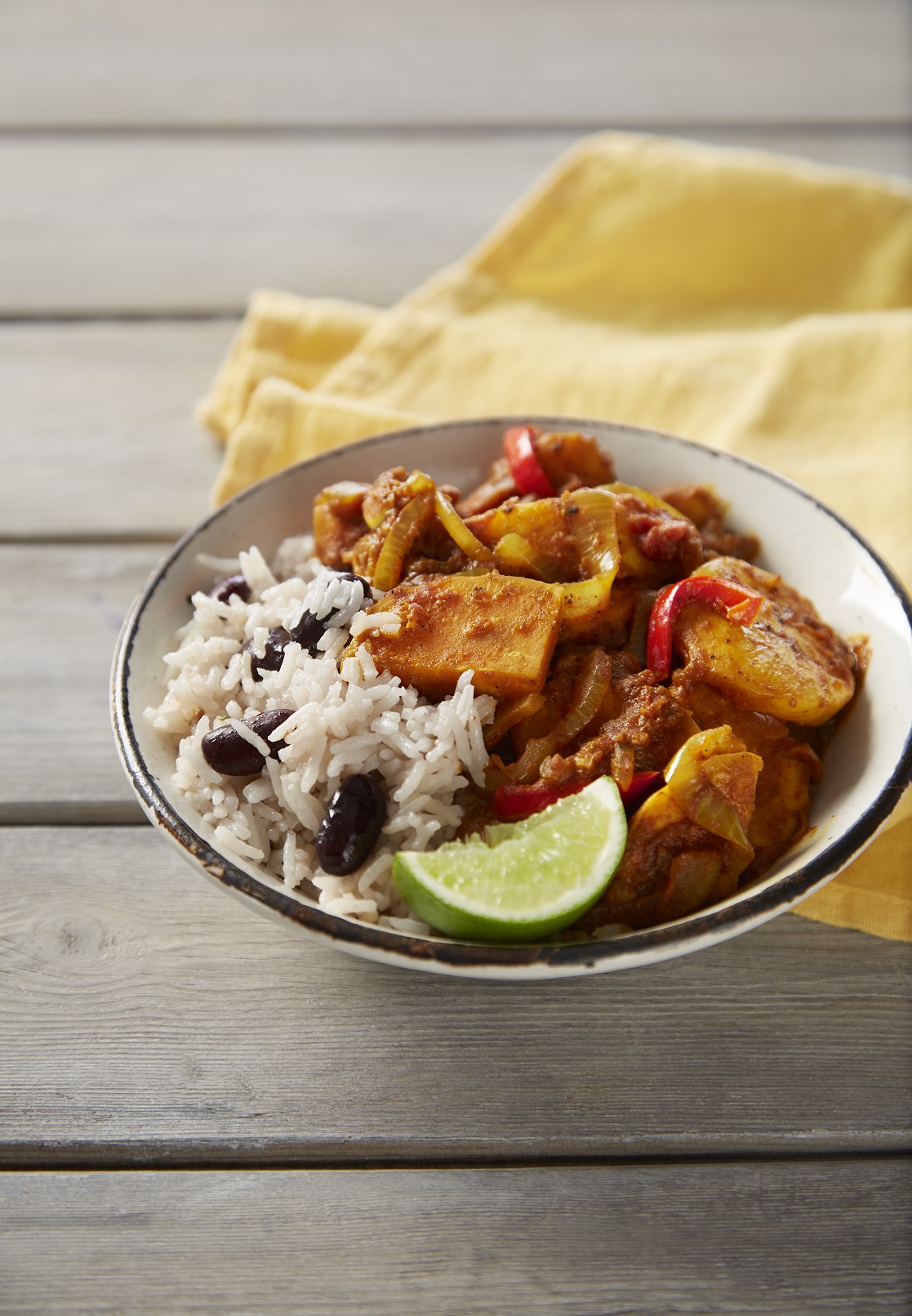 A timeless Caribbean recipe best served with Rice 'n' Peas. The recipe is by MIH chef Mark Breen from our Thrifty Feasts 2 recipe book.
---
Thai Pumpkin Soup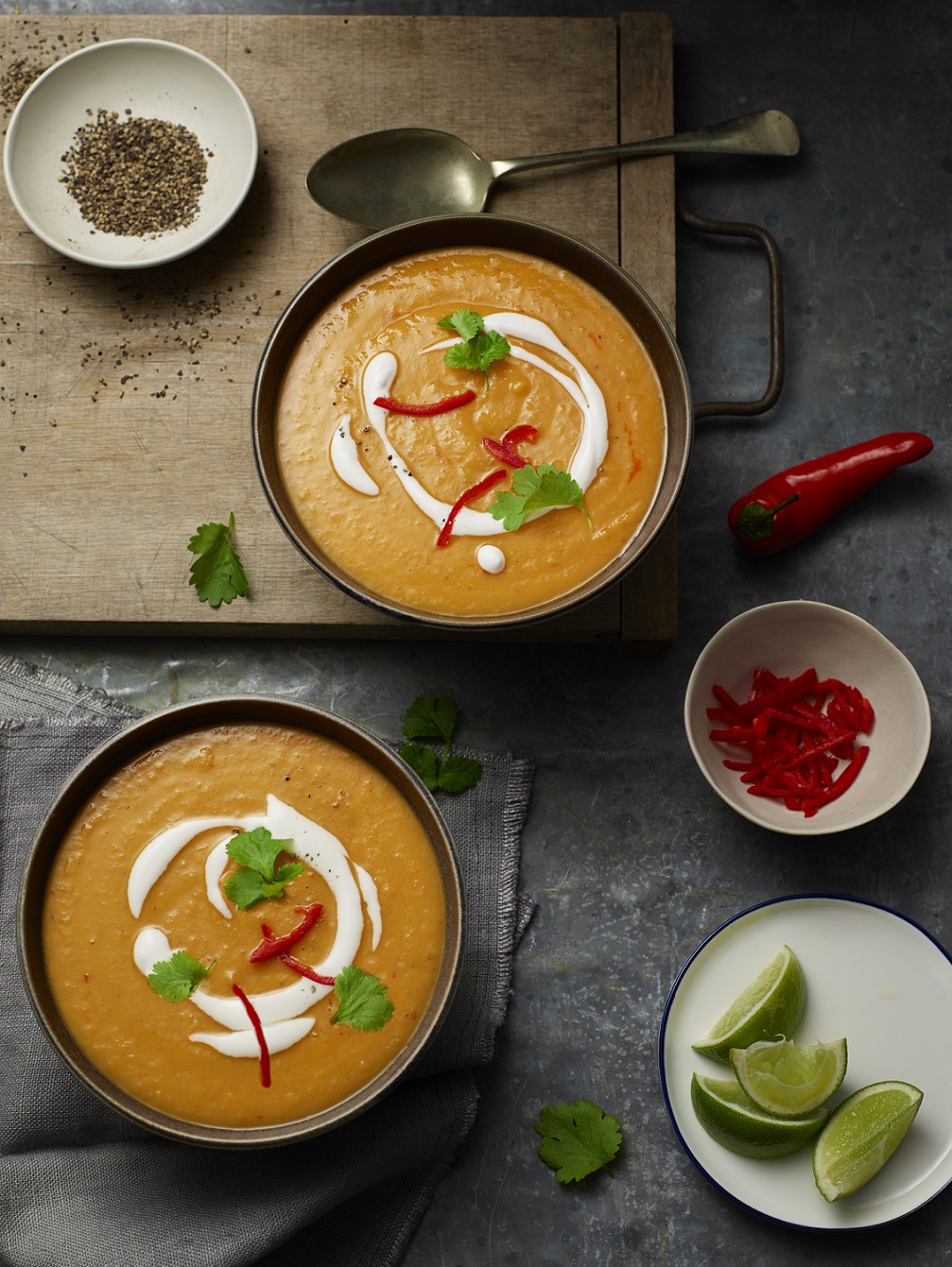 This warming soup is a great way to use up leftover thai curry paste. The recipe is by MIH chef Mark Breen from our Thrifty Feasts 2 recipe book.
---
Pea and Mint Soup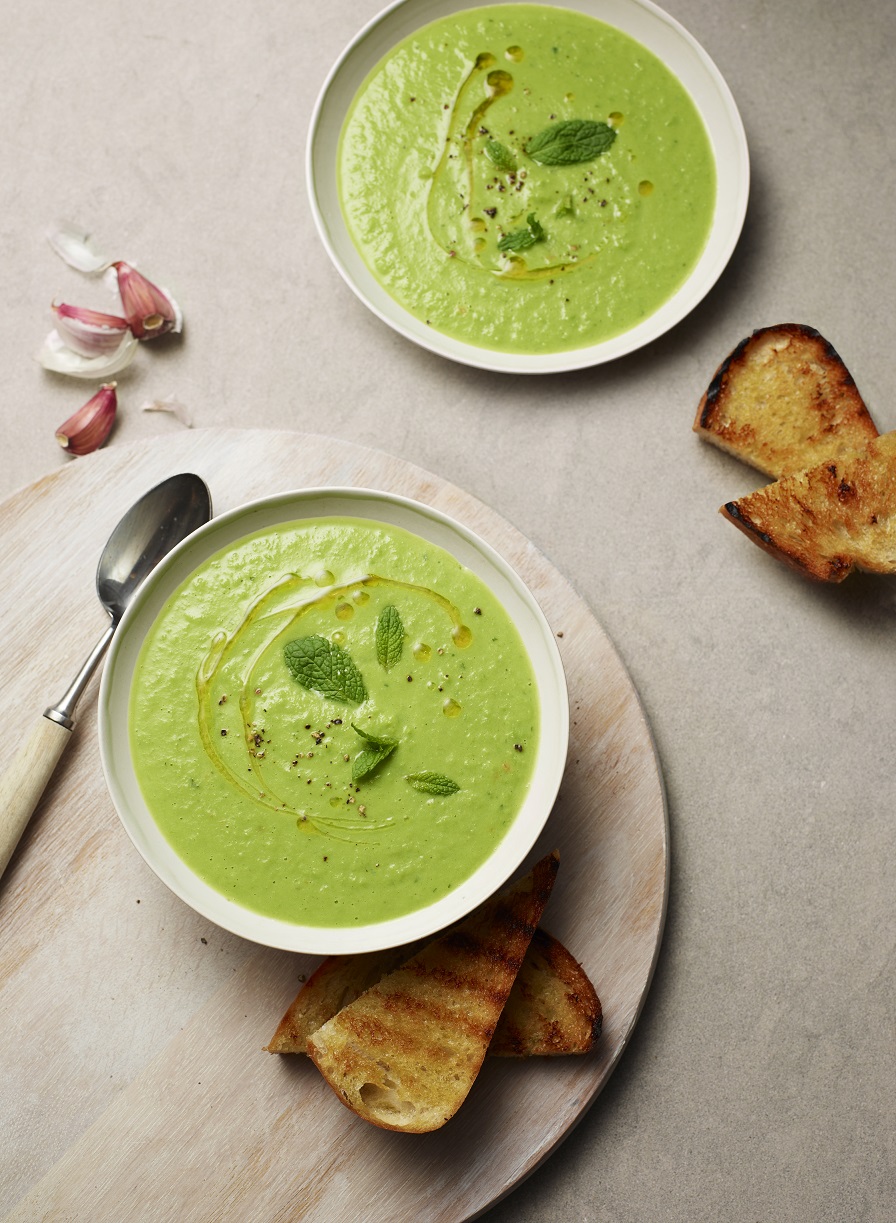 A classic soup to be enjoyed hot or cold. The recipe is by MIH chef Mark Breen from our Thrifty Feasts 2 recipe book.
---
Beetroot and Ginger Soup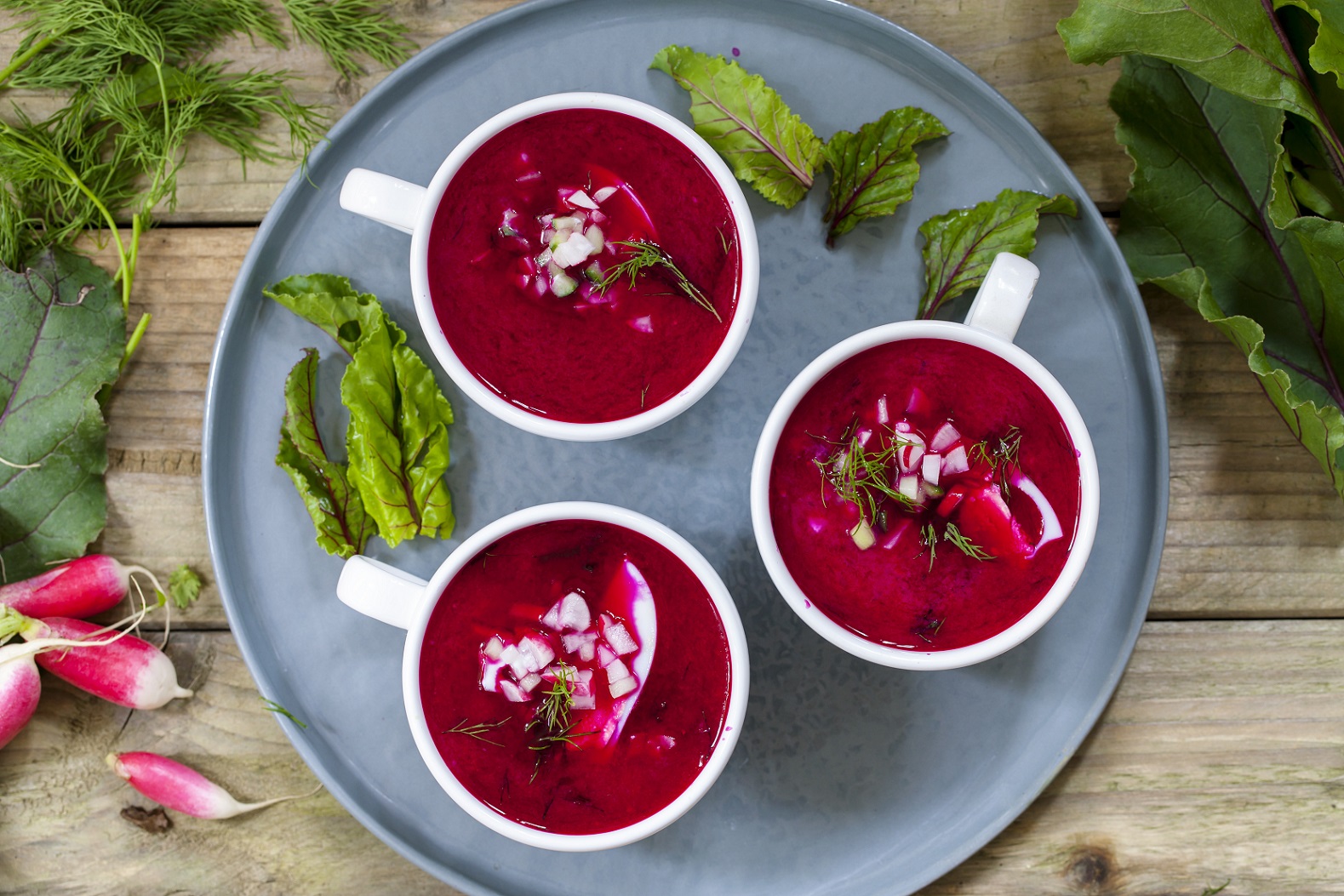 This soup for all seasons is given a warming kick by the addition of ginger and orange. The recipe is by MIH chef Mark Breen from our Thrifty Feasts 2 recipe book.
---
Spiced Squash and Red Onion Salad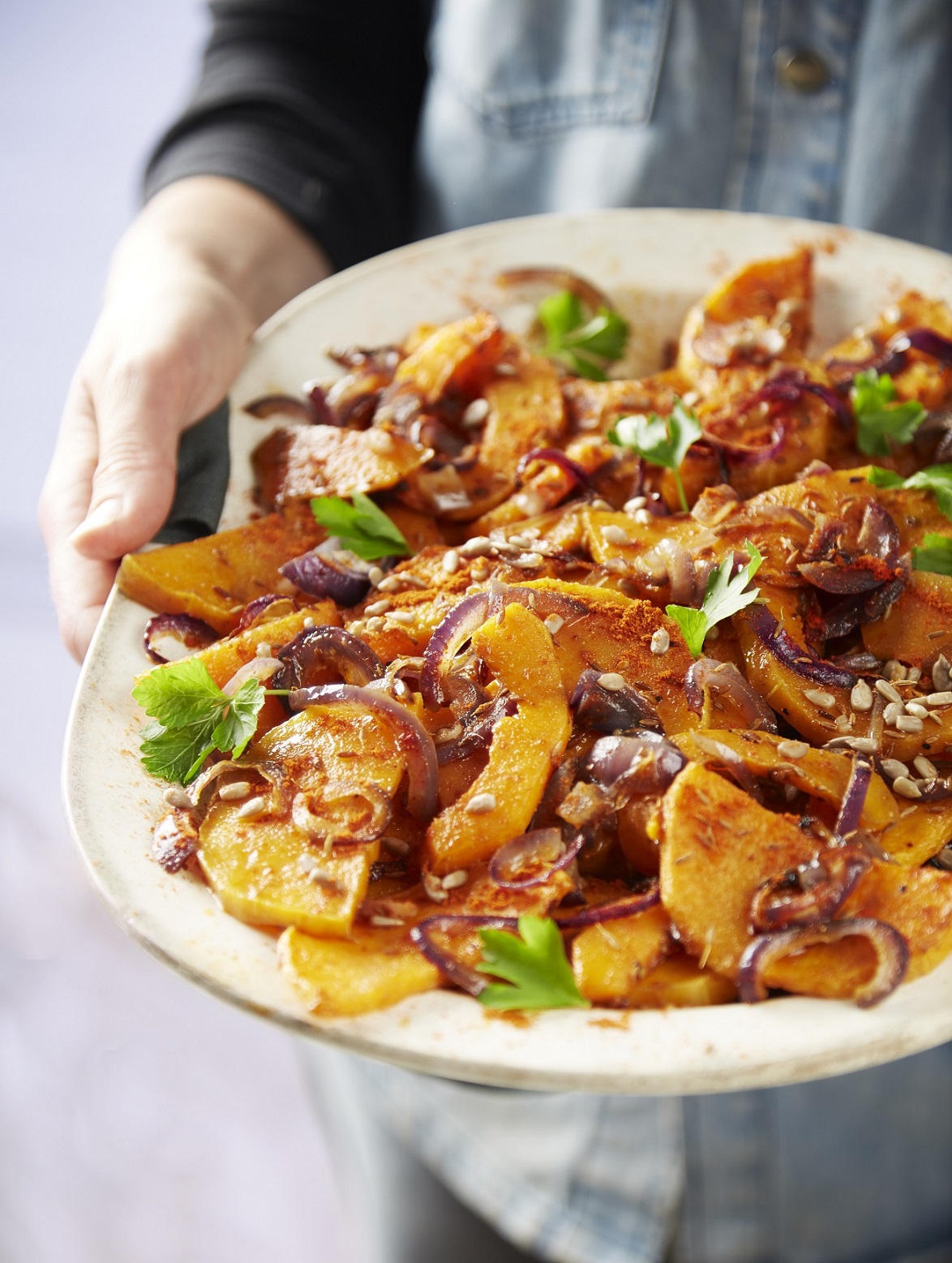 This slow cooked salad brings out the squash and red onion's natural sweetness. The recipe is by MIH chef Mark Breen from our Thrifty Feasts 2 recipe book.
---
Tomato and Bread Sunshine Salad (Panzanella)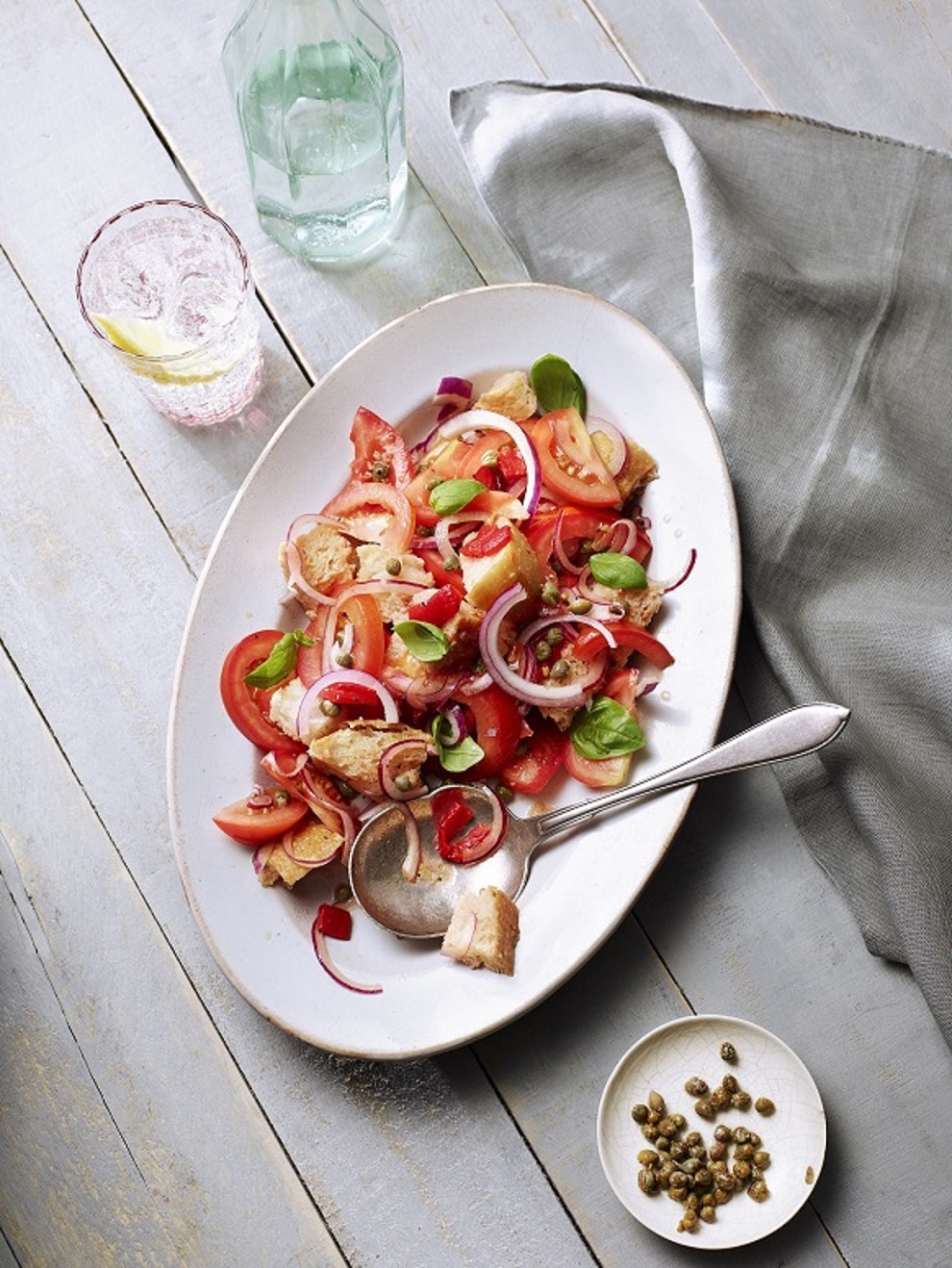 Known to Italians as Panzanella, this classic dish is a great way of using up stale bread. Recipe by MIH chef Mark Breen from our Thrifty Feasts 2 recipe book. When tomatoes go out of season, you can subsitute with any type of roasted squash and swap the fresh basil for fresh or dried oregano.
---
Feel Good Beetroot and Orange Salad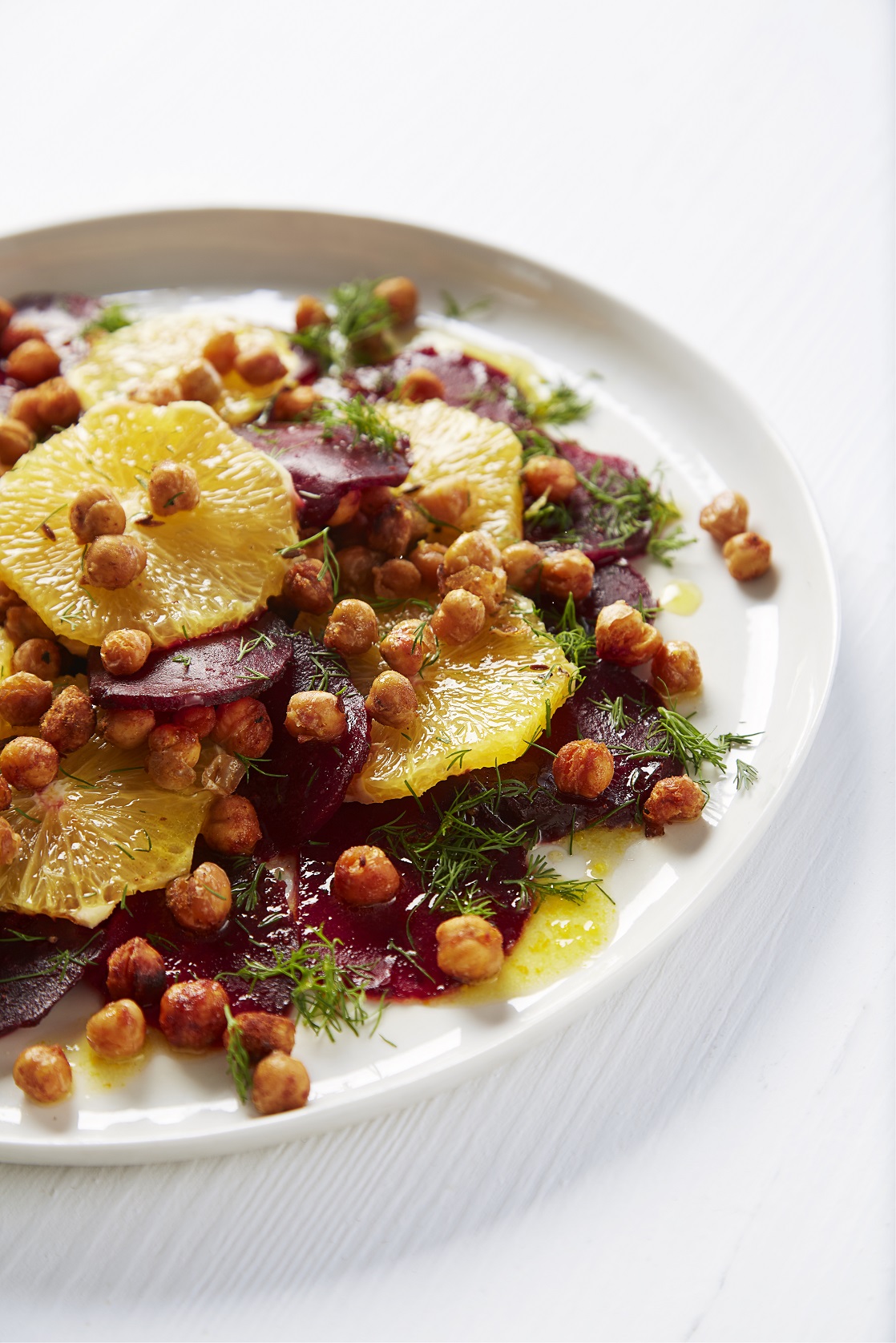 This sweet and savoury salad combines sharp citrus, sweet beetroot and crunchy spiced chickpea. The recipe is by MIH chef Mark Breen from our Thrifty Feasts 2 recipe book.
---
Turmeric Tofu Scramble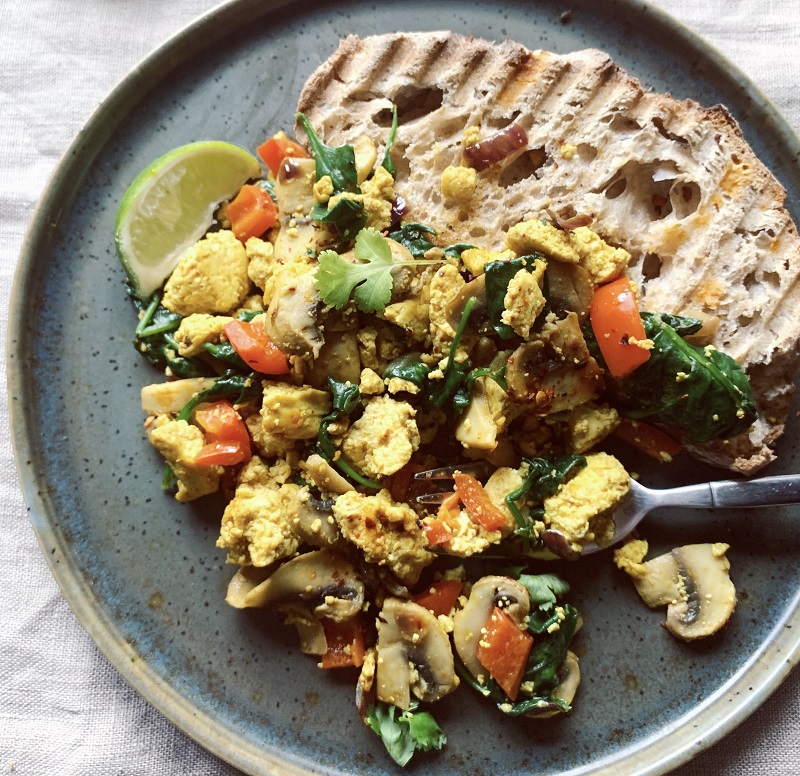 A nutritious, protein packed and tasty brunch dish.
---
Quick Carrot Dahl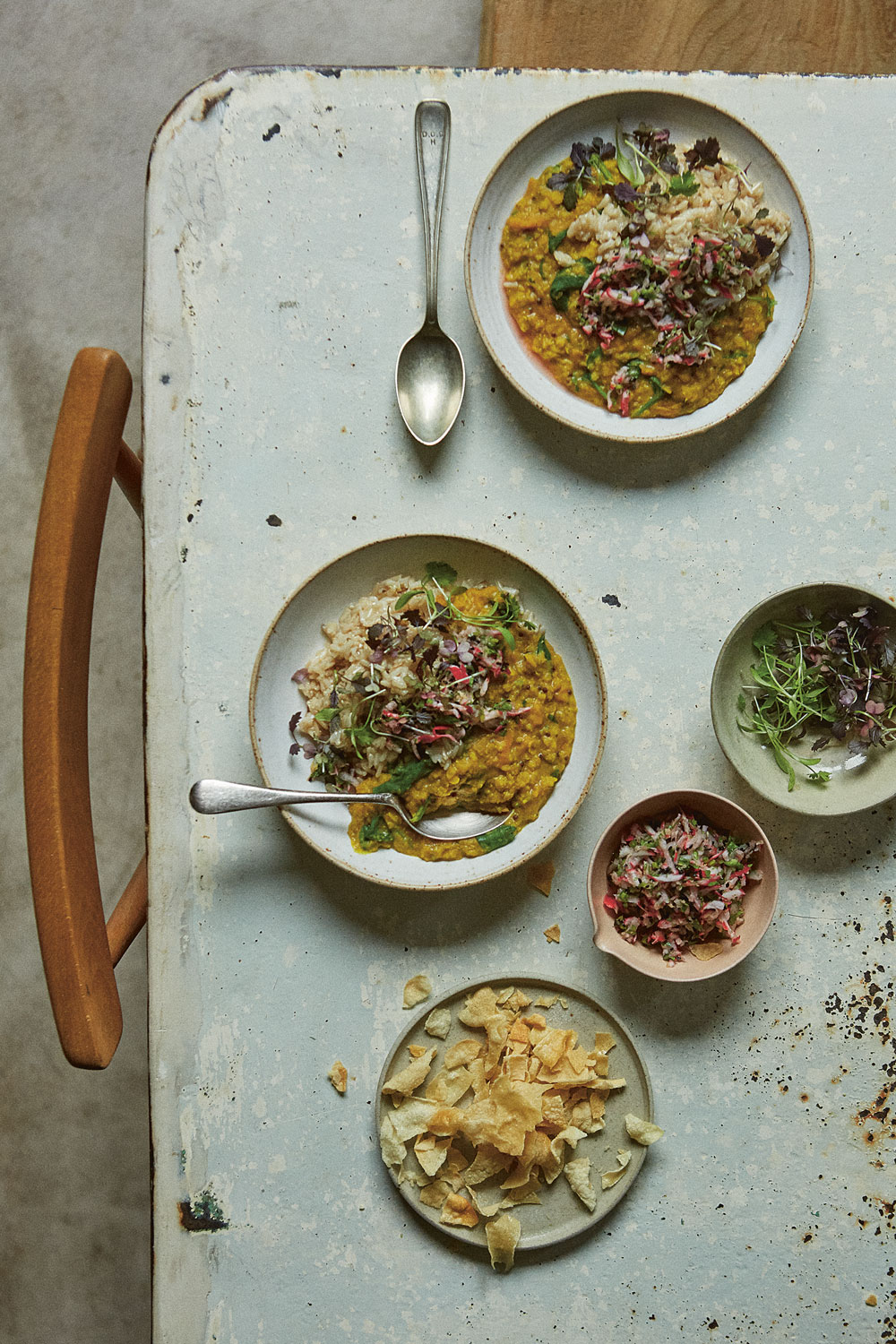 Anna Jones is a Hackney-based cook, writer and stylist, the voice of modern vegetarian cooking (often with vegan options) and the author of the bestselling 'A Modern Way to Eat', 'A Modern Way to Cook' and 'The Modern Cook's Year'. The carrots, turmeric and pink radish pickle in this dhal make it a vibrant colourful bowl, served with poppadoms scrunched into shards over the top for a welcome bit of crunch.
---
Miso Brownies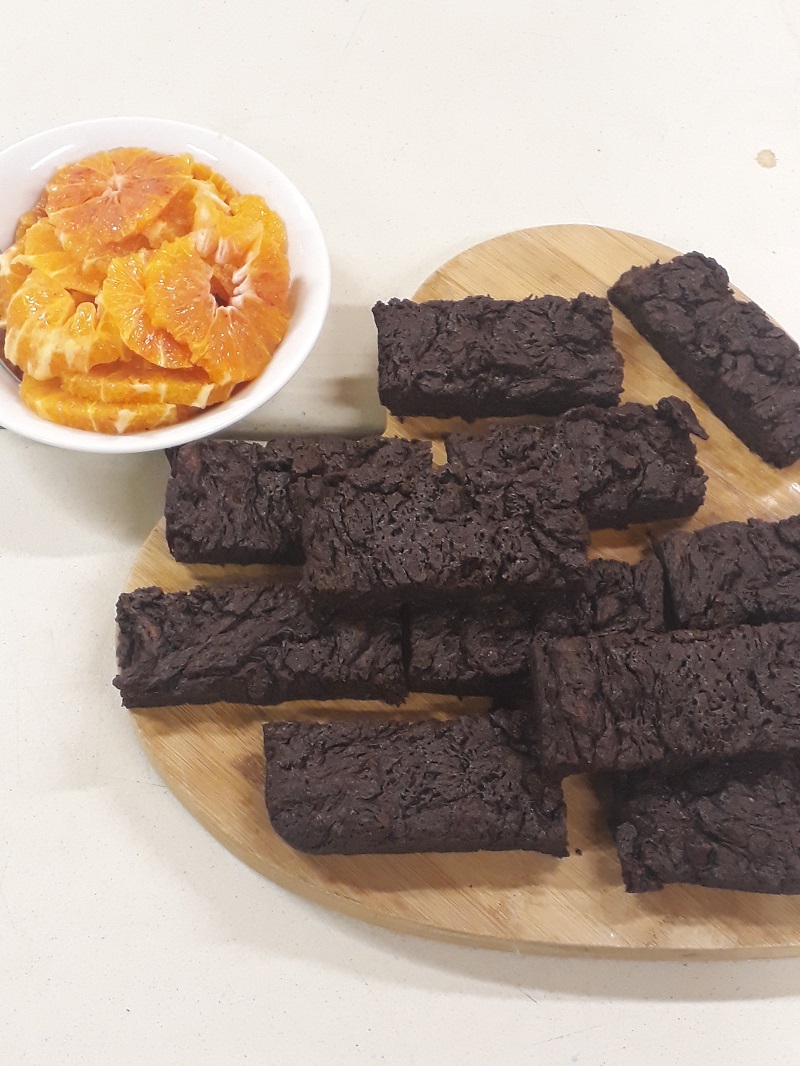 Gooey, decadent, really quite naughty - but oh so banging tasting brownies from our chef Steve Wilson. Enjoy.
---
Rice 'n' Peas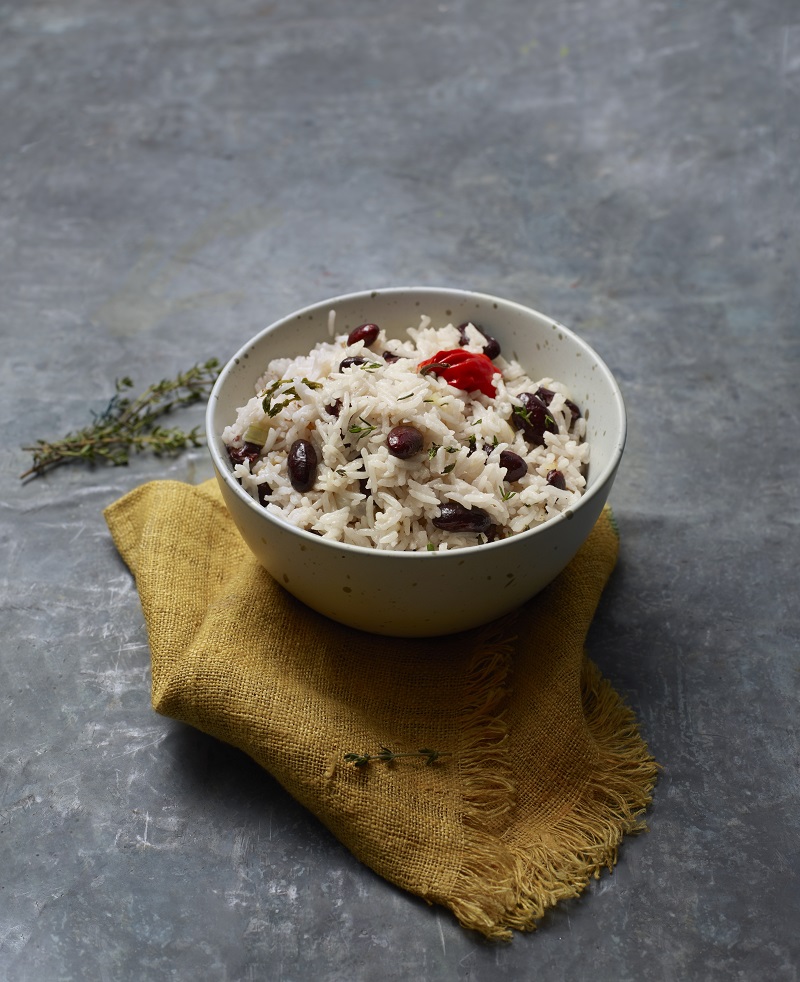 Caribbean style rice 'n' peas - a MIH kitchen and community party staple!
---
Caribbean Curry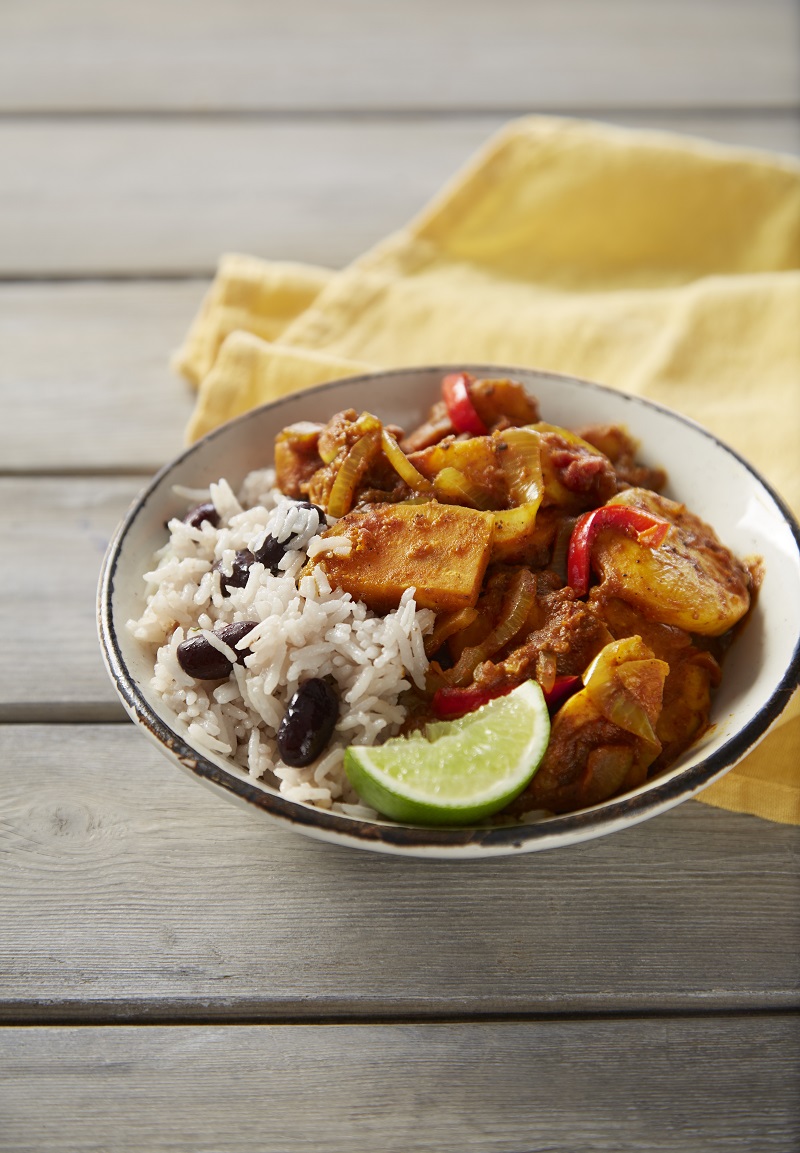 A hearty Caribbean style Ital curry that goes perfectly with rice and peas.
---
Sea Kraut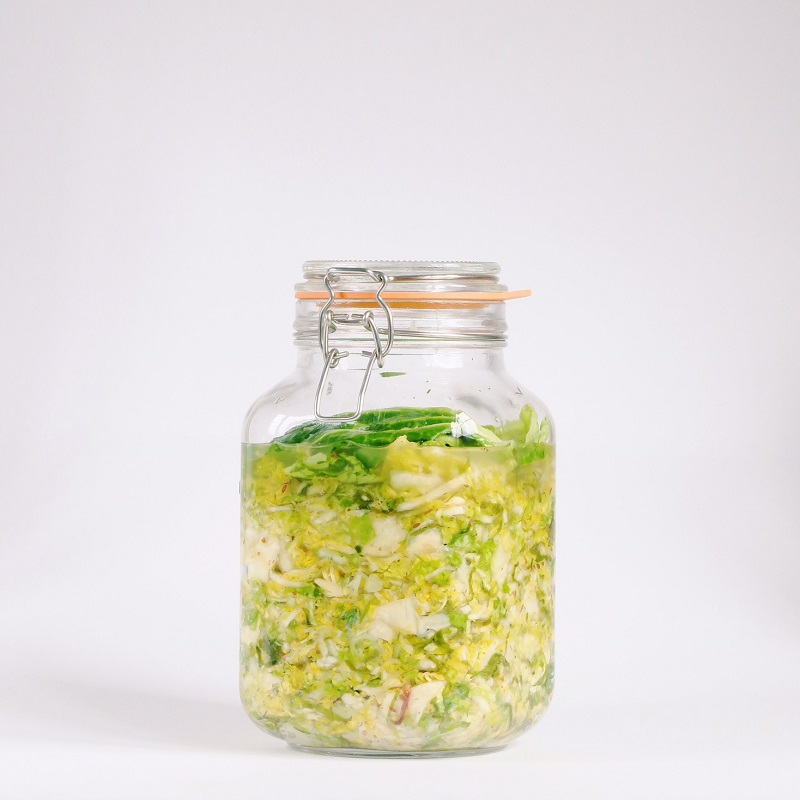 A kraut with a seaweed flourish from our friend and supporter Jessie Ferments.
---
Poke Kraut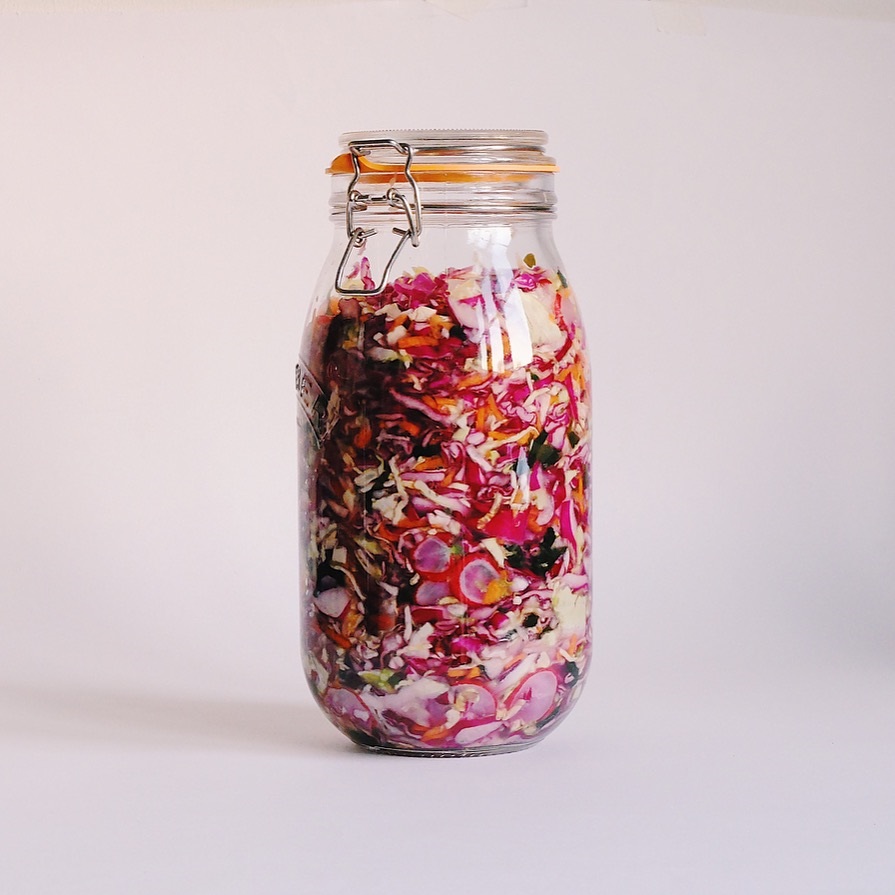 A kraut with a kick! Delicious and a good way to use up radishes.
---
Tangy Sweet Plum Tomatoes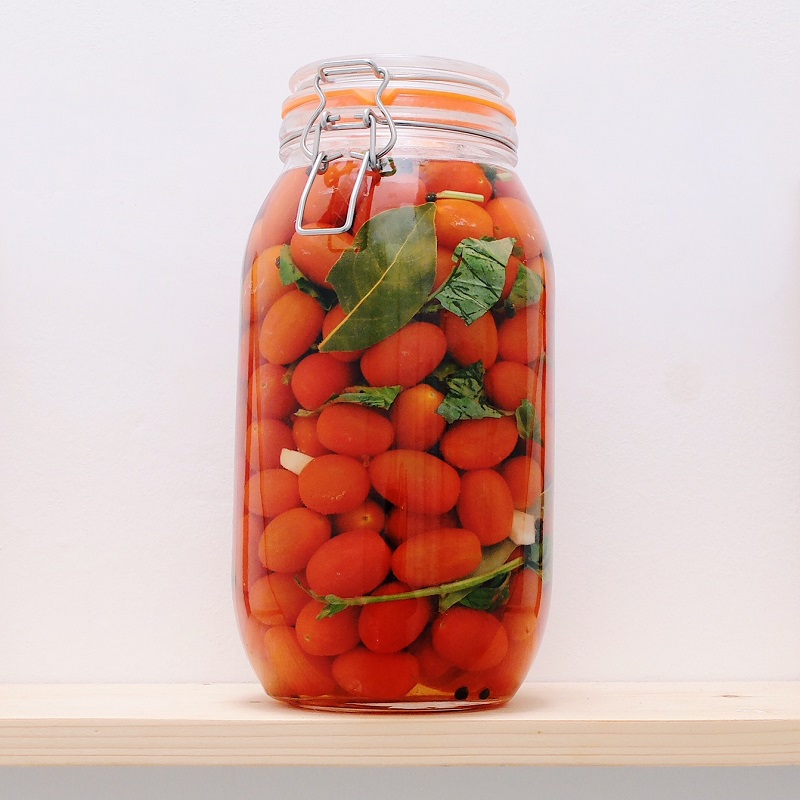 A delicious, tangy and unusual ferment recipe from our pal Jessie Ferments!
---
Tropical No Bake Bars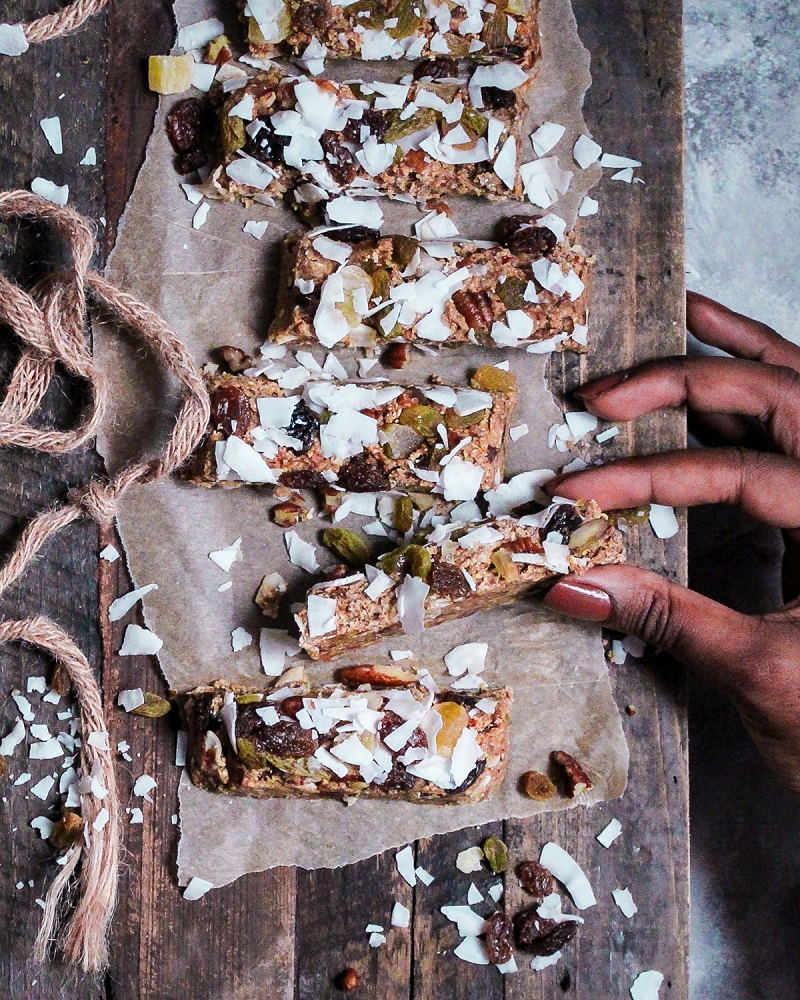 Nutritious sweet treat with lots of fibre and deliciousness from our vegan baking teacher Melissa St Hill.
---
Creamy Mushroom Pasta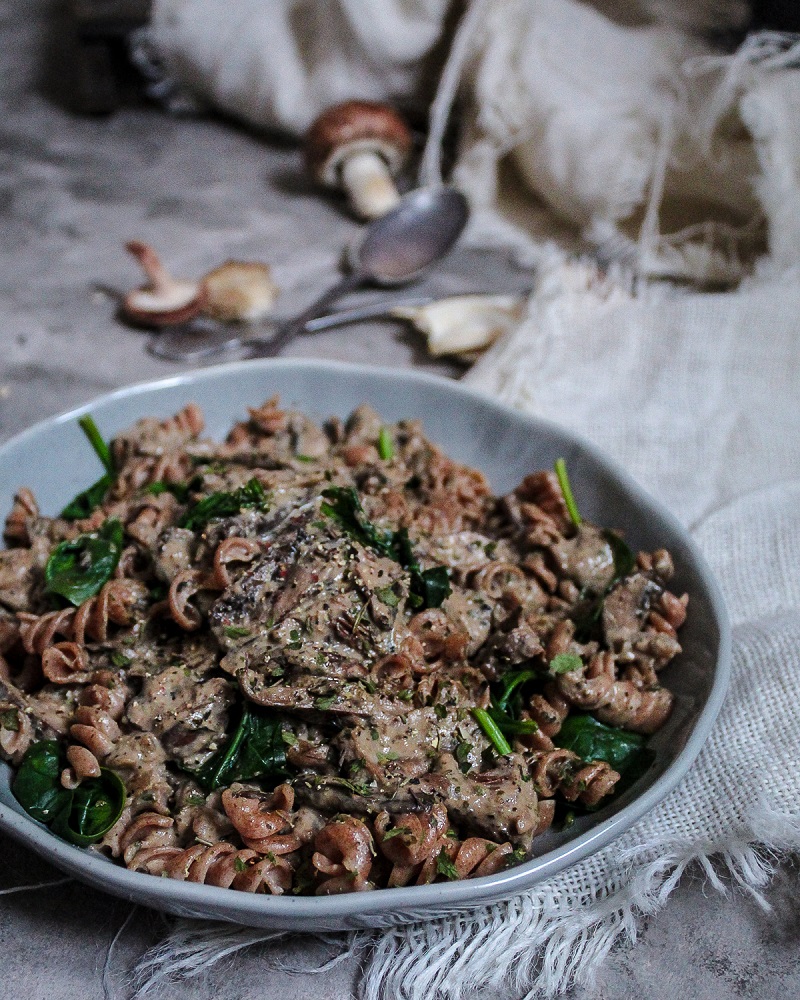 Simple but delicious creamy mushroomy goodness from MIH teacher Melissa St Hill of The Bare Scientist.
---
Smokey Black Beans On Toast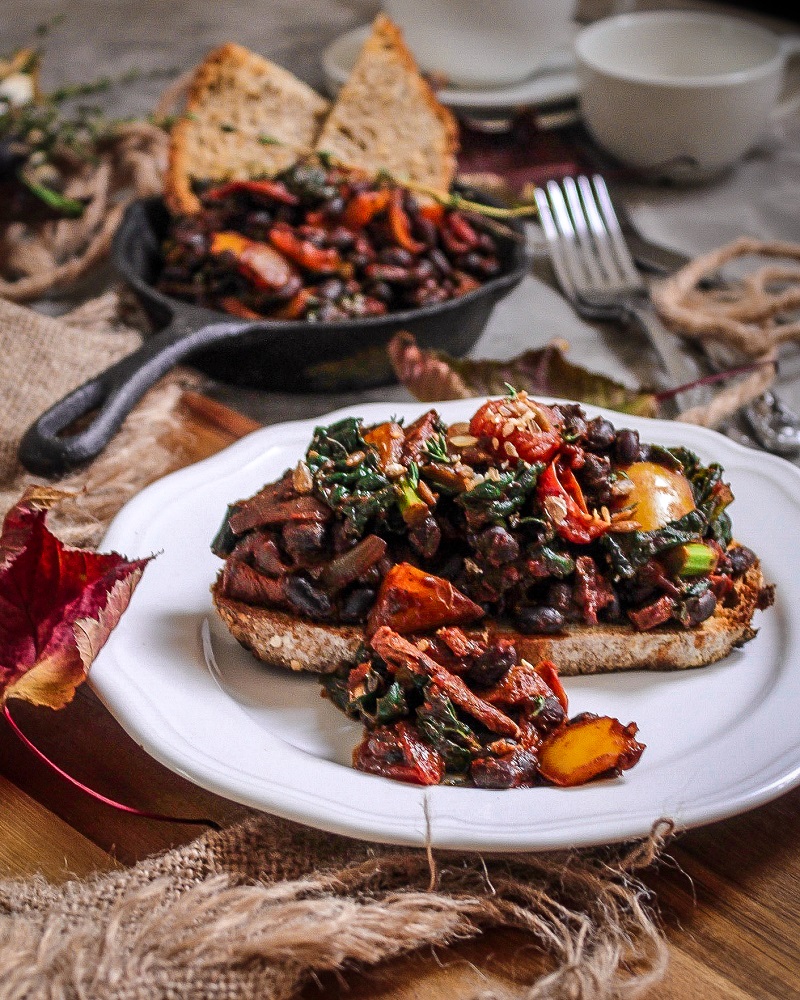 Well posh and nutritious take on beans on toast from the divine food blogger Melissa St Hill of The Bare Scientist.
---
Kale Crisps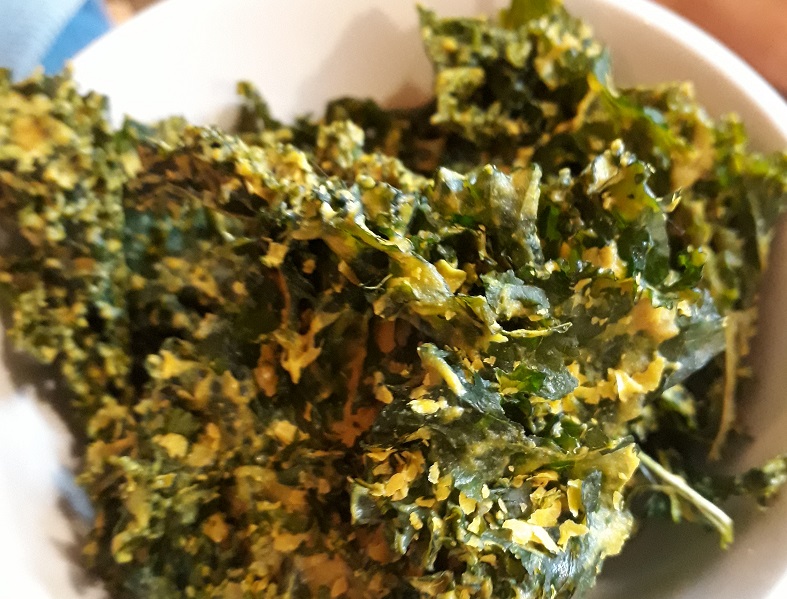 These kale crisps are the boom! Crispy, cheesy, a little salty - they're super moorish and can be made in an oven rather than a dehydrator.
---
Kale Taco Salad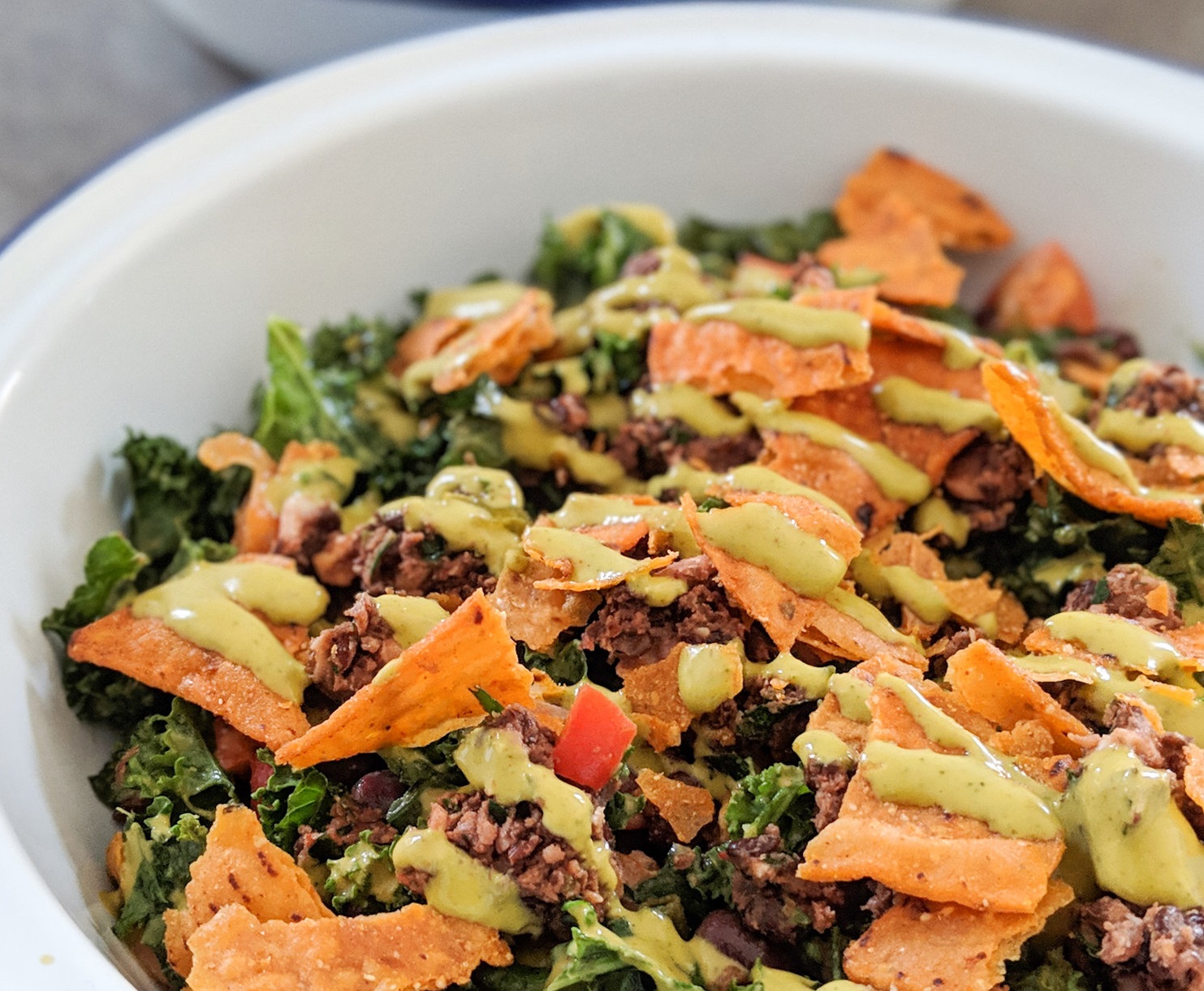 Thanks to our supporter and friend Deepa Devlukia of blog Girl Boy Food Baby for this delicious 4 layer salad recipe that gets the tastes buds firing whilst also being extremely healthy.
---
Chocolate Tahini Hearts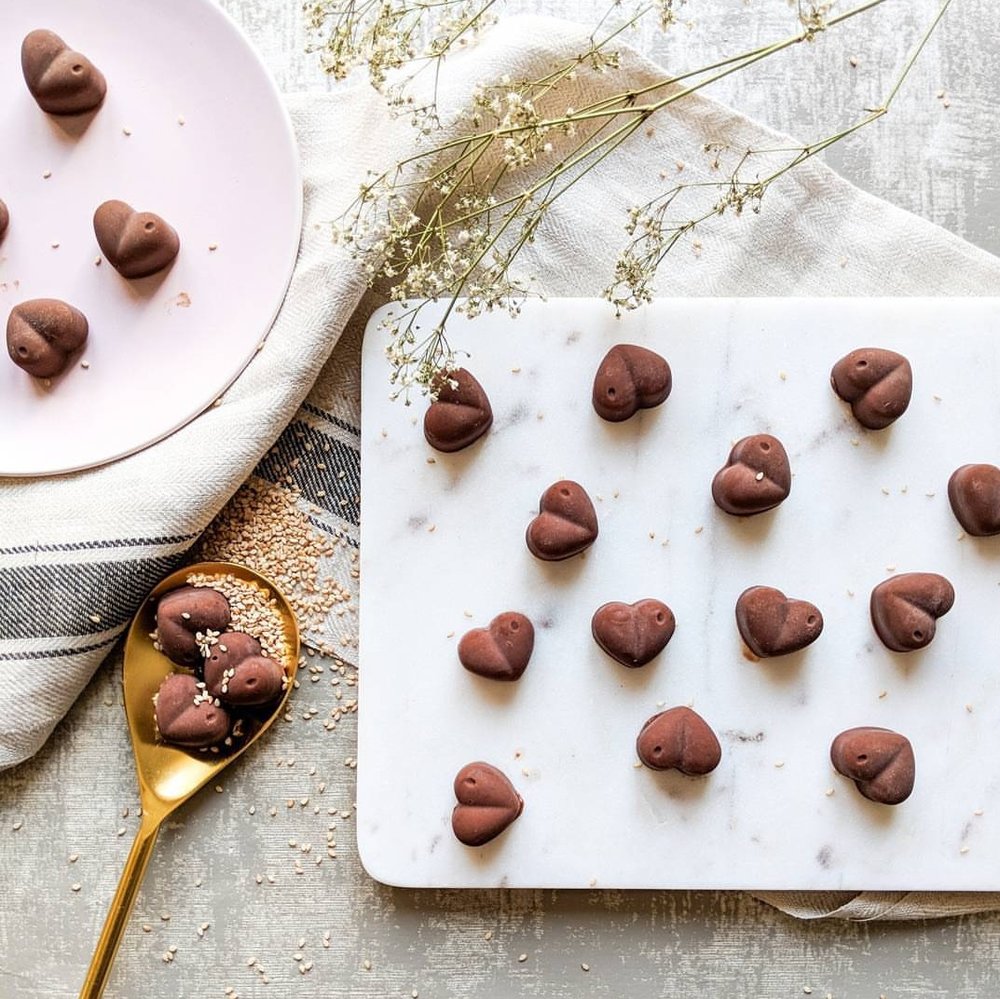 These little beauties are absolutely delicious. Thankyou Deepa Devlukia of Girl Boy Food Baby blog for creating them!
---
Chilli Tofu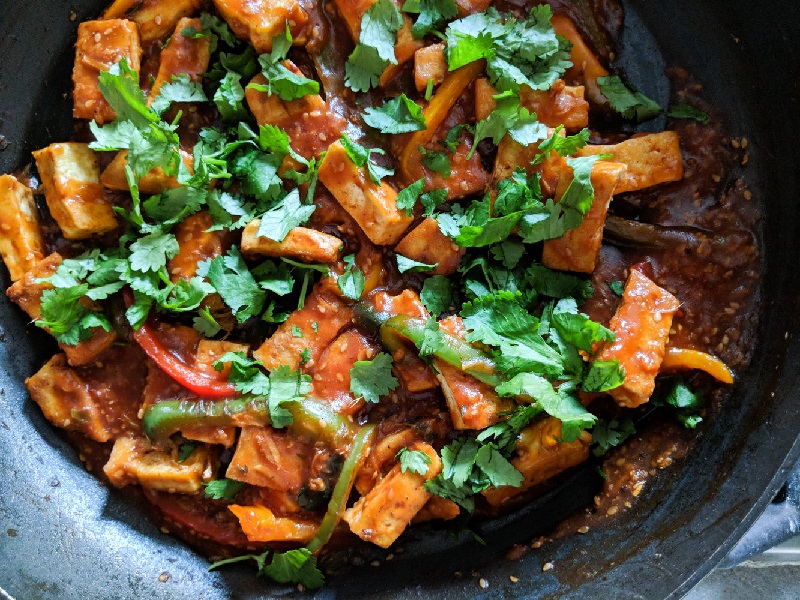 This is tofu done good, really good, by the fabulous conscious parenting coach and vegan food blogger Deepa Devlukia of Girl Boy Food Baby. Enjoy!
---
Quinoa Almond Butter Crispy Treats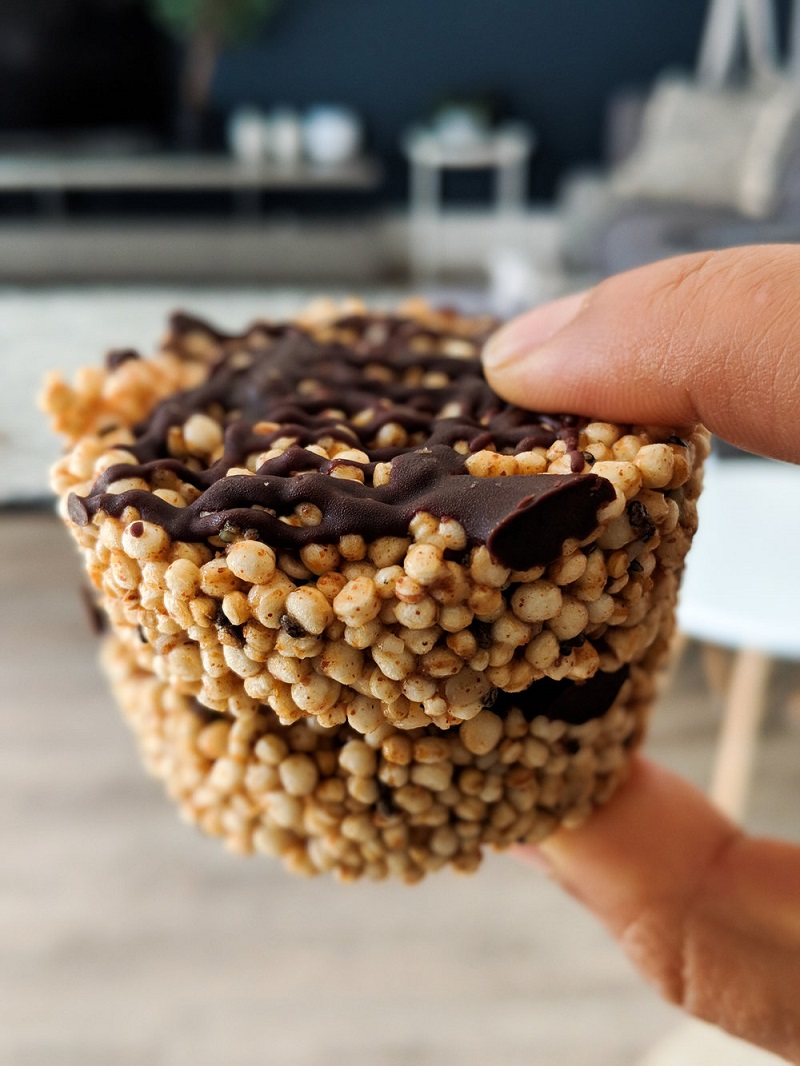 These bite size bits of tastiness were created by our pal and supporter Deepa Devlukia over at stunning vegan food and conscious parenting blog Girl Boy Food Baby. Thankyou Deepa!
---
Apricot & Lime Raw Balls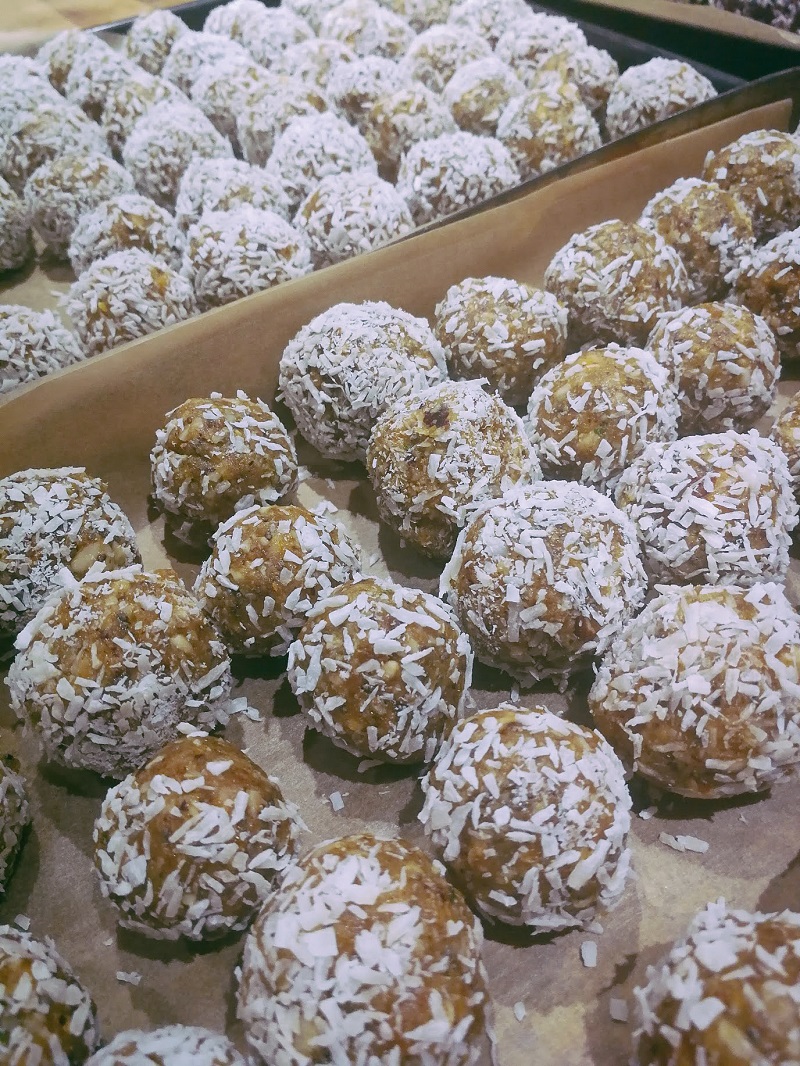 Tangy, sweet and oh so delicious. Make these now! Or attend one of our masterclasses and you might get one of these babies at the end. Yum.
---
Chocolate Brownie Raw Bites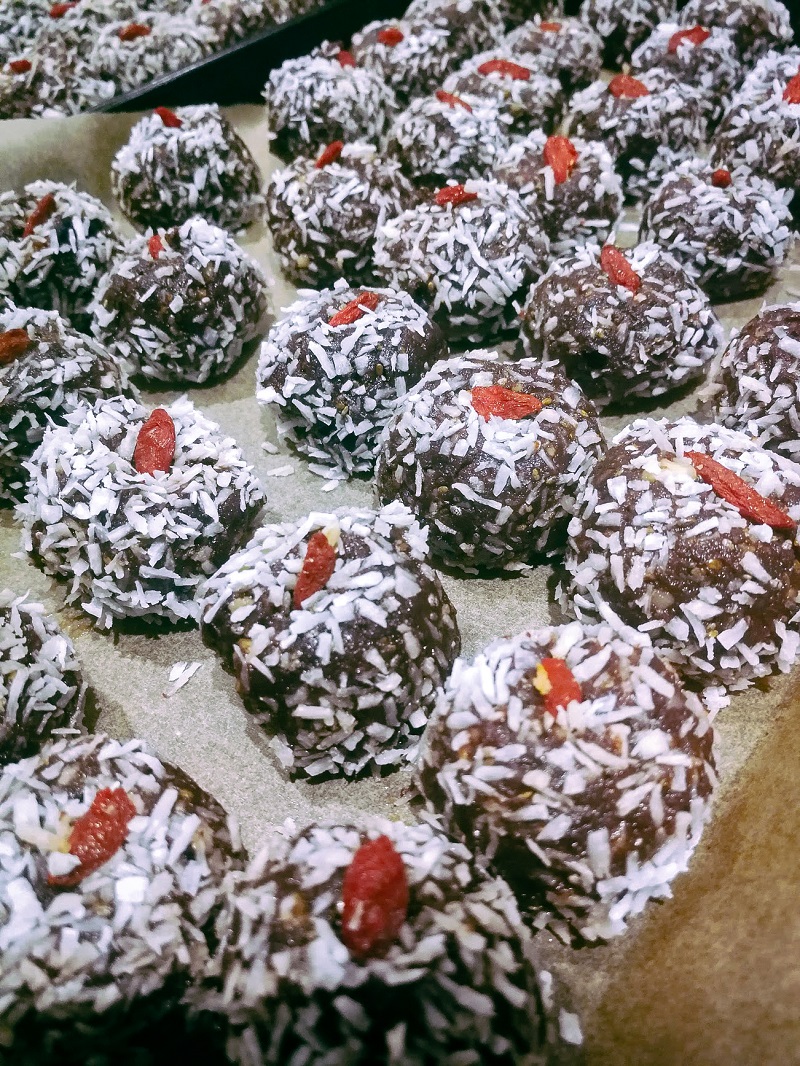 This delicious balls of yum will get your smacking your lips and reaching for more!
---
Health Kick Kraut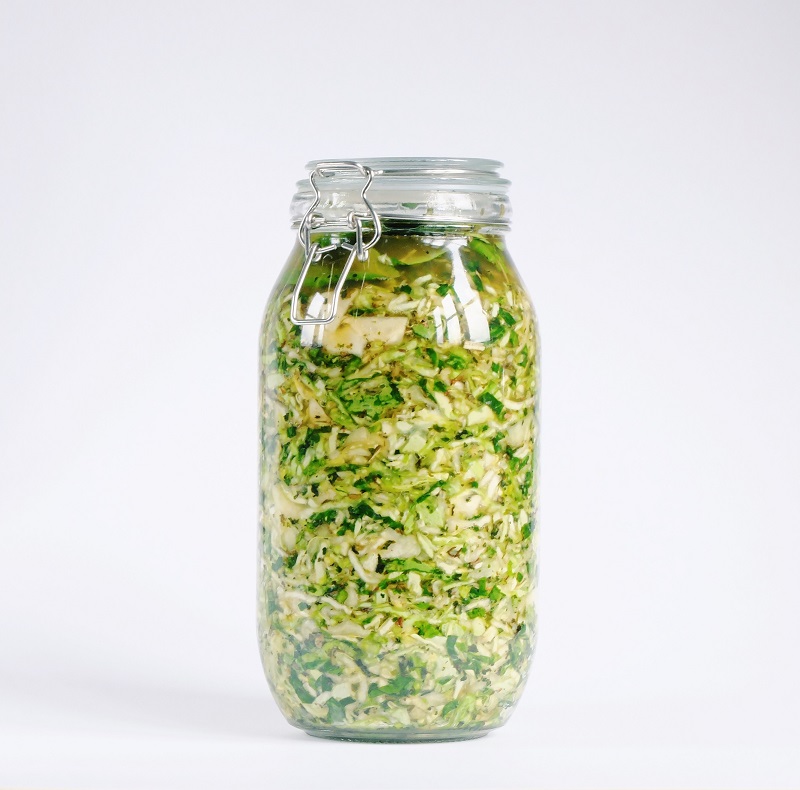 This simple but delicious ferment has been designed by MIH supporter Jessie Ferments to kick off your healthy start to the new year - or any time of the year.
---
World's Best Gluten-Free Vegan Mince Pies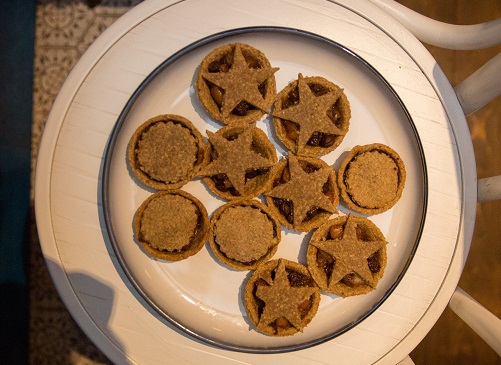 These gluten-free mince pies are world class. The recipe was devised by our Amy Hiller - chef and social media extraordinaire - and they always win rave reviews at our festive parties. Sarah hates mince pies and will happily scoff 4 of these. They're that good.
---
Sunflower Cheese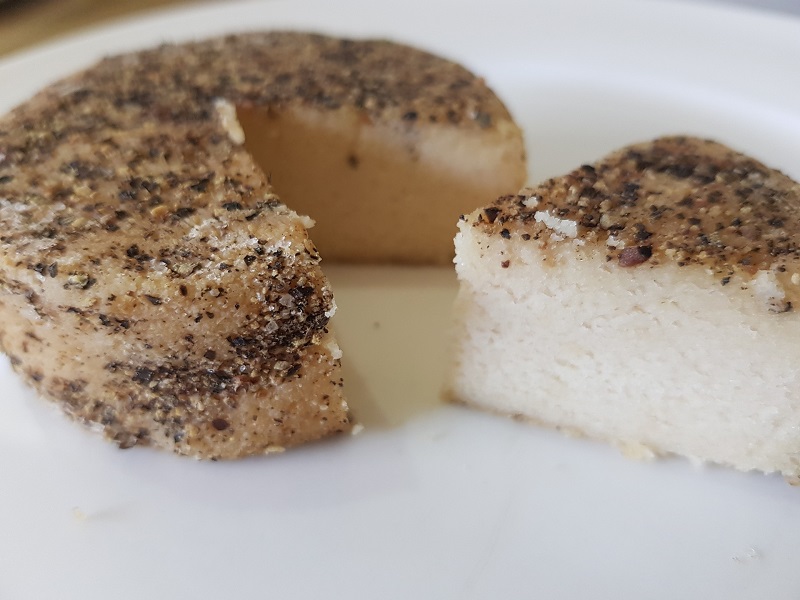 Sunflower seeds are inexpensive, ecological and very nutritious, and makes a good vegan cheese. recipe by Made in Hackney chef Bruna Oliveira
---
Mushroom & Chestnut Pate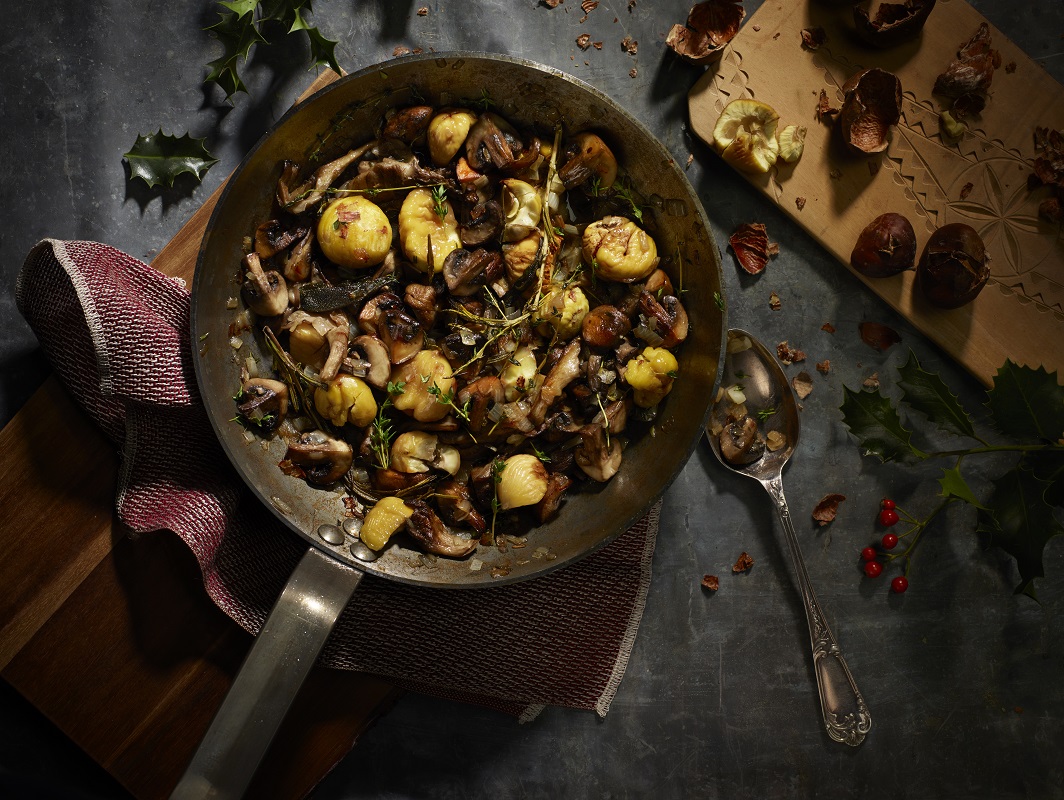 Sophisticated pate by chef Anton Pterov perfect for a festive feast or sunday veggie roast.
---
Stir fried kale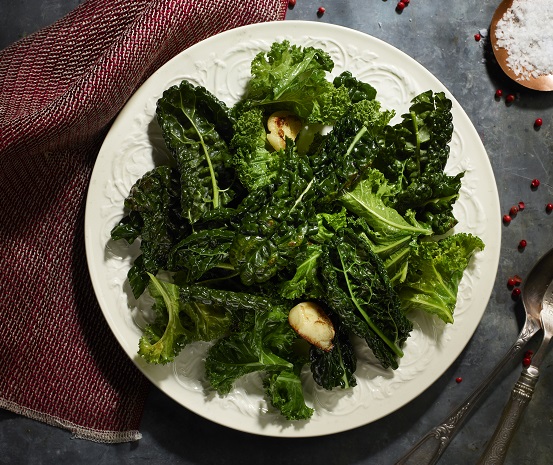 This sleek and simple way of cooking cavolo nero kale shows the green off to its finest. Thankyou Anton Petrov for this recipe.
---
Posh Mushroom & Shallot Gravy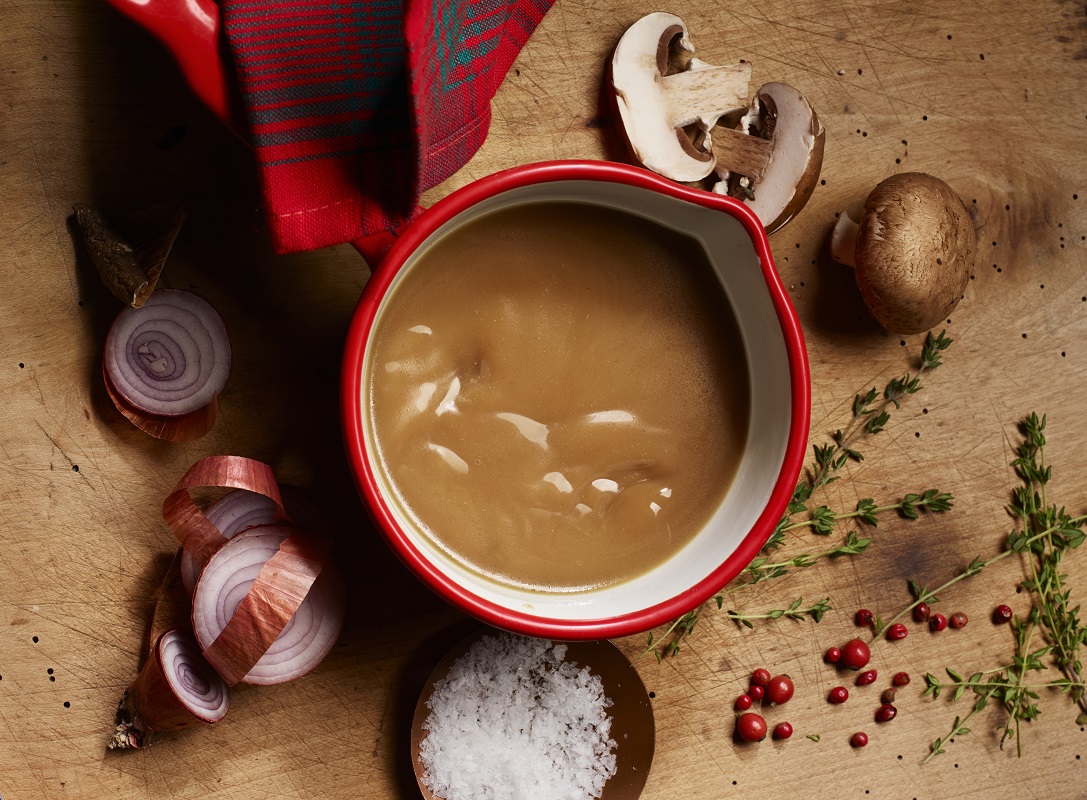 This well tasty gravy was created by chef Anton Petrov - perfect for a festive dinner or sunday veggie roast.
---
Maple Glazed Carrots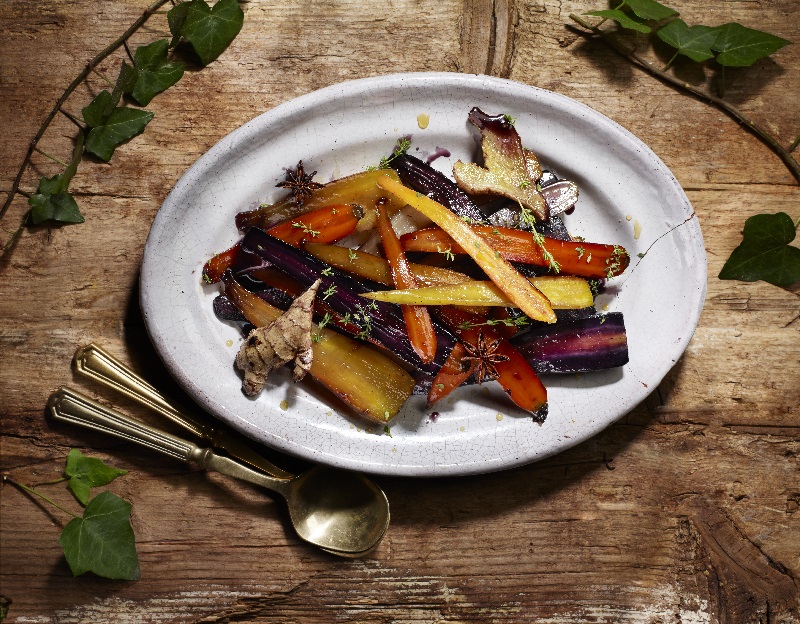 This delicious festive take on carrots was created by chef Anton Petrov for our 2017 festive feasts cookery book.
---
Fire Water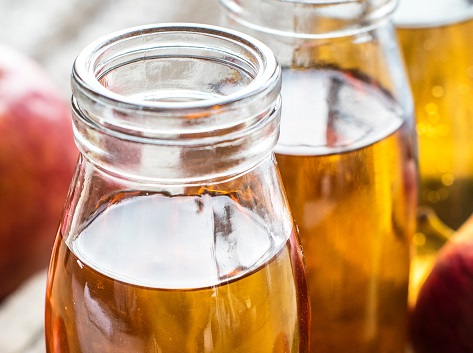 An immune boosting tonic not for the faint hearted!
---
Chocolate Hummus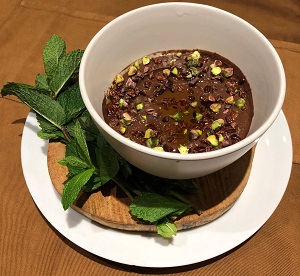 A winner at our kids events this rich, delicious chocolate hummus - or chocolate spread as we say when we bill it to kids - is super quick and easy to make. It's vegan and a fantastic source of protein, fibre and whole food goodness.
---
Roasted Mushroom Broth with Kimchi and Tempeh.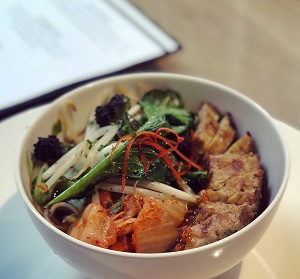 The rich broth is made by roasting the late summer's mushrooms and combniing them with two ferments to make a delicious and hearty ramen bowl. Mushrooms are one of nature's most delicious foods, and they are used here to make a deep-flavoured broth. The kimchi adds a spicy nutritious kick, and the tempeh a source of vegan protein.
---
Butternut Squash, Basil & Tomato Galette (Rustic Pie)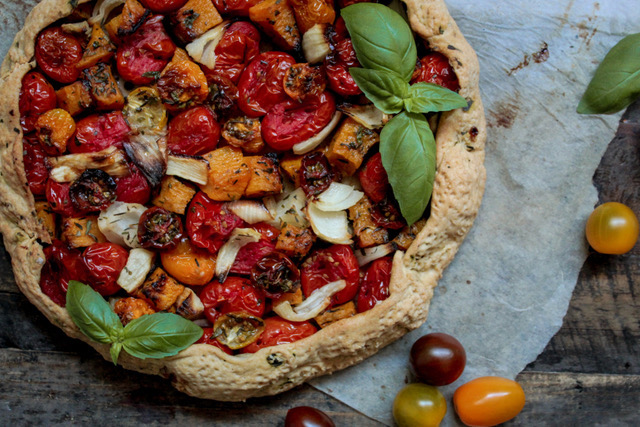 This delicious pie is simpler to make than you might think. A crunchy and flavoursome crust with a sweet golden veg filling. Recipe created by the fantastic Melissa Saint Hill - nutritionist, scientist and chef.
---
Wild Orange Chocolate Marble Cake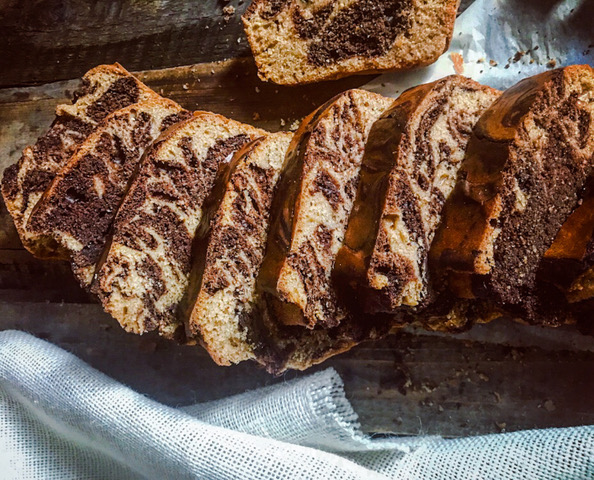 Baking without dairy and eggs doesn't have to be complicated or expensive as nutritionist, scientist and chef Melissa Saint Hill (aka @the_bare_scientist) proves with this yummy cake. This delicious recipe makes use of ground flaxseed instead of eggs while almond milk and rapeseed oil replace dairy milk and butter. The outcome is a light and flavourful cake. Perfect with a cuppa!
---
Grilled Pear & Blackberry Chocolate Tart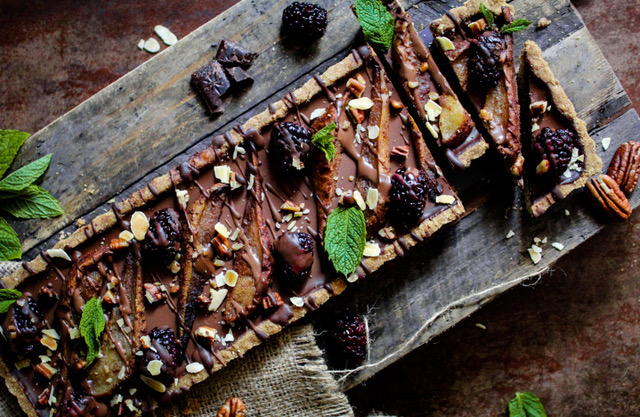 This decadent dessert is a real treat. It's packed full of goodness and sure to impress friends and family. It was created by the fantastic Melissa Saint Hill - nutritionist, scientist and chef.
---
Sweet Potato Curry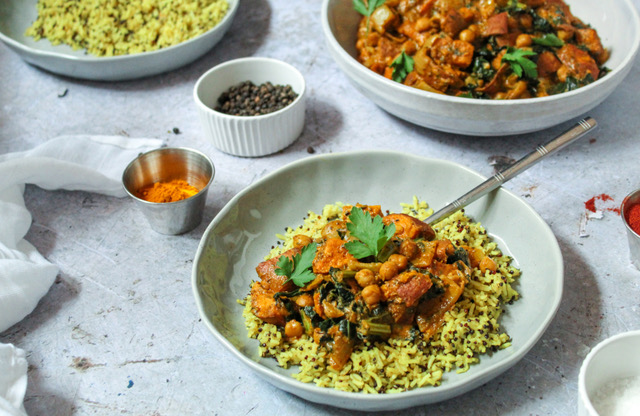 This rich aromatic curry recipe was created by nutritionist, scientist and chef Melissa Saint Hill (find her on instagram @the_bare_scientist). It's bursting with flavour, goodness and plenty of colour!
---
Surplus Vegetable Hummus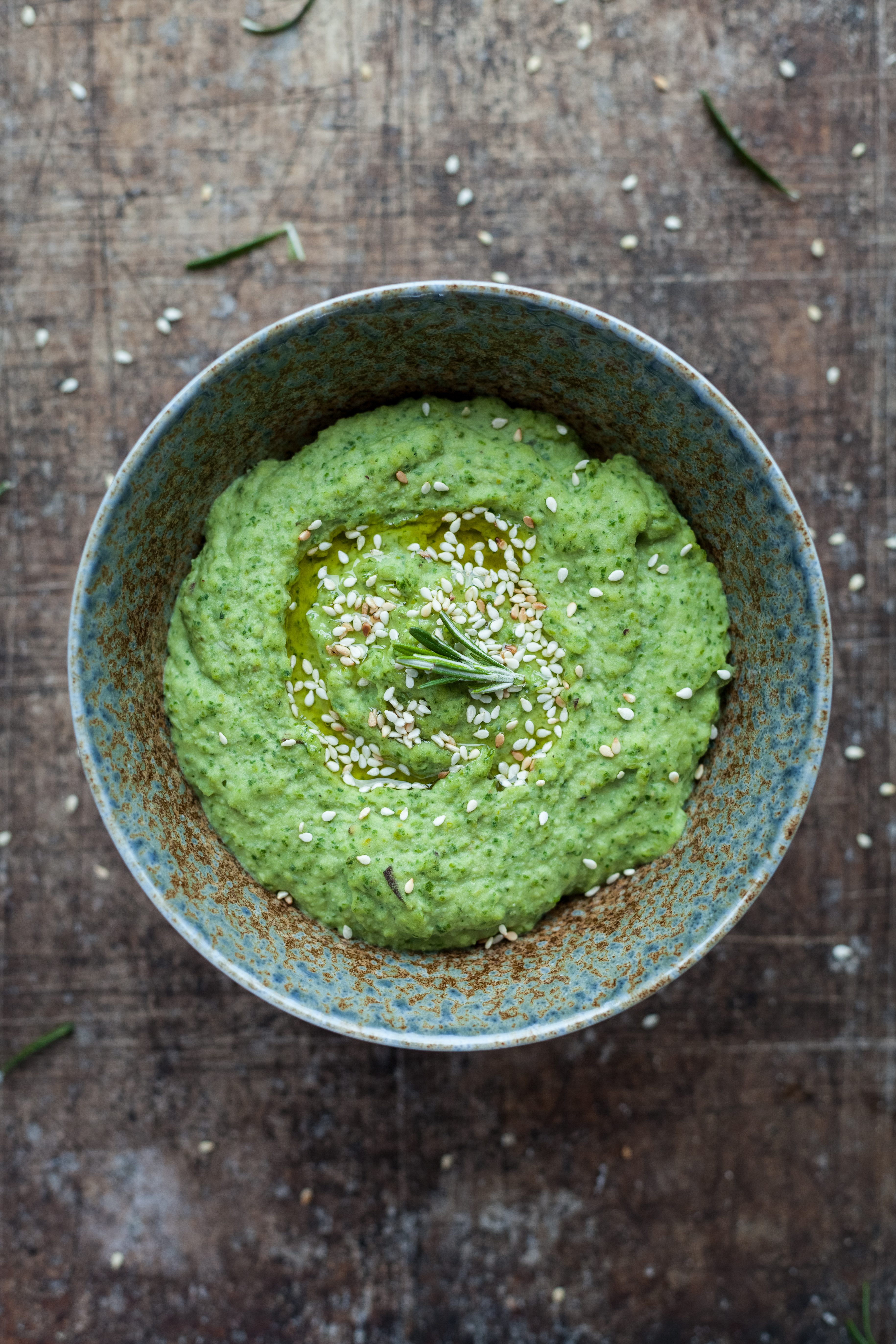 This delicious hummus recipe from Hannah McCollum, founder of ChicP is a great way to use up leftover veggies!
---
Healthy chocolate granola tart base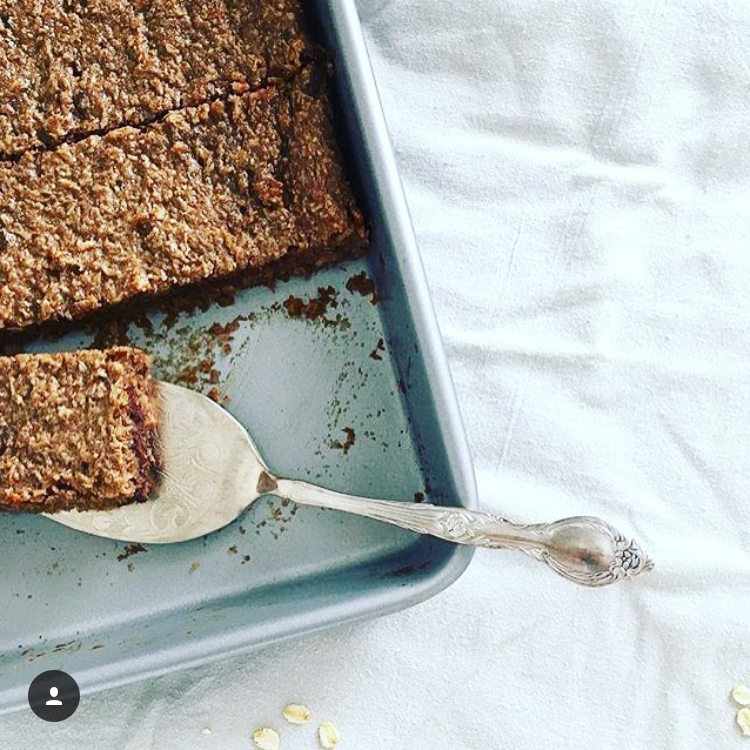 This simple and delicious tart base from Hannah McCollum, founder of ChicP, is really versatile. It's crunchy and rich and a healthy alternative to traditional pie bases (aim for a granola without refined sugars). Top with bananas, nut butter and coconut yogurt for a delicious healthy twise on bannoffee pie!
---
Tomato Ketchup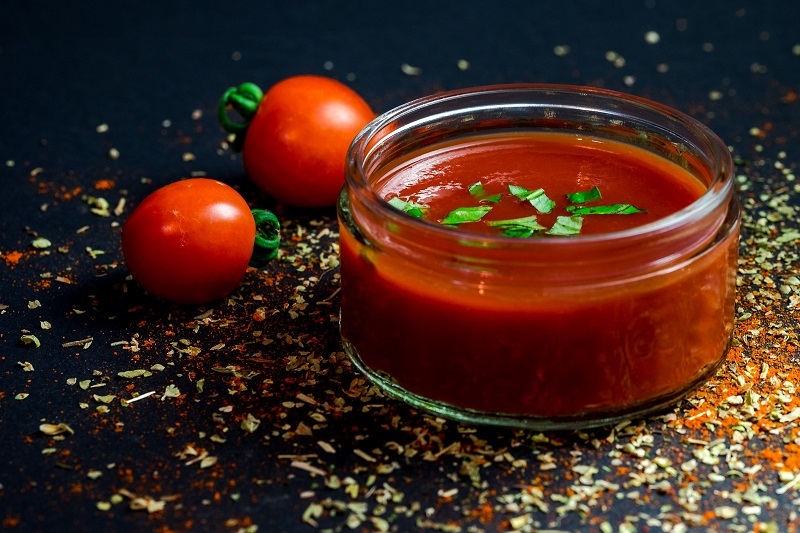 This is a super simple homemade ketchup recipe. The fab kids from our young carers group loved making this with Mark Breen our equally fab teacher.
---
Crispy Chickpeas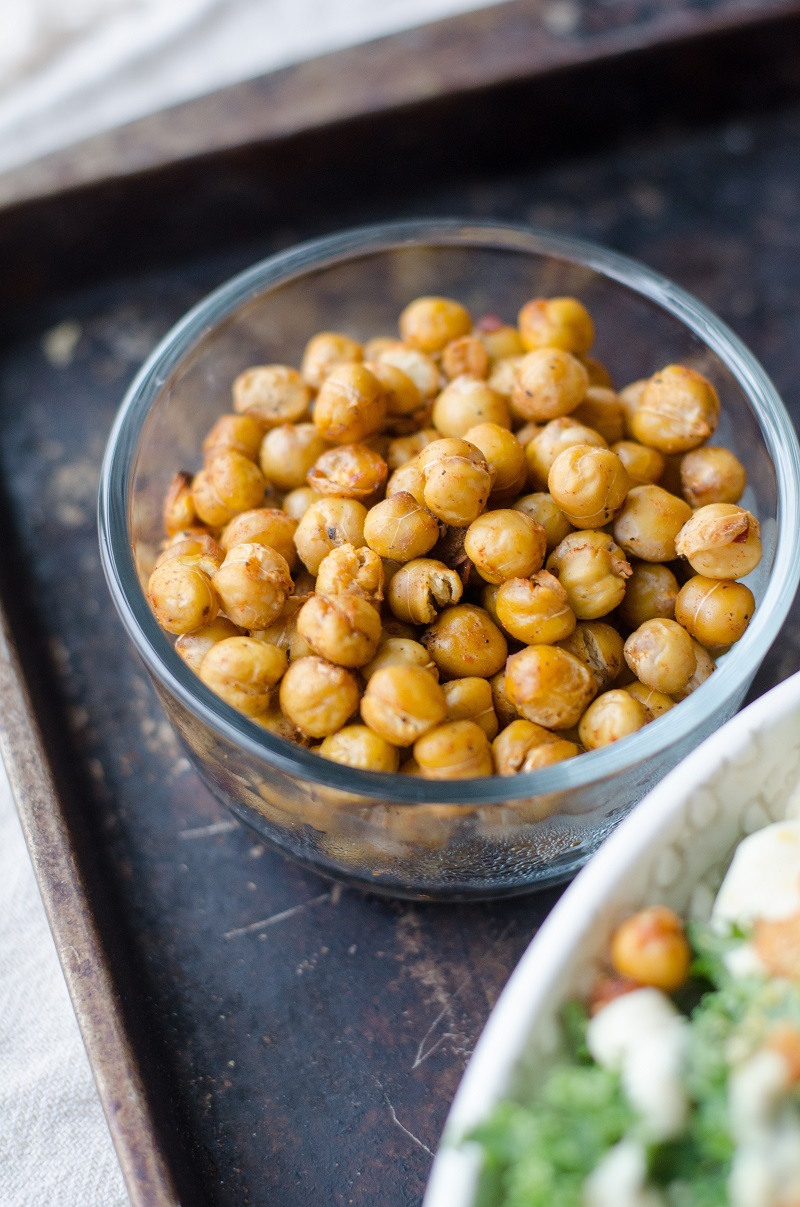 This delicious street food snack can be used as a jazzy salad topping or eaten on their own. Yum.
---
Chocolate Reishi Latte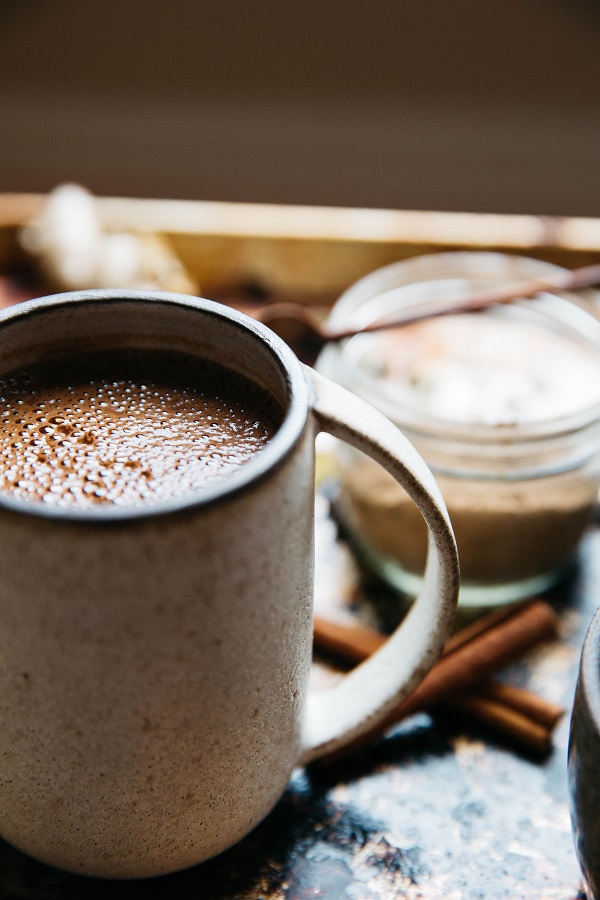 This fancy latte is a hug and health boost in a cup. Reishi is a trendy health food ingredient that's actually worth investing in as it has a wealth of research and centuries of use in Asia - it being used in cancer prevention and treatment (as part of wider treatment programme), to boost the immune system and to combat fatigue.
---
BBQ British Summer Fruit Salad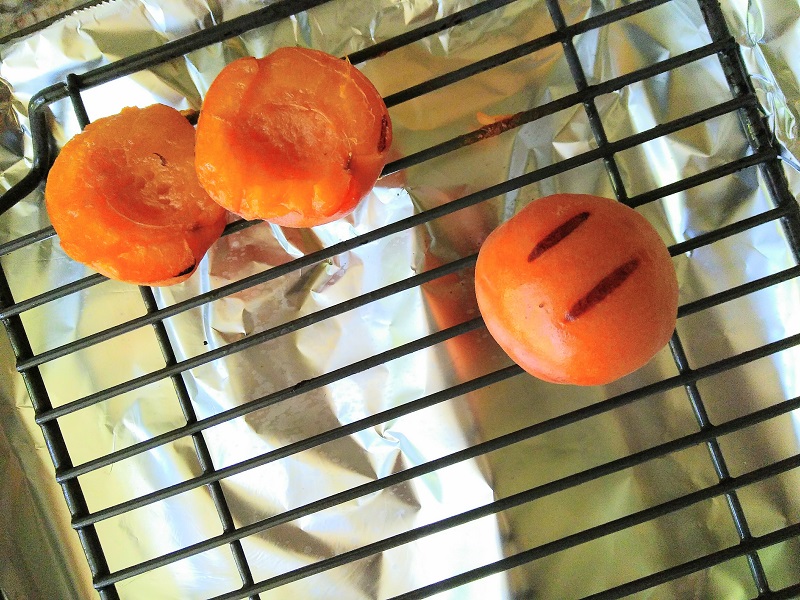 We are so lucky at this time of year - we have such exciting fruit available to us. It's worth checking out what's in season in the UK because they will be miles more tasty and fresh (because they won't have been picked too long ago) and often they're cheaper too.
---
World's Best Coleslaw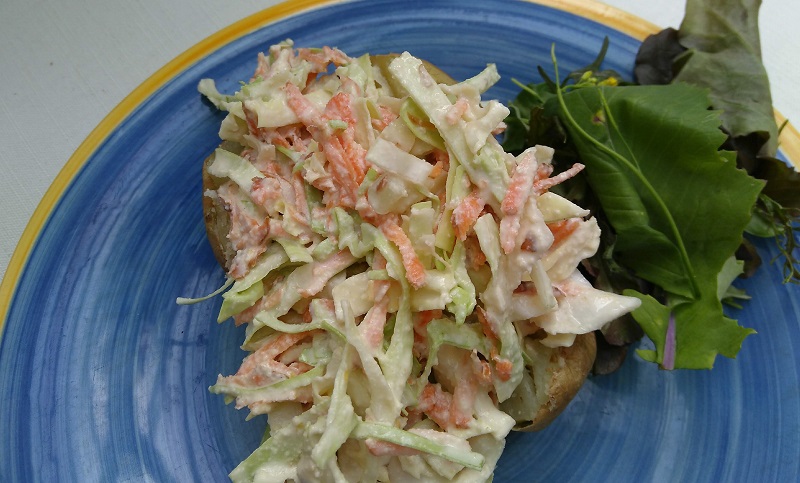 Sometimes you just can't beat a simple coleslaw. This with a jacket potato has become one of my quick go-to dinners - I absolutely love it because it's a healthy twist on an old comfort food and it's a great way to use British vegetables in a delicious way.
---
BBQ Oyster Mushrooms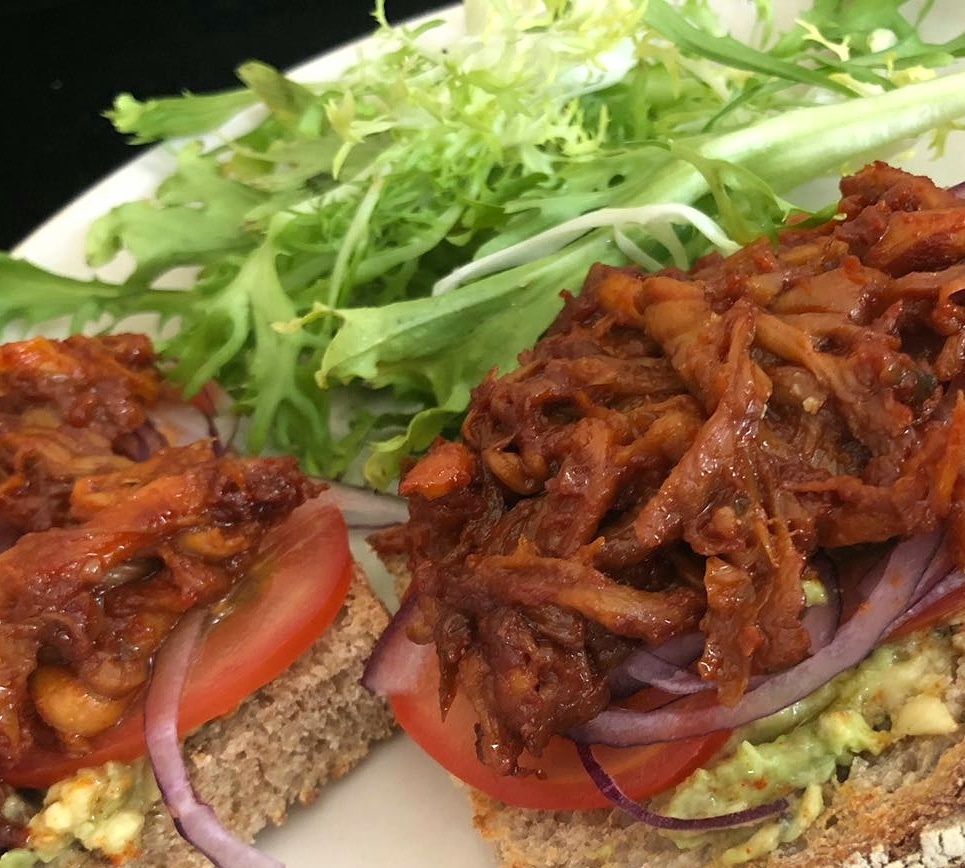 This recipe of our teacher Sharon was described by our ambassador Rachel de Thample as "one of the tastiest things ever - it blew my mind." If Rachel says that, you know it's real good.
---
Caribbean Ginger Bites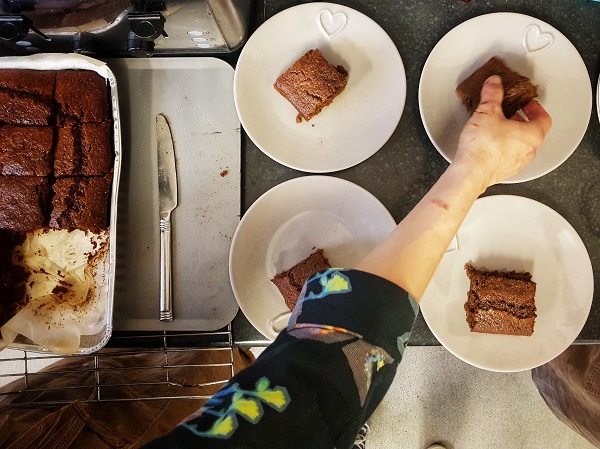 Our teacher Sharon says, "This ginger cake is made with wholegrain spelt flour, lots of spices, minerals and heart healthy fats, so lots of benefits to be had from this simple treat." The awesome ladies she made it with at Grace Houserecovery centre all gave it a thumbs up - so do we.
---
King Satay With Spicy Peanut Ginger Sauce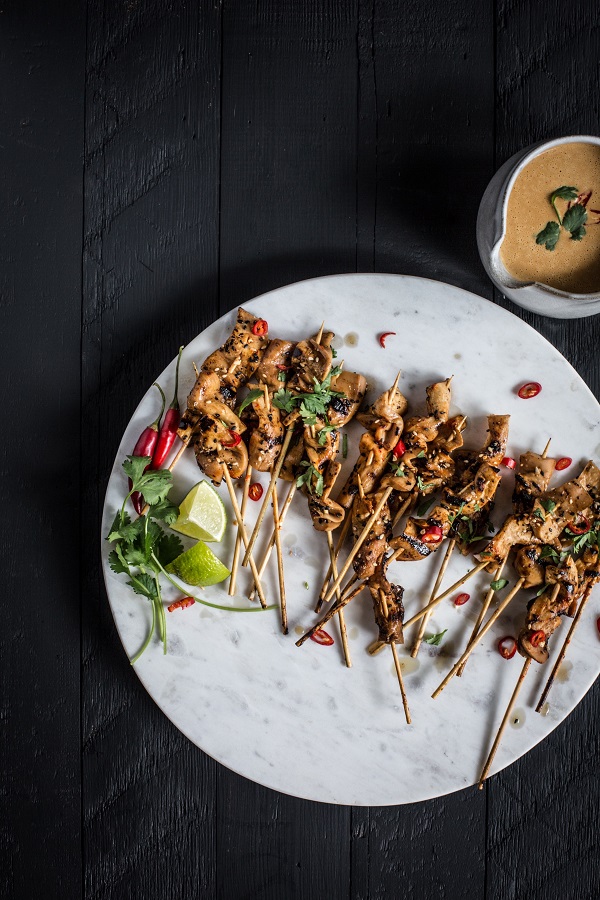 Another super tasty recipe from the Chad brothers. This one is sure to win over any doubtful carnovires.
---
PBLT - Plant-Based BLT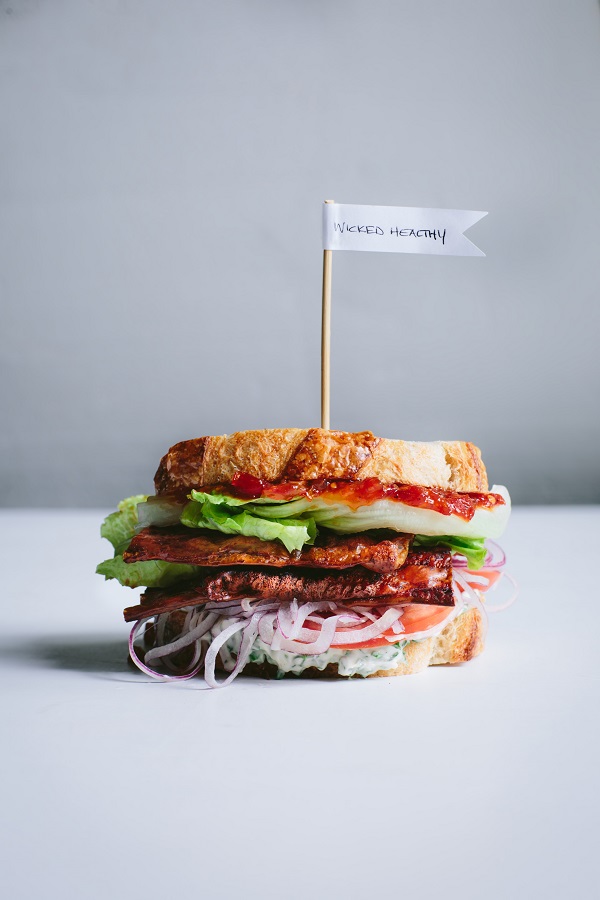 This is a lip smacking sandwich from the Wicked Healthy chefs brothers Chad and Derek Sarno. We heart it.
---
Hello Chocolate Truffles!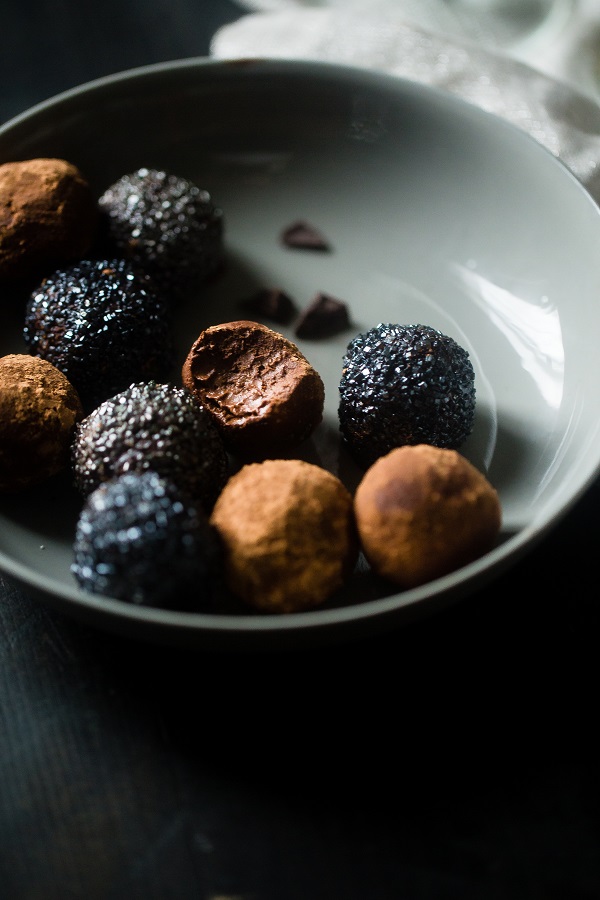 This is what our PD Sarah said when Steve our teacher presented her and Veryan with a little plate of these babies! Freshly made by some young people from a special needs support school - they did an awesome job and the truffles tasted just hmmmmmmmmm. Yum. Decadent, a little bit naughty but hey - think of all that iron and antioxidants.
---
Banana & Raspberry Nice Cream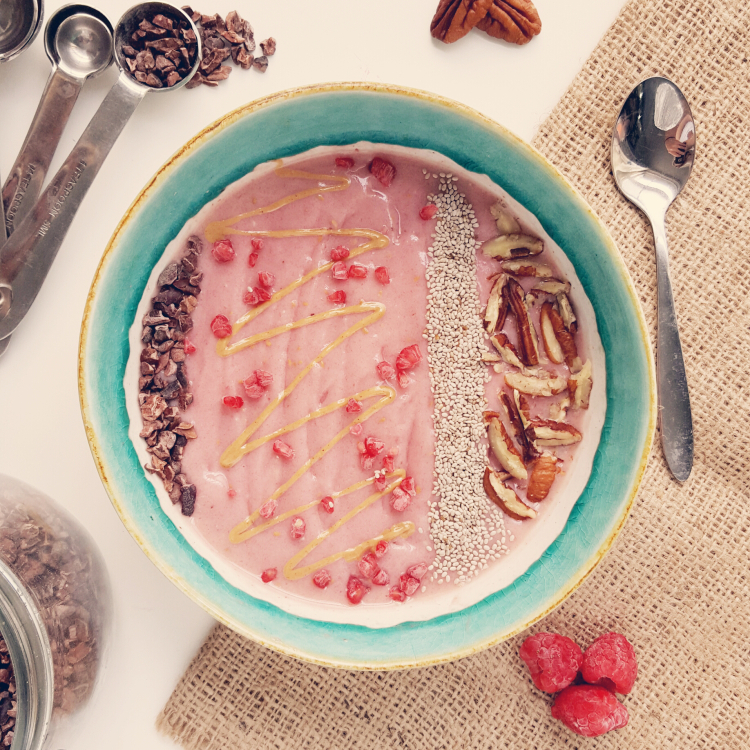 A mouth explosion of a dessert/breakfast bowl from our teacher and amazing food blogger Ellie of Kind State Of Mind.
---
Mac & Cheese Doughnuts with Cashew Garlic Sauce and Crispy Coconut Bacon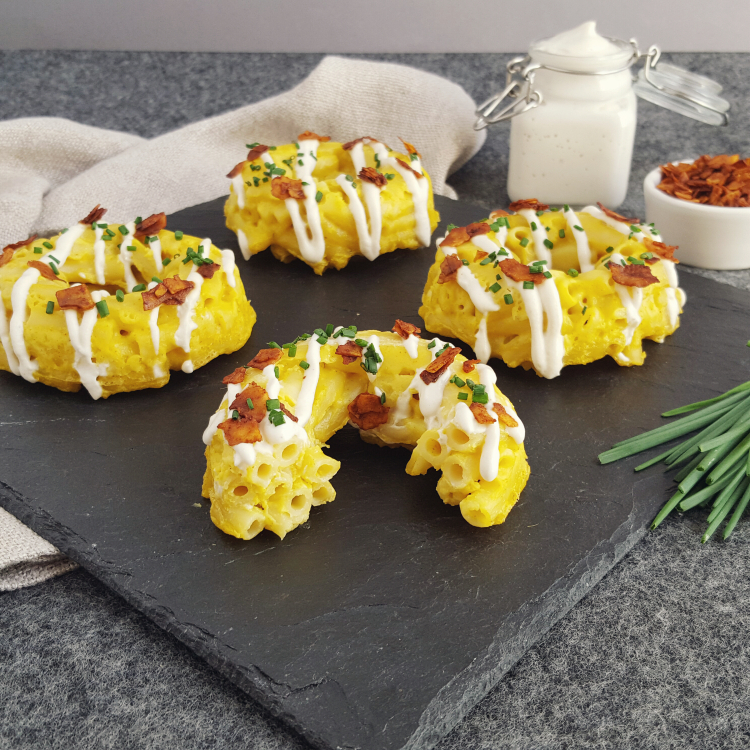 Naughty but oh so nice! These amazing creations come from our teacher and all round cheese mistress Ellie over at Kinda Co. Thankyou Ellie!
---
Jackfruit Tacos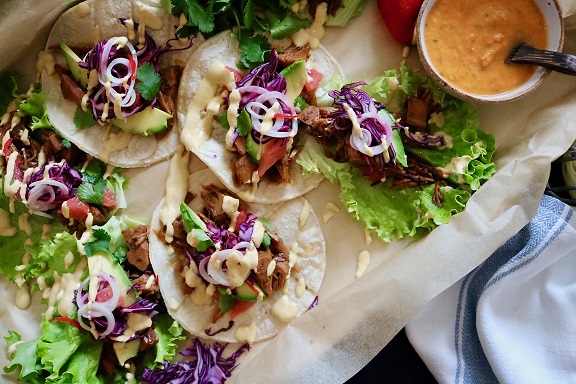 Young braised jackfruit has been hailed as the ultimate vegan 'pulled pork' and has a similar texture, except it's lighter and fresher. This recipe is brought to you by the amazing vegan chef and recipe writer Kali Hamm.
---
Chocolate Clouds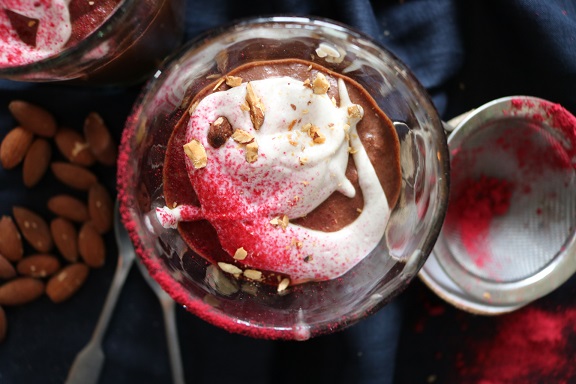 This amazing vegan chocolate mousse recipe made with aquafaba and all it's magical properties comes from vegan chef Kali Hamm .
---
Beet Poke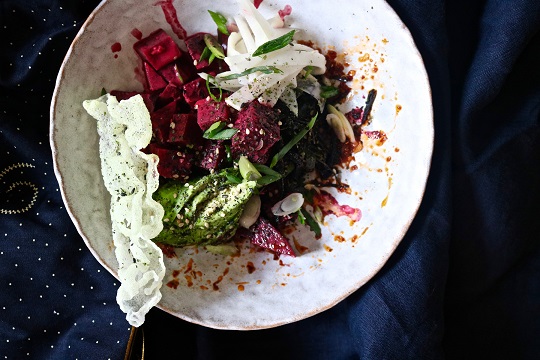 This is a fantastic take on the classic Hawaiian ahi poke, with beets taking place of the fish, by the amazing vegan chef Kali Hamm
---
Chinese Sweet & Sour Veggies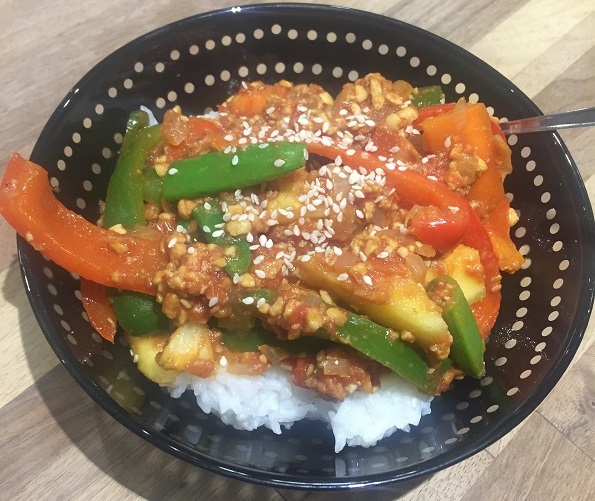 This dish was made in the kitchen by our young carers from Action For Children with our brilliant teacher and chef Mark Breen. They smashed it and even ate all the veggies. This is a real crowdpleaser.
---
Roasted Beetoroot Salad with Citris and Tarragon Cashew Cheese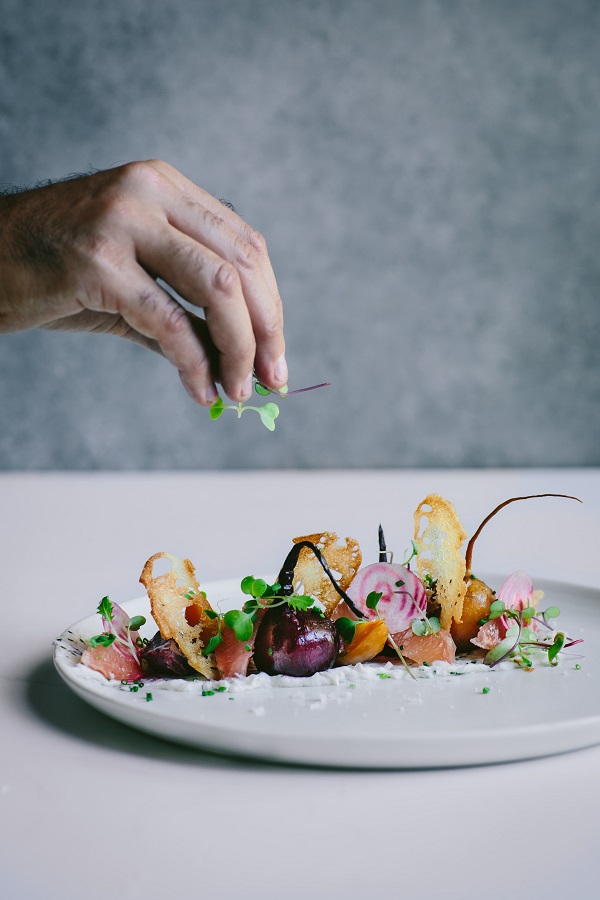 This sumblime salad is restaurant standard fancy - but then it would be seeing as it was created by chef Chad Sarno for his former raw food restaurant Saf. This is a great pal impressing summer dinner party starter - or whatever treat yourself and make it for yourself. Of the dish Chad says, "Slow roasting the baby beets gives them a deep sweetness that balances the earthiness. Watercress brings sharpness and bite. Cashew cream contributes richness. Sherry vinegar has the spark (but we're swapping for balsamic vinegar to be inclusive). Bread crisps give it crunch. Between the textures and flavors—and even the colors—this sexy dish just hits all the buttons." We love the fact Chad describes a salad as sexy! Warning - this salad uses A LOT of ingredients! But so worth it.
---
Banana blossom with coconut and chile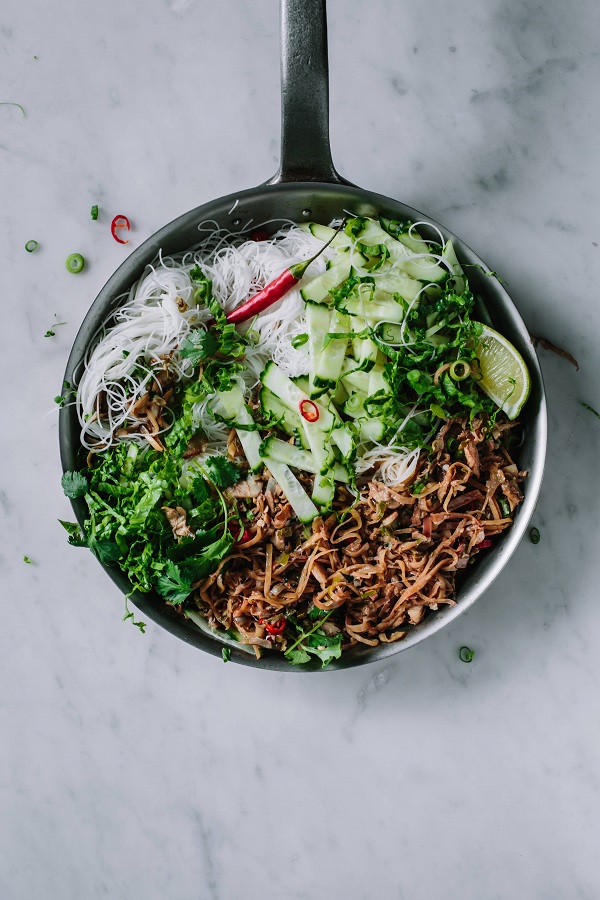 This stunning recipe from The Wicked Healthy Cook Book by chef Chad Sarno uses banana blossom - the new all natural vegan meat substitute on the block. Chad says he learnt to make it in the Philippines while revamping a menu for the Farm at San Benito. Nice work if you can get it Chad. We appreciate that the star ingredient is not very local - but sometimes you've got to try these things - and banana blossom sounds too intriguing to resist.
---
Jah Spirit's Ital Stew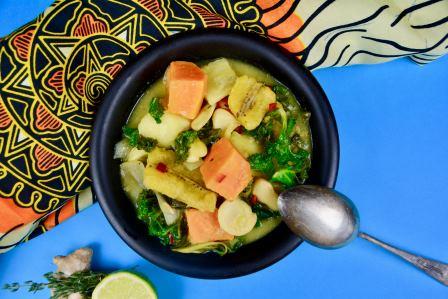 In 2017 the founder of plant-based recipe kit Make Kit, Steve Wilson, joined forces with Made In Hackney community class teacher Jah Spirit on a ital food class – ital being the term used by Rastafarians to refer to their unique brand of wholefood, vegan Caribbean cuisine. Steve loved the ital stew Spirit made (which also happens to be gluten free and consist of 4 of your 5 a day – or 10 a day as we like to say) and with this recipe pays homage to our wonderful class leader who sadly passed away in February 2018.
---
Roasted Cauliflower Schwarma Steaks with Couscous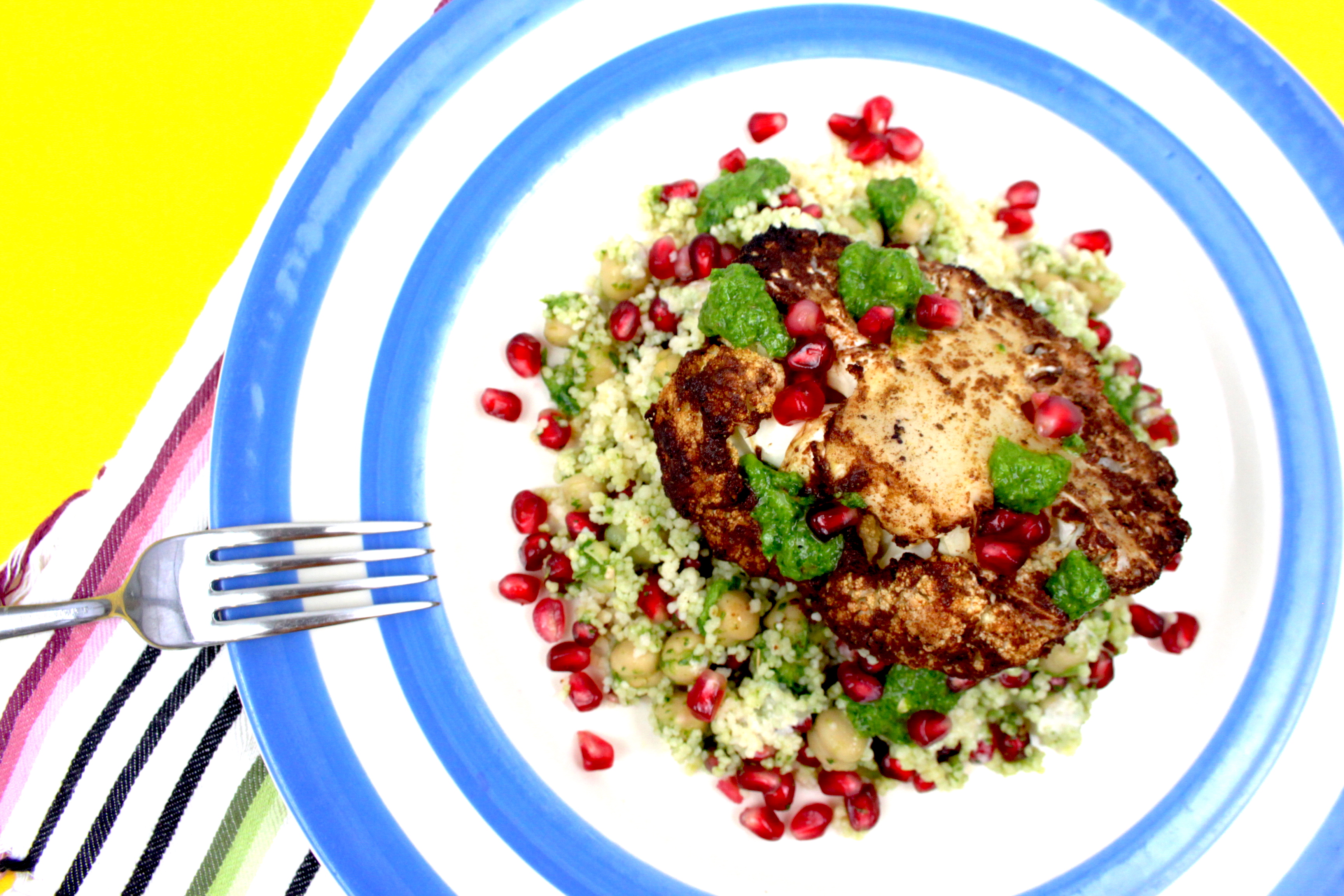 Ohh get you with all those fancy words in the recipe title. This Middle Eastern inspired recipe comes from our pals over at Make Kit – the UK's first veggie and vegan recipe bag social enterprise! Their co-founder and MIH cookery teacher Steve Wilson says about the recipe, "2017 was a game changing year for cauliflower. The humble cauli's image went from a soggy side to becoming the alchemist's dream ingredient. When roasted, it's sweet, nutty, yeasty richness really gets a chance to shine. There's also an element of theatricality to the cauliflower being served as a roasted centerpiece, with its burnt smoky edges and incredible Fibonacci marbling." Yeah he said Fibonacci. We googled it to. But anyways – this tastes amazing and only takes 30 minutes to make. Enjoy.
---
Joe's Beetroot Bourguignon with Pomegranate Reduction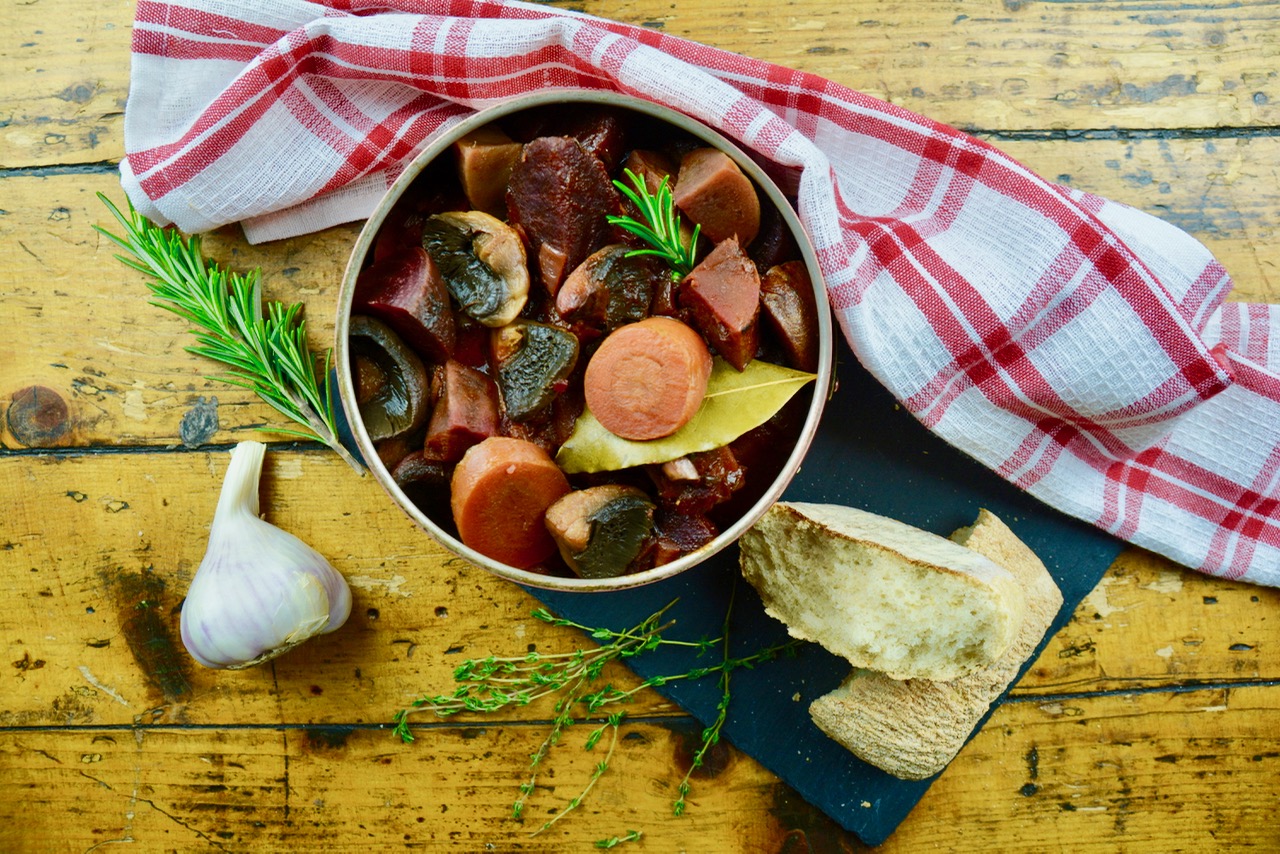 This tasty recipe is a collaboration between recipe kit social enterprise Make Kit (https://makekitfood.com/) and vegan street food chef Joe Bradley. Make Kit challenged Joe to make a version of the French classic Boeuf Bourguignon that can be cooked by a non-professional in 30 minutes.This is the result! And mighty tasty it is too! It also includes 3 of your 5 a day - or 10 a day as we like to say at Made In Hackney.
---
Cashew Aubergine Parmigiana with Lemon Parsley Rice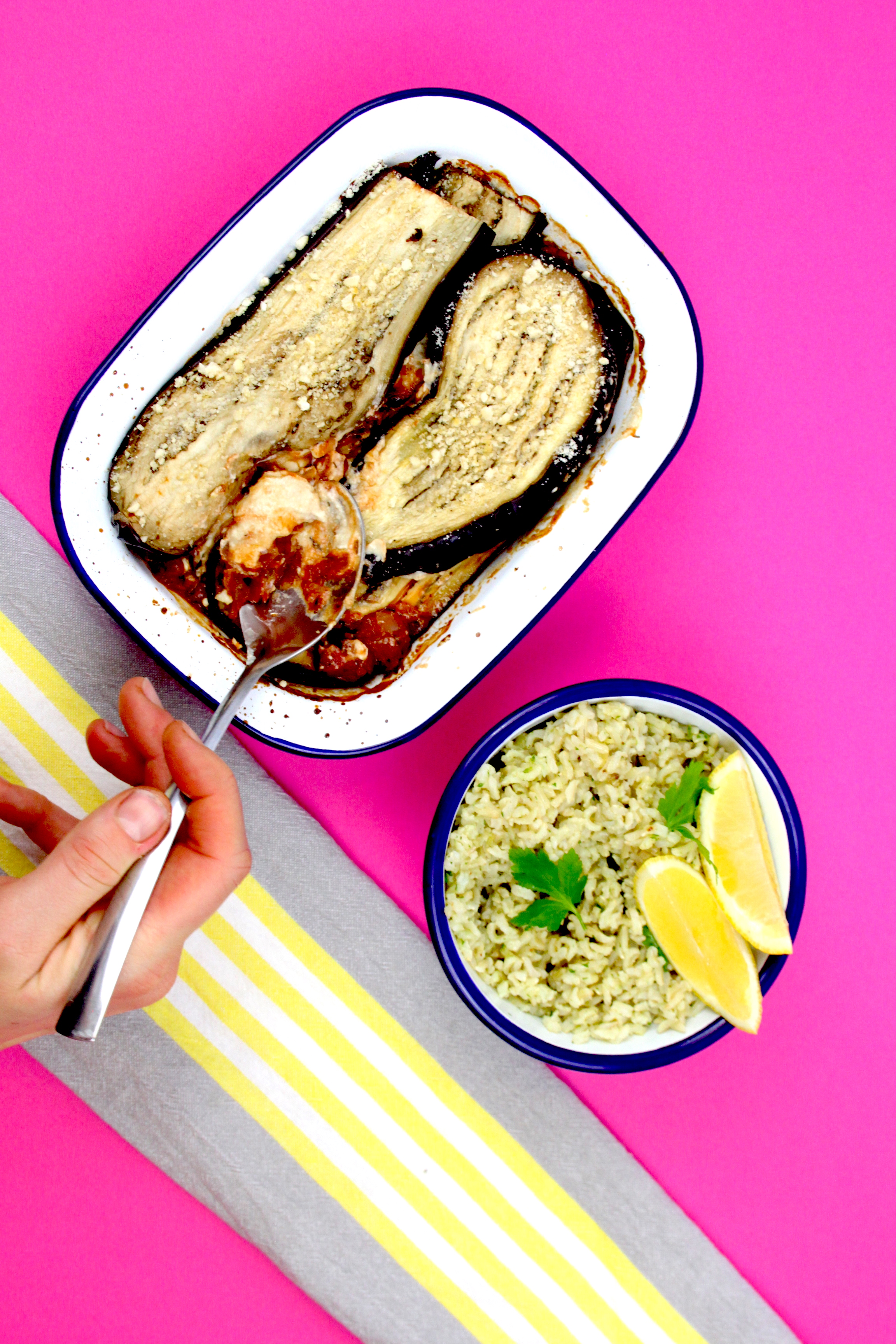 This recipe is well tasty! Created by Make Kit – the UK's only plant-based recipe kit social enterprise co-founded by MIH cookery teacher Steve Wilson – it contains 3 of your 5 a day – or 10 a day as we like to say at MIH.Melanzane alla parmigiana is a classic Italian dish which translates to Parmesan Aubergine in English. The dish tends to contain more mozzarella than parmesan but can be made in a multitude of different ways. This parmigiana is made with a creamy homemade plant based mozzarella, made from cashew nuts that are soaked overnight, washed, and blended until smooth. Yum.
---
Buckwheat Salad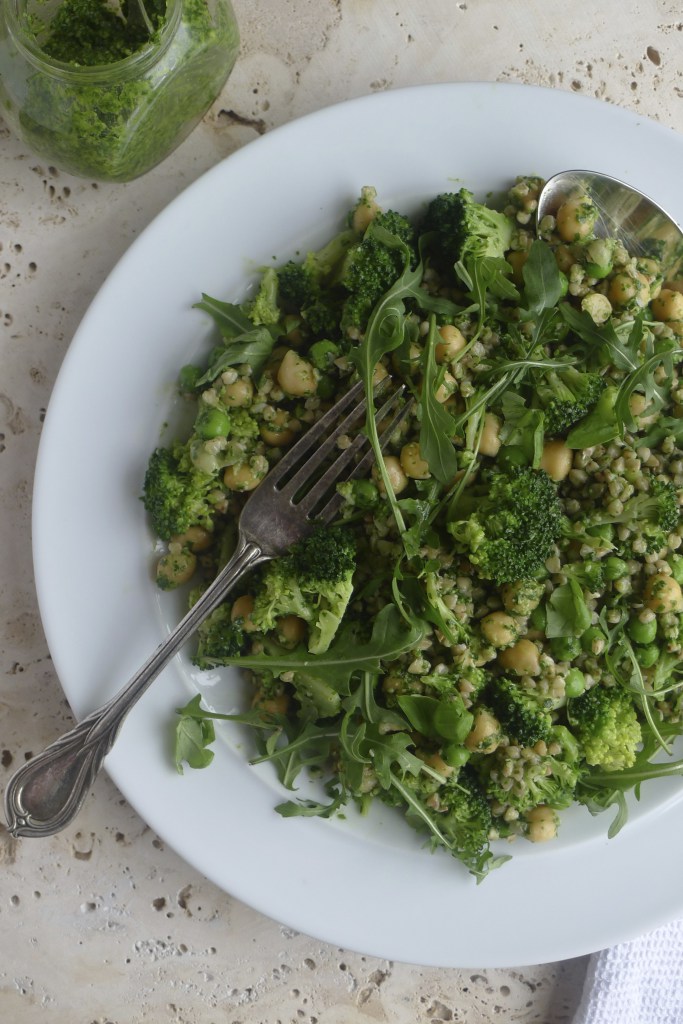 Creator of this super healthy salad Ceri Jones says, "This buckwheat salad recipe is a versatile base from which to build hundreds of variations. Try different vegetables, grains or legumes in the same proportions til you hit on your favourites."
---
Kiwi Coconut Sorbet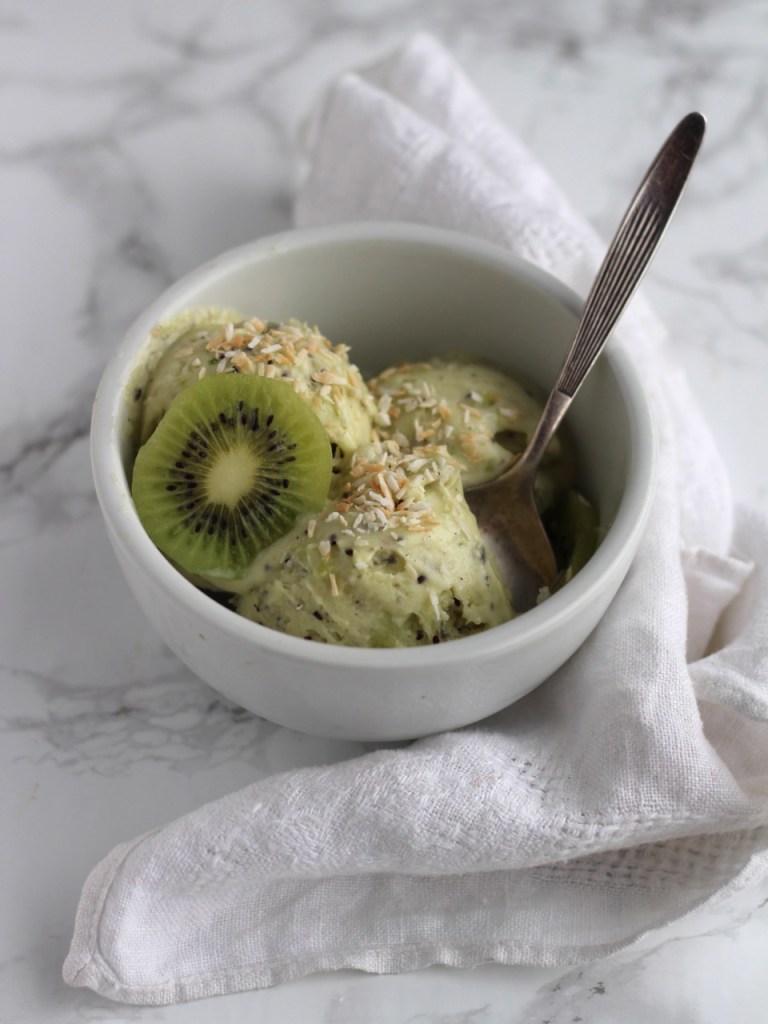 Ceri Jone's instant kiwi coconut sorbet made by blending frozen kiwi and bananas with a lemongrass and kaffir lime infused coconut milk. Classy.
---
Baked Gateaux Piment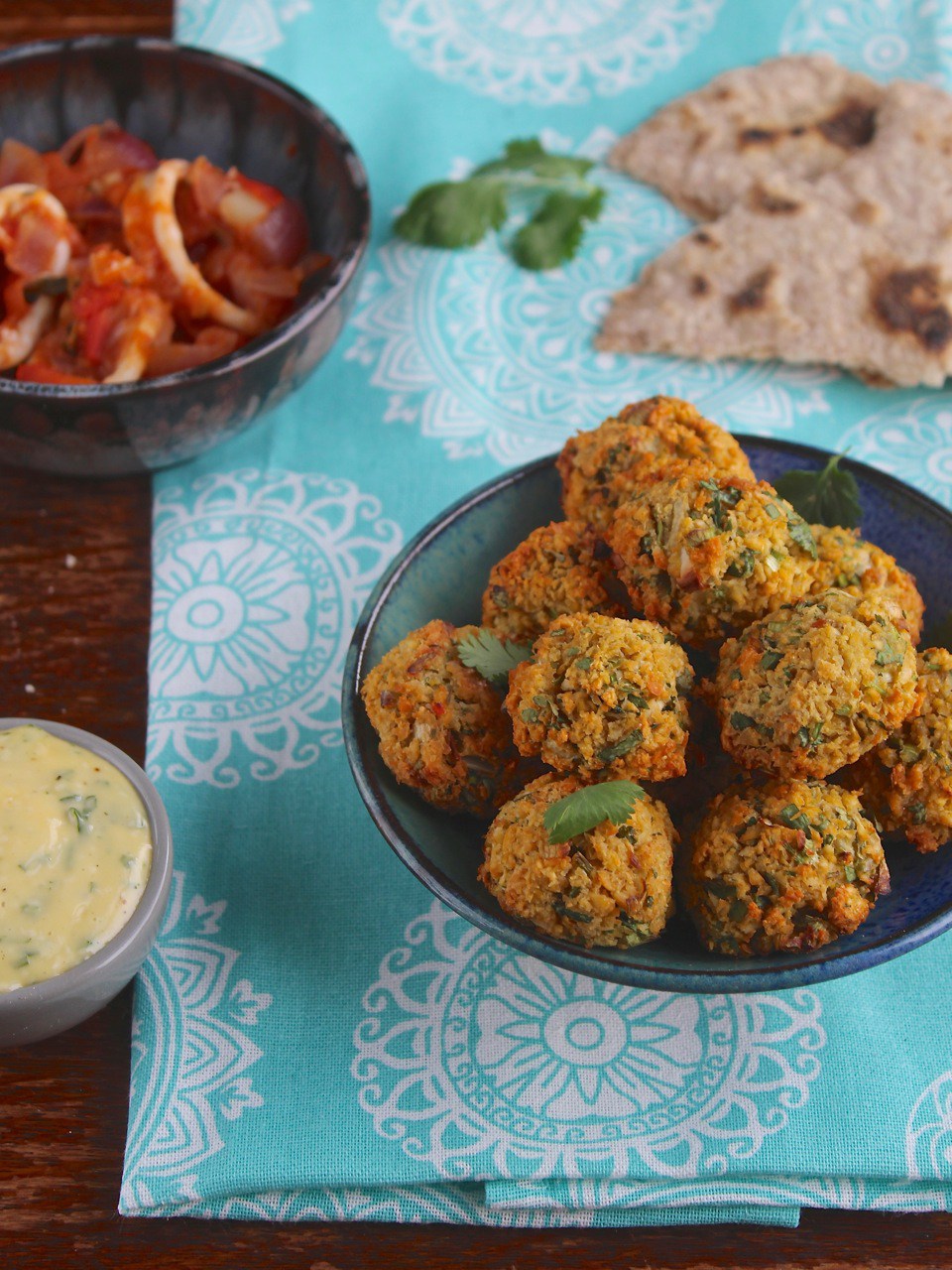 Our teacher Ceri Jone's take on Mauritian chilli cake snacks (gajacks), but baked instead of deep fried. They are naturally gluten free and vegan. Yes please.
---
Leek Waffles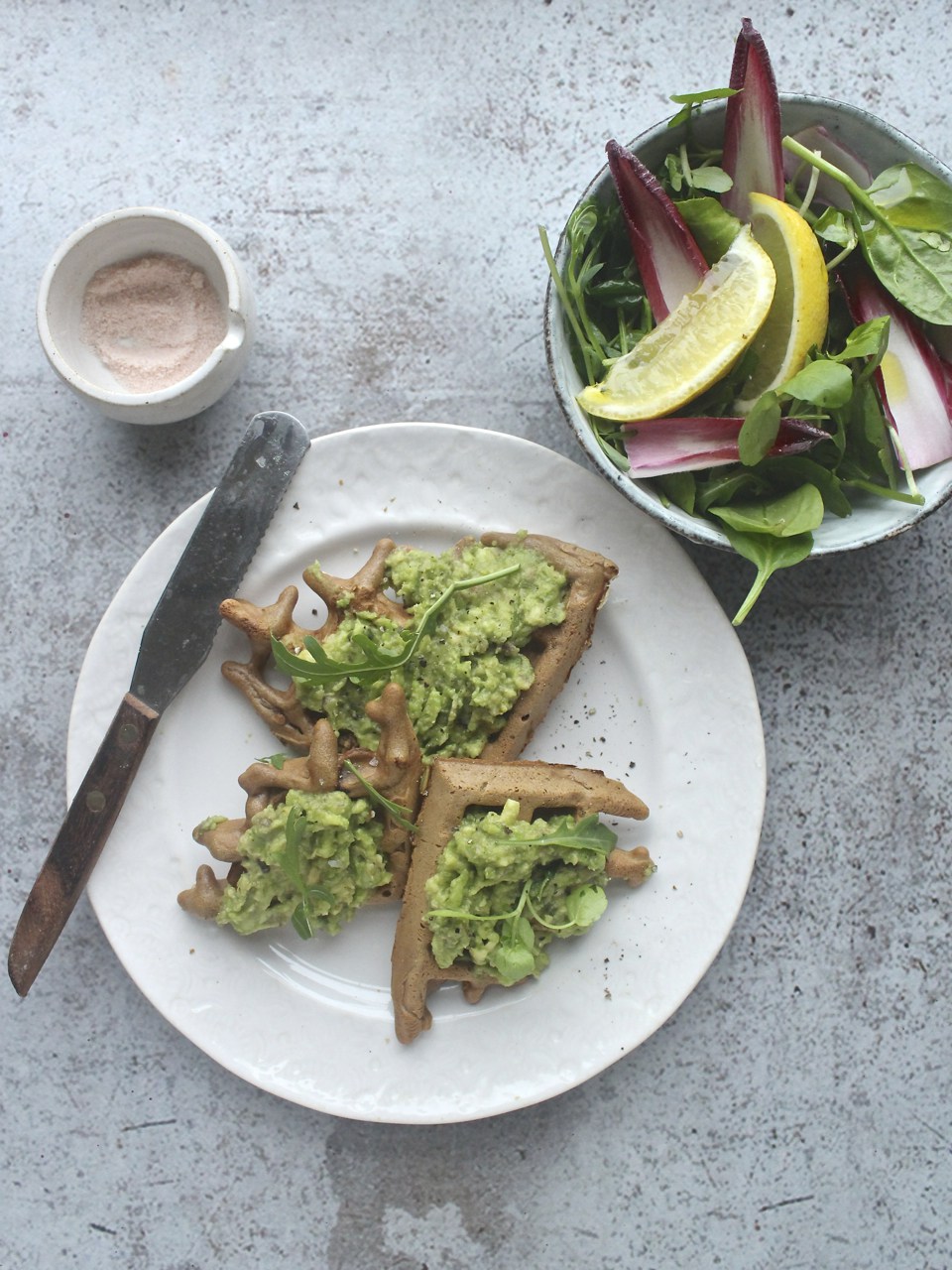 Made In Hackney's Sarah can never get excited about leeks. Wait! Maybe this recipe from our cookery teacher Ceri Jones can change that. It looks and tastes delicious. Bring on the leeks.
---
Rhubarb Khoresh with Chickpeas & Chard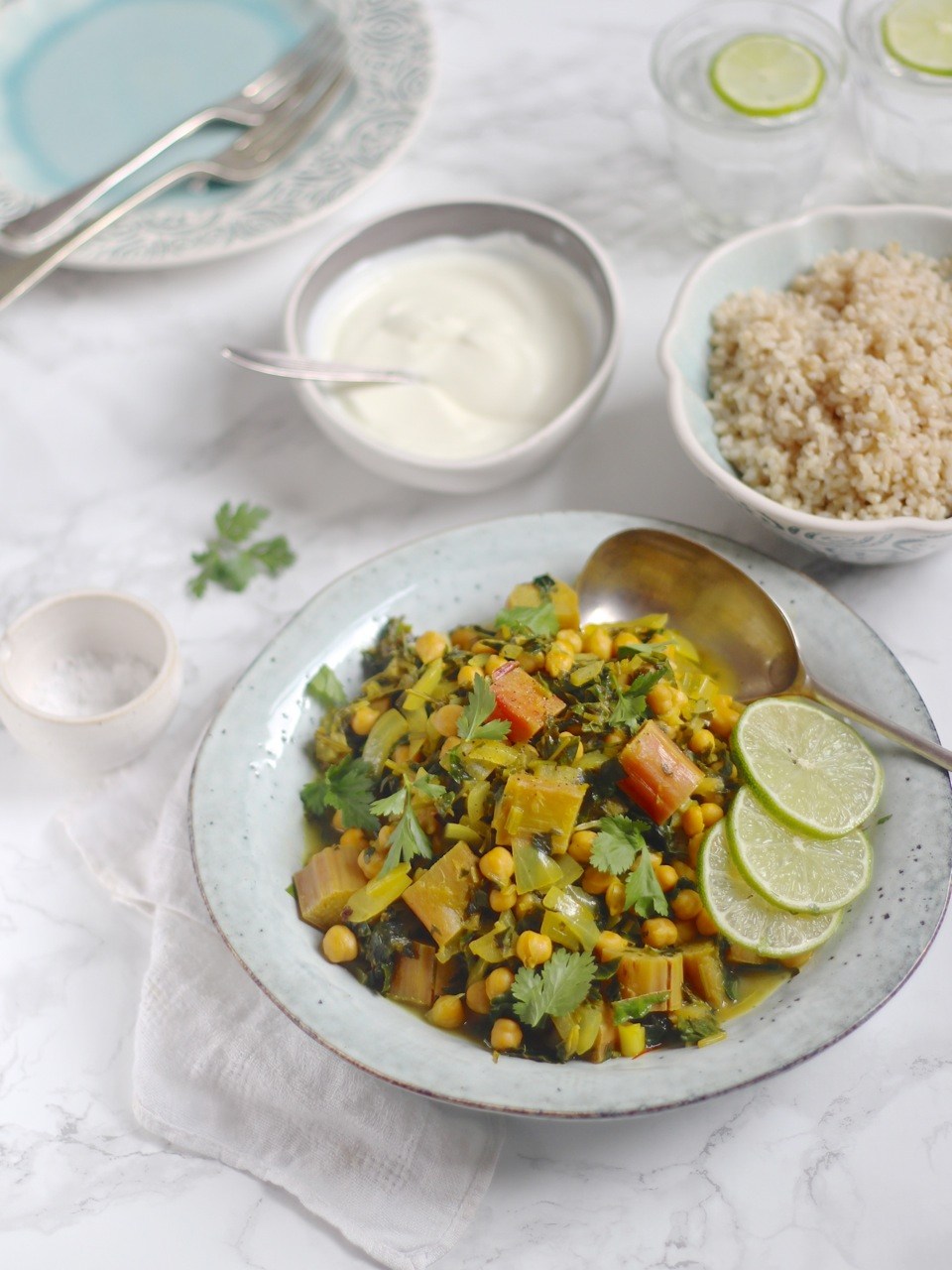 Made In Hackney teacher Ceri says about this dish, "Rhubarb Khoresh with Chickpeas & Chard is a Persian style vegan stew using the best of spring's seasonal British produce. Serve with coconut yoghurt, lime and brown rice or a wholegrain flatbread." Yum.
---
Soy Roast Veg with Noodles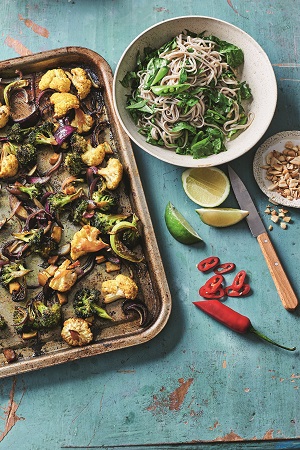 This delicious recipe comes from our ambassador Dr Rupy Aujla's fantastic new book The Doctor's Kitchen.
---
Black Bean Tacos with Grilled Nectarine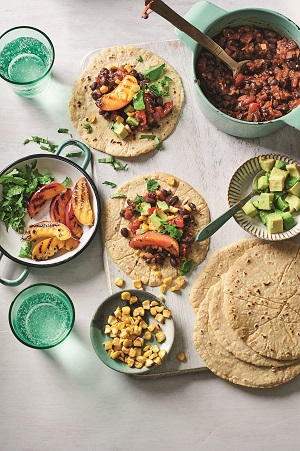 This satisying and quick recipe comes from our ambassador Dr Rupy Aujla's fantastic new book The Doctor's Kitchen.
---
Sweet Chai-spiced Apple with Pistachio Crunch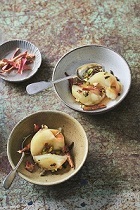 This delicious recipe comes from our ambassador Dr. Rupy Aujla's fantastic new book The Doctor's Kitchen.
---
Cosy Bedtime Tea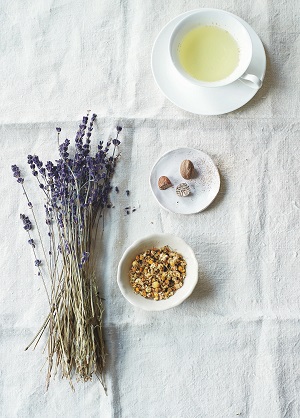 The ritual of making a bedtime tea can be enough to calm the mind. Chamomile and lavender sooth the nervous system and tone the parasympathetic nervous system, stimulating our 'rest-and-digest' mode – the ideal state before bed. Chamomile also helps to reduce excess cortisol, a stress hormone which can be damaging in large amounts. Chamomile can ease stomach cramps and may also be helpful in preventing migraines.
---
Root Vegetable Gratin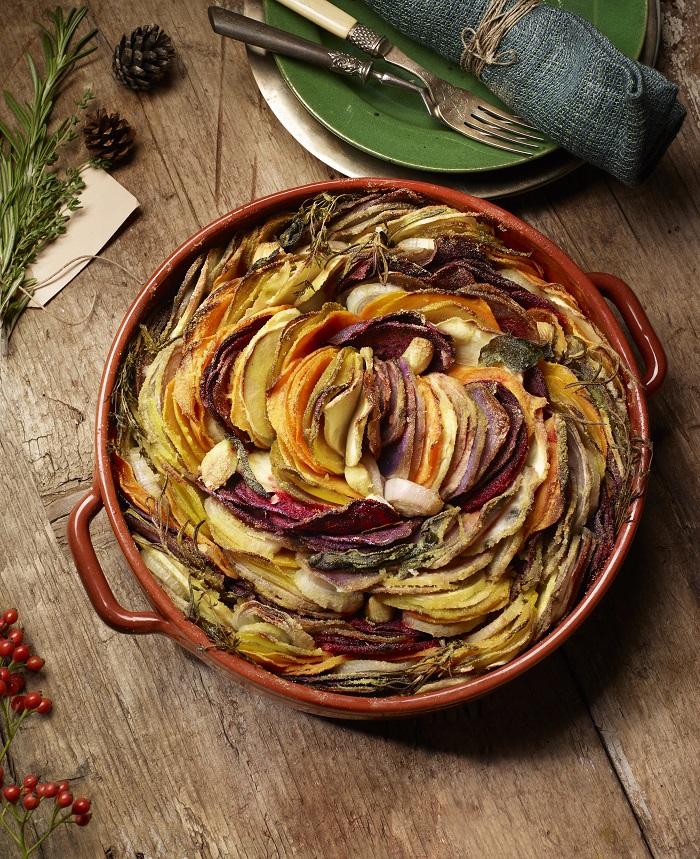 This beautiful looking table centrepiece uses all the winter root veg imaginable and is surprisingly easy to do - you just need a mandolin and you're off. Failing that a sharp knife will do but will be a much slower process.
---
Poached Pears and Walnut Ricotta served with German Biscuits and chocolate sauce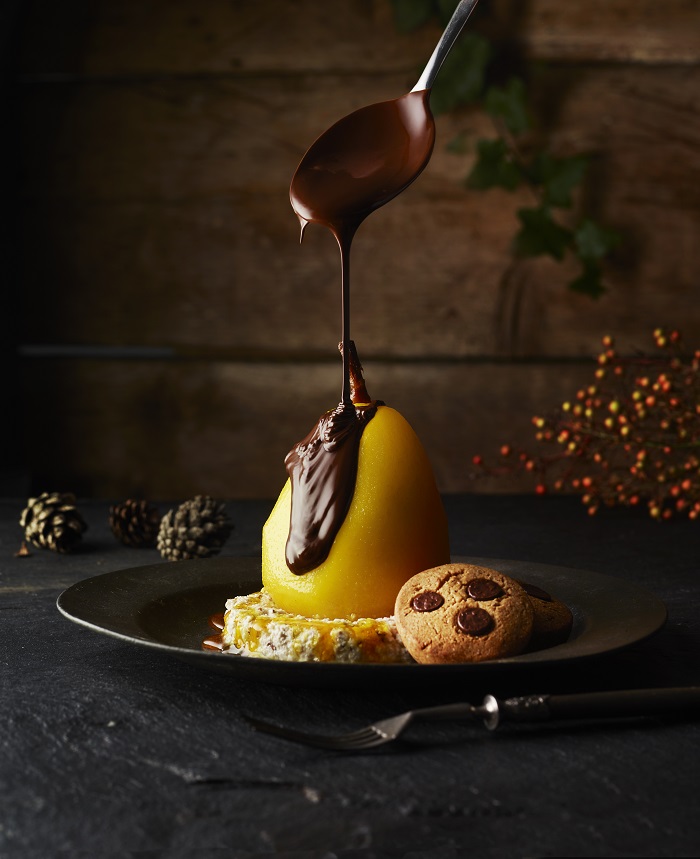 This epic festive dessert was created for us by top chef Anton Petrov. It's fancier and has more stages than a usual MIH recipe but it's festive and the finished result is well worth the effort.
---
Ultimate Bangers & Mash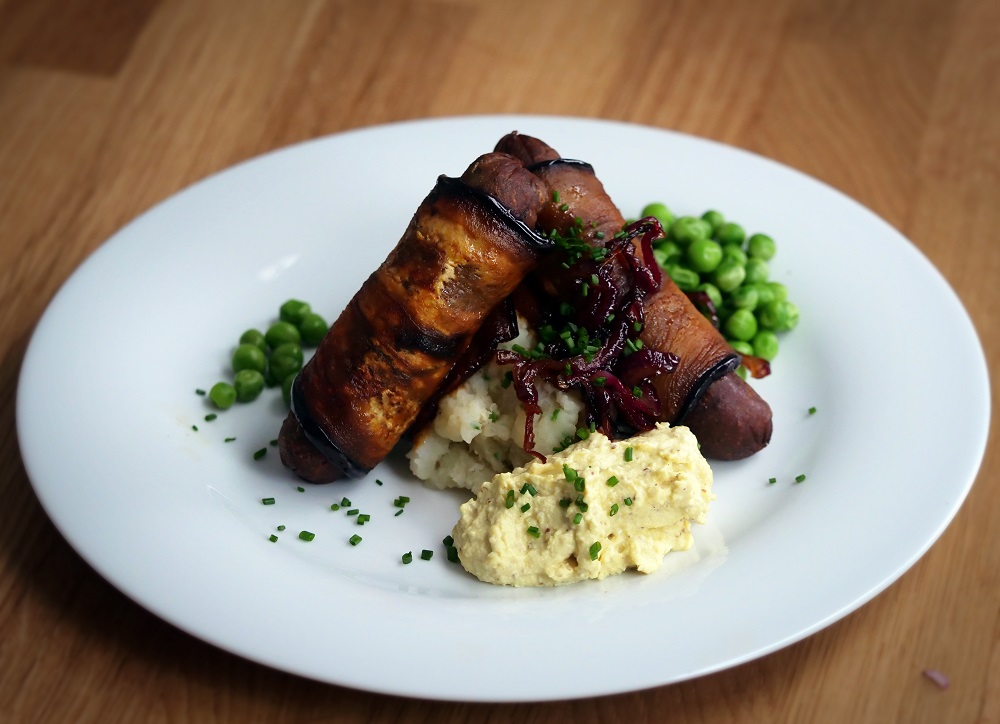 We teamed up with the lovely Bosh! fellas to create this epic bangers and mash recipe with a 'no-pigs in blankets' aubergine facon! Banging. Literally!
---
Traffic Light Dips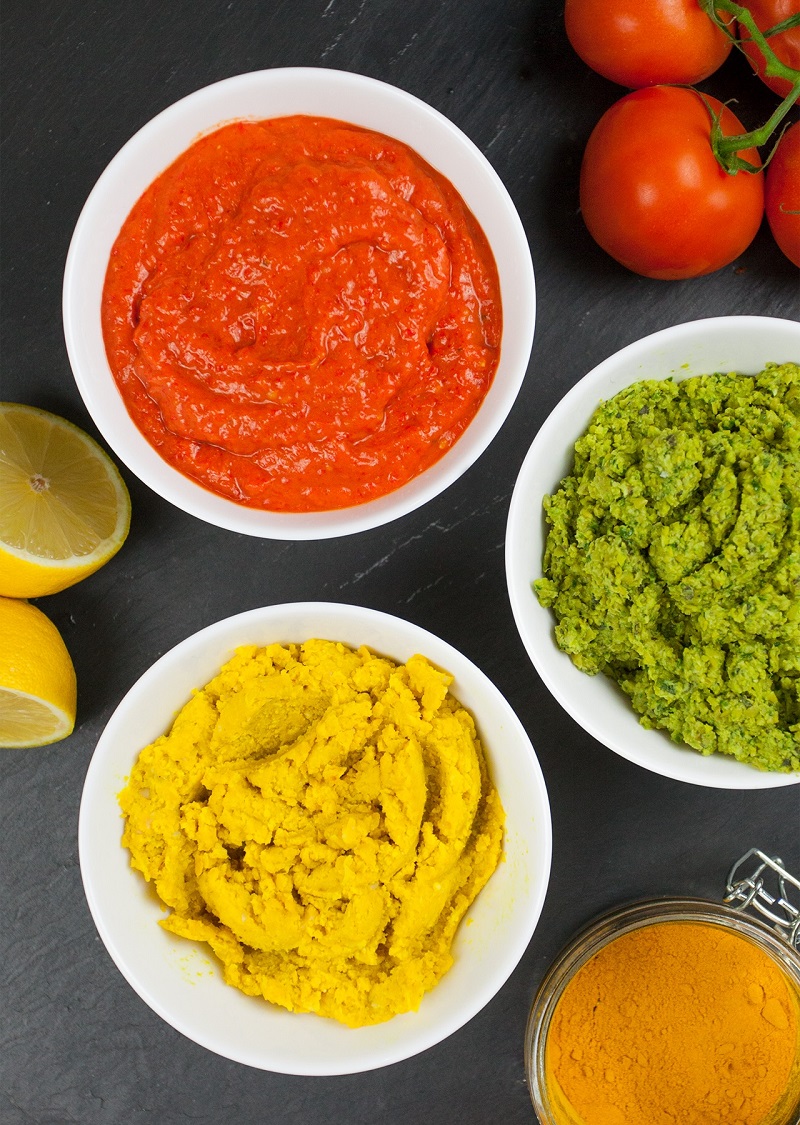 Stop, Look, Dip! This fantastic party piece was created by MIH founder Sarah in collaboration with our friends Ben & Roxy at We Are So Vegan! Visit their Facebook page to watch the vlog of it being made.
---
Sarah's Plantain 'n' Ackee Nyam Down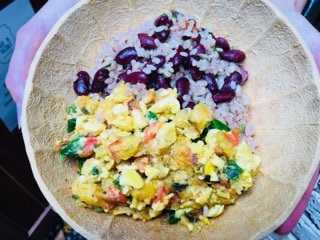 This is a Caribbean style Ital feast from MIH founder Sarah. She learnt to cook in Jamaica as a reggae journalist and loves to cook hearty, Caribbean dishes - like this.
---
Jamu Kunyit Tonic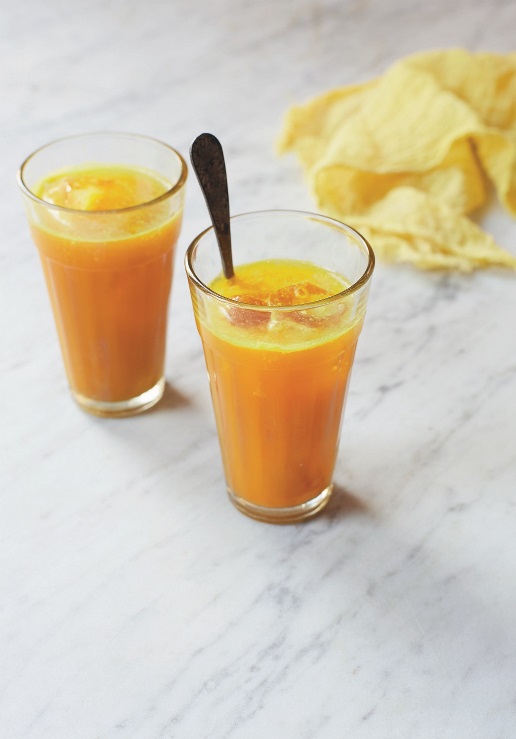 Families in Bali have been brewing this ancient turmeric tonic, for more than 5,000 years. Not only is it said to keep your health problems at bay, it's also known as the 'love potion'...
---
Protein Raspberry & Chocolate truffles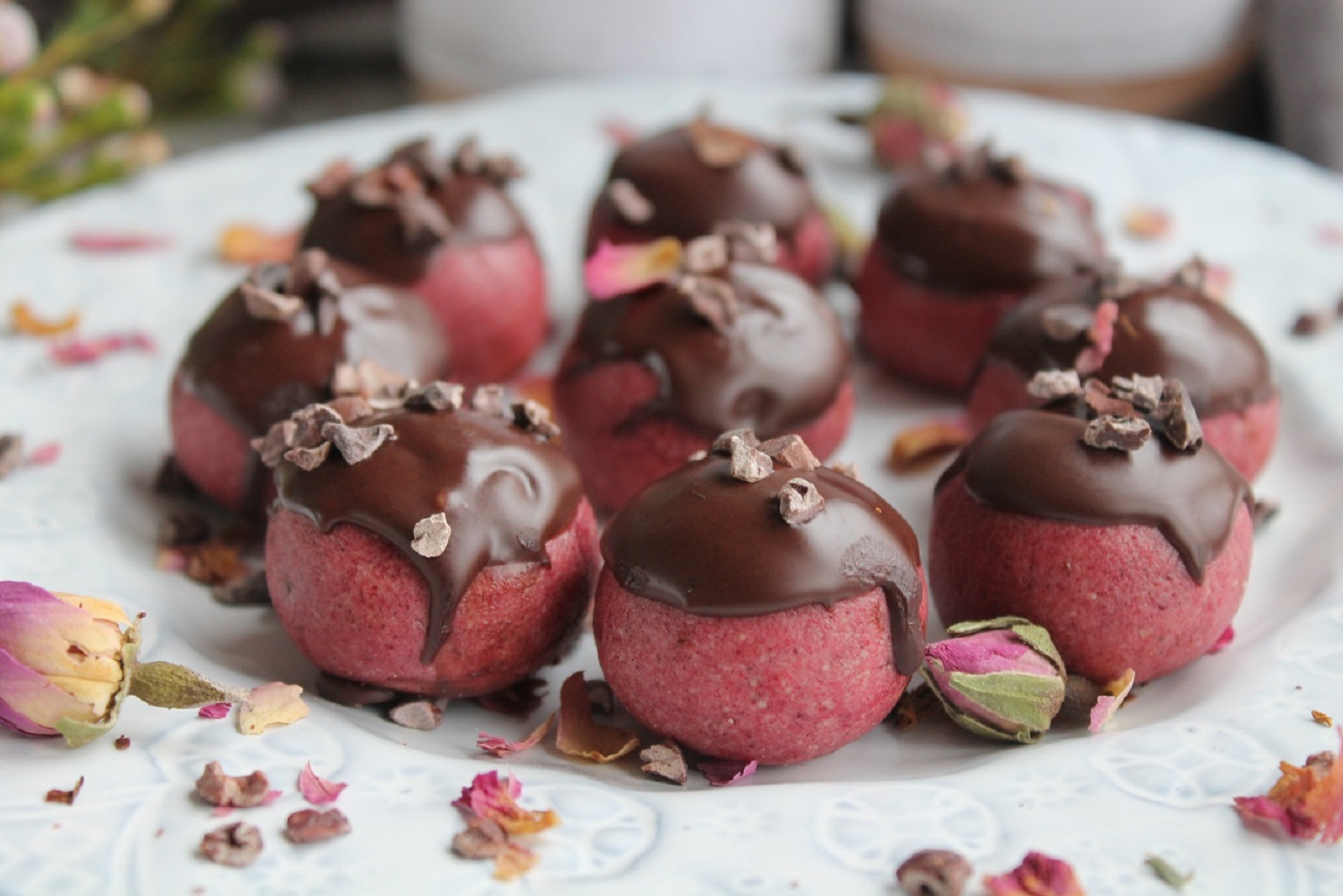 For when you're feeling like something a little bit special....
---
Mexican Tortillas With Tomato Salsa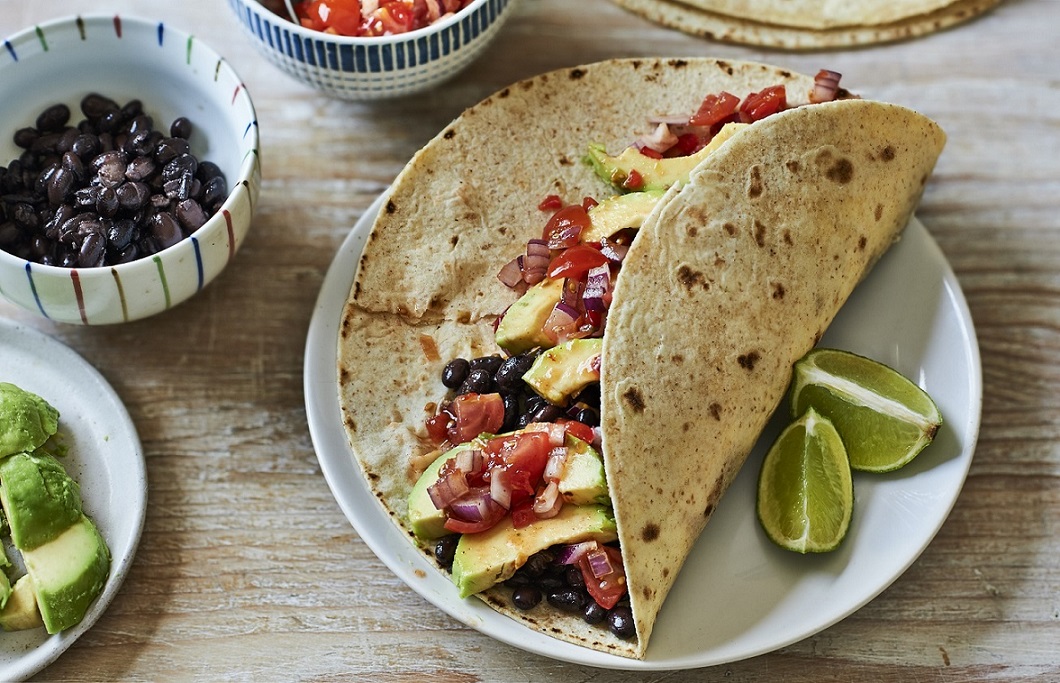 Get the party started with these Mexican fiesta favourites!
---
Sweet Potato And Bean Burgers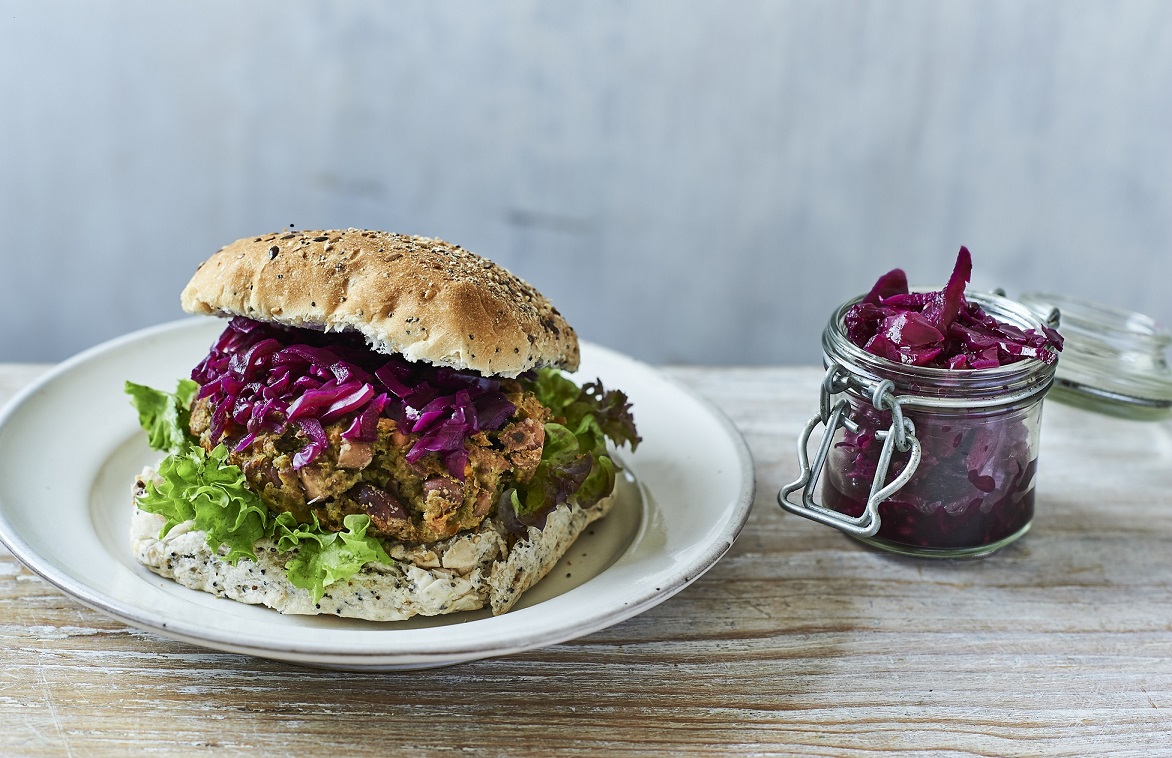 Who doesn't love a good hearty burger? These plant-based patties are simple, thrifty and delicious.
---
Raw Apricot Energy Balls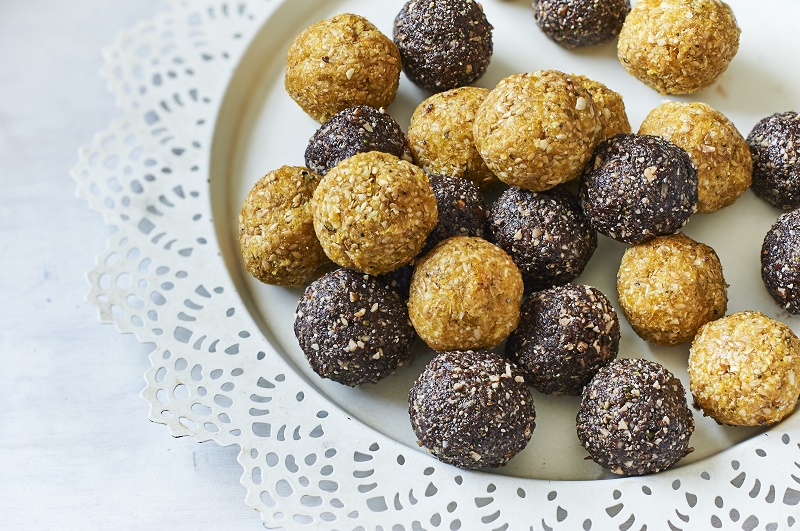 Packed with raw, natural energy, this is the perfect snack for when you want the sweetness kick without the crash!
---
King Zachary's Cake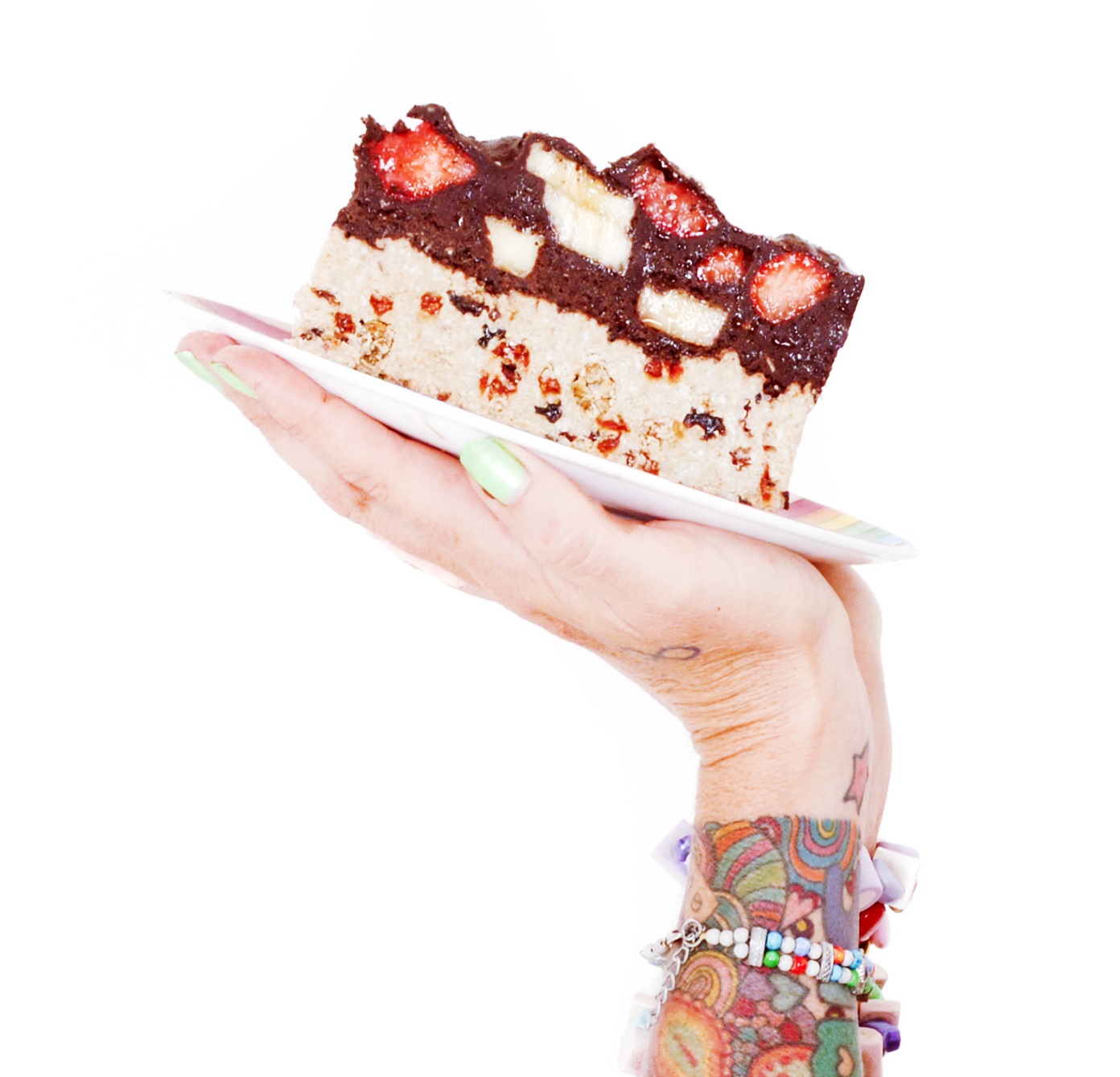 Kate Magic's tantalising raw cake recipe - beautiful on the eye, gorgeous on the tongue, light in the tummy, and will leave you feeling like the King (or Queen) that you are.
---
Summer Berry Smoothie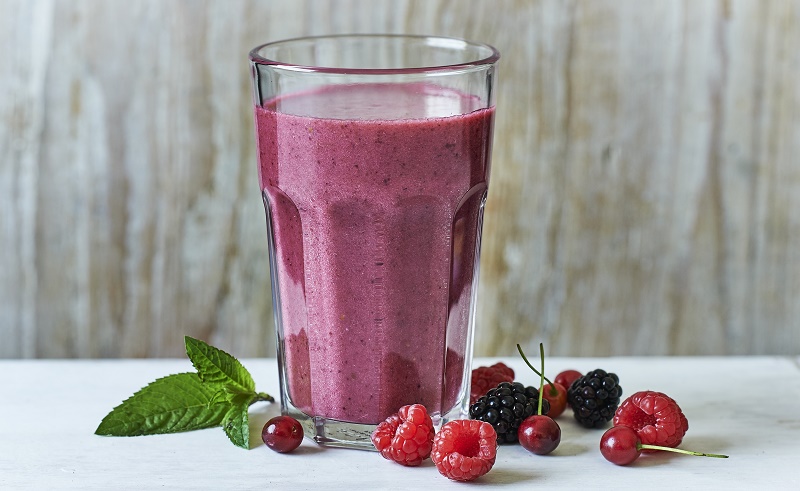 A delicious smoothie perfect as part of your breakfast or instead of a dessert!
---
Turmeric Latte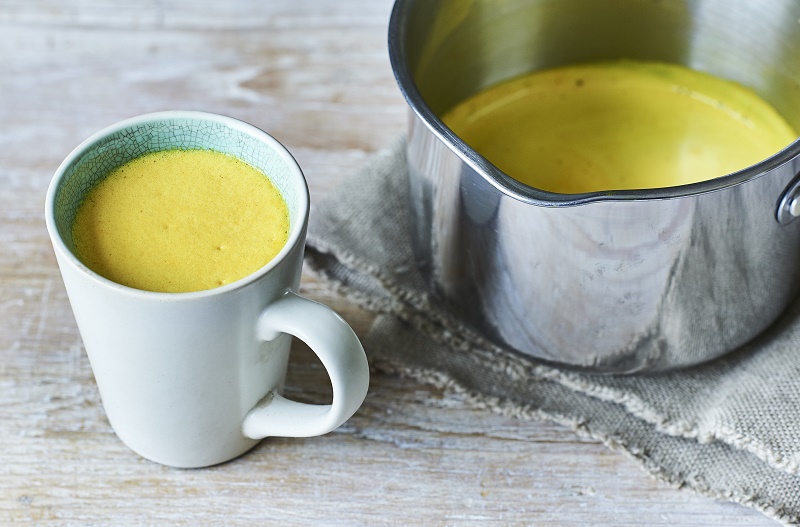 Known as 'golden milk' in India this delicious coffee/tea alternative is delicious, warming and uplifting. Said to be anti-cancer, anti-inflammatory and a digestive aid, turmeric contains curcumin, an active ingredient said to halt an enzyme that may be responsible for turning environmental toxins into carcinogens in the body. Makes two servings.
---
Sunshine Juice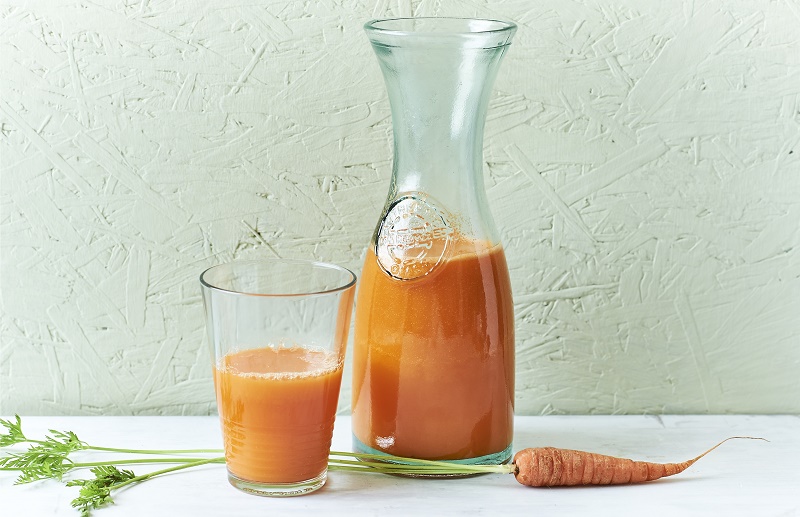 This zingy juice is the ultimate pick me up when feeling tired or run down.
---
Ximena's Vegetable Curry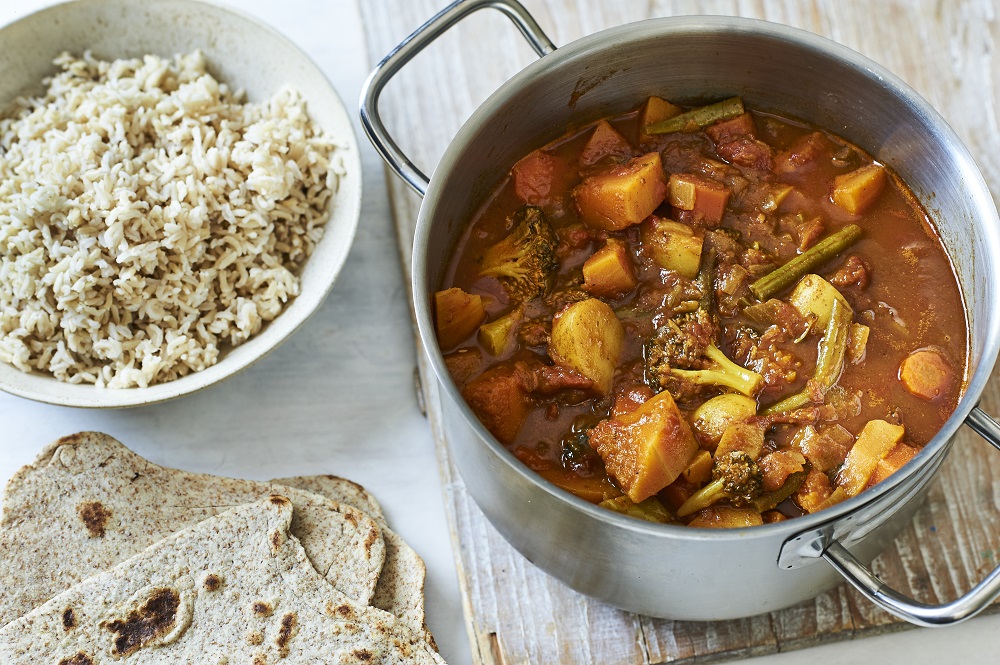 Hearty, tasty and filling - a great comfort dinner.
---
Ximena's Banana Nice Cream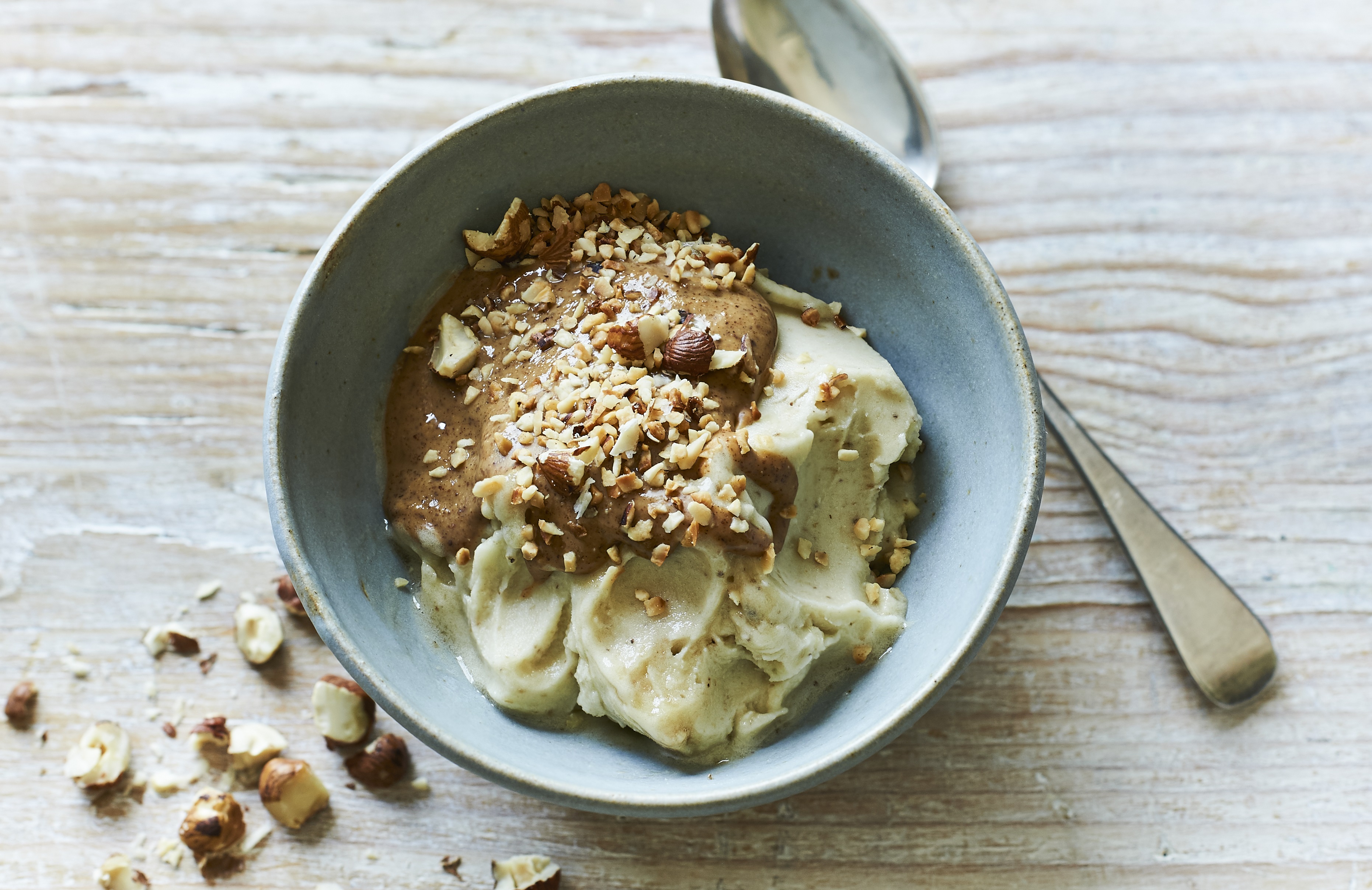 This is BANGING! So so so delicious. That is all we need to say.
---
Bosh! 3 Dip Gyoza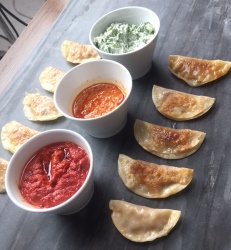 Mouthwatering gyozas with sumptuous coconut, cilantro, kimchi dips!
---
Carrot slices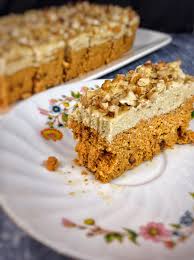 As sampled at the Hackney Vegan Market!
---
Goji-Lemon Coconut truffles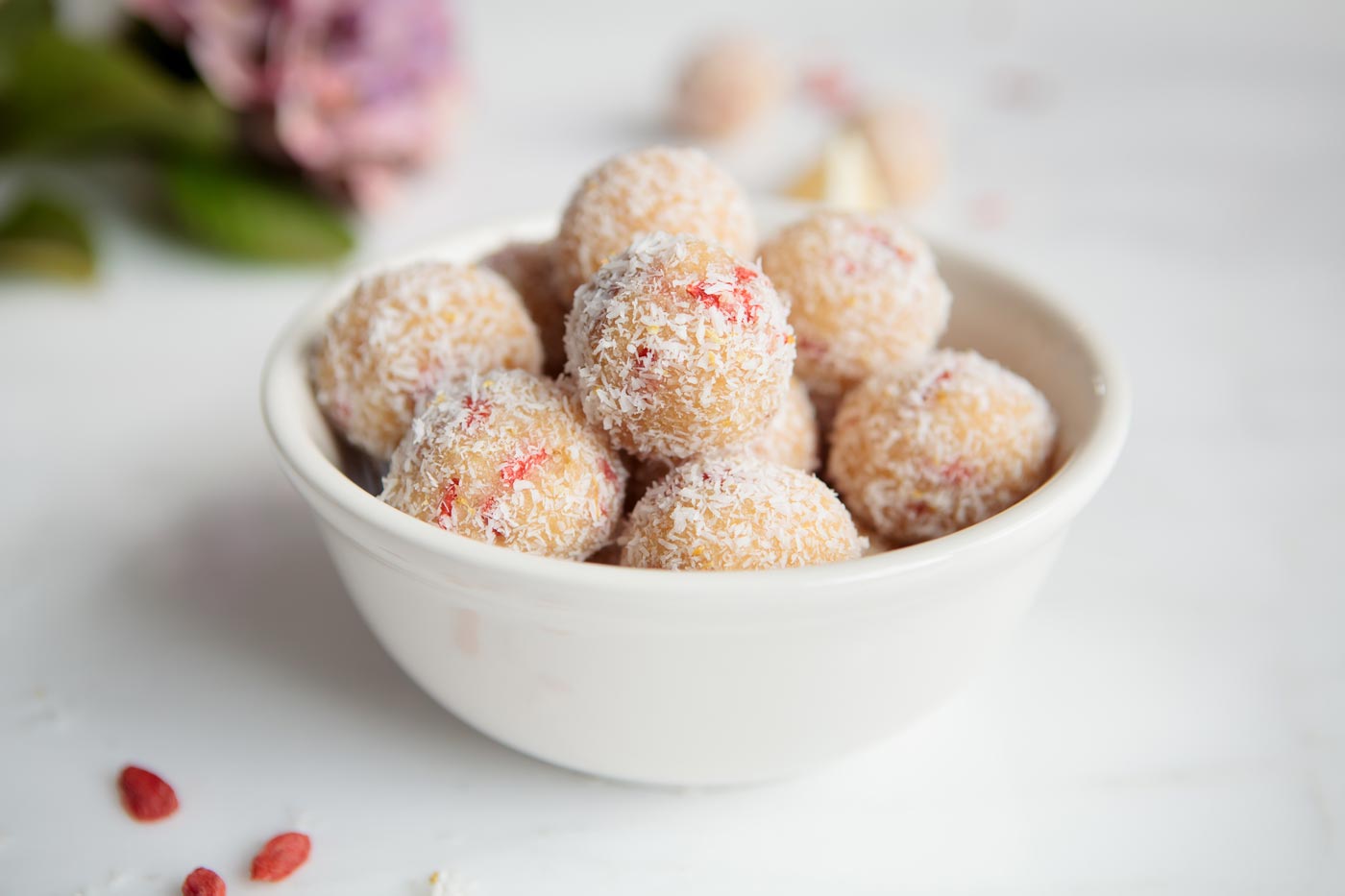 Deliciousness in a bite size bundle of goodness!
---
Bay-smoked Beetroot Soup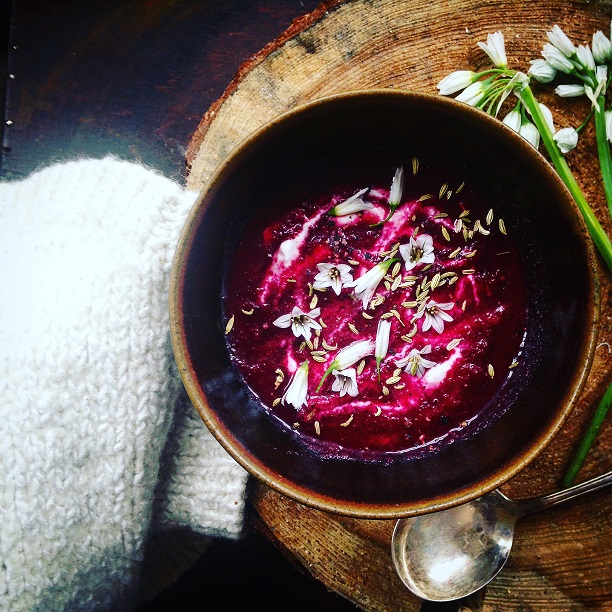 Brighten up your bowl with this radiant beetroot soup smoked with bay branches, which grow wild all over the UK. The smoking process is a great way to cook root vegetables quickly whilst adding tonnes of flavour!
---
Nettle and Hazelnut Gnocchi with Dandelion Butter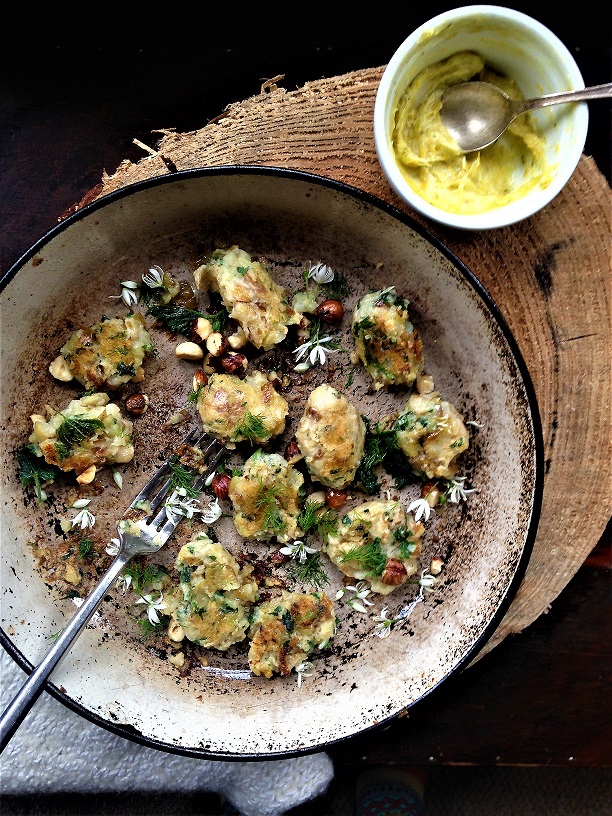 The nettle and hazelnut pesto in the gnocchi mixture not only adds flavour, colour, texture and nutrients but it also stands in place of the egg and cheese used some gnocchi recipes. The nettle can be swapped for alternative seasonal wild greens at other times of the year.
---
Banana Bread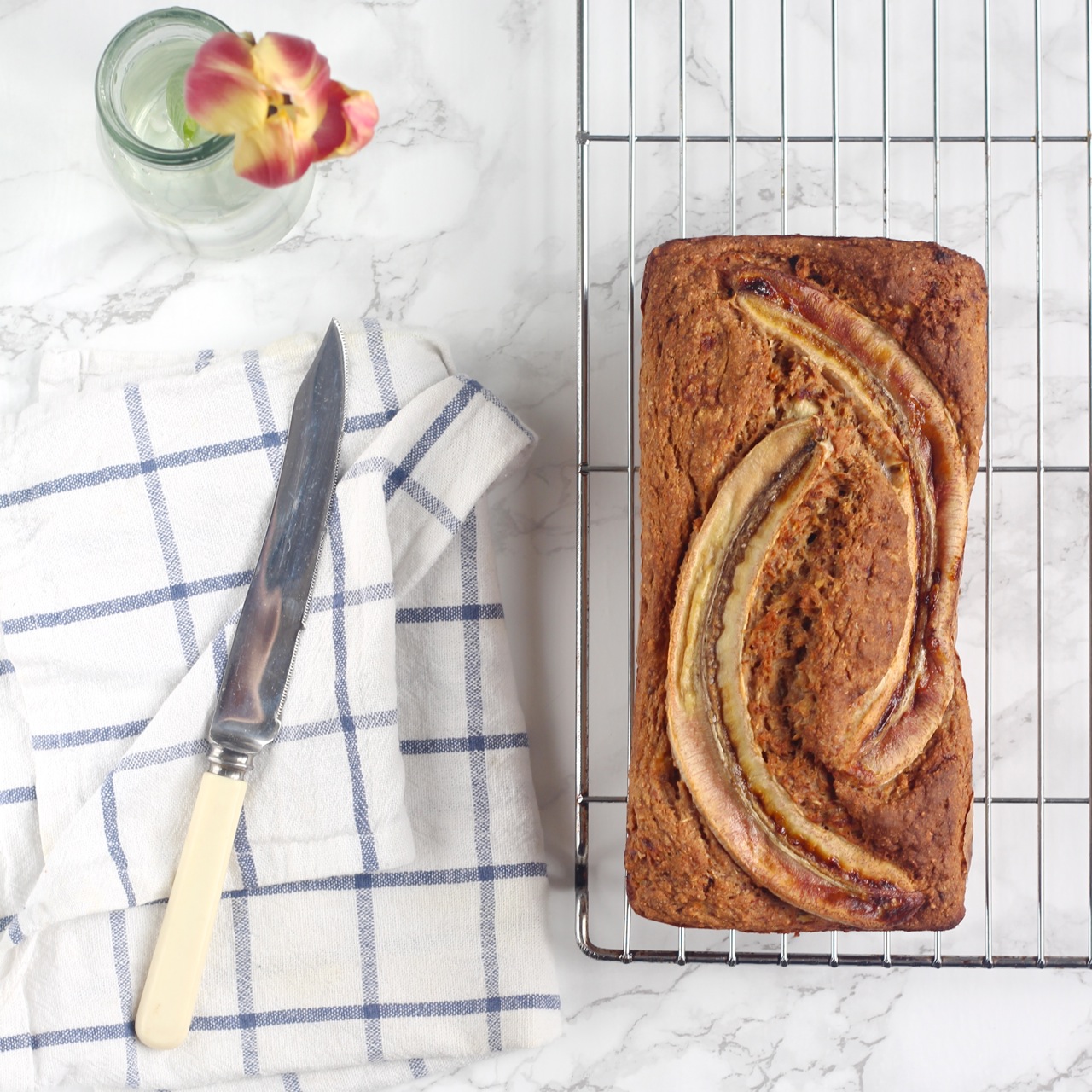 Banana Bread is always a crowd pleaser! Using wholemeal spelt flour and oats too, this banana bread contains lots of fibre.
---
Mini Cottage Pies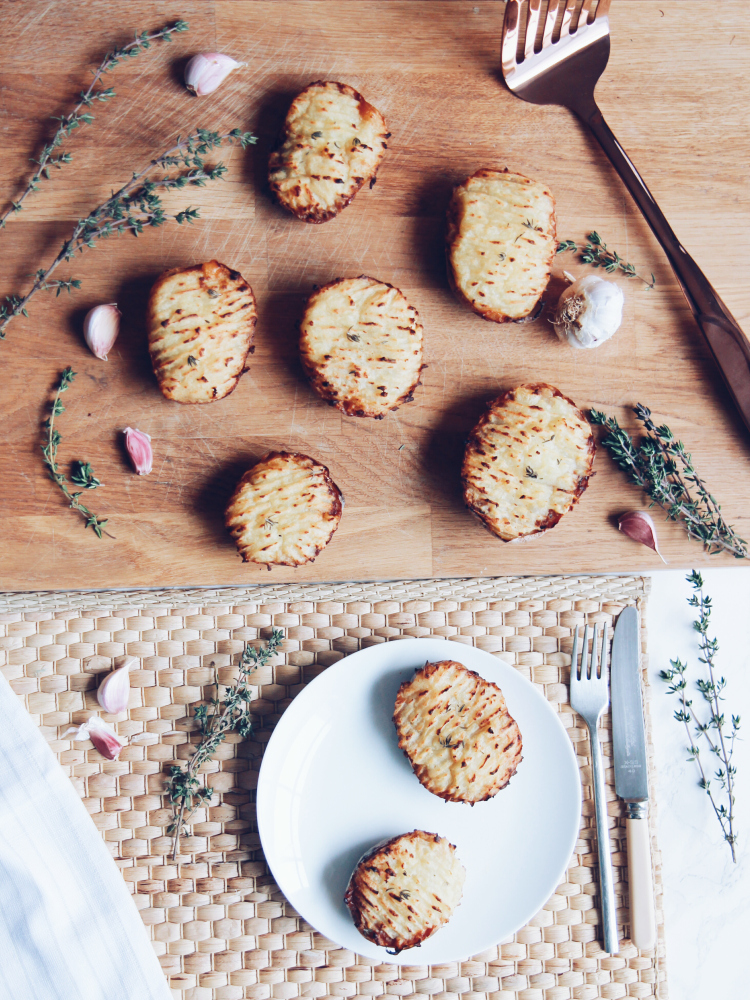 This super cute and tasty recipe and photograph comes from Made In Hackney supporter and amazing vegan blogger and supper club chef Eleanor Brown from Kind State Of Mind. Be sure to check out her amazing blog - and enjoy these pies. We sure did.
---
Cashew Camembert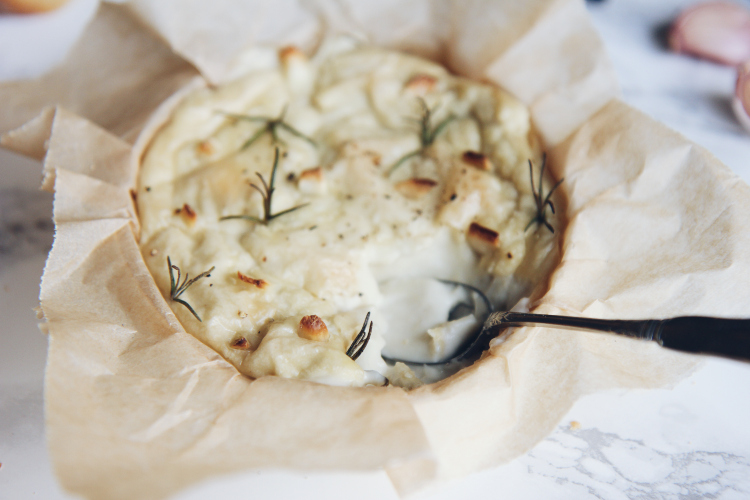 Vegan camembert??? YES! This insanely delicious recipe and photograph comes from Made In Hackney supporter and amazing vegan blogger and chef Eleanor Brown from Kind State Of Mind. We know you'll enjoy it as much as we did!
---
Raw Chocolate Pots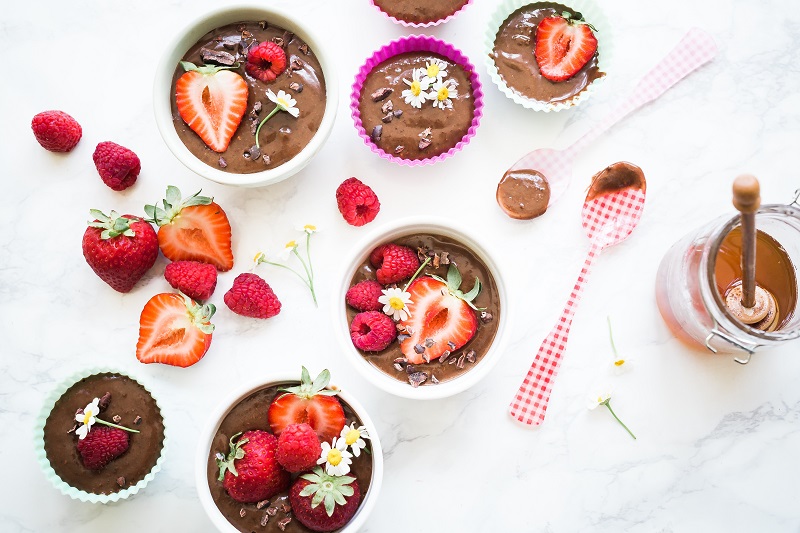 The avocados give this mousse its texture without overpowering the dish, and are packed with nutrients, including potassium, omega 3 and vitamin E.
---
Apricot, coconut and lime bliss balls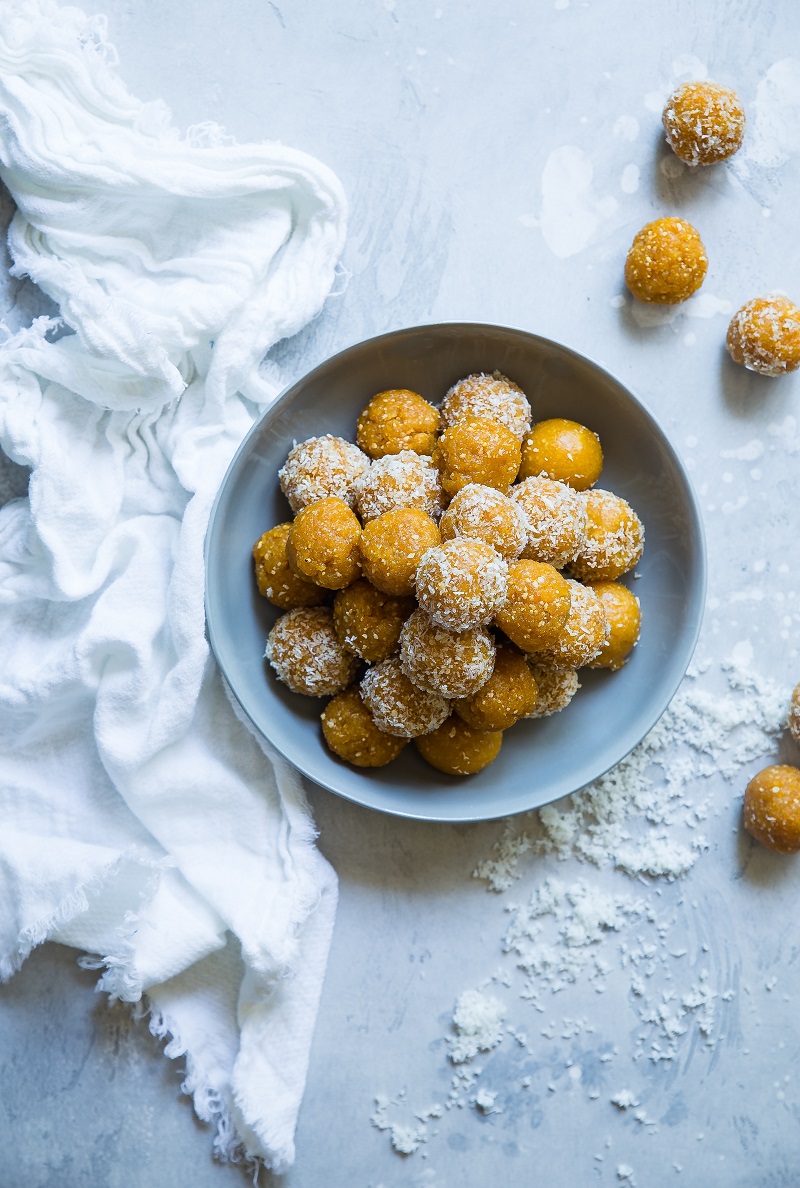 A deliciously fruity mouthful of bliss!
---
Cashew Chive Cream Cheese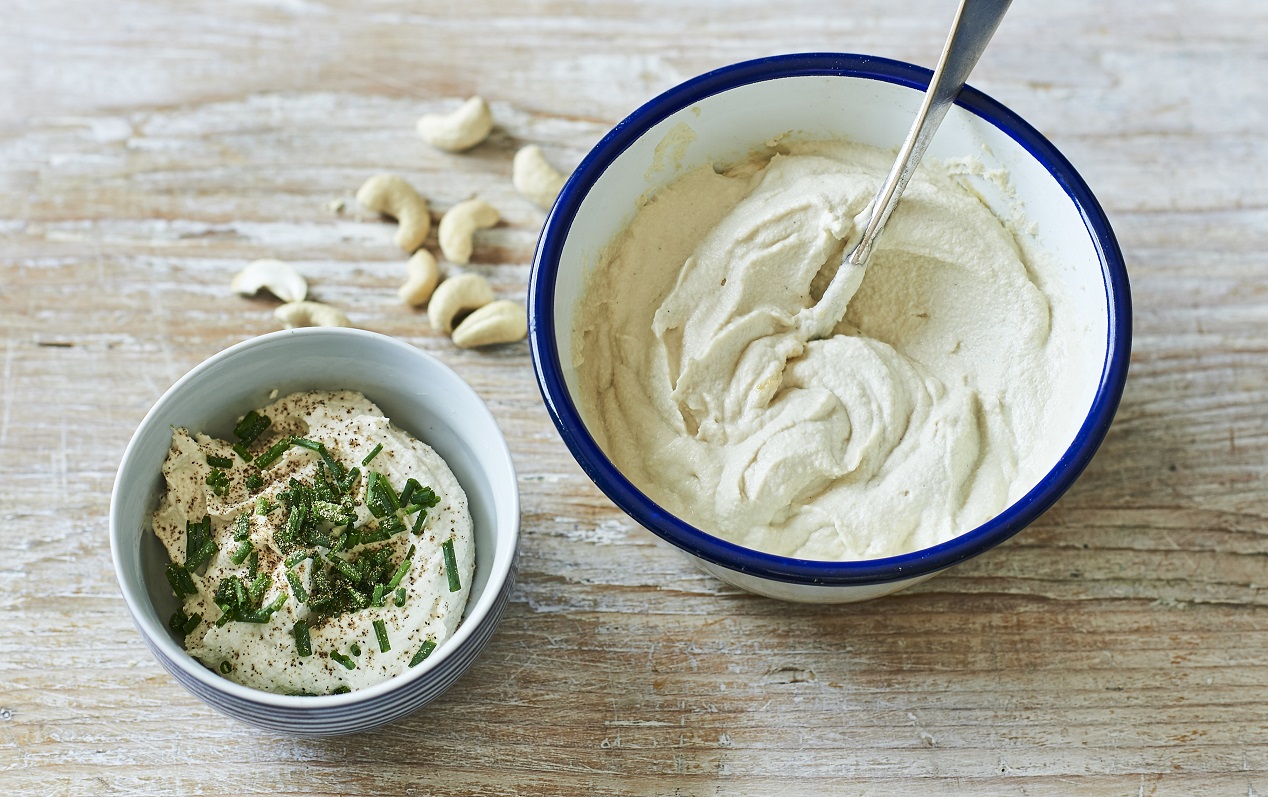 Authentic dairy-free fermented cream cheese that tastes just like your old favourite. Warning, this stuff is addictive :-)
---
Italian Focaccia Bread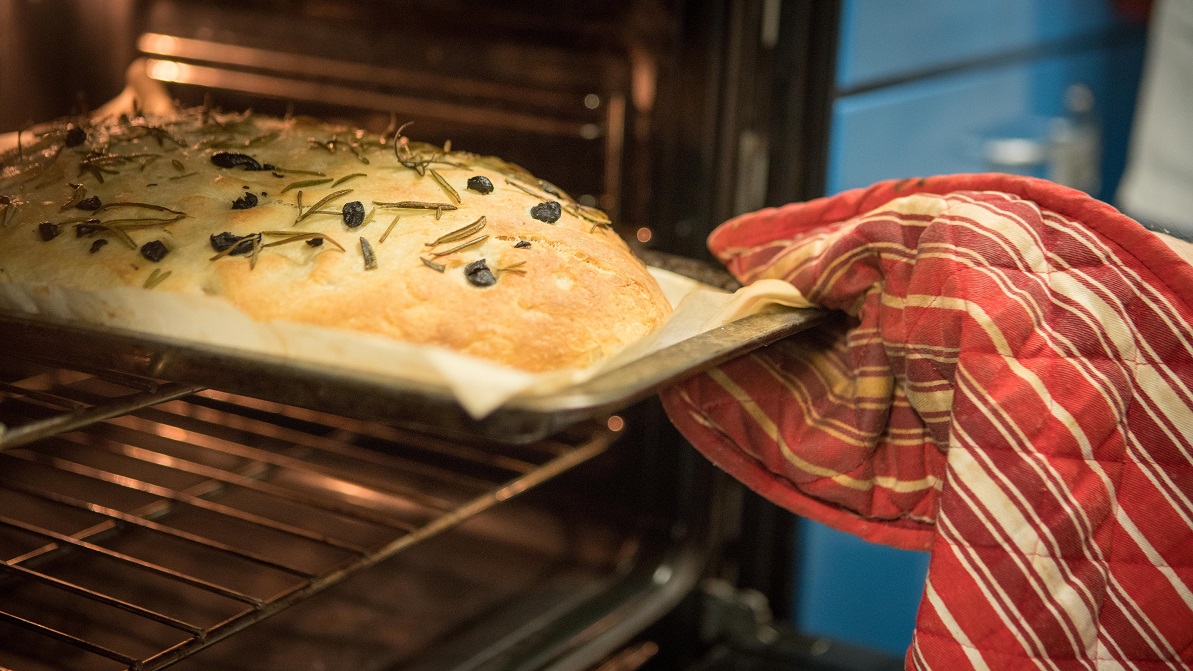 This is a wonderful bread to eat with pasta. It's soft and can be flavoured with your favourite herbs, garlic and any other toppings.
---
Kale Salad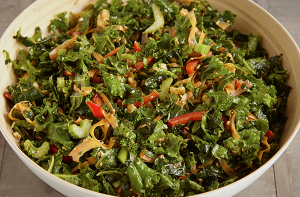 This salad is bursting with nutrition, light yet also very flavourful. You simply can't go wrong with kale as a base for your salad.
---
Raw Sushi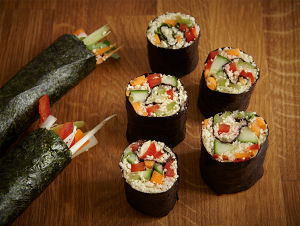 This is a healthy and versatile recipe - Use it while entertaining, as a quick starter before dinner or to take into work for lunch.
---
Chocolate Blood Orange and Ginger Mousse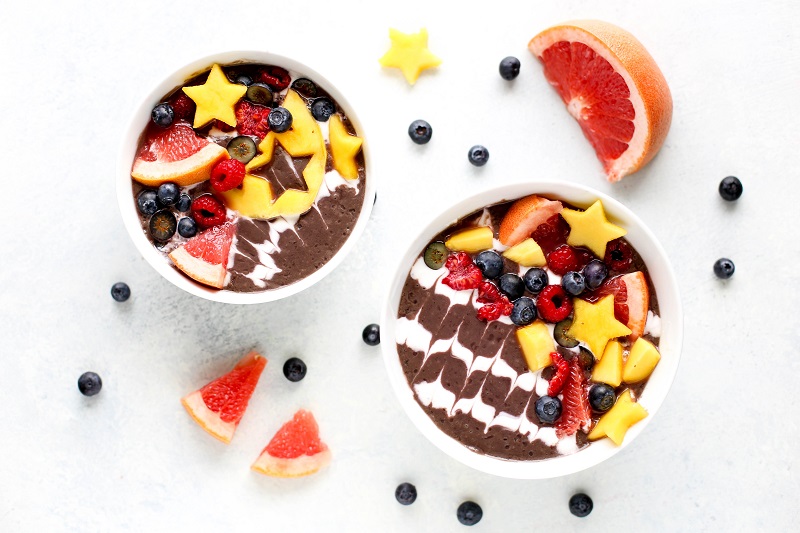 This magnesium rich mousse, low in added sugar is perfect for blasting those chocolate cravings.
---
Raw Chocolate and Coconut Cake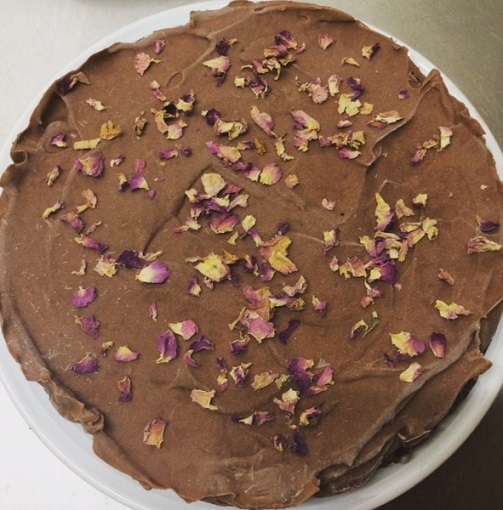 This cake is very simple and quick to make. Did you know that its main ingredient cacao means 'food of the gods' !
---
Saag Tofu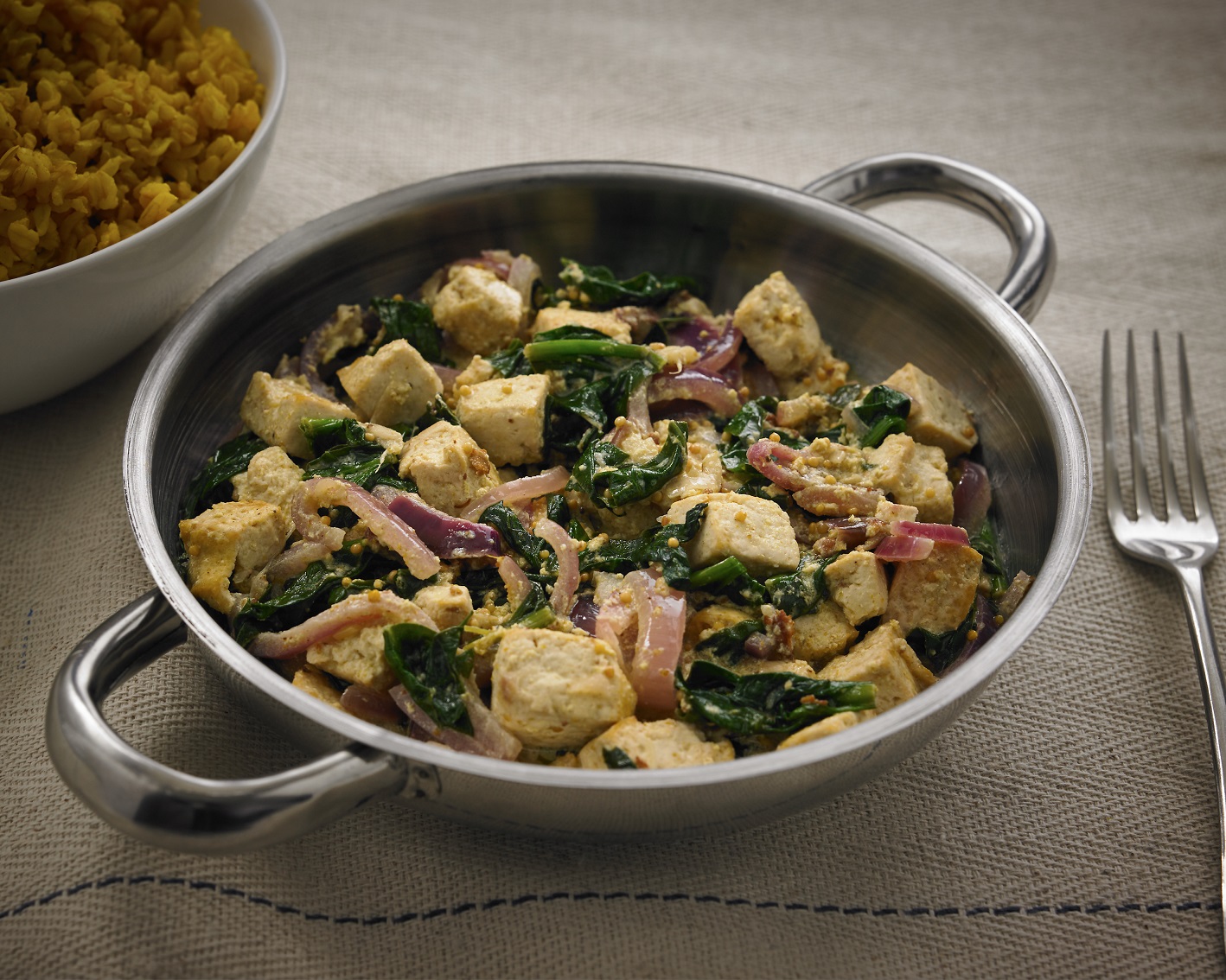 A fragrant, warming dish. The tofu is a creamy and nutritious alternative to paneer in this dish. Try it with rice, naan bread or roti.
---
Easy Lentil Hot Pot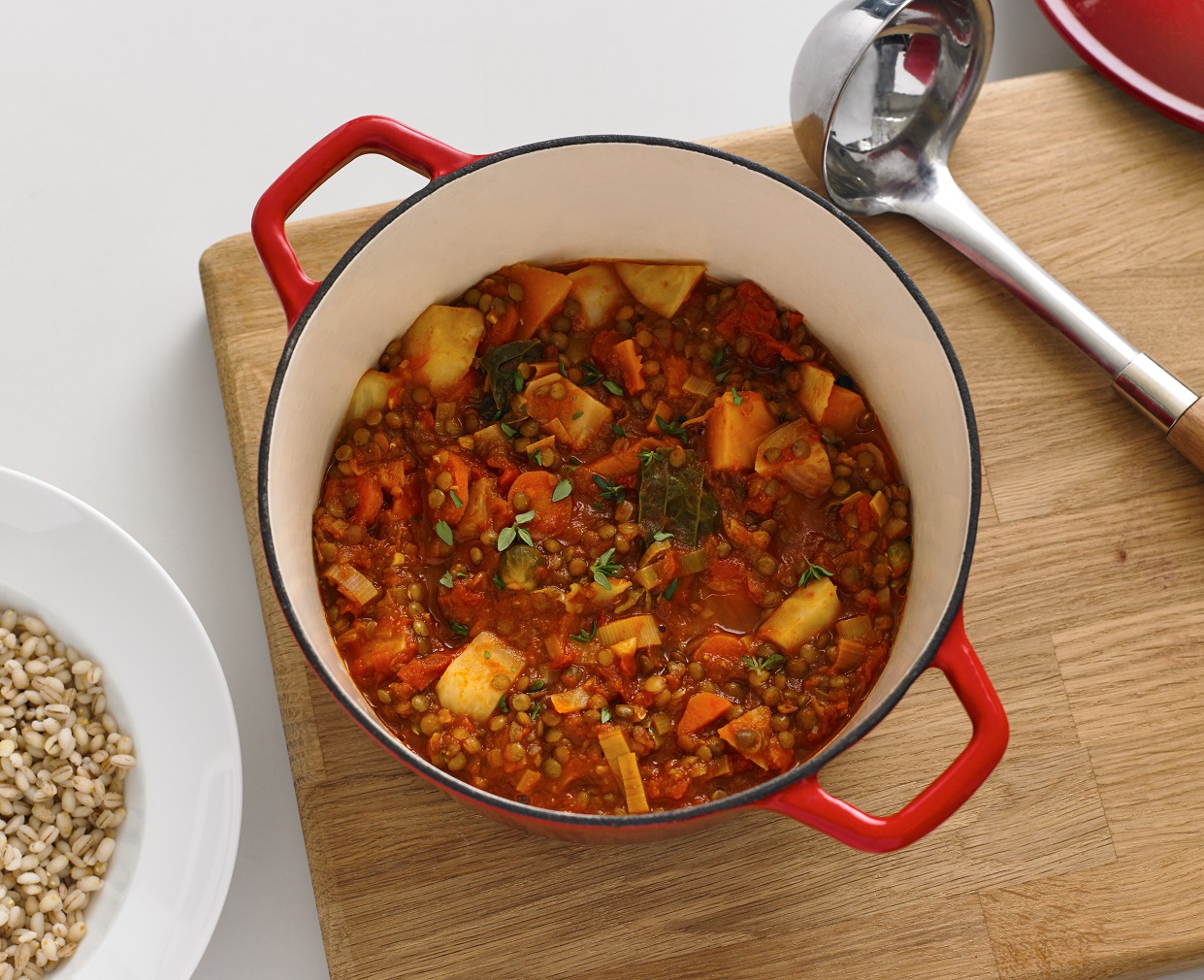 A hearty and wholesome stew, full of earthy wholegrains and root vegetables.
---
Tomato Sauce with Pasta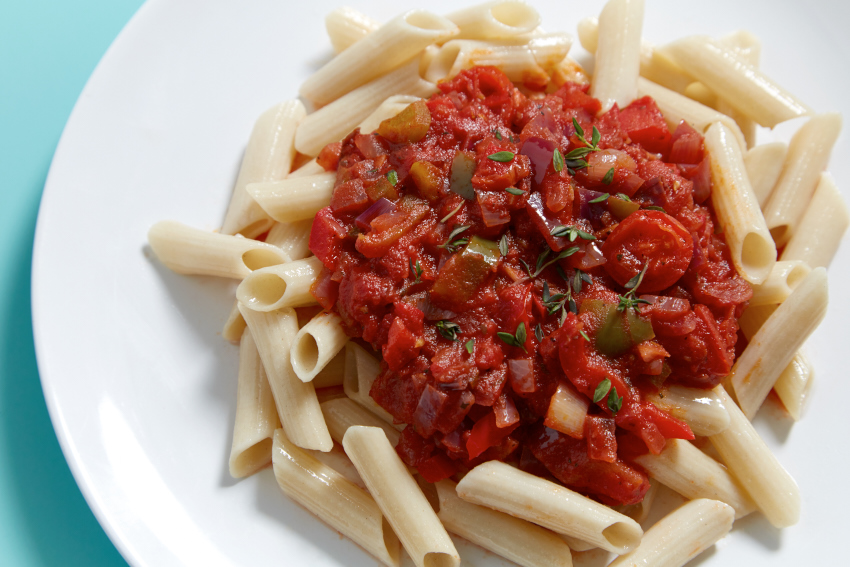 A simple and satisfying classic. Great for kids. Why not get them to help you make it?
---
Lentil Spag Bol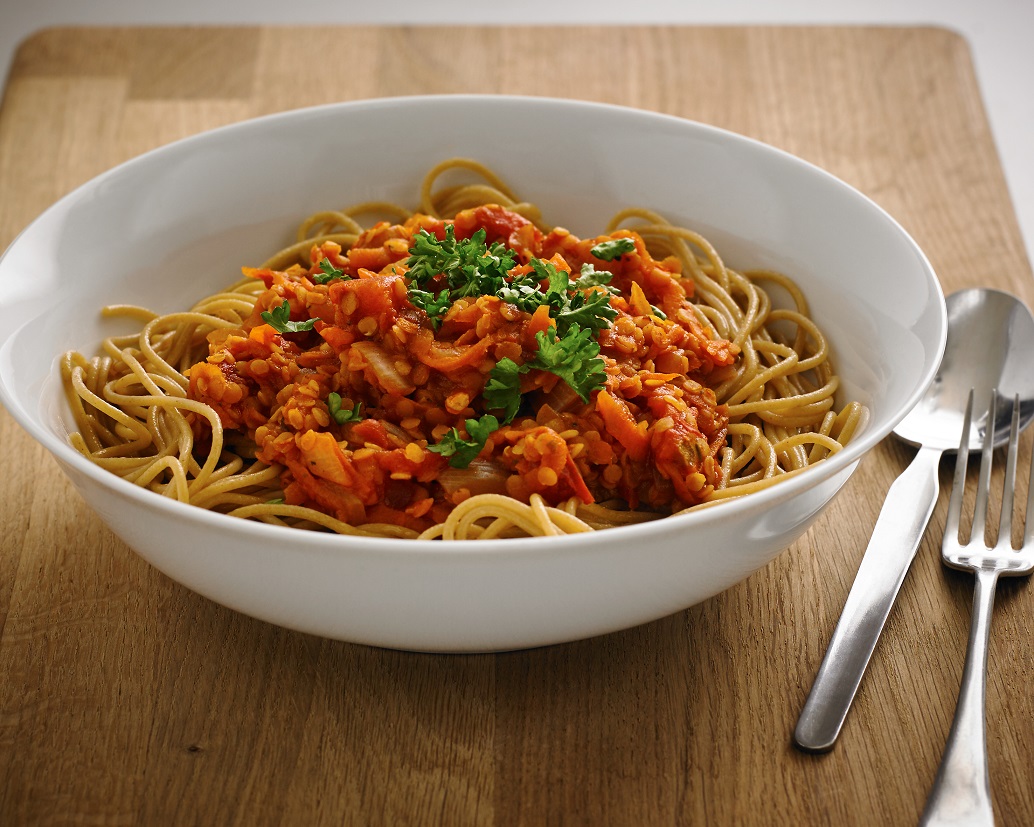 Swapping out minced meat for lentils in this dish gives you a satisfying spag bol which is full of protein and lighter on the wallet.
---
Winter Veggie Pie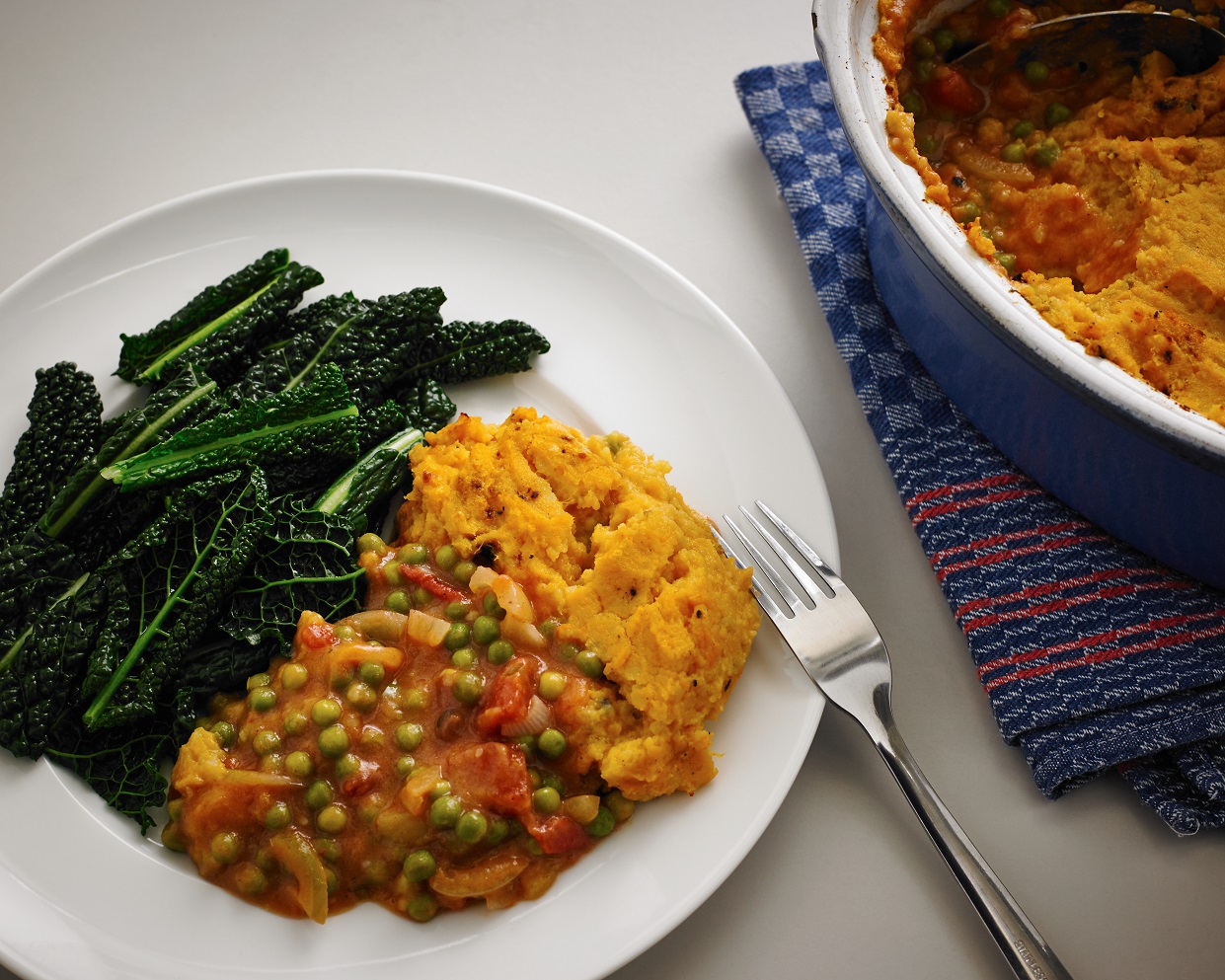 Comfort food at its best. Serve with steamed greens, as pictured, or by itself.
---
Carrot and Coriander Soup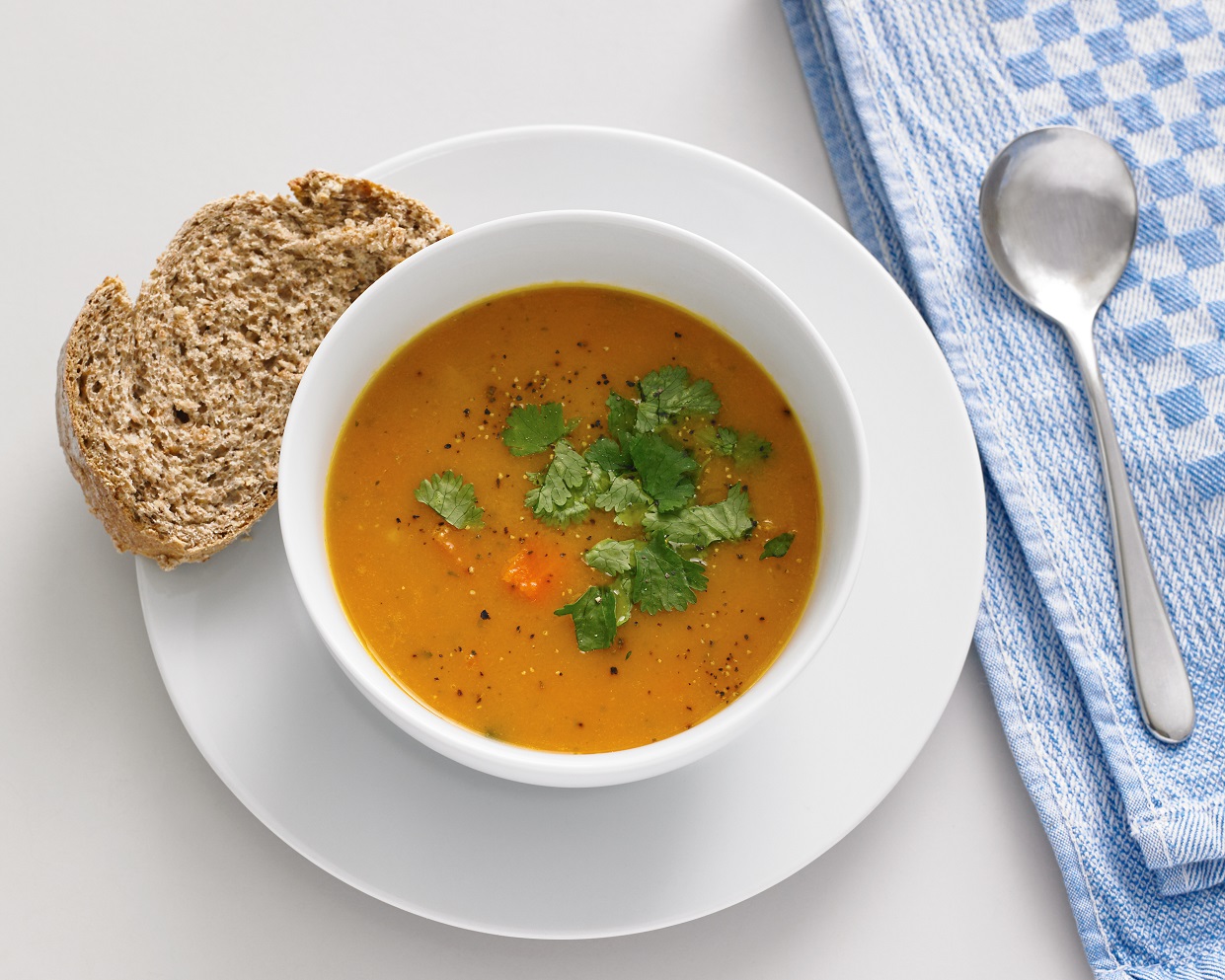 A delicious classic. The fresh orange juice adds a tasty zing. Perfect for cold days.
---
Yellow Lentil and Cauliflower Curry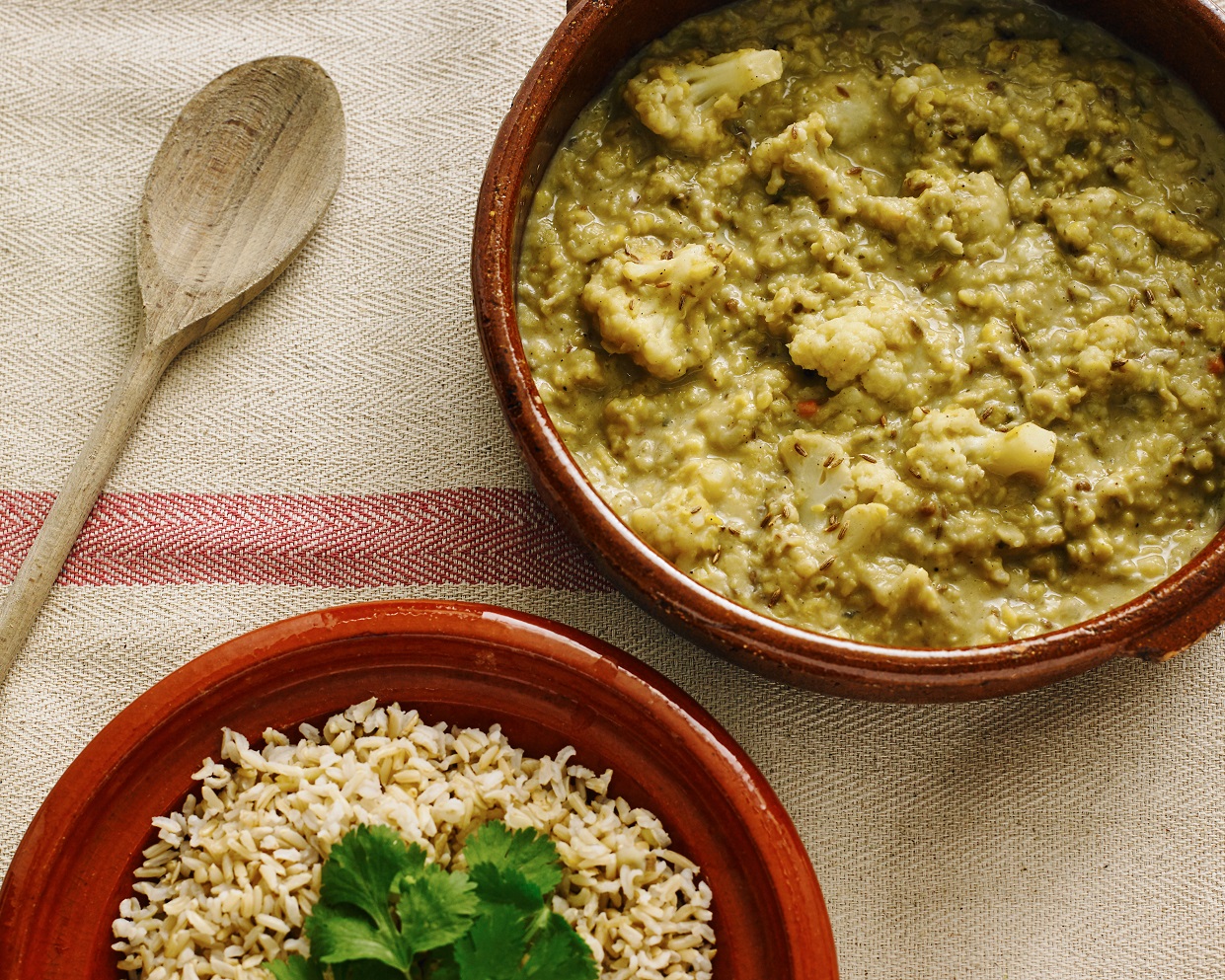 A creamy and rich curry, perfect for cold winter nights. The ginger, turmeric and garlic can help boost your immune system!
---
Posh Beans On Toast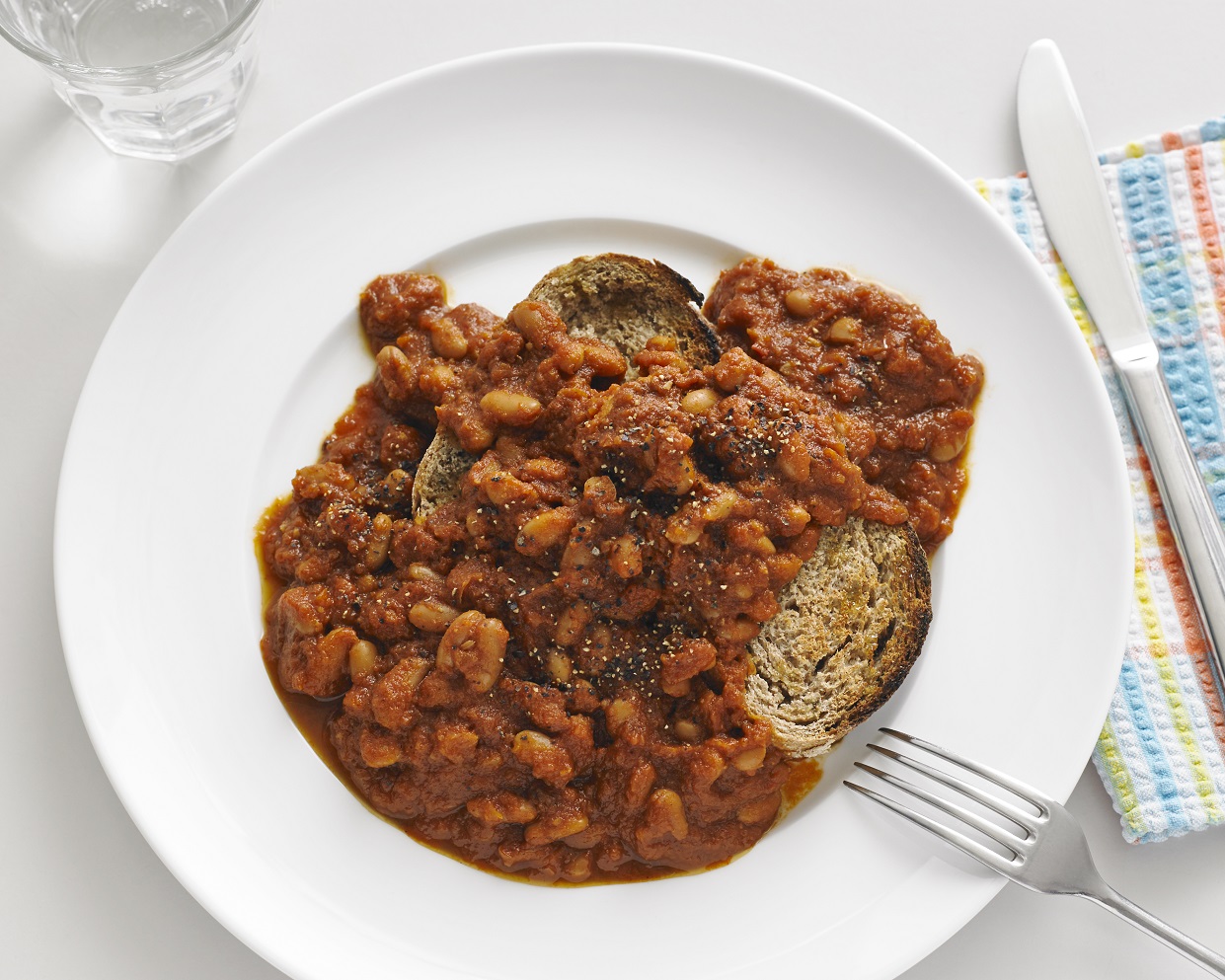 Making your own baked beans from scratch is a great way to impress friends and family. This version has no sugar, glucose syrup or other nasties in. Great for a quick tea or a Sunday breakfast
---
Roasted Vegetables with Couscous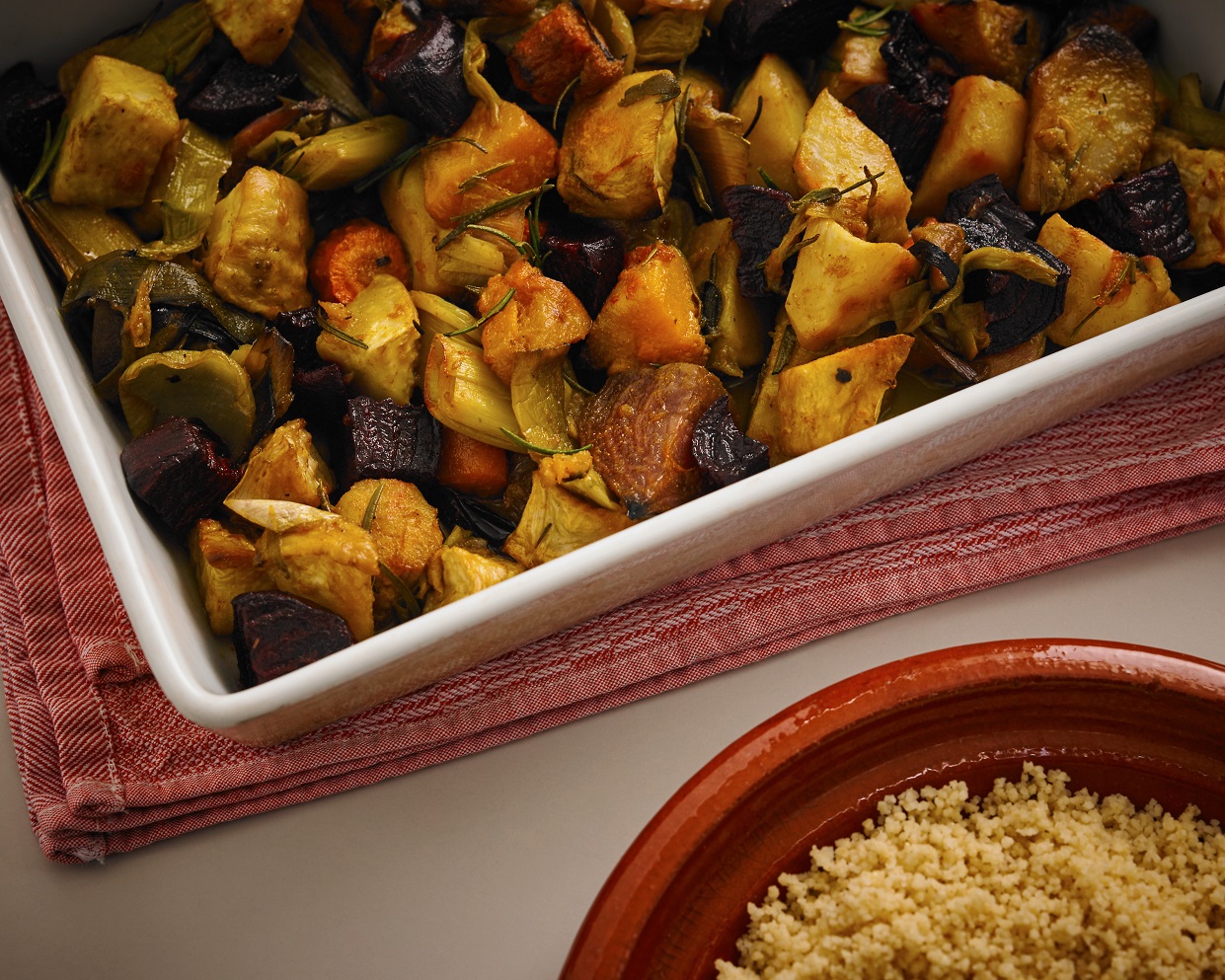 You can use almost any seasonal vegetables for this dish. The couscous is light, fluffy and takes only 10 minutes from start to finish!
---
Broccoli and Tofu Stir Fry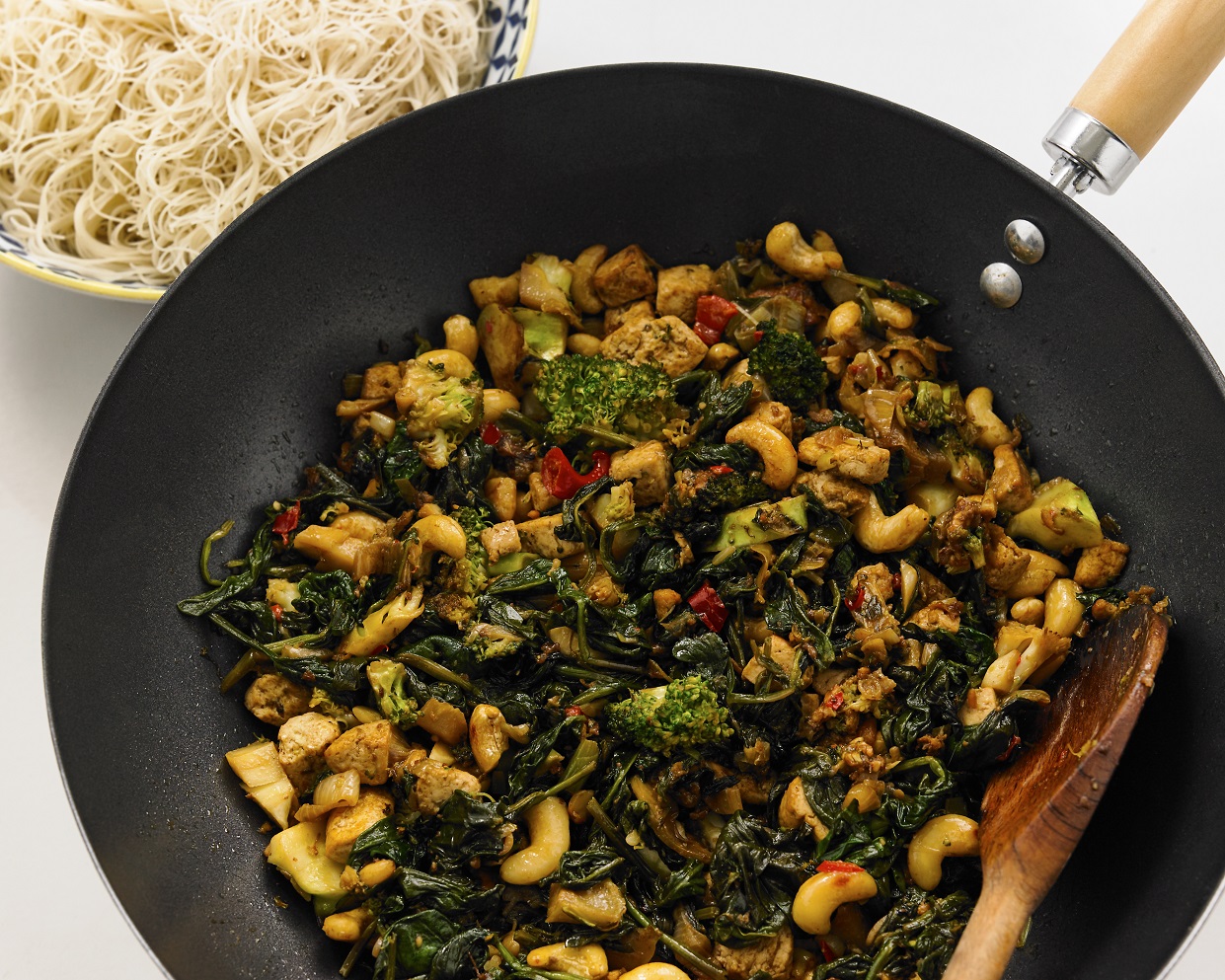 This Chinese-inspired sizzling stir fry, complete with homemade hoisin sauce, is sure to impress. The sweet and tangy sauce is the star of the show!
---
Summer Vegballs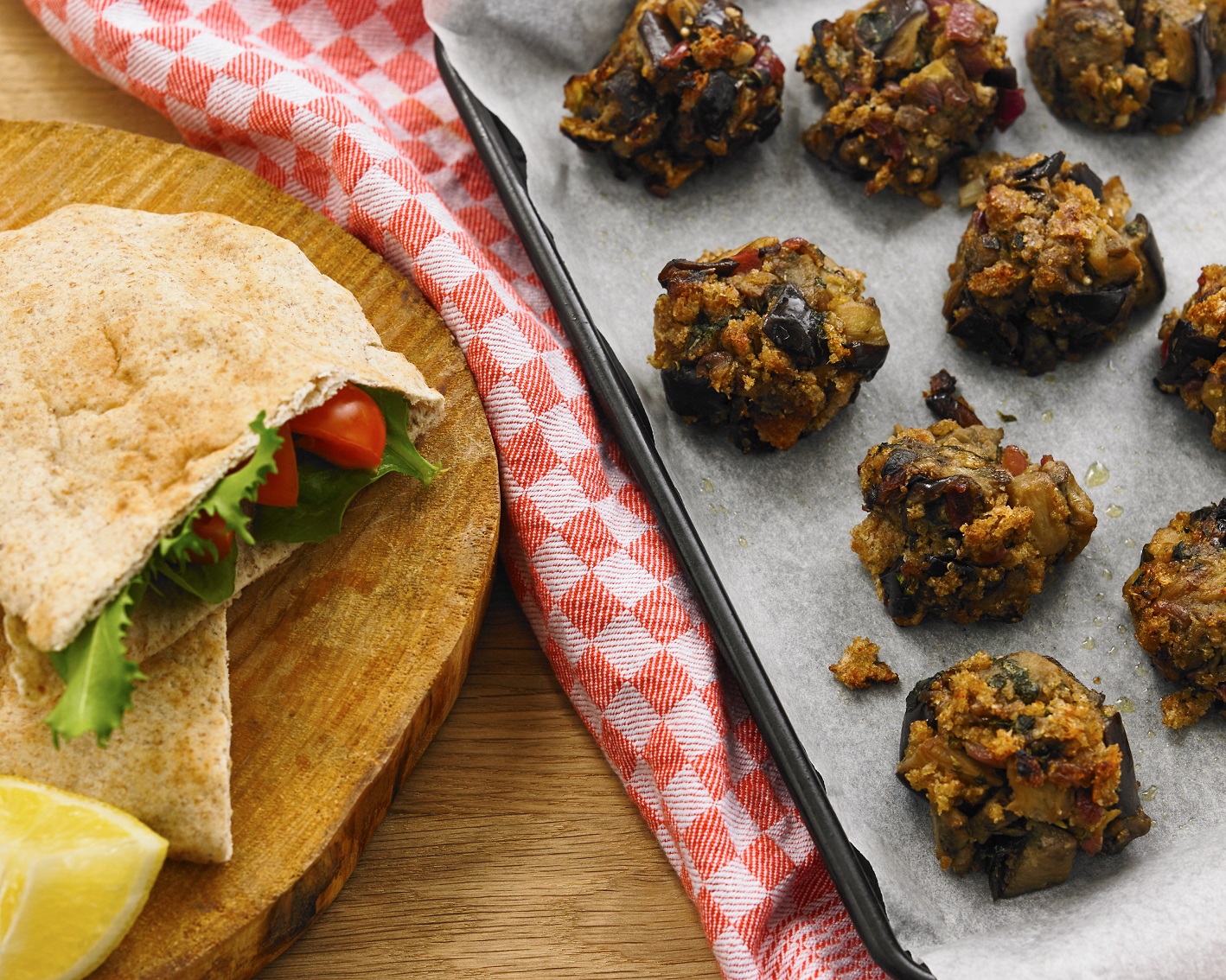 These versatile vegballs can be stuffed in pitta, used in wraps or served on top of salad leaves. A great dish to share with friends and family.
---
Black Bean, Potato and Tomato Salad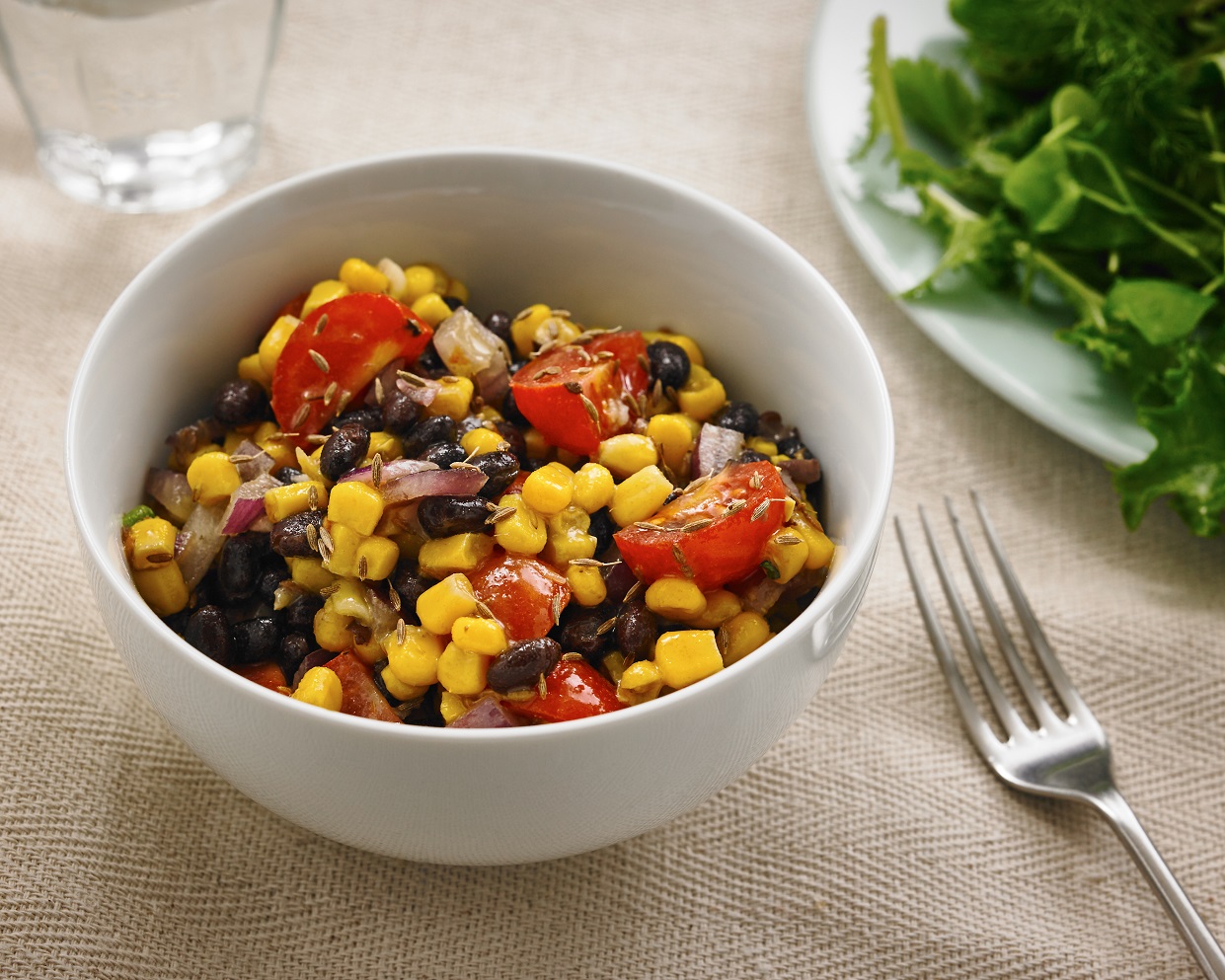 This lunchbox-friendly salad is quick and easy to make - a great standby. The touch of cumin adds warmth and why not try it with fresh chilli?
---
Veg Noodle Salad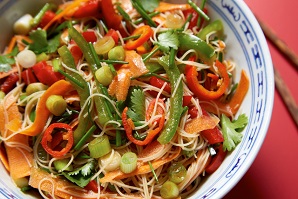 This noodle salad is a delicious and zesty dish perfect for warmer days. Try it with tofu or tempeh for a protein kick.
---
Pea and Watercress Soup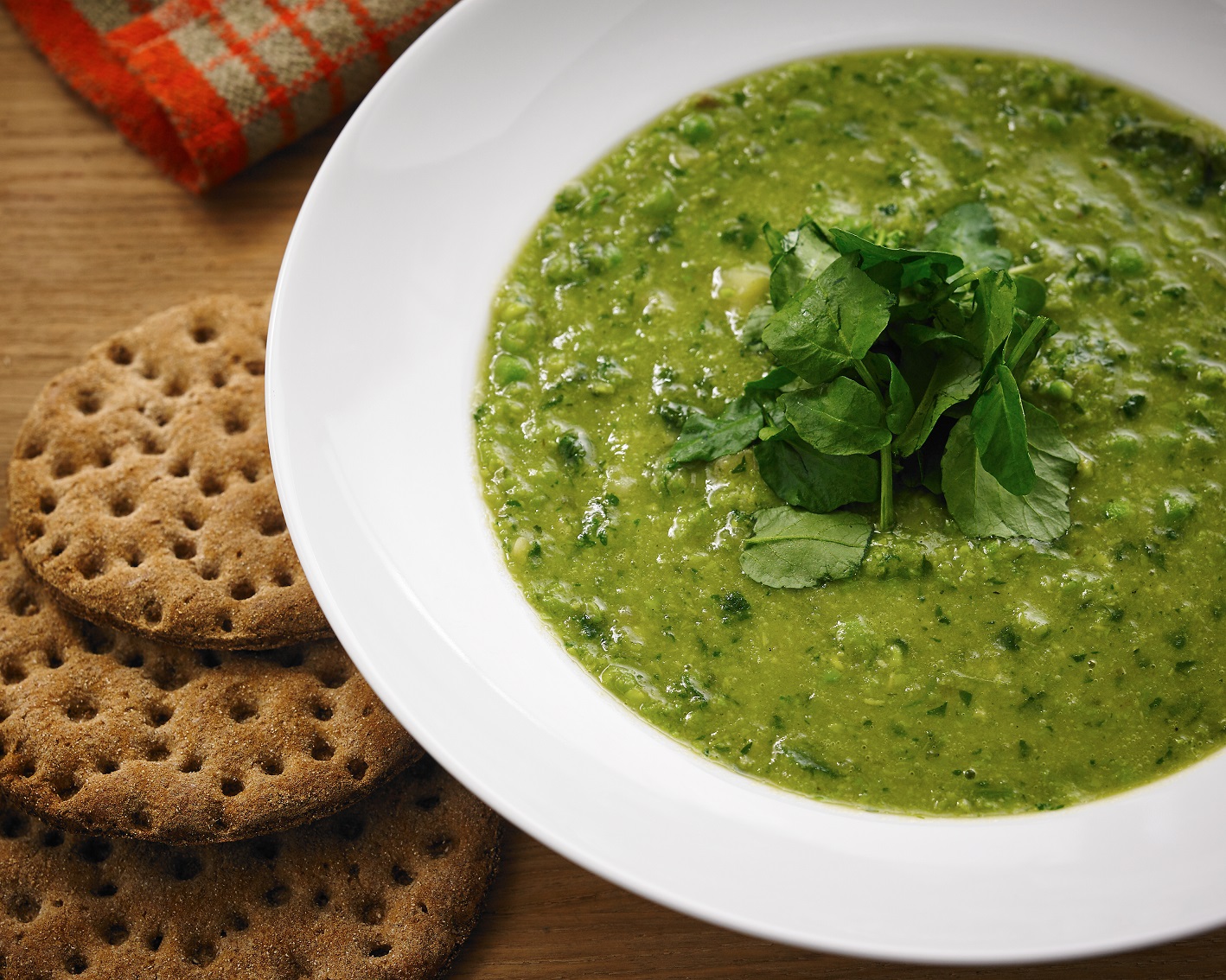 This hearty Spring soup is quick & easy to make and packed full of greens!
---
Cashew Nut Yoghurt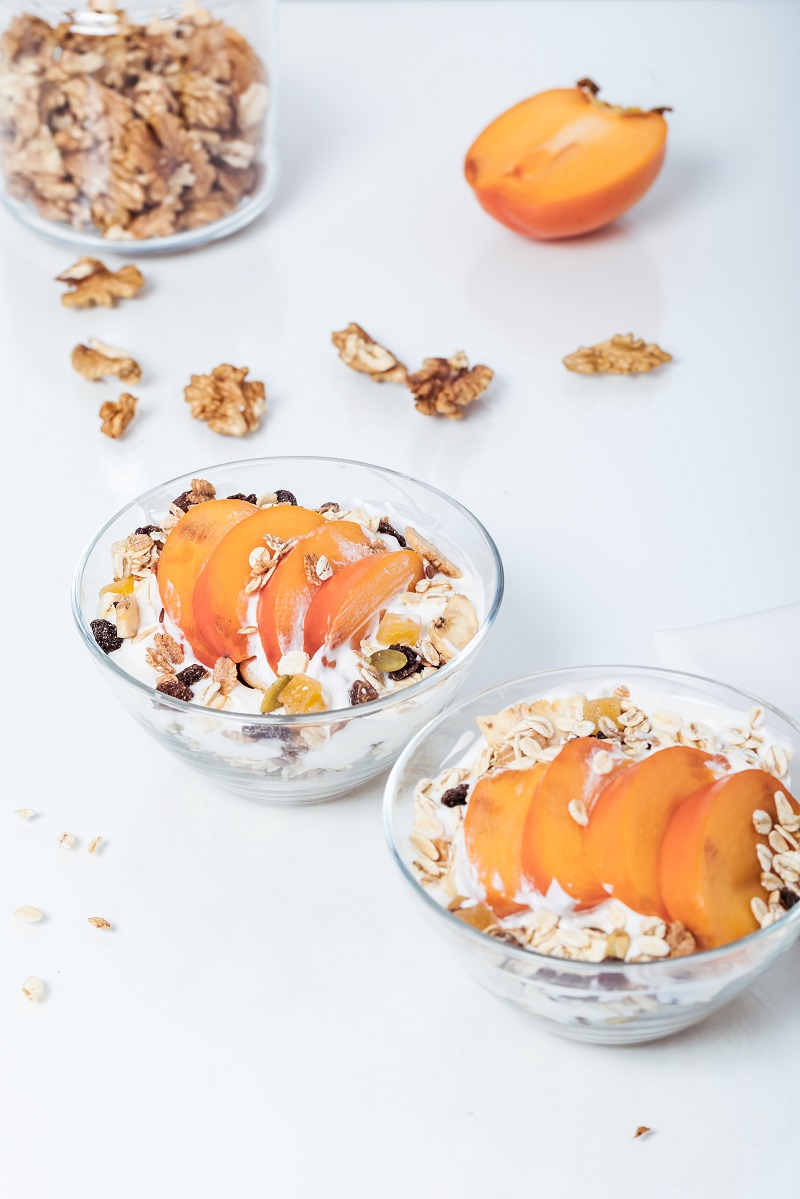 Once you try making this quick and easy yoghurt recipe, you'll never eat shop bought yoghurt again!
---
Gluten Free Quinoa and Chia Bread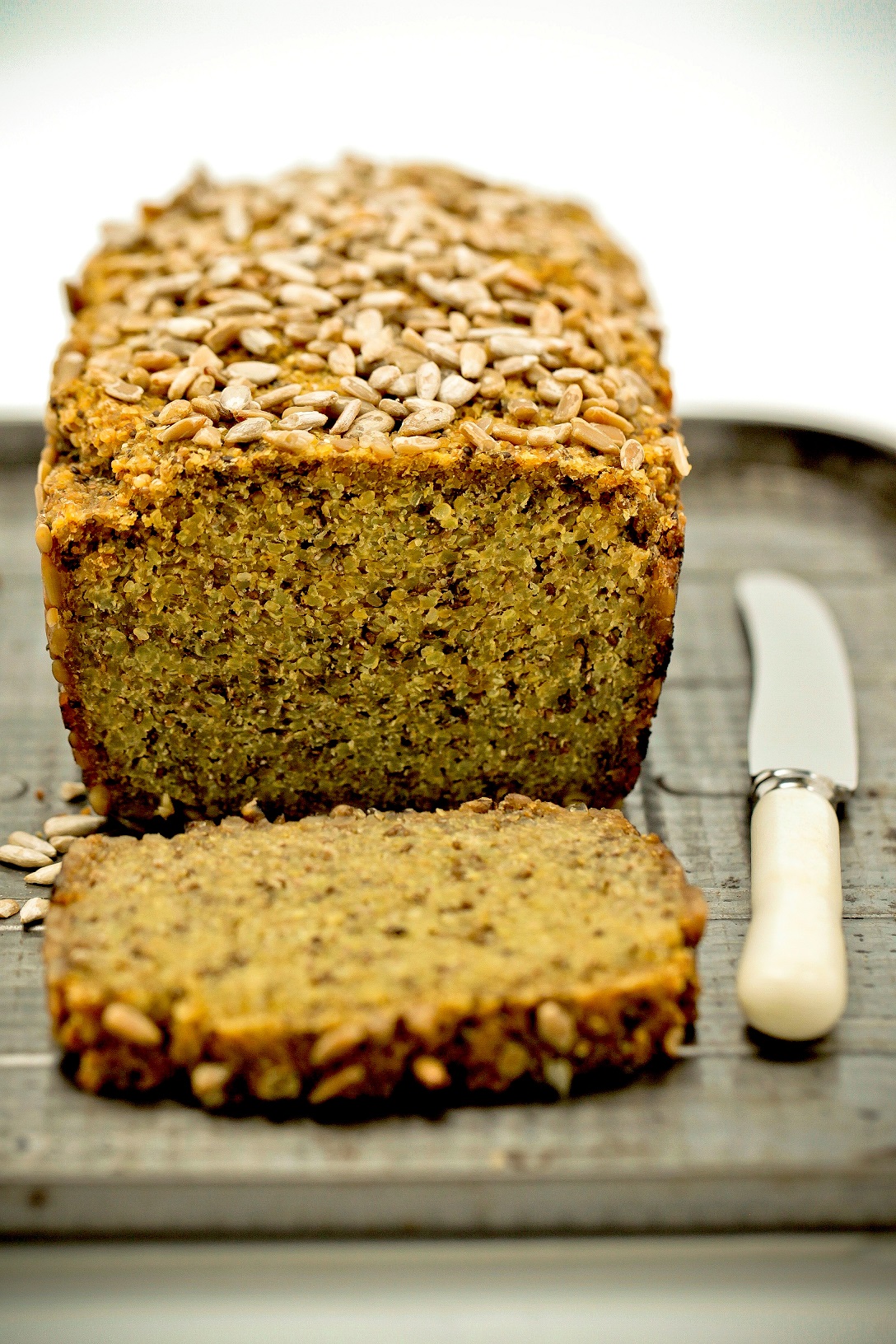 A gluten free bread recipe, packed full with health boosting nutrients from the awesome people at www.thehealthychef.com
---
Mushroom soup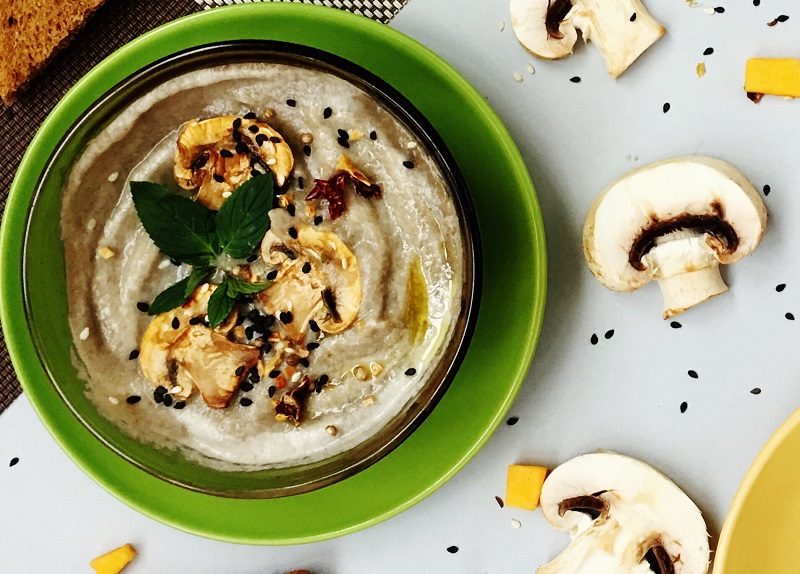 Mushrooms have powerful immune boosting properties (called beta glucans) so are ideal to stave off colds and flu in winter. A bowl of soup as a starter is also a good way to get one of your 7 cupfuls of plants a day for the fibre to feed the good bacteria in the gut and help overall health.
---
Super Green Juice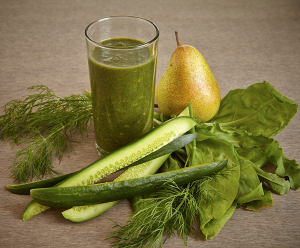 One of the best ways to boost your health and begin to repair years of damage is with juicing. Try this delicious Green Detox Juice
---
Apple Cake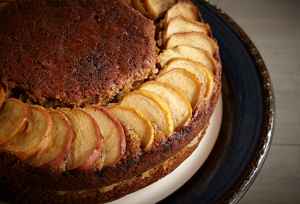 A delicious, fluffy cake using seasonal apples and coconut sugar to sweeten. A real treat!
---
Summer Berry Tarts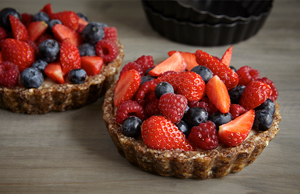 Super easy to make delicious - and healthy- berry tart! What is there not to love.
---
Salted Caramel Truffles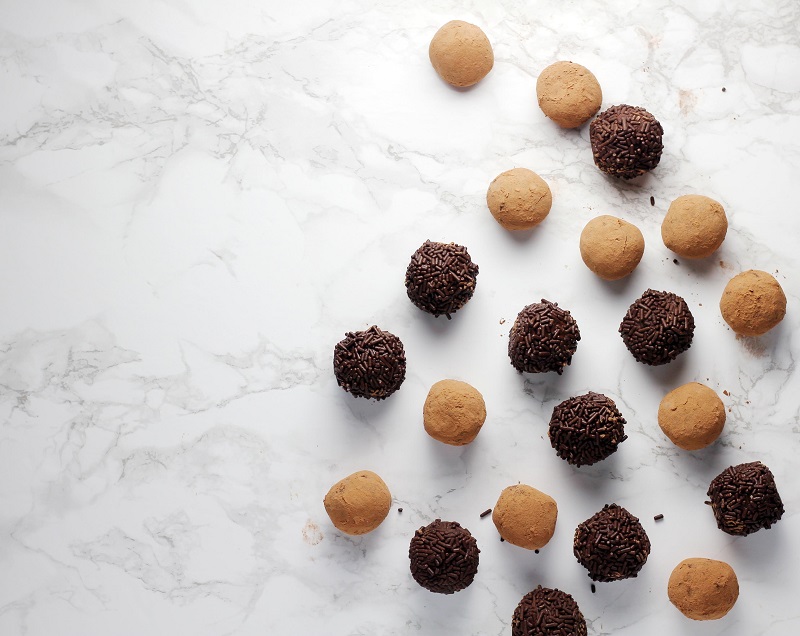 These sweet treats are crunchy on the outside and creamy and salty-sweet on the inside. By MIH teacher Renee Taylor (adapted from a recipe from Minimalist Baker).
---
Tuscan Chestnut Cake - Castagnaccio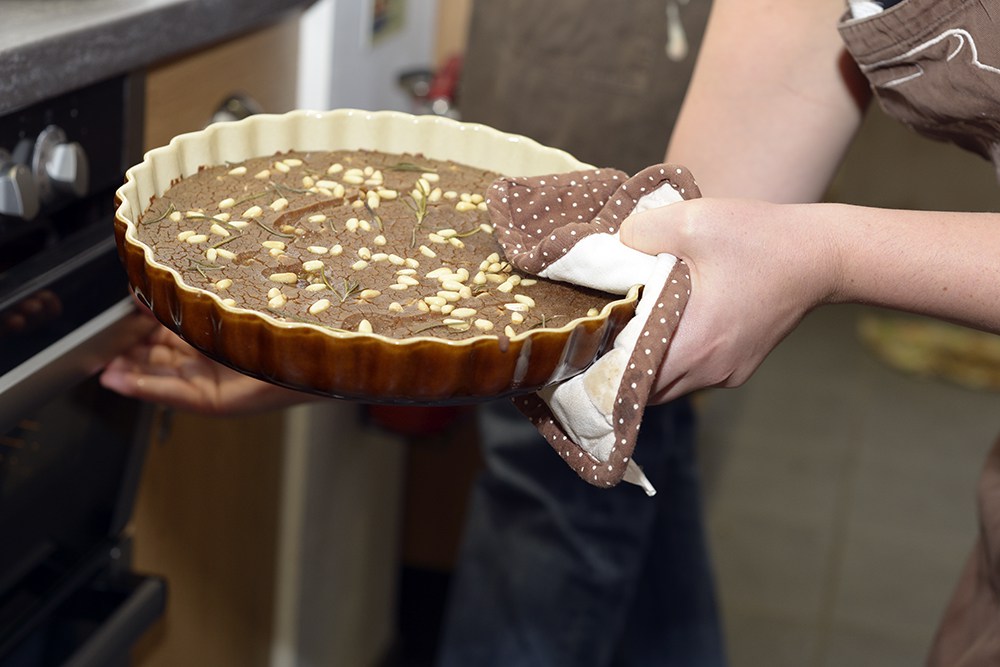 A traditional recipe from rural Tuscany, as well as being vegan, this cake is also gluten-free and sugar free – the way it was originally intended with no adaptations. Chestnut flour is naturally sweet, and this is enhanced by the use of sultanas.
---
Gram Flour Flatbread (GF)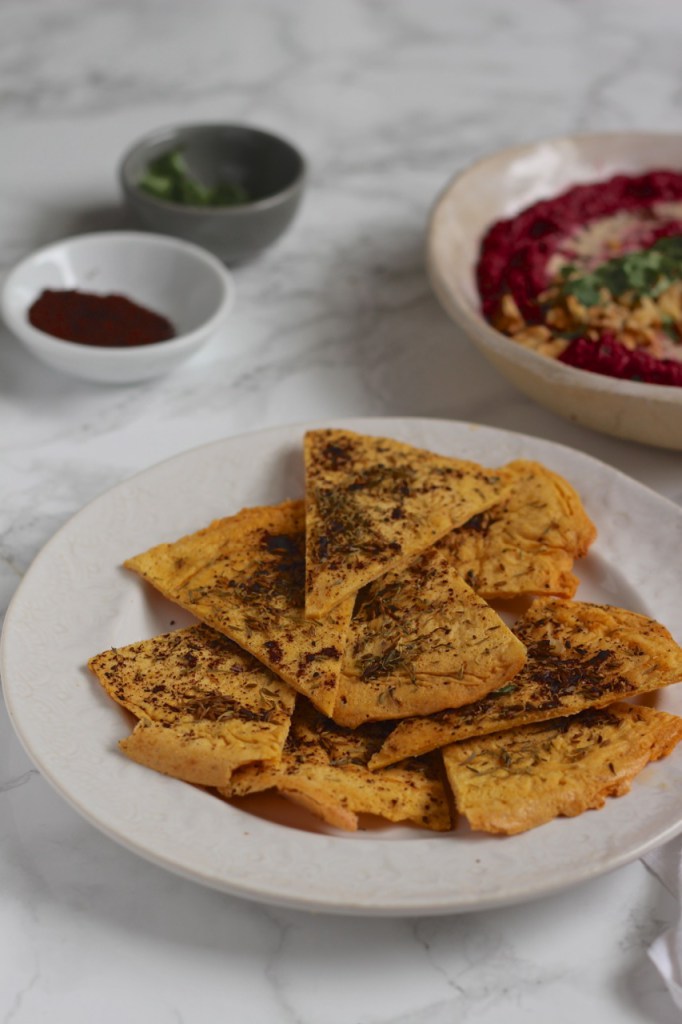 These Middle Eastern beauties are so simple to make. You first make a gram flour wrap then toast it in the oven, just as you would a real tortilla! And it's gluten free :-) A recipe from the fabulous Ceri Jones http://naturalkitchenadventures.com/
---
Butternut Squash Hummus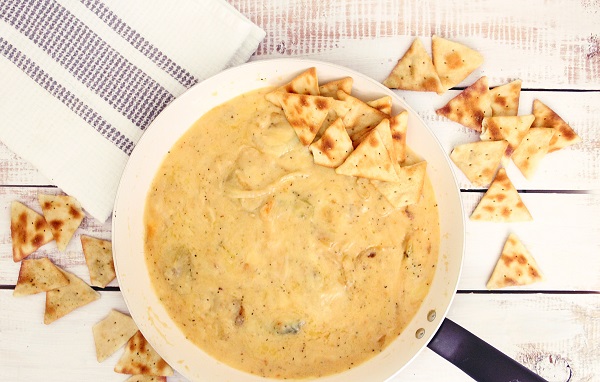 A delicious dip that always goes down well at our outreach stalls. Serves 4-6 people.
---
Autumn Power Smoothie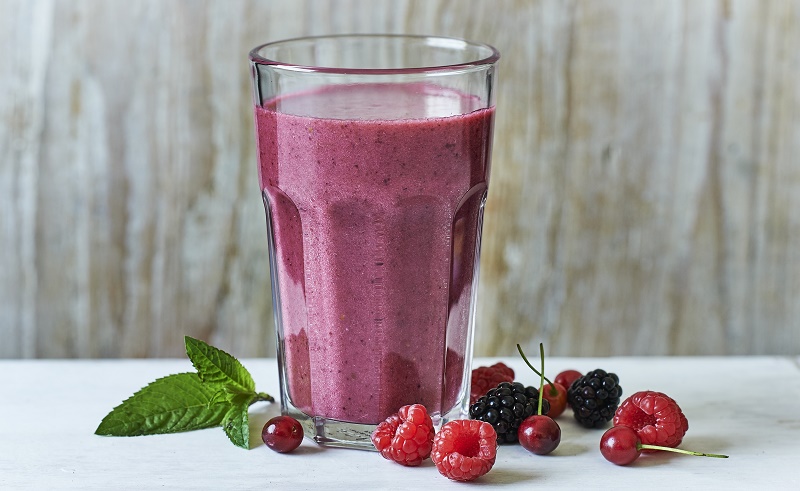 Energy boosting tasty power smoothie using blackberries.
---
Thai Pumpkin Soup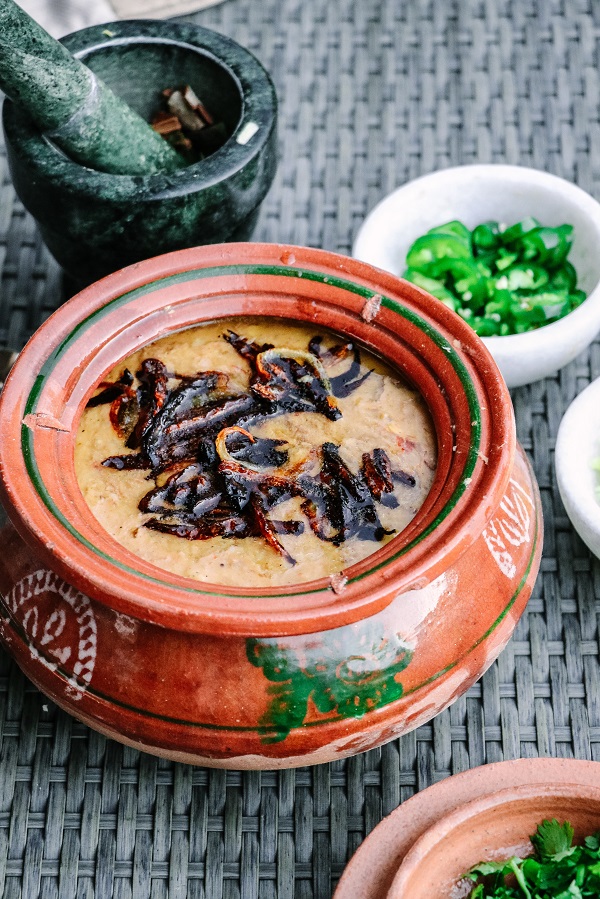 A delicious and creamy soup which can also be eaten a a curry by using less liquid.
---
Apple, Raisin & Cinnamon Porridge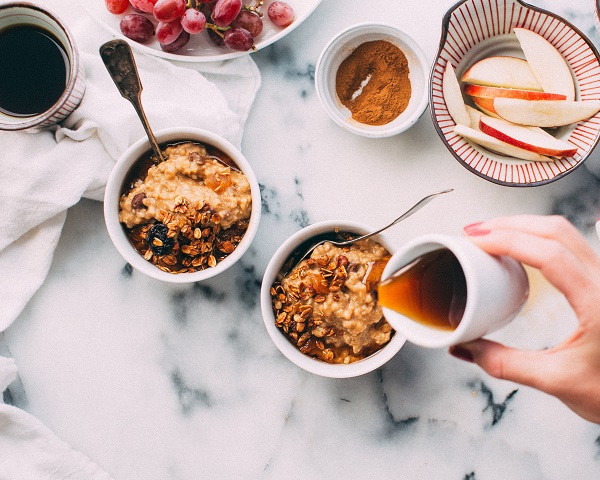 A delicious nourishing breakfast that will keep you going till lunchtime without cravings!
---
Tahini Almond Cookies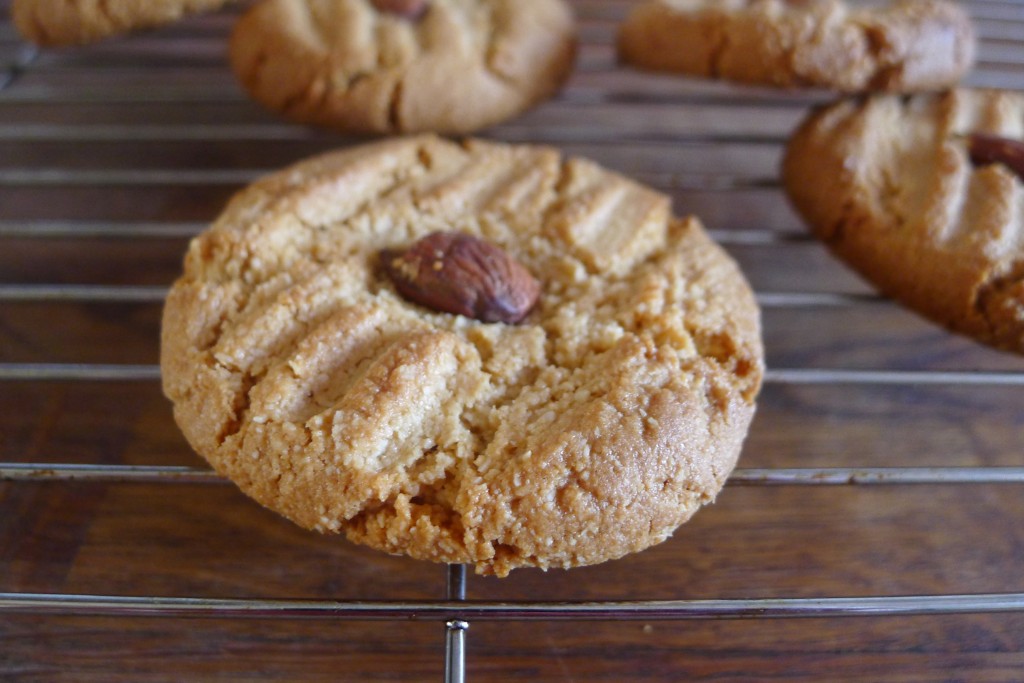 Nuts and seeds are full of minerals that support good health. Tahini especially contains calcium. These cookies are a great alternative to those made with white flour and sugar and go superbly with a cup of (green) tea.
---
Japanese Soba Noodle Salad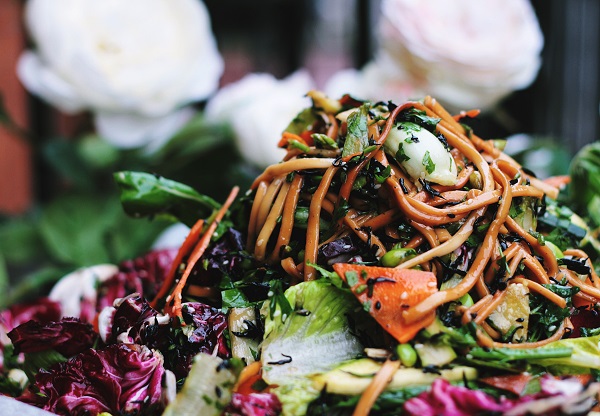 A quick and simple Japanese soba noodle salad using whole grain naturally gluten-free noodles!
---
Sweetcorn Waffles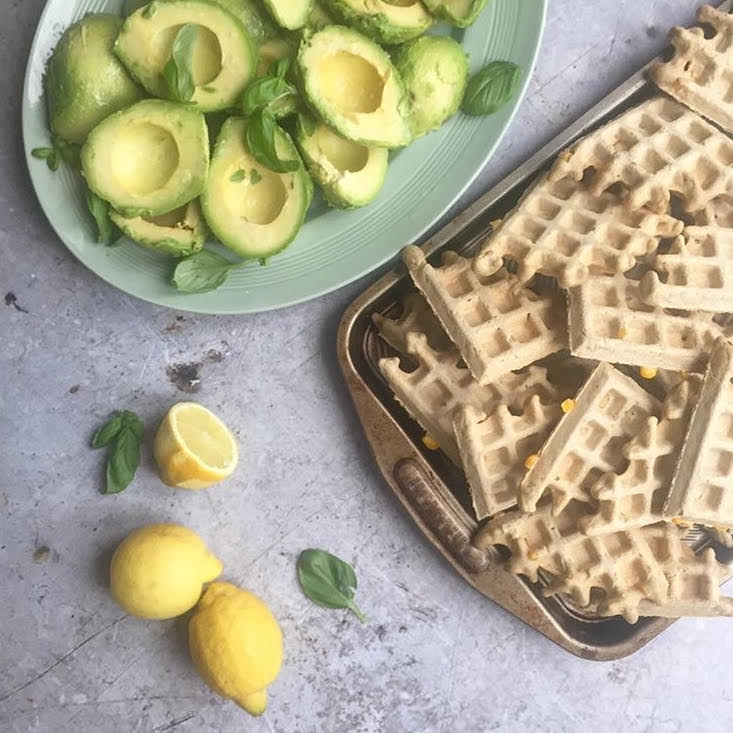 Serve these for brunch with smashed avocado and you'll make yourself very popular! This recipe uses curdled almond milk instead of traditional buttermilk in waffles for lift.
---
Hand Washing Soap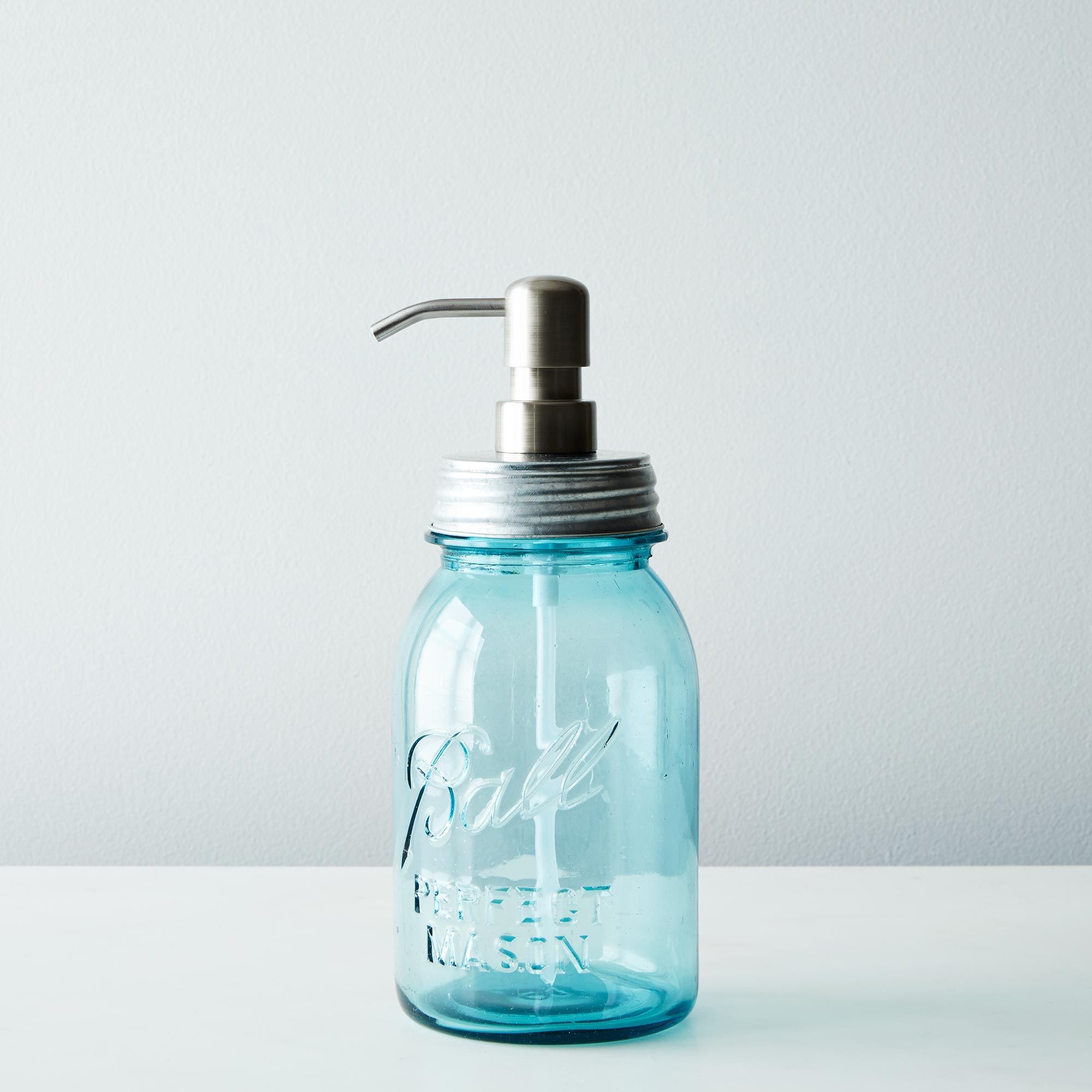 A very simple recipe that takes 2 mins to make
---
Irresistible Raw Double Cacao Bites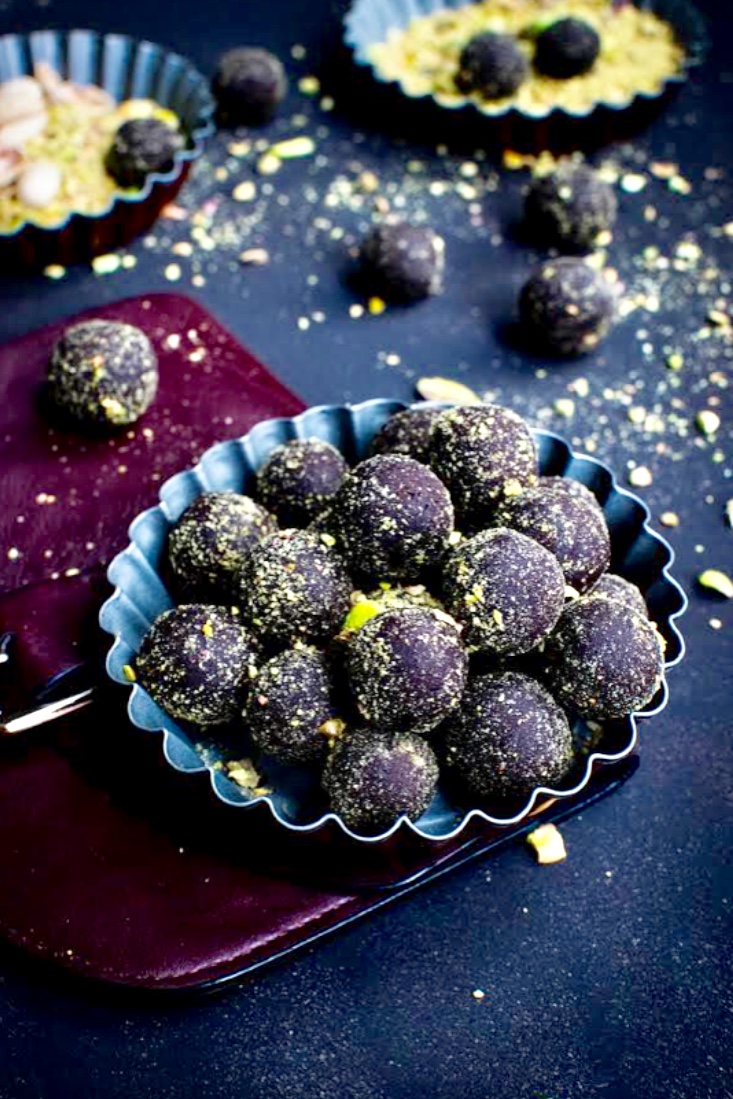 A super-nutritious alternative to a bar of chocolate that's dairy free and double trouble: cacao and coconut! These dinky nuggets of pure goodness will have even the most ardent chocolate lover satisfied and reaching for more.
---
Cauliflower Mash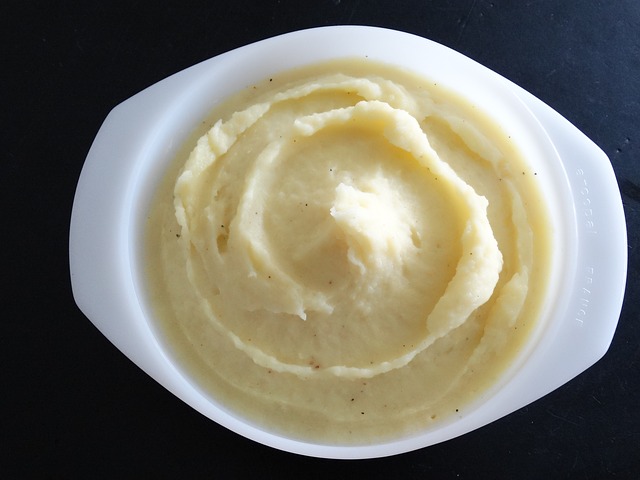 This hearty cauliflower mash makes it easy to get more veg in your diet, and is great with homemade lentil sausages!
---
Concentrated Liquid Laundry Detergent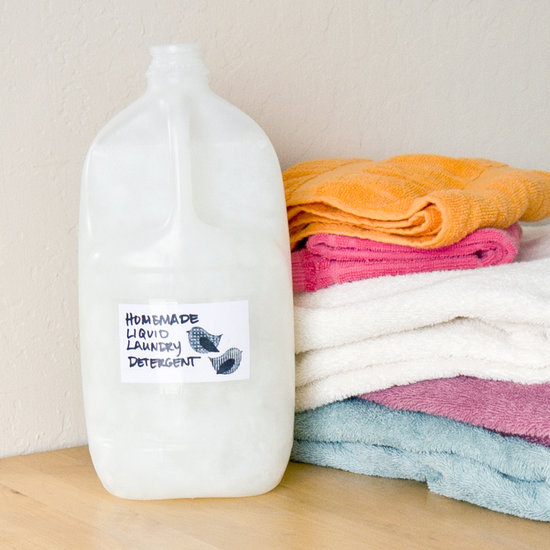 Leave your clothes fresh and wonderfully clean with this all natural laundry detergent.
---
Simple Cashew Cheese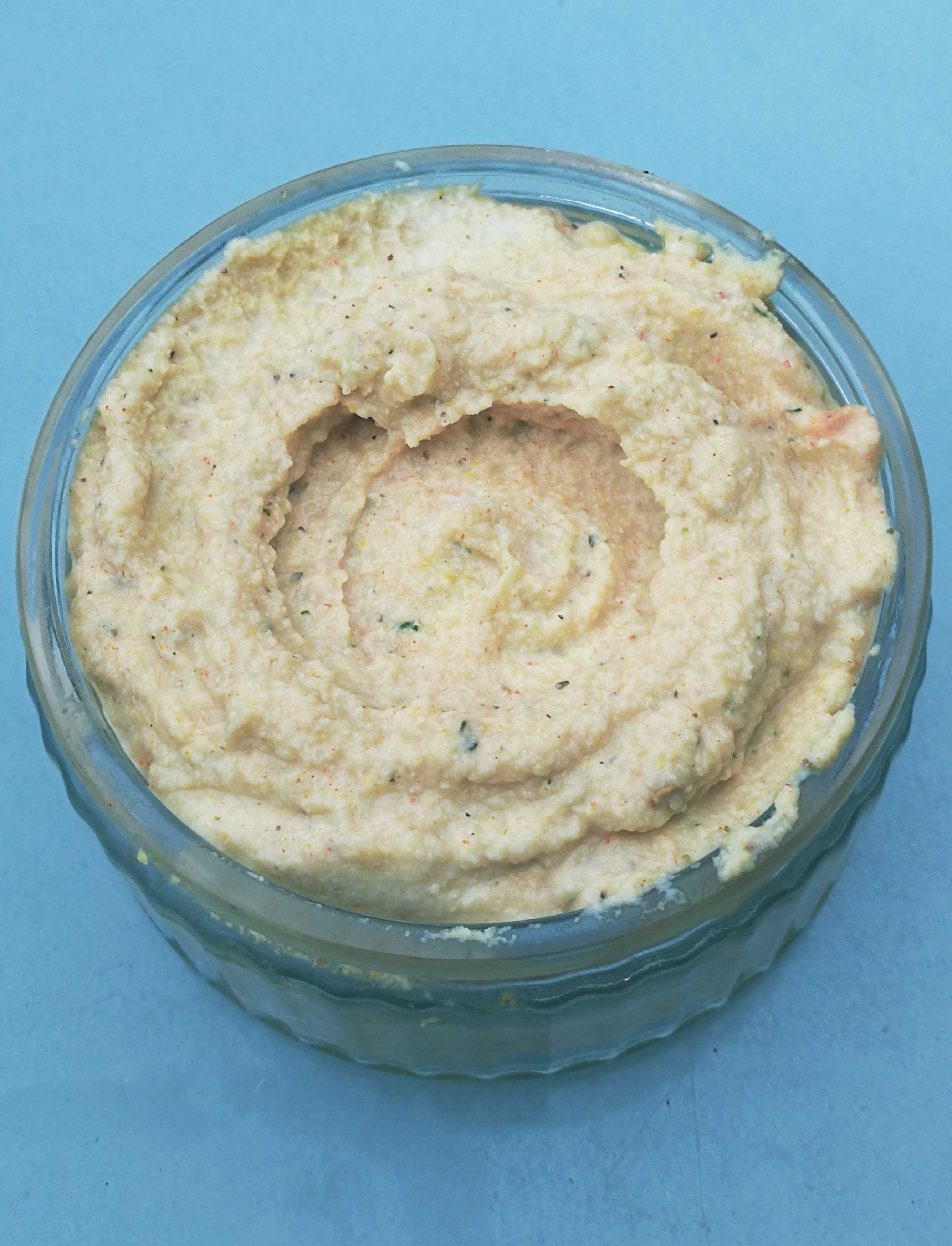 Want something cheesy without the dairy? This simple cashew cheese will hit the spot.
---
Raw Nut Pulp Hummus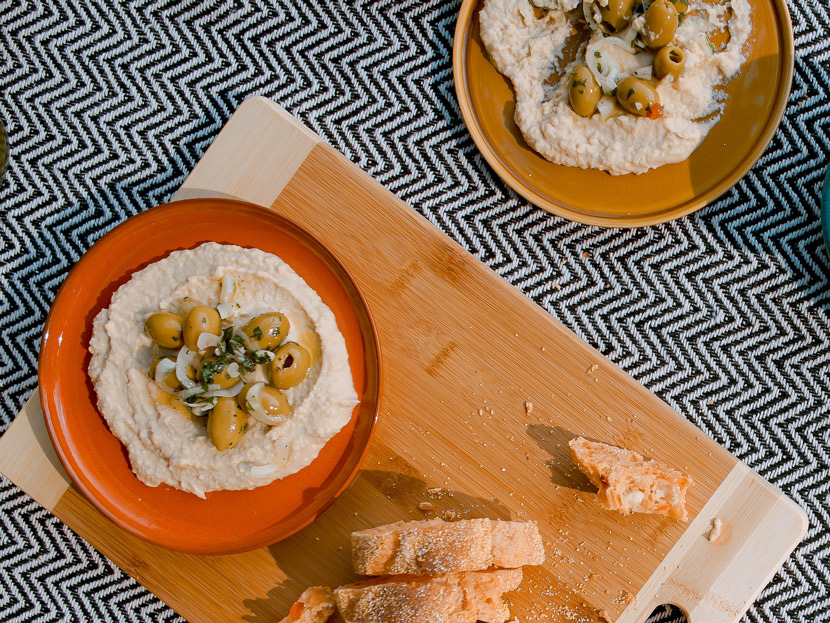 Got leftover pulp from making your own nut milk? No need to waste it, use it in this great hummus recipe!
---
Raw Chocolate Milkshake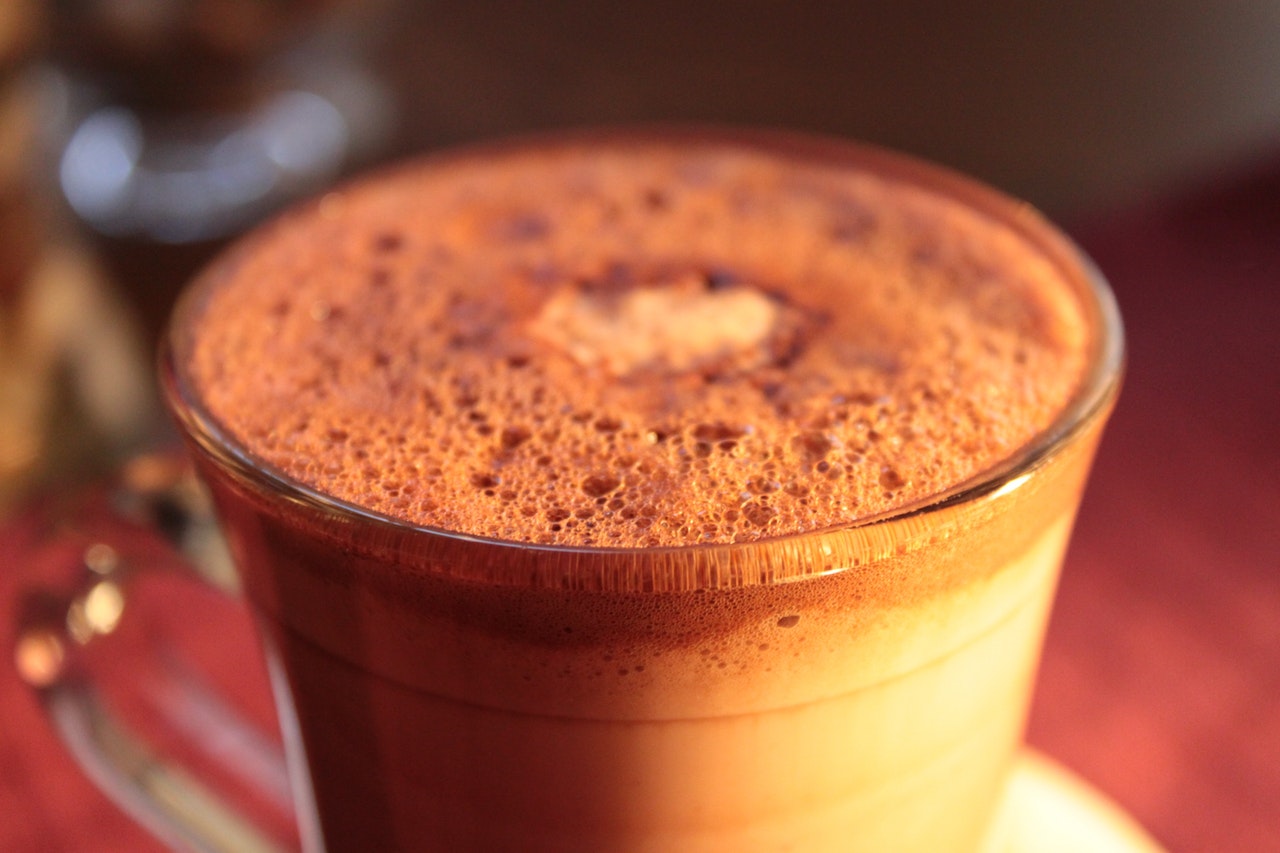 This one is for all the chocolate lovers! Sweet and simple.
---
Basic Cashew Nut Milk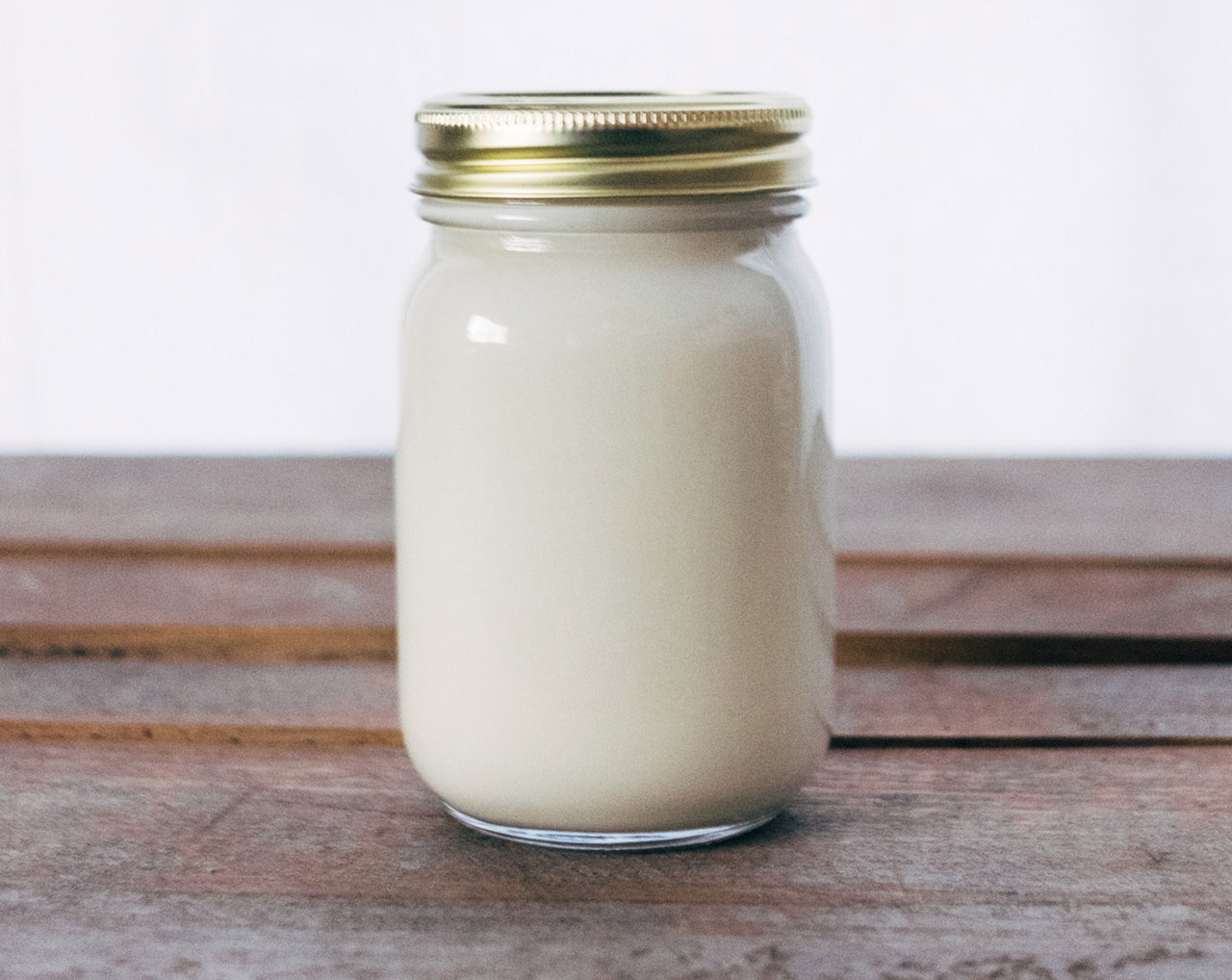 This super simple dairy alternative is not only delicious and creamy but good for you too!
---
Muhammara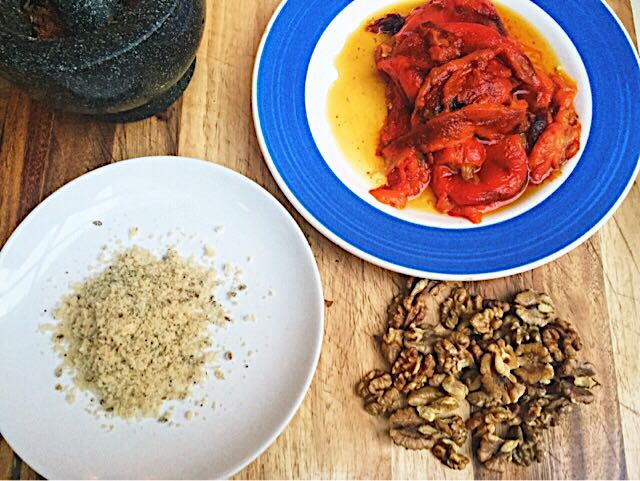 Deliciously nutty pepper dip. Thanks to Tamara Tahhan for this recipe, as taught in our 'Taste of Palestine' Masterclass
---
Guacamole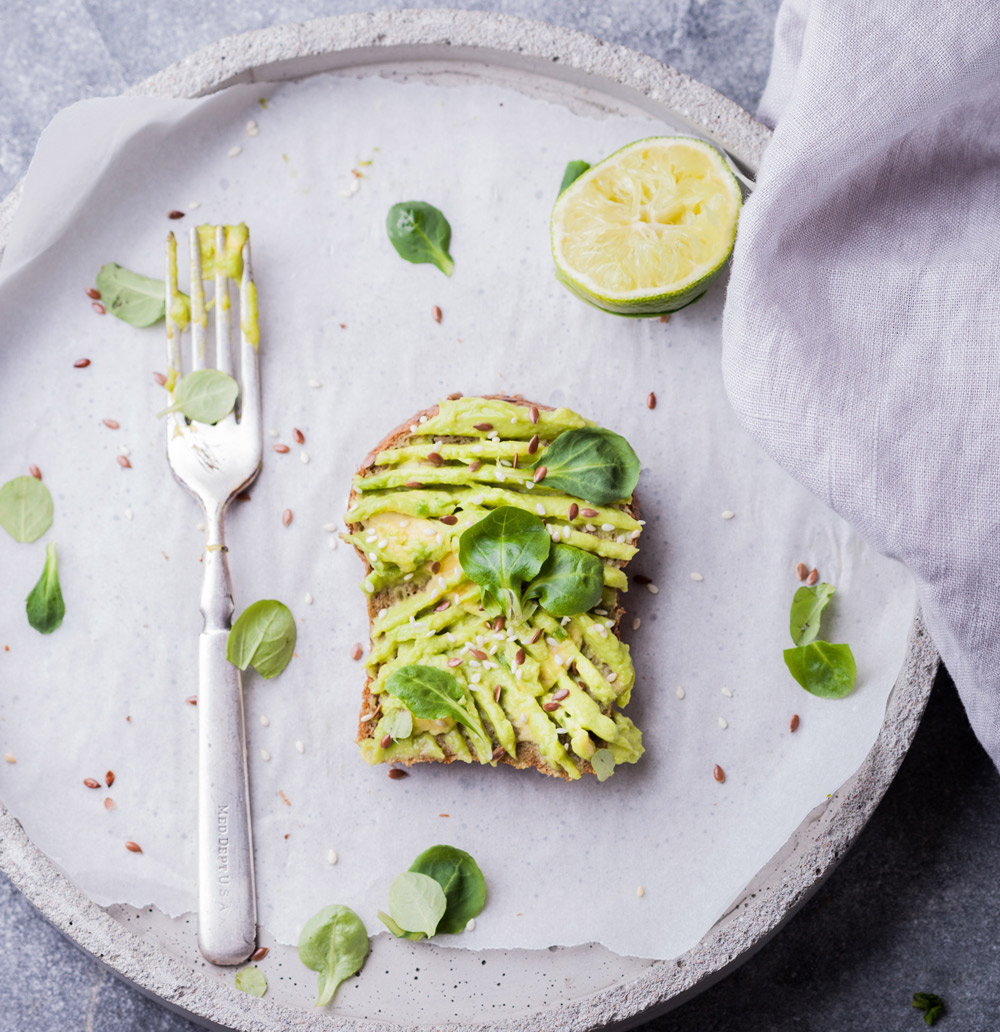 Simple, quick and tasty! Great with our corn tortillas and re fried style chipotle black bean recipes.
---
Corn Tortillas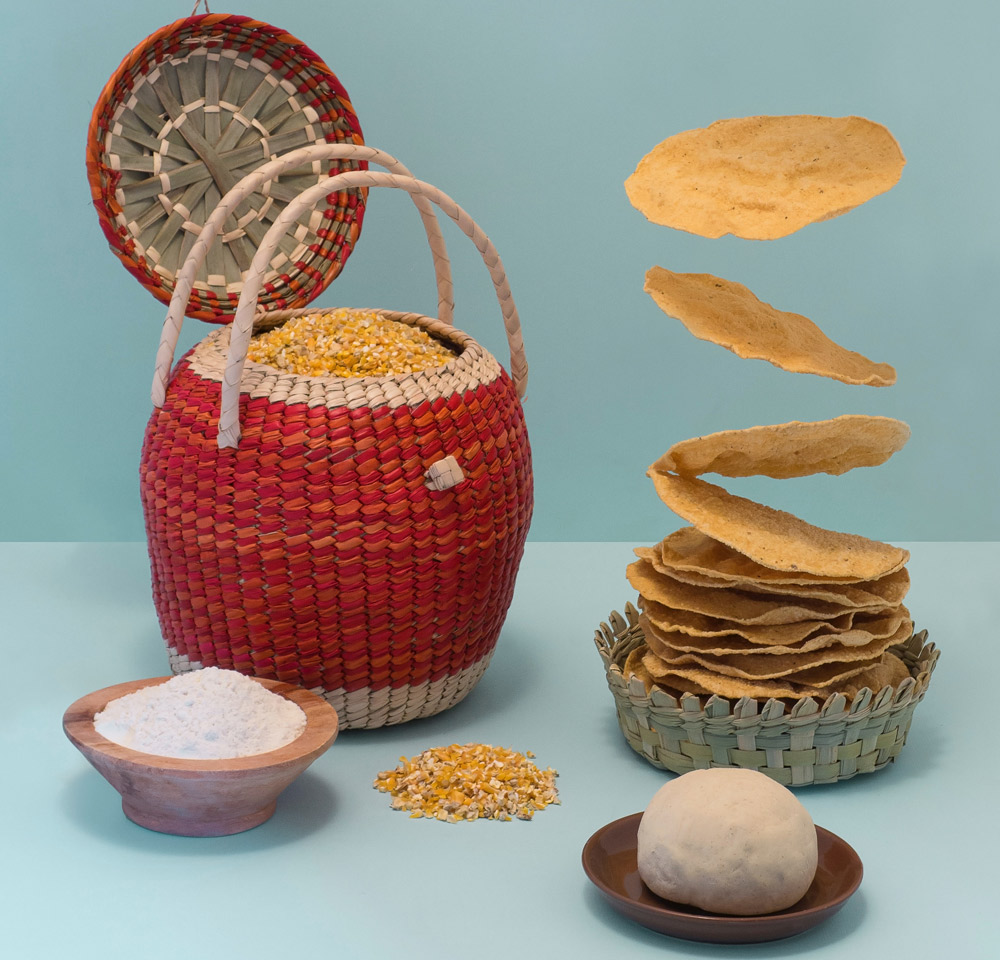 Quick and simple to make. They are a great accompaniment to many Mexican dishes and can also be deep fried to make tortilla chips!
---
Splendid Tuberous Soup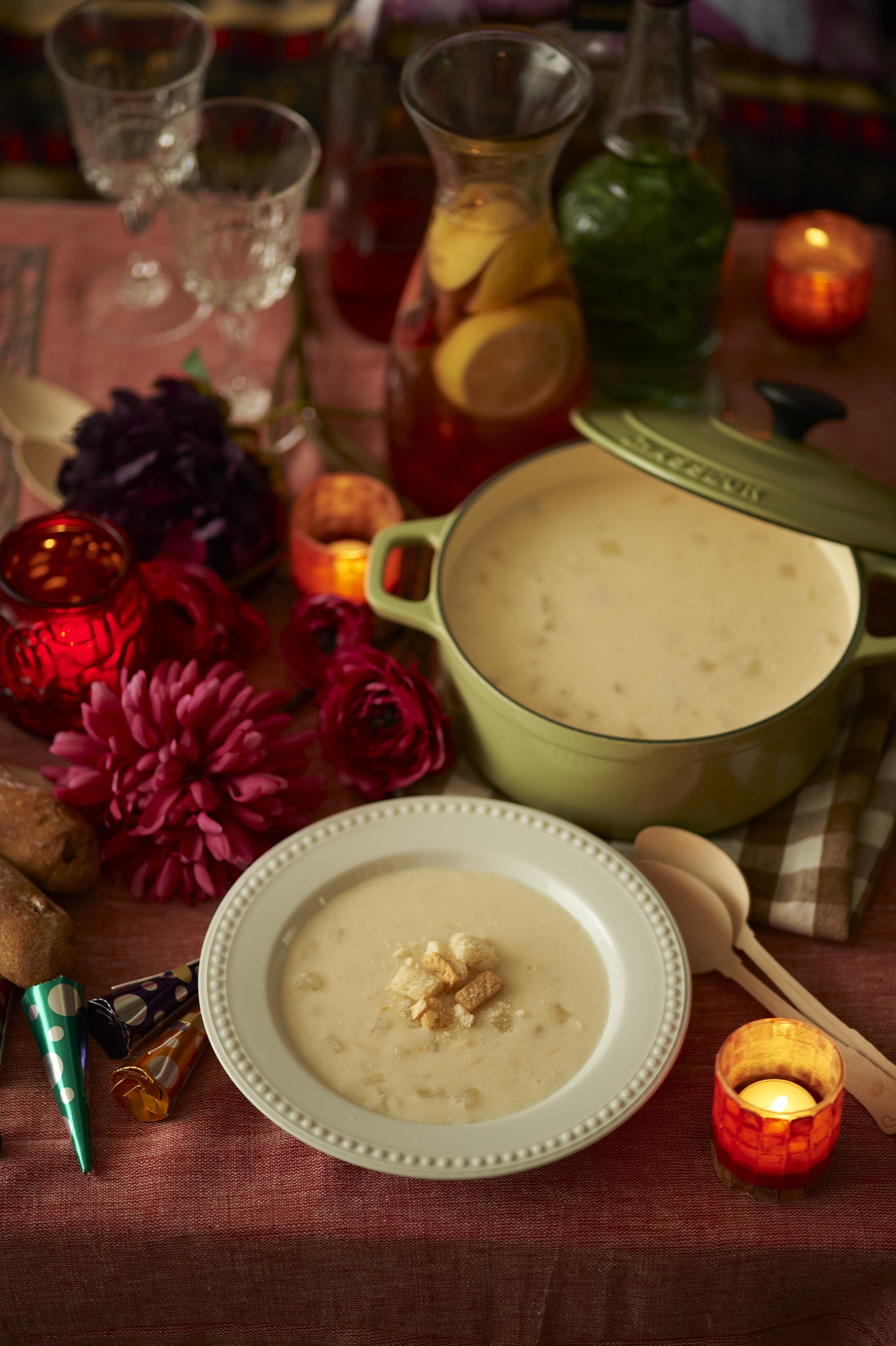 A simple smooth tasting and filling soup to savour to using two different types of tubers, the humble potato and Jerusalem artichokes
---
Nutty Apple Crumble
This wonderful spicy nutty crumble is easy to make and will brighten the greyest of days.
---
Sumac Roasted Squash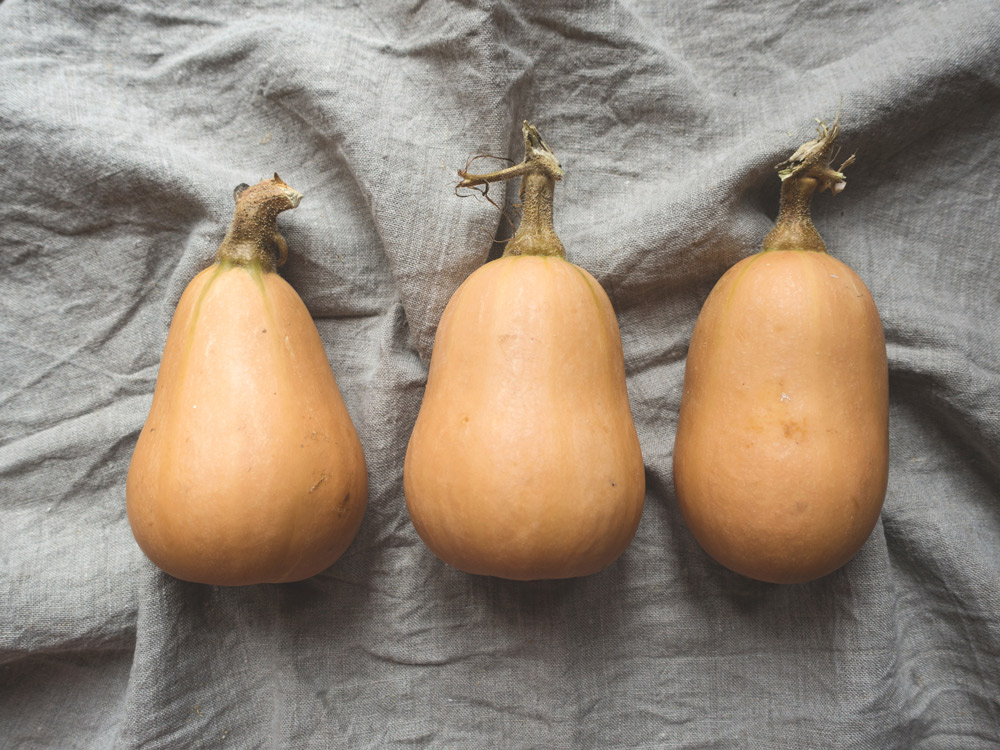 Seasoned root veg is a great alternative to potatos, and adds an extra nutritional hit to your dish!
---
Fennel, Orange and Beet Salad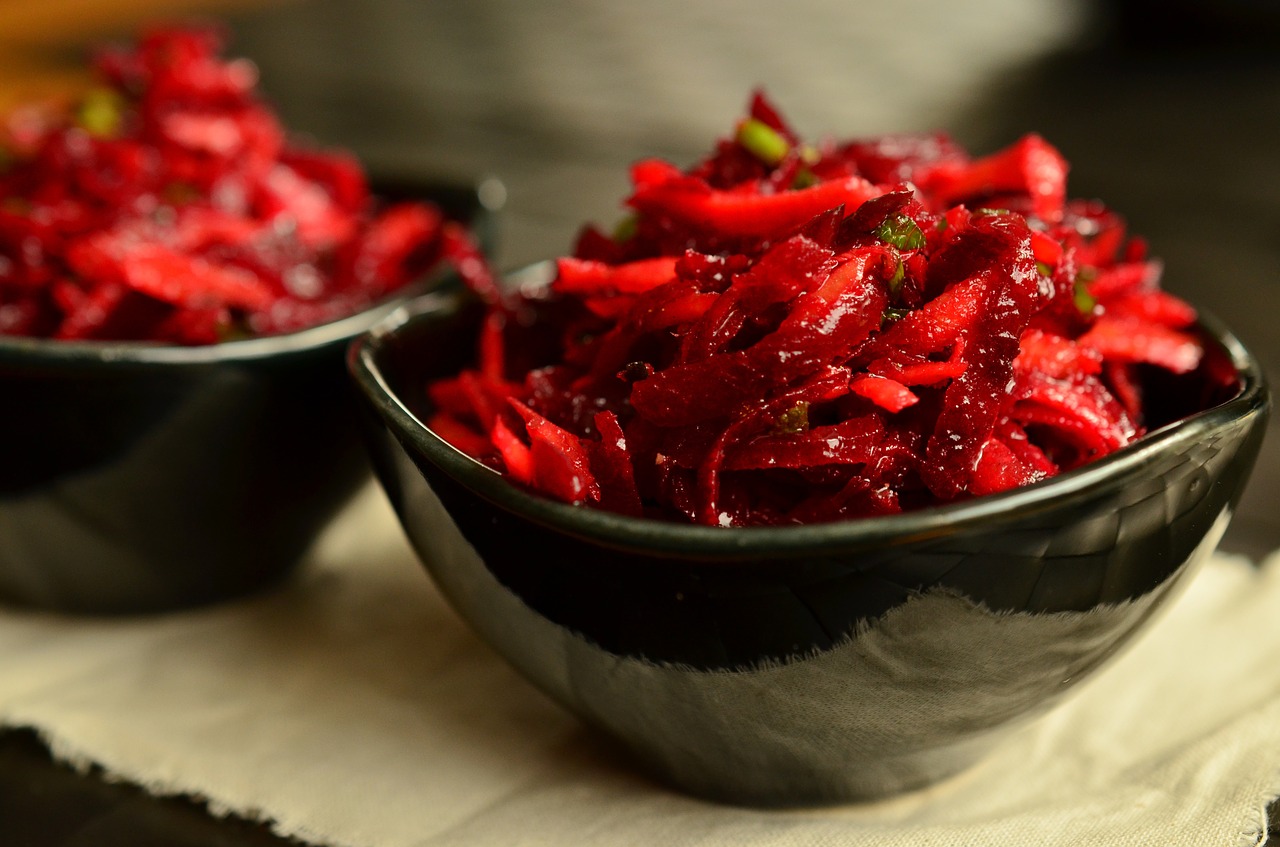 This winter salad will give you a splash of colour and flavours!
---
Carrot and cumin falafel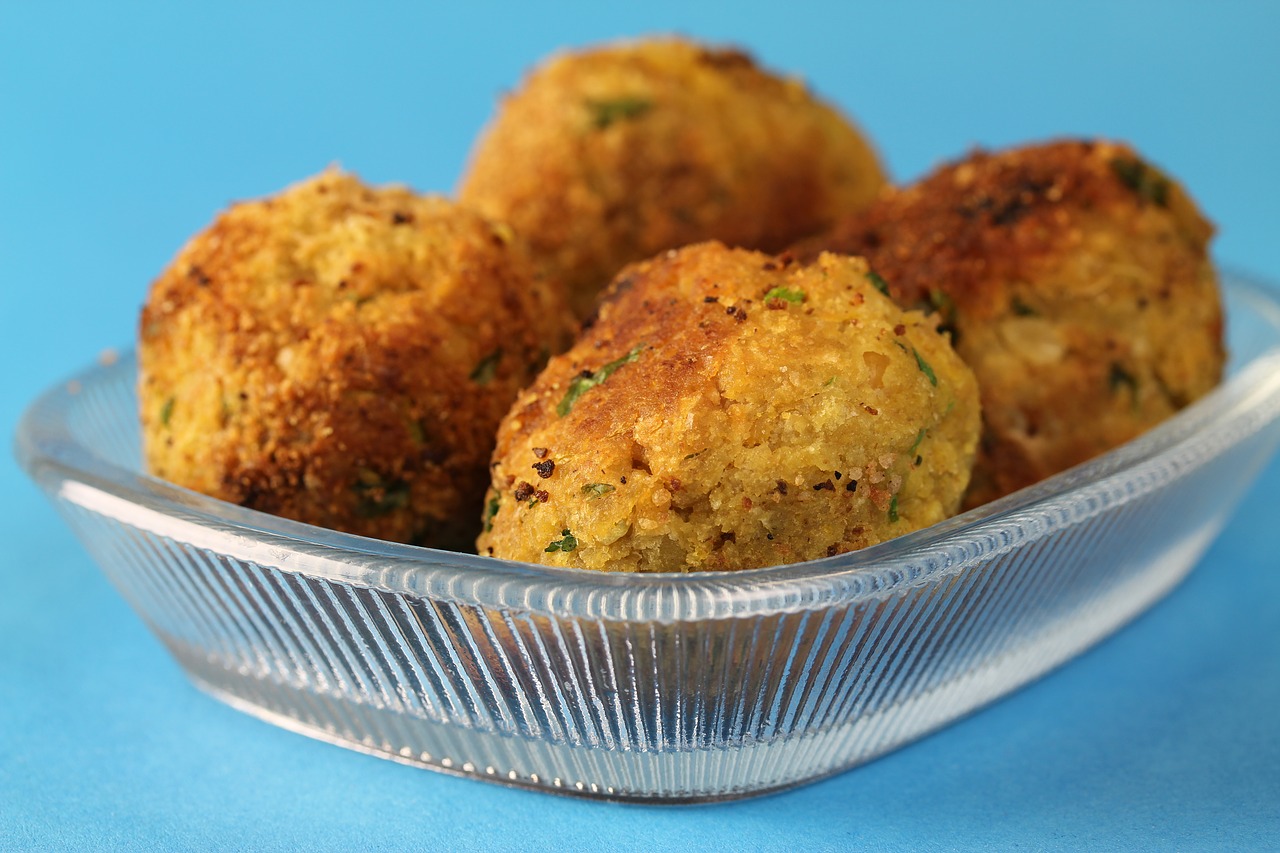 These delicious falafels can be made with any grated seasonal root veg instead of carrot. Try beetroot for a different look and flavour!
---
Herbed Flatbreads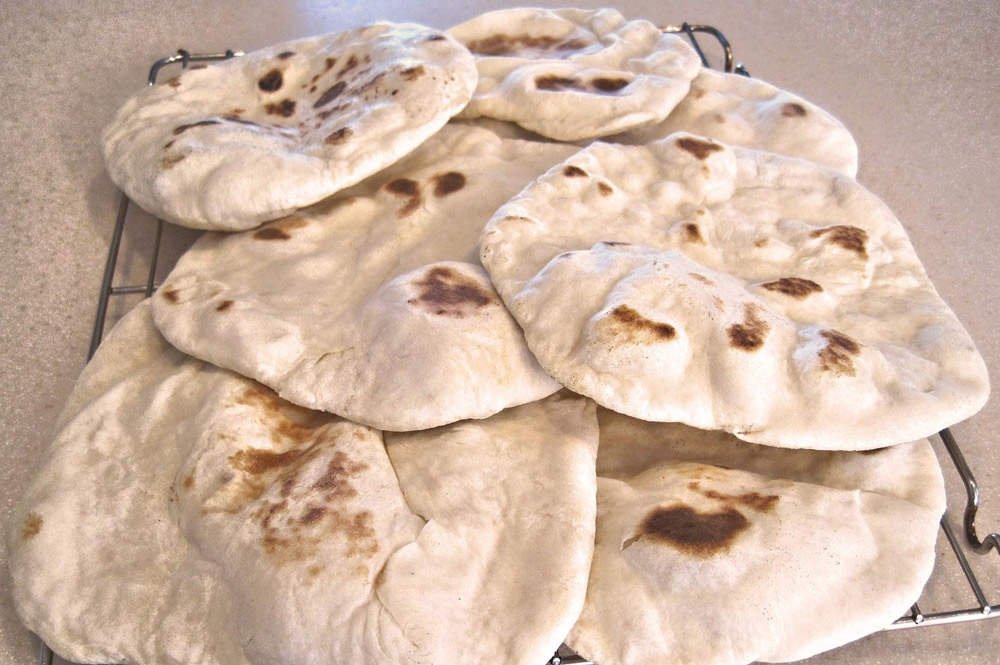 These flatbreads are full of fibre, and will keep you fuller and more satisfied for longer!
---
Caramelised Corn Salad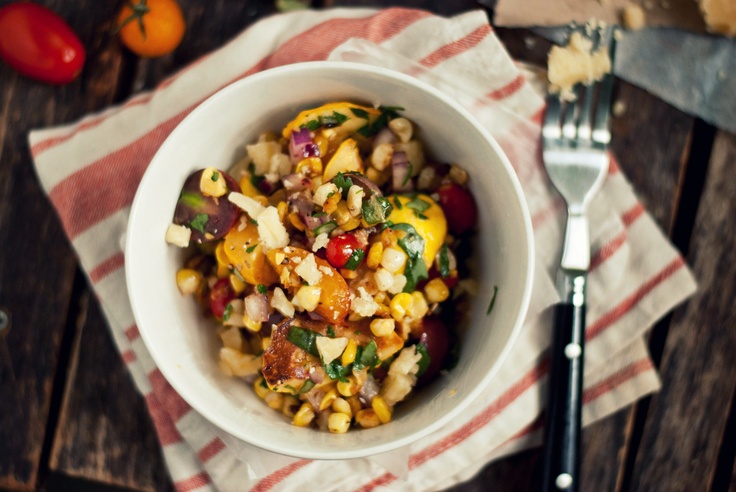 This wholesome salad adds a splash of colour to accompany any dish or works great on its own for a summery afternoon (or winter morning!)
---
Crispy Baked Potato Fries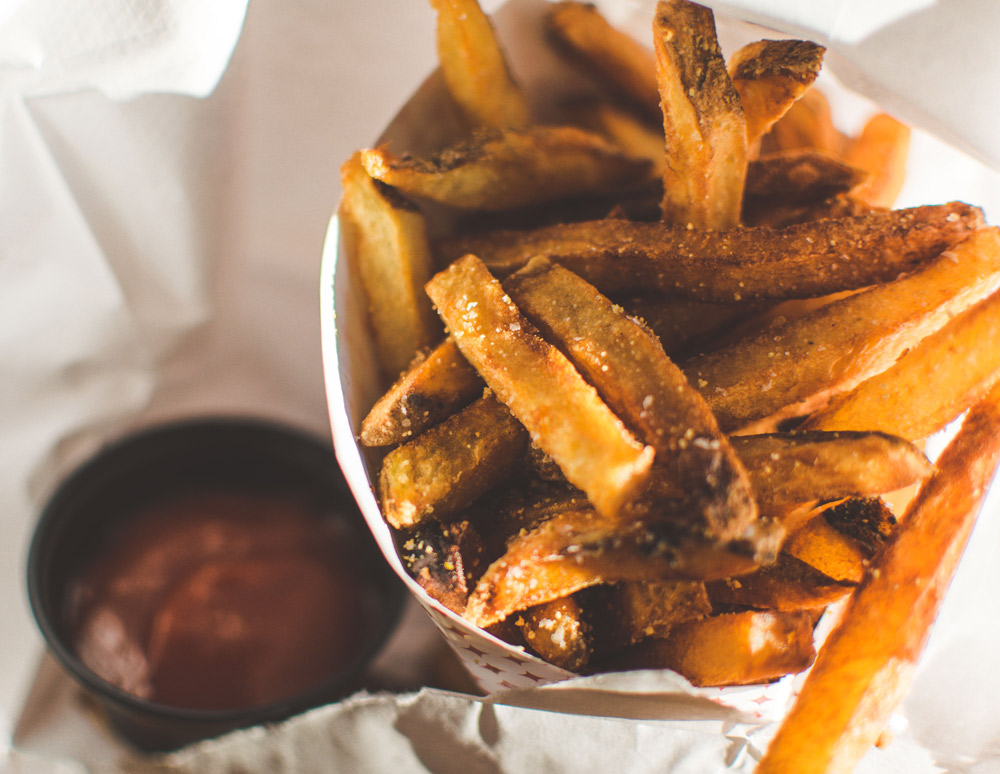 This twist on the classic french fries add some flavour and a health kick to your bite!
---
Sauerkraut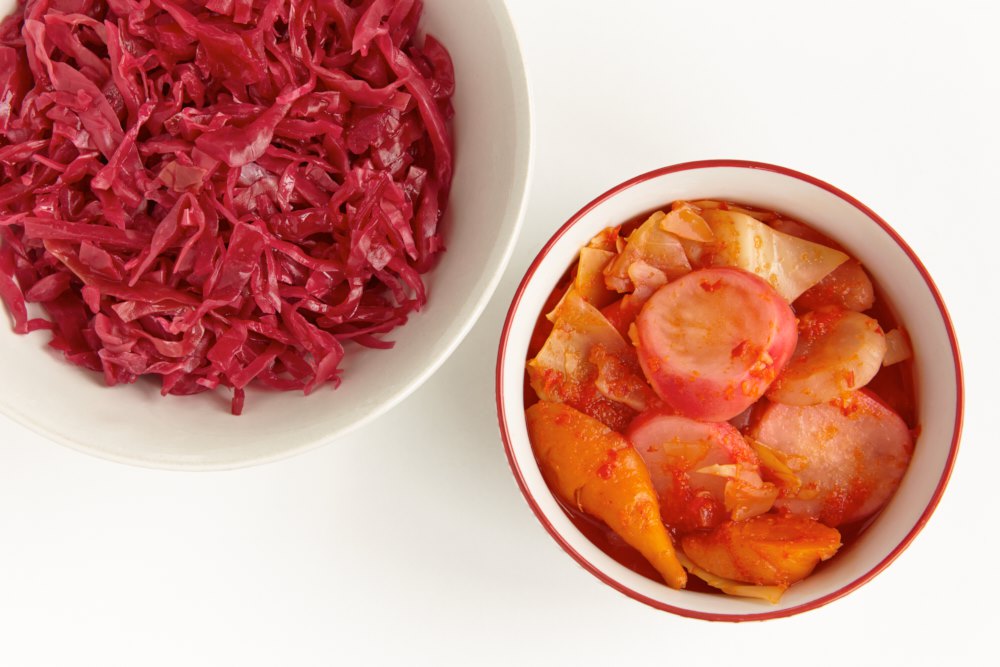 Sauerkraut is really simple to make, is a brilliant way of preserving cabbage and other vegetables, and allows us to eat living food all year round. It tastes great on its own, and it's amazing to use in salads. The more vegetables you add, the wider the variety of beneficial micro flora in your finished sauerkraut, as the process uses the micro-floras that reside on the skins of the vegetables.
---
Mixed Seed Wholegrain Crackers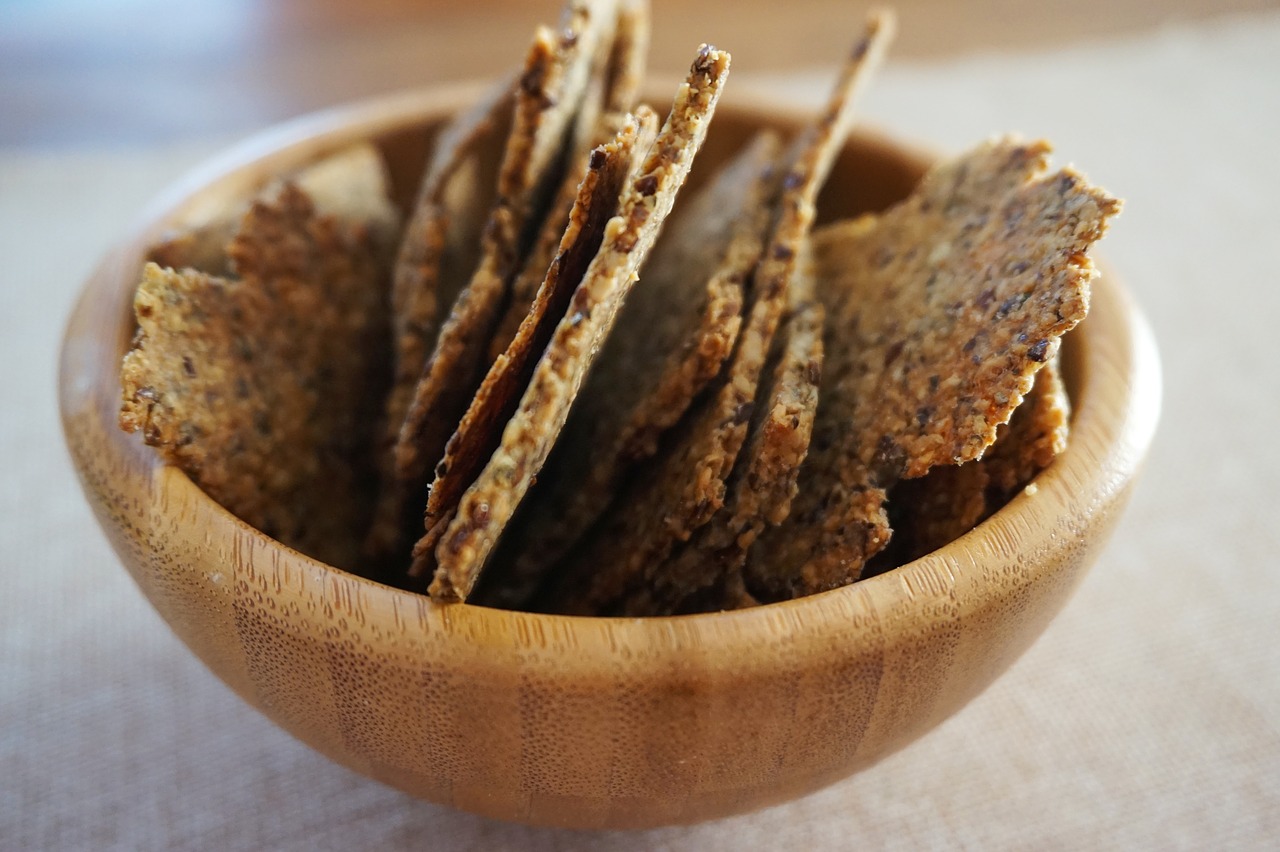 This easy to make crackers are tasty, nutritious and great accompinied with any dip!
---
Nettle Pesto
This take on the italian classic, will awaken your tatse buds and give you a nourishing hit as well!
---
Nettle Soup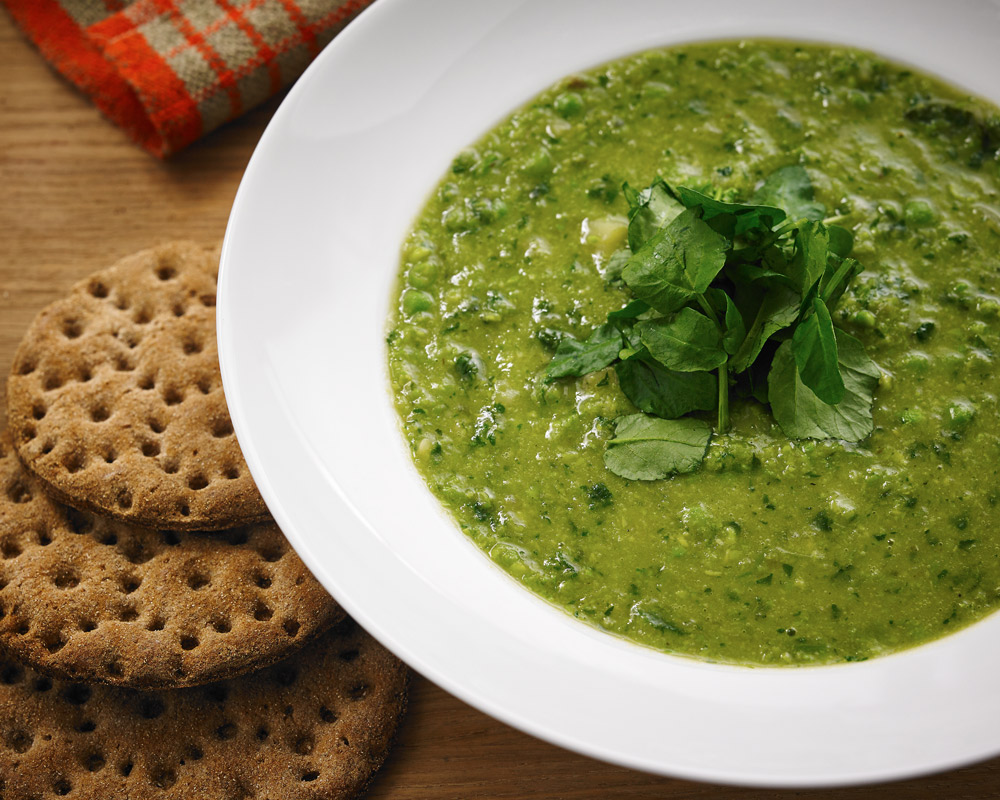 Nettles are nature's free medicine. Nettles can be used in almost any dish just as you would use spinach. When cooked they taste similar to spinach and a great way to sample this incredible free food source for the first time is by making soup.
---
Kale Pesto with Courgette Spaghetti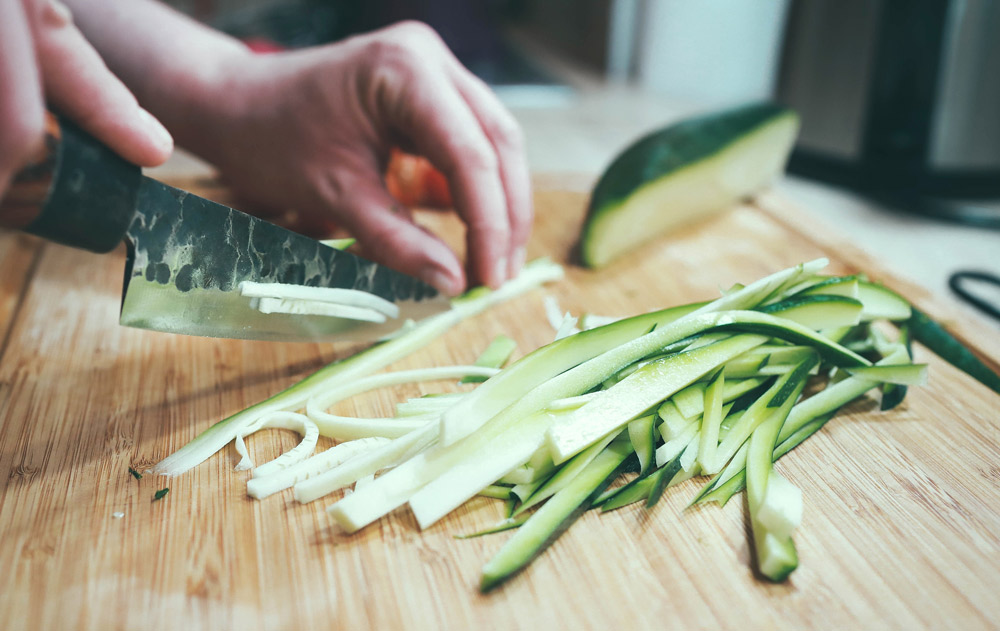 This vibrant kale pesto and courgette spaghetti is a nutrient-dense alternative to traditional pasta-pesto.
---
Gold Rush Butternut Soup with Smoky Chickpea Croutons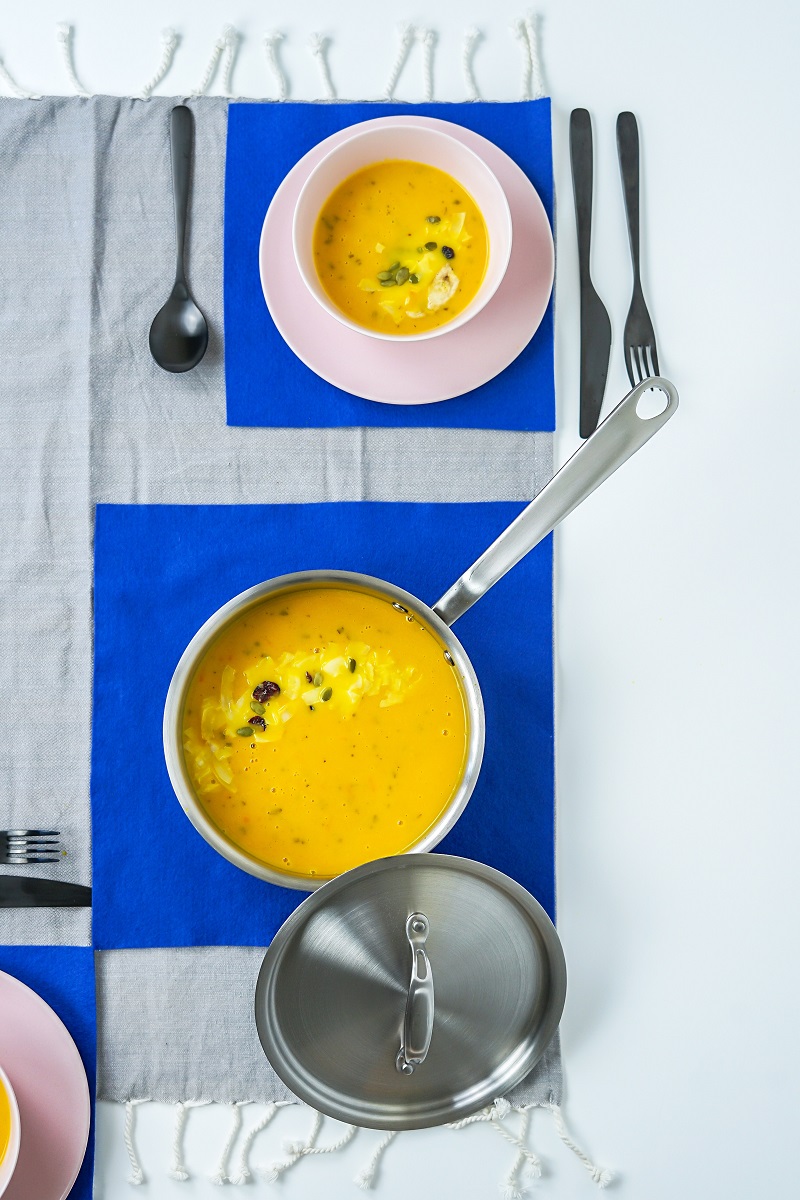 The colour of this soup gives a clue to its nutritional benefits, butternut squash is high in fibre and it has a low glycaemic load, so helps to keep your blood sugar balanced. The smoky chickpea croutons add a kick, some crunch and extra protein to the soup.
---
Cauli, Kale and Coconut Soup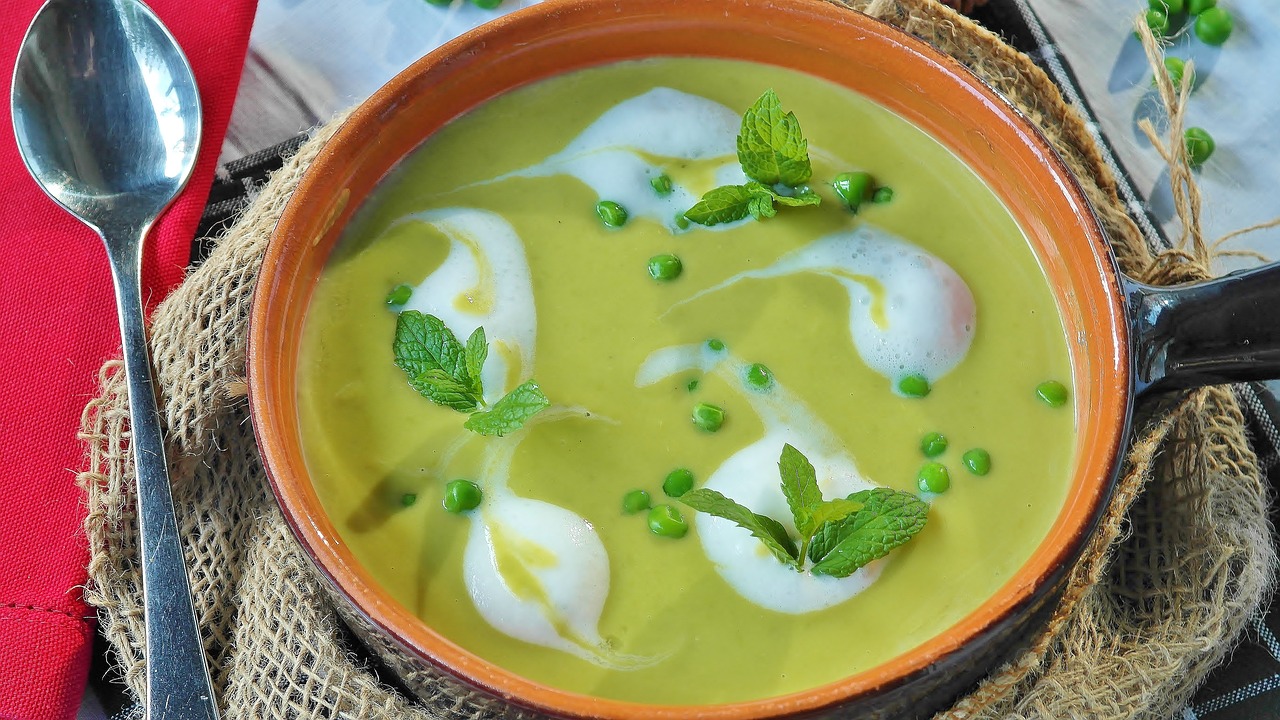 This nourishing soup is a speedy, throw-it-together recipe for cold winter days and nights.
---
Beetroot Brownies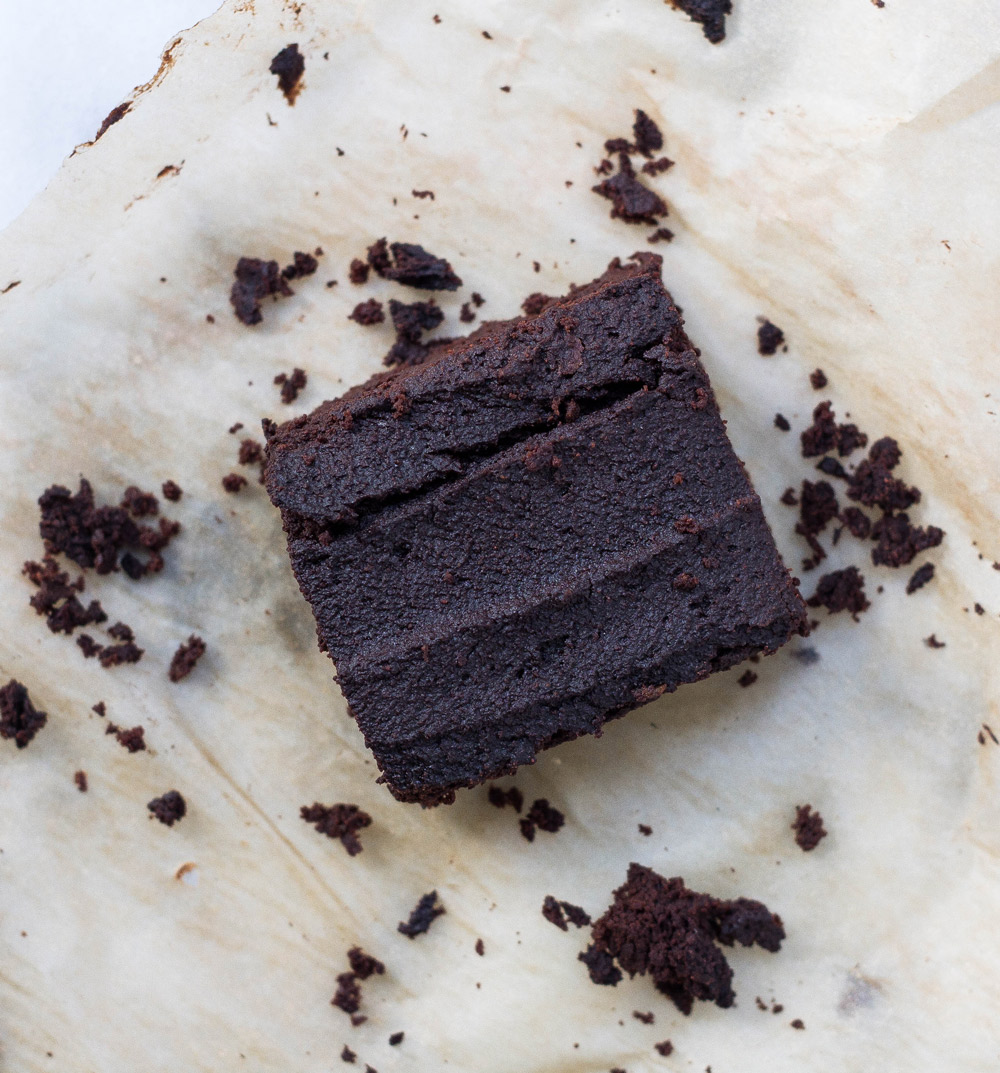 A vegan, gluten and refined sugar-free sweet treat that combines the antioxidant power of raw cacao with anti-oxidant and anti-inflammatory properties of beetroot. Beetroot is a fantastic source of Vitamin C, folate and fibre. It also adds sweetness to these brownies, alongside the gooey dates and maple syrup.
---
Autumn Slaw with Sesame Dressing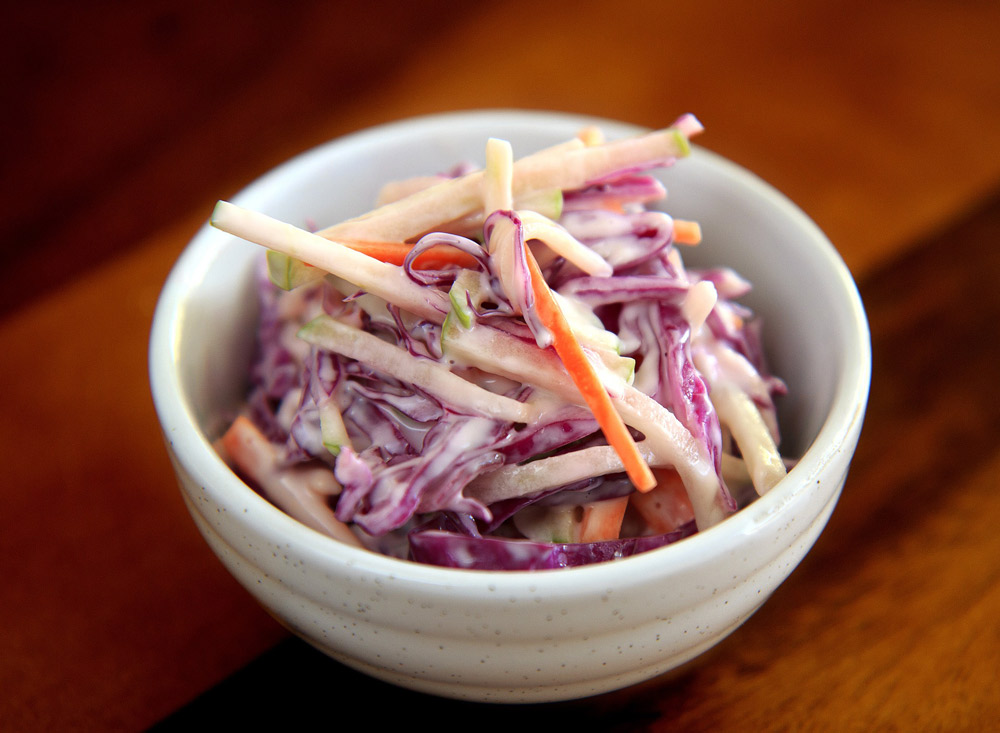 This slaw is a perfect side salad - it's light, fresh and flavoursome, and packs a nutritional punch too.
---
Roasted Pumpkin Seeds Three Ways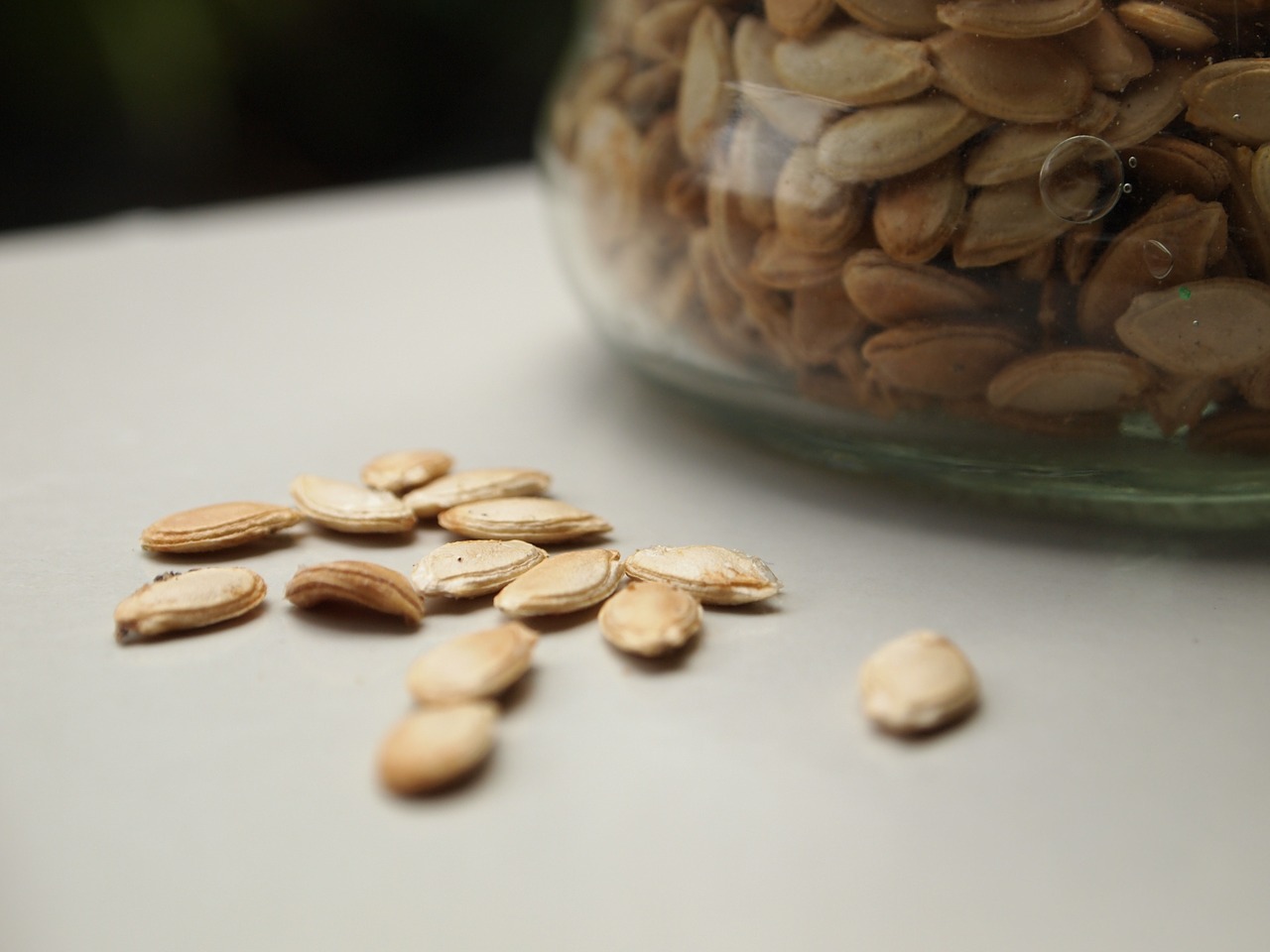 The perfect addition to salads, main meals or just on their own, heres three ways to make the most of your left over pumpkin seeds!
---
Sorrel Pesto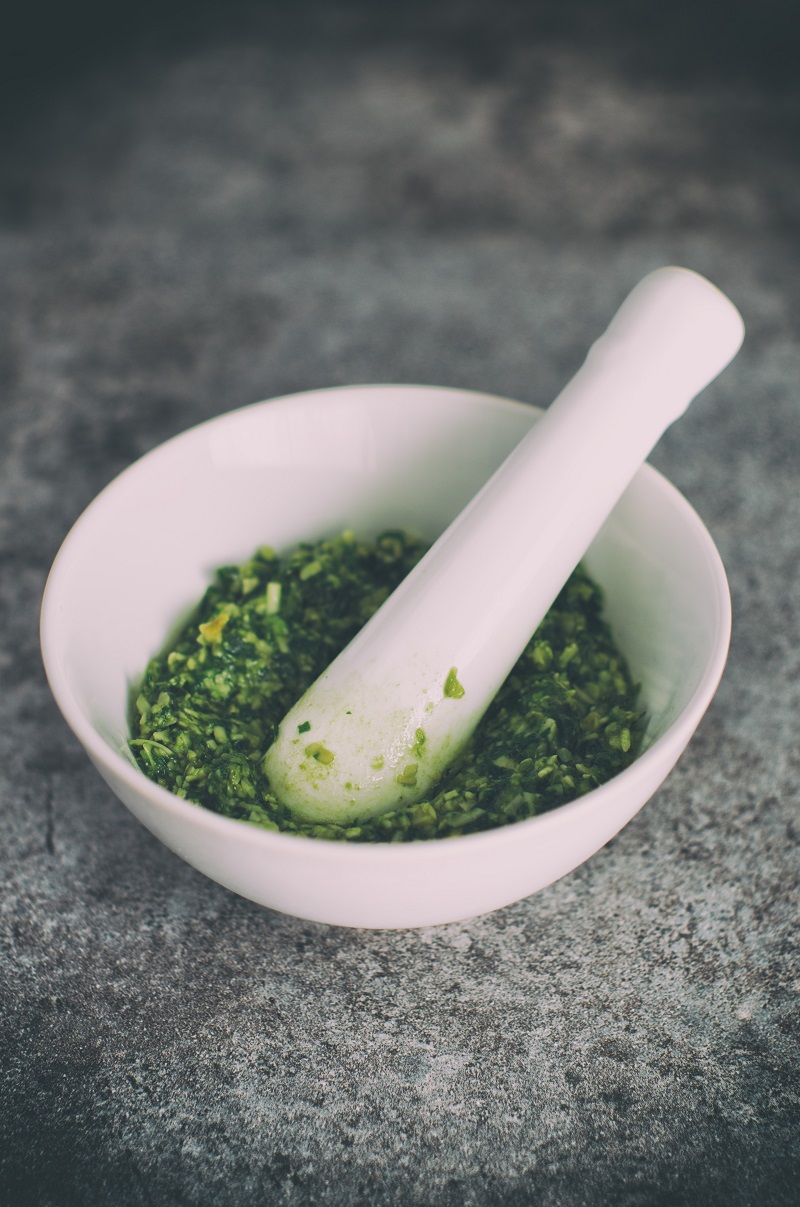 A twist on the italian classic, incorporating pumpkin and sunflower seeds with a host of flavours!
---
Pumpkin Pie Smoothie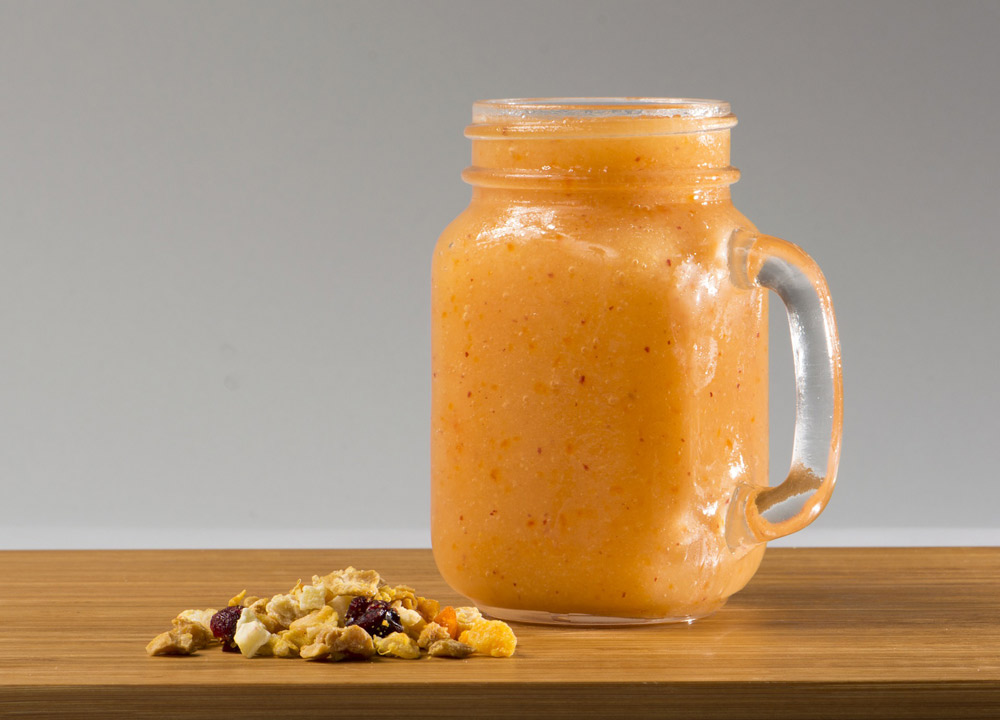 Refreshing, creamy and flavoursome, what more could you want from a smoothie? Oh and its full of goodness and nutrients!
---
Spiced Pumpkin Chutney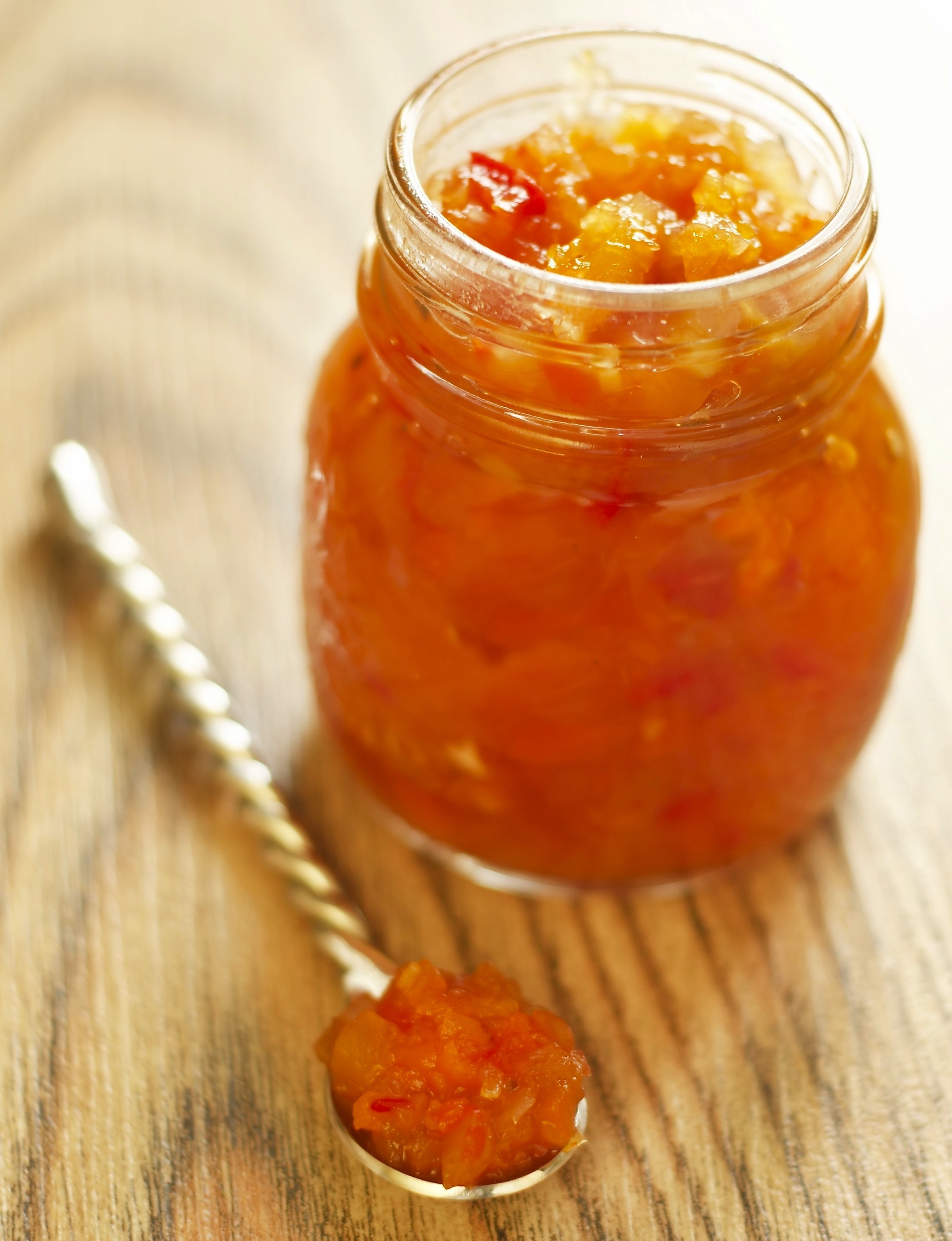 This quick and easy chutney will create a delicious condiment to compliment any dish!
---
Raw Pumpkin Pie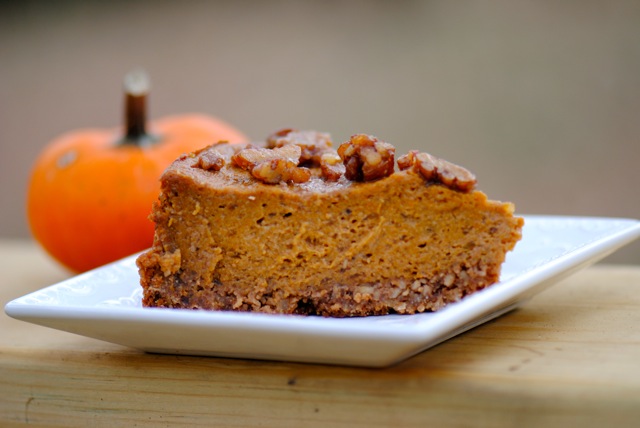 This simple, healthy twist on the American classic is a guilt-free treat, perfect for winter evenings!
---
Lentil and Pumpkin Curry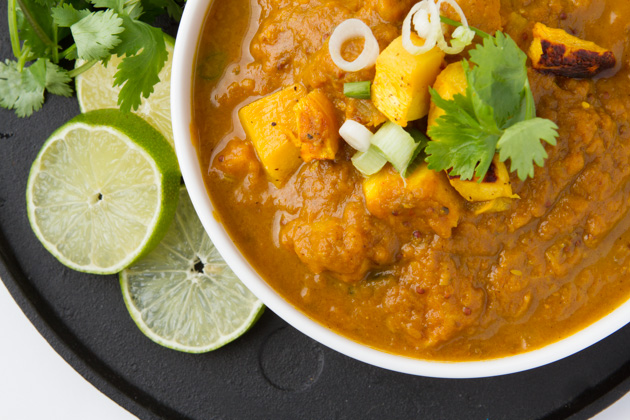 This flavoursome, hearty curry will warm you up through the winter months!
---
Pumpkin Gnocchi With Crispy Sage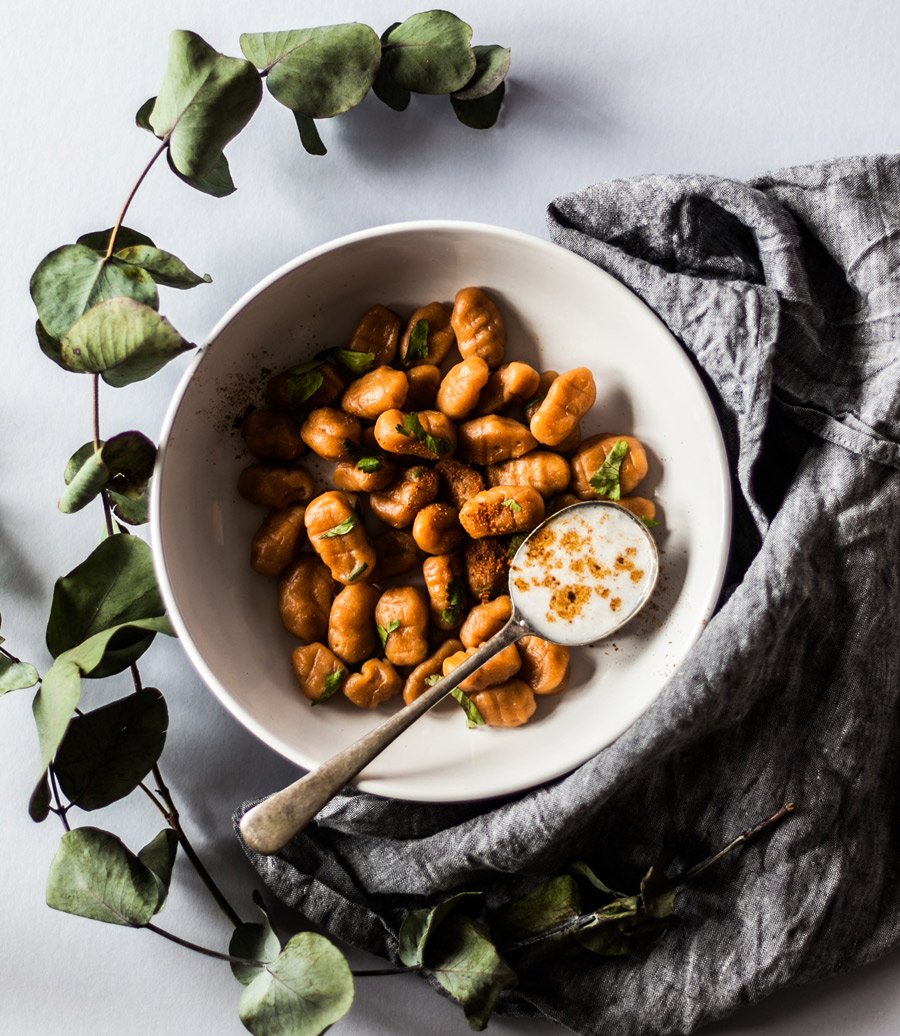 This warming twist on an italian classic will leave you wanting seconds!
---
Orange and Ponzu sauce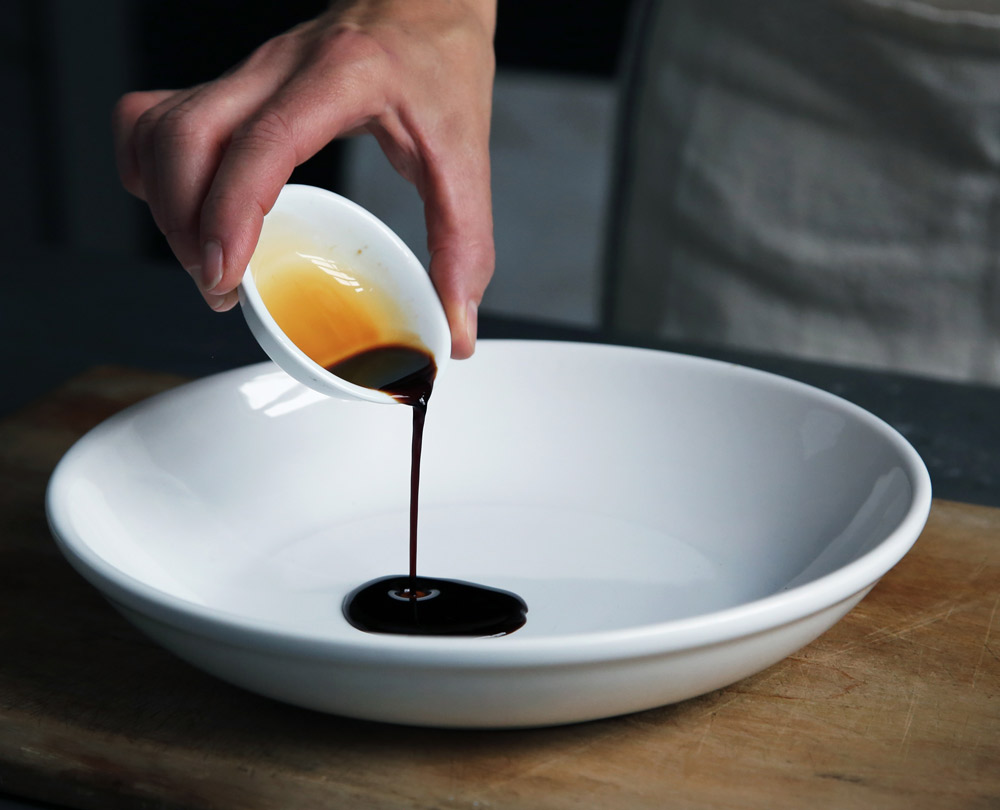 Discover this delicious Japanese sauce
---
Raw Energy Balls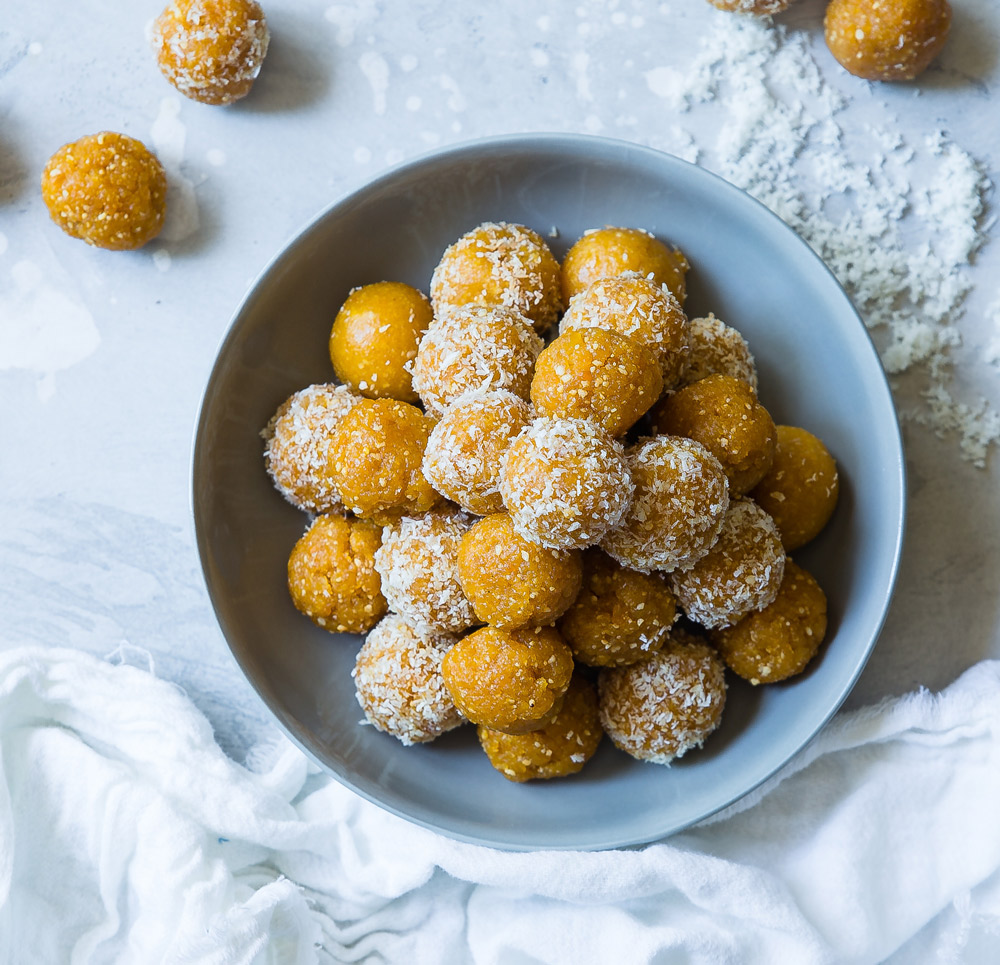 These delicious bites feed your brain and make your skin glow...
---
Pumpkin Soup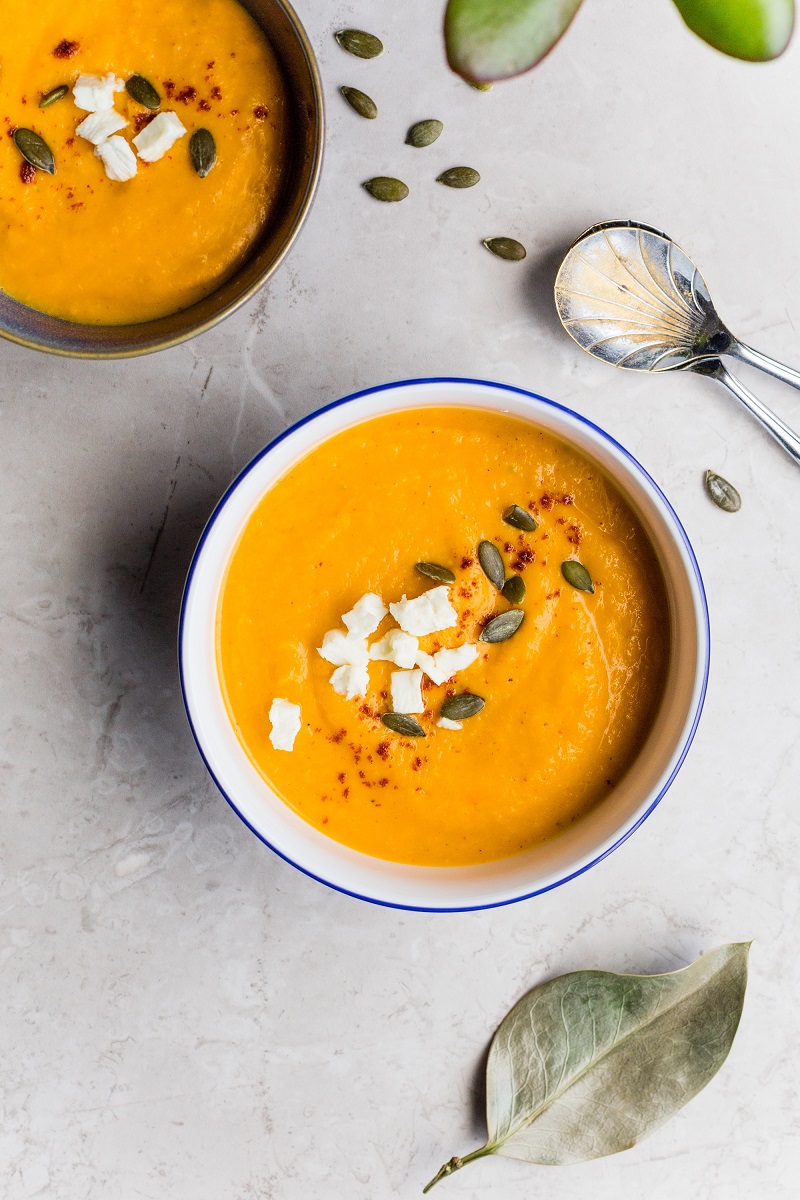 If you are making lanterns for Halloween, this is a good use for the delicious pumpkin flesh so nothing goes to waste! Delicious regardless of whether you're making at Halloween or not.
---
Green Smoothie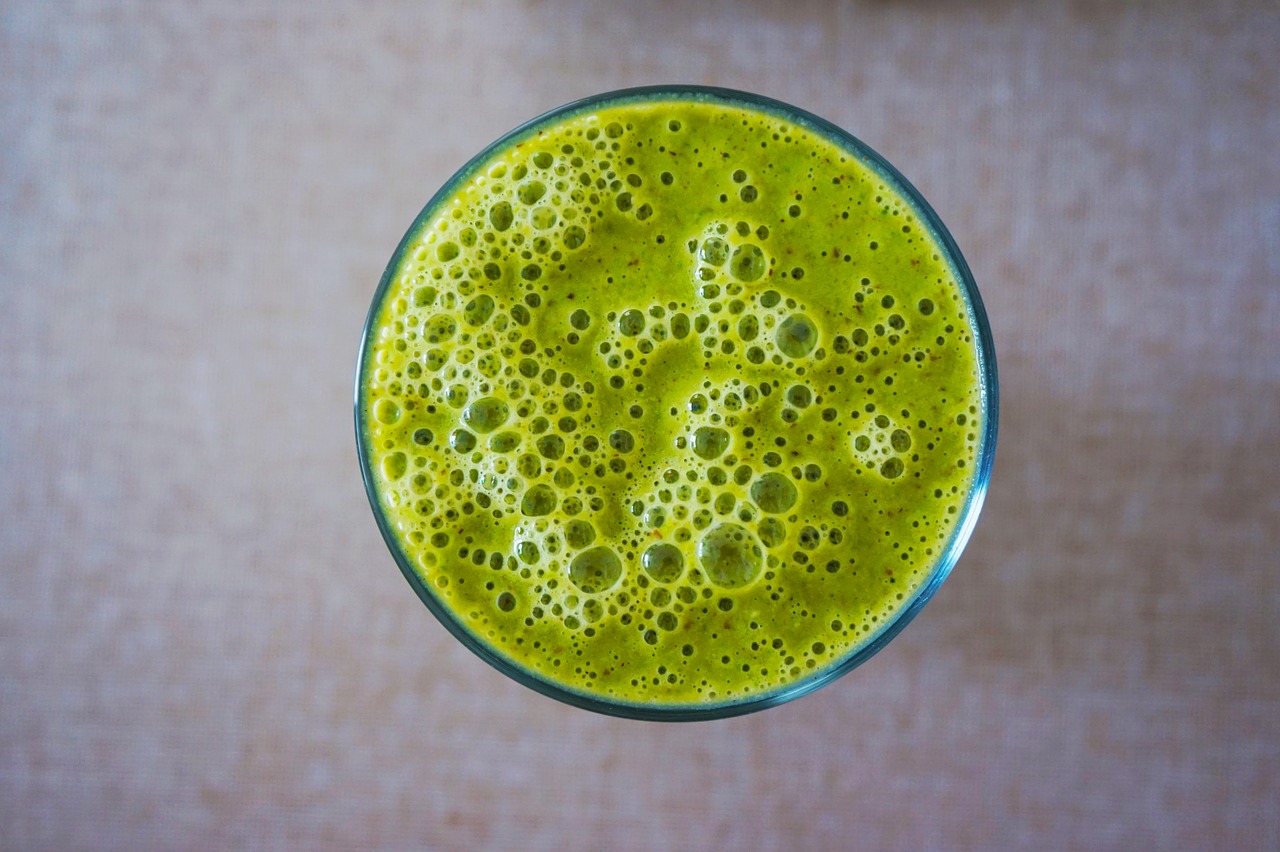 There's a huge variety of green smoothie recipes out there, this one, packed full of goodness, is one of our favourites.
---
Black Bean Chilli Chocolate Cookies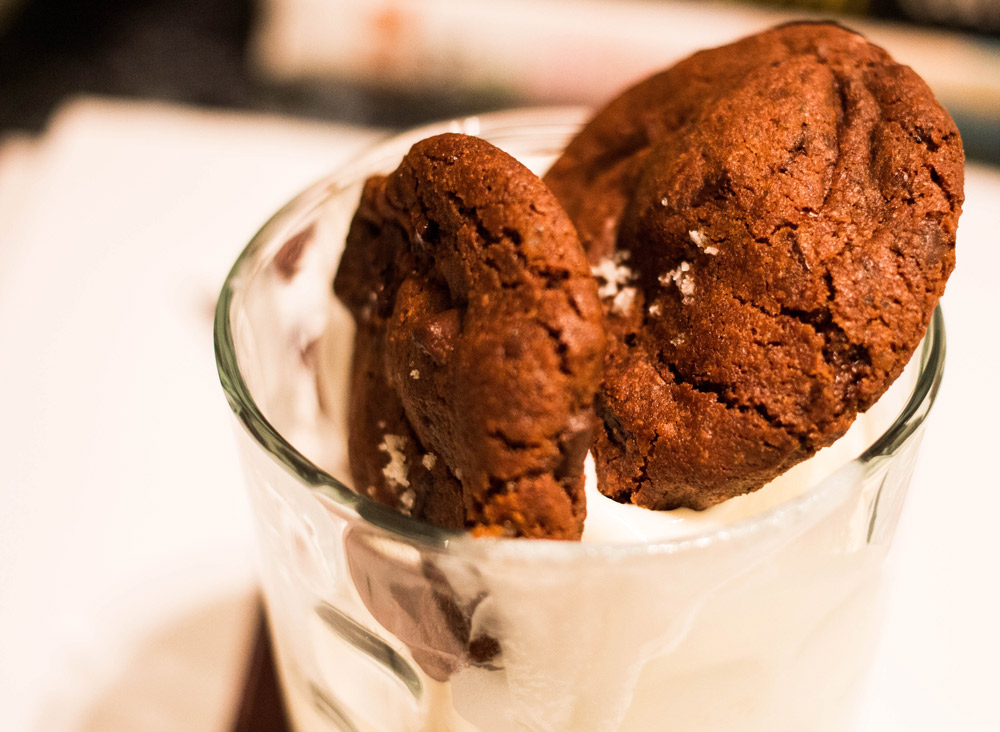 Turn up the heat with these little beauties...
---
Red Pepper Ketchup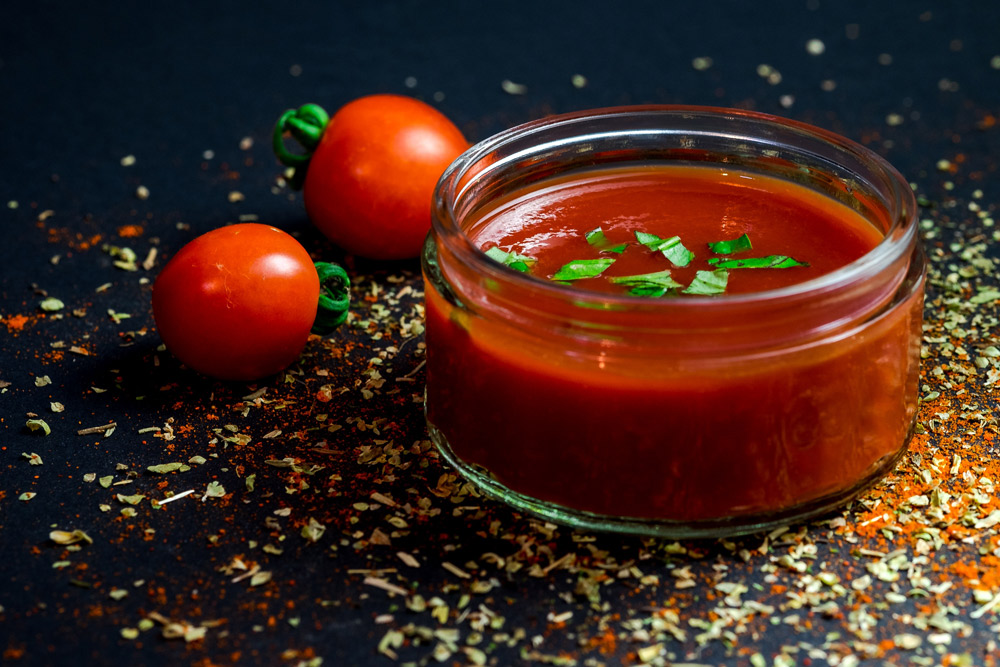 This is the don of condiments: sugar free, raw, nutritious but super sweet and tasty.
---
Buckwheat choc chip cookies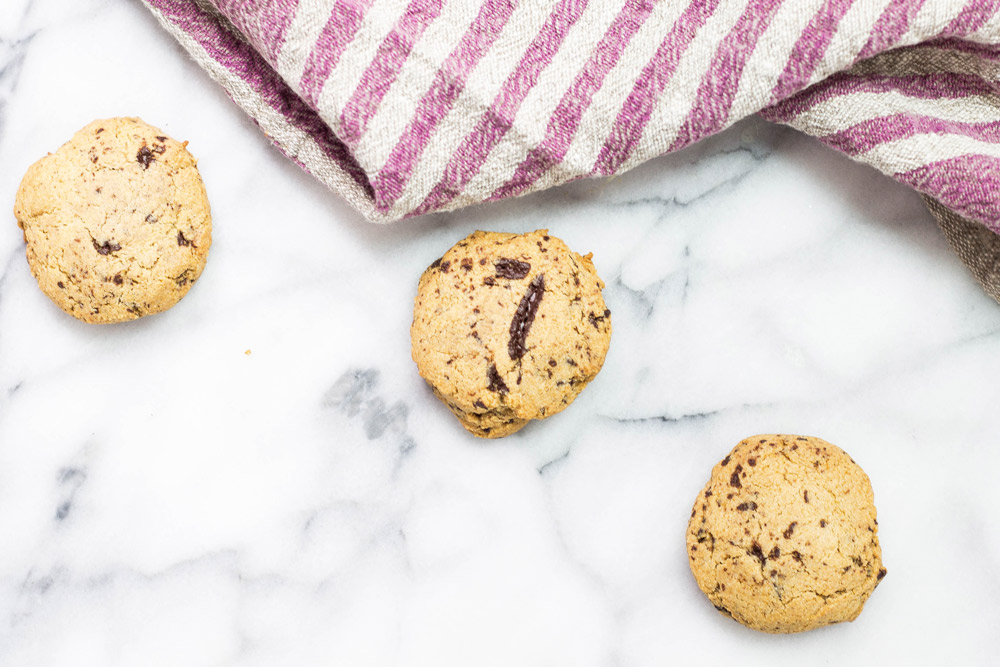 Delicious cookies that give you more bang for your buck!
---
Summer rolls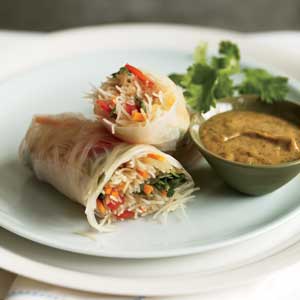 A deliciously refreshing alternative to sandwiches in the summer. Rice paper wraps are available in Chinese and Vietnamese supermarkets
---
Strawberry and Chia Seed Jam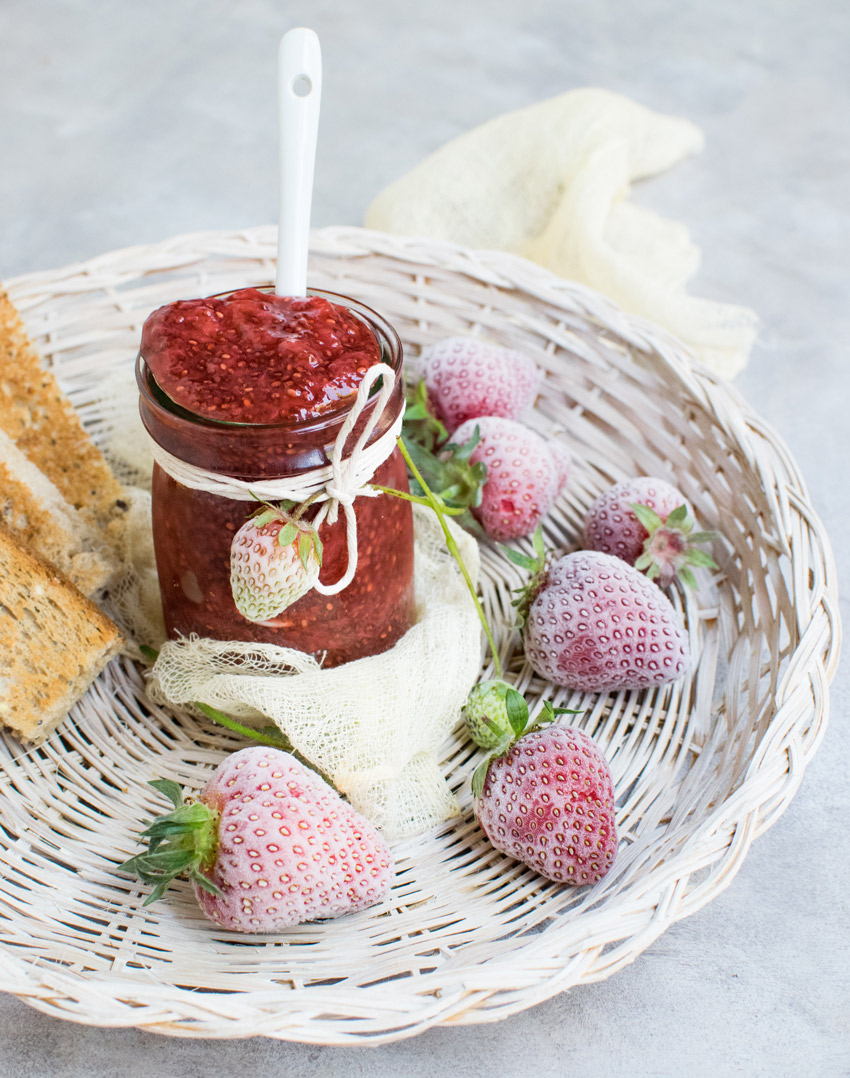 This delicious recipe is fruit-rich and perfect for summer
---
Tomato Chermoula (African tomato sauce)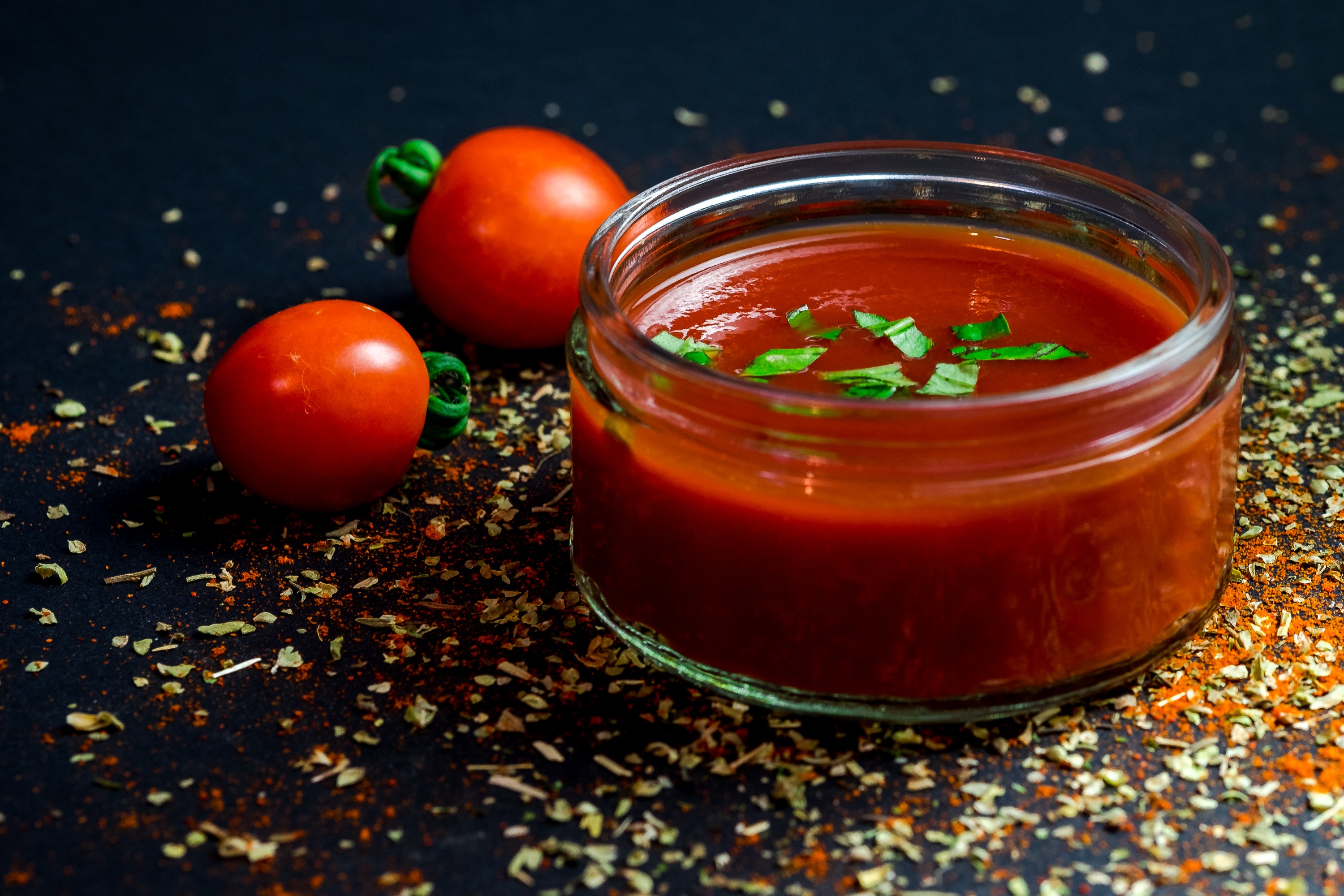 Food to make you feel good
---
Middle Eastern Inspired Quinoa Bowl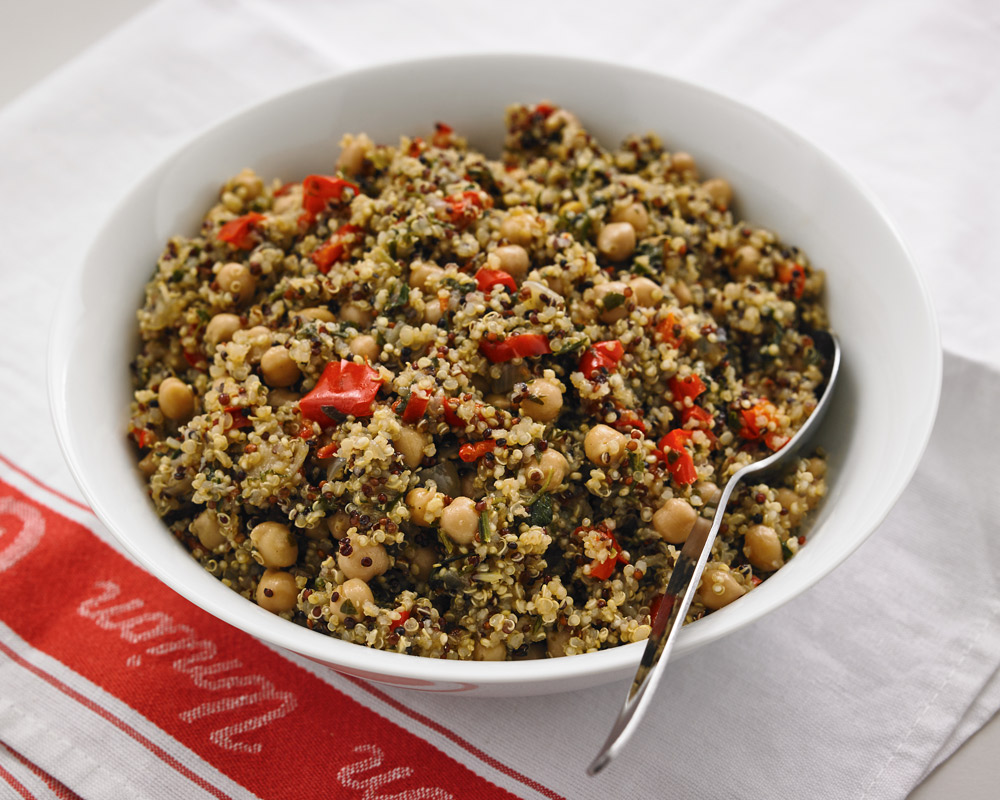 Grain like quinoa packs a protein punch and will keep your energy level stables. As it is actually a seed it contains the full range of amino acids making it an excellent source of plant based protein.
---
Cucumber & Mint Gazpacho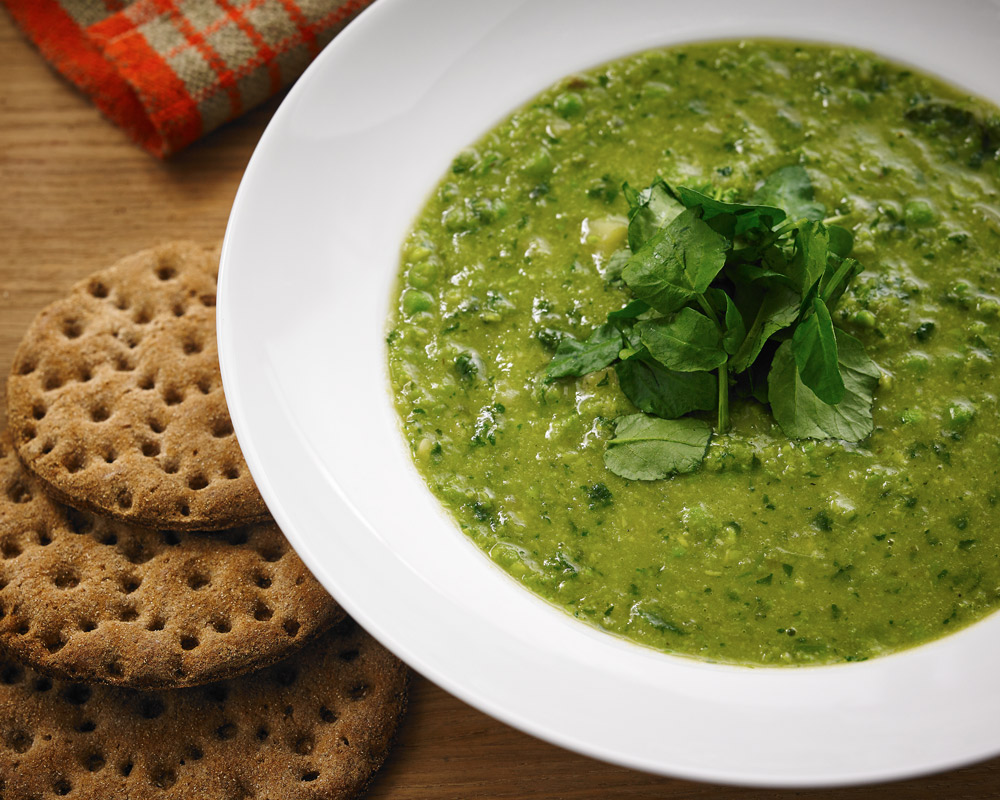 Cucumber is a hydrating vegetable, rich in B vitamins. Cucumbers also contain potassium, magnesium and fibre, which help to regulate blood pressure. The almonds make this soup creamy also adding protein and Vitamin E to this dish.
---
Cardamom & Cinnamon Biscuits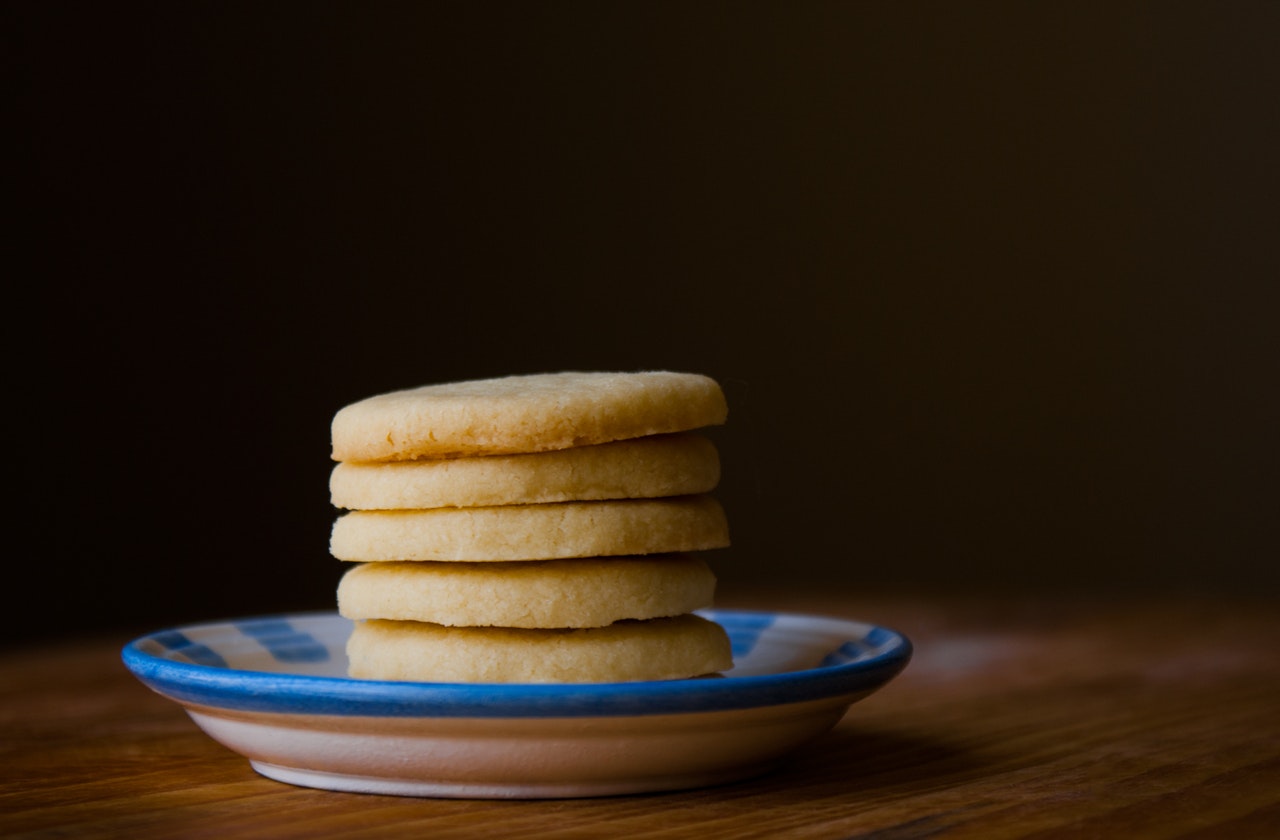 Lovely scented biscuits, wonderful with tea.
---
Trini-style Curry in a Hurry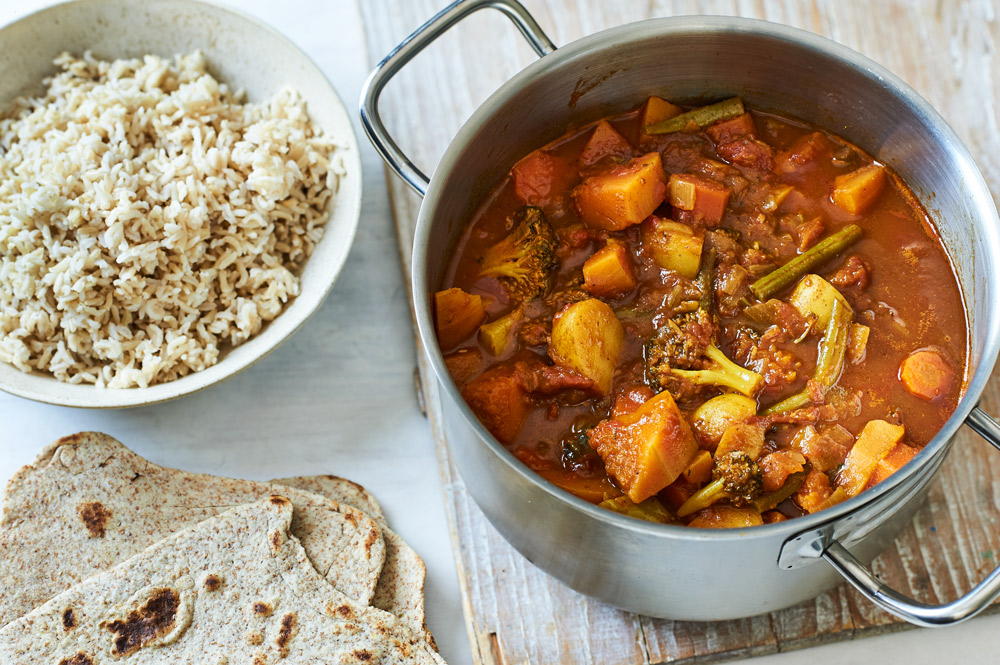 A lovely stuffing for our Cheeky Chickpea Pancakes but also great on its own...
---
Bangin' Chili Beans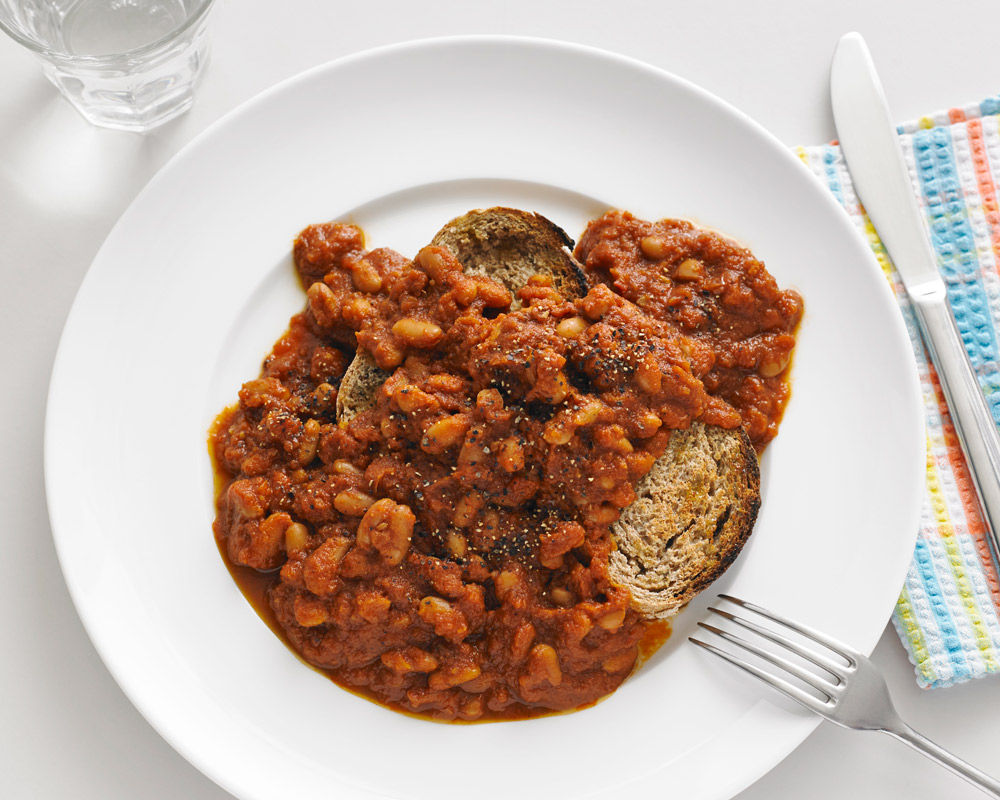 An easy, no fuss, delicious dish to prepare for those wintry days when only a bowl of something warming will do.
---
Summer Stir Fry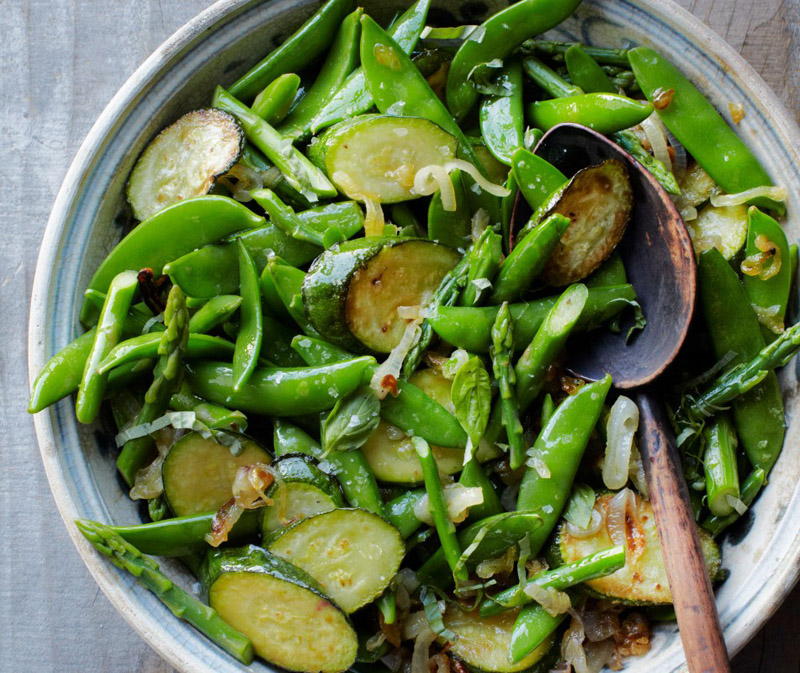 A crunchy green stir fry with fresh summer flavours and packed with vitamin C. You can use any summer leaves for this dish,
---
Strawberry Sorbet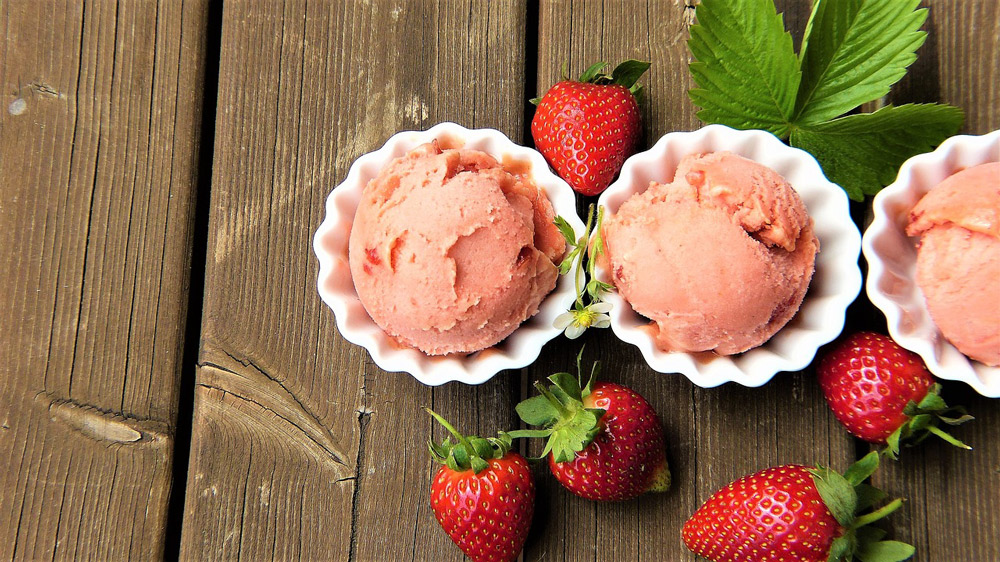 This summery sorbet can be made with any kind of berries. Add a frozen over-ripe banana for a natural creamy sweetness.
---
Elderflower Fizz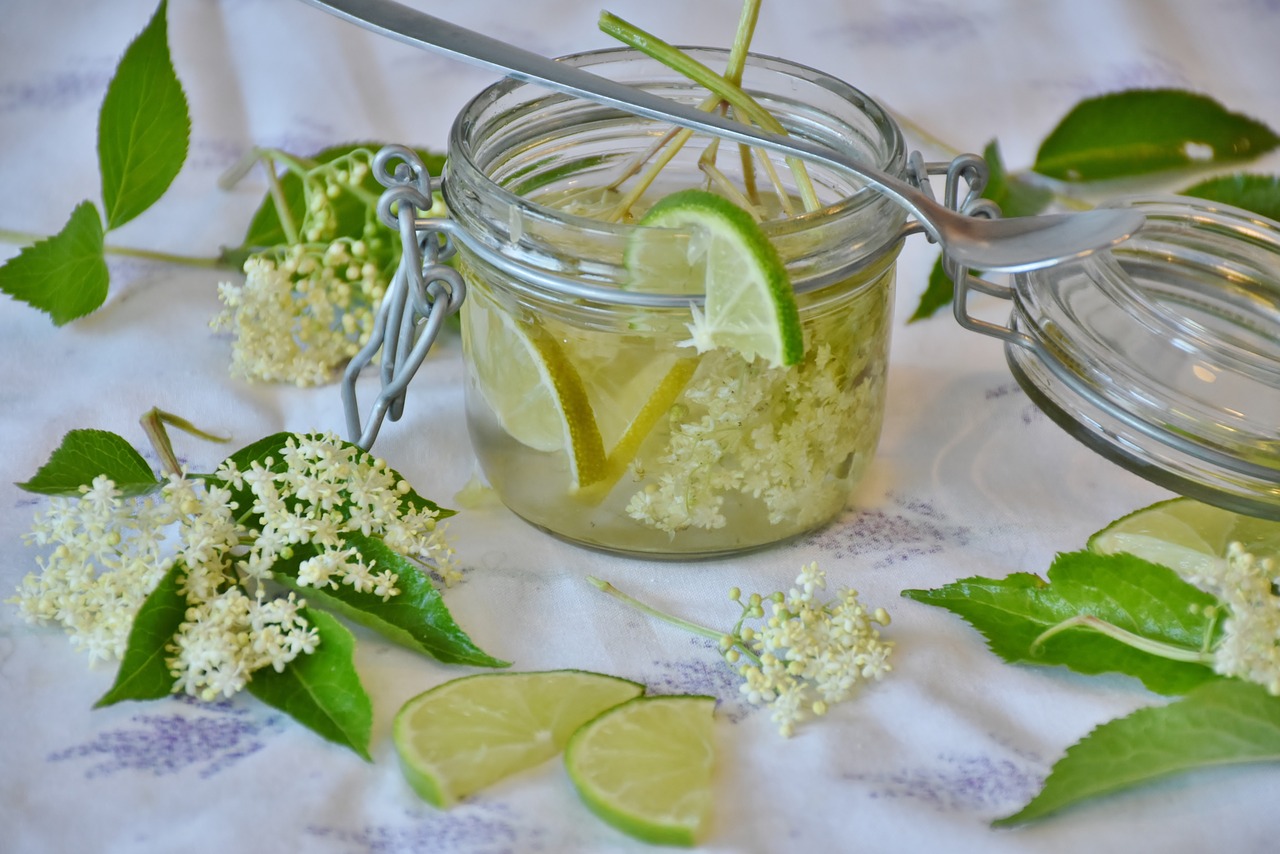 Watch out for elderflowers as they start appearing in many parks and public spaces at this time of year. This drink has a slight fizz and uses dates instead of sugar to add a subtle sweetness. A perfectly refreshing summer drink
---
Pickled Vegetables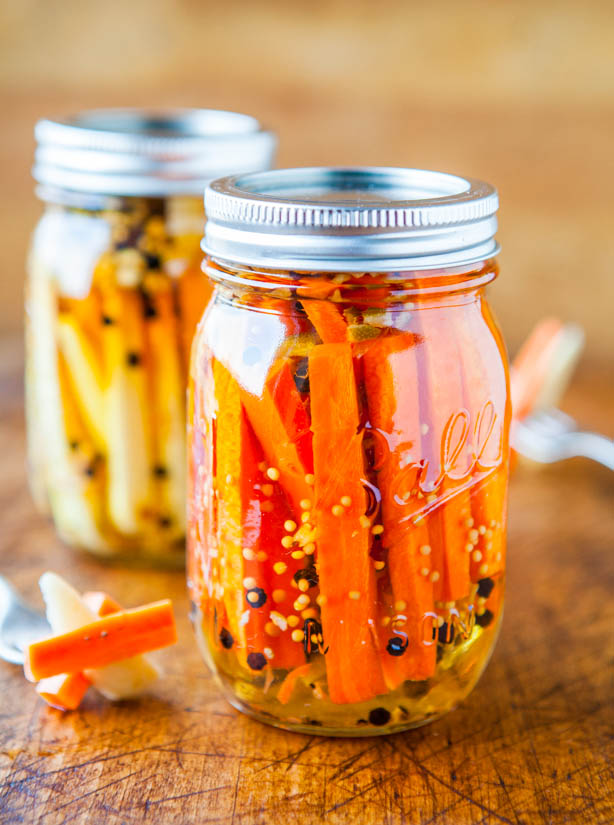 A great way to use up root vegetables and add a zing to winter salads
---
Parsnip and Ginger Soup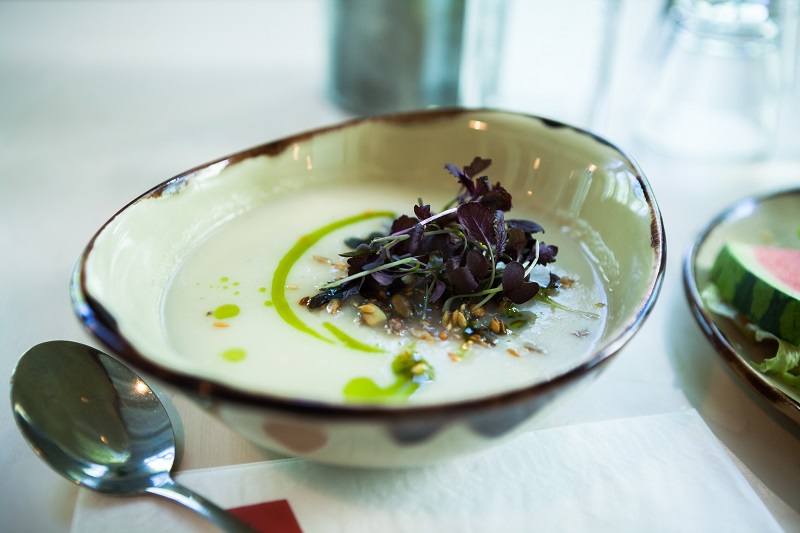 A creamy rich soup with delicate flavours. Delicious with soda bread.
---
Nettle & Sweet Potato Soup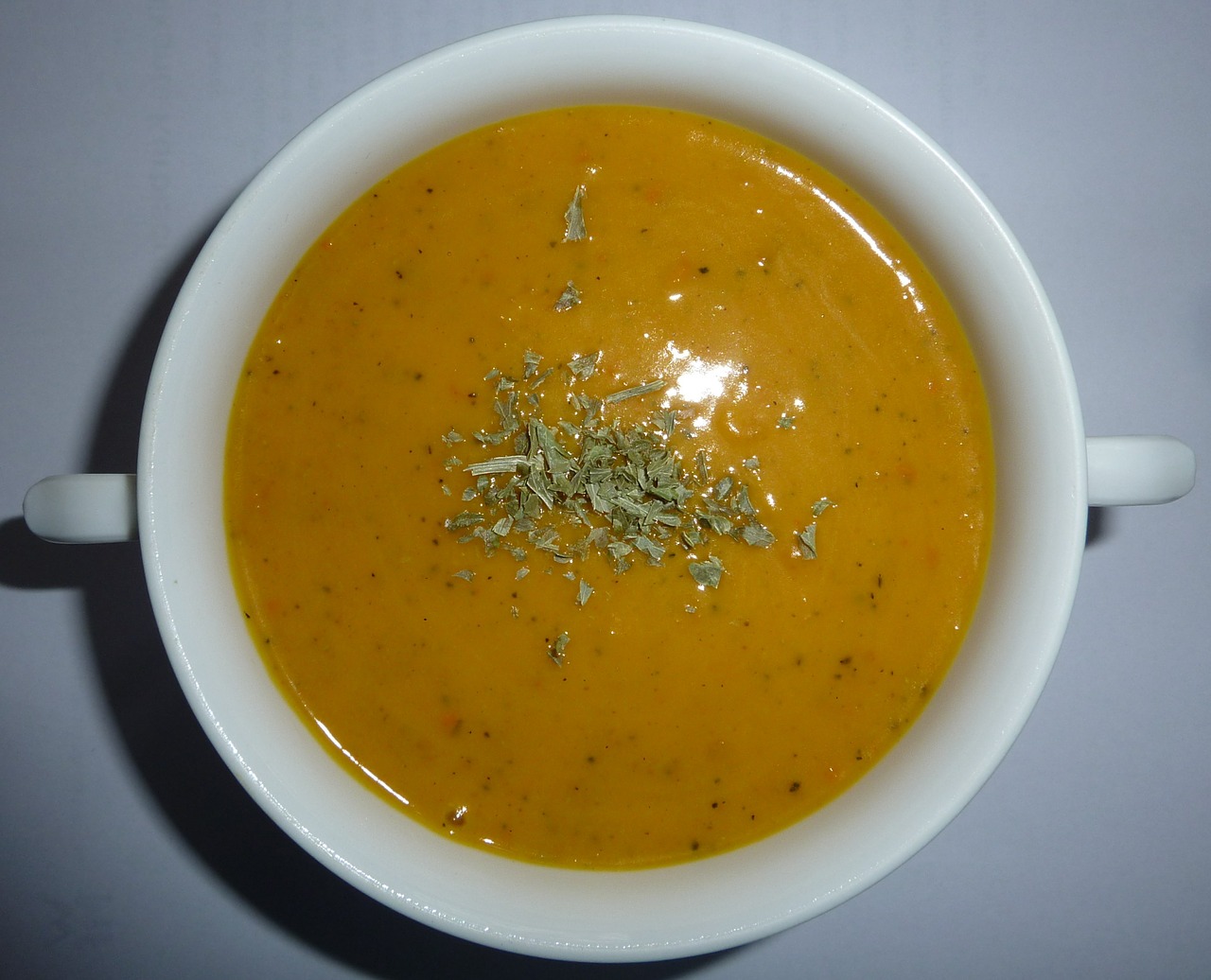 This nourishing soup utilises the UK's most underused free 'superfood' - the mighty nettle. Tasty, simple to make and packed full of goodness.
---
Fruit & Nut Baked Apples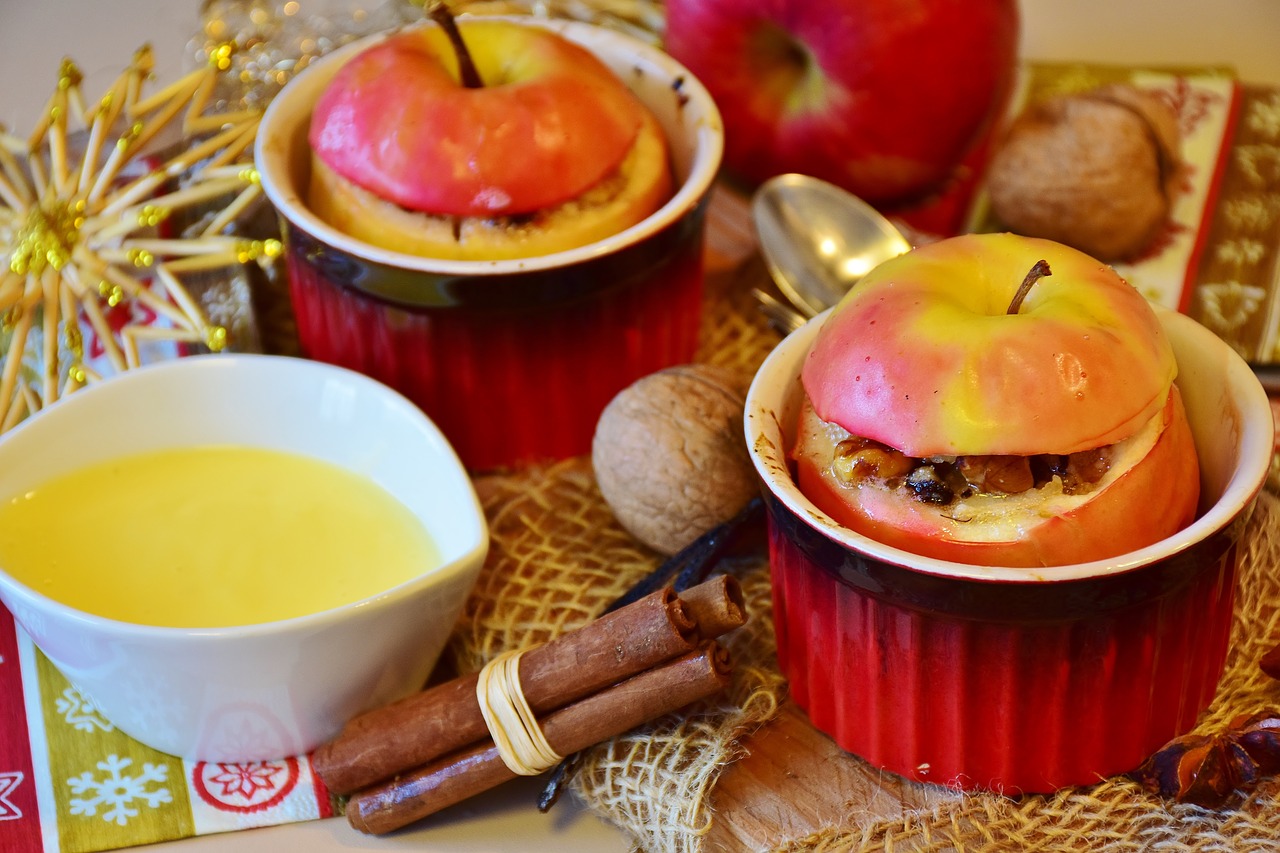 Its hard to believe something so simple can taste this good. A delicious, healthy dessert that's a winner in the MIH kitchen with adults and sweet-toothed children alike!
---
Gluten Free Chocolate Chip Cookies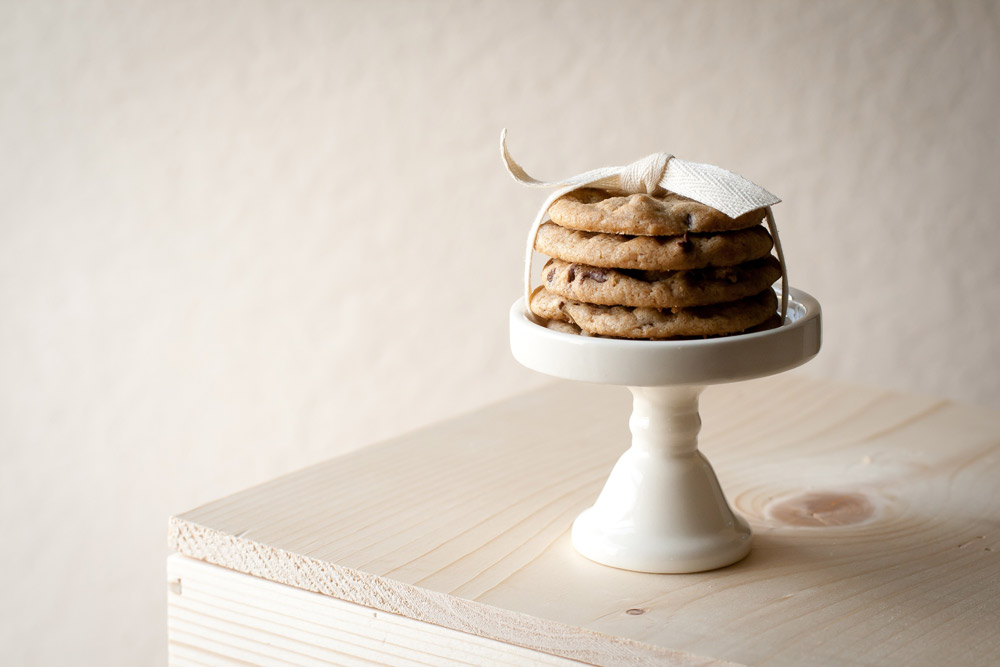 'Tis the season to indulge a little... So bake these gluten free delights and enjoy!
---
Carrot Cake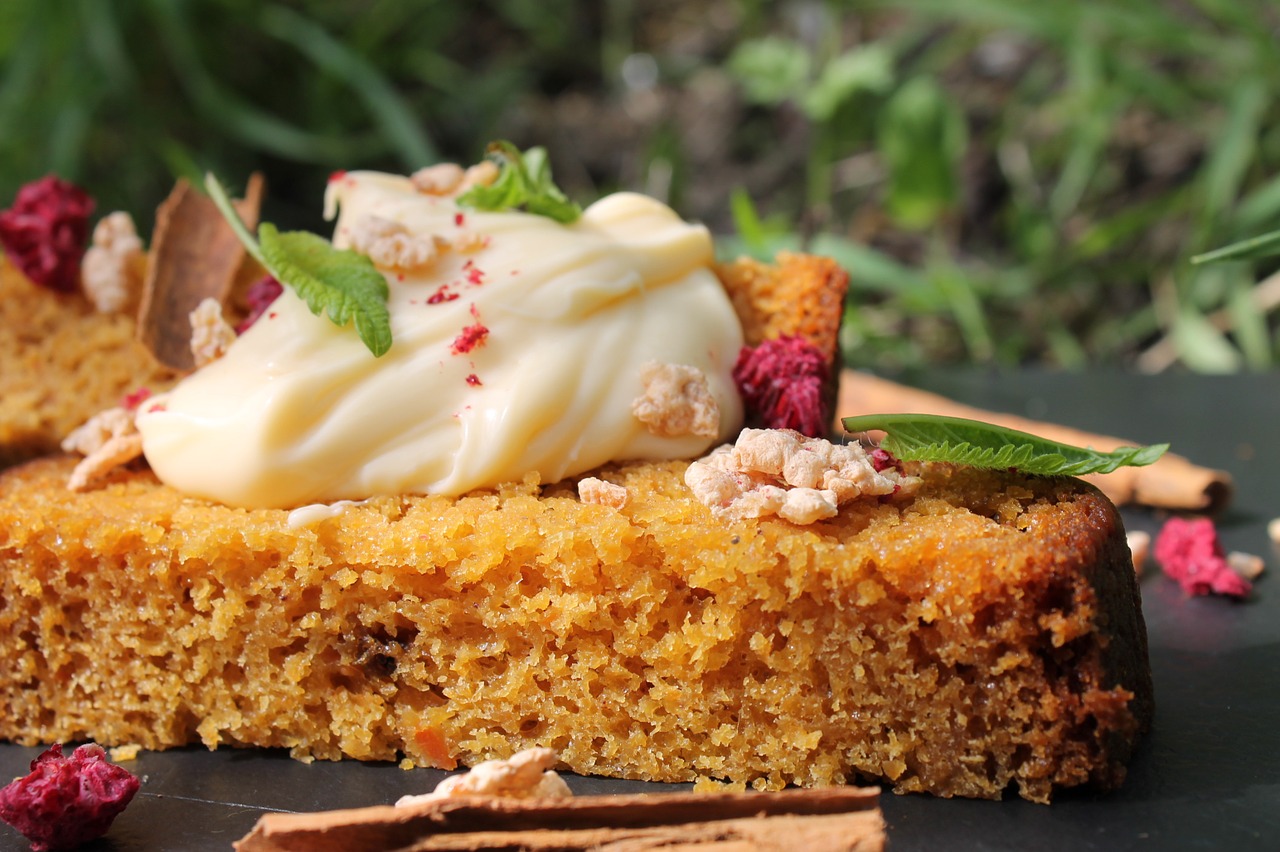 A lovely loaf cake with a hint of ginger and cinnamon - perfect for the festive season!
---
Raw Vegan Eggnog Milkshake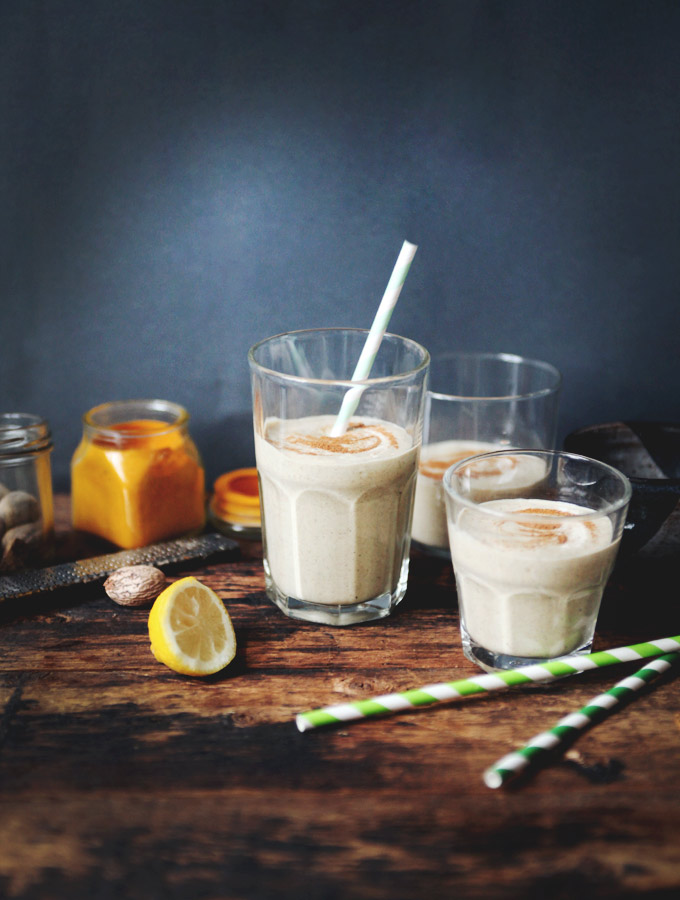 Eggnog, the classic American christmas drink, can be revamped into a super healthy seasonal shake!
---
Bath Bombs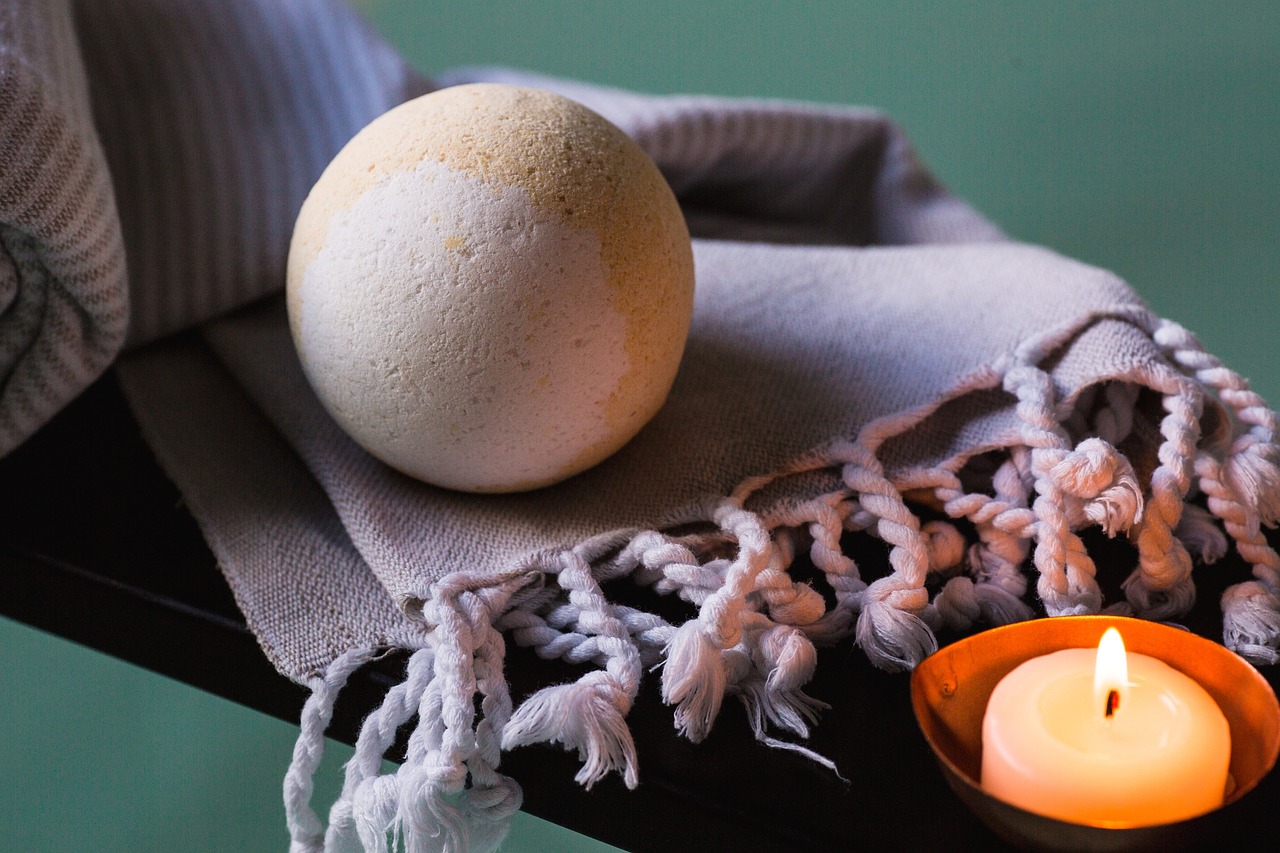 A perfect homemade present is a bath bomb, would love to see a little bundle of these under my tree this year.
---
Almond Milk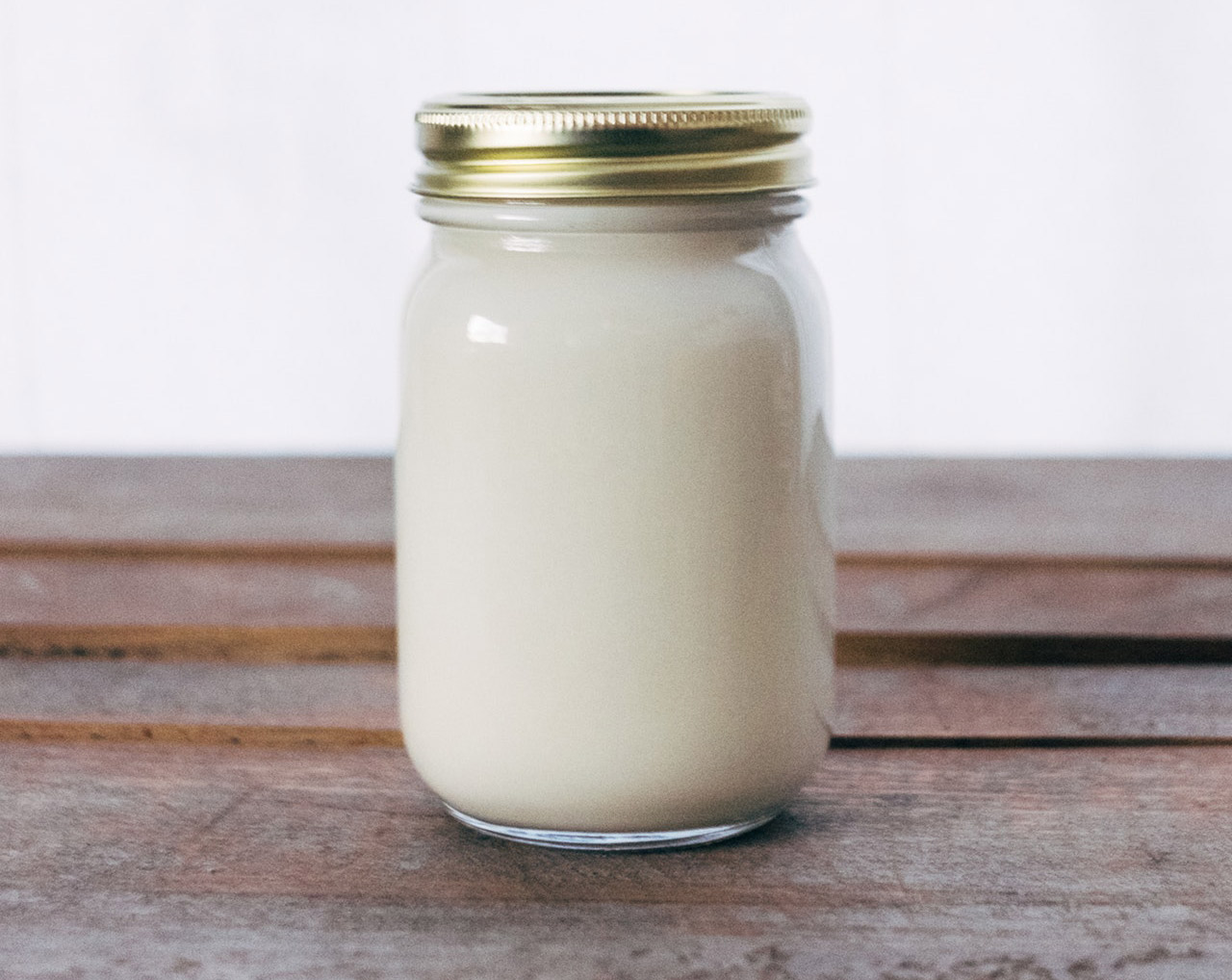 You can milk a nut! Its so simple and delicious, perfect for your morning muesli or a base for your smoothies.
---
Spiced Poached Pears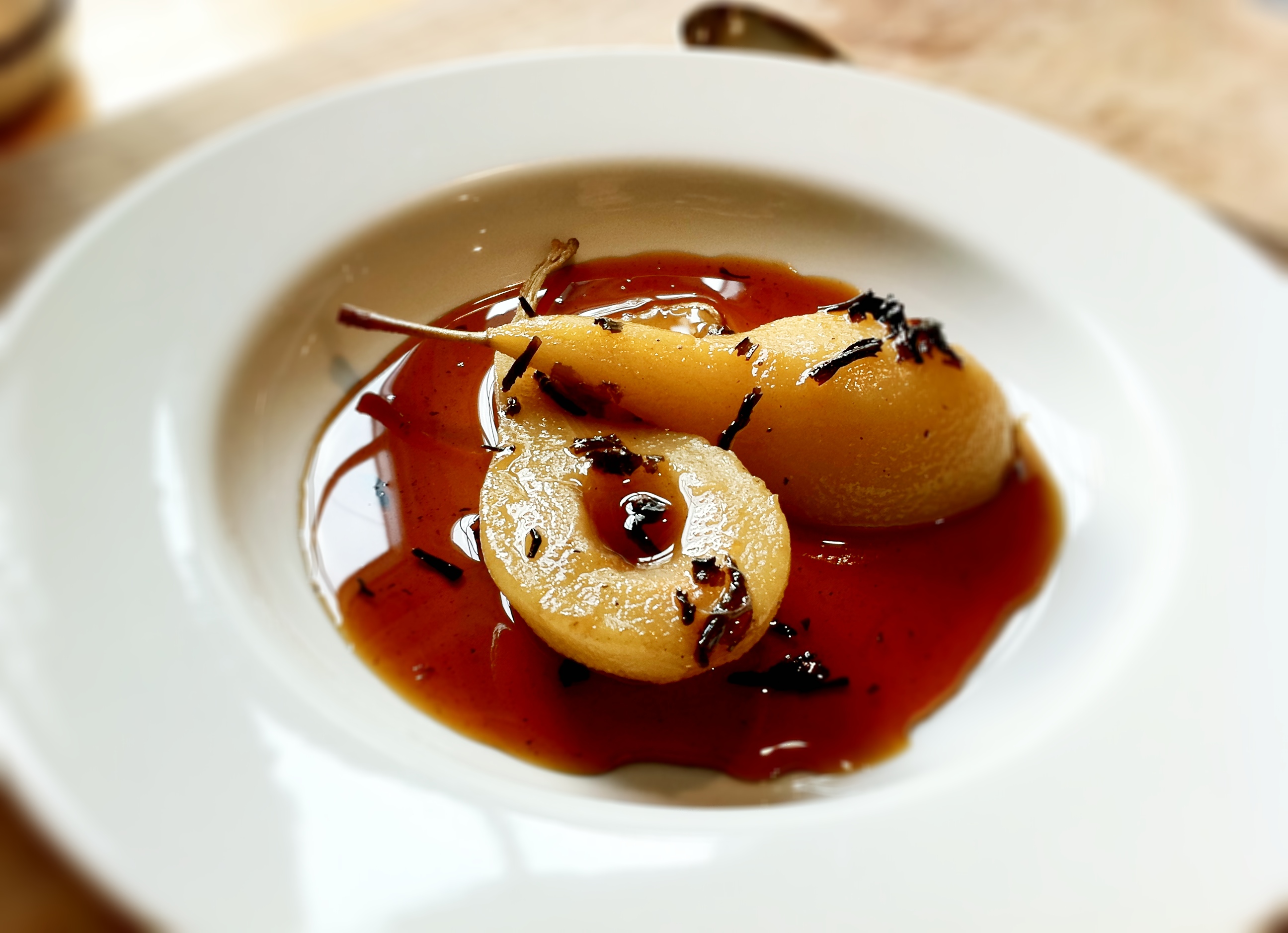 Combine seasonal British pears with this Christmas spice mix for a delicious and healthy festive pud!
---
Kimpab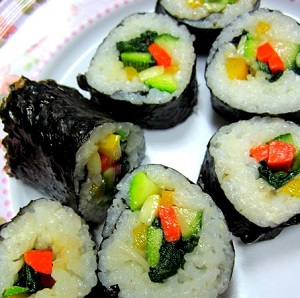 Kimpab - Vegan Sushi Rolls!
---
Spiced Spelt Biscuits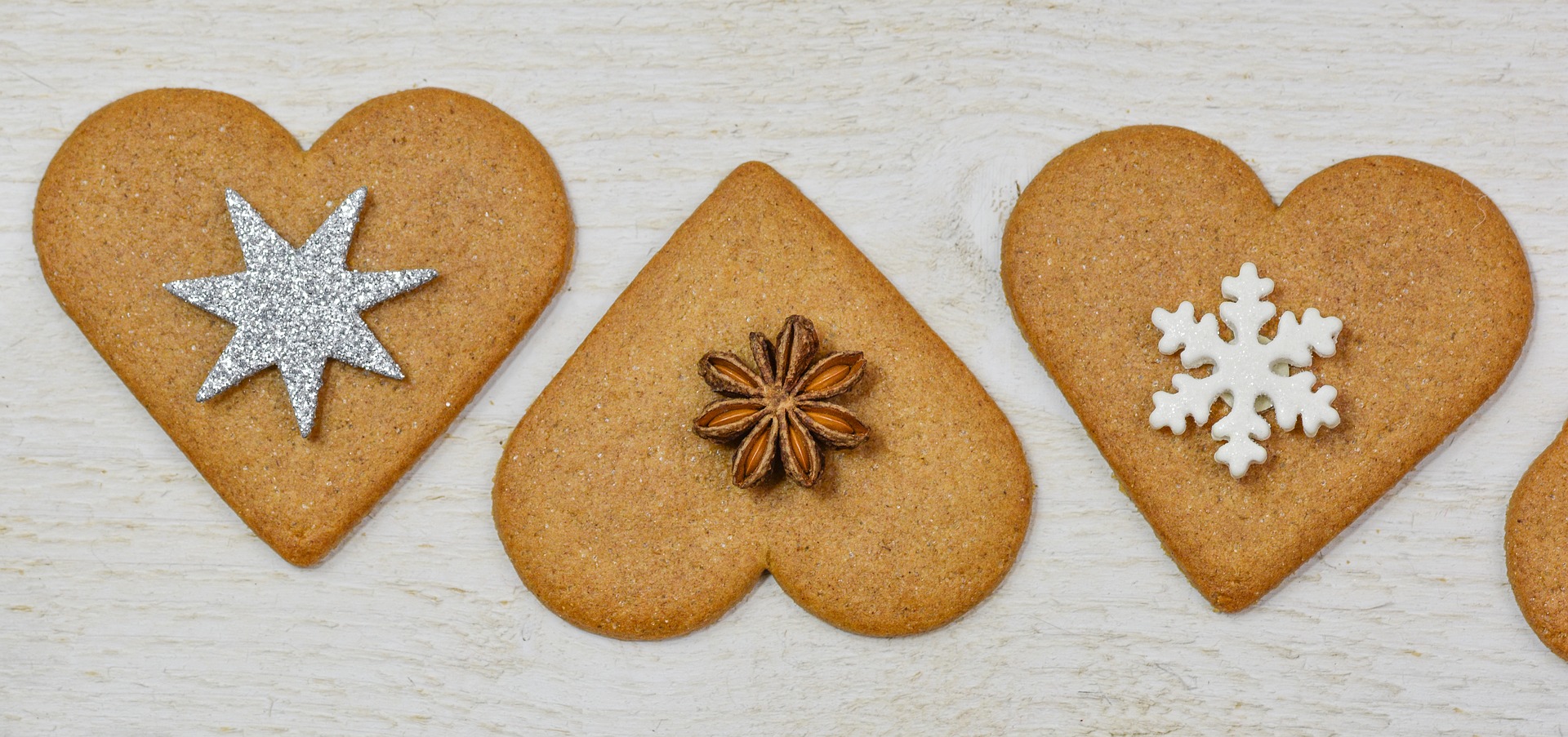 Quick and easy, spiced with ginger and clove!
---
Mixed Herb Pesto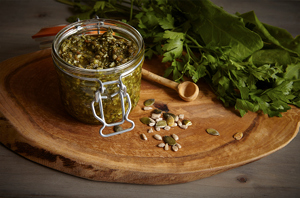 Pesto is so quick and easy to make, you can use a wide variety of herbs and any nuts or seeds you have around. For a 'activated' pesto you can soak the seeds overnight to deactivate the enzyme inhibitors in the seeds. We love using sorrel and pumpkin seeds but it's totally up to you!
---
Gluten Free Pumpkin Muffin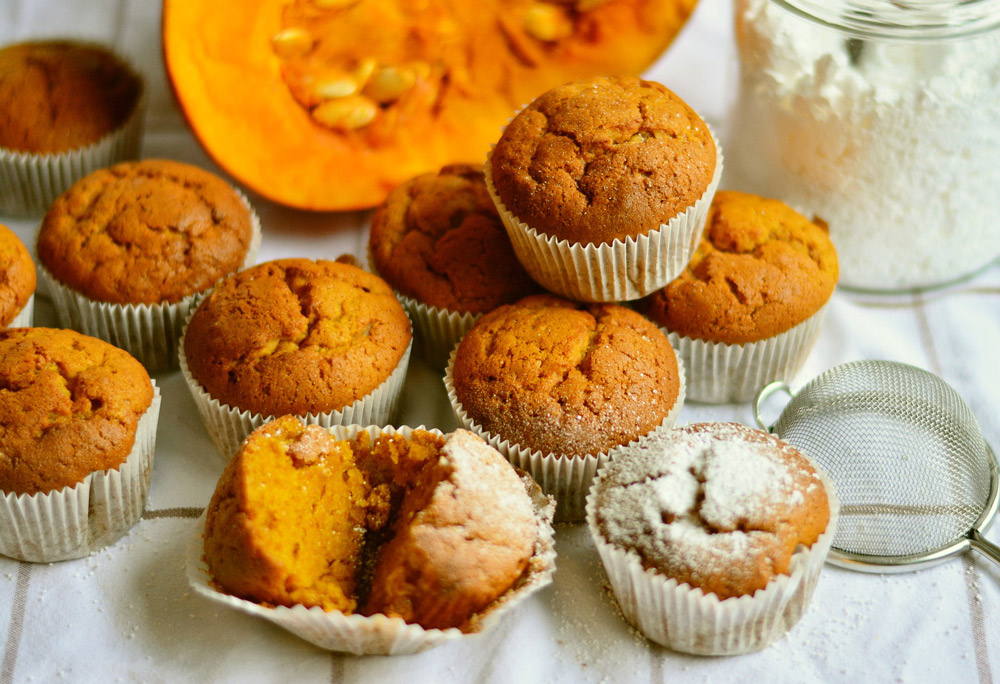 It's pumpkin season! Rather than the usual savoury roast pumpkin dishes we think this is a great sweet muffin to add to your Autumn cooking. Have one for a breakfast treat or indulge in an afternoon with a cup of herbal tea
---
Green Smoothie with Pear, Spinach & Ginger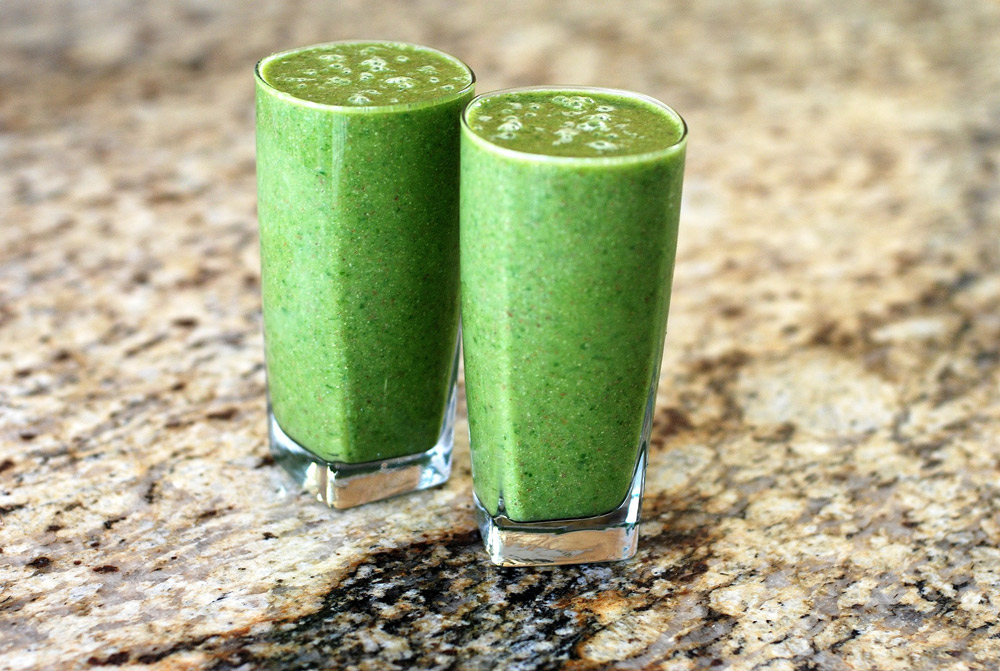 A fantastic warming smoothie for Autumn days!
---
Thai Squash and Carrot Soup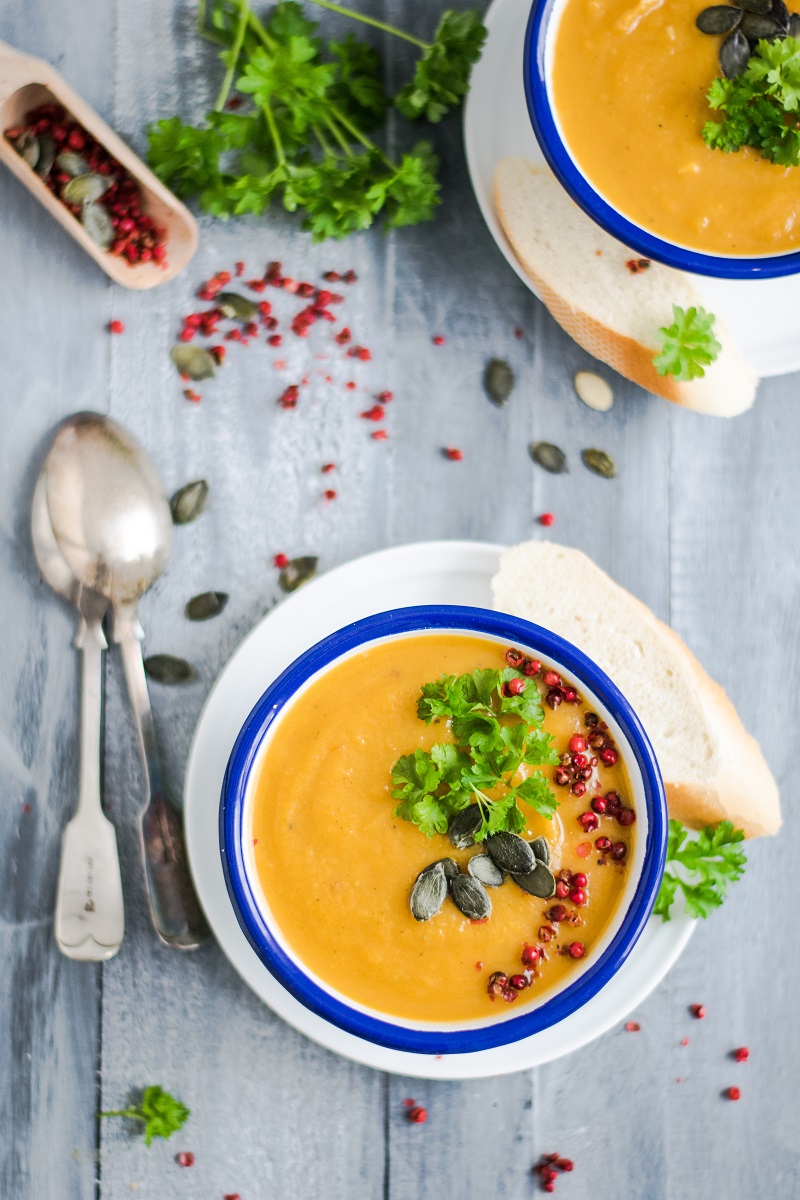 A simple seasonal soup!
---
Mixed Berry Muffins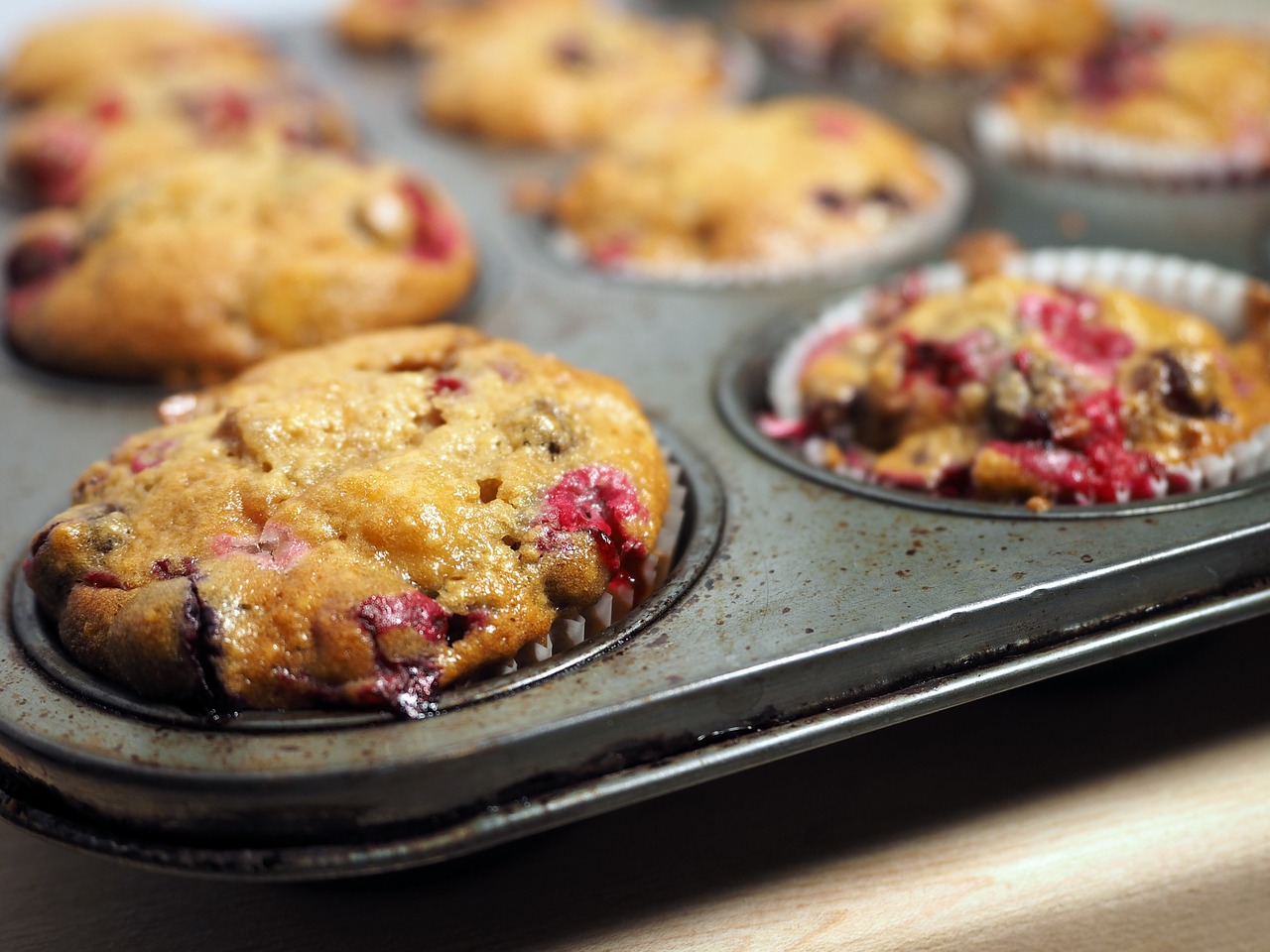 Yield: 12. A classic breakfast muffin, light on the sugar and made with wholewheat spelt flour. This recipe came from Jayne Totty who runs our Healthy Baking Masterclasses.
---
Muhammara (Red Pepper and Walnut Dip)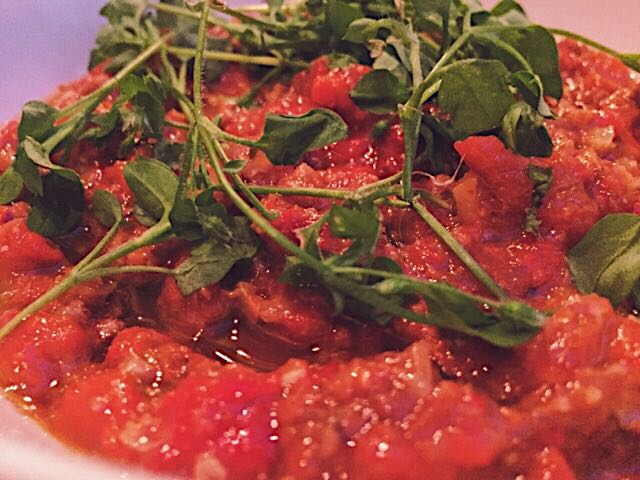 This delicious spicy Lebanese dip is really healthy too, try dipping it in raw veg, spreading it on wraps or even using it as a base for pasta sauce or pizza!
---
Passata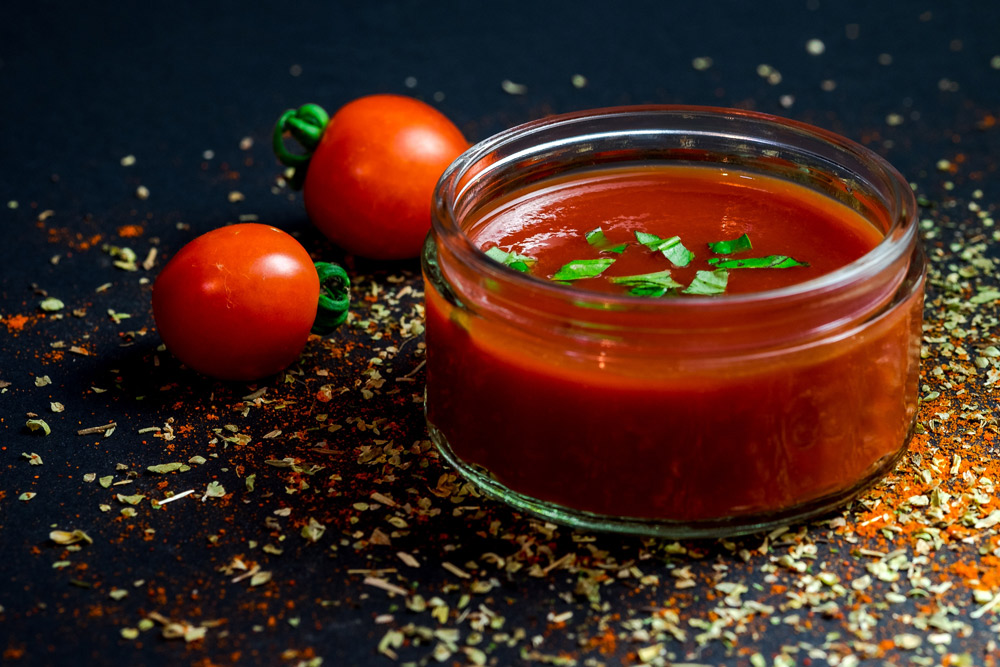 If you have a glut of tomatoes then this is the perfect recipe! Use it as a sauce for pasta, a base for soup or anything else you can think of.
---
Banana Breakfast Bread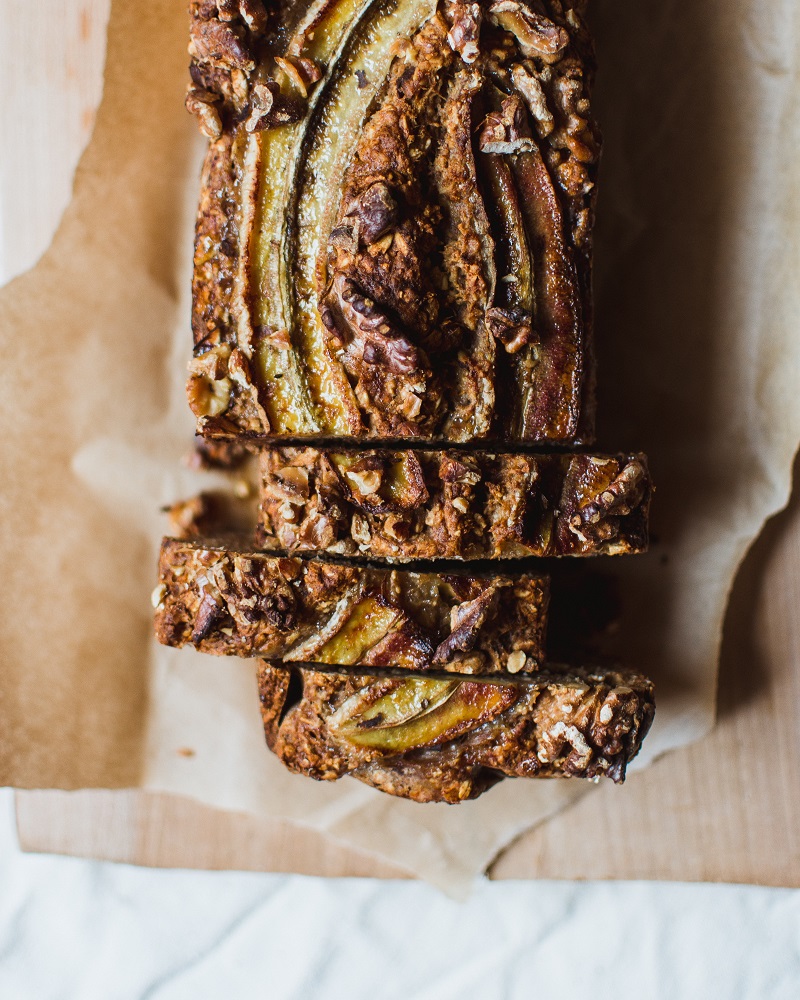 This sweet soft loaf cake is ideal for breakfast and brunch. You can play with the recipe, adding nuts, seeds, or other ingredients of your choice to create different textures.
---
Sour Yellow Curry with Mixed Vegetables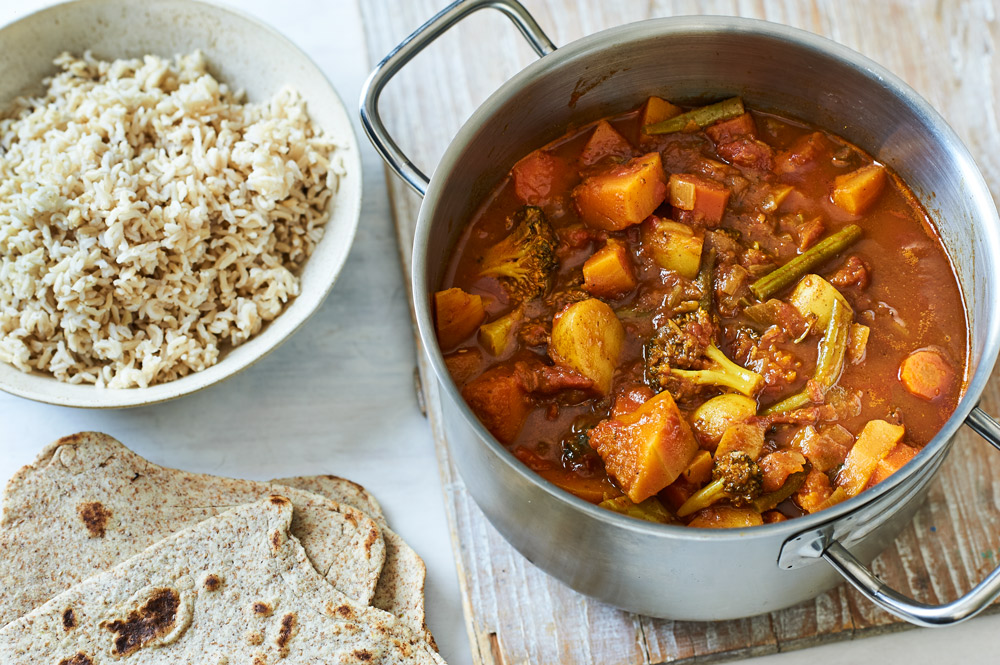 This curry combines sweet, savoury and sour flavours to create a refreshing, warm and zingy main course. Perfect throughout the year!
---
Spicy Potato Wedges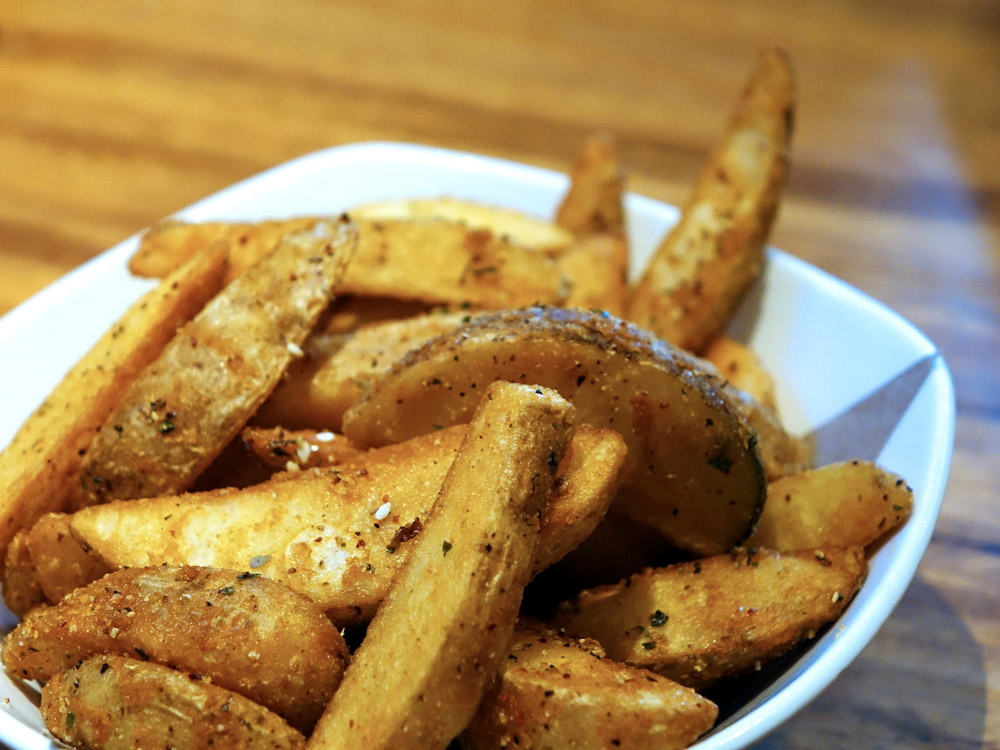 A firm favourite with our participants, try them with a spicy dip.
---
Courgette, Pea & Mint Soup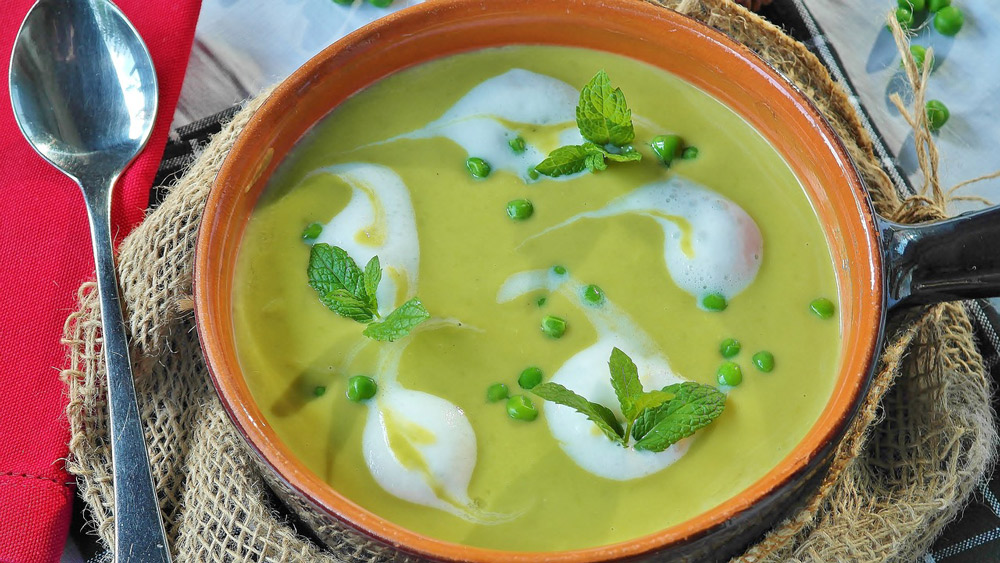 This fresh soup works equally well warm or cold. It's a great way to use courgettes at the bottom of your fridge that are getting a bit soft.
---
Healing Salve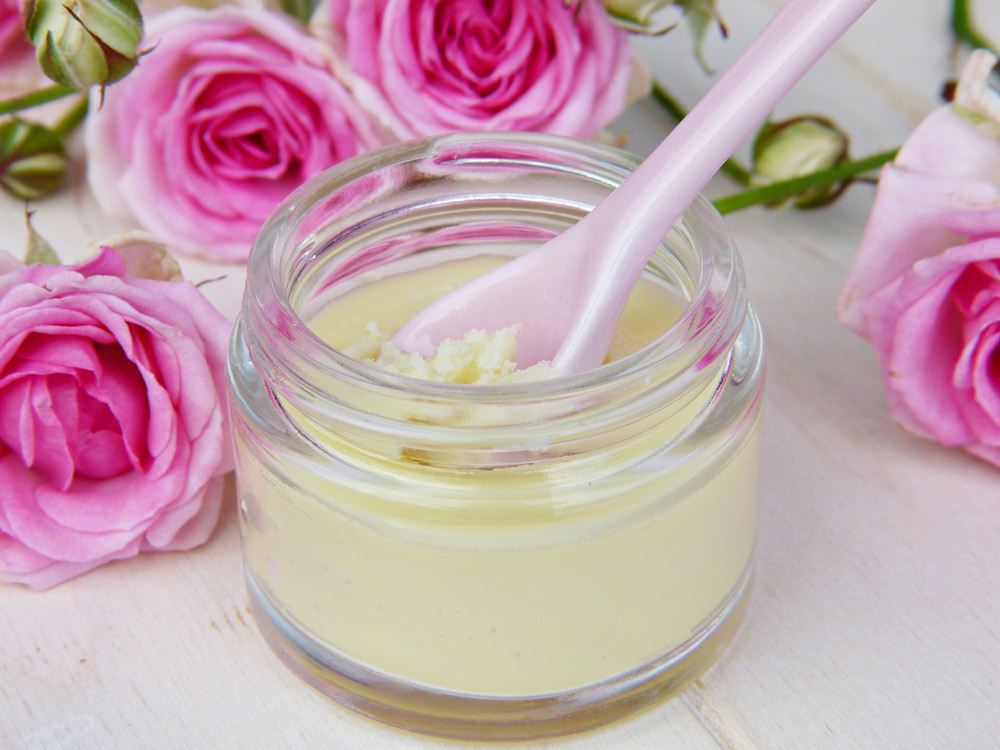 This super useful healing salve can be applied to cuts, insect bites, stings, nappy rash (if using cloth nappies only with liners) and other wounds.
---
Ginger Body Scrub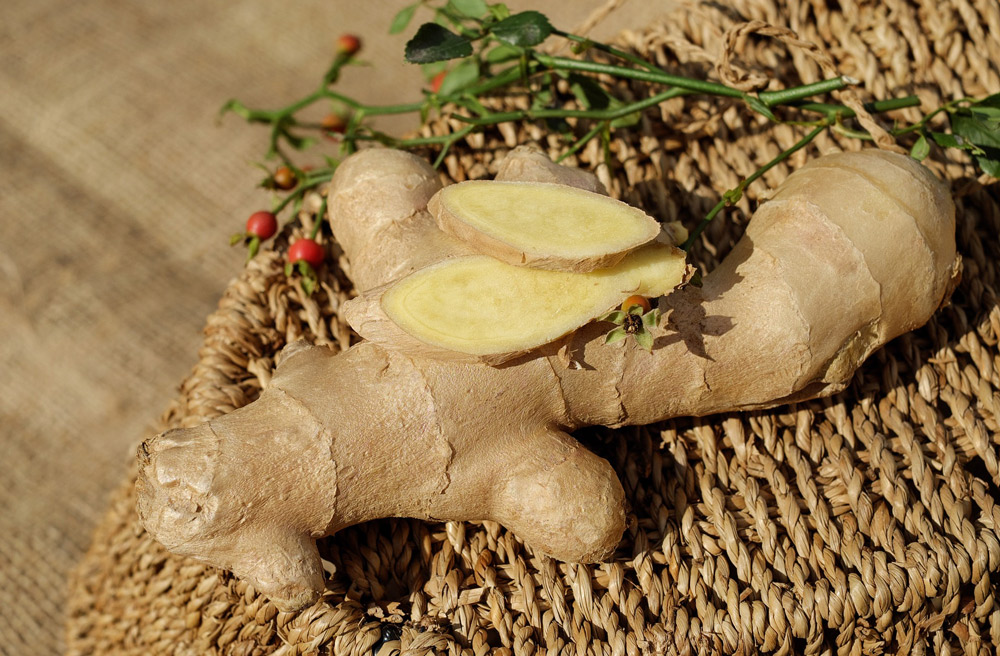 Get super soft skin with the help of this all natural body scrub
---
Laundry Soap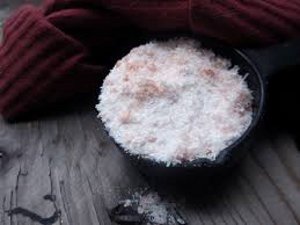 Your guide to clean, safe and fresh laundry!
---
Toilet cleaner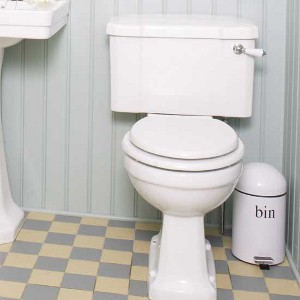 The trusty favourites of bicarb and vinegar will get your toilet clean and fresh.
---
Bath, Sink and Tile Cleaner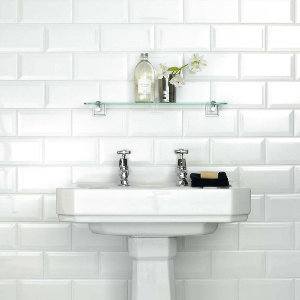 There's no excuse to reach for the chemicals now you have this easy recipe for a squeaky clean bathroom
---
Window, Glass and Mirror Cleaner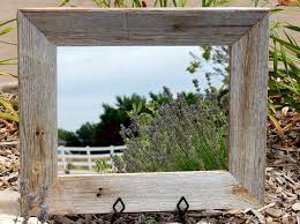 A well tried and tested chemical free method for streak free windows.
---
Detox Tea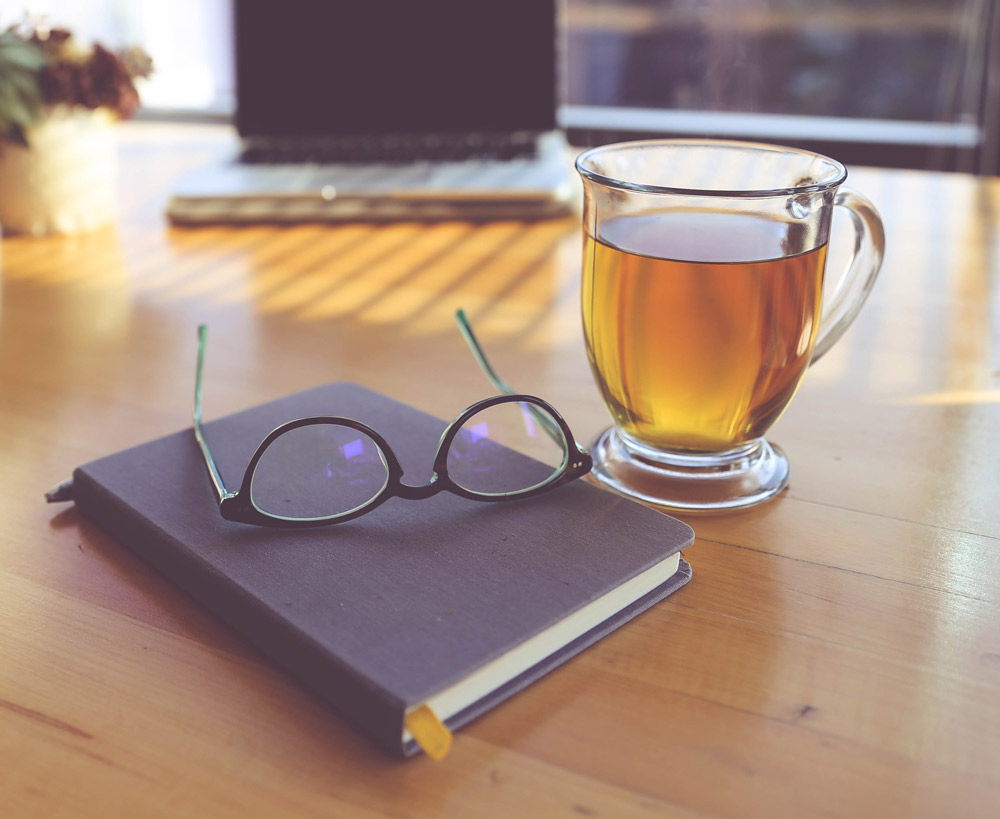 Sometimes it's the simple things that are the best! This earthy tasting tea is a brilliant Spring/Summer detox using two common garden weeds - stinging nettle and cleaver - also known as sticky willy! Nettles nourish the blood and cleanse the body through increased urination (also provide lots of protein when eaten!) while cleavers improve the complexion, reduce puffiness under the eyes and reduce fluid retention in the skin.
---
Healing Perineum Mix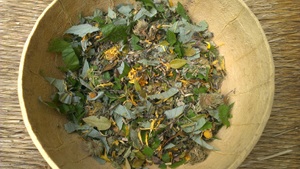 This healing mix is an essential for immediate post-birth use for new Mums wanting to give their perineum a treat after it's recent exertion! Use as a bath sitz, by pouring over sanitary pads and putting them in the freezer to make a cooling/healing post-birth pad, or decant into a peri-bottle and apply topically as required.
---
Dish Washing Liquid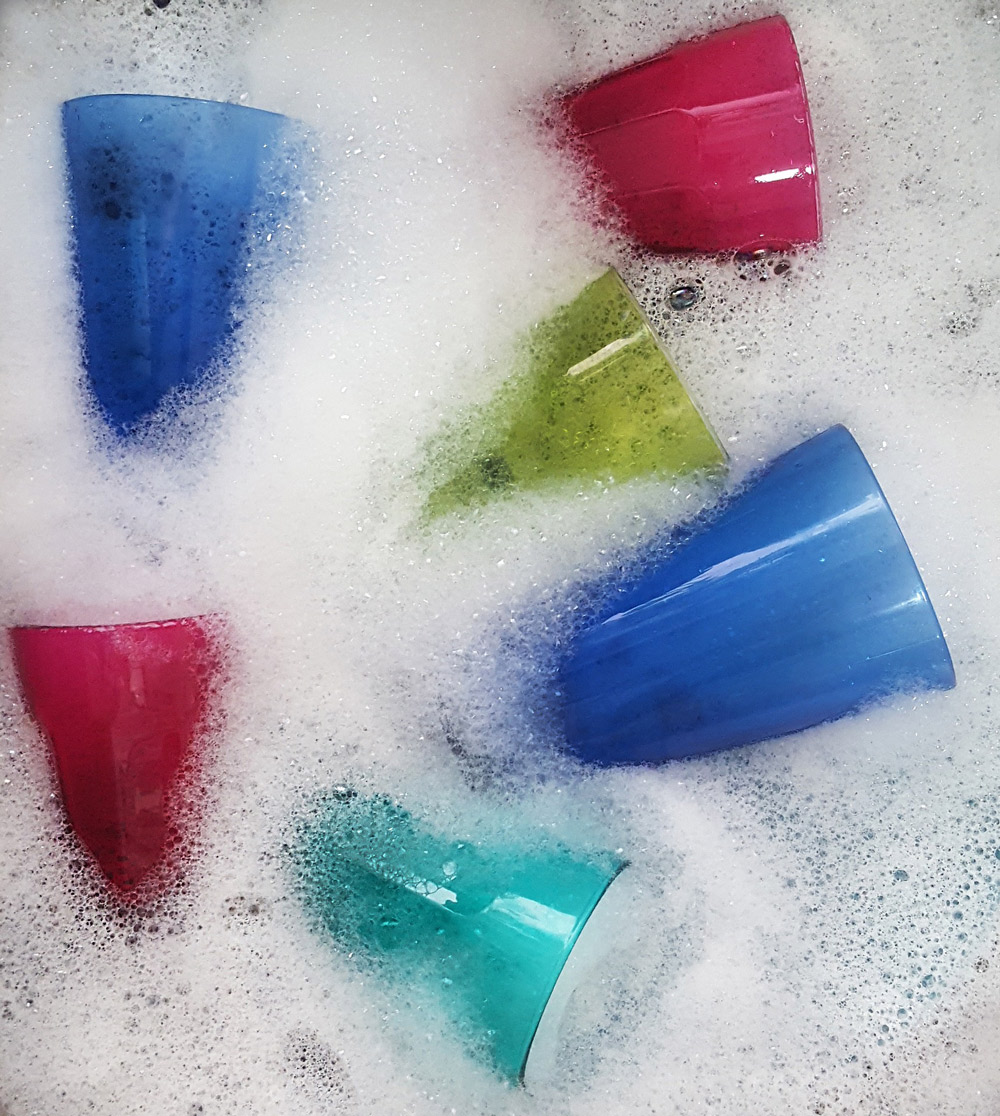 A more involved recipe
---
Apple Sauce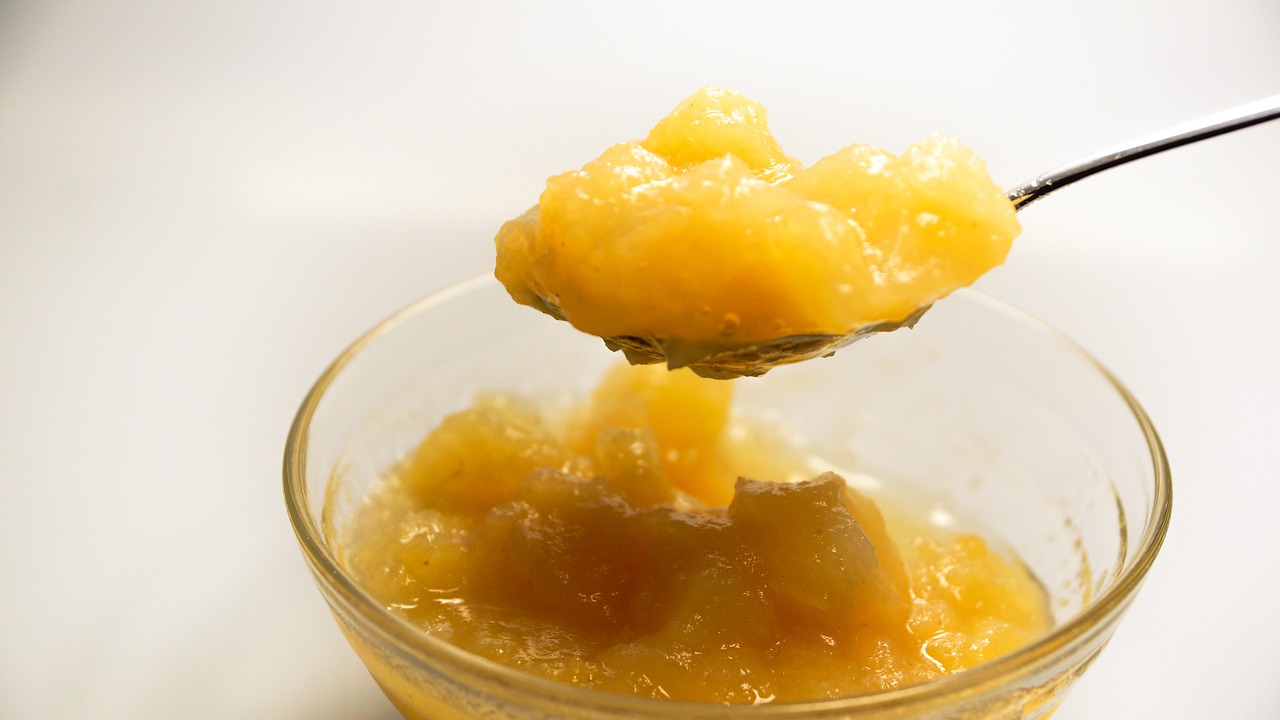 Apple sauce is a good way to use up and store any surplus apples at the end of the year. If you use the canning method it will keep for a year!
---
Sun-dried Tomatoes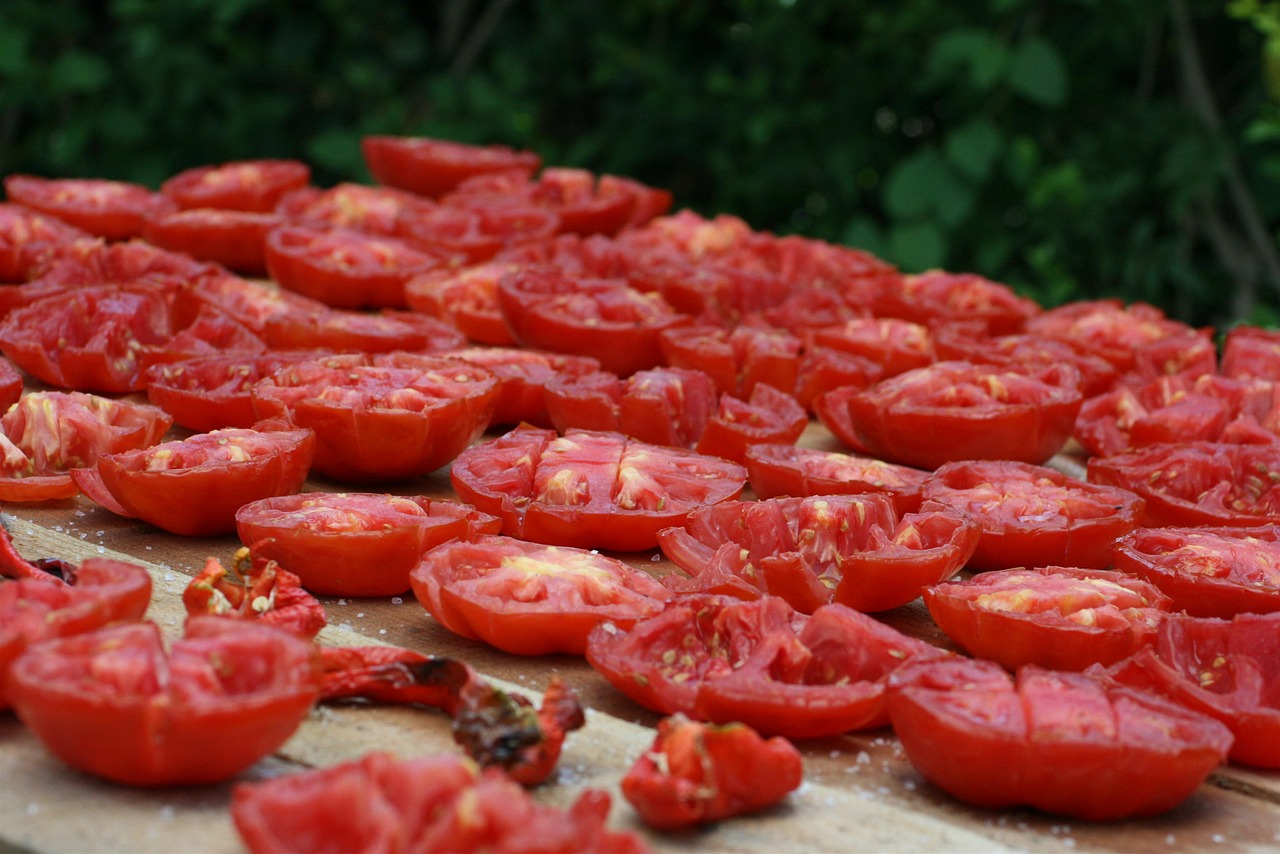 Drying makes good use of excess or split tomatoes, and results in a delicious concentrated and sweet tomato. Most of the time it's not hot enough in Britain to sun dry tomatoes, but in a polytunnel on a hot day they can be left, covered with a cheesecloth or muslin to dry all day, making sure that they are brought indoors at night time.
---
Elderberry Juice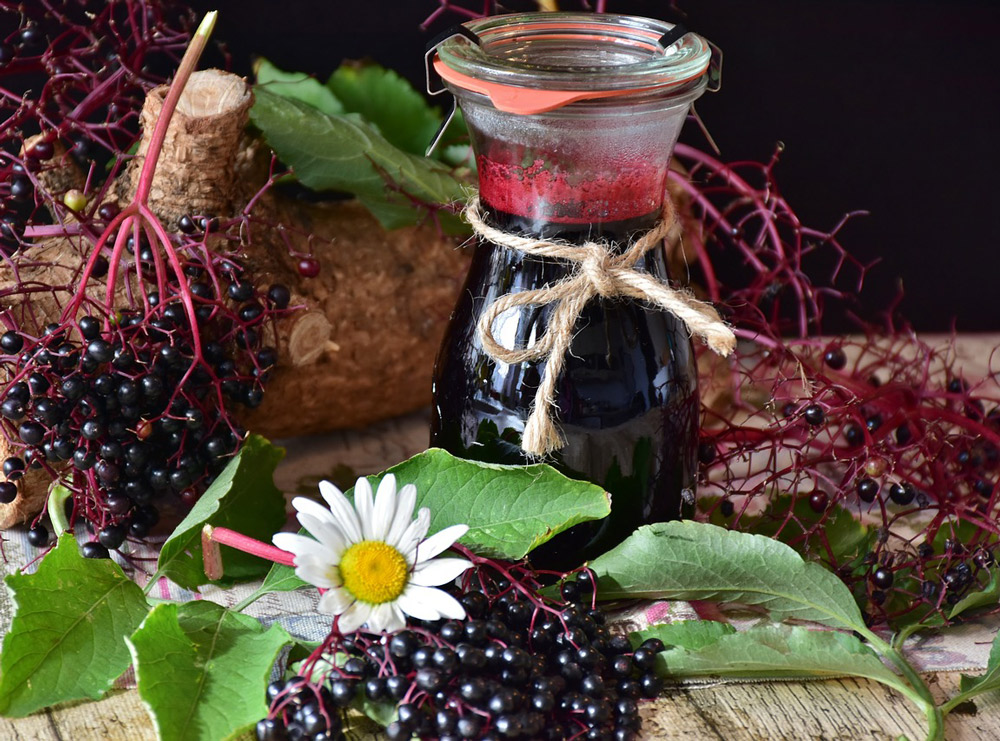 Elderberry juice and syrup is traditionally used to ward off coughs and colds in the autumn. They are packed full of anti-oxidants and vitamins A, B and C - and they are free! Make sure you pick them when they are drooping on the plant - that means they are ripe.
---
Lettuce Wraps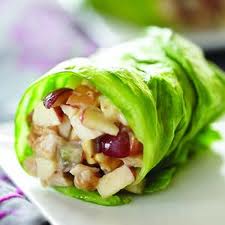 A great way to prepare summer salad vegetables and a healthy alternative to the sandwich!
---
Strawberry, Redcurrent & Sweet Freedom Jam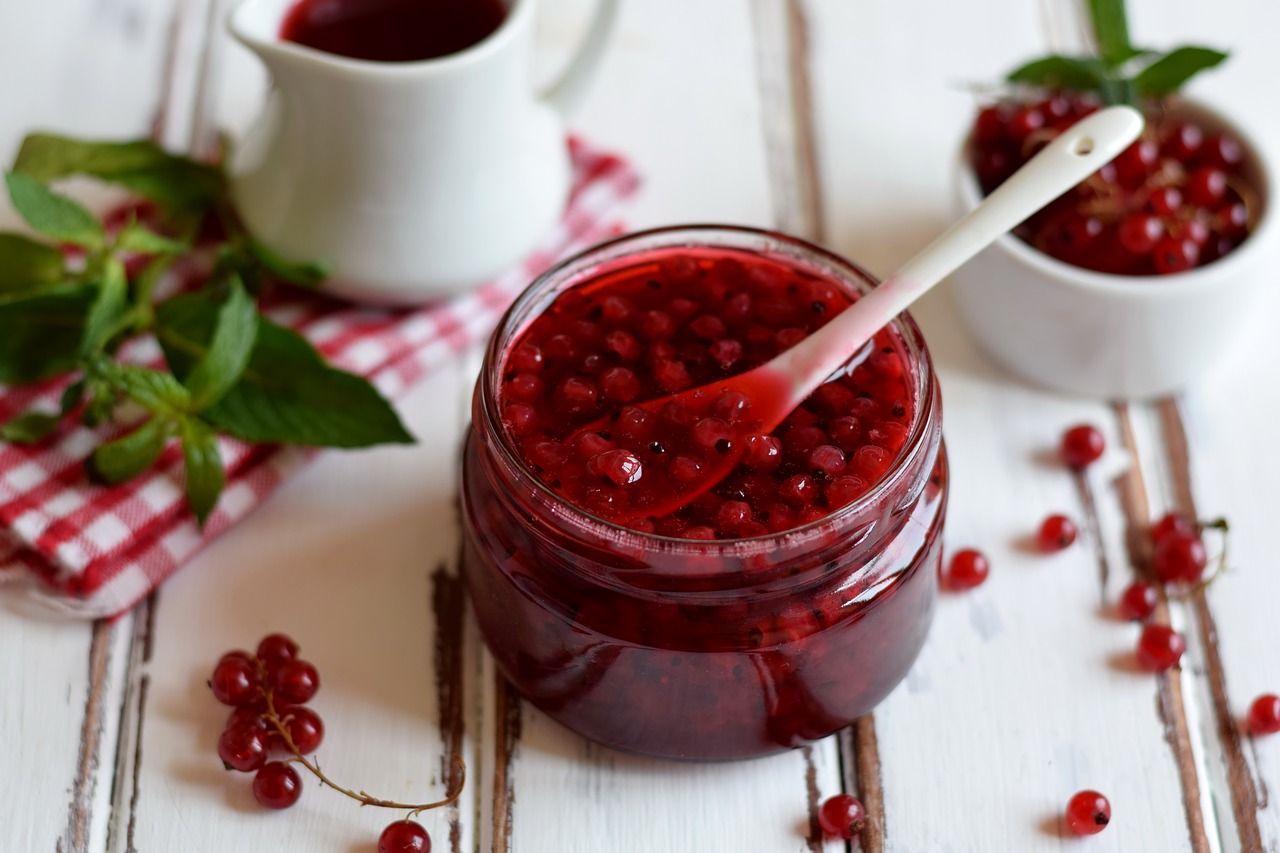 In a taste test this jam was voted more delicious than the jam made with sugar by our students!
---
Gazpacho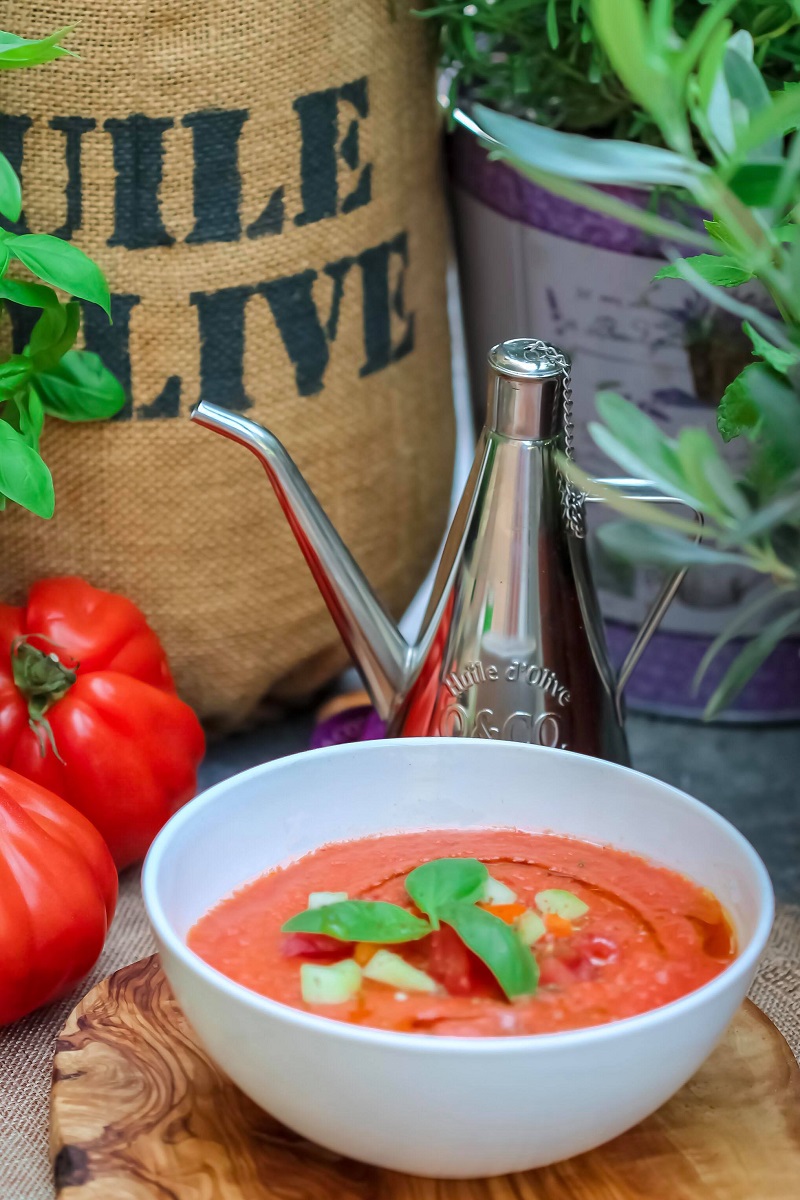 A refreshing summer soup to make with all your salad vegetables. No cooking required!
---
Hummus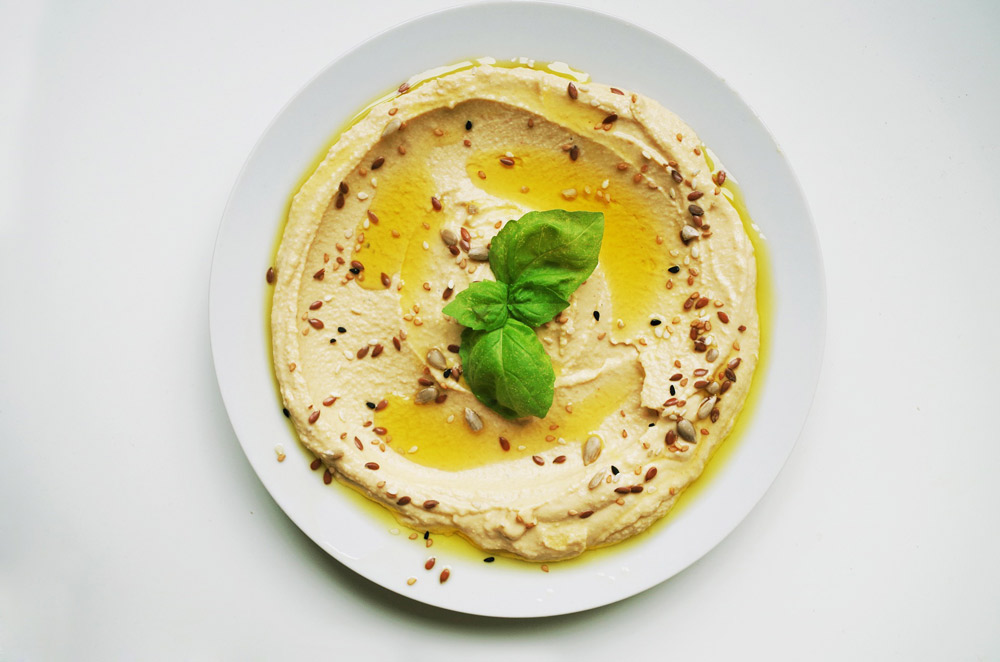 Hummus
---
Beetroot and Carrot Salad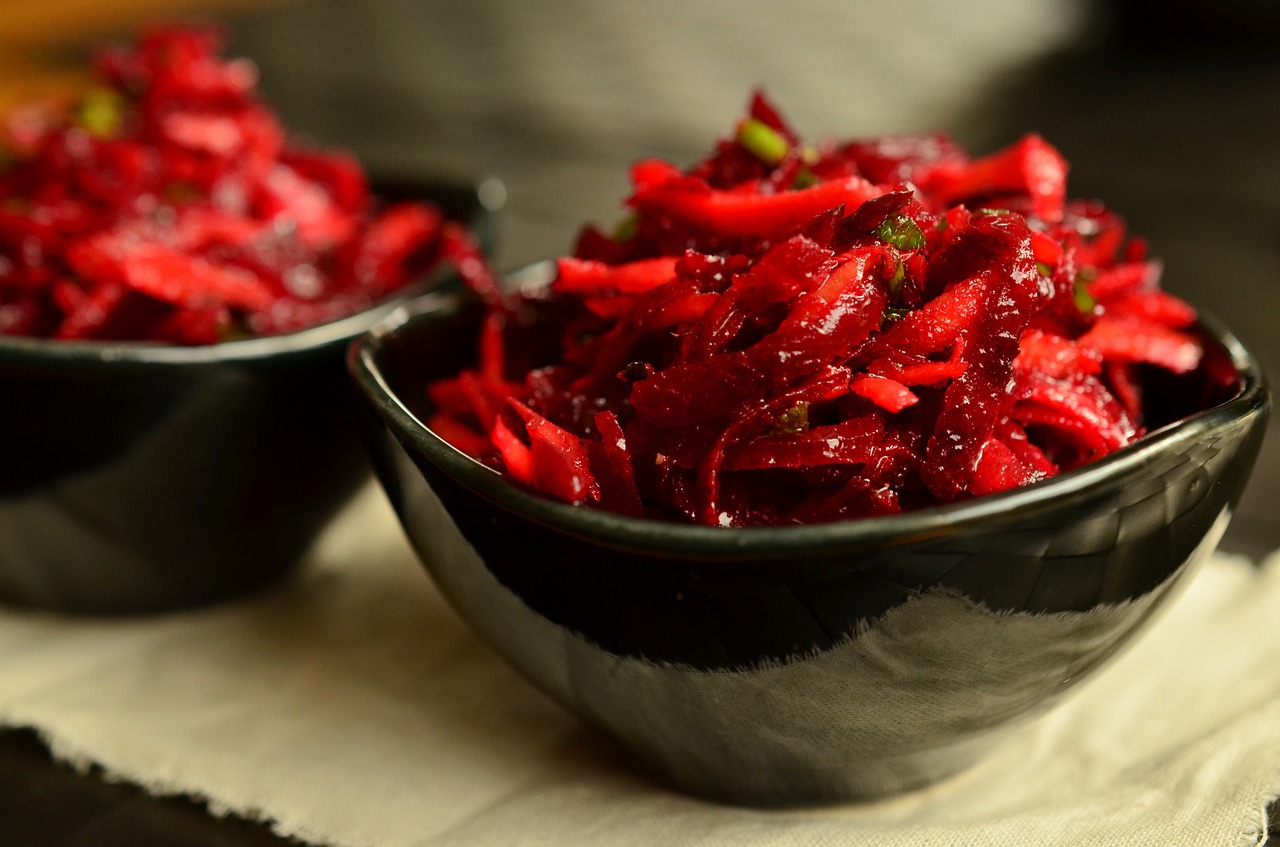 A lovely fresh tasting side salad to go with virtually any main meal. Make this bright salad even more colourful by using golden beetroot and heritage carrots too.
---
Beetroot And Walnut Dip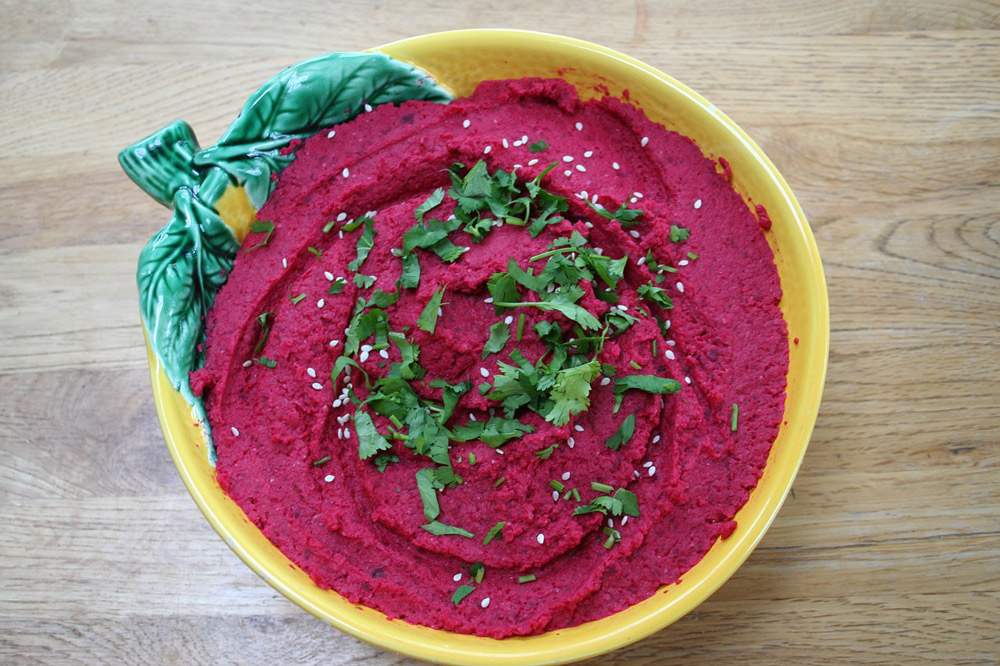 A great way to use up the last of the season's beetroot in this vibrant dip.
---
Blackberry & Apple Jam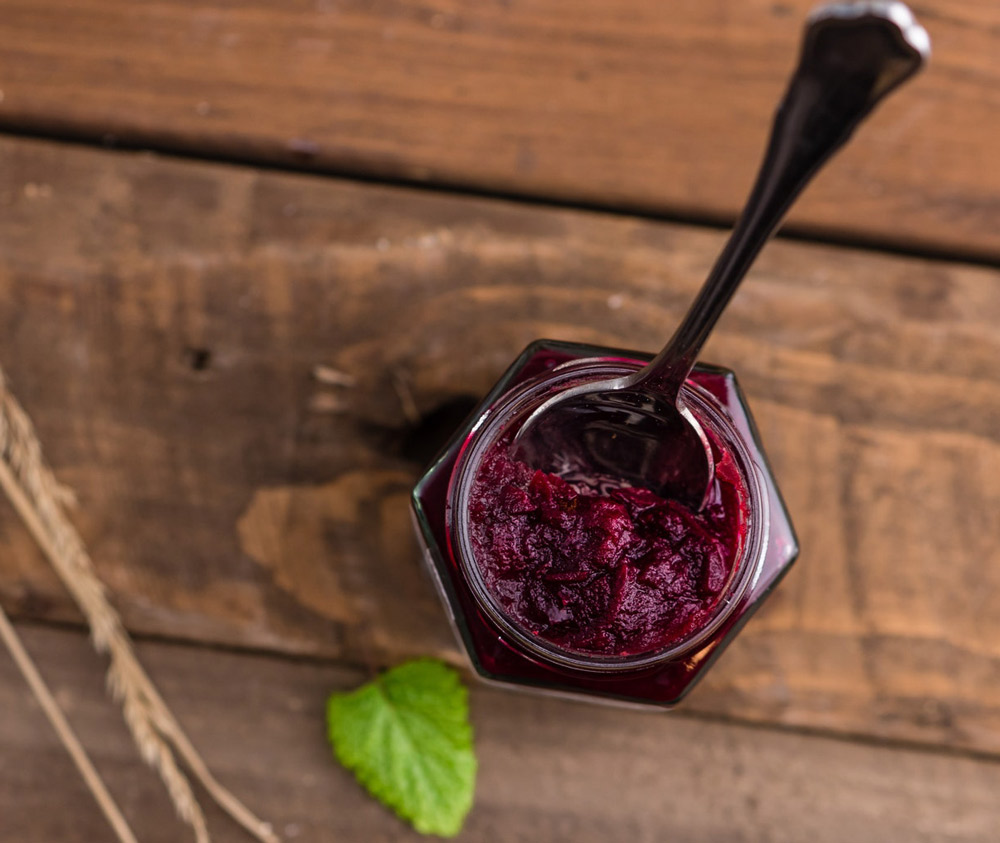 A delicious, rich jam which isn't too sweet.
---
Pumpkin And Orange Spiced Jam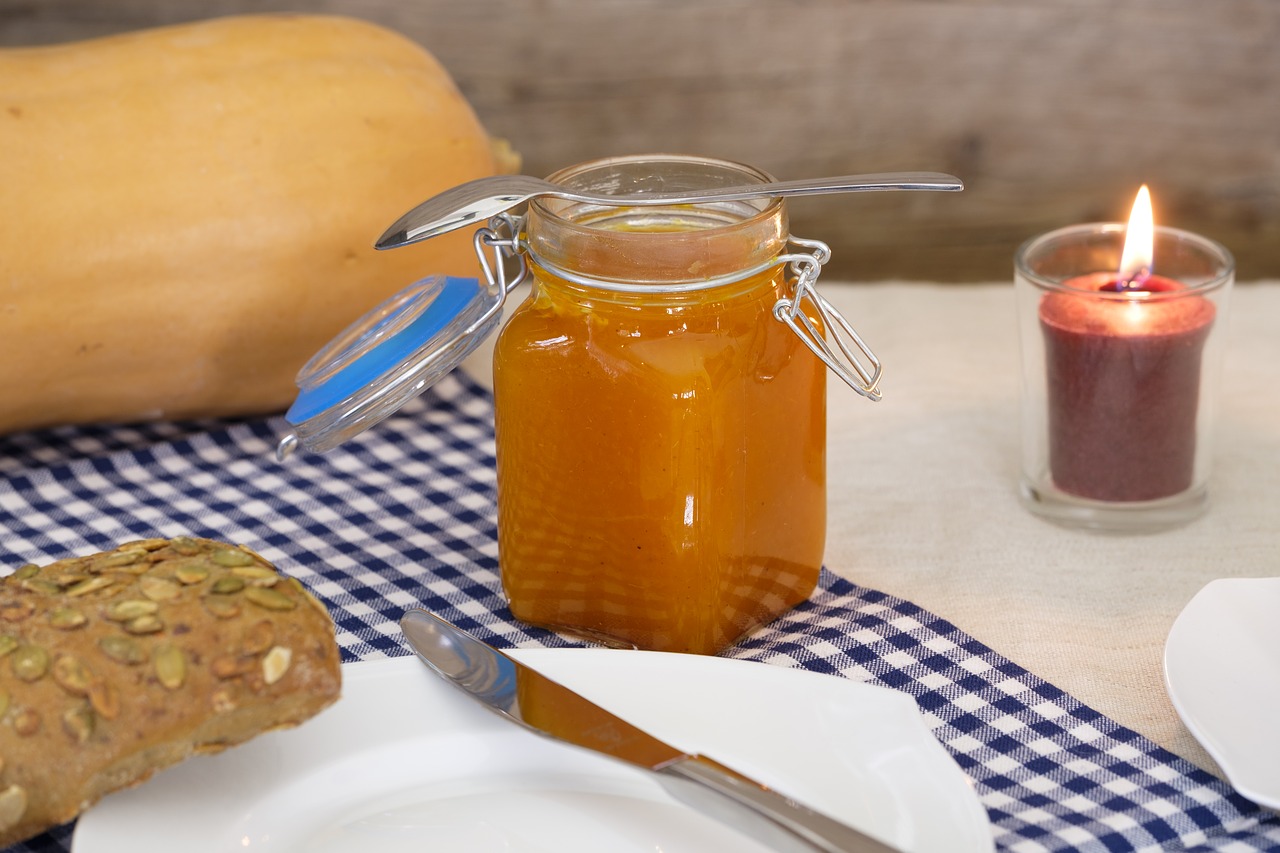 This lovely spicy jam can be eaten with sweet or savoury dishes. This recipe makes 2 kilogrammes of jam, so perfect for a batch of festive presents!
---
Vegetables Preserved in Oil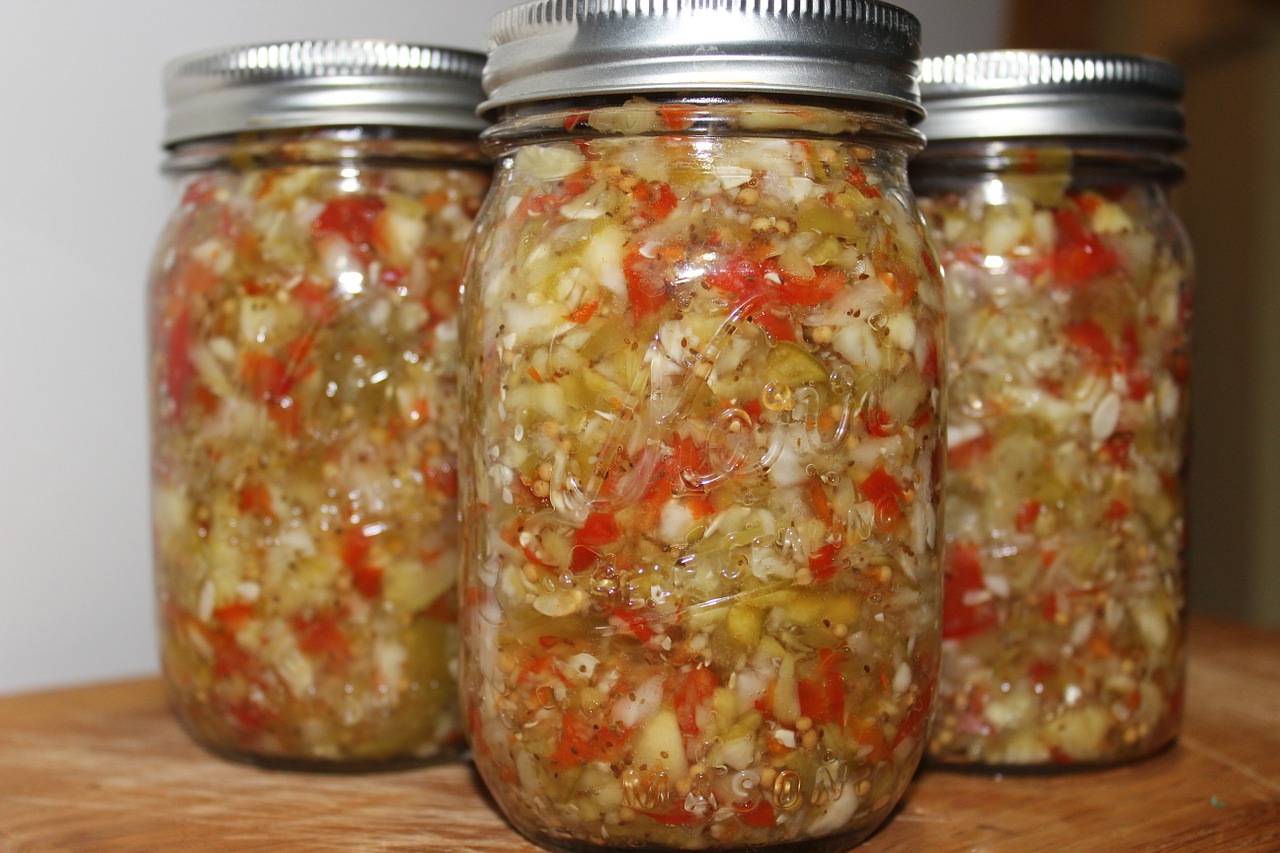 When preserving your seasonal vegetables use an interesting mix of colours and textures for most aesthetically pleasing outcome. Harrods deli eat your heart out! Makes 2 medium preserving jars.
---
Kimchi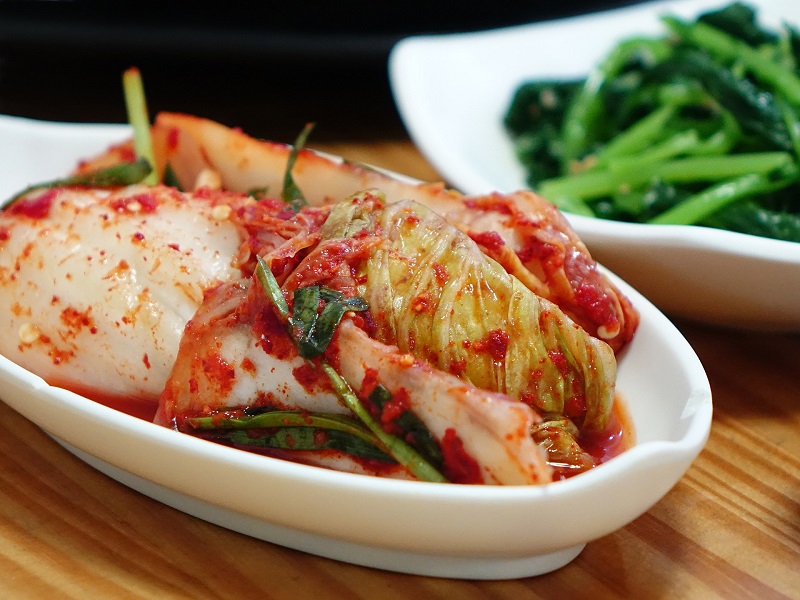 We are all fans of Korean kimchi here at Made in Hackney. It's a fantastic way to preserve winter brassicas and radishes and the heat livens up many a humble lunch or dinner.
---
Summer Fruits Ice Cream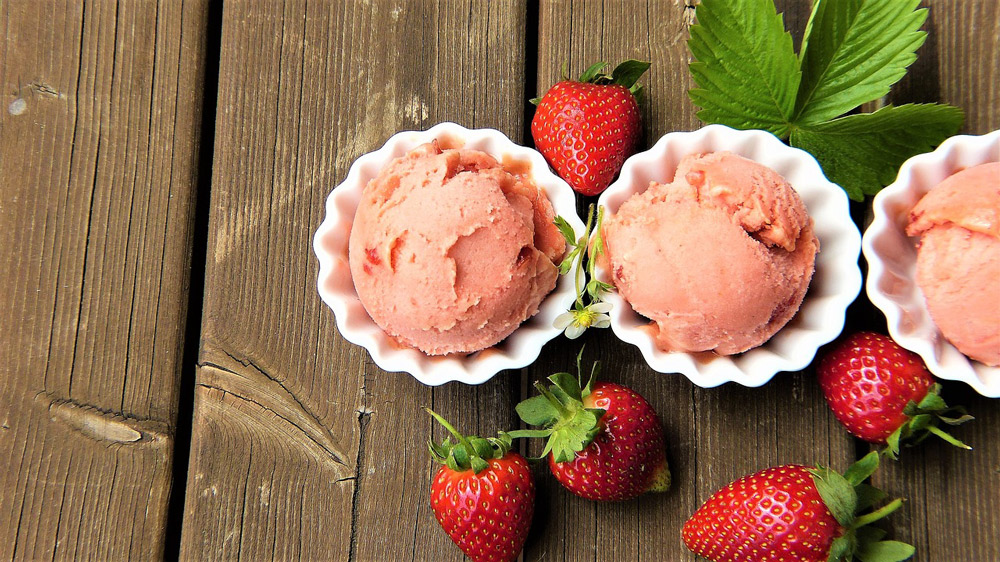 This recipe is delicious with red summer berries, but can also be made with any leftover fruit salad. Remove the cashews and you have a sorbet.
---
Mulled Wine (Non-Alcoholic!)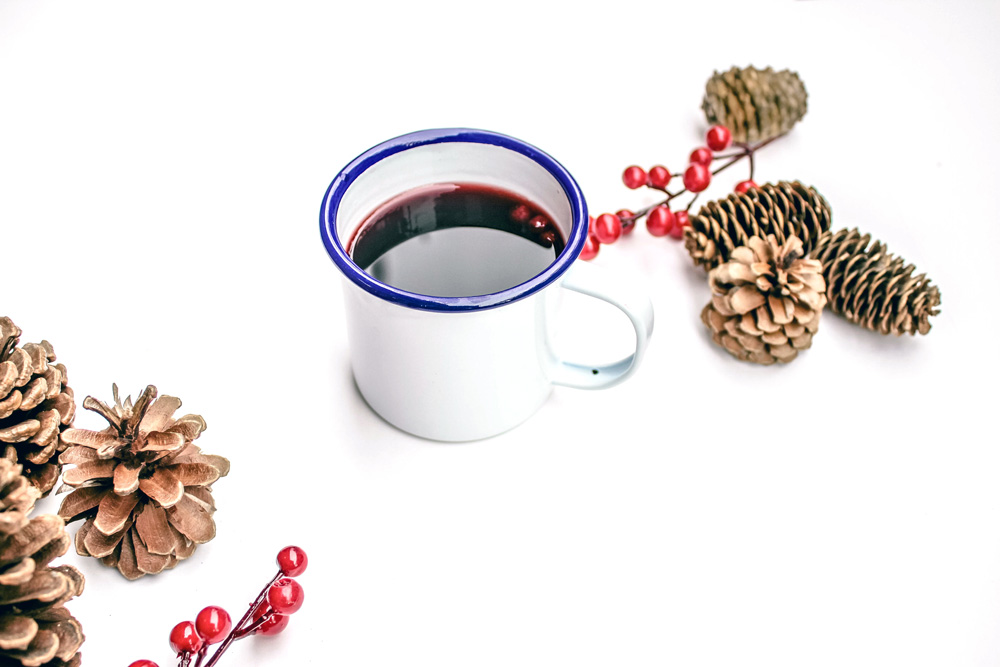 A refreshing and tangy mulled wine with all the taste but without the woozy head of its alcoholic equivalent.
---
Elderflower Cordial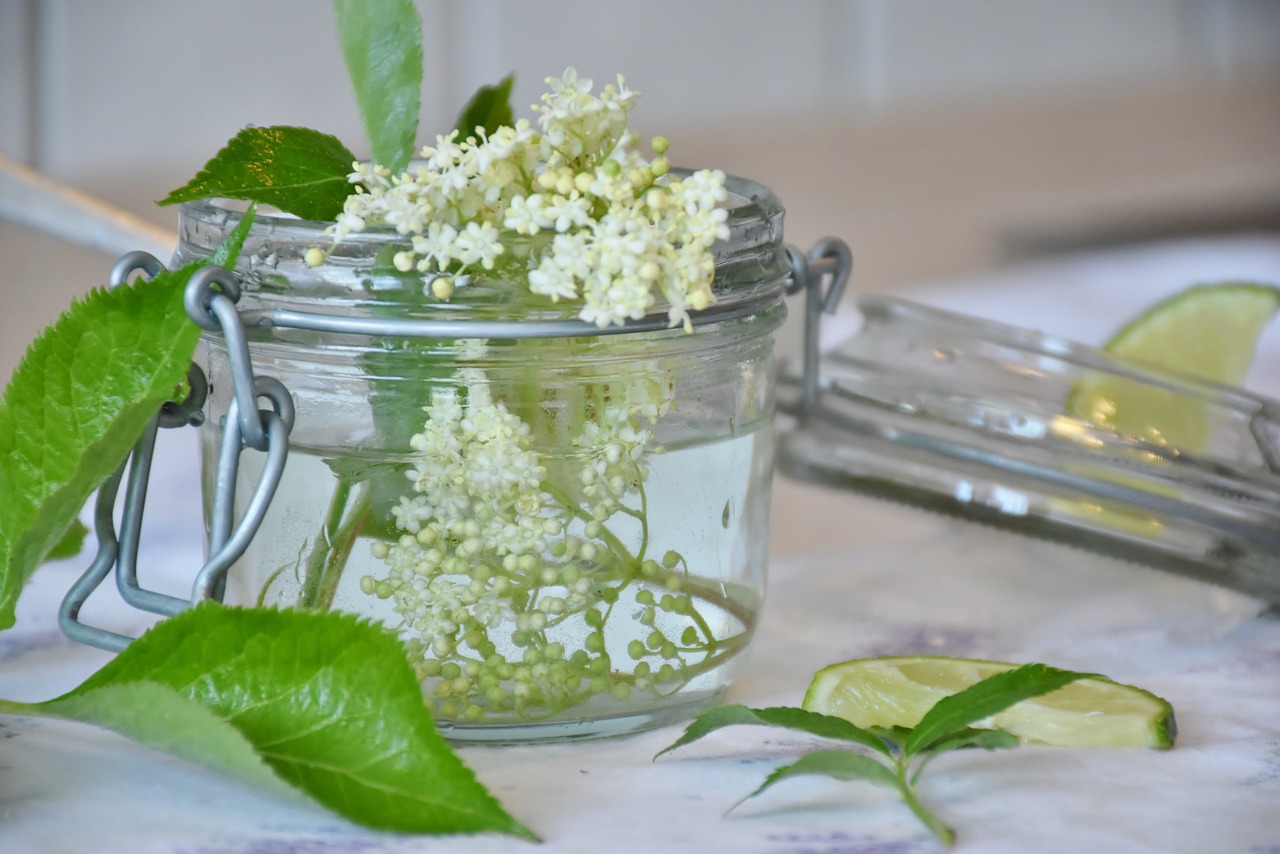 What signals the start of summer more than a cold glass of elderflower cordial? Get out into the parks/countryside and pick the flowers yourself to make an even more satisfying drink. Will keep for 3 months refrigerated.
---
Stove Top Granola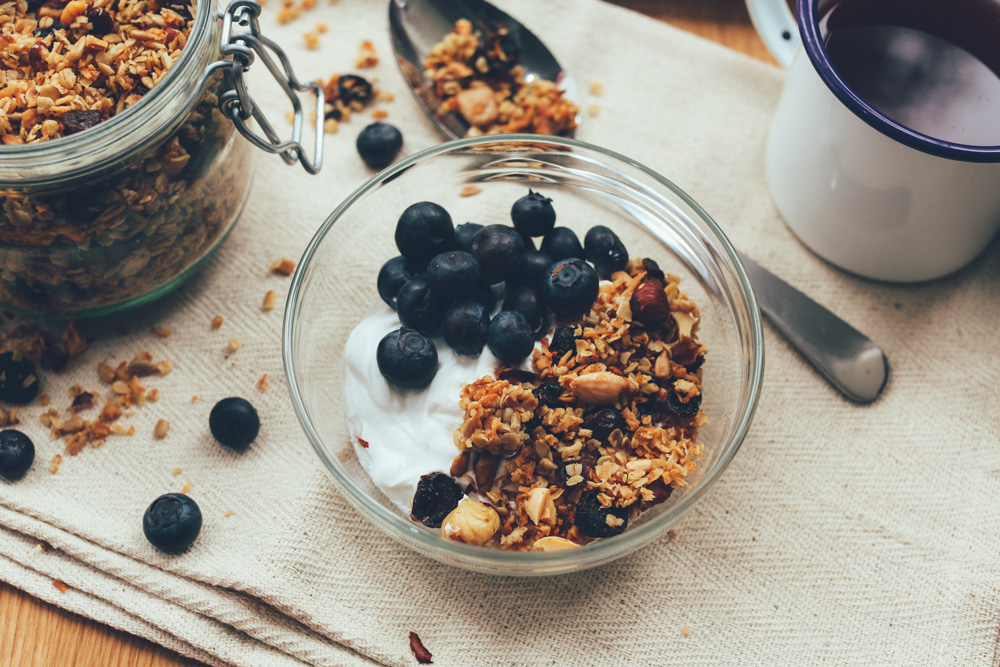 The children we taught this recipe to couldn't get enough of it!
---
Soda Bread With Seeds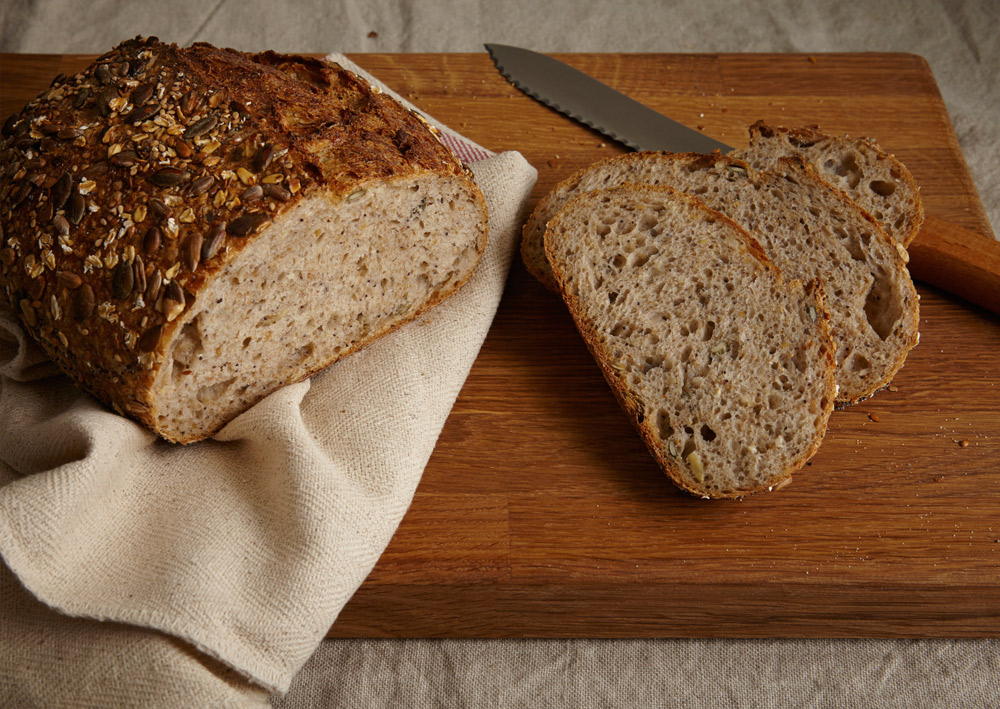 This is such a quick and easy bread recipe, it's always hugely popular here at Made in Hackney.
---
Rye Crackers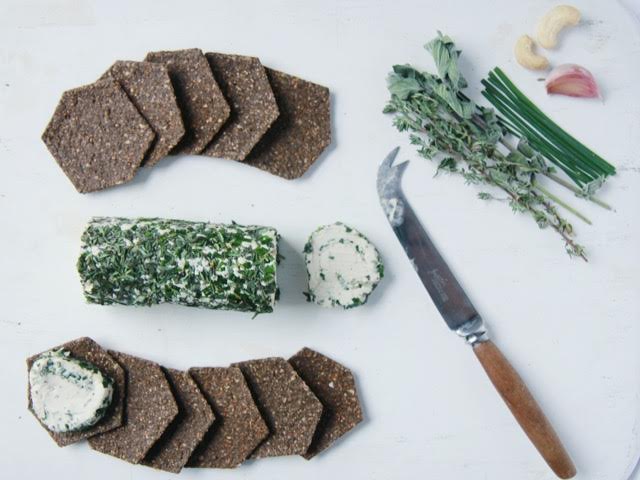 Quick and easy to make, why not enjoy this healthy snack with some Hummus or nut butter.
---
Roasted Vegetables and Cous Cous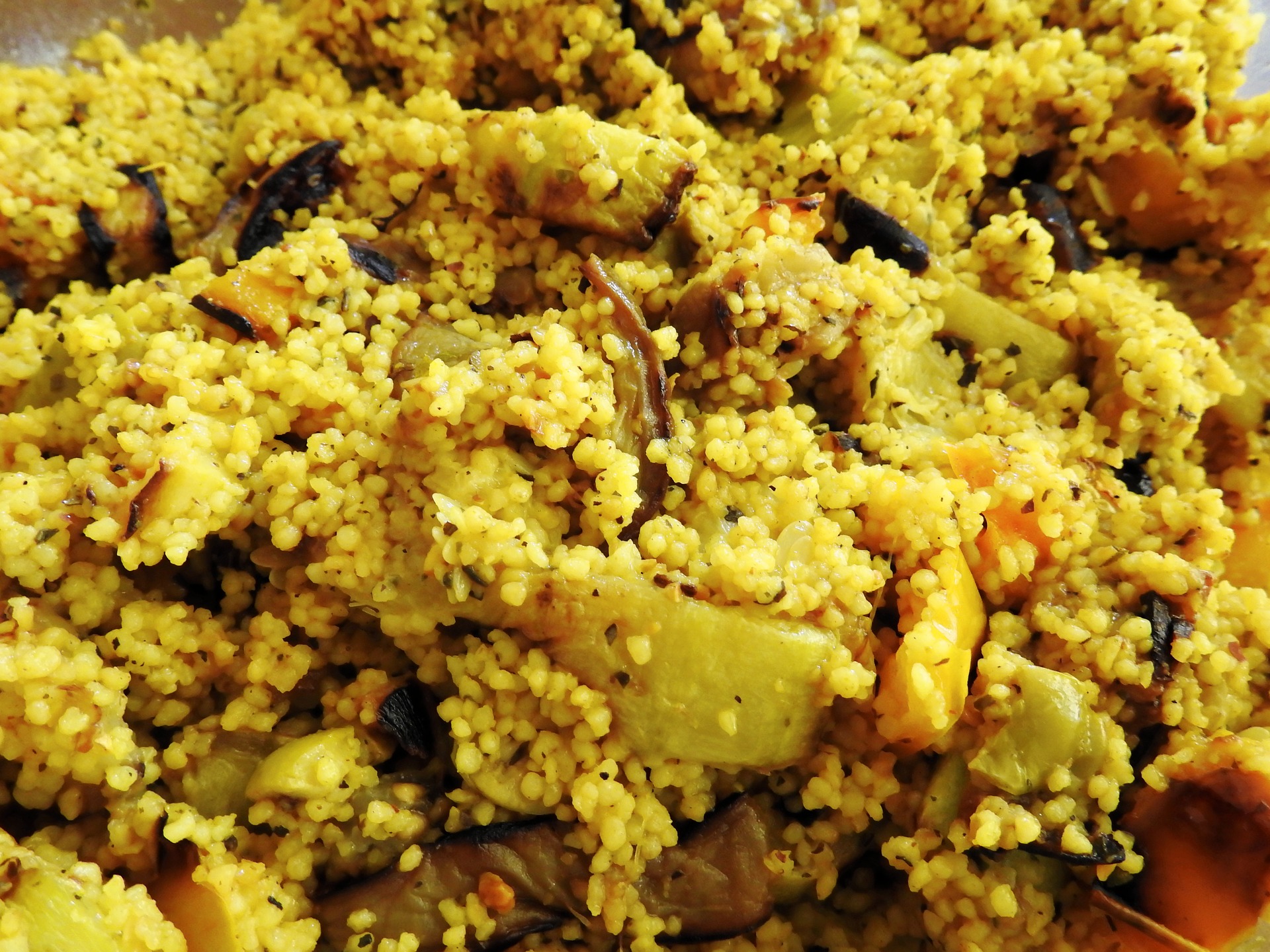 Roasting is one of the easiest but tastiest ways of serving all sorts of vegetables. We all love our spice here so harissa is a very popular addition to this simple main dish. Fresh herbs really lift all of the flavours.
---
Potato Gnocchi with Mixed Herb Pesto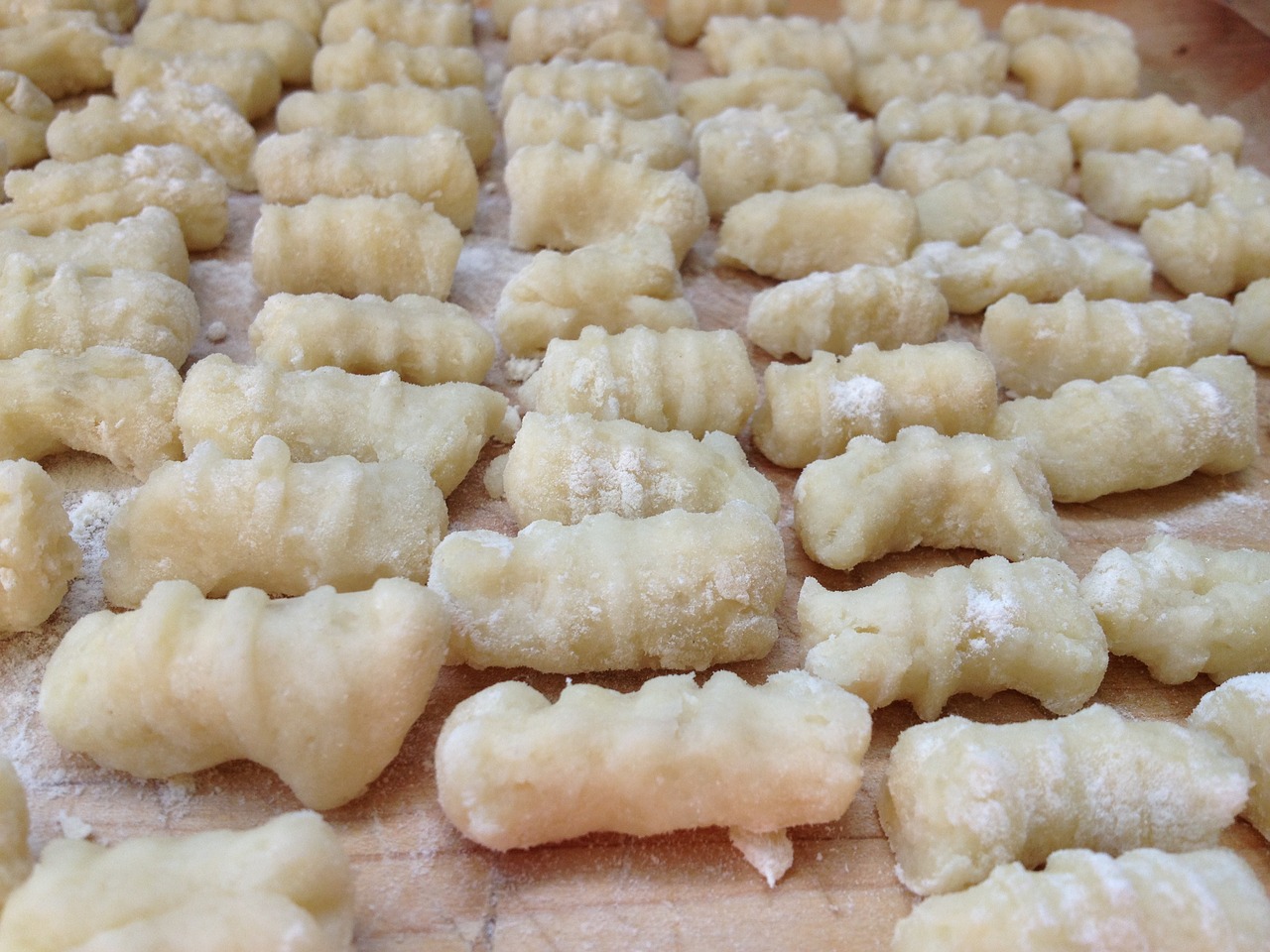 We really love this warm and comforting dinner. It went down a storm here at Made in Hackney and any left over pesto works great as a dip with some crunchy veg.
---
Falafel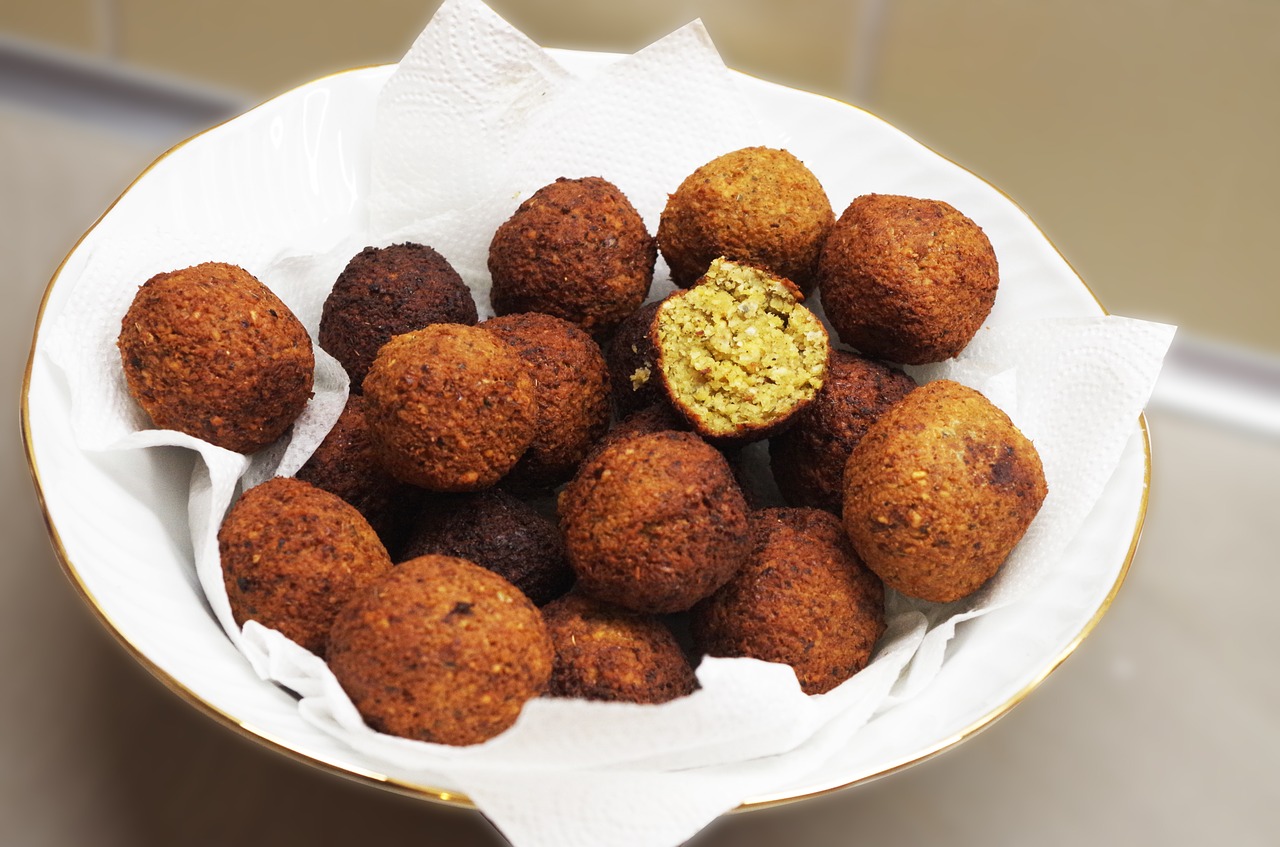 Falafel
---