Banana Bread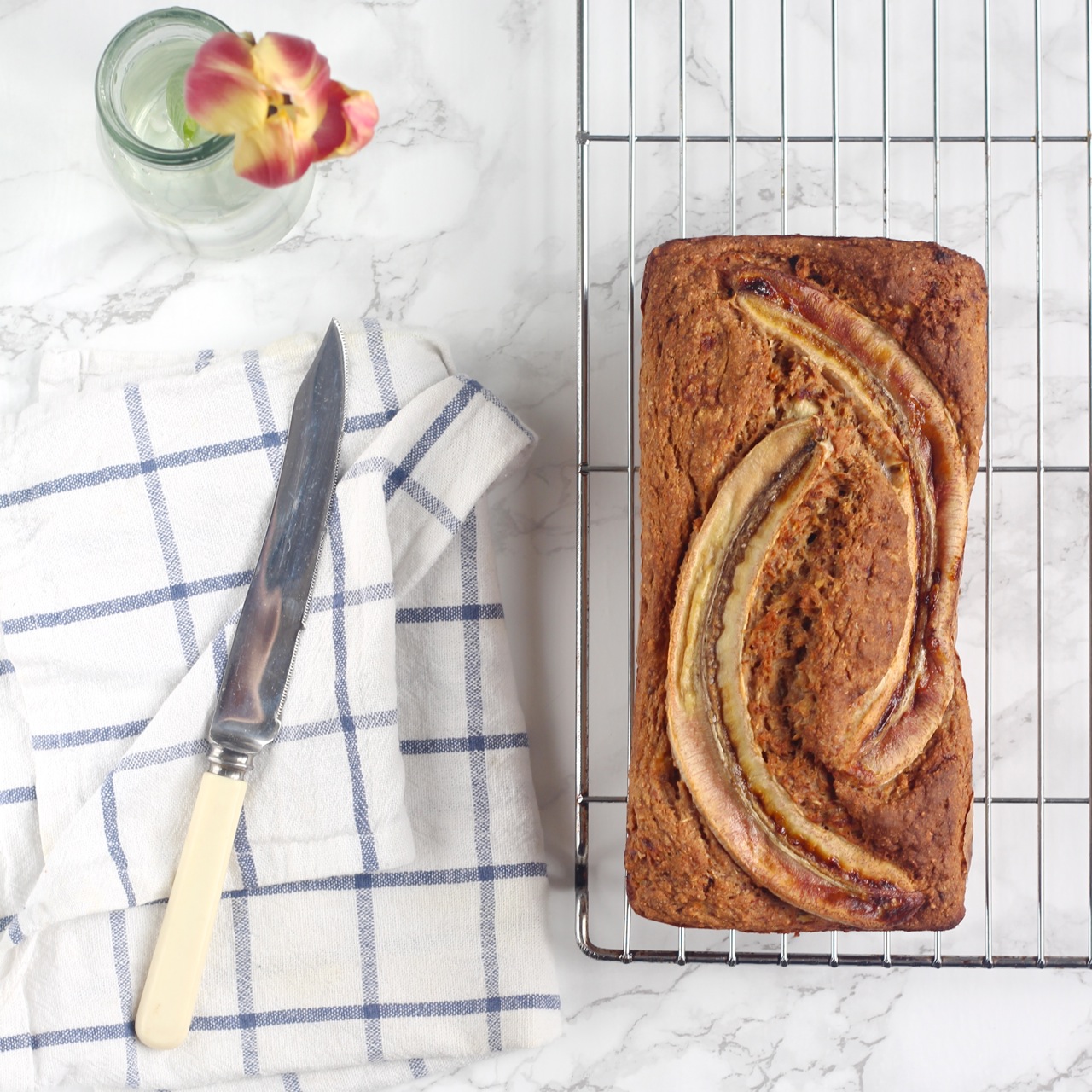 Banana Bread is always a crowd pleaser! Using wholemeal spelt flour and oats too, this banana bread contains lots of fibre.
Ingredients
Serves 12
2 tablespoons ground flax seed + 6 tablespoons water
200 grams wholemeal spelt flour
20 grams oats
1 teaspoon cinnamon
1 teaspoon baking powder
½ teaspoon baking soda
3 large ripe & spotty bananas, mashed + 1 banana to top
130 grams pitted dates
140 millilitres unsweetened non-dairy milk
2 teaspoons vanilla extract
1 teaspoon apple cider vinegar
Tip: It is naturally sweet from the bananas and dates. The browner the bananas are, the sweeter they are!
Method
1. Preheat oven to 175°C (fan) / 195°C and grease (with olive oil) and line a 2lb loaf tin
2. Mix flax seed with the water, stir well and leave it for 15 minutes while it thickens up (ideally in the fridge).
3. In a big bowl add the flour with cinnamon, baking powder and soda and mix well.
4. Using a food processor or hand blender, blend together the dates with the milk, vinegar and vanilla extract until smooth. Add the mashed banana and flax seed mixture and stir till it's combined. Pour over the dry ingredients and stir until combined.
5. Pour mixture into prepared loaf pan. Take the fourth banana, slice it in half lengthwise, and press into the top of the bread, cut side facing up.
6. Bake for 50-60 minutes, or until a toothpick comes out clean.
7. Leave in the tin for 10 minutes, then turn out. Leave to cool down completely before slicing.
This delicious banana bread was adapted from a Sweet Simple Vegan recipe by our very own wonderfully talented Made In Hackney cookery teacher, Ceri Jones from Natural Kitchen Adventures
---
---