Banana Breakfast Bread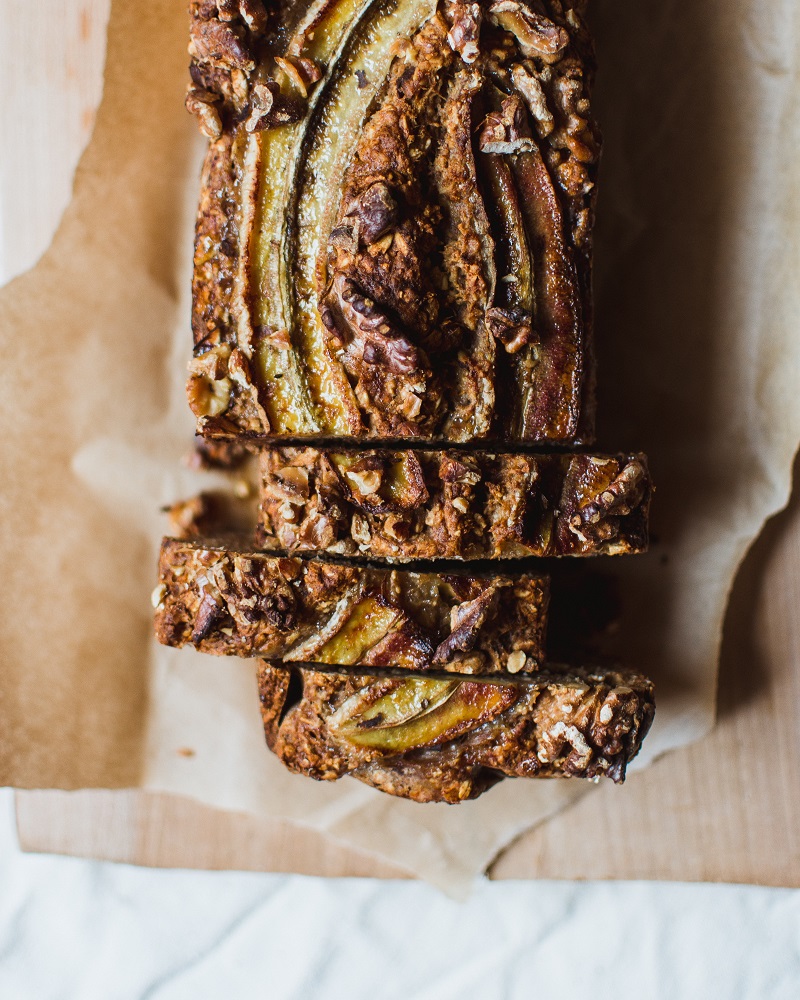 This sweet soft loaf cake is ideal for breakfast and brunch. You can play with the recipe, adding nuts, seeds, or other ingredients of your choice to create different textures.
Ingredients
5 ripe bananas
2 linseed eggs (mix 2 tablespoons ground linseed + 6 tablespoons water and leave to stand and become gel like) or chia seeds
120mililitres melted coconut oil
100g coconut sugar
225g wholewheat spelt flour
2 teaspoons baking powder
A pinch of salt
50g chopped walnuts or pecans (optional)
Dessicated coconut (optional)
Method
1: Preheat the oven to gas mark 6/180c.
2: Line a loaf tin with baking parchment.
3: Peel and mash 4 of the bananas and set to one side.
4: In another bowl mix together the melted coconut oil and sugar until the sugar starts to dissolve. It can be good to use a hand-held mixer for this.
5: Mix the bananas and the linseed eggs into the mixture.
6: In another bowl mix together the spelt flour, baking powder and salt.
7: Bring the dry flour mix together with the wet banana mixture and beat well to combine until you have a soft batter.
7: Add the chopped walnuts or pecans or desiccated coconut (optional).
8: Pour the batter into a lined loaf tin and top with the remaining banana cut into circular slices or a whole banana cut in half like in this image.
9: Bake for 50-55 minutes. Once cooked, the banana bread should be springy to the touch. Insert a knife into the middle of the loaf to check the cake is cooked all the way through, the knife should come out clean.
9: Remove from the tin and leave to cool before slicing and serving.
Photo by Klara Avsenik on Unsplash
---
---