Banana Peel Thoran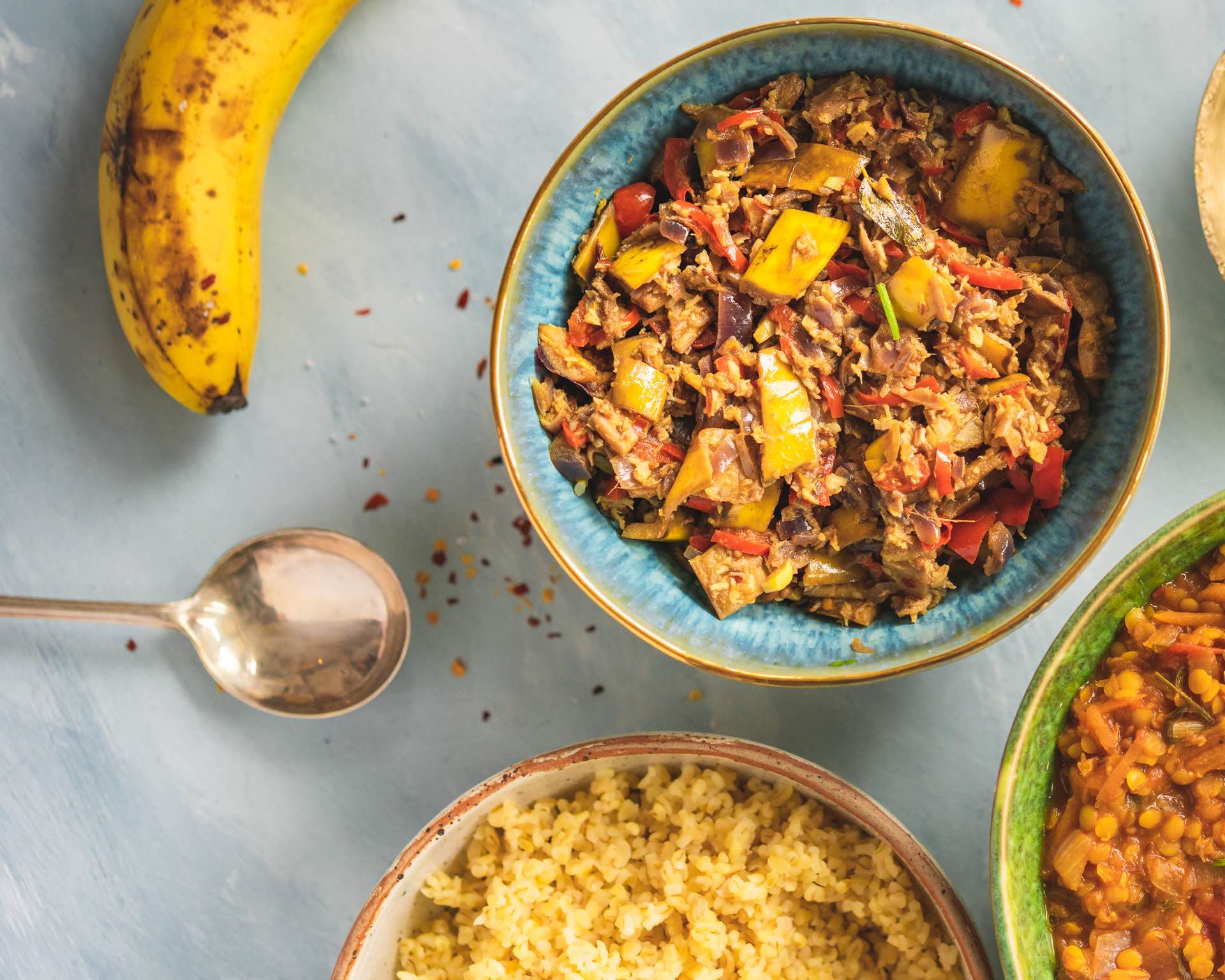 This is a traditional South Indian stir fry and a delicious way of using up banana (or plantain) peels. It is best done with organic banana peels, but for non-organic bananas, you can soak the peels in 4 parts water and 1 part apple cider or white wine vinegar for 20 minutes before rinsing to remove any pesticide residues. Our teacher Hannah Walker cooked this dish for food waste warrior Max La Mana's BBC Earth series and totally blew his mind!
Ingredients
Serves 2-4 as a side dish
3 large banana peels
1 onion, finely chopped
1 sweet red pepper
1 red chilli
1 green chilli
2 cloves garlic, crushed
1 teaspoon grated ginger (or ½ teaspoon ground ginger)
A pinch of asafoetida (optional)
5-6 curry leaves
2 teaspoons olive or coconut oil
1/2 teaspoon each of black mustard seeds and cumin seeds
½ teaspoon turmeric
1-2 tablespoons grated coconut
Method
1. Wash bananas well and peel the skin, removing any big dark spots. Set bananas aside for use in other recipes or eat! Soak in water (and vinegar if not organic as above). After soaking (for 5 mins if organic or 20 if non-organic), chop banana peel into slices or cubes about 1 cm thick. Peel and chop onion, red pepper and red and green chili's.
2. Heat oil in a pan over a medium heat and add mustard seeds and cumin seeds. Once they start to pop, add asafoetida (if using), red and green chili, garlic and ginger and sauté for 1-2 minutes until garlic begins to brown.
3. Next add the onion and sauté for around 5 minutes until this softens and browns.
4. Add banana peel and turmeric and sauté for another 2 minutes. Then add around ¼ cup of water and a pinch of salt, cover and cook until the banana peel softens (around 2-5 minutes depending on type of banana/plantain used).
5. Uncover and cook for another couple of minutes then add grated coconut. Turn down heat and cook for a final minute to allow coconut to infuse.
6. Serve alongside with rice and dahl, and enjoy!
Photography and food styling by vegan chef Amy Hiller. Visit her website www.amyhiller.com for more stunning recipes