Buckwheat choc chip cookies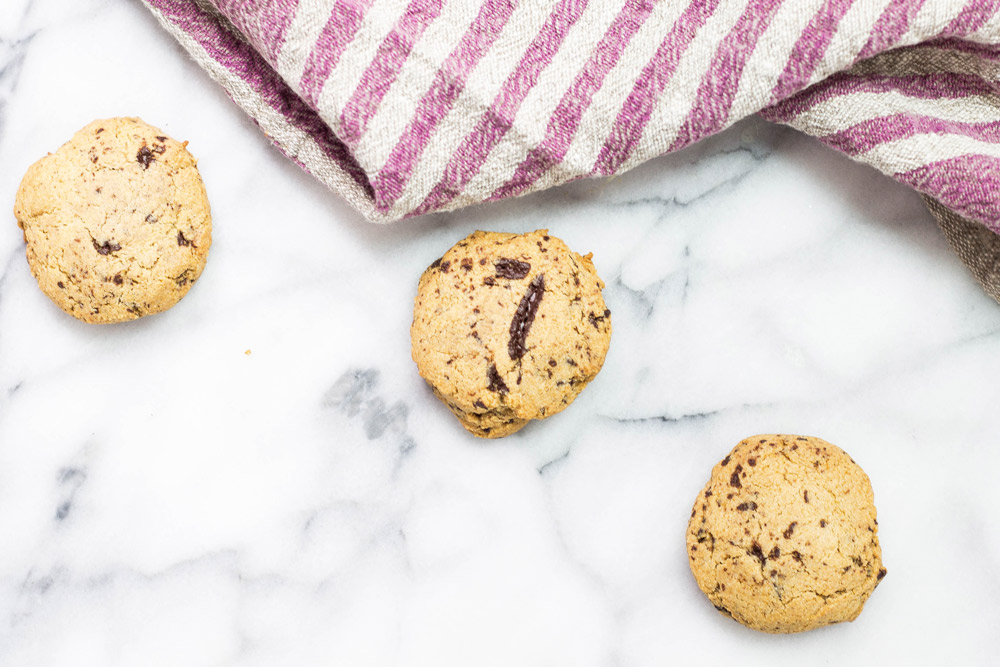 Delicious cookies that give you more bang for your buck!
Ingredients
You can't beat buckwheat for being a nutrient-dense food. It's not actually a wheat – it's a fruit seed closely related to rhubarb. It contains (amongst a whole heap of other important minerals that keep our bodies running efficiently) manganese, copper, phosphorous, fiber and magnesium. Eggs in his recipe are substituted by chia seeds which promote a healthy digestive tract, are high in omega 3, are gluten free,and packed with magnesium that make us feel fuller for longer.
For the 'egg' (makes one):
3 tablespoons of water
One tablespoon of chia seeds
For the cookies:
240 grams of soft dairy free butter
185 grams of coconut sugar
120 grams of buckwheat flour
90 grams of white flour
1 chia seed 'egg'
1 heaped tablespoon of raw cacoa nibs
1 tablespoon of vanilla extract
1 teaspoon of corn starch
½ teaspoon of salt
½ teaspoon of baking powder
¼ teaspoon of baking soda
Method
To make the 'egg' (makes one):
1: Mix both together.
2: Let it sit for at least 10-15 minutes. It will go gooey. When the magic happens it's good to go.
To make the cookies:
1: Beat the butter and sugar together until well mixed and fluffy (come on do your best…..).
2: Add the 'egg' and the vanilla. As Michael Jackson said "Beat it! just beat it!"
3: Add all the dry ingredients to the wet mixture.
4: Fold it all in gently.
5: Line a baking sheet with non-stick baking paper.
6: Drop 'scoops' of the cookie mixture onto the paper. Leave enough room for them to spread out – they like a bit of space.
7: Bake for 10 minutes in a hot oven, for fan assisted gas mark 3 or 170°C should do it.
8: After about 10 minutes take out of the oven. They'll look a little soft, leave them to cool on a wire rack and they will harden up a smidge.
Photo by Alison Marras on Unsplash
---
---