Buckwheat Salad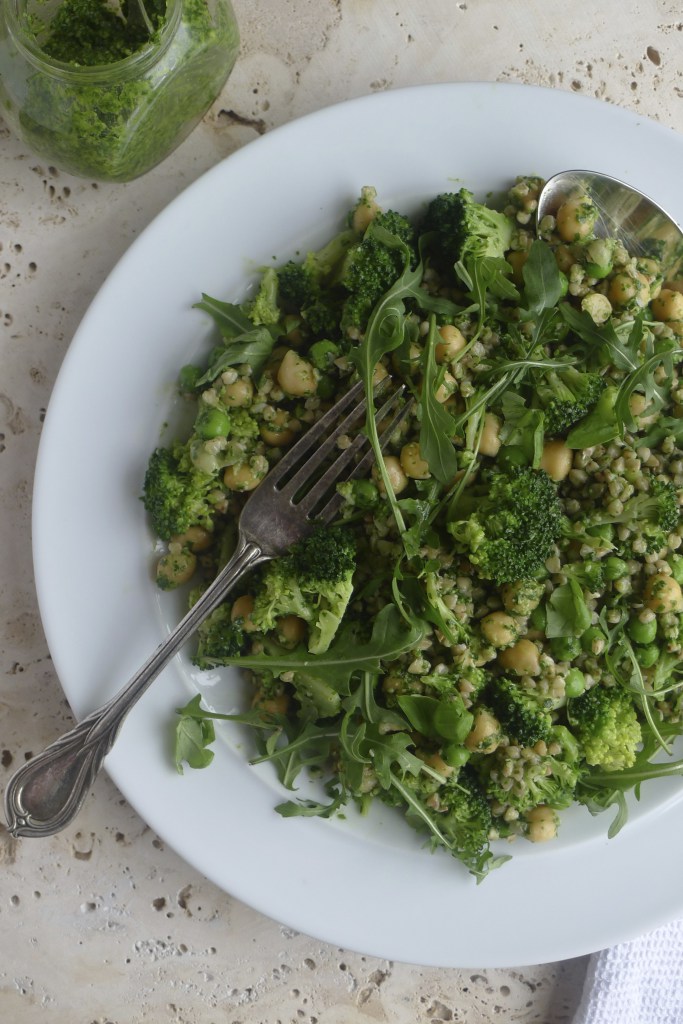 Creator of this super healthy salad Ceri Jones says, "This buckwheat salad recipe is a versatile base from which to build hundreds of variations. Try different vegetables, grains or legumes in the same proportions til you hit on your favourites."
Ingredients
Serves 4
For the salad:
160grammes buckwheat groats
320grammes (2 whole heads) broccoli
160grammes frozen peas
2 x 380grammes carton of chickpeas, drained and rinsed
6-8 Tablespoon pesto + extra to drizzle
Rocket to dress the top of the salad
For the Pesto
50grammes Brazil nuts / approximately 12 nuts
1 large clove of garlic, minced
½ teaspoon sea salt
120grammes fresh rocket
20grammes fresh basil
8 Tablespoons extra-virgin olive oil
2 Tablespoons lemon juice
1 teaspoon maple syrup
Method
To cook the buckwheat, heat 160mls of water in a saucepan with ½ tsp salt. When it starts to simmer, add the buckwheat. Turn the heat to low, cover and simmer for 15minutes. The buckwheat is done when all the water is absorbed, and the grains still retain some bite. Turn it out into a strainer to allow excess moisture to drip off and for the buckwheat to cool completely. Blanch or steam the broccoli and peas in a saucepan of boiling water for 4 minutes, drain and cool by running under cold water to seal in the colour.
Make the pesto. Blitz the nuts in a food processor, leaving a bit of texture rather than grinding to a flour. Add the garlic, then the salt, the leaves, and pour in the oil, lemon juice. Blitz till incorporated. Taste, and if too bitter add the teaspoon of maple syrup. You may possibly require extra lemon, oil or salt. Let you tastebuds help you decide.
When the buckwheat and broccoli/pea mix have cooled, toss the buckwheat and chickpeas together, with half of the pesto (3 Tablespoons) until well coated. Then add the broccoli, the peas and the rest of the pesto, reserving some for a final drizzle. Taste and check seasoning. Top with rocket and if you like an extra drizzle of pesto.
This tasty recipe was created by Ceri Jones, Made In Hackney cookery teacher and founder of Natural Kitchen Adventures