Caribbean Ginger Bites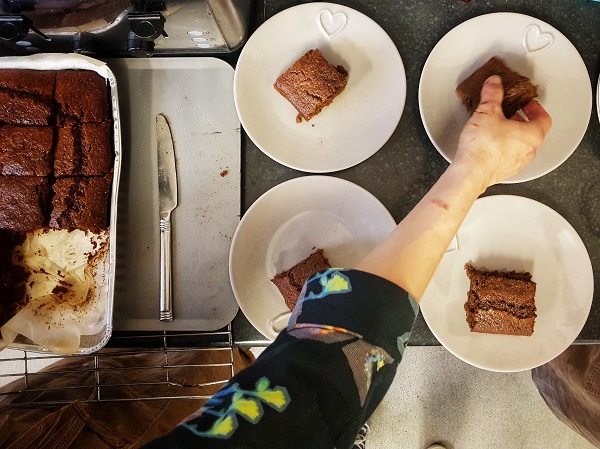 Our teacher Sharon says, "This ginger cake is made with wholegrain spelt flour, lots of spices, minerals and heart healthy fats, so lots of benefits to be had from this simple treat." The awesome ladies she made it with at Grace Houserecovery centre all gave it a thumbs up - so do we.
Ingredients
Serves 8-10 portions
1 and a half cups of spelt flour – sieved
1 teaspoon of ground ginger (if you like it gingery add another 1 teaspoon)
1 teaspoon of cinnamon
1/4 teaspoon of ground all spice/pimento berries or substitute for ground cloves
1 and half teaspoons of baking powder
1/2 cup of coconut sugar (or you can experiment using something with a lower glycemic index like xyiltol)
1 cup of canned coconut milk
1/4 cup of blackstrap molasses
Method
1. Preheat the oven to 180c/160c fan/Gas mark 5.
2. Line a 20cm x 20cm tin with baking paper, greasing well to ensure the paper stays in place.
3. Sieve the flour, baking powder and ginger, cinnamon and all spice into a bowl, add the sugar and mix well.
4. In a small saucepan mix together the coconut milk and molasses and heat gently until the mixture begins to bubble slightly.
5. Pour this liquid mixture into the flour and sugar ingredients, stir in well to ensure all the ingredients are well combined and there are no more dry spots. The batter should be thick a little like brownie batter but also spongy. Lightly grease a flat baking tray approximately 30cm x 18cm with baking/parchment paper, pour in the batter ensuring it is evenly spread throughout the tin.
6. Bake for 25-30 minutes in the heated oven, to check if the cake is cooked through use a toothpick in the middle of the cake and if it comes out clean it's done.
Photography by Cristina Jacob for Made In Hackney http://www.cristinajacob.com/
---
---