Carribean Style BBQ Sauce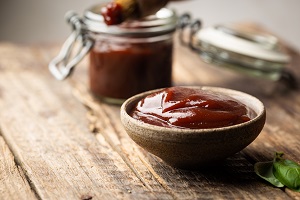 Full of flavour! Recipe by Sharon Gardner @coreoflifeuk
Ingredients
1 small or 1/2 a medium sized onion, diced small
1 clove of garlic, minced
2 tablespoons of olive oil
1 cup of passata
2 tablespoons of water
2 tablespoons of date syrup
1 to 3 teaspoons of black strap molasses (depending on how brown you like your sauce)
1/2 teaspoon of cumin powder
1/2 teaspoon of chilli flakes (use more if you like it spicy)
1 tablespoon of apple cider vinegar
1 teaspoon of tamari or soya sauce
Method
1. Heat a small pan on the stove, then it is ready cook the onions and garlic until soft (a few minutes)
2. Next add the olive oil, passata, water, date syrup, black strap molasses, cumin powder and chilli flakes and mix well. Bring to a boil then reduce the heat to a low and simmer for 30 minutes, stirring occasionally throughout.
3. After 30 minutes, add the apples cider vinegar and tamari/soya sauce and mix well. Leave to cook for another 10 minutes until reduced by half in volume and thick.
4. Remove from the heat, and allow to cool completely. Taste and season with a little Himalayan salt or sea salt if needed, then pour into a jar and store in the fridge.
Enjoy
---
---