Quick Carrot Dahl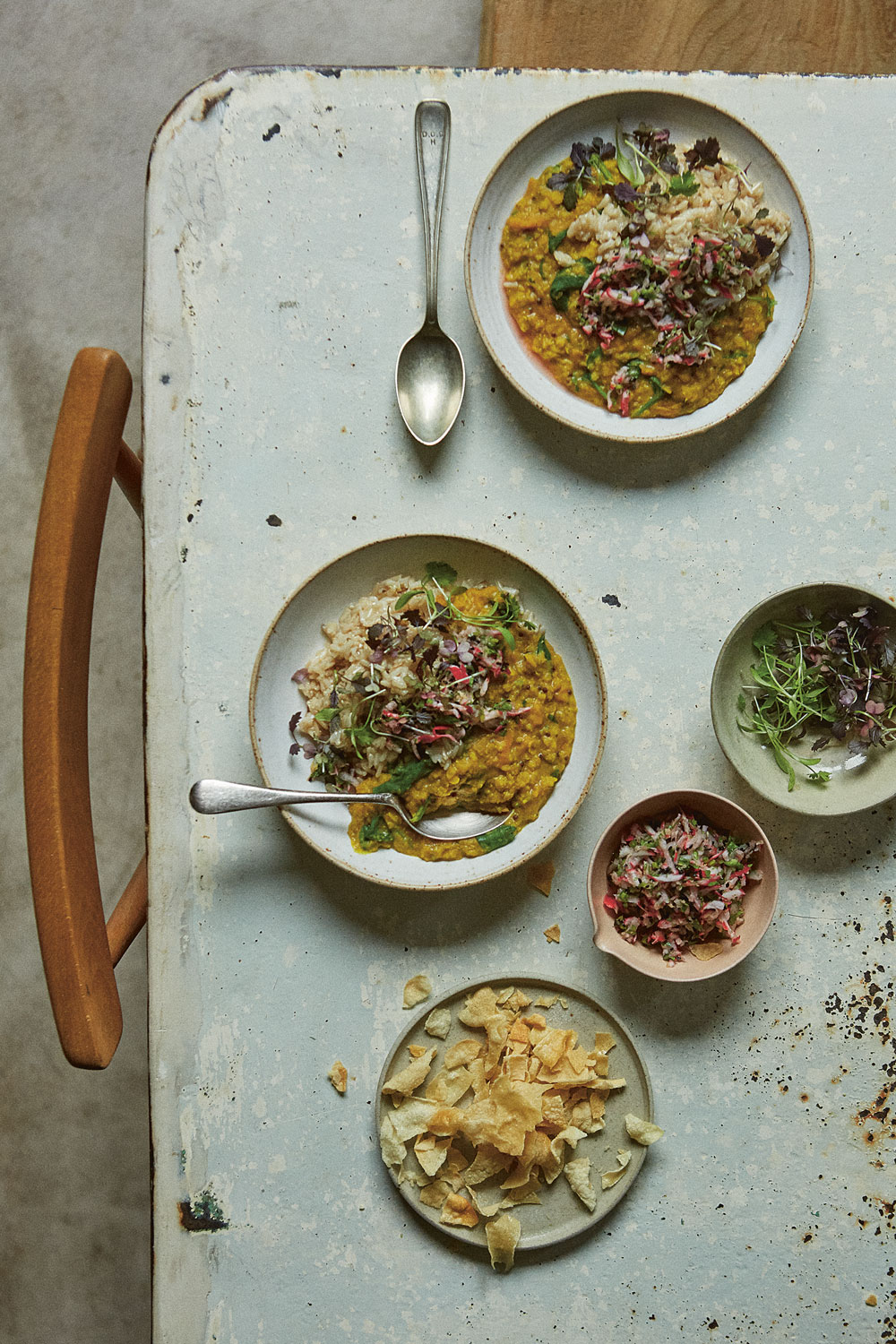 Anna Jones is a Hackney-based cook, writer and stylist, the voice of modern vegetarian cooking (often with vegan options) and the author of the bestselling 'A Modern Way to Eat', 'A Modern Way to Cook' and 'The Modern Cook's Year'. The carrots, turmeric and pink radish pickle in this dhal make it a vibrant colourful bowl, served with poppadoms scrunched into shards over the top for a welcome bit of crunch.
Ingredients
SERVES 4
2 cloves of garlic
1 green chilli
a thumb-sized piece of fresh ginger, peeled
1 red onion, peeled
coconut or vegetable oil
1 teaspoon cumin seeds
1 teaspoon coriander seeds
1 teaspoon black mustard seeds
1 teaspoon ground turmeric
1 teaspoon ground cinnamon
200g red lentils
1 x 400ml tin of coconut milk
600 mililitres vegetable stock
6 carrots, peeled
2 large handfuls of spinach juice of 1 lemon
juice of 1 lemon
FOR THE PICKLE
a thumb-sized piece of fresh ginger, peeled
1 green chilli
1 unwaxed lemon
2 handfuls of radishes
1 tablespoon nigella seeds
1 tablespoon white wine vinegar
sweetener to taste, such as maple or date syrup
a bunch of coriander, chopped
TO SERVE
plain dairy-free yoghurt
cooked brown basmati rice
a few poppadoms
Method
1. Finely grate the garlic, chilli and ginger (Anna uses a sharp Microplane grater; if your grater isn't quite up to the job, finely chop them), then coarsely grate the red onion
2. Put a large saucepan on a medium heat, add a little oil and everything you have grated and cook for 10 minutes until soft and sweet.
3. Pound the cumin and coriander seeds a bit in a pestle and mortar, then add to the pan with the other spices and cook for a couple of minutes to toast and release their oils.
4. Add the lentils, coconut milk and stock to the pan and bring to a simmer, then turn the heat down and bubble for 25-30 minutes. Meanwhile, grate all the carrots and add those too.
5. While that is cooking make a little pickle to go on top. Finely grate the ginger, chilli and the zest of the lemon into a bowl, then use a coarser grater to grate the radishes into the bowl. Add the nigella seeds, vinegar, a squeeze of honey, half the coriander, a good pinch of salt and mix well.
6. To finish your dhal, take it off the heat, then stir in the spinach and allow it to wilt a little, stirring in the other half of the coriander and the juice of the lemon too.
7. Pile into bowls and top with the radish pickle, spoonfuls of yoghurt and brown basmati rice. At the table, crumble over your poppadoms.
Thank you Anna for sharing this fantastic recipe with us - it has become one of our team member's family staples! This recipe can be found in Anna's 'The Modern Cook's Year'