Carrot slices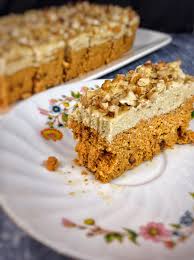 As sampled at the Hackney Vegan Market!
Ingredients
Icing
1 cup raw cashews (soaked for 4 hours)
1/4 cup unsweetened coconut milk
3 tablespoon melted coconut oil
2 tablespoon maple syrup
1 teaspoon vanilla extract
Pinch of salt
Base
1 ½ cup oat flour
¼ cup coconut oil (soft and melted)
¼ cup cacao butter (soft and melted)
¼ cup lucuma powder
¼ cup raisins
¼ cup activated walnut (chopped)
¾ cup coconut sugar (powdered)
4 carrots (pulp from juiced carrot or finely grated)
1 tablespoon cinnamon
1/8 teaspoon nutmeg
1 teaspoon ginger powder
1/8 teaspoon clove powder
¼ teaspoon orange zest
Method
Icing:
1. Add to a food processor - soaked cashew, coconut milk, maple syrup, almond extract and coconut oil.
2. Blend until a silky smooth icing forms.
Base:
1. In a bowl add all dry ingredient and mix.
3. Add the carrot pulp and remaining wet ingredients and stir till well combined.
4. Add and mix through the raisins and walnuts by hand.
5. Line a square baking tin with cling film and press the mix into the tin.
6. Use the back of a teaspoon or an offset spatula to make the surface even.
7. Place the base mixture in the loaf pan and place in the freezer while you make the icing.
8. Remove the loaf pan from the freezer and using a spatula spread the icing over the base covering all the corners and edges
9. Freeze till firm – about 30 mins.
10. Remove from the freezer and cut into your desired shapes and sizes. The pan I used was 7x7x1.5 inches.
Thanks to our amazingly talented cookery teacher Bruna Oliveira for adapting this recipe.
Photo Credit: http://viedelavegan.com/
---
---