Cashew Aubergine Parmigiana with Lemon Parsley Rice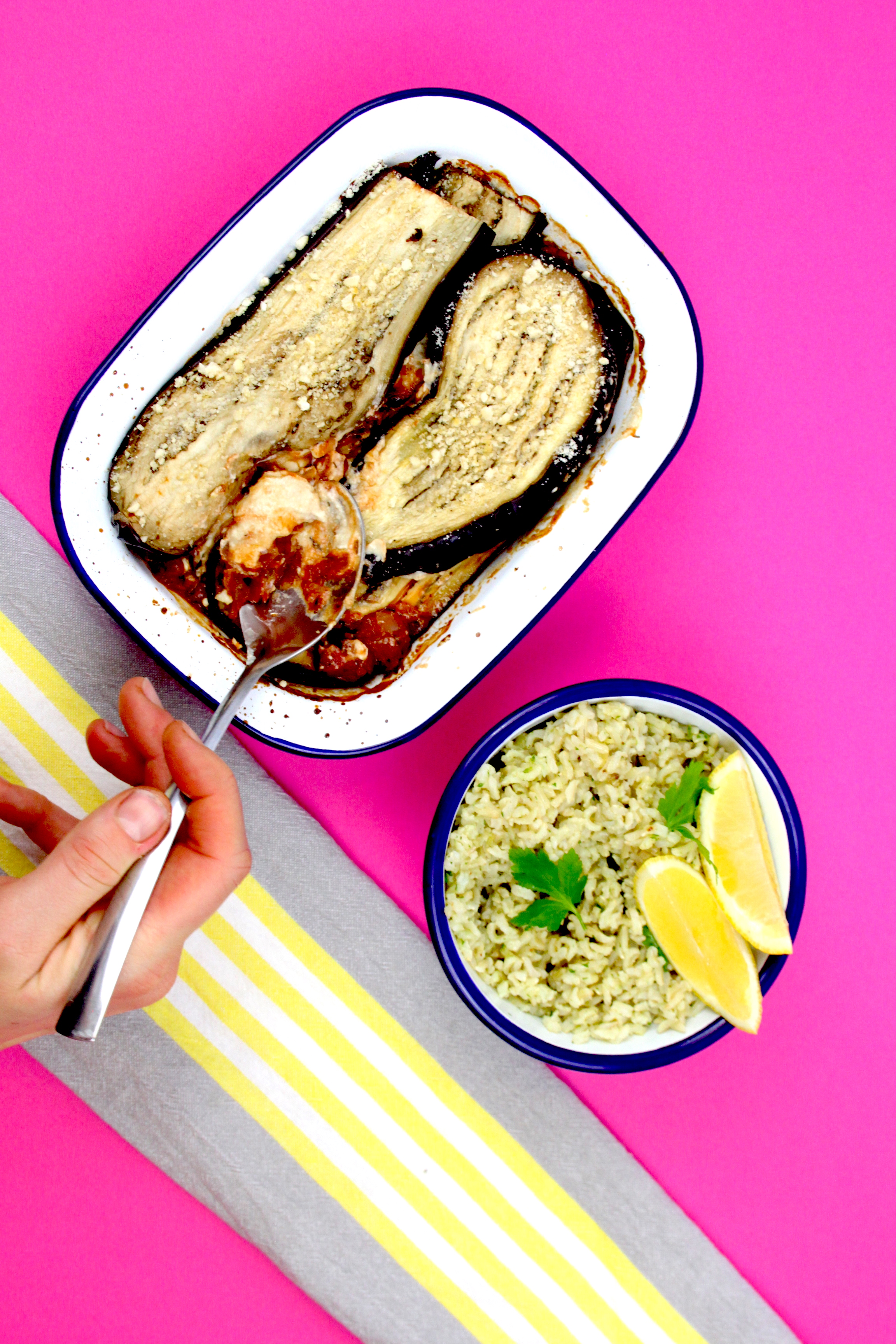 This recipe is well tasty! Created by Make Kit – the UK's only plant-based recipe kit social enterprise co-founded by MIH cookery teacher Steve Wilson – it contains 3 of your 5 a day – or 10 a day as we like to say at MIH.Melanzane alla parmigiana is a classic Italian dish which translates to Parmesan Aubergine in English. The dish tends to contain more mozzarella than parmesan but can be made in a multitude of different ways. This parmigiana is made with a creamy homemade plant based mozzarella, made from cashew nuts that are soaked overnight, washed, and blended until smooth. Yum.
Ingredients
Serves 2
400g Aubergine
1 tin Chopped tomatoes (220g)
100g Brown rice
1 Vegan mozzarella mix: 50g soaked overnight and blended cashew nuts, 30ml coconut milk, 3g nutritional yeast, ¼ tsp salt
1 Onion
1 Garlic clove
10g Fresh parsley
1 Preserved lemon
1 tsp Dried oregano
Handful Fresh basil
3 of your 5 a day
Method
Method
Preheat the oven to 200°C / 180°C fan / gas mark 6 / 400°F.
Wash your vegetables.
1) Cut the top off the aubergine and into long 1cm slices.
Peel and cut the onion into small dice.
Peel and finely chop the garlic.
2. Heat up a ½ tablespoon of cooking oil in a medium saucepan on a medium heat.
When the oil is hot, add the onion and cook for 3 minutes.
Add the garlic and cook for 30 seconds.
Add the chopped tomatoes and the MK herb mix.
Simmer for 10 minutes.
3) Take the aubergine out of the oven and remove onto a plate.
Spread a thin layer of tomato sauce on the bottom of a small [large] baking dish (30cm x 20cm).
Make a layer of aubergine on top of the tomato sauce.
Spoon half the vegan mozzarella in a layer.
Repeat for the next layer; tomato sauce, aubergine and mozzarella.
4) Place the final aubergine slices on top.
Place back in the oven to bake for 10 minutes.
Check the rice is done, it should have soaked up all the water.
Chop the parsley and preserved lemon and stir through.
5) Take the parmigiana from the oven and serve from the table with a spoonful of rice.
Make Kit is the UK's only plant-based (veggie and vegan) recipe kit social enterprise. By buying a recipe kit bag from them you support them to deliver cookery classes and subsidised bags to groups most in need. Find out more and order a bag from: https://makekitfood.com/