Cauliflower Korma with Lemon Pilau Rice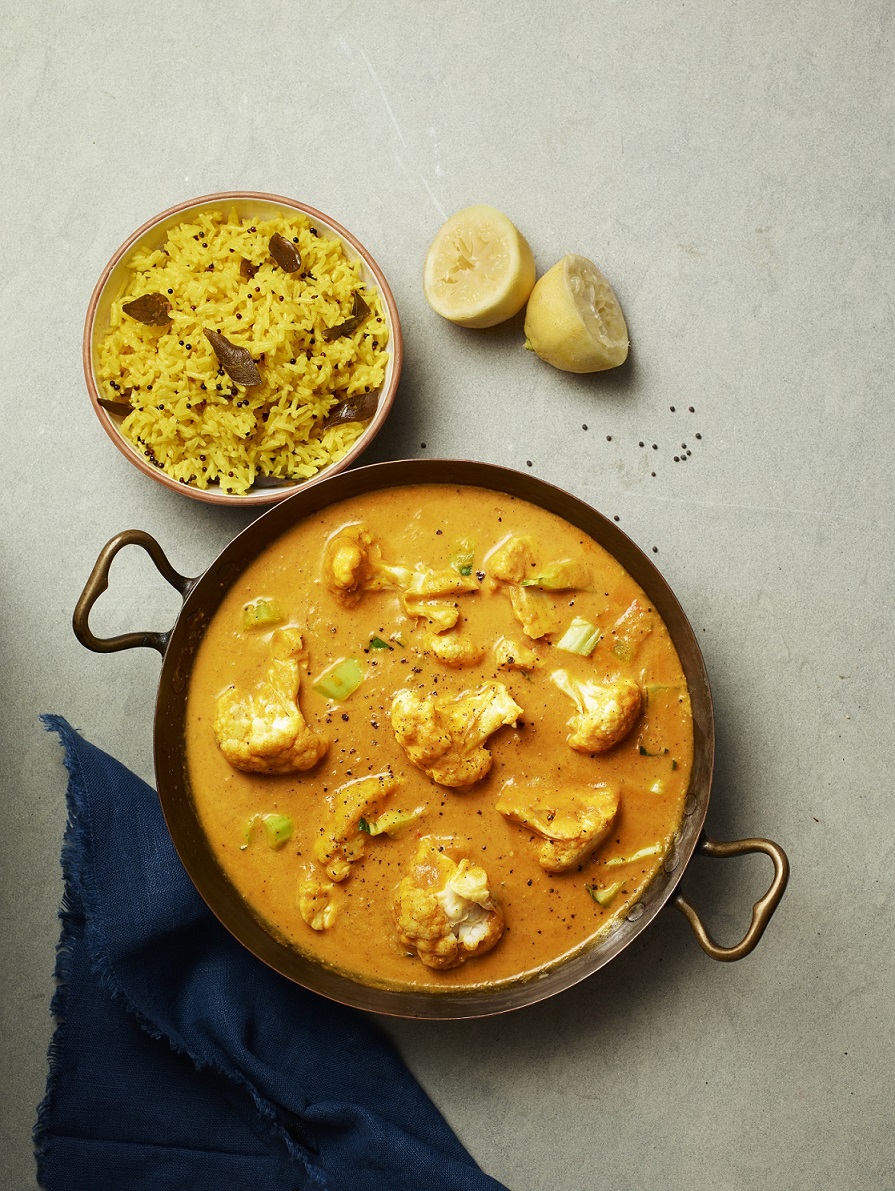 Making your own version of this takeaway favourite is much easier than you think! Just as quick as your local takeaway and a whole lot cheaper! This recipe by MIH chef Mark Breen from our Thrifty Feasts 2 recipe book.
Ingredients
Cauliflower korma
1 cauliflower head
400g can butter beans
1 large onion
Thumb size piece ginger
5 cloves garlic
1 chilli (if you like heat)
2 tomatoes
400ml can coconut milk
1 teaspoon turmeric
2 tablespoons curry powder
1 tablespoon coconut oil
Lemon pilau rice
400g basmati rice
1 teaspoon black mustard seeds
Small handful curry leaves
½ teaspoon turmeric
½ lemon
1 tablespoon coconut oil
Method
Cauliflower korma
1. Break cauliflower into florets, dice (cut into small cubes) the stalk and slice the leaves.
2. Chop the onion into small cubes, slilce the chilli and peel and chop the ginger and garlic.
3. Combine the onion, ginger, chilli, and garlic and fry with coconut oil in a pan.
4. Add the turmeric, curry powder and heat until they smell nice but aren't burnt, about 1 minute.
5. Add the tomatoes, coconut milk, beans and cauliflower.
6. Simmer for 25 minutes.
Lemon pilau rice
1. Wash the basmati rice.
2. Heat a tablespoon spoon of coconut oil in a pan and add the mustard seeds, when they pop add the red lentils and stir for a minute.
3. Add the curry leaves and turmeric. Stir for another minute before adding to the rice with the lemon juice and zest.
4. Add water to the pan, 3cm above the level of the other ingredients.
5. Bring to the boil, stir once, then simmer on a medium heat for 10 minutes with a lid on.
Variations: You could use wholegrain rice which is even healthier, but takes a little longer to cook. If you don't have one of the ingredients above, try substituting or leaving it out, for example you could swap the curry leaves for a cinnamon stick for a warmer flavoured rice or you could swap the lentils for some nuts.
Photography by Chelsea Bloxsome for Made In Hackney www.chelseabloxsome.com
Food Styling by Jack Sargeson for Made In Hackney @jackspacesargeson
Assisting by Natasha Middleton for Made In Hackney @nattamidd