Charred Hispi Cabbage With Tomato, Pea And Coconut Curry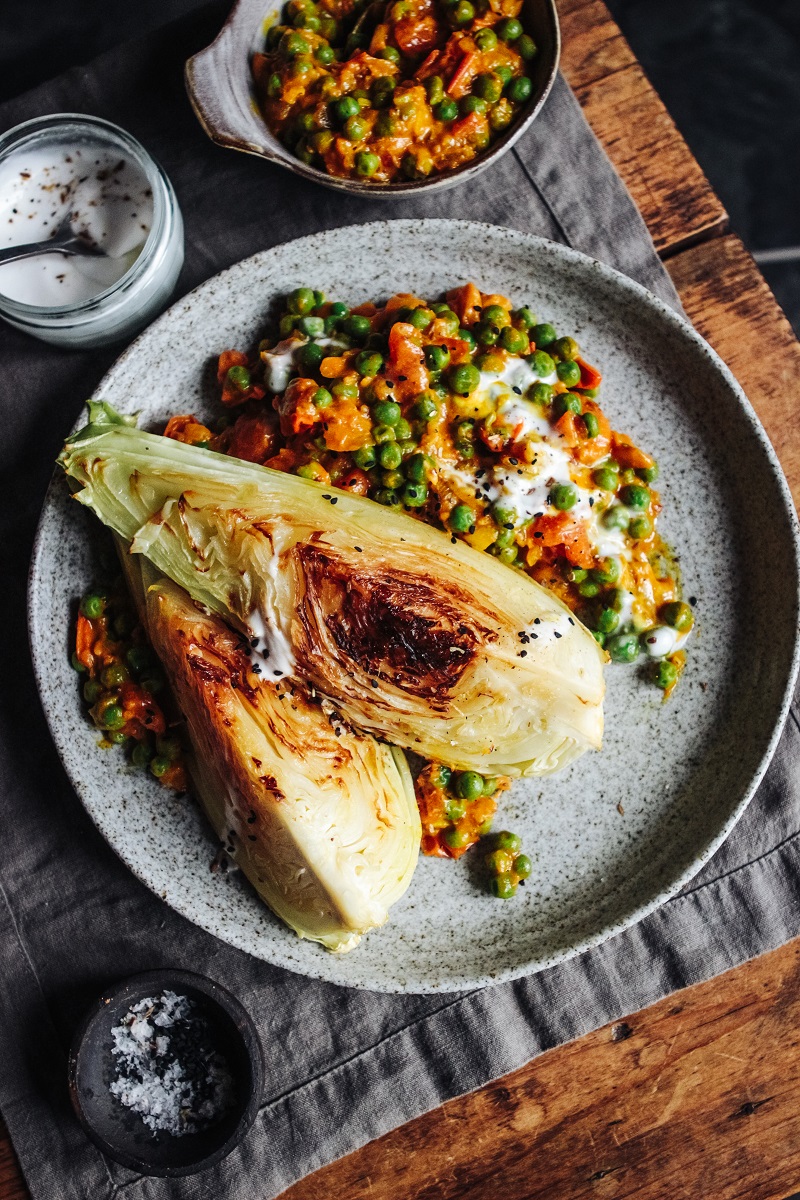 Charred cabbage - it's a thing, a really rather tasty thing actually. This divine version was created by Niki Webster, our pal and creator of the stunning Rebel Recipes food blog.
Ingredients
1 hispi cabbage sliced in half
Olive oil
Sea salt
2 tablespoons olive oil
For the curry
1 onion – roughly chopped
1 teaspoons turmeric
2 teaspoons black mustard seeds
1 teaspoons cumin seeds
1 teaspoons ground coriander
1/2 teaspoon chilli flakes
4 cloves garlic sliced
10-12 cherry tomatoes or 4 tomatoes chopped
1/2 teaspoons sea salt
1-2 teaspoons water
3 tablespoons coconut yogurt or cream
3 big handfuls frozen peas
Optional
Fresh Coriander
More coconut yogurt
Method
To cook the cabbage
1. Heat a griddle or large frying pan with a little oil.
2. Place the two sides of cabbage (inside down) onto the pan and griddle for aprox 5 minutes on a medium heat until nicely charred.
3. Remove from the pan and cut lengthways into quarters.
4. Add back to the pan, uncooked sides down and griddle for a further 5 minutes. Remove from the heat.
5. Add the four quarters to a baking tray with a little more oil and pinch of sea salt.
6. Bake for 15 minutes on 180c or until the cabbage is soft on the inside and crispy on the outside.
To make the curry
1. Add the oil to a large frying pan and heat to a medium heat. Add in the mustard and cumin seeds until they pop then add in the remaining spices. Stir for a few seconds then add in the onion.
2. Fry for aprox 8-10 minutes until soft and browning.
3. Add in the garlic and ginger and stir for another few minutes, then add in the chopped tomatoes.
4. Cook for a further 3-4 minutes then add the water and frozen peas. Simmer for 5 minutes.
5. Stir in the coconut yogurt.
This delicious recipe comes from our friend Niki Webster over at the stunning Rebel Recipes food blog.