Chinese Sweet and Sour Stir Fry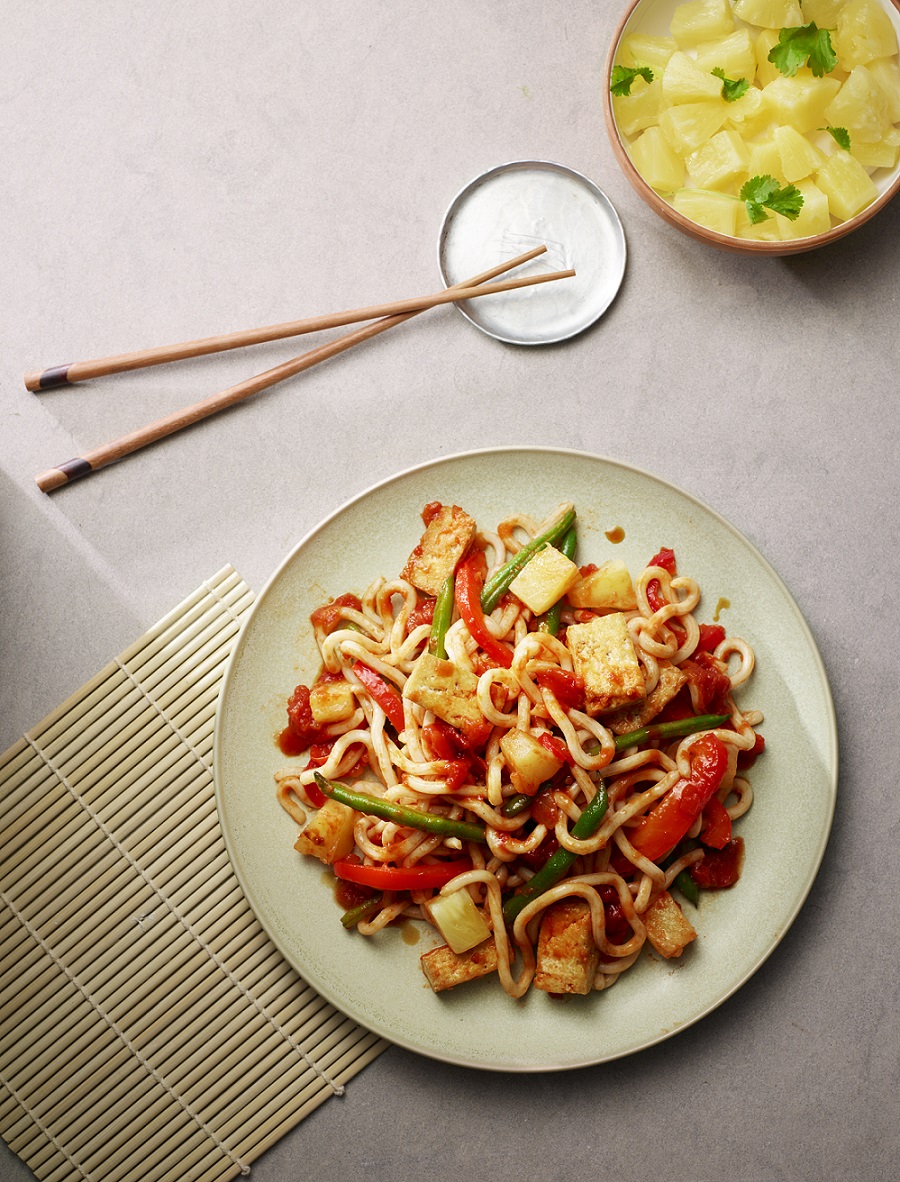 This recipe is a healthier,faster and cheaper alternative to a takeaway favourite. The recipe is by MIH chef Mark Breen from our Thrifty Feasts 2 recipe book.
Ingredients
2 tablespoons coconut oil
1 large onion
1 medium red bell pepper
Small handful of green beans (frozen are fine & often more affordable)
400g can of tomatoes
200g can of unsweetened pineapple chunks, drained, juice reserved
200g extra-firm tofu or tempeh
Brown rice or wholegrain noodles (portion as recommended on packet)
Sauce
1 tablespoons rice vinegar (optional)
1 tablespoons date syrup
1 tablespoons tamari or low salt soya sauce
Method
1. Chop the onion and bell pepper into slices and dice the tofu or tempeh.
2. Stir together all sauce ingredients in a small bowl.
3. In wok or large frying pan, heat coconut oil over medium heat. Add onion and cook, stirring often, until golden, about 8 minutes.
4. Add bell peppers, green beans and tofu or tempeh, increase heat to medium high and stir-fry for 5 minutes. Add tomatoes (with liquid) and pineapple chunks and stir-fry 5 minutes.
5. Stir in the sauce and cook, stirring, until mixture has thickened slightly, around 2 to 3 minutes.
6. Serve with wholegrain noodles or brown rice cooked to packet instructions.
Photography by Chelsea Bloxsome for Made In Hackney www.chelseabloxsome.com
Food Styling by Jack Sargeson for Made In Hackney @jackspacesargeson
Assisting by Natasha Middleton for Made In Hackney @nattamidd