Chinese Sweet & Sour Veggies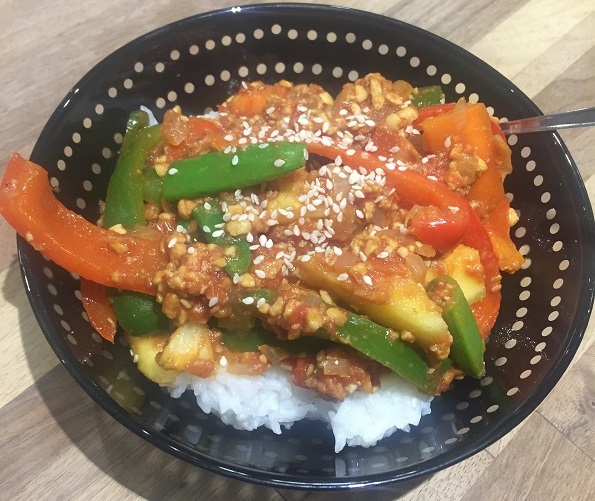 This dish was made in the kitchen by our young carers from Action For Children with our brilliant teacher and chef Mark Breen. They smashed it and even ate all the veggies. This is a real crowdpleaser.
Ingredients
1 1/2 tablespoons toasted sesame oil
1 large onion, chopped
1 medium red bell pepper
1 medium green bell pepper
Small handful of green beans or mangetout
400 gram tin tomatoes
400 gram can unsweetened pineapple chunks, drained, juice reserved
200 grams tempeh or extra firm tofu, cut into medium cubes
Serve with noodles or rice.
Sauce
3 tablespoons rice vinegar
2 tablespoons brown rice syrup (this has a high glycemic index so experiment with sweet freedom, date paste or blackstrap molasses)
2 tablespoons tamari
Method
1. Make sauce: In small bowl, stir together all sauce ingredients together.
2. In wok or large skillet, heat oil over medium heat. Add onion and cook, stirring often, until softened, about 8 minutes.
3. Add bell peppers, green beans and tempeh or tofu, increase heat to medium-high and stir-fry 5 minutes. Add tomatoes (with liquid) and pineapple chunks and stir-fry 5 minutes.
4. Stir in reserved sauce and cook, stirring, until mixture has thickened slightly, 2 to 3 minutes. Taste and adjust sweet/sour balance to your liking with additional brown rice syrup, vinegar and/or tamari. Serve at once.