Chocolate Banana Cookies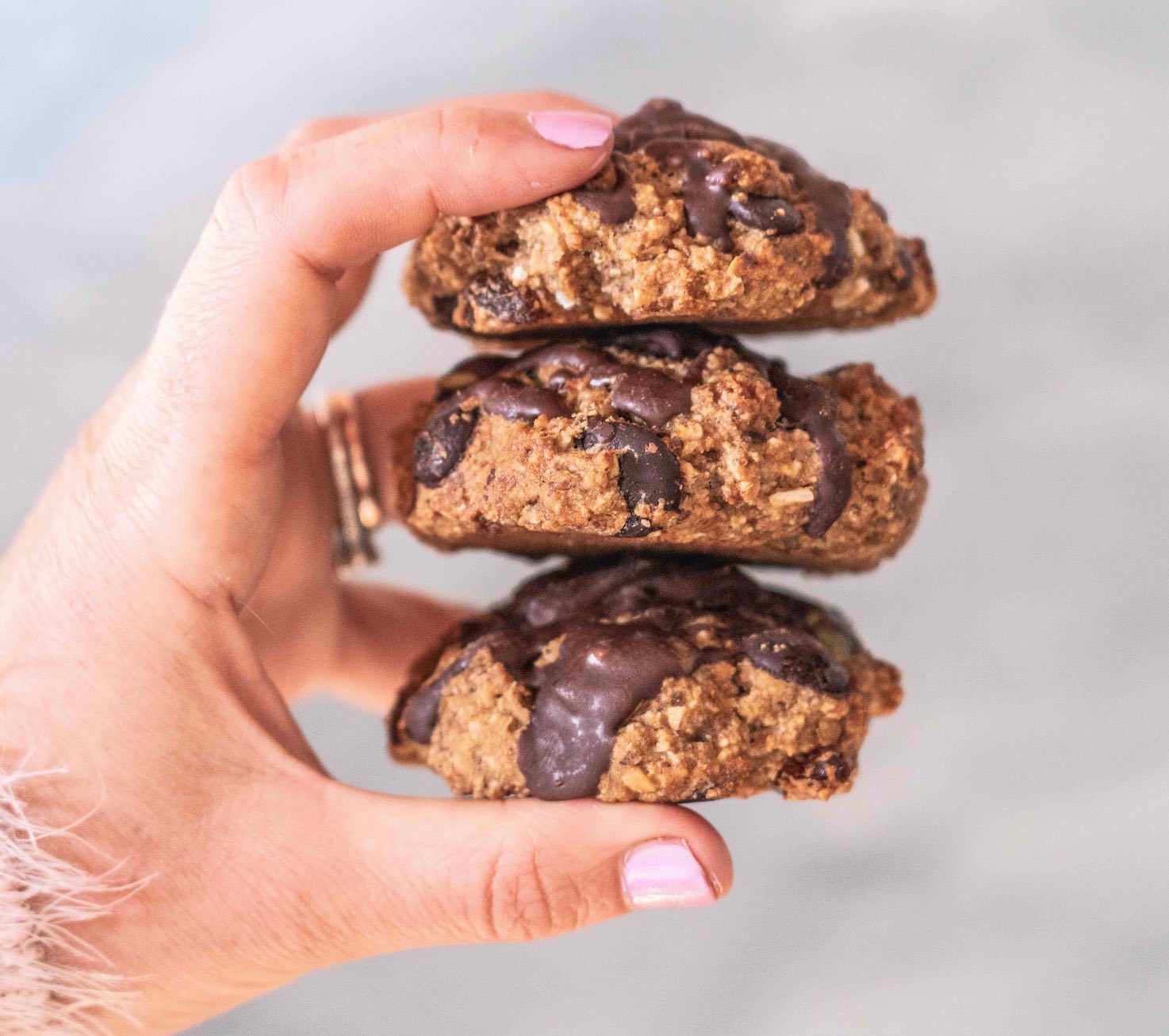 These cookies are beautifully light and cakey, almost like muffin tops. They're not too sweet and you can easily play around with the recipe and add your favourite dried fruits, nuts or seeds.
Ingredients
Thank you to Amy Hiller for this delicious recipe.
(makes around 20 cookies)
2 tablespoon ground flax meal
5 tablespoons water
1 cup oats
1 cup wholemeal/spelt or flour of your choice
1/2 cup ground almonds or almond flour
1/4 cup desiccated coconut (optional)
1 teaspoon cinnamon
1 teaspoon bicarbonate of soda
1/2 teaspoon baking powder
1/4 teaspoon salt
1/3 cup coconut sugar
1 banana, mashed
1/4 cup melted coconut oil or mild flavoured oil of choice
1/2 cup non-dairy milk (room temp or slightly warmed if using coconut oil)
1tsp vanilla extract (optional)
1-2 tablespoons maple syrup (optional)
1/4-1/2 cup chocolate chips/chunks plus extra chunks to go on top
1/4-1/2 cup raisins
Handful of seeds of choice
Method
Pre-heat oven to 180°C (160°C fan) or 350°F

Line 2 baking sheets

Make your flax eggs by combining the flax meal and water. Give it a stir and then leave to sit for about 5 mins.

Meanwhile, combine oats, flour, ground almonds, coconut, cinnamon, bicarb, baking powder, salt, sugar in a bowl and mix.

In a separate bowl, mash the banana then add the oil, milk, flax eggs, vanilla, maples syrup and whisk well with a fork until combined and creamy looking.

Pour the wet mixture into the dry, stirring as you go.

Once it's all in, if the mixture seems too wet, add a little more flour, a tablespoon at a time. It should be a sticky rather than a solid dough but definitely not runny. Add a little plant milk if too crumbly

Add your chocolate, raisins & seeds and fold in so they're evenly dispersed. .

Spoon tablespoon sized balls onto your baking tray & shape and flatten them slightly with damp hands, leaving a small gap between each dollop. They won't spread all that much.

I like to put a chunk of chocolate in the middle of each cookie & sprinkle a little coconut sugar over the rest of the surface.

Bake for around 13 mins, until golden.

Leave to cool on the tray for 5 mins before transferring to a cooling rack.

You can also drizzle some melted chocolate over the top.

Eat! These are delicious warm as well as cooled. Store them in an airtight container at room temp for a few days and then move to the fridge.
Notes
As is the case with all recipes using banana, there's always likely to be some variation in the final texture because bananas come in different sizes and become more moist the riper they are. They'll be delicious regardless of whether you have a slightly wetter/drier batter.
Other things which could affect the texture include the amount of maple syrup you use and what you decide to throw in from your kitchen cupboards.
These cookies tend to get quite a rise on them which is why I describe the texture as being quite cakey, almost like a muffin top. They won't spread a lot because of the raising agent and the lack of sugar, so an inch and a half-ish gap between dollops should be fine.
These are at their best just cooled out of the oven, once the chocolate has set. But if you've managed to hold on to them for longer than a few days you can give them back a bit of their sparkle by warming them in the oven.
Photography and food styling by vegan chef Amy Hiller. Visit her website www.amyhiller.com for more stunning recipes.
---
---