Chocolate Blood Orange and Ginger Mousse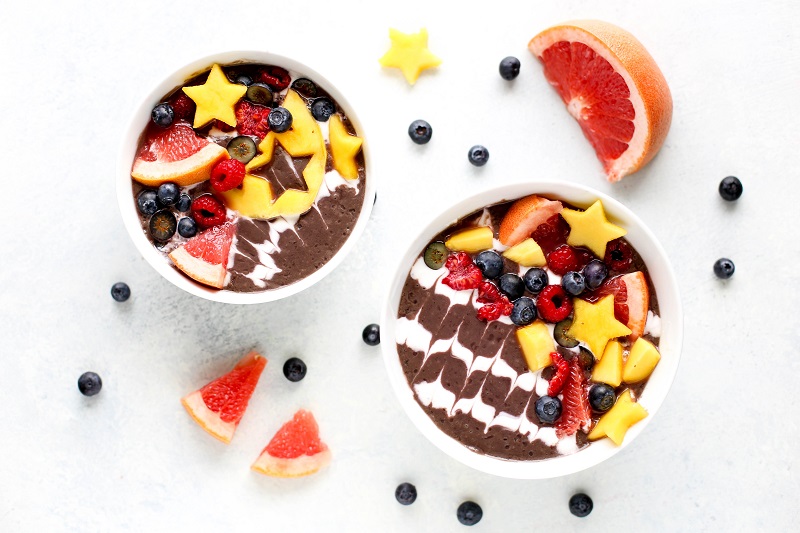 This magnesium rich mousse, low in added sugar is perfect for blasting those chocolate cravings.
Ingredients
(Serves 4)
2 large ripe avocados
2 medium ripe bananas
6 tablespoons melted coconut oil
Zest and juice of 1 blood orange
Ginger juice (from 1 tablespoon of fresh grated ginger)*
1 teaspoon of orange extract
50 grammess raw cacao powder (or unsweetened cocoa)
½ teaspoon ground cardamom
Pinch of salt
[Optional 2 tablespoons of maple syrup, or more to taste]
To Decorate
Fruit of your choice - blueberries, mango, raspberries, blood orange
Oatly cream
Method
1. Place the avocado and banana flesh, coconut oil, orange juice (reserve zest till later) and ginger juice in a blender, and blend until a smooth mousse-like texture forms, and all the green of the avocado is dispersed. You may need to scrape down the sides with a spatula.
2. Add in the cacao, cardamom and salt and blend again until fully incorporated. Taste, and then add maple syrup only if you think it needs sweetening. Transfer to individual serving glasses.
3. Chill in the fridge for at least 30 minutes until the coconut oil firms up the mousse. The texture should be like a decadent French pot au chocolat.
4. Decorate by dribbling thin stripes of Oatly cream across the top. To make this look fancy drag a knife through it going in the opposite direction.
5: Scatter with fresh fruits and get fancy by cutting them into shapes.
*Notes: To get your ginger juice, grate a tablespoon of ginger, place the gratings in some cheesecloth (or between your fingers) and squeeze out the juice. This is a great way of getting fresh ginger juice for your tea too.
This recipe is by Made In Hackney cookery teacher Ceri Jones of www.naturalkitchenadventures.com
Photo Credit: Brenda Godinez on Unsplash
---
---