Chocolate Clouds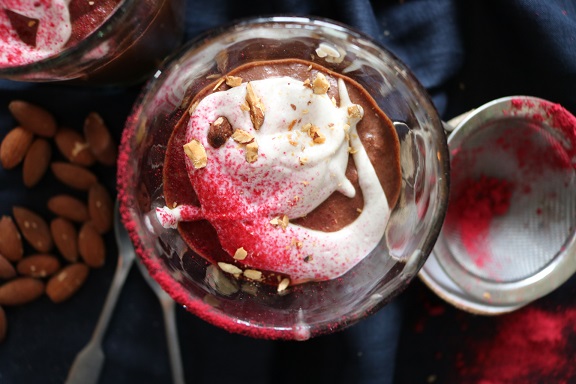 This amazing vegan chocolate mousse recipe made with aquafaba and all it's magical properties comes from vegan chef Kali Hamm .
Ingredients
Magic Mousse
Serves 4 -6
170 grams of dark chocolate – 70% and up – I like 80%
235 millilitres or 1 cup of chickpea water – from a tin or left from cooking chickpeas
30 grams of coconut sugar
1 teaspoon of vanilla extract
Cashew Cream
150 grams of cashews, soaked minimum 4 hours to overnight
60 millilitres of brown rice syrup or 40 millilitres maple syrup
2 teaspoons of vanilla extract
60 millilitres of filtered water
Extras to serve:
Vanilla cashew cream
Raspberry powder
Chopped roasted almonds
Method
Magic Mousse
Melt the chocolate In a large bowl over a pan of boiling water to make a bain marie, the bowl shouldn't be touching the water.
Once the chocolate is melted take off the heat and allow to cool a little, stir in the vanilla extract*. Using an electric whisk, a stand alone mixer is really helpful here, beat the aquafaba until you form stiff peaks. This can take up to 20-30 minutes so don't be afraid to leave the machine running.
Once stiff peaks have formed, pour in the sugar slowly and continue to beat for another minute until incorporated.
Scoop out a third of the aquafaba peaks and whisk into the chocolate then fold through the rest of the aquafaba. You should be left with a luscious chocolate mousse.
Scoop into glasses to serve or one big serving bowl and chill for at least an hour to set.
Cashew Cream
Blend all ingredients in a high speed blender until smooth.
* Allowing the chocolate to cool a little is important to the process and the vanilla helps loosen the chocolate so the mousse isn't grainy.
Serving suggestion
Top with vanilla cashew cream, raspberry powder and/or some chopped roasted almonds.
This delicious recipe comes from London based freelance vegan chef, recipe writer and MIH supporter, Kali Hamm. Kali's background and passion for nutritious cooking and her love of travel and big flavours is reflected in her style of food. For events and recipes, visit her site : kalicooking.com.
---
---