Chocolate Falafel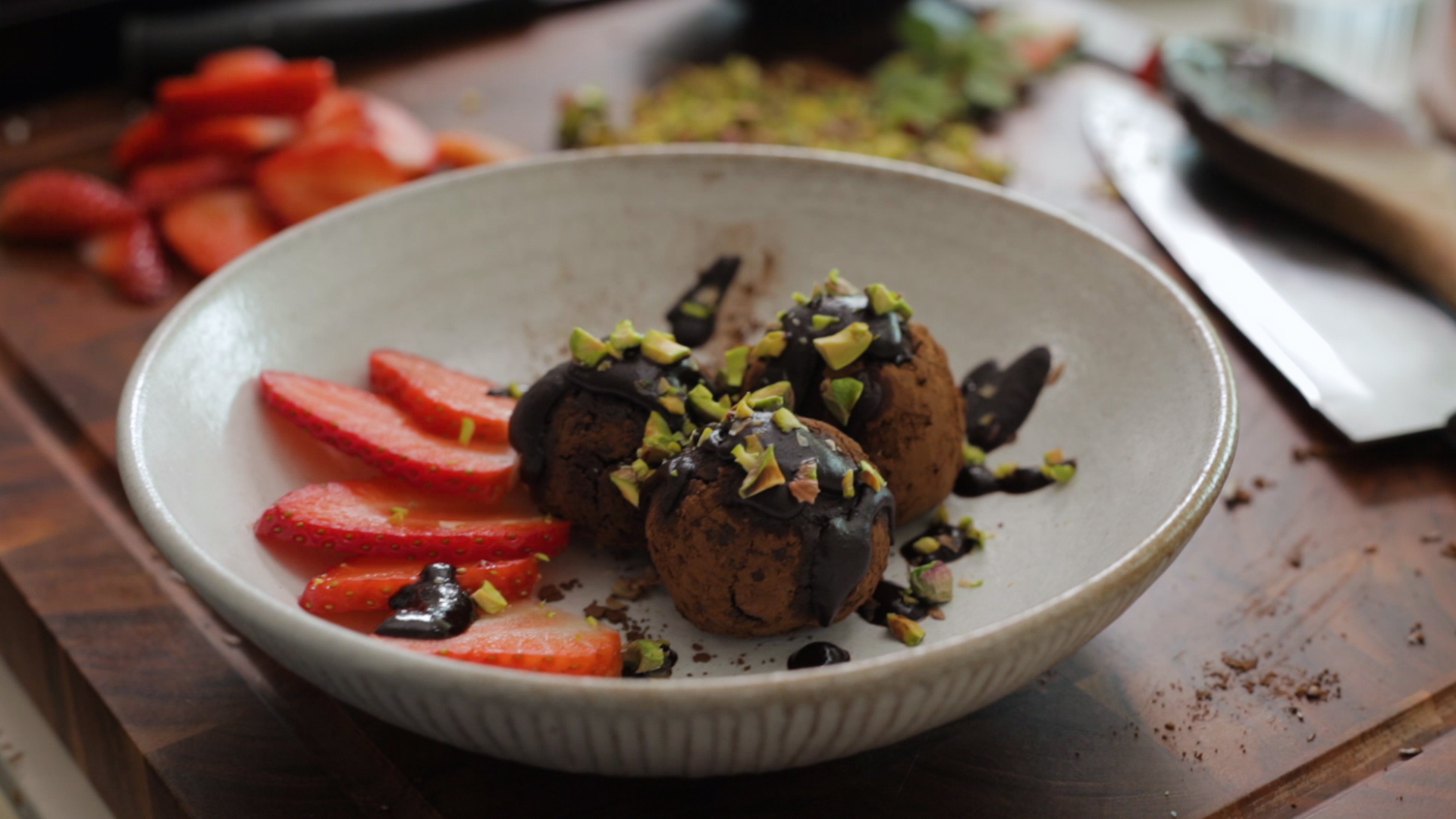 Chocolate falafel? No way. Yes way. Try this tasty recipe from our Sarah for a new sweet spin on falafel.
Ingredients
Falafels
(makes 12 medium size balls)
1 x can chickpeas (drained)
40g almond butter (or nut butter of your choice)
30g cocoa powder or cacoa powder
3 tablespoons maple syrup
1/2 teaspoon baking powder
1/2 teaspoon vanilla essense
Pinch of sea salt
Sauce
3 tablespoons coconut oil
4 tablespoons cocoa or cacoa powder
3 tablespoons plant milk (optional)
1 tablespoon maple syrup
Decoration
2 tablespoons pistachios (crushed)
6 strawberries (sliced)
1 tablespoon cocoa powder
Method
1: Drain and rinse the chickpeas.
2: Add all the ingredients for the falafel into a food processor and blend until the mixture has combined into a non-lumpy mixture.
3: Take the mixture out and roll into balls.
4: Pop the balls onto a baking tray and into the oven at 160C/320F/Gas mark 3 for 12 minutes.
5: While the falafels are cooking you can make your chocolate sauce. Add all the ingredients to a small saucepan and on a low heat gently melt the coconut oil. Stir together all the ingredients to make a sauce.
6: Bring the falafels out of the oven and once cool enough to handle roll in chocolate powder.
7: Serve still warm with a drizzle of chocolate sauce topped with some crushed pistachios and sliced strawberries.
Photography: So Vegan for Made In Hackney
---
---