Chocolate Hummus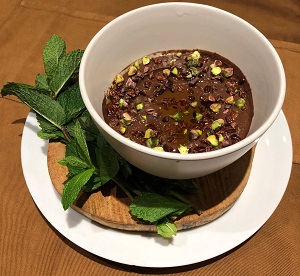 A winner at our kids events this rich, delicious chocolate hummus - or chocolate spread as we say when we bill it to kids - is super quick and easy to make. It's vegan and a fantastic source of protein, fibre and whole food goodness.
Ingredients
1 can chickpeas (drained, reserve liquid for aquafaba!)
4-6 tablespoons cocoa
4 tablespoons maple syrup
1 tablespoon tahini
2 tablespoons olive oil
1/2 teaspoon vanilla extract
1/4 teaspoon sea salt
Method
1: Combine all the ingredients in a food processor and blend until very smooth.
2: If it is too thick, add a splash of water to thin out.
We've garnished the top with maldon salt and pistachios to add texture and flavour.