Colourful Caribbean-Style Vegan Patties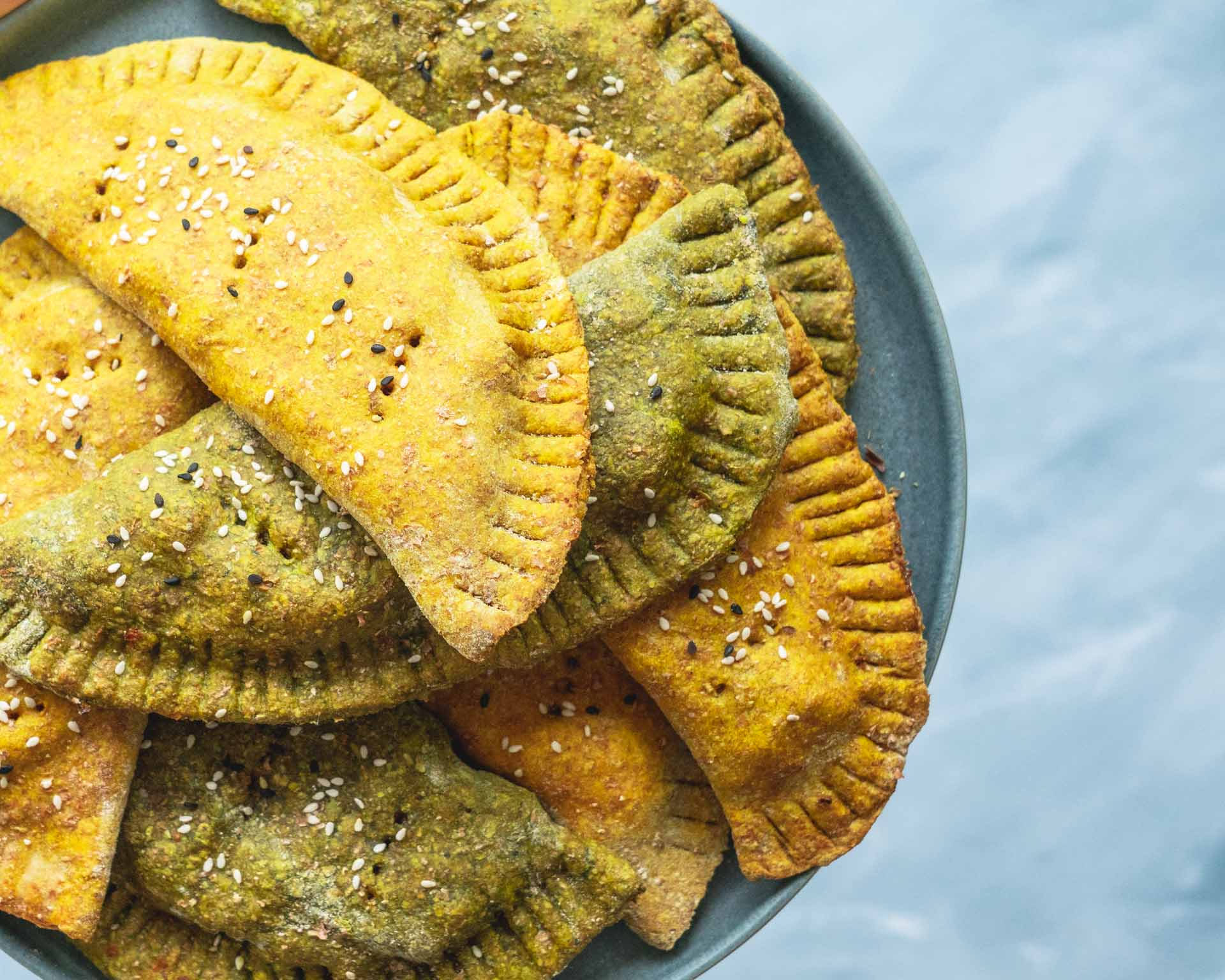 Vegan activist, broadcaster, talented cook and Made In Hackney ambassador Jay Brave, taught us how to make these delicious rainbow vegan patties on one of our online cook-alongs! Pattie shops have been powering Londoners for decades but now you can learn to make these tasty classic snacks yourself at home. (Don't forget to still support the pattie shops though!)
Ingredients
Crust:
345g or 3 Cups ideally wholemeal or white spelt flour (or plain flour). You can also use a blend of 50/50 wholemeal/white.
1 tsp Sea Salt
2 tsp Achiote or Turmeric Powder (for yellow patties)
1/4 cup grapeseed or rapeseed oil
1 cup plant milk
Make other colours of crust by using 1 teaspoon of powdered beetroot or hibiscus (pink), spinach or moringa (green), red lentil or paprika powder (red)
Filling:
(These ingredients do not have to be exact, you could always eat the filling on its own or with rice, grain etc)
175g Diced Mushrooms
1/2 Green, Yellow, Red and Orange Bell Peppers (or purchase 2 different bell
peppers and use whole)
1 Red or White Onion
1 Spring onion (optional)
2 Diced Roma/Plum Tomatoes
1 Bay Leaf
2 Sprigs of Thyme (or a teaspoon of dried thyme)
1 tsp of Achiote or Turmeric Powder
Seasoning of your choice (You can add scotch bonnet, pimento, paprika, onion
powder, cayenne pepper, mixed herbs, all spice, curry powder, all purpose seasoning or a bit of all of the above!)
Method
To make the pastry, place spelt flour (or plain flour), achiote/turmeric and salt in a mixing bowl and use a fork to combine. Alternatively, use a food processor and pulse to combine.

Add the oil and stir with a fork or pulse in the food processor to get a crumb like consistency. Add the plant milk and combine until you have a dough ball.

Place the dough ball covered in the fridge to cook for about 20 minutes while you make the filling.

To make the filling, heat some cooking oil in a large pan over a low heat. Add diced onion and cook for about 10 minutes until the onion is soft and translucent, stirring often.

Add finely diced bell pepper, mushrooms and tomatoes. Cook for another 10 minutes, stirring often, until the vegetables have started to soften.

Add bay leaf, finely chopped scotch bonnet chilli (deseeded if you don't want it too hot!), sliced spring onions, thyme, salt and other seasoning of your choice and cook for another minute.

Take the filling off the heat and leave to cool slightly while you divide your dough and roll it out.

Divide the disc of pastry into 8 even pieces and roll each one into a ball.

Meanwhile, preheat the oven to 200°C.

On a lightly floured surface, roll each ball out into a circle about 3mm thick. Cut round an upturned approx 16cm/6in round plate or saucer with a sharp knife to get a neat circle of dough. Don't worry if it's not perfect! The plate should make for a good template.

Place a couple of heaped spoonfuls of the filling on one side of the circle, in a smiley face shape. Be careful not to add too much or you won't be able to seal the patty.

Brush a little water around the whole rim of the pastry and fold it over the filling. Press the edges together to seal, then crimp the edge with the tines of a fork. Poke some holes in the top of the patty for steam to escape.

Place the patties on a baking tray lined with baking paper

Brush the tops of the chilled patties with a little dairy free milk, then bake for 25-30 minutes until golden and bubbling.

Set aside to cool for about 10 minutes before serving. Store any leftovers in the fridge for up to 3 days.
Notes:
You can also swap the spelt flour for wheat flour.
Vary the vegetables in the filling to suit what you have to hand. You can also add green peas, carrots, sweet corn, butternut squash, any vegetable really, this recipe can be made to taste.
Keep your pastry cold. Warm pastry can become tough and greasy, so for the best result make sure you chill it thoroughly after making it and again after you have shaped the patties before you bake them
These Jamaican style vegetable patties are not very spicy, but if you don't like heat at all you can omit the cayenne pepper/chilli. Alternatively, if you like things hot you can add in extra!
Photography and food styling by vegan chef Amy Hiller. Visit her website www.amyhiller.com for more stunning recipes.
---
---