Egusi Soup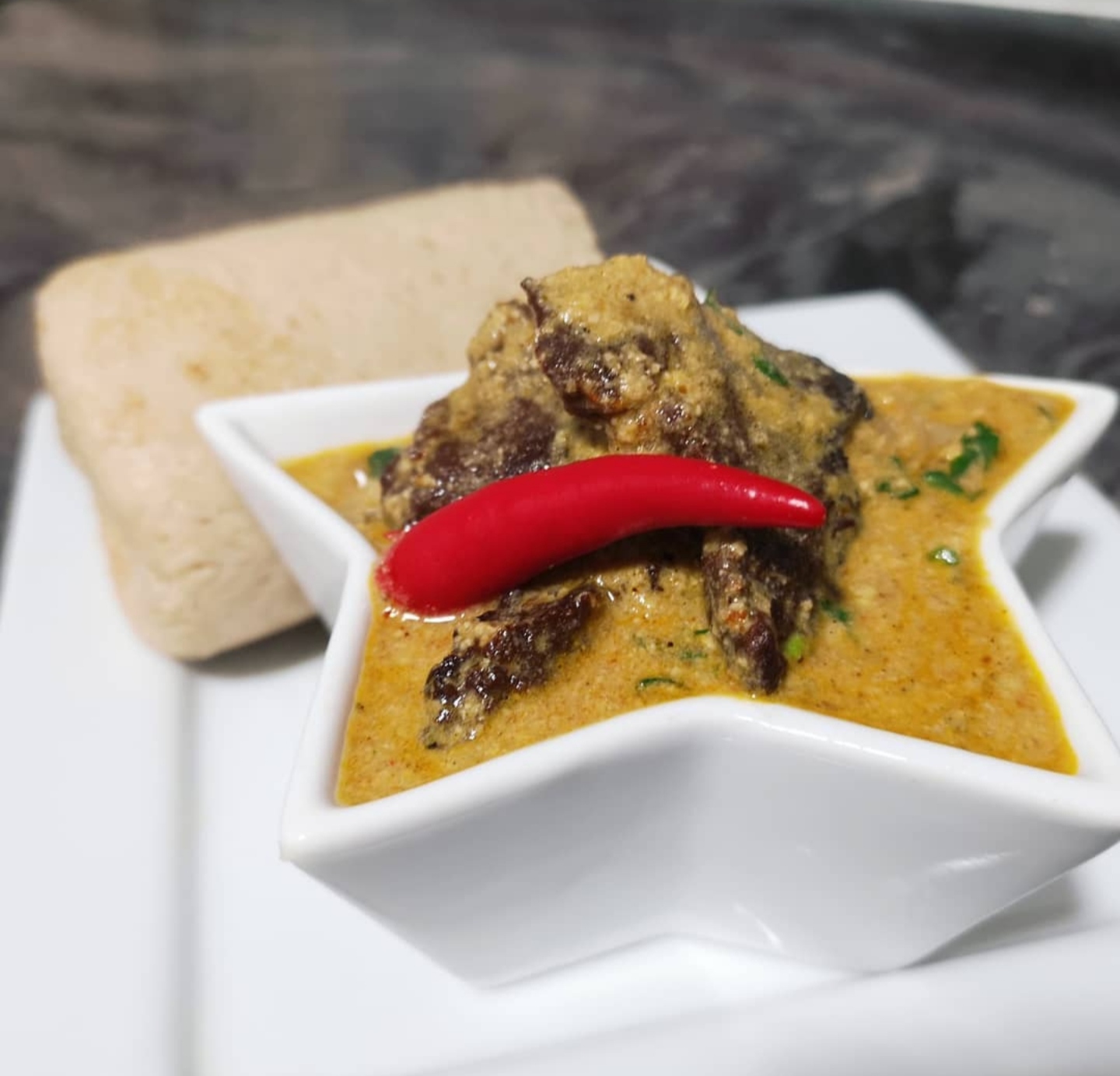 This fabulous recipe is created by Nigerian food blogger, MIH teacher and cookery book author Duchess Nena and is featured in her new book cookery book Igbo Vegan. Jump to end of the recipe for the link to the book - you won't regret it. Egusi is commonly consumed across Nigeria. The main ingredient in Ofe Egusi is the melon seed known as egusi. This is roasted and ground before use. Egusi is healthy and rich in multiple nutrients such as Vitamin-B1, B2, B6,B9,Protain ,manganese, magnesium, zinc, iron, copper, etc. However, it is rich in omega -6 fatty acids, which must be consumed in moderation to gain benefits; apparently too much consumption of omega -6 fatty acids may become counterproductive on one's health. As egusi is high in fat it is best cooked with little oil of choice.
Ingredients
1 cup of grinded Egusi (Melon) seeds.
2 table spoons of red palm oil (or as desired)
2 table spoon of mixed peppers (long/short capsicum & habanero)
1 table spoon onion paste
Salt as required
2 Vegetable Stock cubes of choice.
2 table spoons chopped onions
2 cups fluted pumpkin leaves; spinach or 1 cup bitter leaves or a mixture of all if desired (you can use all 3 types of vegetable but combined to make 2 cups)
1 teaspoon dry okpehe/ogiri (fermented seasoning)
8 cups of water or as desired to meet preferred consistency.
Method
1. In a large cooking pot, add 2 teaspoons of palm oil.
2. Allow the oil is heat up for a minute and add chopped onions. Cook on low heat till brown and soft.
3. In a bowl, add warm water and egusi to make a runny paste.
4. After 5-8 minutes of cooking onions in oil add the egusi paste and stir intermittently
5. Add seasoning cubes, pepper and onions paste, add water and put to boil over medium heat.
6. Once it is properly boiled for about 30 minutes, add the locust bean and let it cook for a few minutes (3-5).
7. Finally add vegetable(s) of choice. If using bitter leave allow to simmer a while longer than fluted pumpkin leaves, about 5 minutes more.
8. Once the soup is ready serve with your favourite fufu/swallow or rice.
For more delicious recipes from Duchess Nena check out her latest book Igbo Vegan available to buy from her West African plant-based food company Uziiza IGBO VEGAN – ULTIMATE GUIDE TO IGBO PLANTBASED – Uziiza