Feel Good Beetroot and Orange Salad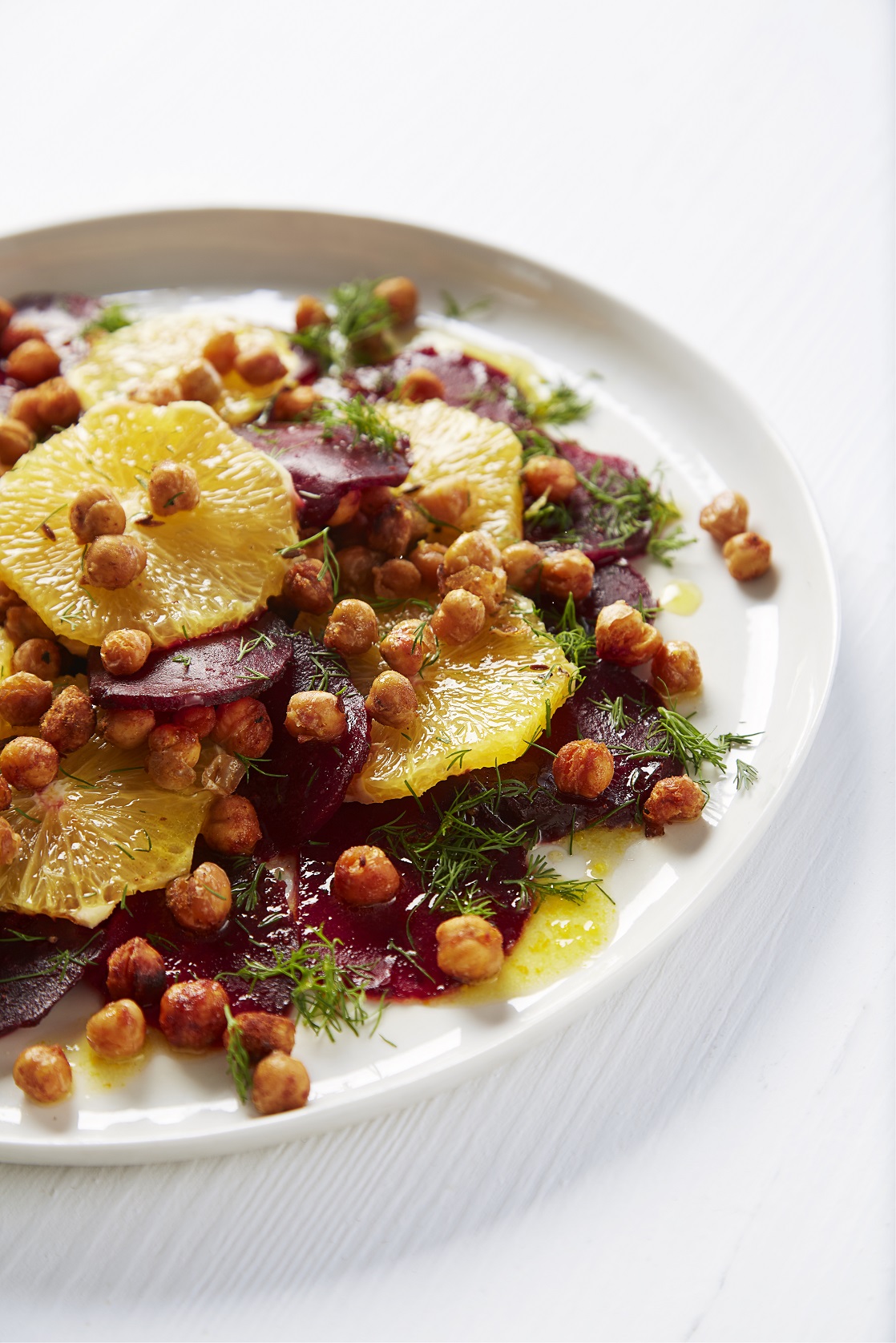 This sweet and savoury salad combines sharp citrus, sweet beetroot and crunchy spiced chickpea. The recipe is by MIH chef Mark Breen from our Thrifty Feasts 2 recipe book.
Ingredients
Crunchy chickpeas
400g can of chickpeas
2 tablespoons olive oil
1 teaspoon ground cumin
1 teaspoon paprika
½ teaspoon freshly ground black pepper
Salad
4 beetroot
3 oranges
Small bunch fresh dill
4 tablespoons olive oil
Method
Salad:
1. Peel 2 of the oranges.
2. Put the beetroot in a large pan and pour over cold water to cover. Bring to the boil over a medium heat and cook for 1 hour or until tender. Drain and put under cold running water until cool. (You can use pre-cooked beetroot but it's more expensive).
3. Peel and slice the beetroot very thinly and place in a large bowl or plate.
4. Slice 2 oranges into rounds and remove any pips with the point of a sharp knife.
5. Layer the oranges on top of the beetroot, then sprinkle over the dill.
6. Mix the zest and juice of the final orange with 4 tablespoons of olive oil and drizzle over the beetroot and orange.
Crunchy chickpeas:
1. Preheat oven to 200°C / gas mark 6.
2. Thoroughly drain chickpeas, rinse and pat dry with a tea towel.
3. Toss chickpeas in the olive oil, cumin paprika and pepper.
4. Spread the chickpeas on a tray and roast until golden and crunchy. This takes about 20 minutes.
5. Remove from the oven and sprinkle over the beetroot and orange salad.
To serve: You could bulk this out with pearl barley, brown rice or cous cous.
Photography by Chelsea Bloxsome for Made In Hackney www.chelseabloxsome.com
Food Styling by Jack Sargeson for Made In Hackney @jackspacesargeson
Assisting by Natasha Middleton for Made In Hackney @nattamidd