Garlic Mushroom Stuffed Sweet Potato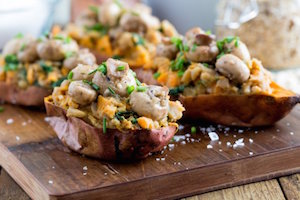 These garlic mushroom stuffed sweet potatoes also have creamy fava beans, herbs, spices, and veggies all crammed into crisp baked jackets!
Ingredients
Thanks to the amazing The Cook and Him for this recipe!
Serves 2
2 large sweet potatoes
200g Hodmedods Organic Split Fava Beans
1 red onion
Drizzle of olive oil
650ml vegetable stock
4 handfuls (80g) spinach
3 large cloves of garlic
200g baby button mushrooms
2-3 sprigs fresh thyme or 1/2 tsp dried thyme
1 tablespoon chopped chives
Salt and pepper
Method
Preheat your oven to 210 Fan / 230 C / 450 F / Gas 8
Put the sweet potatoes onto a baking tray and roast for 40-45 minutes until they feel soft when you poke a knife into the flesh
While potatoes are baking, peel and finely dice the onion and put into a large heavy based saucepan
Add a drizzle of oil and over a medium heat, gently cook for 2-3 minutes, stirring frequently, until the onion starts to soften and turn translucent
Add the fava beans and vegetable stock and turn the heat to low. Bubble for 40-45 minutes, stirring occasionally until the fava beans are very soft. If it starts to boil dry top up with water or more veg stock
Once the fava beans are cooked add the spinach and stir through the hot beans until it's wilted. Set aside
Once the potatoes are cooked remove from the oven and leave to cool for a few minutes before halving and scooping out the flesh into a bowl. Put the empty potato skins back on the tray
Add the fava beans to the potatos and stir well. Check the seasoning, adding salt and pepper as necessary (see note)
Spoon the mixture back into the skins and put back in the oven for 10-15 minutes until piping hot
While they're baking cook the garlic mushrooms - peel and crush the garlic and put into a frying pan with another drizzle of oil, the mushrooms and thyme
Saute over a medium heat, stirring occasionally for 5 minutes until the mushrooms are softened and cooked. Stir in the chopped chives
Remove the potatoes from the oven, top with the mushrooms and serve immediately
Notes
If spicy is your thing, feel free to add a touch of cayenne, paprika and/or cumin to your potato mixture
These serve 2 as a main meal with a crisp, fresh salad or make a great side dish for up to 4!
Recipe and photography from our friends over at stunning vegan and vegetarian food blog The Cook & Him using produce from one of our faves Hodemedods who specialise in British grown grains and pulses