Gluten-Free Chocolate Muffins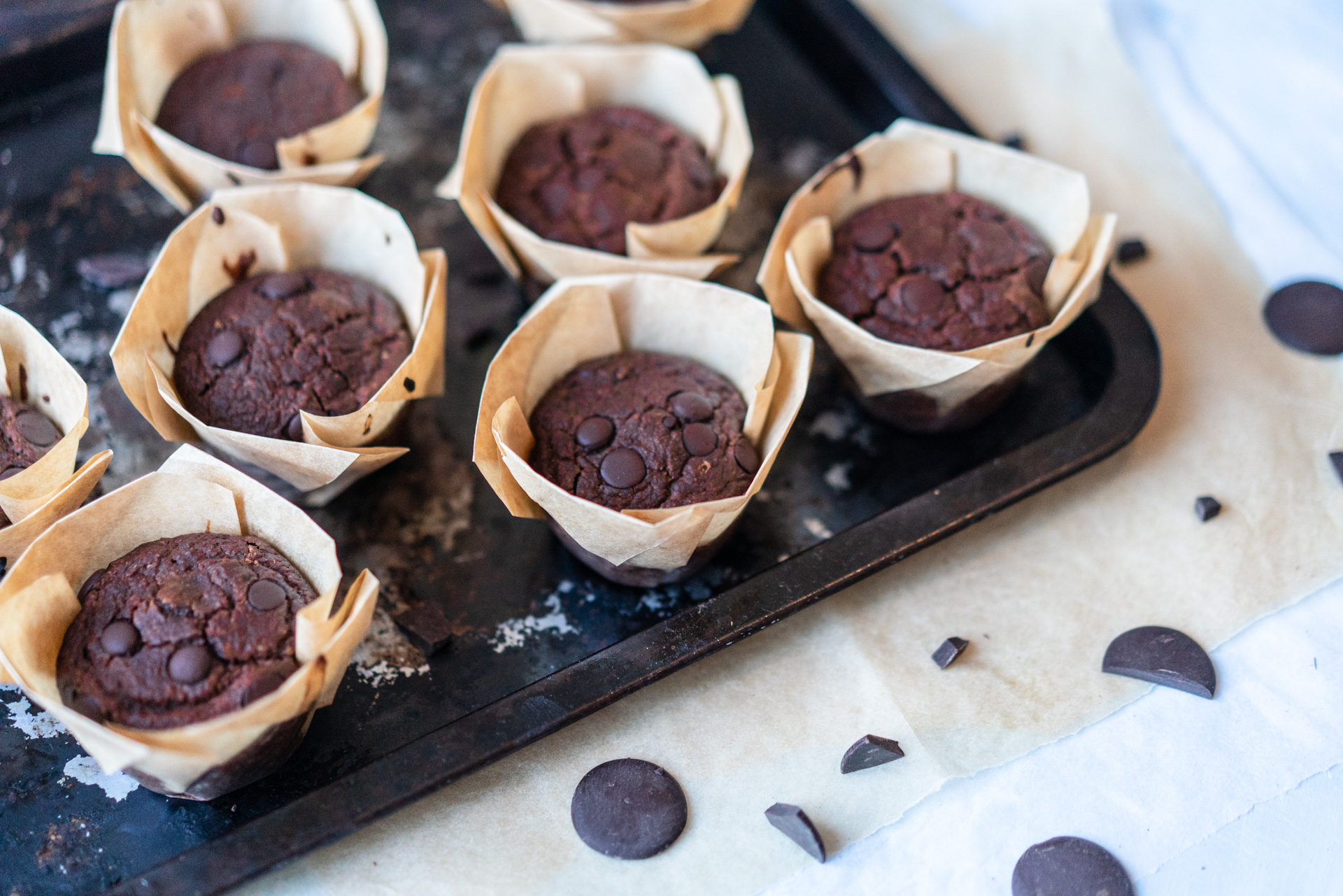 Sshhhh don't tell anyone! These decadent fudgey chocolate muffins are secretly packed full of wonderful ingredients that are good for you! Based on the flavour and texture, you'd never know that there were fruits, seeds and all-sorts lurking in them.
Ingredients
(Makes 12)
wet
2 tablespoons ground flax
5 tablespoons water
1 banana mashed (100g)
1/4 cup coconut oil, melted
1 tablespoon instant coffee granules dissolved into 1 tablespoon hot water
1 teaspoon tamari (optional)
2 tablespoons almond butter (or other nut/seed butter of choice)
1 tablespoon apple cider vinegar
1 tablespoon maple syrup (optional)
3/4 cup plant milk of choice
Dry
1 + 1/3 cups gluten-free oat flour
1/4 cup tapioca flour
2 heaped teaspoons baking powder
1/2 cup coconut sugar
1/2 cup cocoa
1/2 teaspoon cinnamon
Large pinch sea salt
1 tablespoon carob (optional)
1/2-3/4 cup chocolate chips or chunks
12 large chocolate chunks or buttons to go in the centre of each muffin (optional)
Method

Recipe by the wonderful Amy Hiller
Preheat your oven to 180°C/160°c Fan/356°F.

Line a muffin pan with 12 cases or prepare a silicone muffin tray.

Make your flax egg by combining the ground flax seed and water. Give it a mix and leave to sit for about 5 minutes.

In a medium sized bowl, combine the rest of the wet ingredients apart from the milk. Once the flax egg is ready, add that to the mix. I like to throw all of this in my blender to get it extra smooth. This isn't essential but do it if you can.

In a large mixing bowl combine all of the dry ingredients except the chocolate chips and chunks. So just the oat flour, tapioca flour, baking powder, coconut sugar, cocoa, cinnamon, sea salt and carob (if using) and give it all a good mix.

Pour your wet mix (the milk is coming in a minute) into the dry and give it a mix.

Add the milk and mix well until you have a lovely smooth and fairly thick batter. It shouldn't be stiff but it a;sp shouldn't be very runny.

I like to set some of my chocolate chips aside to sprinkle on the top of the muffins. Add the rest to the batter and stir them through.

To fill your muffin cases/holes, add enough batter to fill about halfway, then pop in your large chunk, then top that with some more batter so your cases/holes are about 4/5ths full. Nothing wrong with a little overflowing when it comes to muffins. If you're not sure, be a bit conservative with the batter until you've filled all 12 and then share out any extra.

Sprinkle the chocolate chips you set aside over the top and then bake for around 26 minutes or until well risen. It's hard to do the skewer test (poke a skewer in the muffin and if it comes out clean it's baked) since you'll get melted choc on the skewer, but give it a go.

Let the muffins rest for about 5 mins in the tray and then transfer to a cooling rack. They taste amazing warm but I recommend giving them at least some time to cool so they can firm up, otherwise they will probably stick to the cases.

If you have any leftover muffins, store them in an airtight container for a few days. For a luxurious dessert, re-heat in the oven and enjoy with a dollop of ice cream!
---
---