Gluten Free Pumpkin Muffin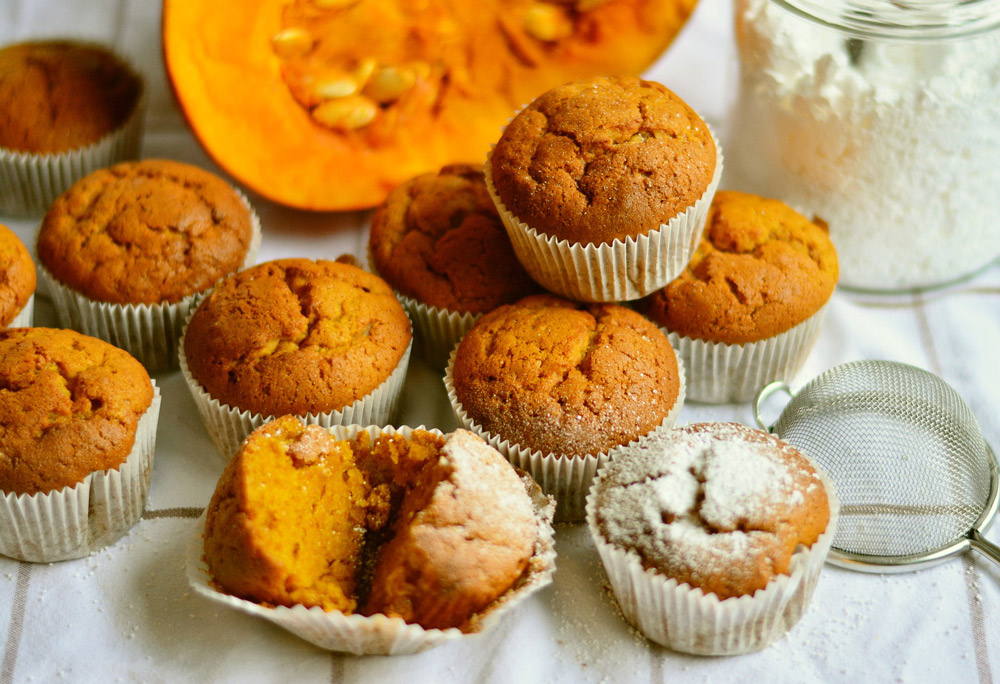 It's pumpkin season! Rather than the usual savoury roast pumpkin dishes we think this is a great sweet muffin to add to your Autumn cooking. Have one for a breakfast treat or indulge in an afternoon with a cup of herbal tea
Ingredients
Makes 12 small muffins
250 grammes cooked squash or pumpkin
150 grammes gluten free flour
150 grammes buckwheat flour
250ml coconut milk (or other milk)
60ml rapeseed oil (or other light oil)
60ml agave nectar or other Sweet Freedom
3 tablespoons ground flaxseeds
1 teaspoon baking powder
½ teaspoon baking soda
2 teaspoon ground cinnamon
1 teaspoon grated nutmeg
½ teaspoon ground ginger
½ teasoonp all spice
A pinch of ground cloves
A pinch of salt
6 tablespoons of pumpkin seeds to garnish
Method
1: Set oven temperature to 180
2: Line the muffin tray with the muffin cases
3: Add cooked squash, coconut milk oil, sweetener and flaxseed to a food processor or blender and
process to a puree.
If you don't have a food processor or blender then you can mash the ingredients together as smoothly as possible.
4: Transfer the wet ingredients to a mixing bowl then slowly stir in the dry ingredients: flour, raising agents and spices.
5: Sprinkle pumpkin seeds on top.
6: Divide the mixture between the muffin cases and cook for 25mins on 180 until golden brown.
Variations: substitute gluten free flour for 150g of wholewheat flour
photo source: pixabay
---
---