Go Nuts Donuts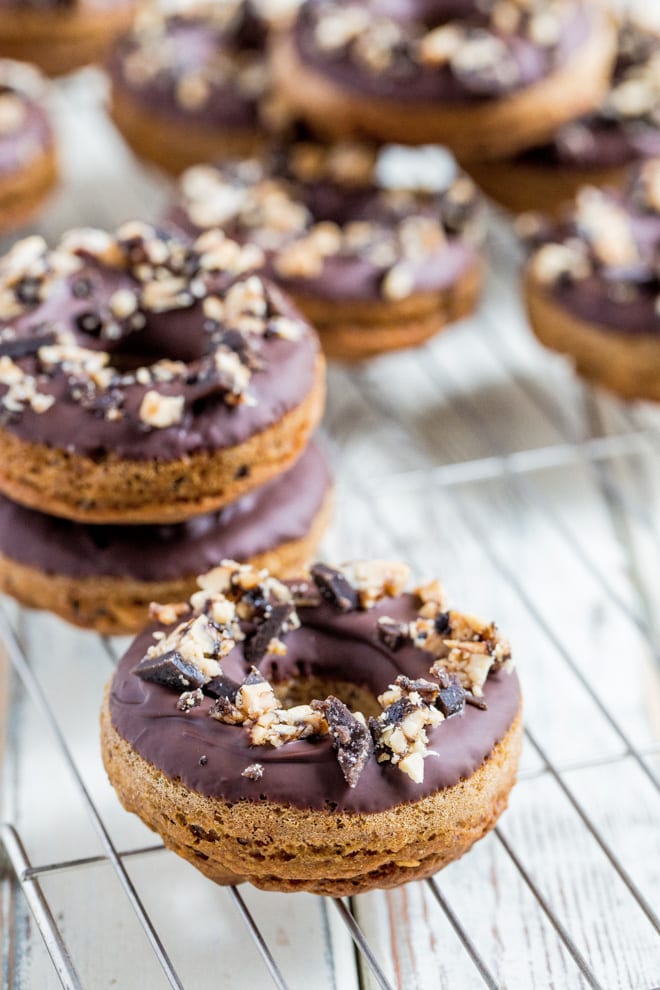 Who doesn't love a donut? This sophisticated donut has a lot more nourishment than your average one and tastes banging too. Amazing recipe from our friends over at The Cook & Him.
Ingredients
Donuts
1 tablespoon ground flax seeds
1 cup (150g) plain flour
1 teaspoon baking powder
1 teaspoon bicarbonate of soda
1/3 cup (50g) coconut sugar
2 x 40g bars Grenade Go Nuts
1/2 cup (125ml) unsweetened almond milk
1/2 cup (140g) coconut yoghurt
1 teaspoon apple cider vinegar
Topping
1/2 cup (75g) dairy free dark chocolate
1 x 40g bar Grenade Go Nuts
Method
In a medium bowl mix the ground flax seeds with 3 tablespoons of cold water and set aside.
In a large bowl put the flour, baking powder, bicarbonate of soda and coconut sugar, stir together.
Unwrap 2 of the Grenade bars and either chop very finely with a sharp knife or whizz in a food processor until well chopped.
To the flax seed mixture add the milk, yoghurt and vinegar.
Preheat your oven to 180 Fan / 200 C / 400 F / Gas 6 and grease your donut moulds with a little oil or spray oil.
Add the bowl of wet ingredients to the bowl of dry and mix thoroughly together, making sure no pockets of flour remain.
Spoon into a piping bag either with just the end snipped off or a fairly narrow plain nozzle fitted.
Pipe the batter into the moulds, filling each recess 2/3 full.
Bake for 25 minutes until well risen and golden.
Leave to cool for 5 minutes in the moulds before popping out then leave to cool on a wire rack.
Once the donuts are cooled, break the chocolate into chunks and melt in the microwave or over a bain-marie (a heatproof bowl set over a pan of barely simmering water).
While that's melting roughly chop the remaining Grenade bar - you want smallish pieces but some nice definable chunks!
Dip the smooth, rounded side of the donuts into the chocolate then sprinkle with some of the chopped up Grenade bars.
Leave the chocolate to set before storing in an airtight container.
This stunning recipe is from our friends over at veggie and vegan food blog The Cook & Him.
---
---