Green Pea and Pesto Stuffed Conchiglie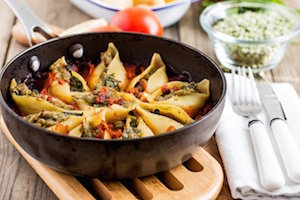 Cooked pasta shells filled with split peas and homemade pesto baked in a tangy tomato sauce. Recipe genius from our friends over at epic vegan and veggie food blog The Cook & Him.
Ingredients
1 red onion
2-3 cloves garlic
Drizzle of olive oil
200g Hodmedods Green Split Peas
750mililitres vegetable stock
80g or roughly 3 good handfuls of fresh baby spinach
Salt and pepper
300g large conchiglie pasta shells
A good quality 500g jar of marinara sauce
Pesto
2 cups fresh basil leaves (approximately 2 large handfuls)
1/2 lemon – juice only
45g pine nuts
3 medium cloves garlic – peeled
1 teaspoon salt
2 tablespoon nutritional yeast
1/4 cup oil – avocado and olive both work great
Method
1. Peel the onion and garlic cloves. Finely dice the onion and crush the garlic and put both into a medium/large heavy based saucepan with a drizzle of olive oil Gently cook these over a medium heat for a couple of minutes until softened, stirring
2. Add the split peas and vegetable stock, stir, bring to the boil then reduce the heat and simmer for around 1 hour, stirring occasionally until thick and creamy. Test the peas and cook for a little longer, topping up with veg stock if they're still too firm for you
3. While the peas are cooking bring a large pan of salted water to the boil and cook the pasta shells for 11 minutes. Drain and run under cold water to prevent any further cooking. Drain again and set aside
4. For the pesto put everything into a food processor or blender and whizz to a smooth paste
5. When the peas are cooked stir in the spinach until it wilts and mixes into the peas. I normally do this a handful at a time or the pot gets very crowded!
6. Stir around half the pesto through the peas and taste - add more depending on personal taste. Add salt and pepper as required too
7. Preheat your oven to 180 Fan / 200 C / 400 F / Gas 6
8. Pour the marinara sauce into the bottom of a large baking dish or pan
9. Use a largeish spoon to scoop the peas into the pasta shells then nestle each one into the tomato sauce. Repeat until all the shells are filled
10. Bake for 25-30 minutes until golden and crispy. Serve immediately
Notes: Any leftovers can be chilled and reheated - just make sure it's all piping hot before eating! Also, would be great with some vegan parmasan on top, you can now buy this in most supermarkets! (hooray!)
Recipe and photography from our friends over at stunning vegan and vegetarian food blog The Cook & Him, using produce from one of our faves Hodemedods who specialise in British grown grains and pulses.