Health Kick Kraut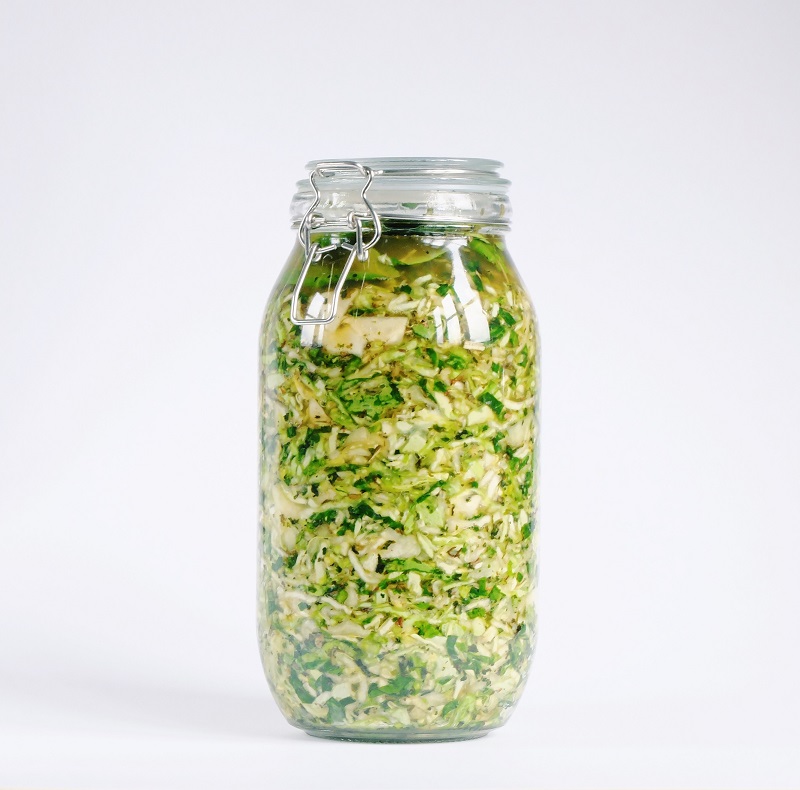 This simple but delicious ferment has been designed by MIH supporter Jessie Ferments to kick off your healthy start to the new year - or any time of the year.
Ingredients
1 medium hispi cabbage
1 medium head of seasonal greens
2 tablespoons dried nettle leaf
2 tablespoons dried dandelion leaf
1 large thumb of fresh ginger
2 tablespoons sea salt
Method
1: Shred the cabbage, seasonal greens and ginger in a food processor or grate by hand on largest side of grater.
2: Add all the above ingredients to a bowl with the salt, dried nettle leaf and dandelion leaf and massage vigorously with your hands until it becomes wet and sitting in liquid. Don't be shy now, give it some welly.
3: Stuff the ingredients firmly into steralised kilner jars - or normal jars with metal lids - and ensure it's covered in it's own liquid.
4: Hold the ingredients down under the juice with either a fermentation stone if you're fancy or use a cabbage leaf pressed down on top to seal the contents. Seal the lid.
5: Every day 'burp' your ferment by opening the lid. Do this in a sink incase you get any spurts or splatters. If you leave it for a few days without 'burping' it's more likely to do this. Press the cabbage leaf firmly down to ensure none of your ferment is not covered by the liquid.
6: After a week your ferment should be ready. Leave longer as desired. Disgard the covering cabbage leaf. Seal and store in fridge.
This banging recipe was brought to you by Made In Hackney supporter Jessie Ferments
---
---