Honey Child's Vegan Baked Macaroni & Cheese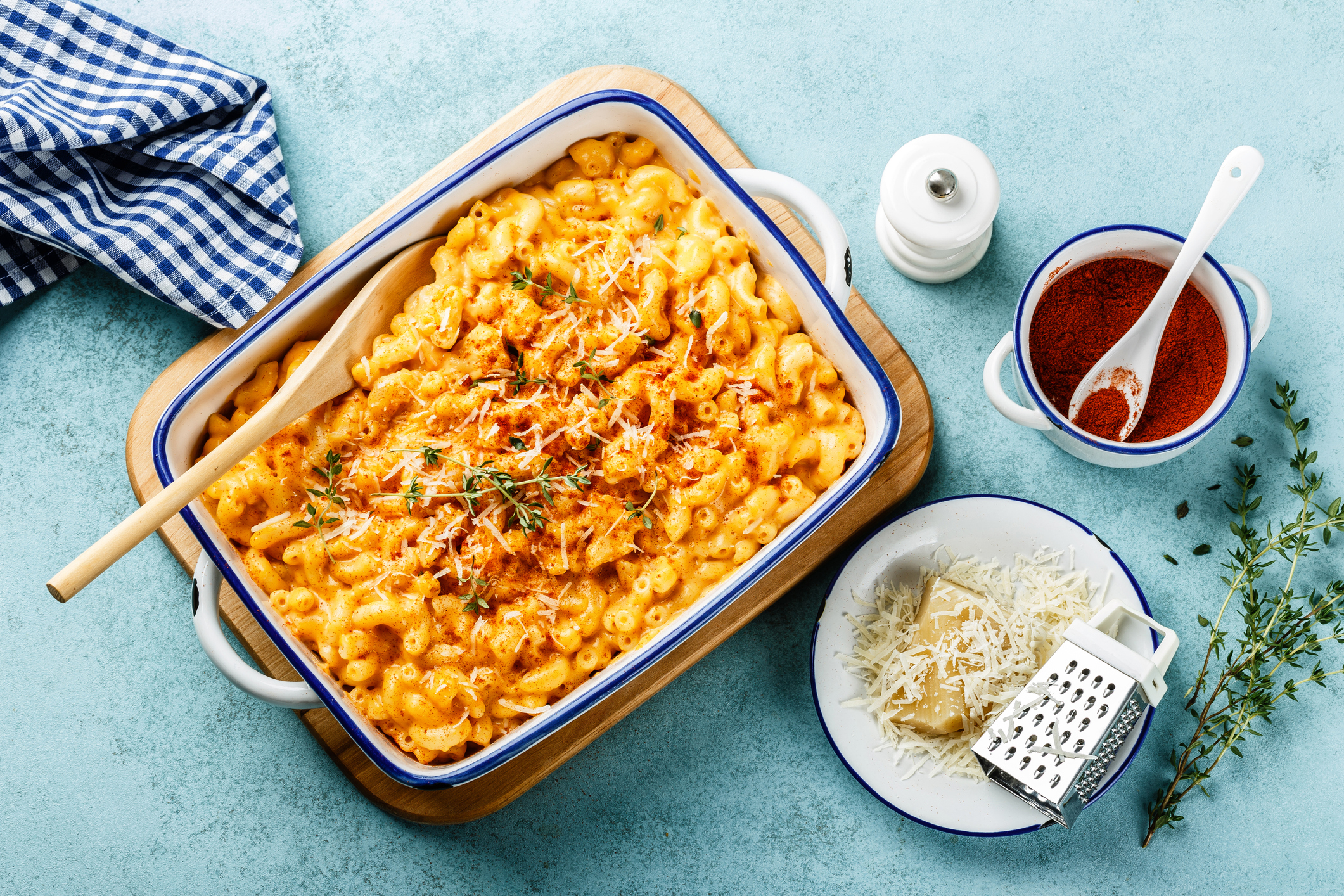 Culinary force and food anthropologist Toni Rands aka Honey Child reps for Southern American and diaspora culinary cuisine over in Tasmania, Australia and has blessed us with this Mac & Cheese recipe based on her original non-vegan version. Check out the blog she wrote for us about this iconic dish's 1790 origins. Enjoy!
Ingredients
500 grams elbow macaroni
2 cups raw cashews plus 3 cups water
450-500g peeled, chopped butternut squash, pumpkin, or sweet potato
1 large yellow onion chopped,
5 cloves of garlic
4 tablespoons olive oil
Salt and pepper
1 Litre non-dairy milk (soy, coconut, or almond work best)
3 tablespoons nutritional yeast
1 tablespoon Louisiana style hot sauce
1 teaspoon hot English Mustard
1 teaspoon granulated garlic (NOT GARLIC SALT)
1/2 cups vegan non-dairy plain yogurt
Method
1: Preheat oven to 200 C/400F
2: Bring 3 cups of water to a boil, then add in the cashews.
3: Remove the pot from the heat, and let the cashews soak for 90 minutes.
4: Add the squash, onion, and garlic to a foil lined sheet tray.
5: Drizzle the olive oil, all over the veggies the cover.
6: Roast the veggies in the oven for 45 minutes to one hour. You want caramelized roasted veggies here. They should be perfectly roasted and tender.
7: Boil the pasta slightly under al dente, then drain.
8: Add the roasted veg, soaked cashews, non-dairy milk, nutritional yeast, and hot sauce into a food processor, or blender.
9: Puree the ingredients.
10: Add mustard, garlic powder, spin again. Taste. Adjust seasoning.
11: Mix sauce and pasta together. Add to an oiled casserole dish.
12: Bake in the oven uncovered on 180 C/350 F for 40 minutes.
Serve & enjoy!
Check out more delicious food from Honey Child's Honey Child's Creole – (honeychildscreole.com) and read the special blog she wrote for MIH about this iconic dish and it's incredible culinary visionary James Hemings.