Jackfruit Tacos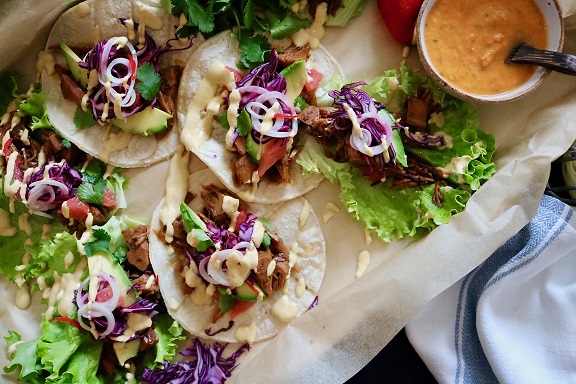 Young braised jackfruit has been hailed as the ultimate vegan 'pulled pork' and has a similar texture, except it's lighter and fresher. This recipe is brought to you by the amazing vegan chef and recipe writer Kali Hamm.
Ingredients
Jackfruit Tacos
Serves 2
2 tablespoon of coconut oil
1 onion, finely sliced
2 large cloves of garlic, minced
1 x 480 grams tin of jackfruit, drained and rinse
1 heaped teaspoon of smoked paprika*
1 heaped teaspoon of ground ancho chilli
½-1 teaspoon of chipotle powder (depending how hot you like it)
1 teaspoon of ground cinnamon
Approximately 500 millilitres of water
1 tablespoon of coconut sugar
Salt to taste
Tomato Salsa
3 plum tomatoes
1 small white onion
½ clove garlic
¼- ½ habanero / 1 jalapeno
Juice 1 lime
25 millilitres of olive oil
Small bunch coriander
Salt to taste
Quick pickled onions
1 white or red onion
Pinch of salt
150 millilitres of rice vinegar
Chipotle cashew crema
50g cashews, soaked for 4 hours minimum

50g water

1 tsp Dijon mustard

1 heaped tsp capers

1 clove garlic

1 tsp apple cider vinegar

1 tbsp nutritional yeast

1 tsp ground chipotle

juice ½- 1 lime
To finish you tacos..
Sliced avocado
Finely sliced red cabbage, fresh lime to squeeze, lettuce leaves & corn tortillas* to wrap. - Heat briefly over open flame or in a pan, careful not to burn yourself or the tacos!
*Cool chile is great food producer where you can find Mexican smoked paprika, Kali says it's her favourite when making Mexican recipes. It's smoky with a little kick. They also sell a great range of other Mexican chillies and spices, whole or ground. They sell freshly made corn tortillas and masa harina (a specific corn flour for tortillas) so you can make your own!
Method
Jackfruit Tacos
Heat a large saucepan, add the coconut oil then onion, cook until soft, about 5-7 minutes.
Add the garlic, cook for another 2 minutes, then your spices and mix through.
Add the jackfruit, mix to coat and then cover with the water.
Cover the pan and cook for two hours, checking every now and then, if it looks a little dry add more water.
Remove the lid, stir through your coconut sugar, a good pinch of salt and continue to cook for another 15 minutes until the liquid has reduced and the jackfruit is coated with a thick sauce, taste for seasoning.
Tomato Salsa
If you're making a big batch you can use the whole chilli, but it is very hot. You may prefer to use a jalapeño or serrano pepper that's a little more mild.
Burn your chilli over an open flame until charred all over, deseed. - this is a hot chilli so add a little at a time.
Blend the ingredients or chop finely, mix and taste for seasoning and heat levels.
Quick pickled onions
Finely slice the onion, (a mandolin comes in handy here).
Place in a bowl or jar, mix through a pinch of salt, this will draw out the moisture and soften the onion.
Let sit for 30 minutes, cover with vinegar and set aside while you prepare the jackfruit.
Chipotle cashew crema
Drain and rinse the cashews.
Blend all the ingredients in a high powered blender until smooth and taste for seasoning. If a little thick for your tastes add water one teaspoon at a time and blend to adjust consistency.
This delicious recipe comes courtesy of London-based freelance vegan chef, recipe writer, Kali Hamm. Kali's background and passion for nutritious cooking and her love of travel and big flavours is reflected in her style of food. For events and recipes, visit her website kalicooking.com.