Jah Spirit's Ital Stew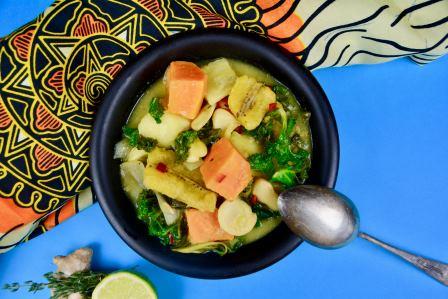 In 2017 the founder of plant-based recipe kit Make Kit, Steve Wilson, joined forces with Made In Hackney community class teacher Jah Spirit on a ital food class – ital being the term used by Rastafarians to refer to their unique brand of wholefood, vegan Caribbean cuisine. Steve loved the ital stew Spirit made (which also happens to be gluten free and consist of 4 of your 5 a day – or 10 a day as we like to say) and with this recipe pays homage to our wonderful class leader who sadly passed away in February 2018.
Ingredients
Serves 2
1 Plantain
200g Sweet potato
100g Yam
50g Kale
1 Onion
2 cloves Garlic
Thumb Ginger
1 tin Butterbeans
1 tin Coconut milk (165ml)
1 Lime
1 MK spice mix: ½ tbsp vegetable bouillon, ½ tsp thyme, 1 tsp curry powder, ¼ tsp allspice
1 Scotch bonnet chilli pepper
1/2 tablespoon Coconut Oil
Method
Wash your vegetables.
Prepare your vegetables:
Cut the onion into large 2cm dice.

Peel and cut the plantain into 2cm pieces.

Peel and cut the sweet potato and yam into 2cm pieces.

Finely slice the kale.

Cut the lime in half.
2.Heat up ½ tbsp of cooking oil in a large saucepan over a medium heat.
Add the diced onion and fry for 3 minutes until soft and golden.
3. Add the ital spice mix and the garlic and ginger paste to the pan, stir and cook for 30 seconds.
Add the coconut milk along with the plantain, yam and sweet potato.
Open the butterbeans, strain, wash and add to the stew.
4. If you like spicy hot food then you can add the scotch bonnet chilli pepper. We like to add the scotch bonnet whole and to cook softly so that it doesn't burst, then remove from the stew before serving, this adds a gentle level of fruity spice.
If you like it spicier then cut the pepper in half and add to the stew, the seeds and the insides are spicier than the outside.
If you like it spicier still, chop the chilli into fine dice, including the seeds, and add to the stew!
5.Boil 200ml of water in the kettle and add to the stew.
Cover with a lid and cook for 15 minutes on a gentle simmer, until the sweet potato and yam is cooked soft the whole way through.
6. Add the chopped kale and squeeze the juice of the lime into the ital stew.
Season with salt and pepper and serve.
Make Kit is the UK's only plant-based (veggie and vegan) recipe kit social enterprise. By buying a recipe kit bag from them you support them to deliver cookery classes and subsidised bags to groups most in need. Find out more and order a bag from: https://makekitfood.com/