Japanese Soba Noodle Salad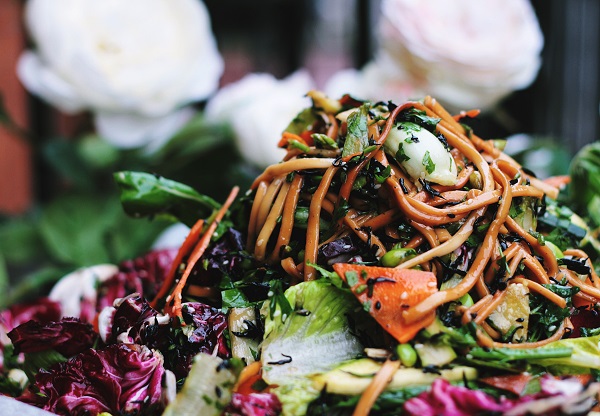 A quick and simple Japanese soba noodle salad using whole grain naturally gluten-free noodles!
Ingredients
Salad
250 grammes black or brown rice/buckwheat noodles
1 cucumber, cut in half, seeded and then julienned
A small handful of radishes, thinly sliced
Thinly slices operational vegetables such as carrot, endive and cabbage
2 bok choy, thinly sliced into long strips
Small handful chopped coriander
2 spring onions, thinly sliced into rounds
1 small red chilli, sliced into rounds
1 tablespoons sesame seeds
Dressing
1 small lemon, juice and zest
1 Inch fresh ginger
2 tablespoons brown rice vinegar
1 pinch cayenne
2 tablespoons tamari
2 tablespoons toasted sesame oil
Method
1: Cook the noodles according to packet instructions, drain and rinse well under cool water.
2: Meanwhile make up the dressing. Whisk together the lemon juice, zest, ginger, vinegar, cayenne and tamari. Continue to whisk as you mix in the oil till the dressing emulsifies
3: In a large mixing bowl combine the noodles with the sliced vegetables, the coriander, spring onions and enough dressing to coat.
4: Scatter the sesame seeds and fresh chilli on top.
Best served fresh but will keep in the fridge for 2 days. You can add julienned carrots to this dish too.
Recipe courtesy of Ceri Jones www.naturalkitchenadventures.com
Photo credit: Photo by Toa Heftiba on Unsplash