Joe's Beetroot Bourguignon with Pomegranate Reduction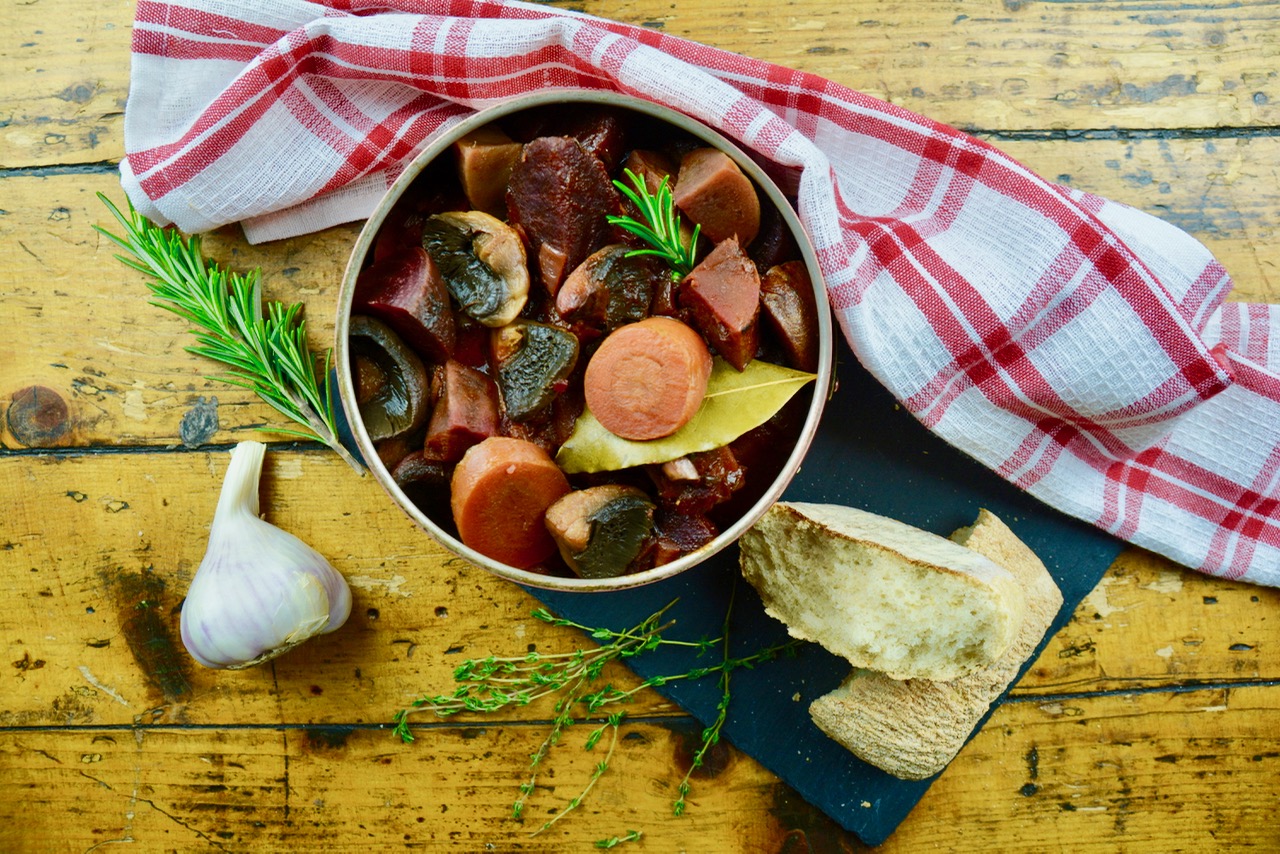 This tasty recipe is a collaboration between recipe kit social enterprise Make Kit (https://makekitfood.com/) and vegan street food chef Joe Bradley. Make Kit challenged Joe to make a version of the French classic Boeuf Bourguignon that can be cooked by a non-professional in 30 minutes.This is the result! And mighty tasty it is too! It also includes 3 of your 5 a day - or 10 a day as we like to say at Made In Hackney.
Ingredients
Ingredients
Serves 2
250g Beetroot
200ml Pomegranate juice
10ml Pomegranate molasses
1 Carrot
1 Onion
250g Potato
150g Mushrooms
1 tbsp Tomato puree
1 tsp Marmite
4g Dried porcini mushrooms
1 sprig Rosemary
1 sprig Thyme
2 Cloves of garlic
1 Veg stock cube
1 Crusty baguette
Method
Preheat the oven to 220°C / 190°C fan / 400°F / gas mark 8.
Wash your vegetables.
Boil 400 ml of water in the kettle
2. Prepare your ingredients
Dice the onion into medium dice
Roughly chop the garlic
Chop the mushrooms in half
Cut the potato into 2cm chunks
Cut the carrots at an angle into chunks
Quarter the beetroots.
3. Pour 400 ml of freshly boiled water into a suitable jug and add the vegetable stock cube, thyme, rosemary, bay leaf and dried mushroom.
Stir thoroughly and leave to one side to rest.
4.Heat up ½ tbsp cooking oil in your saucepan.

Once hot, add the onion and cook for 4 mins.

5. Add the tomato puree, marmite and the garlic, mix everything together and cook for another 30 seconds.
6.Add the pomegranate juice and the pomegranate molasses.

7.Add the herb and mushroom stock to the pan, turn to a medium-high heat and let the sauce simmer and reduce down for 20 minutes.
8.Add the chopped beetroot, potato and carrot to the stew and cook for 20 minutes until the beetroot and potato is cooked soft.

9. Fry the mushrooms in the frying pan for 4 minutes until browned and then add to the saucepan
10. Warm the bread in the oven for a few minutes to soften.
11. Serve the bourguignon with the crusty bread.