Kale Crisps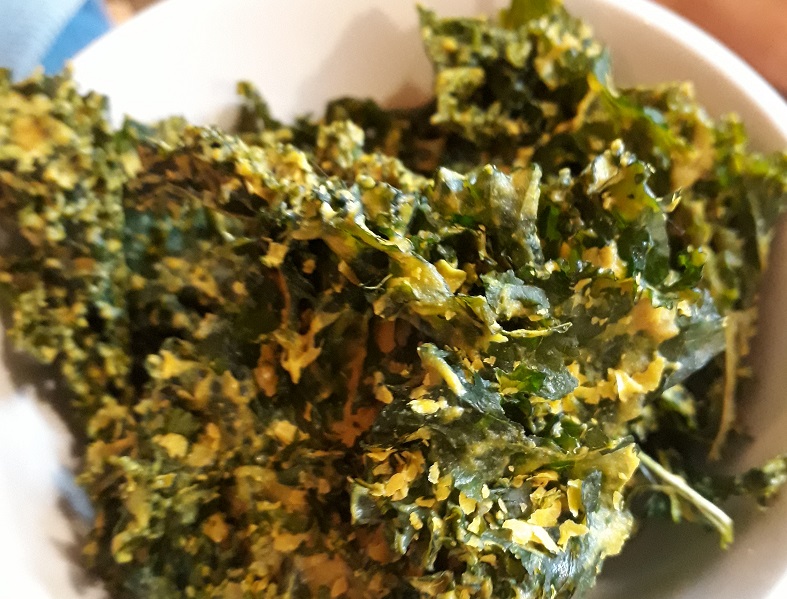 These kale crisps are the boom! Crispy, cheesy, a little salty - they're super moorish and can be made in an oven rather than a dehydrator.
Ingredients
280g kale
2 tablespoons olive oil
1/4 cup raw cashews or almonds or brazils
2 tablespoons sunflower seeds
5 tablespoons nutritional yeast (4 for sauce, 1 for sprinkling on after)
1/4 teaspoon salt
1/4 teaspoon black pepper
Optional Additions
100g chickpeas (if you want to up the nutritonal profile)
1 tablespoon hulled hemp seeds (again if you want to up the nutritional profile)
1/2 teaspoon garlic powder
1/4 teaspoon cayenne pepper
1/4 teaspoon chilli flakes if you like it hot
Method
1: Wash the kale and get rid of excess water by patting with tea towel or spinning in salad spinner.
2: In a bowl massage kale with the olive oil until it's soft and set aside.
3: Add the rest of the ingredients into a blender and whizz up to make a cheesy sauce. Loosen with water or a plant milk for a thiner mixture.
4: Massage the cheesy sauce into the kale leaves using your hands.
5: Tip onto a baking tray and spread evenly. Do not double layer the leaves or they won't crisp up evenly.
6: Put in the oven on 148C (300 degrees) for 30minutes or until crispy. Check the outer leaves are not burning at about 20minutes.
7: Eat as soon as ready or store in a seal tight container for 2-3 days. We've found that if storing sometimes they go soft after a few hours out of the oven and need baking for 10minutes longer to really crisp up. Usually we eat them in one go though!
To make this recipe super fancy and ridiculously delicious you can use homemade fermented cashew cheese as the sauce base and just add the suggested seasoning. If using the Made In Hackney recipe make as described but omit all the seasonings if using for kale crisps.
Enjoy!