Kale Pesto with Courgette Spaghetti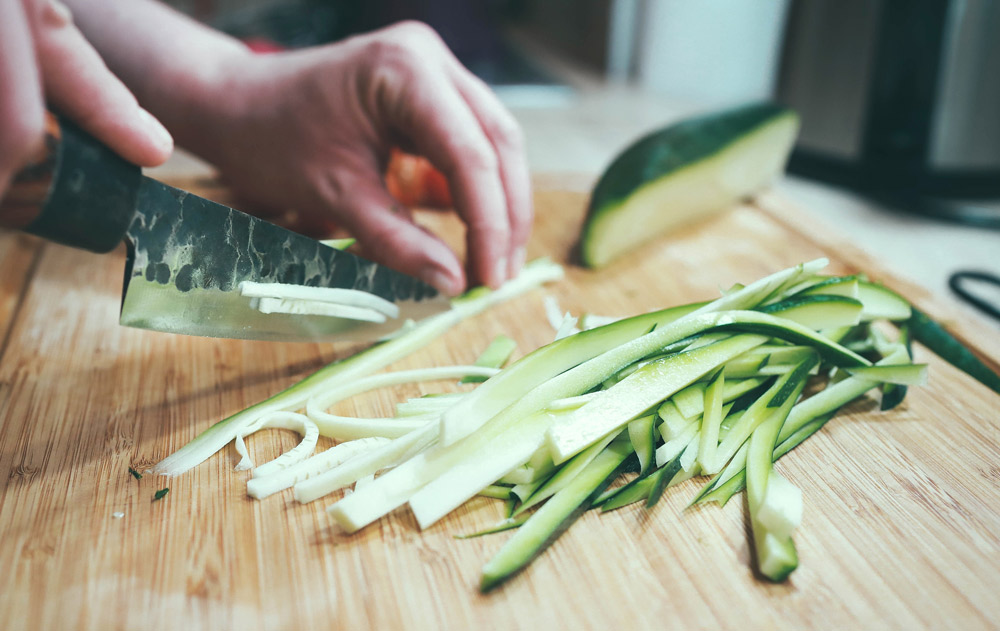 This vibrant kale pesto and courgette spaghetti is a nutrient-dense alternative to traditional pasta-pesto.
Ingredients
Kale Pesto
150 grammes of kale (weight with stalks removed)
25 grammes of almonds*
1 clove of garlic
Juice of 1 lemon
4 tablespoons of extra virgin olive oil
Half an avocado
*Tip: If possible, soak the almonds in filtered water overnight before using them. This makes them easier to digest and absorb.
Courgette Spaghetti
2 courgettes
Extra olive oil to drizzle for serving
Method
Kale Pesto
(Serves 2-3)
1: Wash, remove stalks and roughly chop the kale
2: Blanch the kale in boiling water for around 1 minute
3: Rinse the kale in cold water, drain and pat dry with kitchen towel/clean tea towel
4: Add the crushed garlic, lemon juice, almonds, avocado and olive oil to a food processor and blend to form a paste
5: Add the kale and pulse in the food processor for a rough texture, or blend for longer for a smoother pesto
Corgette Spaghetti
1: Peel, top and tail then spiralise or julienne the courgettes lengthways to create fine ribbons.
2: Place in a large bowl and mix in the kale pesto. Add an extra drizzle of olive oil to help disperse the pesto.
3: The pesto can be stored airtight in the fridge forup to 3 days. The courgette spaghetti is best eaten on the same day.
Kale is high in anti-inflammatory and antioxidant nutrients that support the body's detoxification processes. Almonds are rich in Vitamin E, which helps to protect cells from free radical damage. As well as adding flavour, garlic has antibacterial properties and lemon juice and courgette are packed with Vitamin C, which supports the immune system.
Photo by Igor Miske on Unsplash
---
---