Kale Salad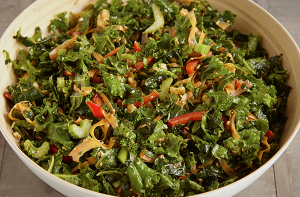 This salad is bursting with nutrition, light yet also very flavourful. You simply can't go wrong with kale as a base for your salad.
Ingredients
Salad:
A bunch of kale
Seasonal vegetables - chopped thinly
Handful of beansprouts
Simple tahini dressing:
1 tablespoon tahini
1 tablespoon fruit syrup
Juice and zest of 1 lemon
1 tablespoon olive oil
A pinch of cayenne pepper
A pinch of salt and black pepper
Method
1. Take the leaves off the stems of the kale and shred the leaves.
2. Place kale into a salad bowl and massage the leaves with a little olive oil and salt for a few minutes so that they go soft.
3. Add the rest of the chopped veg to the bowl with the kale.
3. For the dressing, place all the ingredients into a blender and blend until smooth.
4. Mix the dressing and other ingredients into the kale.
Photography: Patricia Niven for Made In Hackney