Kale Taco Salad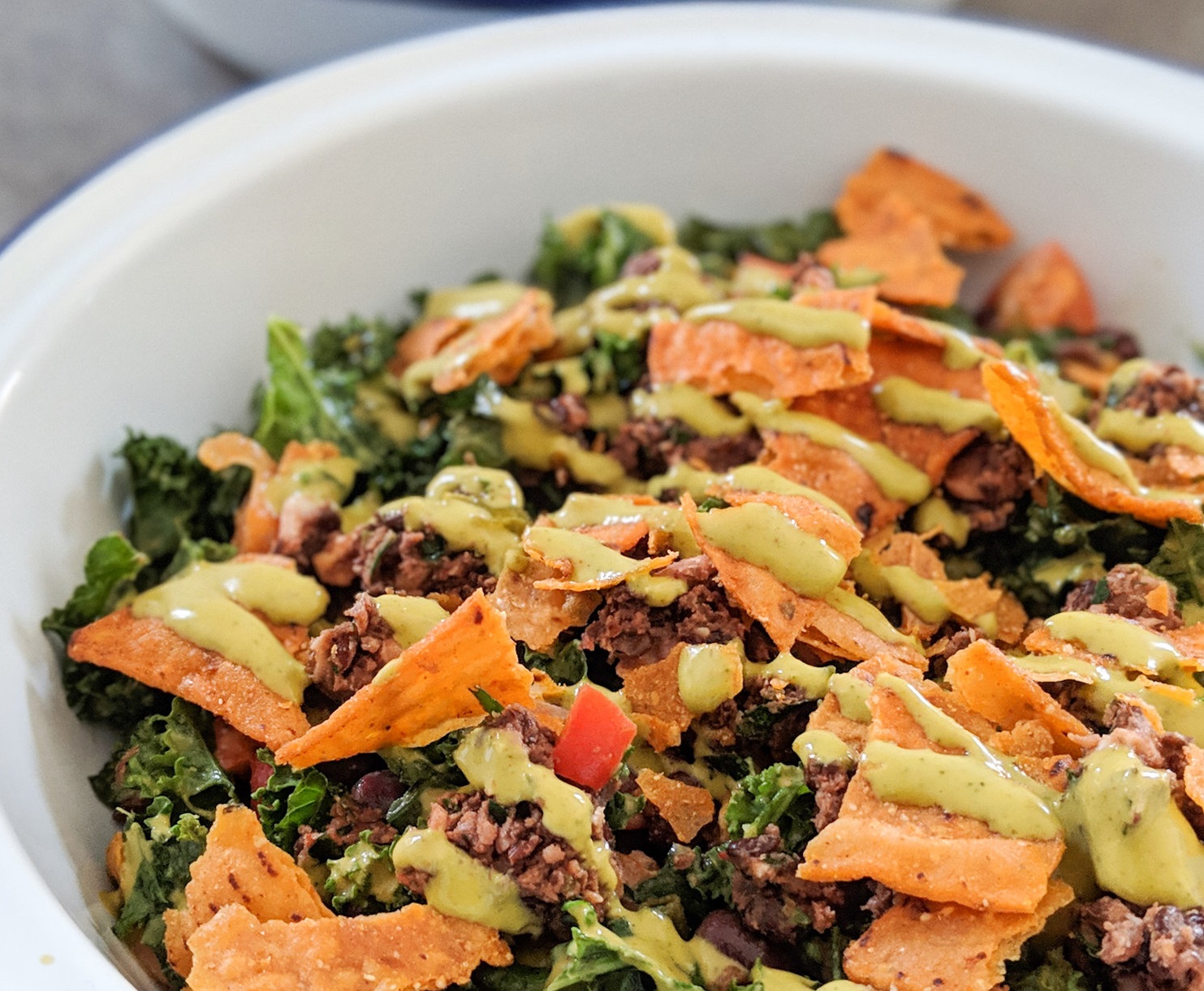 Thanks to our supporter and friend Deepa Devlukia of blog Girl Boy Food Baby for this delicious 4 layer salad recipe that gets the tastes buds firing whilst also being extremely healthy.
Ingredients
The Salad
1 bag of kale
1 tin of black beans - drained
2 peppers (chopped)
1 handful of ready sliced jalapenos (chopped)
1 cup of cherry tomatoes (chopped)
1 avocado (cubed)
Optional: Sweetcorn or sliced red onion
Tortilla chips to crumble on top
Chipotle Lime Dressing
1/3 cup almond or cashew yoghurt (I used Nush plain almond yoghurt)
1/3 cup extra virgin olive oil
Juice and zest of 1 lime
A pinch of ground cumin
1/2 teaspoons of smoked paprika
2 teaspoons apple cider vinegar
1 loosely packed cup of coriander leaves
Ground black pepper to taste
Lentil Walnut 'Meat'
1 cup walnuts
1 cup cooked brown lentils (I've used puy and beluga before with success)
2 tablespoons of passata
1 teaspoon paprika
1 teaspoon roasted cumin powder
2 teaspoons mixed dried herbs
Small handful of finely chopped parsley
Salt and black pepper to taste - but go easy on the salt.
Method
To make the dressing whizz up all the dressing ingredients in a high speed blender and set aside. This can be made about 3 days in advance.

To dress the kale for the kale layer remove all the centre hard bits (this takes a while) and then cut into shreds and place in a large bowl. Pour half of the dressing onto the kale, mix well and pop the bowl in the refrigerator for at least an hour. I prefer to keep it there overnight so the leaves become really nice and soft. Alternatively you can massage the kale in advance with oil to soften.

Once your kale is out of the fridge, (at this stage divide the kale out into bowls if you're plating up the salad individually) and top with the peppers, tomatoes, avocado, jalapenos and any other toppings you've decided to add (e.g. sweetcorn or red onion).

Toss it all together if you're serving in one big bowl. (Don't toss if you're serving individually - as pictured above). Set aside.

To make the Lentil Walnut 'meat' pulse the ingredients 3 or 4 times in a food processor and set aside.

If you're serving the salad in one big bowl, leave the lentil walnut mixture on the side and tell your guests to top their salad at the time of serving. The same goes for the tortilla chips. If serving individually, then crumbled a little of the mixture over each one and a few crushed tortilla chips.

Finally - top the whole thing with a generous squiggle of dressing. If I'm serving as one big bowl I'll usually pop the dressing into a squeezy bottle so that guests can just help themselves.

You can keep this in the fridge for about a day after it's been made.
This rather special recipe comes from our friend and supporter Deepa Devlukia of conscious parenting and vegan food blog Girl Boy Food Baby.