Kimpab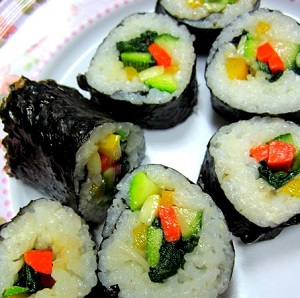 Kimpab - Vegan Sushi Rolls!
Ingredients
1 kilogram cooked rice
5 sheets Nori-seaweed
1 cucumber (or pickled seaweed)
2 carrots
100gr spinach
10gr natural salt
10 milliliters Shoyu (soy sauce)
2 teaspoons toasted Sesame oil
2 teaspoons white sesame seeds (toasted)
Method
1: Cook rice with rice cooker and season with sesame oil, salt, shoyu and white sesame seeds.
2: Boil spinach and season with salt, sesame oil and white sesame seeds.
3: Fry shredded carrot and season in the same way as the spinach.
4: Place rice and vegetables on the nori sheet and roll.
5: Cut for serving.
---
---