King Satay With Spicy Peanut Ginger Sauce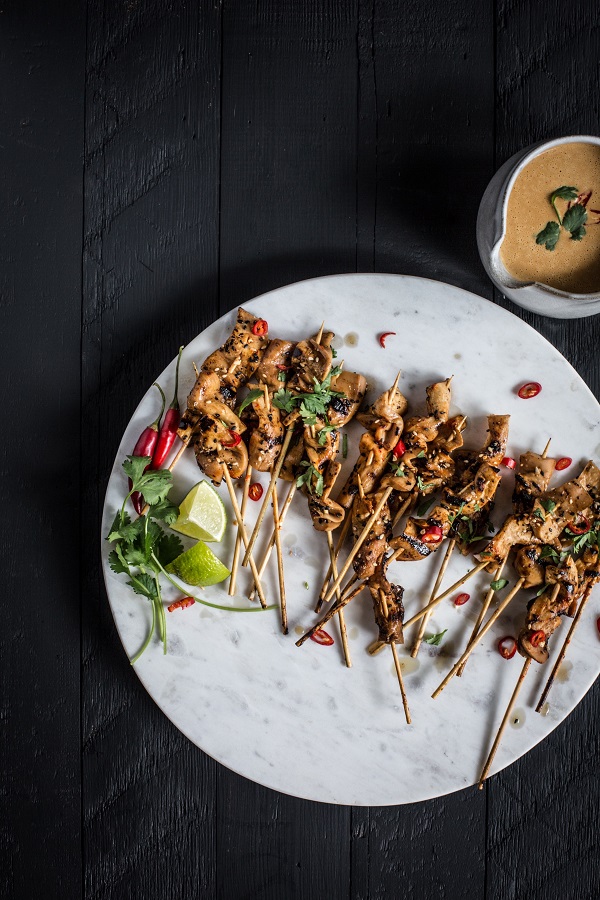 Another super tasty recipe from the Chad brothers. This one is sure to win over any doubtful carnovires.
Ingredients
Serves 4
MUSHROOMS
1 pound king oyster mushrooms
5 tablespoons vegetable oil
¼ cup water
¼ cup low-sodium tamari or soy sauce
1 tablespoon maple syrup
1 tablespoon sriracha or chile paste
1 teaspoon hot chile oil
SPICY PEANUT-GINGER SAUCE
1 cup smooth peanut butter
1/3 cup low-sodium tamari or soy sauce
1/3 cup fresh lime juice
1 tablespoon grated fresh ginger
2 cloves garlic, minced or pressed
¼ teaspoon smoked paprika
1 Thai chile, chopped; or ½ teaspoon red pepper flakes
½ to 1 cup water
Method
FOR THE MUSHROOMS:
1. Slice off the mushroom caps and save for another use (see Pro Tip). Trim the bases so the stems are clean. (In the next steps, you'll be pressing the mushroom stems to make them thinner, flatter, and more pliable for skewering.)
2. Heat a large heavy pan (such as cast iron) over medium-high heat. When it's hot, swirl 3 tablespoons of the oil in the pan to coat the bottom, then add the mushrooms. After a minute or so, use a second heavy pan or a couple of foil-wrapped bricks to weight down and press/sear the mushrooms. Cook for 2 minutes, then pour the water around the mushrooms. (The steam will help soften the mushrooms and flatten the round shape into a squarer shape, which is easier to skewer.) Continue pressing for 2 to 3 minutes, then flip the mushrooms over. When the 'shrooms are tender and pliable, 2 to 3 minutes longer, remove them to a work surface. Let cool for 15 minutes or so.
3. Meanwhile, mix together the remaining 2 tablespoons oil and the tamari, agave, sriracha, and hot chile oil to make your marinade.
4. When the mushrooms are cool, slice them lengthwise into strips about ¼ inch thick. Arrange the strips in a single layer on a baking sheet and brush them all over with the marinade, using it all. Let marinate at room temperature for at least 1 hour. Or, if you have time, cover and marinate in the refrigerator for up to 2 days. The longer you marinate, the more flavor you'll get.
5. Soak a handful of wooden skewers in water to cover for 30 minutes. When ready to cook, preheat the oven to 350ºF. Thread each strip of mushroom on a skewer, making as many ribbon folds as possible without breaking the mushroom. Place the skewers on a baking sheet and bake in the hot oven until lightly browned, 20 to 30 minutes.
FOR THE SAUCE:
6. Combine all the ingredients in a blender and buzz it all up until smooth. For a thicker sauce, use less water; use more to make it thinner.
7. Drizzle a little sauce over the skewers before serving with the remainder on the side for dipping.
OPTIONS
• Switch it up and use almond butter or cashew butter in the sauce instead of peanut butter.
• Garnish with fresh cilantro, chopped chiles, and lemon or lime wedges for squeezing.
This banging recipe comes from The Wicked Healthy Cookbook by Chad & Derek Sarno and David Joachim. Photography by Eva Kosmas Flores