Kiwi Coconut Sorbet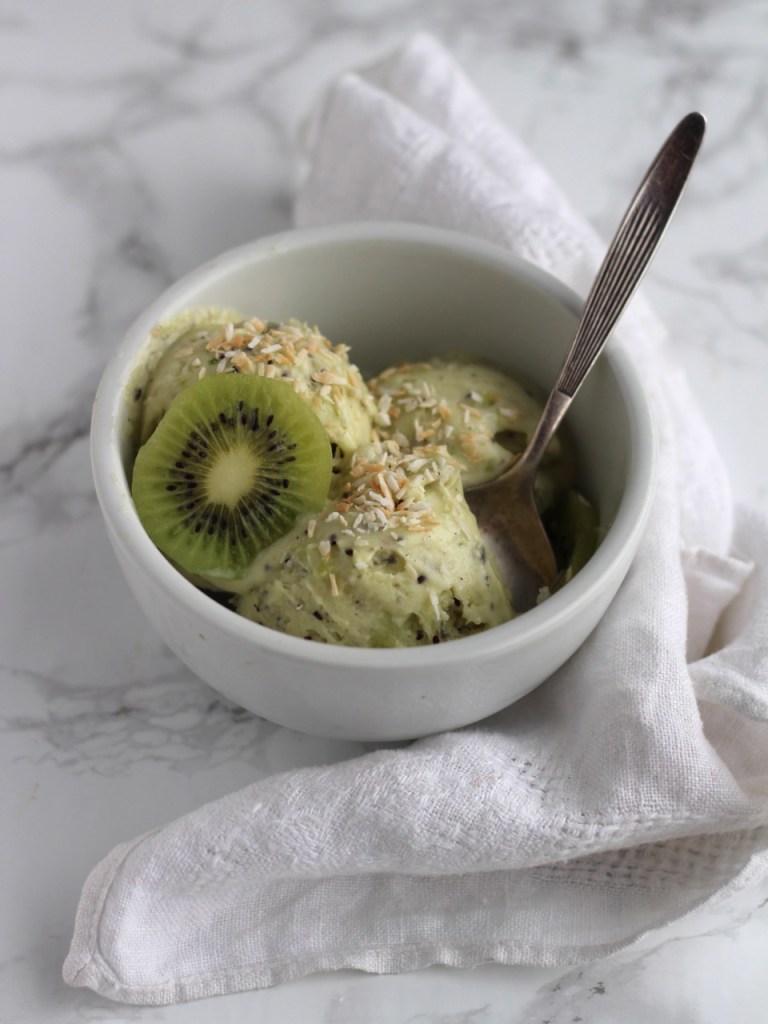 Ceri Jone's instant kiwi coconut sorbet made by blending frozen kiwi and bananas with a lemongrass and kaffir lime infused coconut milk. Classy.
Ingredients
200 mililitres coconut milk (from a can)
1 stick lemongrass, bashed and chopped to fit in pan
2 kaffir lime leaves, torn
1 tablespoons unrefined granulated sugar (I use coconut palm)
1 lime, zest and juice
2 tablespoons desiccated coconut
1 frozen banana, peeled and chopped into chunks (do this before freezing)
4-5 frozen kiwis, peeled and chopped into chunks (do this before freezing)
Method
First make your coconut milk infusion. Place the coconut milk, lemongrass, lime leaves and sugar in a small saucepan. Bring to a boil, then turn to a simmer for 10 minutes. Remove the pan from the heat, transfer to a cold bowl, then leave to infuse for 1 hour. Strain through a sieve , discard the lemongrass and lime leaves then add the lime zest and juice. Stir well.
Meanwhile toast your coconut flakes in a dry frying pan over a medium heat till toasty and brown
Place the frozen kiwis and banana chunks in a blender, then pour over the coconut milk infusion, and blitz. If you are using a tall blender you will need to use the tamper stick to help move the ingredients around the blender (I use my froothie), the process will be a little different in a food processor, and which ever you use you will need to stop and scrape down the sides. When all incorporated (don't overblend as the frozen fruit will melt and you will end up with a smothie), stop the blender and serve immediately with the toasted coconut on top.
This divine recipe was created by Made In Hackney cookery teacher Ceri Jones from Natural Kitchen Adventures
---
---